if you're visiting Kuala Lumpur you're most likely going to plan a trip to the Batu Caves. This impressive landmark is actually located not too far from the city centre and can be reached a number of different ways. This post explains exactly how to get to the Batu Caves and what you need to know before you go. To make your trip perfect you should keep in mind when you are visiting the caves and how you're going to get back to the city. Click here to read about 24 more things to do and see in Kuala Lumpur such as the KL Tower, some of the best shopping malls around and the city's hidden bars.
Read our complete guide to visiting the Batu Caves here.
This post may contain affiliate links, which means we'll receive a commission if you purchase through our links, at no extra cost to you. This helps us keep Guide your Travel free and provide high-quality content for you. Please read the full disclaimer for more information.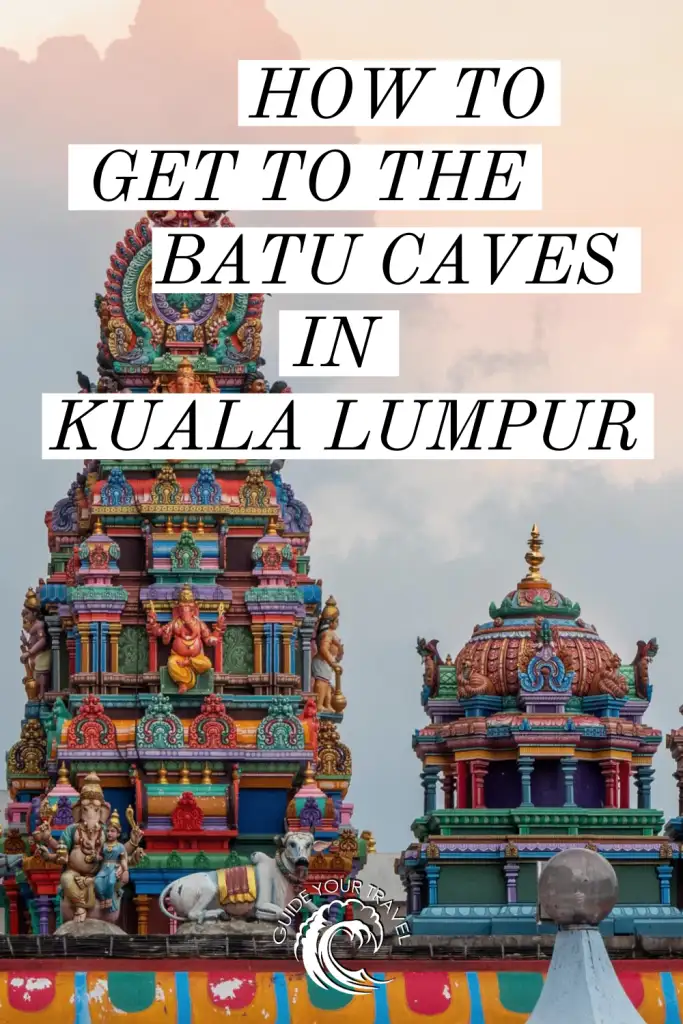 WHY YOU SHOULD VISIT THE BATU CAVES WHEN YOU GO TO KUALA LUMPUR
Kuala Lumpur is one of the most spectacular places to visit in South East Asia. The Batu Caves are one of the city's main attractions and Malaysia's most popular tourist destination. The great thing about the Batu Caves is that they're free to visit and very easy to get to. There is no need to take an expensive tour or book a day-trip since they are located so close to the city. Considering how impressive this landmark is you'd think it would be somewhere in the jungle or a few hours outside of Kuala Lumpur. However, the caves actually sit within the city limits and can be visited in only a few hours.
The Batu Caves are very popular amongst tourists but they managed to keep their authentic feel despite the crowds you'll encounter there. It's a magical place to visit especially early in the morning. Definitely don't miss out on the smaller side caves that aren't as well known but still worth a visit.
Are the Batu Caves too touristy for your taste? Check out this secret temple in Kuala Lumpur for a more authentic and peaceful experience.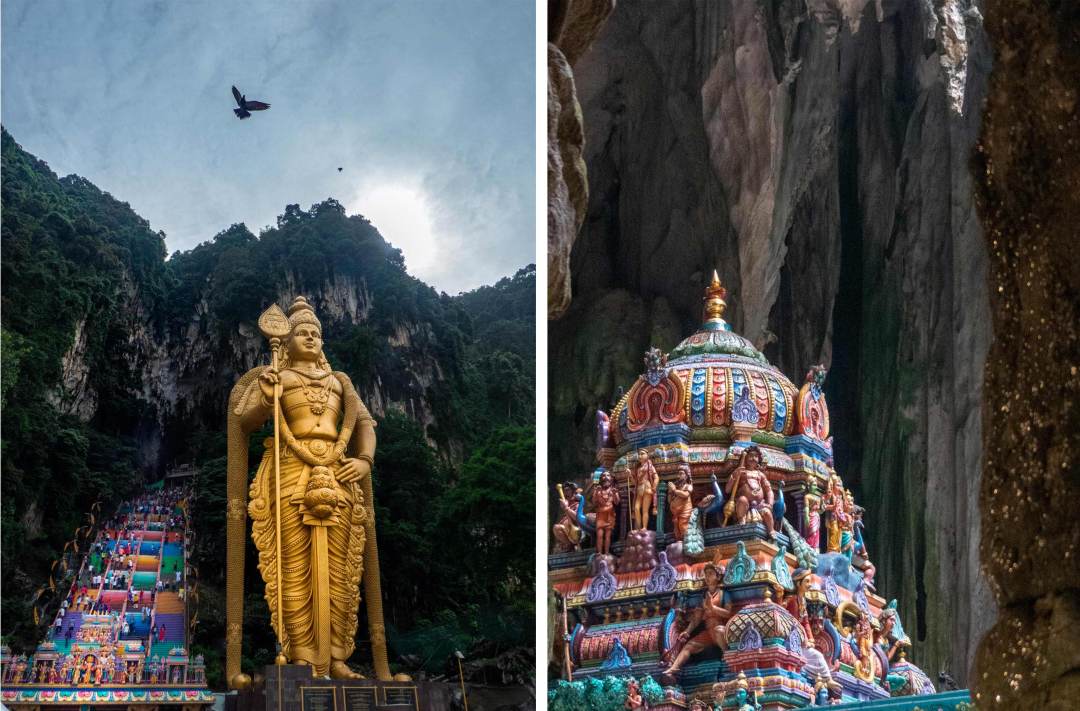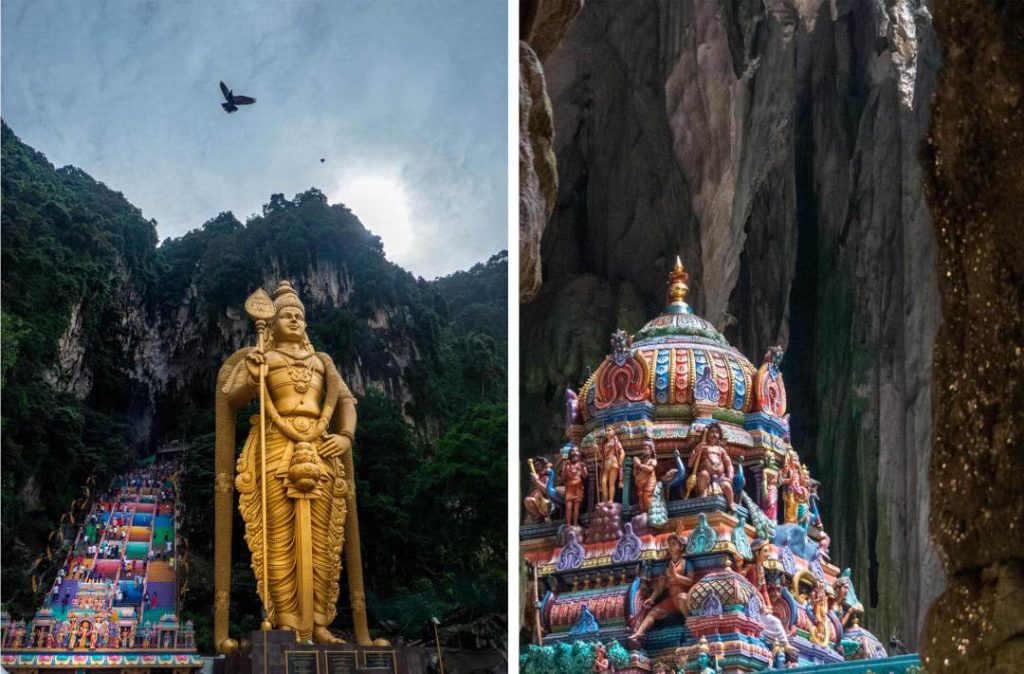 WHERE ARE THE BATU CAVES?
The Batu Caves lie around 11 kilometres north of the city centre of Kuala Lumpur. They are located in a neighbourhood of the same name which is easily reachable. The area is quite residential with not too many other places of interest nearby. There are some small restaurants if you're looking for a place to have lunch but other than that the neighbourhood is not too interesting.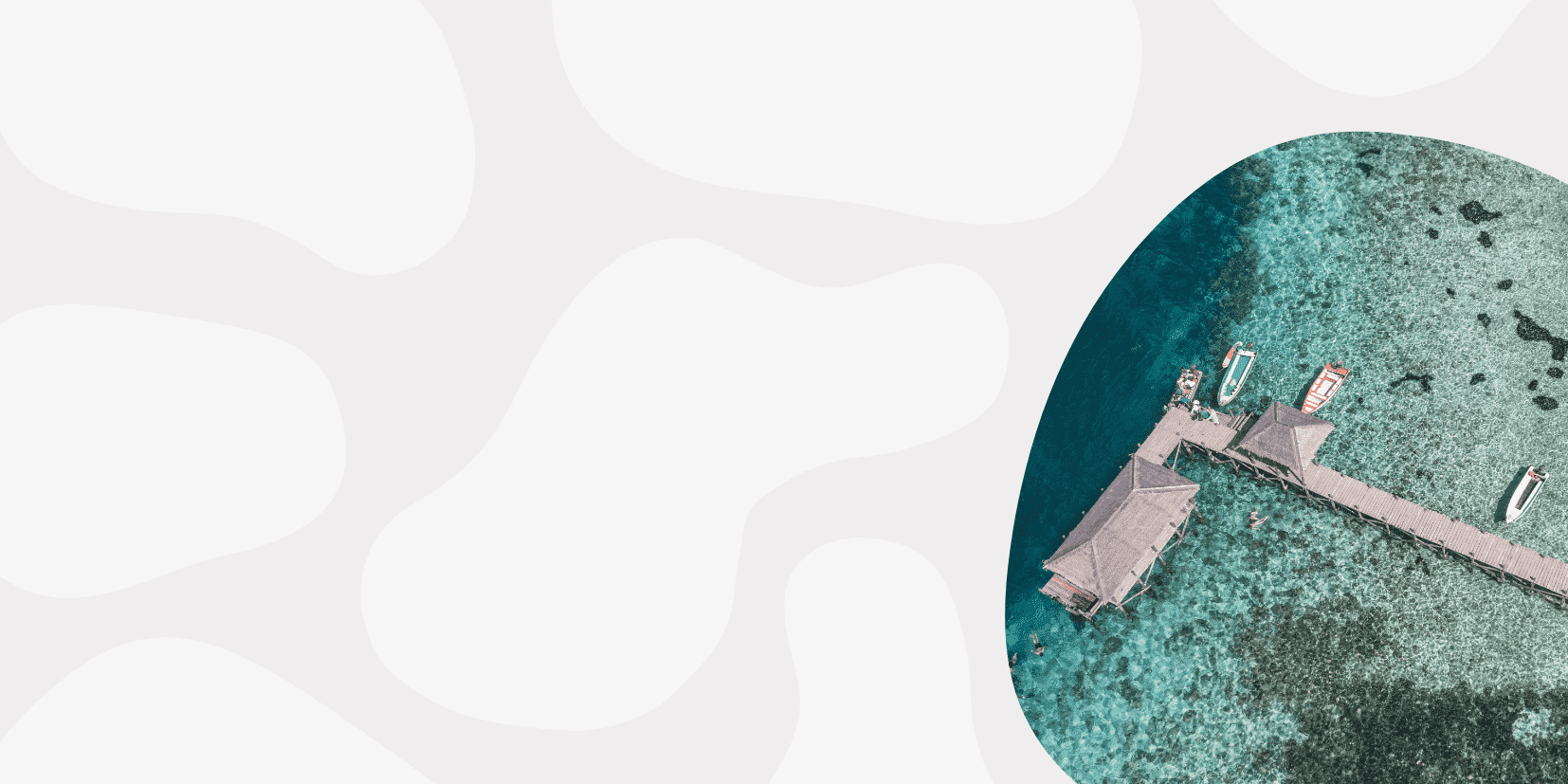 Let me save you time and effort when you're travel planning!

➼ Best travel insurance? SafetyWing
➼ Best place to find cheap flights? Skyscanner
➼ Best bank & credit card for travellers? Wise
➼ Best travel backpack? Osprey Farpoint 70
WHAT DO YOU NEED TO KNOW BEFORE YOU GO?
Our complete guide to the Batu Caves has everything you need to know before you go. Find detailed information on the dress code, what there is to see and what you should be taking with you on a trip to the caves. A question that most people have before visiting the Batu Caves is whether the smaller caves nearby are also worth a visit. These include Ramayana Cave and the Cave Villa complex for which you have to pay entry. While we thought the RM 5 (~ €1) entry fee was definitely worth it to see Ramayana Cave and its colourful statues, Cave Villa should be skipped. We wrote an entire guide on why Cave Villa is a controversial attraction and how its problematic past shouldn't be forgotten.
Not sure which activities in Kuala Lumpur are worth seeing? Here are 19 things you should do in this incredible city and 6 you should skip.
WHERE SHOULD YOU STAY IN KUALA LUMPUR TO SEE THE BATU CAVES?
Since the Batu Caves are located quite close to the city centre there is no real need to find a hotel close by. If you only have a few days in Kuala Lumpur and your priority is to see the caves we'd recommend staying somewhere in KLCC, Bukit Bintang or China Town which are the most popular tourist areas. You can then easily take a taxi or public transport to the caves. We especially recommend staying in China Town which has a direct train connection to the Batu Caves.
Read our complete guide on where to stay in Kuala Lumpur for more information. Some of our favourites include the Element Hotel and the Somerset Hotel in Ampang.
Top tip: Always compare prices for hotels. We at Guide your Travel prefer Booking.com, Agoda or Hostelworld for finding the best deals.


HOW TO GET TO THE BATU CAVES IN KUALA LUMPUR
There are several ways how you can get to the Batu Caves in Kuala Lumpur. If you are travelling alone or on a budget it's advisable to take the train to the caves. If you are coming to the Batu Caves with more people it might be more affordable and convenient to take a taxi.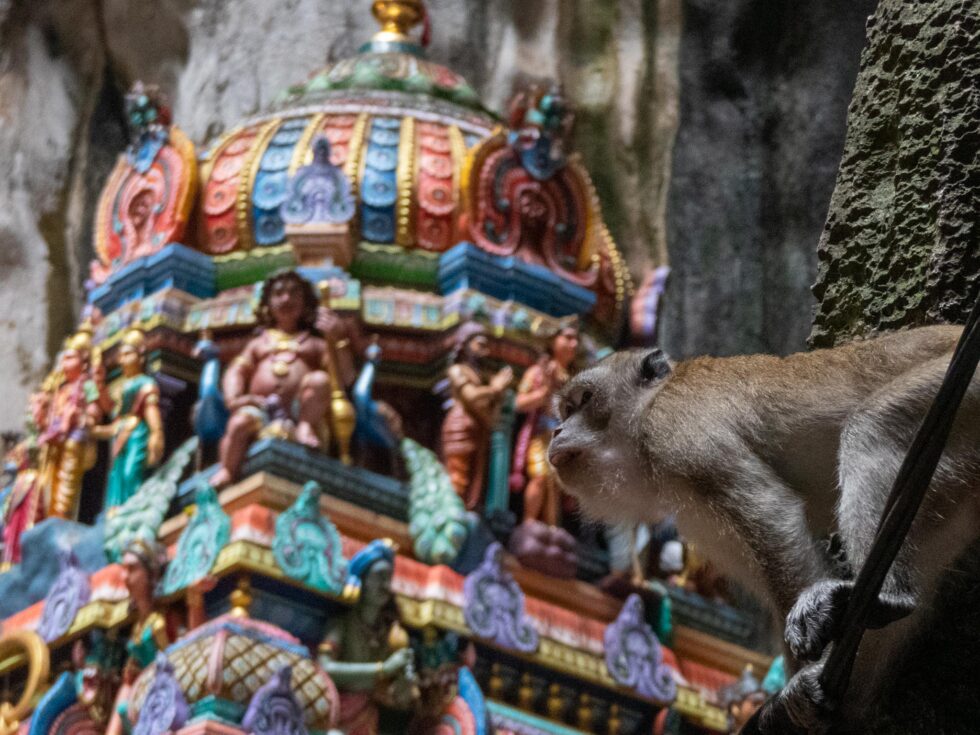 HOW TO GET TO THE BATU CAVES IN KUALA LUMPUR BY TRAIN
Arguably the best way to get to the Batu Caves in Kuala Lumpur is by train. The KTM Komuter train runs directly to the Batu Caves and is convenient and easy to use. From the train station it is only a 2 minute walk to get to the entrance of the Batu Cave complex.
The line runs from Pelabuahan Klang to the Batu Caves which is the name of its final stop. It usually has the colour red on public transport maps and is very straightforward. The stop is literally impossible to miss and going there could not be easier. Depending on where you're staying you can just get on at any stop or you might have to take a connecting train to get on the Komuter line from where your accommodation is.
If you are staying in the popular area near Petaling Street you can easily reach it via Pasar Seni Station. Just be aware that the Komuter is a different type of train system than the MRT and LRT lines. That means you cannot buy a direct ticket to the Batu Caves if you ride a different train first.
Find out timetables and schedules for the KTM Komuter here.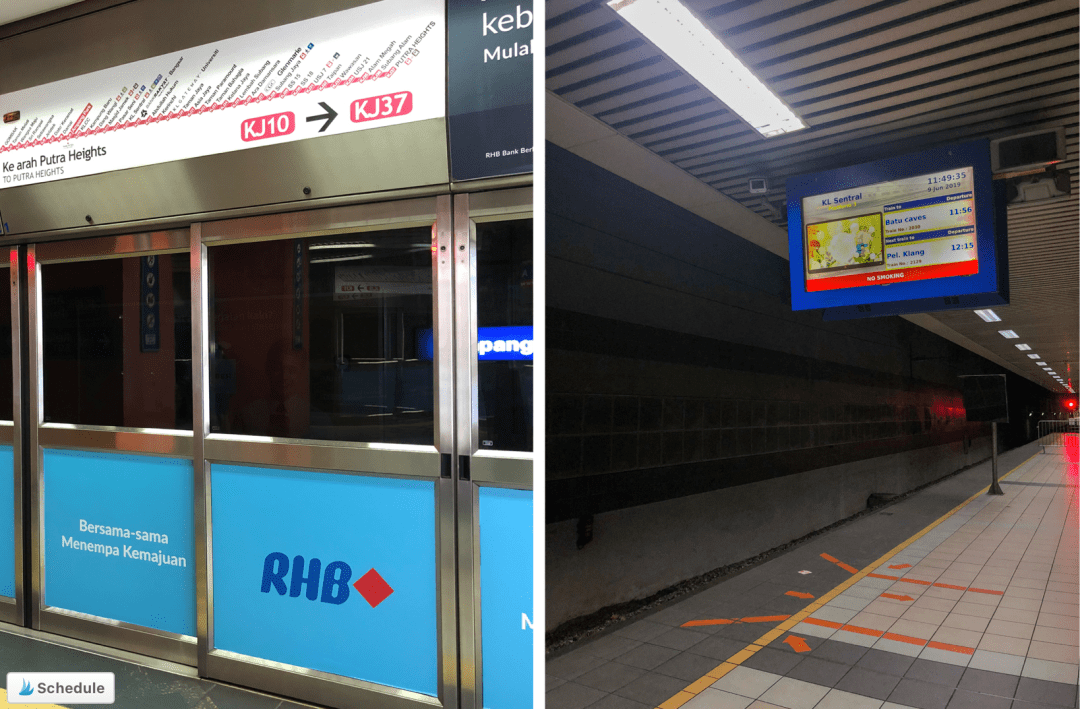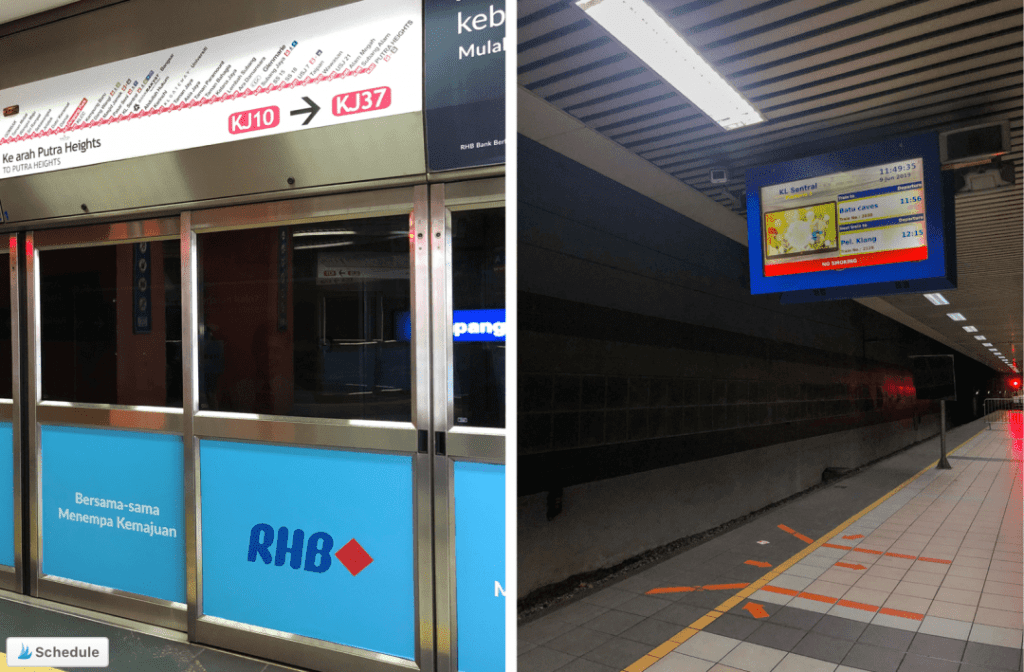 WHERE TO BUY TICKETS FOR THE KTM KOMUTER
Most connecting trains make you change at KL Sentral Station which is the central station of Kuala Lumpur. You might have arrived here if you took the KLIA Express from the airport.
In the main hall of Sentral Station, there are specific ticket counters next to the gates leading to the Komuter platforms. Check the large screens above the gates to see when the next train service departs. A ticket from here to the Batu Caves will cost RM 2.60 (~ €0.60). The ride takes about 35 minutes.
Trains can sometimes run 5-10 minutes late and will disappear from the display boards making you think they left already. Just be patient and double-check the train you are boarding is labelled Batu Caves. Make sure to check when the trains run before your trip. Sometimes they only go on an hourly basis especially on weekends and public holidays. Time your visit according to that so you don't waste time waiting.
Be aware that this type of train has 'ladies' coaches' where men are not allowed to sit. Women can still sit in the regular coaches. Station police will be strict to enforce these rules. Pay attention to pink signs on the outside and inside of the train to avoid having to move.
If you are a female and not travelling with men I can only recommend the ladies coaches as they are often empty and you'll be more likely to get a seat.
It's worth noting that the Komuter trains get quite cold and you should consider bringing a light jacket for the train journey.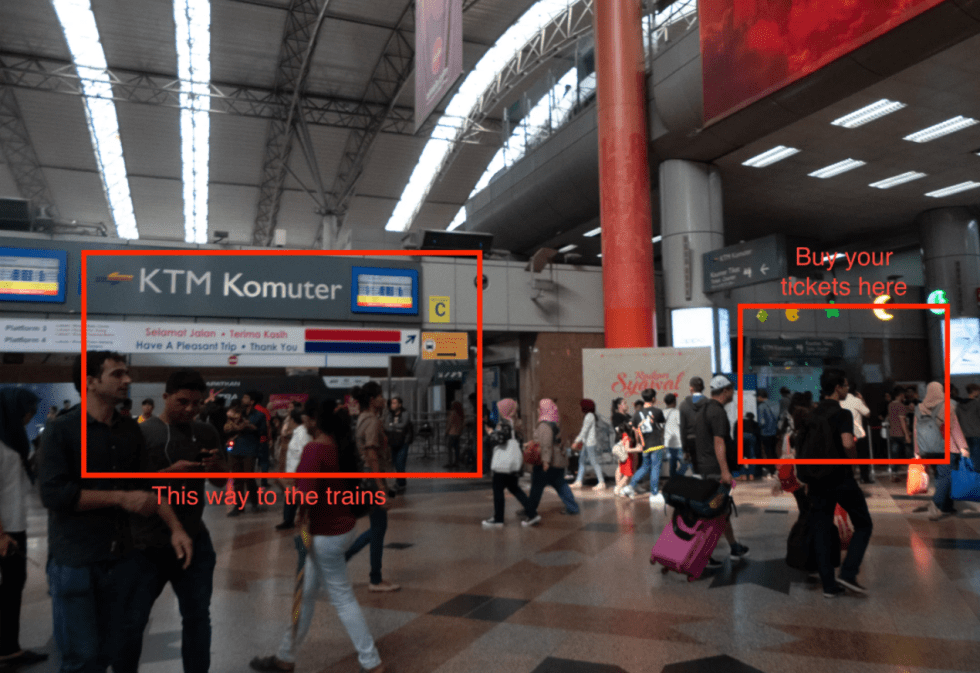 HOW TO GET TO THE BATU CAVES IN KUALA LUMPUR BY BUS
There is no real reason why you would need to take a bus to the Batu Caves. The trains are usually more convenient and reliable. There are buses that go to the Batu Caves from Puduraya or Titiwangsa Bus Terminal but they run infrequently. In some cases on the weekends or in the early evenings trains to the Batu Caves and back only run about once every two hours in which case you should consider taking a bus instead. The station attendants will usually be very helpful and show you where a bus is departing. The price of bus tickets tends to be the same as for the train.
HOW TO GET TO THE BATU CAVES IN KUALA LUMPUR BY CAR
If you prefer to drive or be driven you can, of course, take a taxi or Grab to the caves. Depending on the time of day this will cost you around RM 25 to RM 30 (~ €5.50 to €6.50) for a metered taxi and around RM 20 (~ €4.20) for a Grab. I definitely recommend downloading Grab if you have a Malaysian sim card since it's a very convenient way to get around town. There are usually many Grabs and taxis waiting for customers at the Batu Caves so finding a ride back shouldn't be a problem.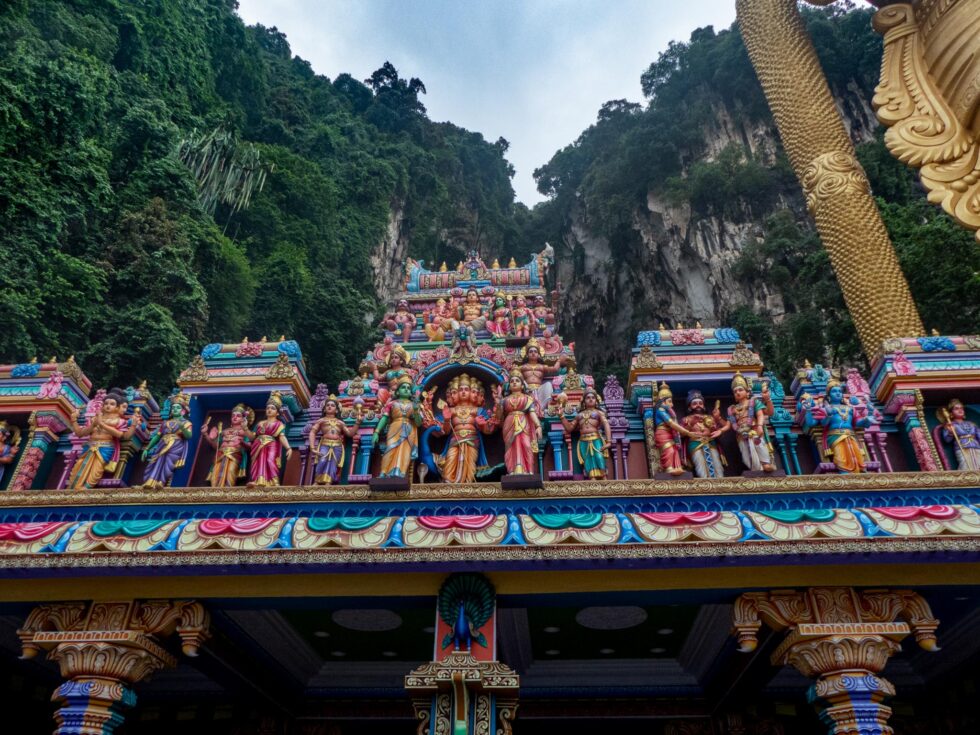 HOW TO GET BACK TO KUALA LUMPUR FROM THE BATU CAVES
I have experienced it multiple times now that trains back to KL Sentral only run every one or even two hours during certain periods of the day. Public holidays and weekends are especially prone to this. Instead, the more frequent trains terminate at Sentul Station which is about halfway to KL Sentral. They offer a free shuttle bus from there to KL Sentral.
Many tourists shy away from this option as it seems complicated and intimidating to find a bus somewhere and make your way back. Yet my experiences with the shuttle bus have been nothing but pleasant. I've taken it twice and it always waited for the train to arrive, was easy to find (everyone from the train boarded it so it was just a case of following everyone else) and there were 3-4 buses available which meant they weren't cramped and everyone had a seat.
The bus drives you exactly to KL Sentral where the train would have arrived and it even ended up being faster and slightly cheaper. So if you do come across this option do not spend an hour waiting for the direct train. Take the bus.
Usually, the person selling you the tickets at the counter will inform you when the next train is coming or there will be posters advertising the times. Google Maps also offers a schedule for the trains but I've found it to be slightly inaccurate. A good strategy is to check the train times when you arrive at the station so you roughly know when to come back to avoid waiting.
If you do arrive early it's a good idea to head to the platform even if you're train isn't departing for a while. Since this is the final stop of the route the trains often wait here 20-30 minutes before departure and you can enjoy the air-conditioning and get a seat while most people arriving a few minutes before departure will not.
HOW LONG DOES IT TAKE TO GET TO THE BATU CAVES FROM KUALA LUMPUR?
The KTM Komuter train takes around 35 minutes to go from KL Central Station to the Batu Caves. The bus may take about 10 minutes longer. If you're taking a taxi or Grab expect to drive for around 20 minutes if there is no traffic. During rush hour this could easily be twice as long if not more.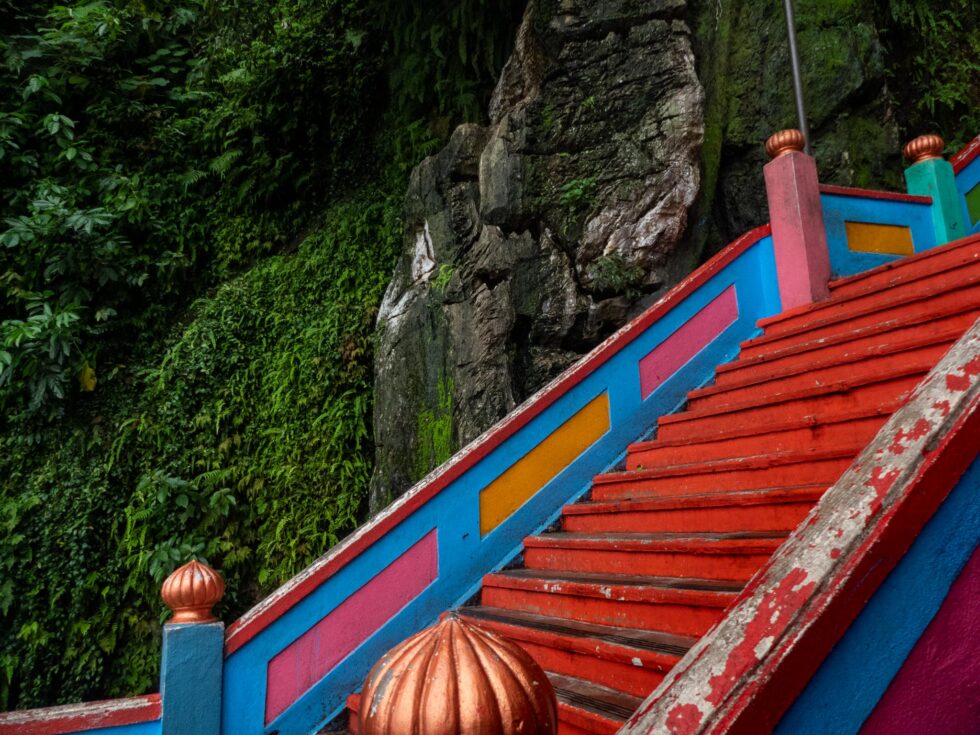 WHAT'S THE BEST WAY OF GETTING TO THE BATU CAVES?
The best way of getting to the Batu Caves in Kuala Lumpur is to take the KTM Komuter train which will drop you off directly at the caves. There is no need for long walks or changing trains, the line is convenient and easy to use. If you're not too concerned about your budget or are travelling in a group of several people you should consider taking a Grab which will be slightly quicker. However, keep rush hour in mind and avoid travelling during this time.
My most important travel tips and resources
Book your flights
Skyscanner is the best website for finding cheap flights since it works like a search engine so you can find the best deals across all airlines.

Book hotels and hostels
• Booking.com: Best world-wide
• Agoda: Best in South East Asia
• Hostelworld: Best for hostels

Book tours, transport and rental cars
•Viator: The best place to book tours, day trips and excursions for al budgets
•12Go: Great for ferries, trains, transfers and buses in South East Asia
•Discover Cars: Best deals for rental cars around the word

Get travel insurance
Every traveller needs travel insurance and I mean every single one. SafetyWing covers you in case of injury, illness or worse and they've got your back if your bag is stolen, flights are cancelled or in case of a natural disaster.

Pay abroad
Ask any traveller, Wise is the best choice when it comes to sending money abroad. They've always got the best exchange rates, lowest fees and their visa card is great for getting cash out or paying abroad.

Things every traveller needs:
➼ Osprey Farpoint 70 Backpack
Detachable daypack, ultra-light, durable and free repairs for life. There's a reason why so many backpackers have this bag.
➼ Packing Cubes
Packing cubes are a gamer changer, keeping your luggage organised and providing tons of extra space.
➼ Power bank
There is nothing worse than running out of battery on an overnight bus journey or a long flight. With a powerbank you can charge your eletronics on the go and make sure you're always connected.
➼ Micro-fibre towel
These lightweight towels are foldable, fast-drying and so useful when you're travelling.

➼ You can find 15 more things every traveller needs here. Some might be a bit controversial but I warned you!
Did I miss anything?
If you have any questions or feel like something is missing from this post please leave a comment below or contact me.