While the Petronas Towers are Kuala Lumpur's most famous skyscraper they may not be the best choice to get a view of the city. The KL Tower is slightly less popular among tourists but also cheaper and a lot easier to visit.
To go to the top of the Petronas Towers you need to pre-book a designated time slot and the popular times do tend to sell out quickly. The slots are strictly constrained to 45 minutes and you cannot stay longer than that.
The KL Tower, however, has no such rules and you get to go whenever you like and stay as long as you wish.
In addition to that tickets are (slightly) cheaper which is great if you're travelling on a budget. I also think the view is better at the KL Tower since you get to see the Petronas Towers which makes the skyline a lot more recognisable.
This post may contain affiliate links, which means we'll receive a commission if you purchase through our links, at no extra cost to you. This helps us keep Guide your Travel free and provide high-quality content for you. Please read the full disclaimer for more information.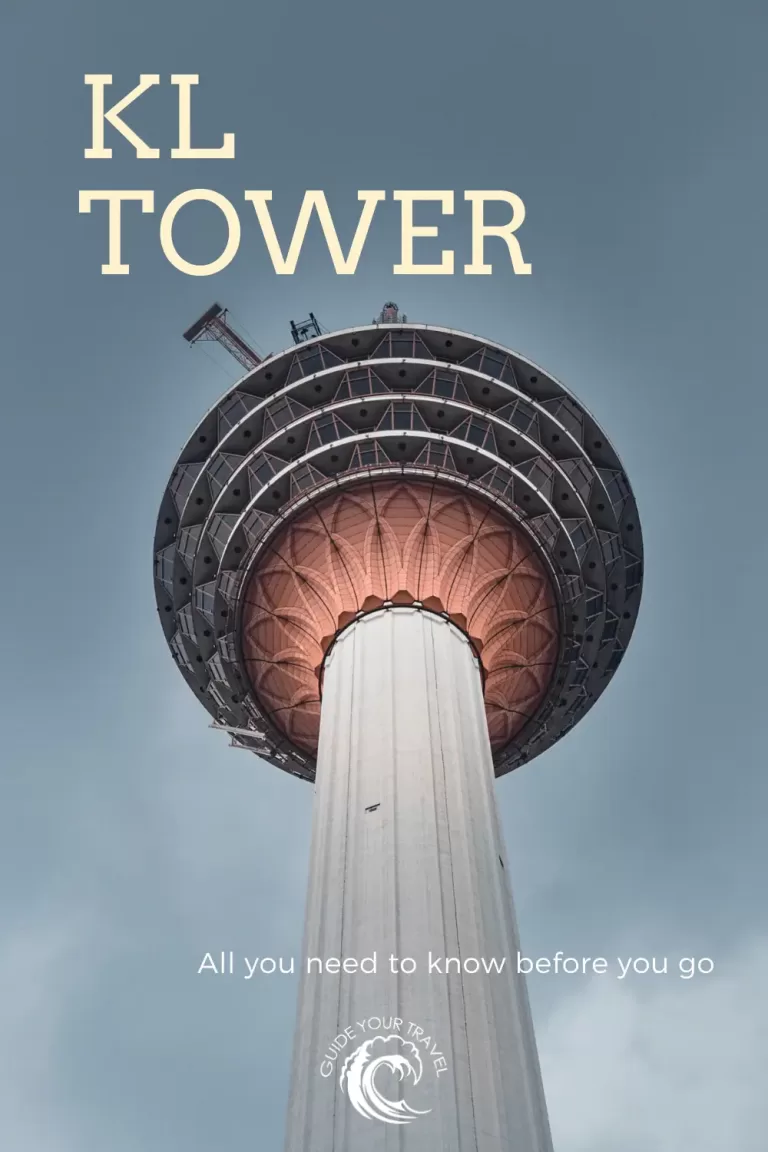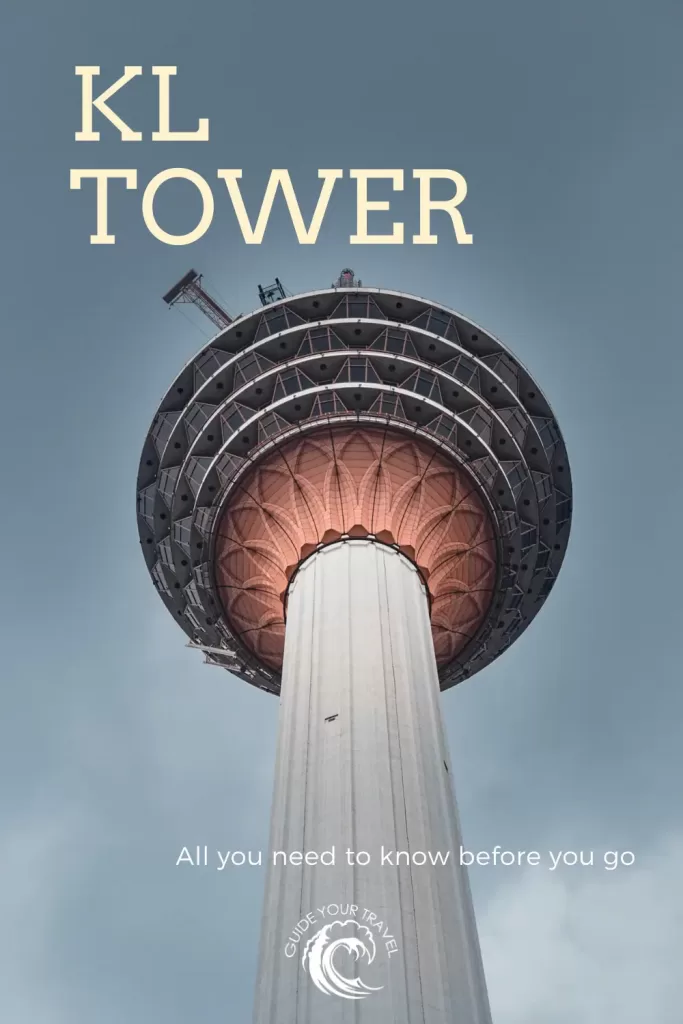 WHERE IS THE KL TOWER
The KL Tower sits just west of Kuala Lumpur City Centre (KLCC) on the outskirts of Bukit Bintang. It's walking distance from all other popular sightseeing points such as KLCC Park, the Petronas Towers, Pavilion Shopping Centre and many more.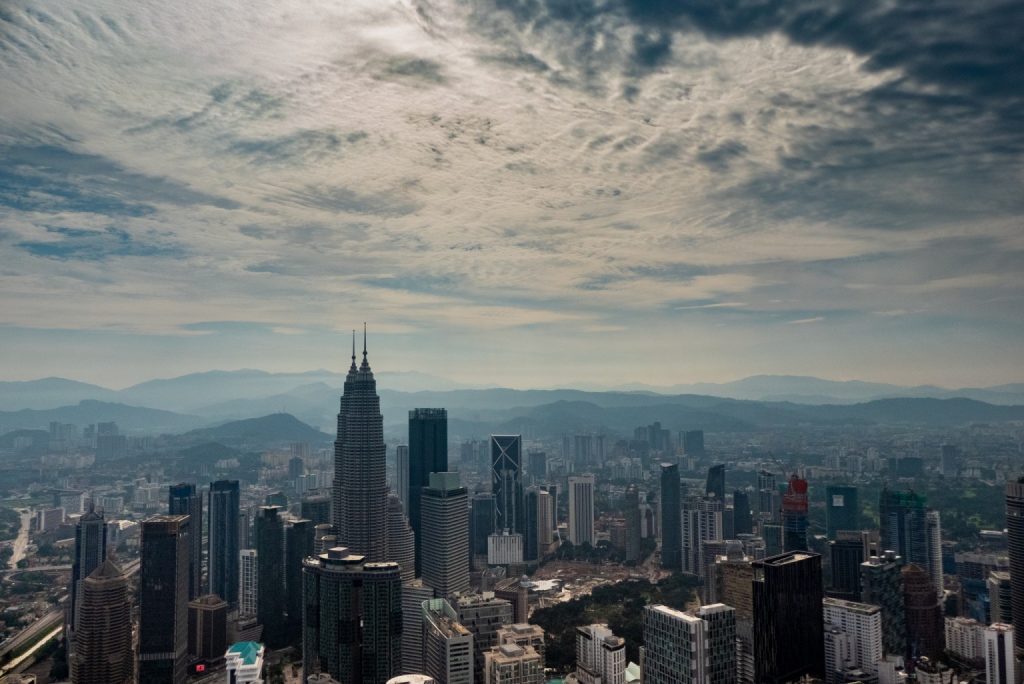 HOW TO GET THERE
The Tower is located on Bukit Nanas hill where you can also find the Forest Eco Park. Getting there can be slightly tricky. You can walk but since it's uphill in the humidity it won't be a very pleasant experience. If you do decide to attempt this I would recommend walking through the Forest Eco Park to at least give you something to see on the way up.
There is also the main road that leads up to the KL Tower. It's better to choose this route on the way down in my opinion.
The easiest way to get to the KL Tower is by simply taking a Grab or taxi. This will take you right to the doorstep and won't cost much depending on where you are taking it from.
The KL Hop-on Hop-off Bus also stops there.
The closest Monorail station is Bukit Nanas, and Dang Wangi is the closest MRT station. From both, you'll have to walk for roughly 20 minutes to reach the tower.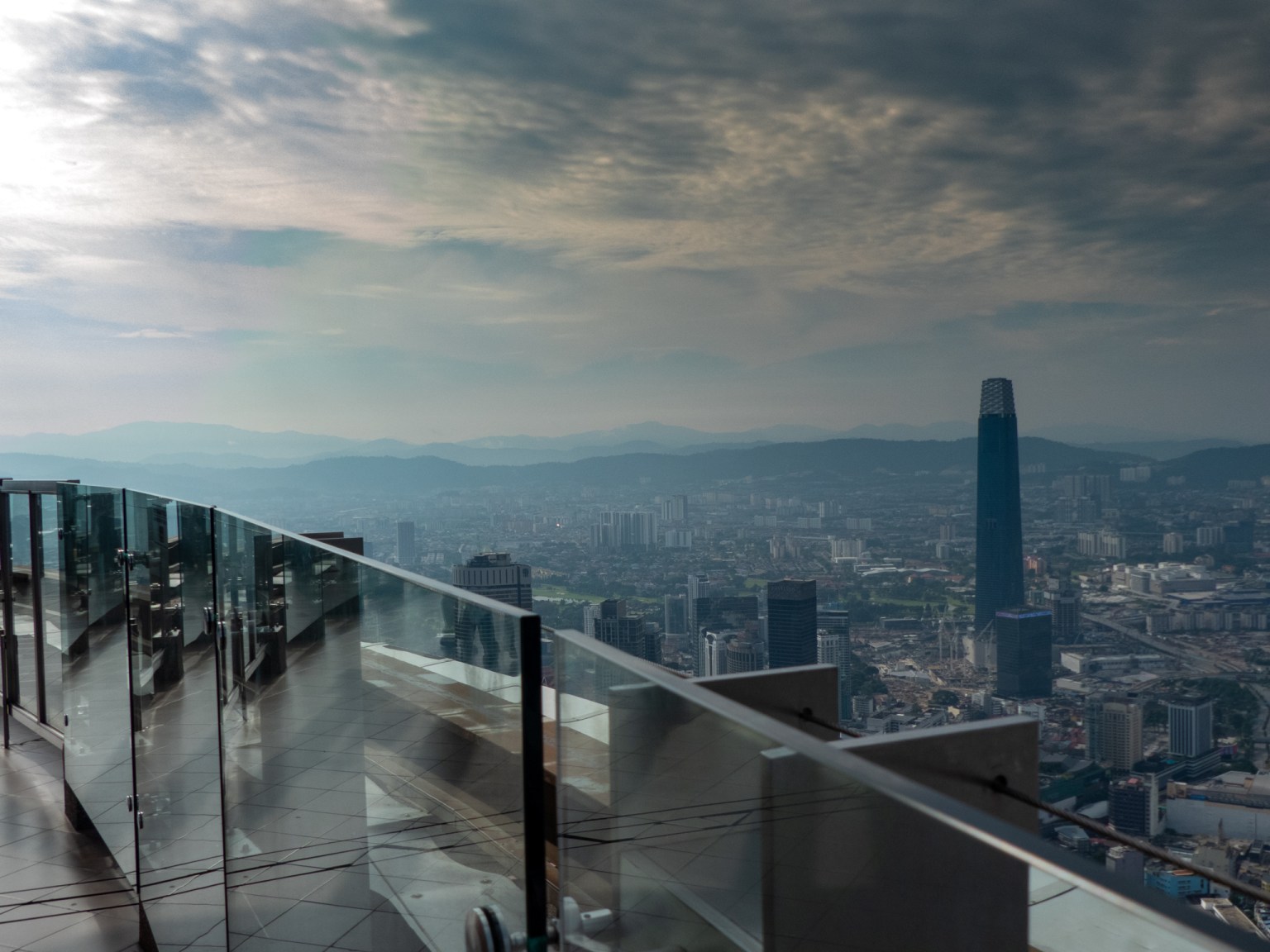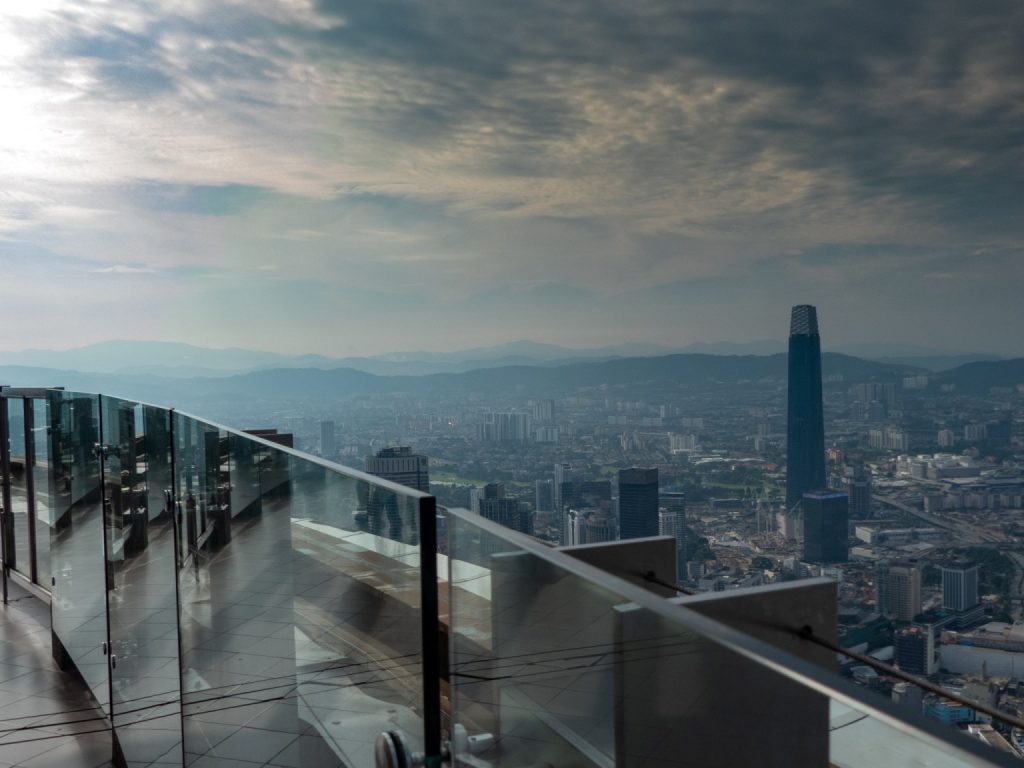 FACTS
The tower was built in 1995 and it serves as a communications tower as well as being a tourist attraction. While the viewing platform is 335 metres high the tower technically measures 421 metres because of its large antenna. In addition to that, it sits on top of a hill (Bukit Nanas) which makes it feel a lot higher than it actually is.
The KL Tower is the seventh-largest free-standing tower in the world. Right next to it there is a 100-year-old jelutong tree which was not harmed during construction. Specific measures were taken to protect it despite its proximity to the construction site. You can visit the tree from the lobby of the tower.
The tower has a revolving restaurant from which visitors can enjoy spectacular views of the city during a nice dinner.
Every year a race is held for who can climb the stairs to the top of the tower the fastest.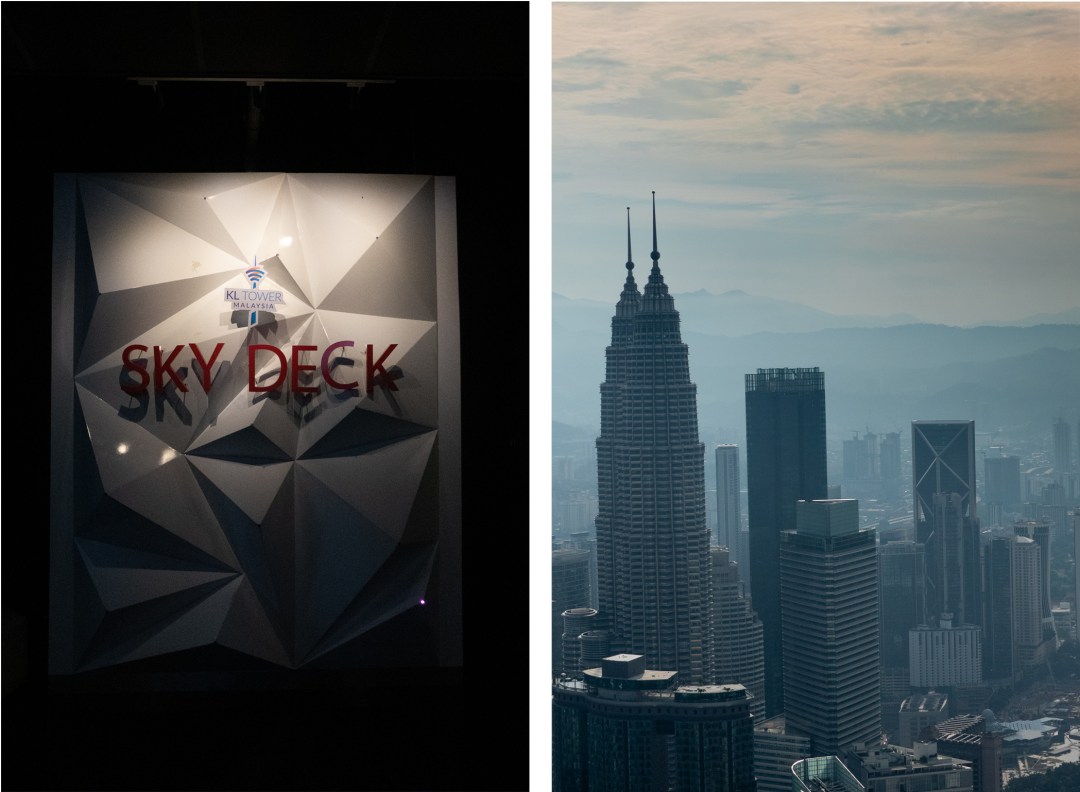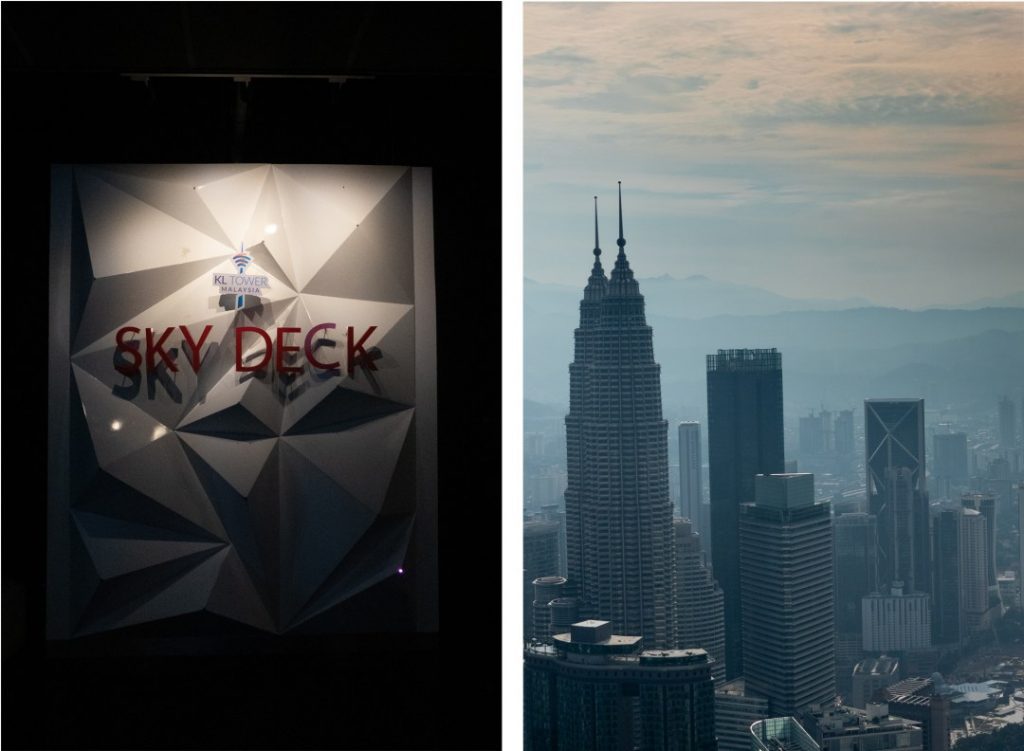 OPENING HOURS OF THE KL TOWER
The opening hours for the tower are 9:00 AM – 10:00 PM every day. This might differ slightly during public holidays. Check out the official website for details.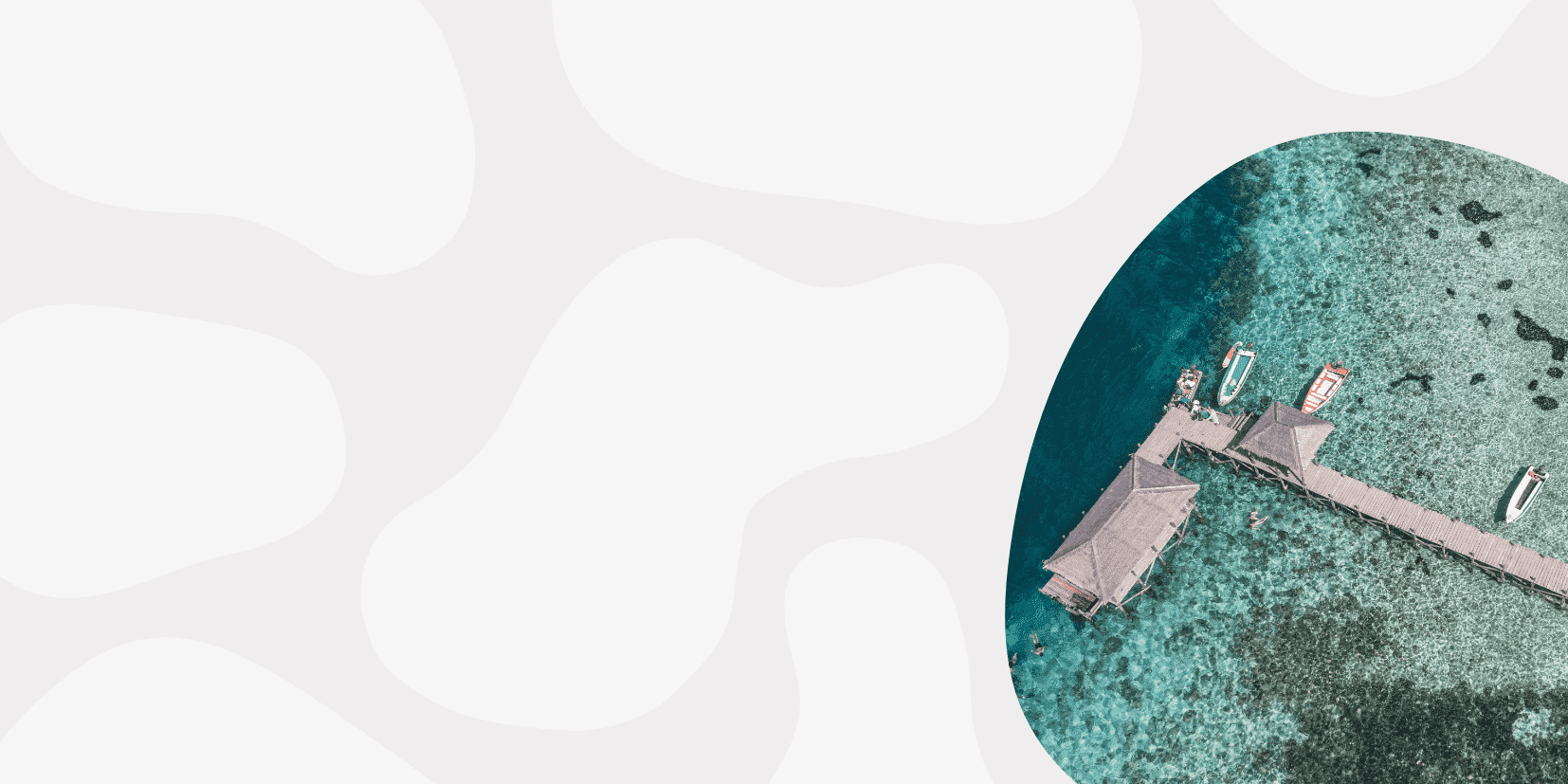 Let me save you time and effort when you're travel planning!

➼ Best travel insurance? SafetyWing
➼ Best place to find cheap flights? Skyscanner
➼ Best bank & credit card for travellers? Wise
➼ Best travel backpack? Osprey Farpoint 70
WHEN TO GO
Like with most popular tourist attractions it's advisable to go very early in the morning. I've had the best experiences at the tower at 9:00 AM in the morning when it opens. During that time you'll be sharing the platforms with only around 20 other people at the most.
If you're interested in going into one of the glass bottom "Skyboxes" you should definitely avoid peak periods. The lines for the Skyboxes tend to get very long during the day whereas in the morning you can go as often as you want.
Another factor is the heat. If you choose to go to the open-air platform (Sky Deck) you'll be completely exposed to the sun with little shade. In the morning this isn't too much of a problem but the hot afternoon sun will definitely keep you from staying too long.
The tower is also a lot quieter during the week as most people tend to visit on the weekend.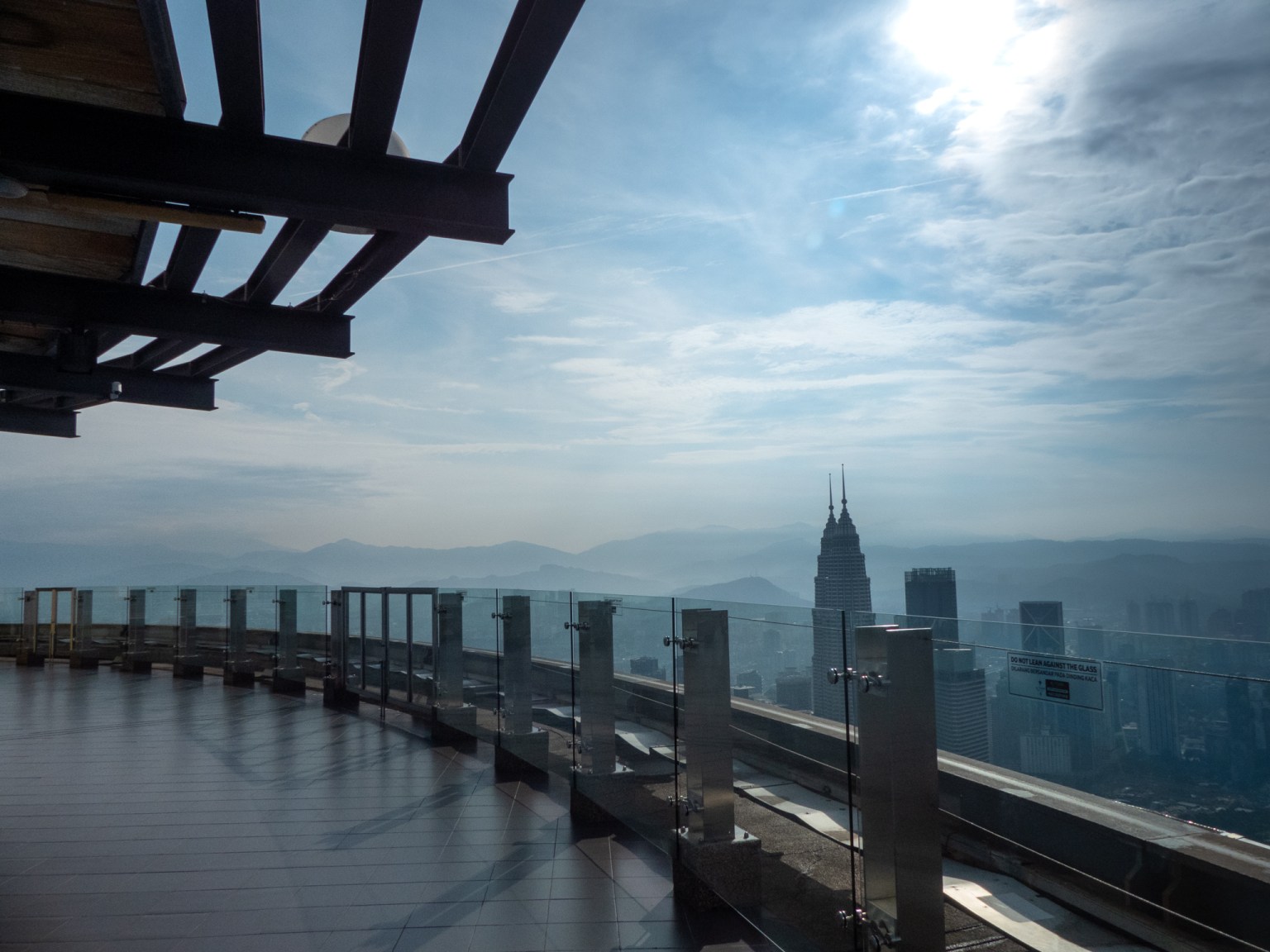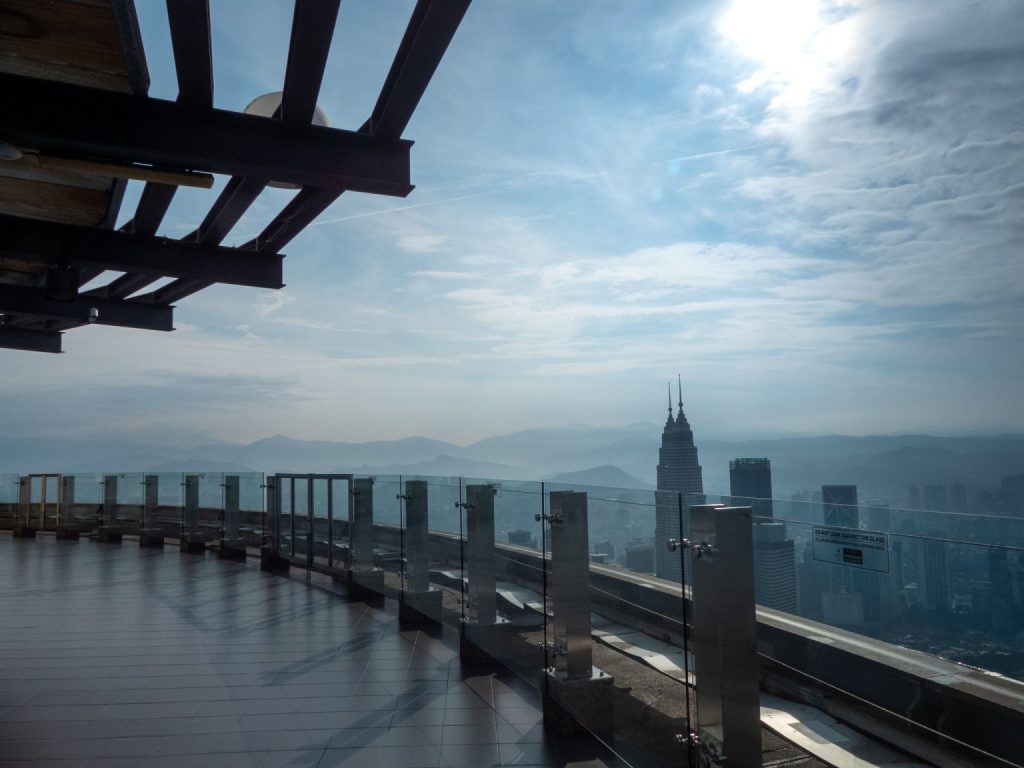 TICKETS AND PRICES
There are two decks; the Observation Deck (enclosed) and the Sky Deck (open-air). The prices are as following:
Observation Deck Malaysian Citizen RM 30 (~ €6.50)
Observation Deck Foreigner RM 49 (~ €10.50)
Sky Deck (includes Observation Deck) Malaysian Citizen RM 71 (~ €15.30)
Sky Deck (includes Observation Deck) Foreigner RM 99 (~ €21.30)
You can buy tickets online or at the tower. If you're planning on visiting during the day it might save you time if you buy the tickets online in advance. Otherwise, there is no reason to.
These tickets are quite expensive, especially for South-East Asia. However, I do think paying more to see the Sky Deck is worth it. I was pretty underwhelmed by the Observation Deck and thought going all the way to the top made a big difference.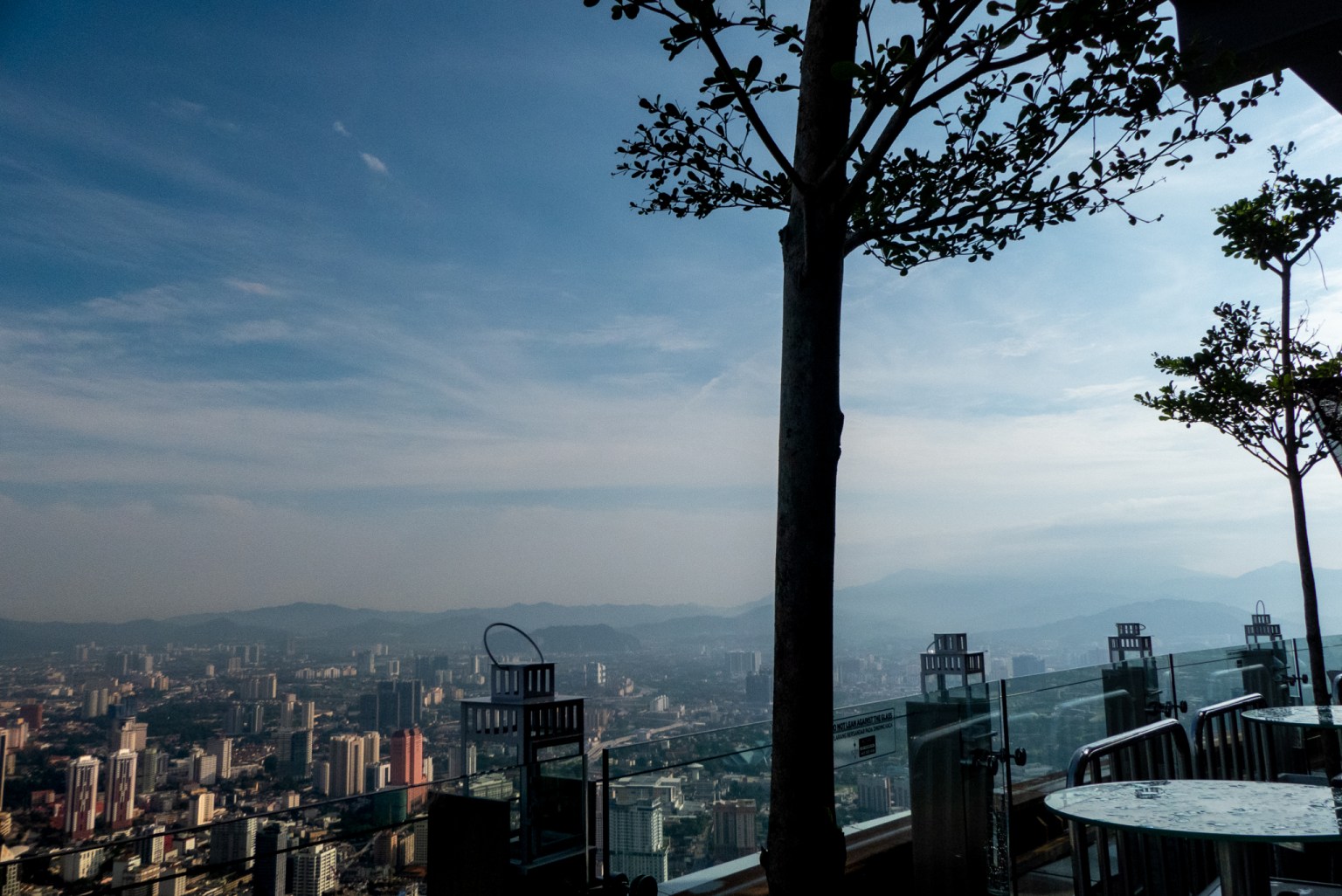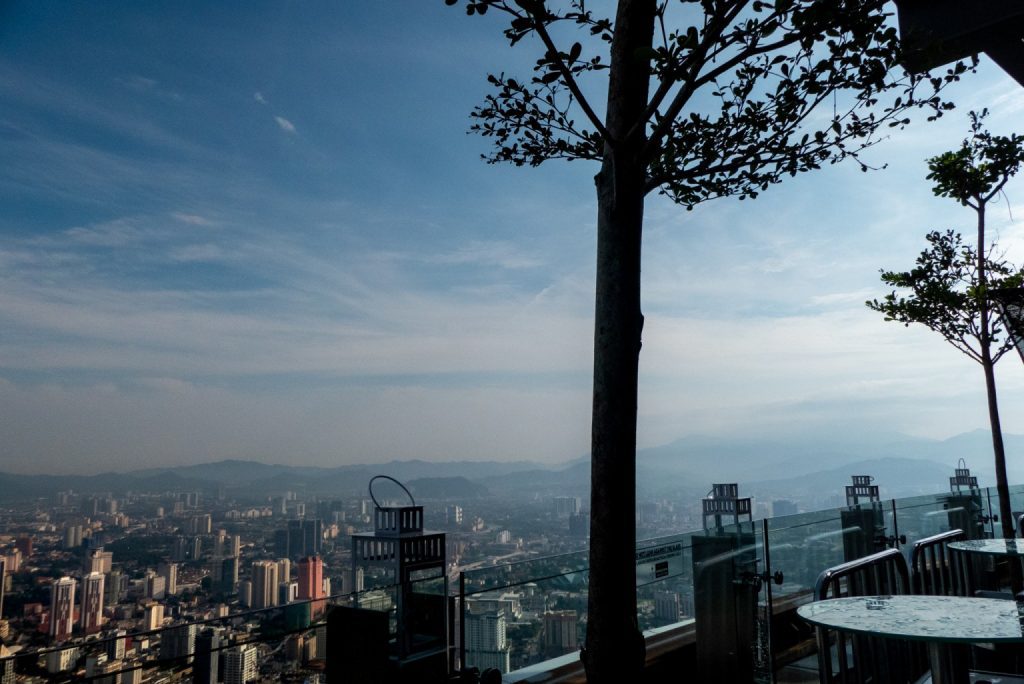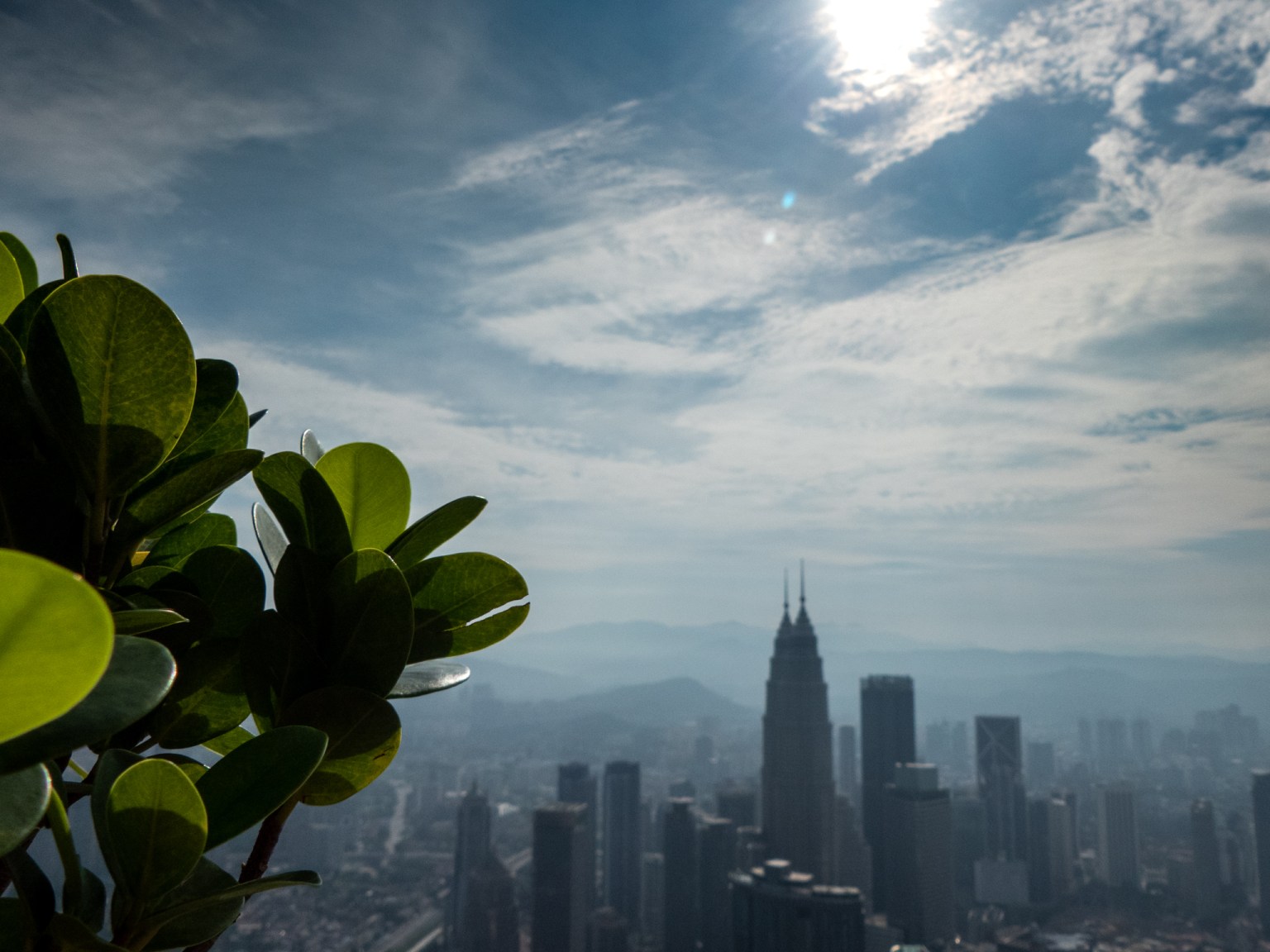 THE PLATFORMS
After buying your tickets in the lobby you'll get on an elevator that takes you to the Observation Deck. Here you can spend as much time as you like wandering around the circular deck. There is a small gift/snack shop.
However, don't stay for too long. The more exciting platform is definitely the Sky Deck as it is open-air and even higher.


They tend to open this platform slightly later than the Observation Deck (around 9:15 AM to 9:30 AM). I'm not exactly sure why but it's usually something to do with the elevators. If you ask the staff kindly they tend to let you use the stairs to go to the top before anyone else. I can't guarantee that this works every time, though in my experience it does.
The Sky Deck is circular but you cannot walk all the way around. On opposite sides are the two Skyboxes for which you have to draw a number. Glas railings separate the visitors from the steep drop below.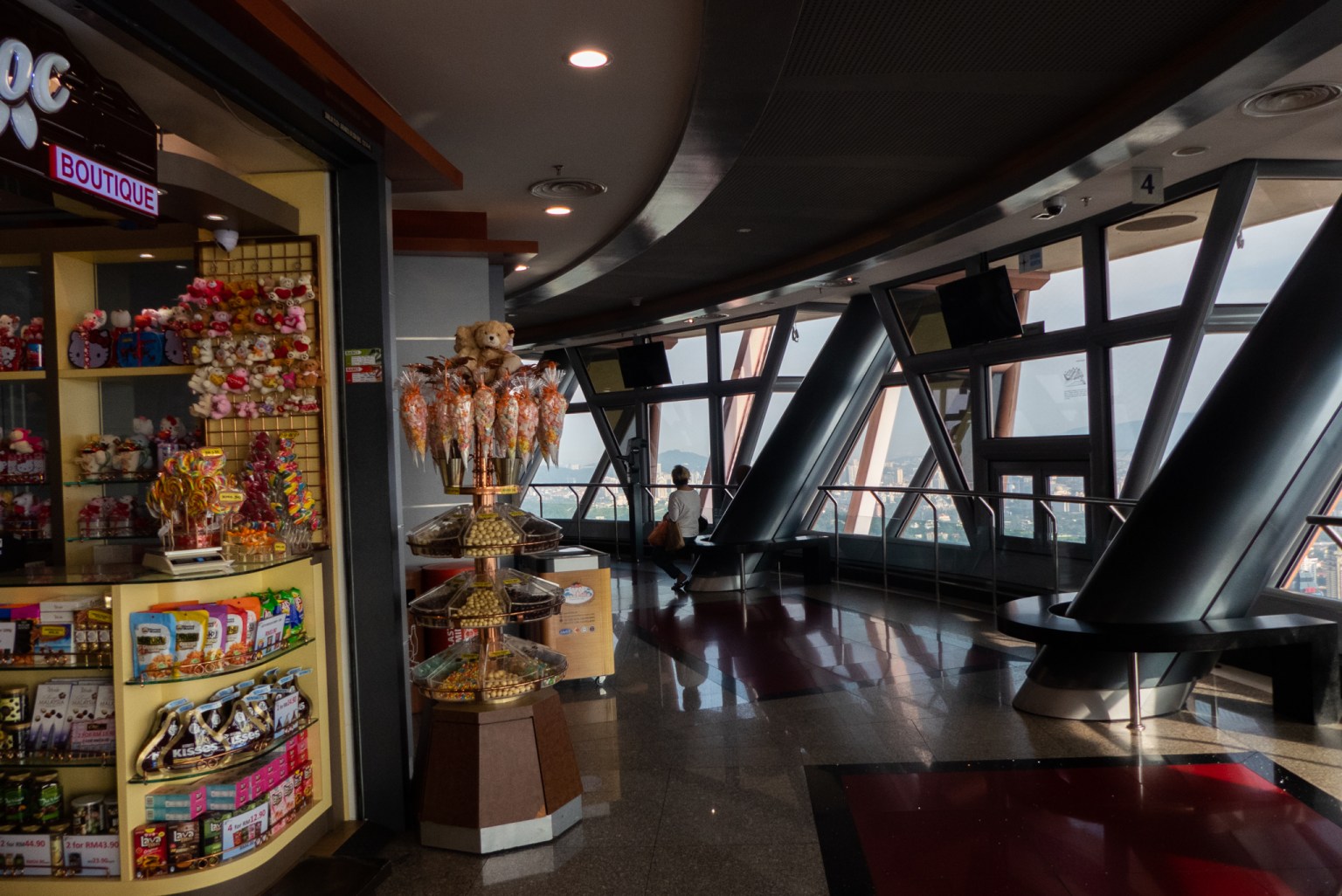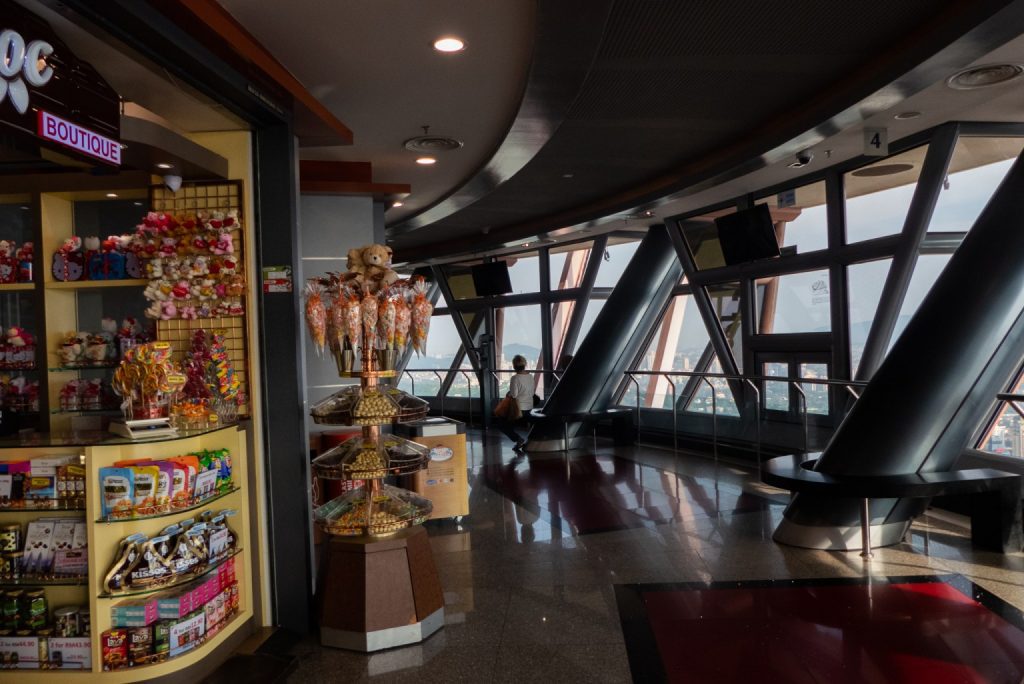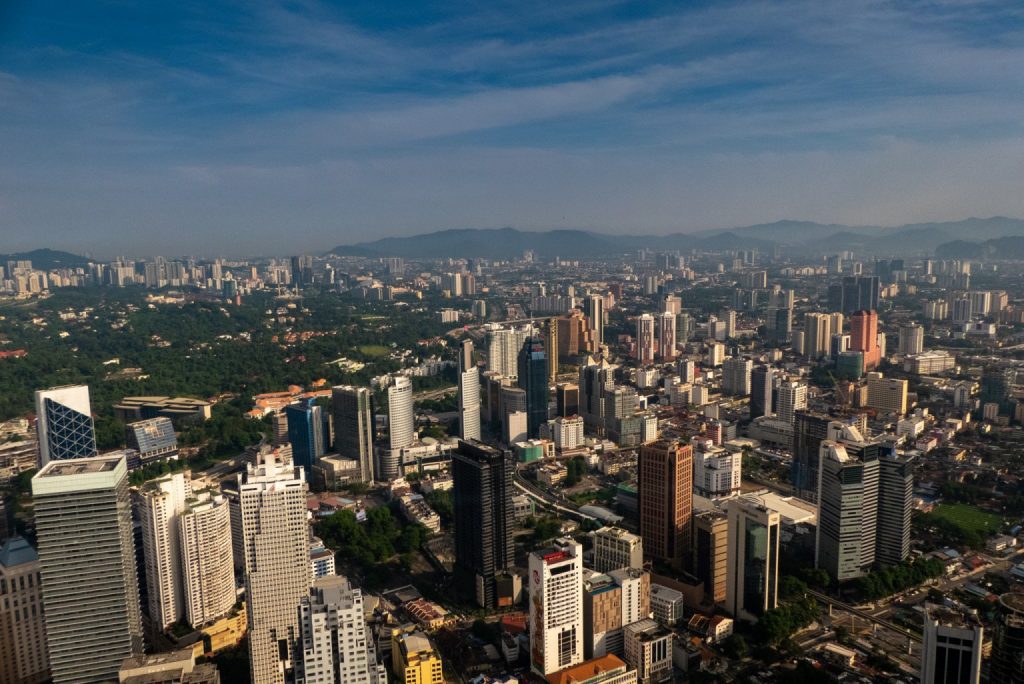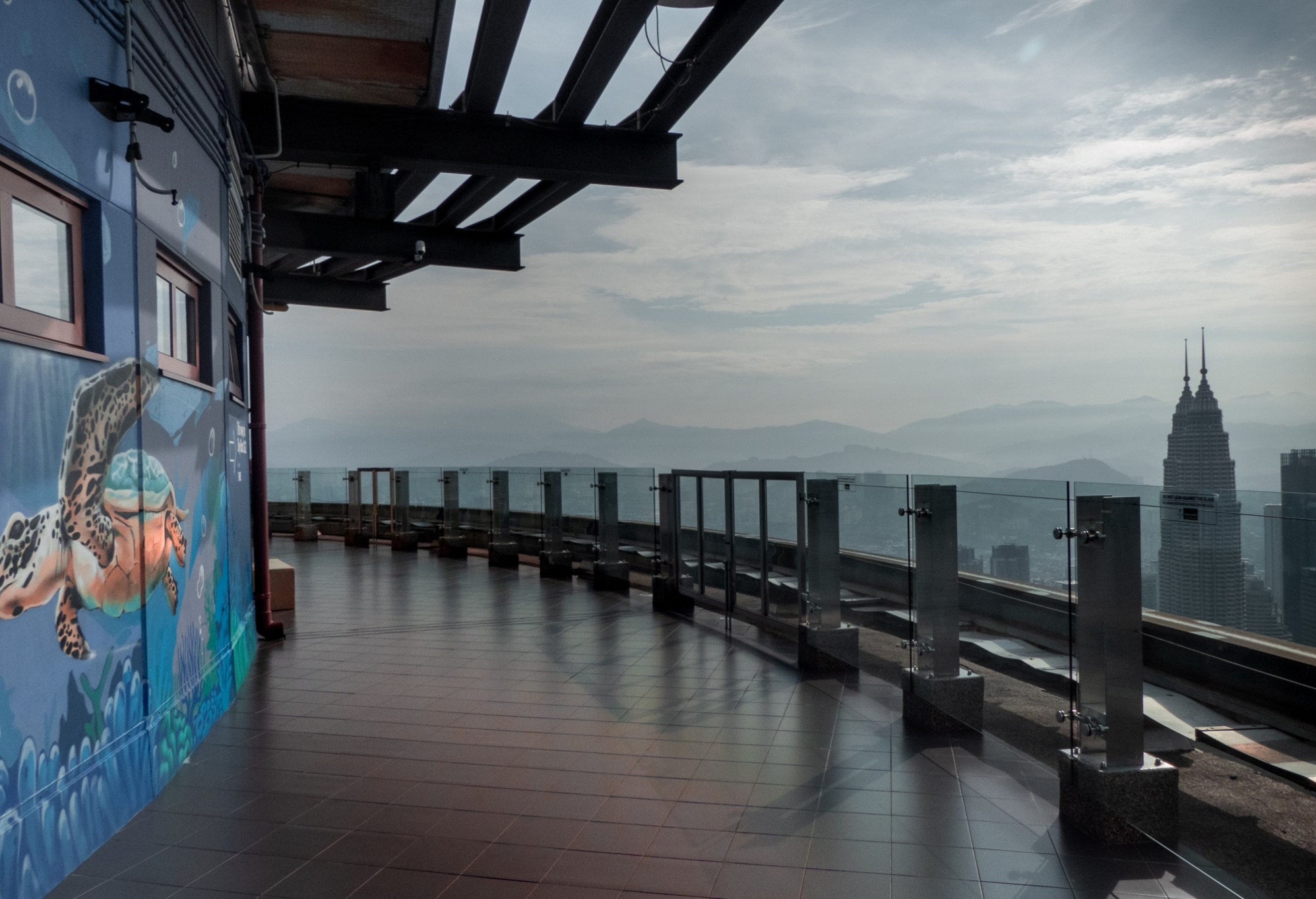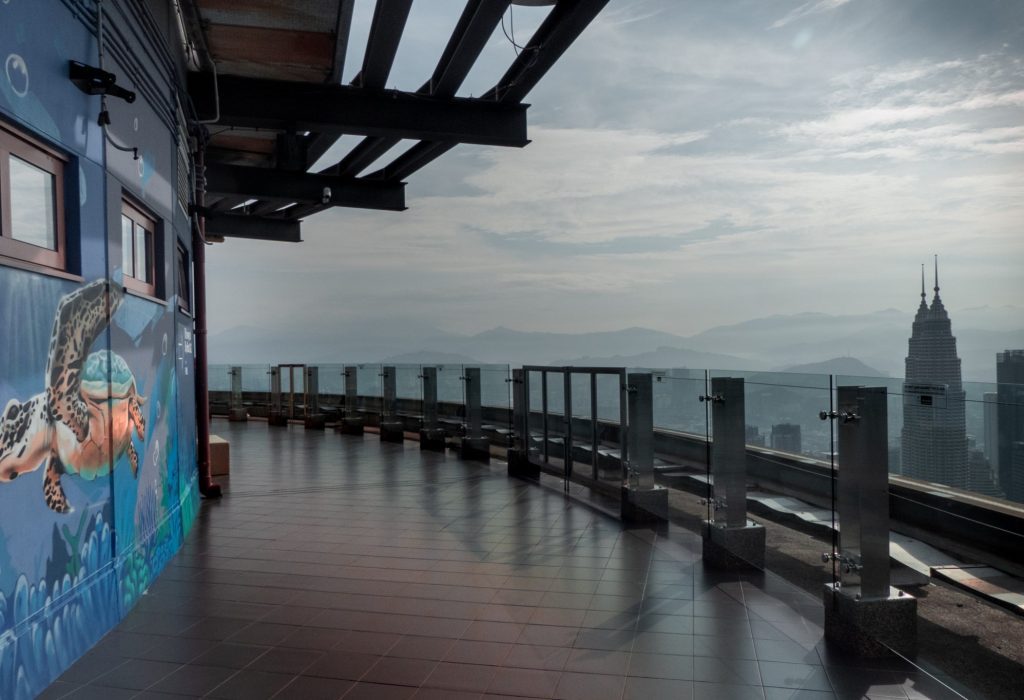 KL TOWER SKYBOXES
The so-called "Skyboxes" are glass-bottom boxes suspended over the side of the tower. They are open-air and not for the faint of heart.
To avoid actual lines forming the tower has a ticket system in place. To draw a number you have to go inside back to where the elevators are. Then you wait until your number appears on one of the large screens. There are two different Skyboxes so be careful which one you draw a number for.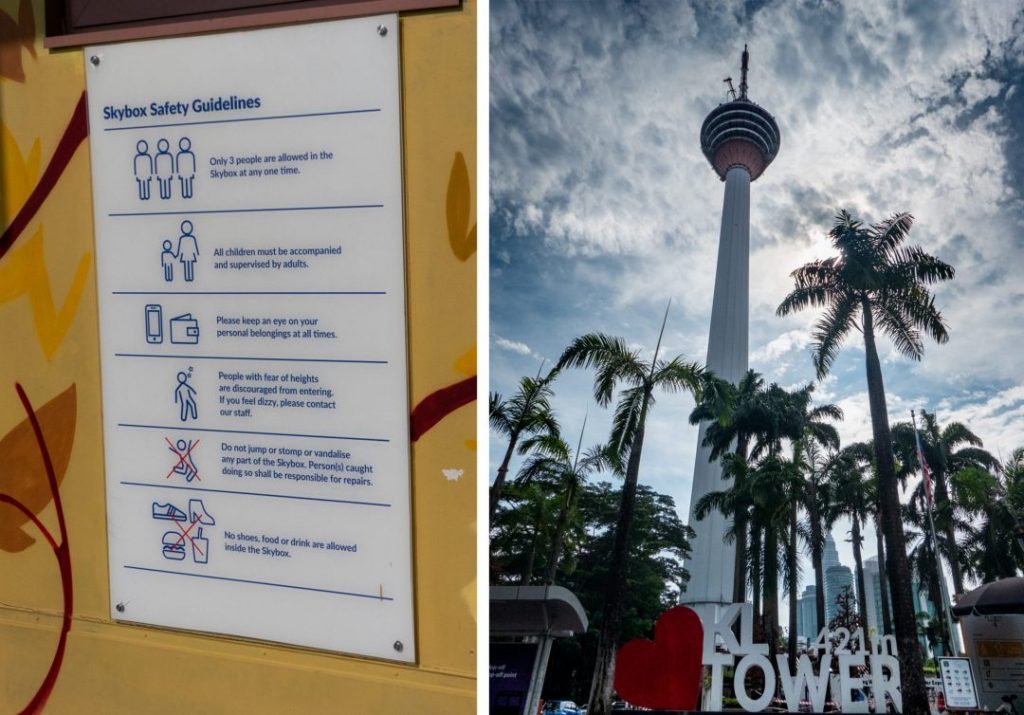 You need to take off your shoes to go into the Skybox. Up to three people can go into one box at once. However, if you draw a ticket you are guaranteed to be alone in the box if you wish and won't have to share it with strangers.
Each person gets to spend five minutes in the box but not more. You can ask some of the friendly staff to take your picture.
If you have the chance to I can recommend trying both of the Skyboxes. The views are very different and the experience is unique.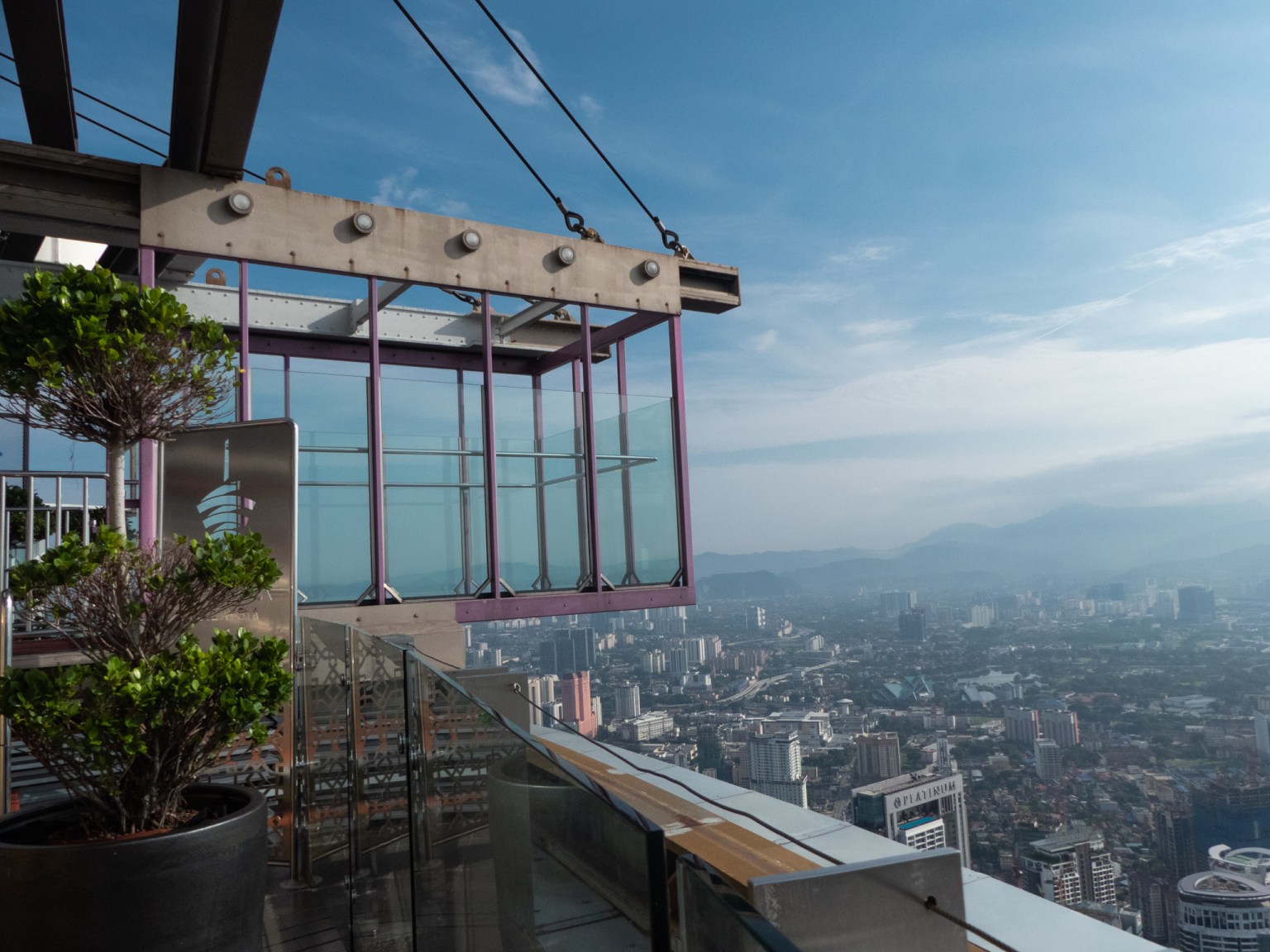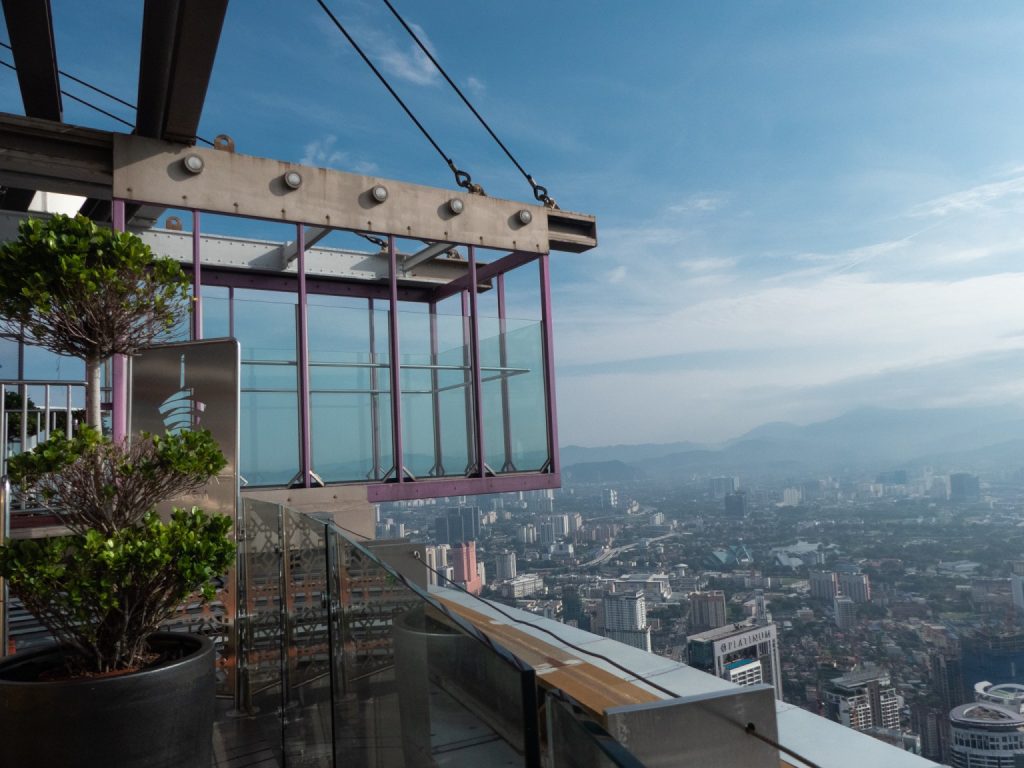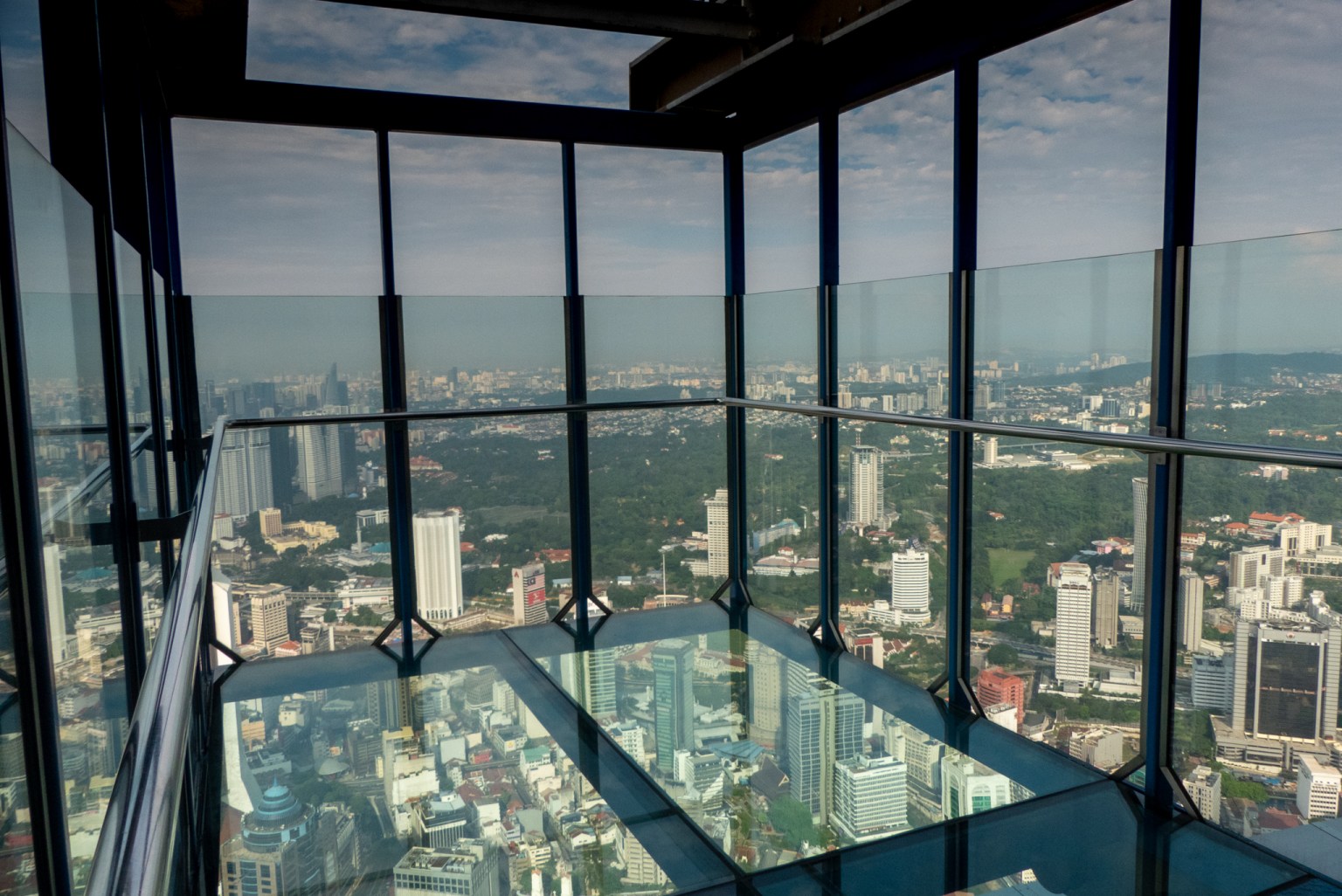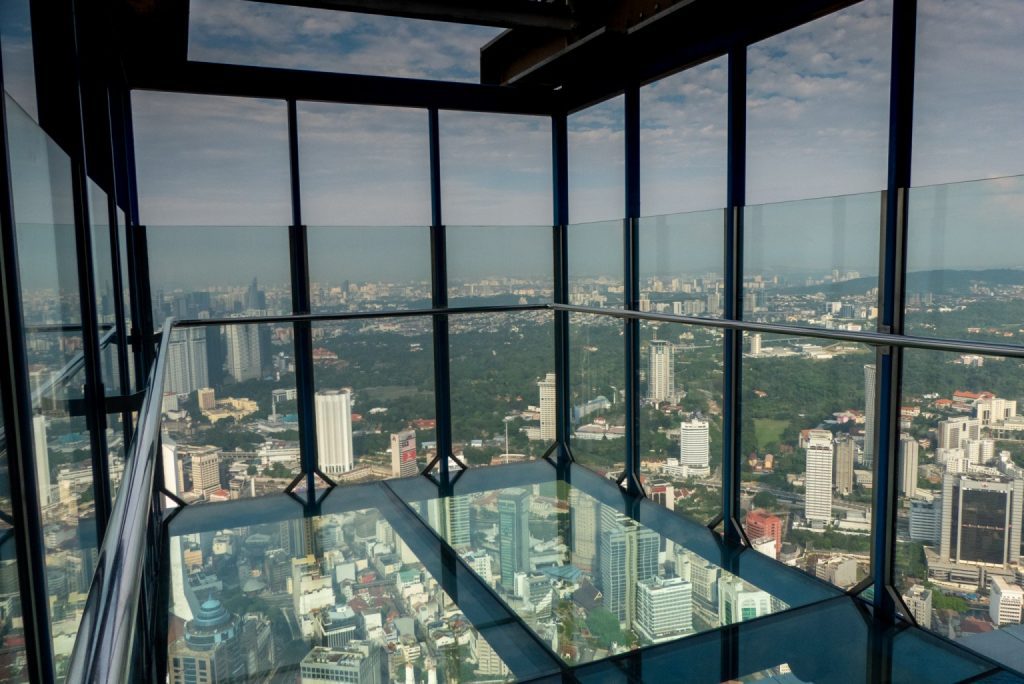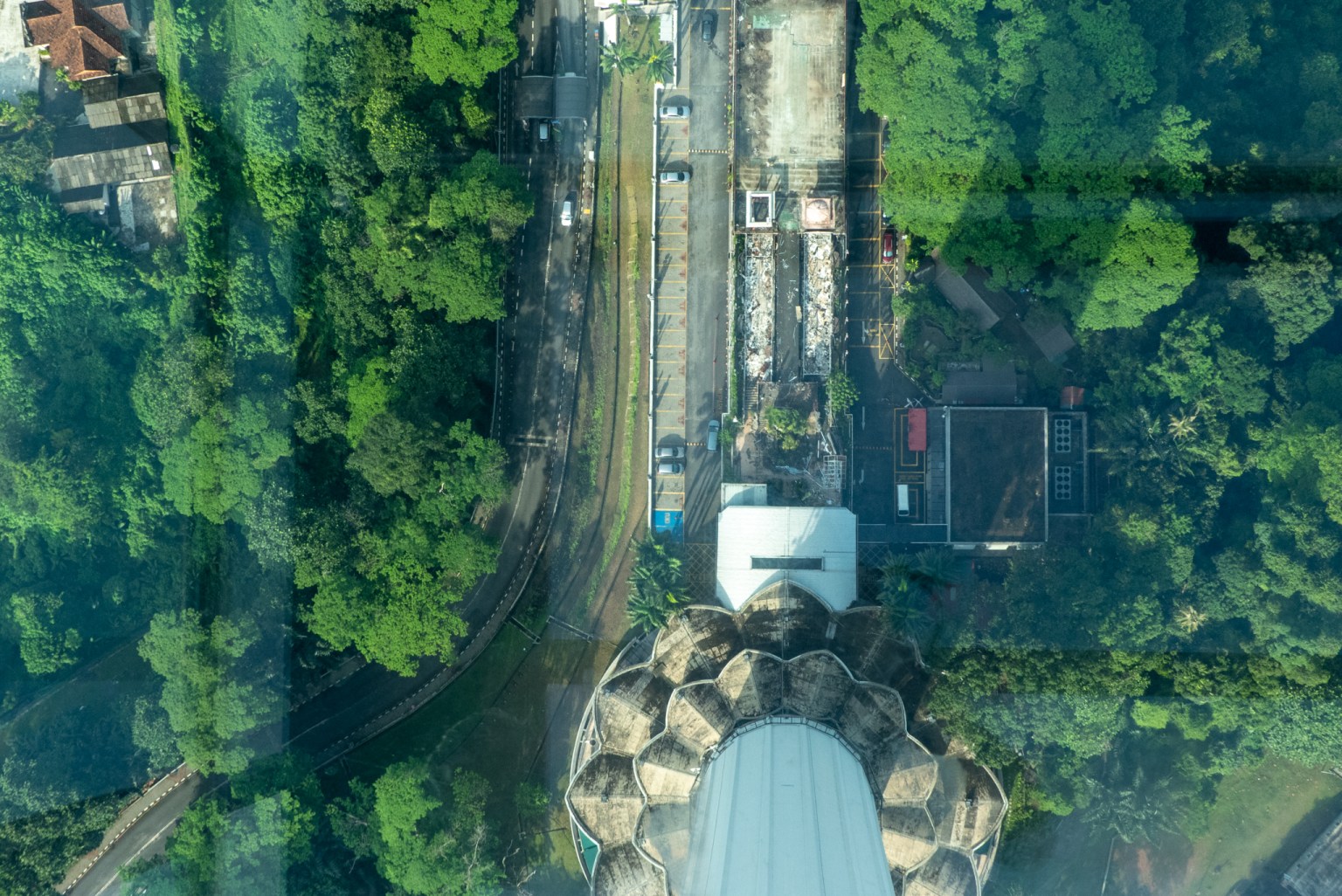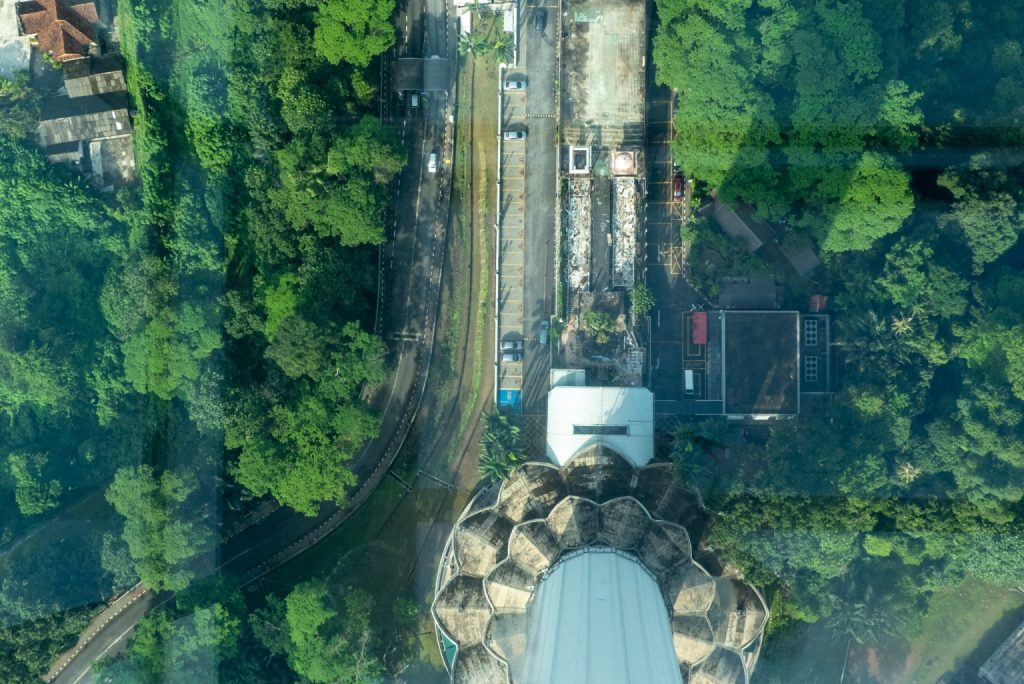 FOOD AT THE TOWER
In the lobby, you'll find a good selection of small restaurants if you get hungry after your visit to the tower. They aren't the cheapest, however. If you're not in a rush then why not head over towards KLCC where you'll find some of the city's best and cheapest restaurants.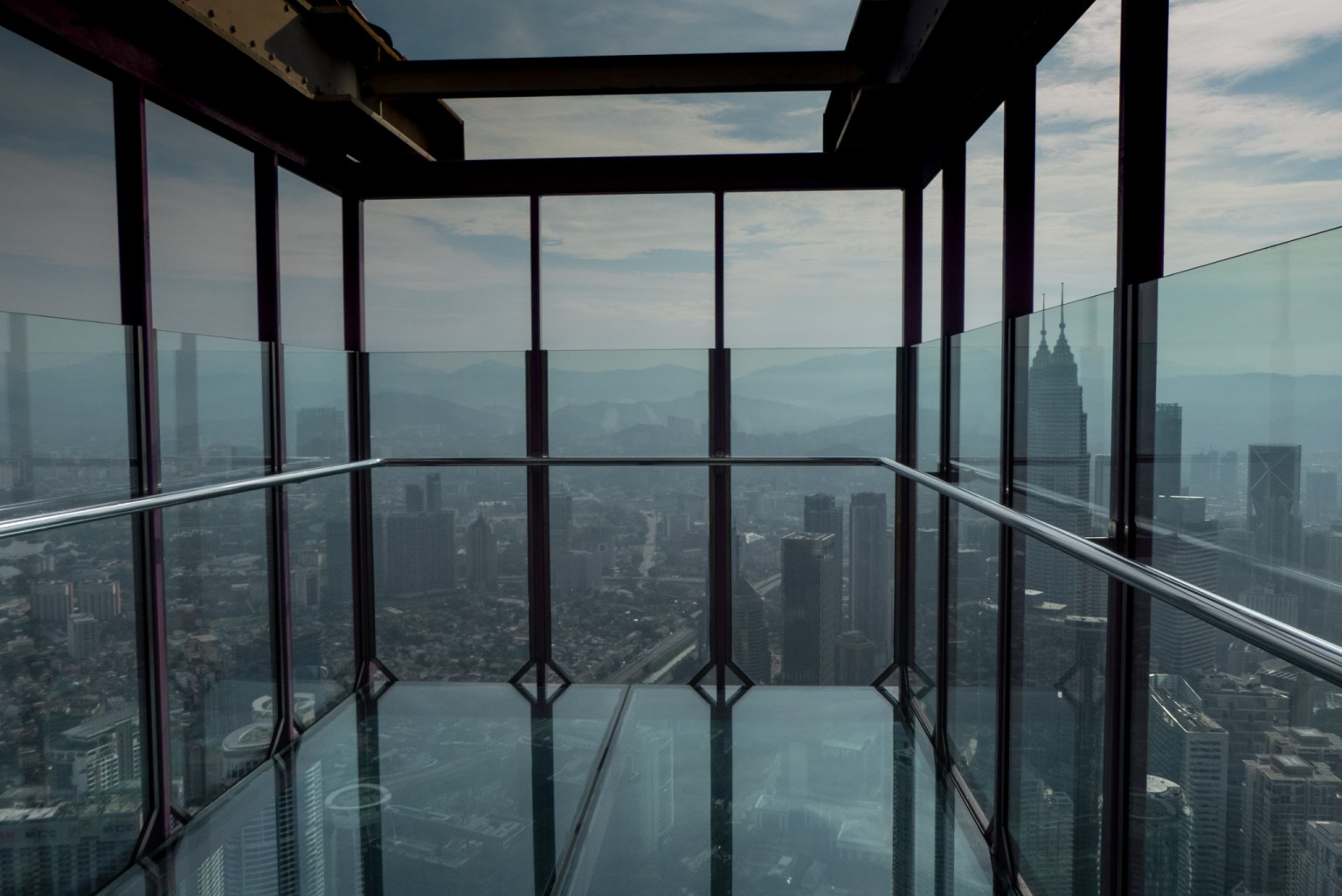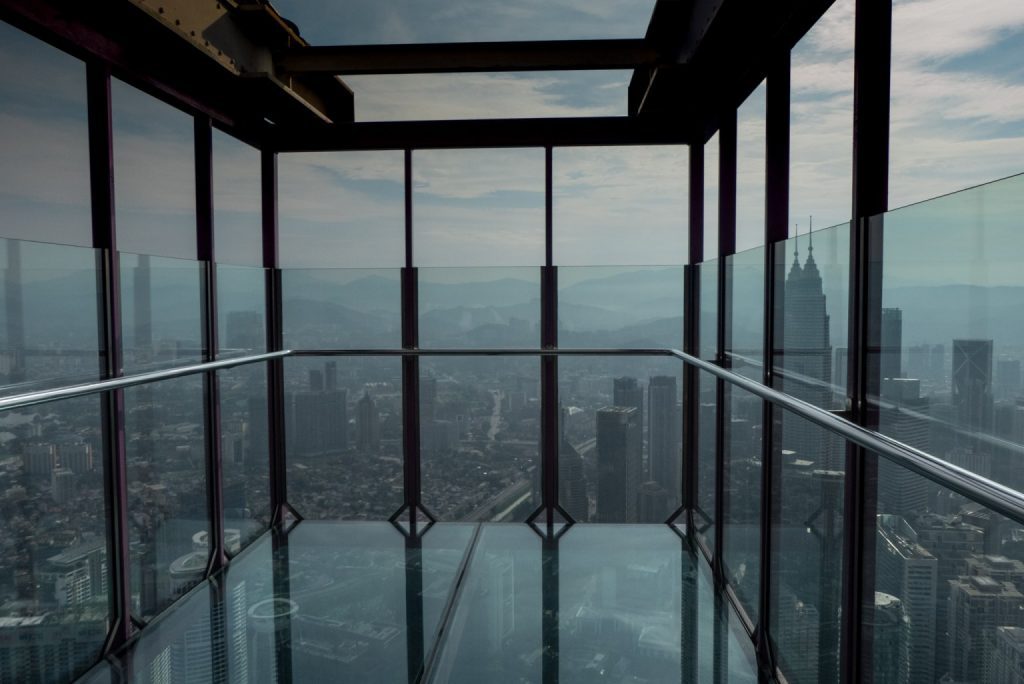 HOW LONG DOES IT TAKE TO VISIT THE KL TOWER?
I would say you can spend around one hour at the KL Tower if you do not have to wait in line. This gives you plenty of time to look around, take photos and enjoy the views. If you're going during rush periods add at least 30-60 minutes wait time.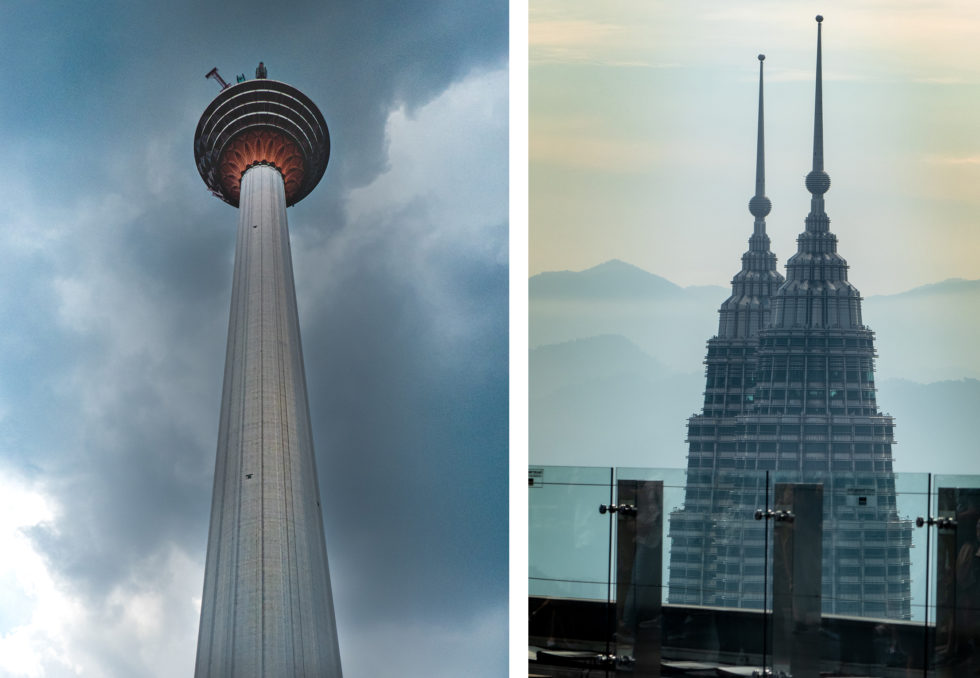 WHAT IS CLOSE TO THE KL TOWER?
After you visit the KL Tower there are plenty of things to do close by. I highly recommend the Forest Eco Park which sits right next to the tower. There are also the Upside Down House and the KL Mini Zoo both of which I am not a big fan of. If you want to read more about why then check out our 19 Things to do in Kuala Lumpur and 6 you should skip post here.
If you want to go a bit further why not check out KLCC or Bukit Bintang with their many attractions. Experience KL's hidden bar scene by visiting one of the many secret speakeasies in the city or go on a shopping spree in the great selection of shopping malls in the city.
The possibilities in KL are always endless.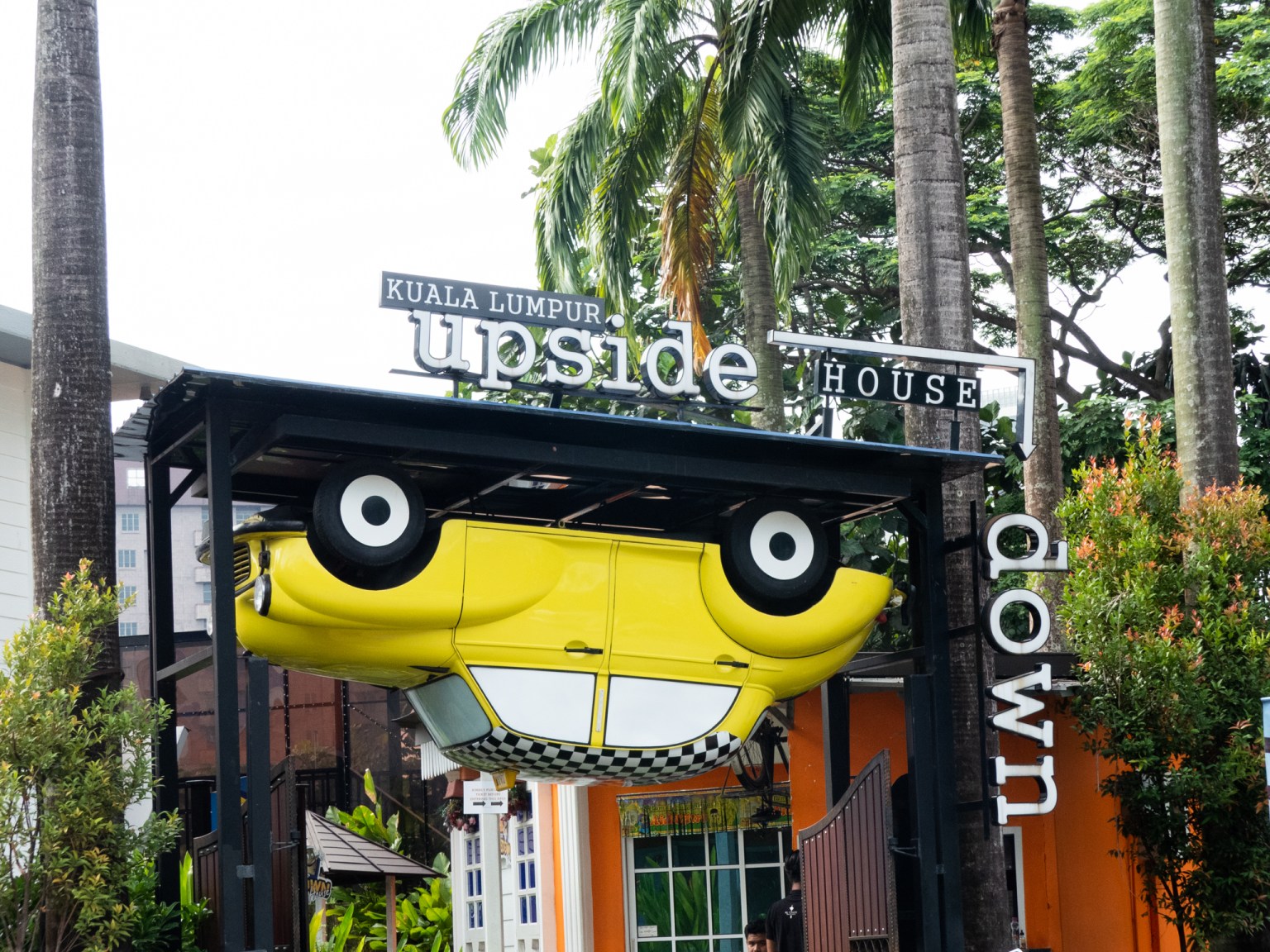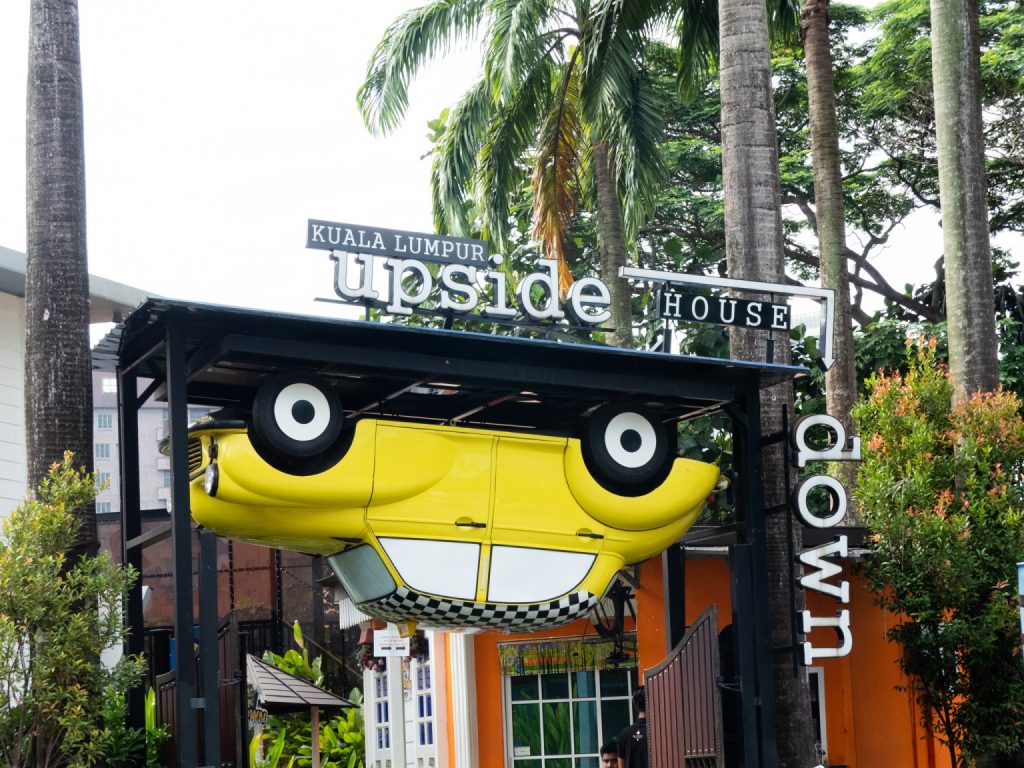 My most important travel tips and resources
Book your flights
Skyscanner is the best website for finding cheap flights since it works like a search engine so you can find the best deals across all airlines.

Book hotels and hostels
• Booking.com: Best world-wide
• Agoda: Best in South East Asia
• Hostelworld: Best for hostels

Book tours, transport and rental cars
•Viator: The best place to book tours, day trips and excursions for al budgets
•12Go: Great for ferries, trains, transfers and buses in South East Asia
•Discover Cars: Best deals for rental cars around the word

Get travel insurance
Every traveller needs travel insurance and I mean every single one. SafetyWing covers you in case of injury, illness or worse and they've got your back if your bag is stolen, flights are cancelled or in case of a natural disaster.

Pay abroad
Ask any traveller, Wise is the best choice when it comes to sending money abroad. They've always got the best exchange rates, lowest fees and their visa card is great for getting cash out or paying abroad.

Things every traveller needs:
➼ Osprey Farpoint 70 Backpack
Detachable daypack, ultra-light, durable and free repairs for life. There's a reason why so many backpackers have this bag.
➼ Packing Cubes
Packing cubes are a gamer changer, keeping your luggage organised and providing tons of extra space.
➼ Power bank
There is nothing worse than running out of battery on an overnight bus journey or a long flight. With a powerbank you can charge your eletronics on the go and make sure you're always connected.
➼ Micro-fibre towel
These lightweight towels are foldable, fast-drying and so useful when you're travelling.

➼ You can find 15 more things every traveller needs here. Some might be a bit controversial but I warned you!
Did I miss anything?
If you have any questions or feel like something is missing from this post please leave a comment below or contact me.