HOW TO PLAN YOUR TRIP TO FRIGILIANA
People often describe Frigiliana as "the prettiest village in Andalusia". Thousands of tourists visit this small town in the mountains every year and enjoy its picturesque vistas and traditional architecture. Frigiliana benefits from its favourable location. It takes just over 10 minutes to drive there from the popular beach town Nerja which makes it the perfect day-trip. If you're not quite sure how to plan your itinerary for Frigiliana and what to do in this area of Spain then this is the post for you.
The town may be small but there is always something to see and do in Frigiliana. Why not spend a few nights there and really get to know the surrounding area? The Sierras de Tejeda, Almijara y Alhama Natural Park will be at your doorstep so you'll appreciate some time to explore.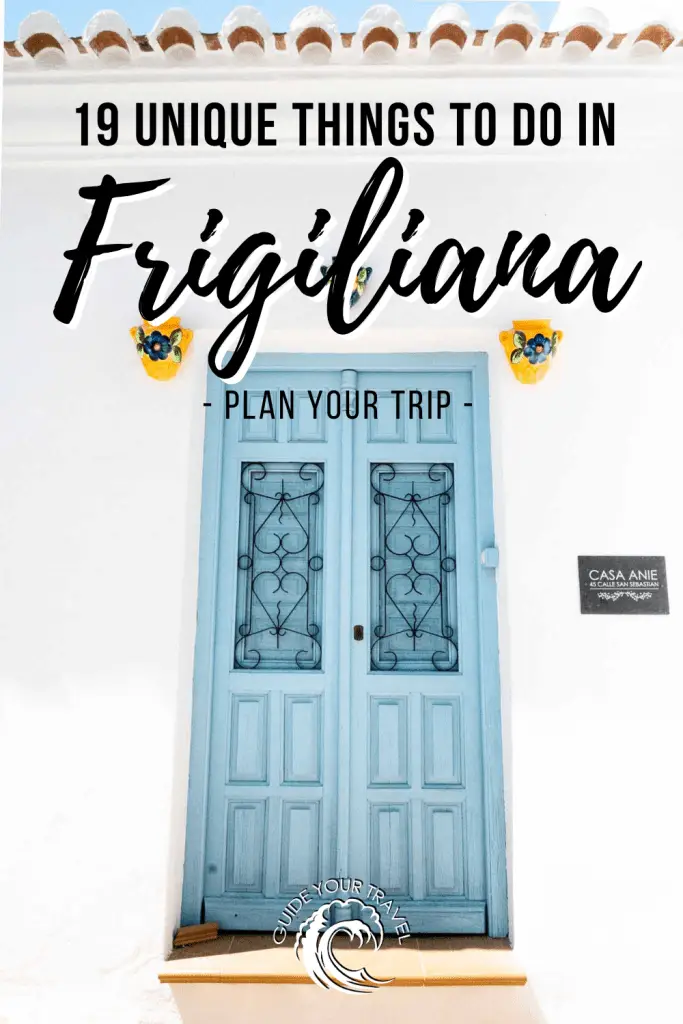 19 THINGS TO DO IN FRIGILIANA
Frigiliana is small but there is plenty to do. Once you've explored the old town and its narrow alleys why not head to Nerja which is only a short car or bus ride away. You'll get to enjoy one of the best beaches on the Costa del Sol while still being close to the mountains. In the evening you should return to Frigiliana for some live music and Flamenco to dance the night away.
1. PALACIO DE LOS CONDES DE FRIGILIANA O EL INGENIO
The Palacio de Los Condes is a 16th-century Renaissance-style palace that belonged to the Count of Frigiliana. Much of the original building has been conserved including the original balconies and stables. Today, it is mainly known as "El Ingenio" which stands for a sugar cane factory. It is believed to be the only sugar cane honey factory in Europe at the moment. It also houses a souvenir shop focused on products from Spain and is one of the most prominent landmarks in Frigiliana.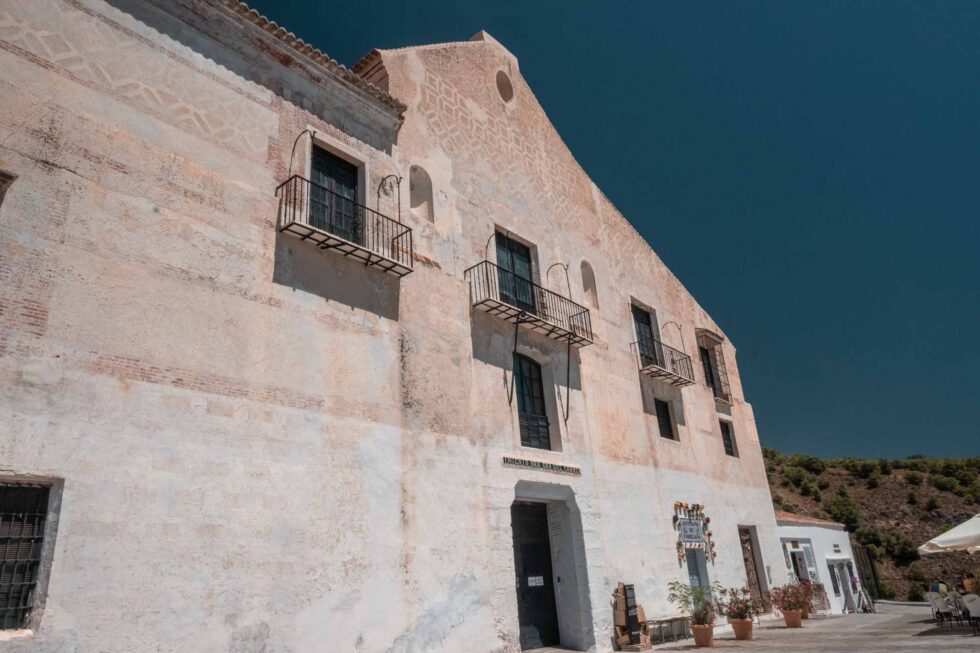 2. FIND THE BEST PHOTO SPOTS IN FRILIGIANA
Frigiliana is famous for its narrow alleys and white houses. Did you know many tourists who are staying in Nerja come to Frigiliana purely to take Instagram photos? You'll fall in love with the many hidden spots and the beautiful views of the mountains. So if you're interested in photography or stepping up your Instagram game definitely add Frigiliana to your list!
Are you struggling to gain followers and likes on Instagram? Check out our post about the 33 most common Instagram mistakes and how to fix them here.
3. VISTA PANORÁMICA
This spot in the heart of the old town has the best views of Frigiliana, hands down! You'll find a little restaurant just a few metres away where you can get a drink and escape the heat for a while.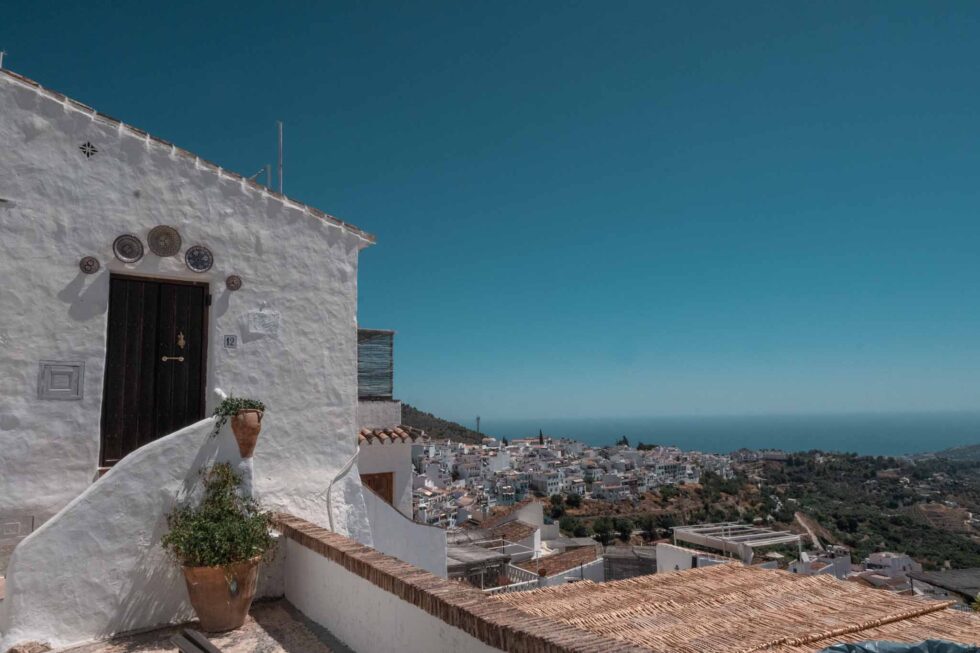 4. EXPLORE THE NATURAL PARK CLOSE TO FRIGILIANA
Frigiliana lies at the edge of the Sierras de Tejeda, Almijara y Alhama Natural Park. Hiking here is one of the best things to do in Frigiliana and shouldn't be missed. You'll find a good selection of trails nearby suitable for all levels of fitness.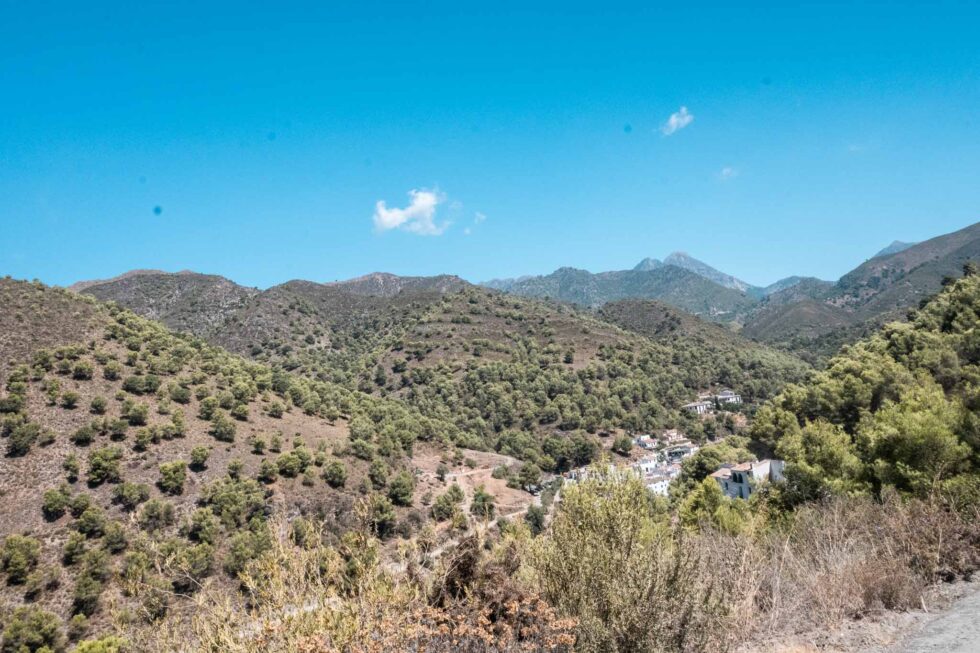 5. FRIGILIANA ARCHEOLOGY MUSEUM
Learn more about the history of the area and visit the popular Archaeology museum. Admission is free so definitely add it to your list of things to do in Frigiliana
6. CALLEJON DE SEÑOR
The Callejon de Señor is a tiny little street that actually goes underneath a building. It's a great spot for photos and the perfect shortcut for exploring the old town.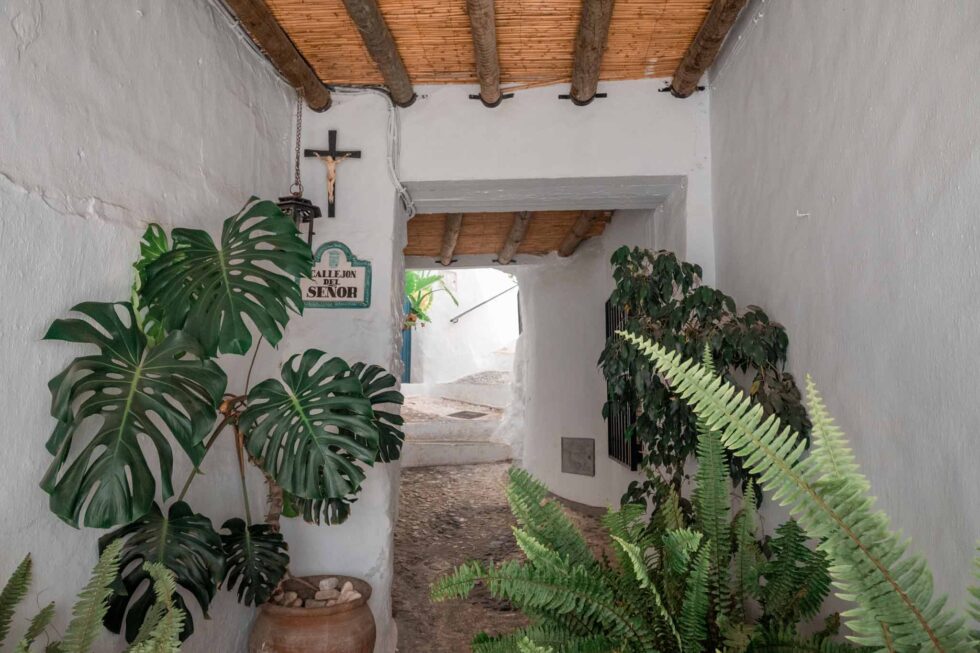 7. CHURCH OF SAINT ANTHONY OF PADUA
Much like the Palacio de Los Condes, the Church of Saint Anthony of Padua is a 16th century Renaissance building. Saint Anthony is Frigiliana's patron saint and the church has a beautiful interior. Why not grab a drink at the cafe opposite the church while you enjoy the scenery?
8. TILES DEPICTING THE HISTORY OF FRIGILIANA
There are twelve tile murals scattered around the old town. They depict the history of Frigiliana and this area of Spain with illustrations and short text passages. Keep an eye out for these beautiful tiles and learn more about the battles that made this town stand out in history.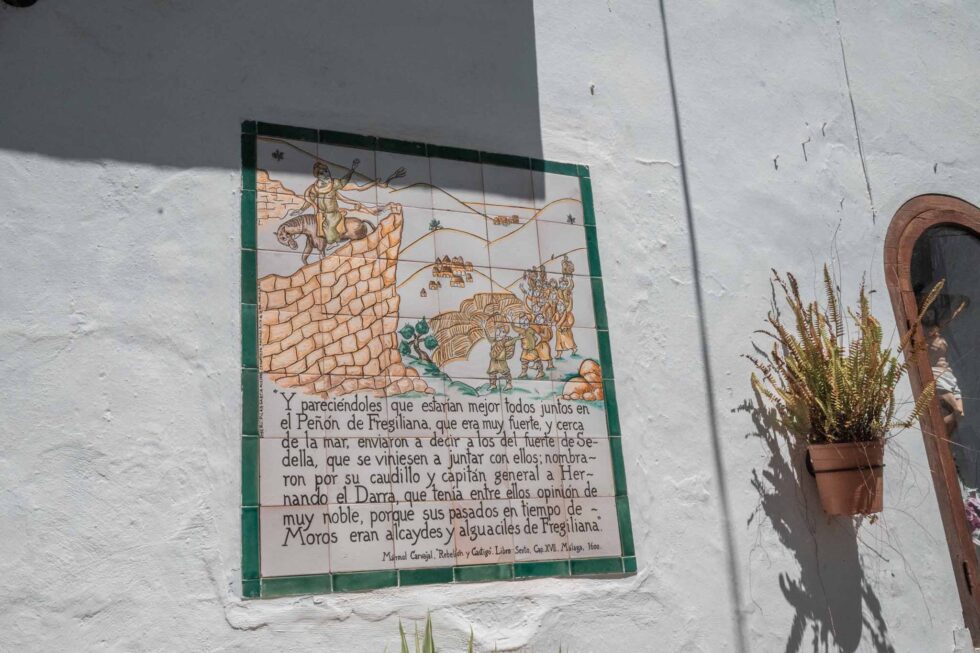 9. ACEBUCHAL
Acebuchal is a tiny secluded village in the mountains. The town was abandoned for more than 50 years before it was rebuilt in the early 21st century. Today it has a small number of permanent inhabitants and is the perfect place for a day trip. It takes around 25 minutes to drive there from Frigiliana and around 1,5 hours to walk.
Read our complete guide to visiting Acebuchal, the famous ghost-town here.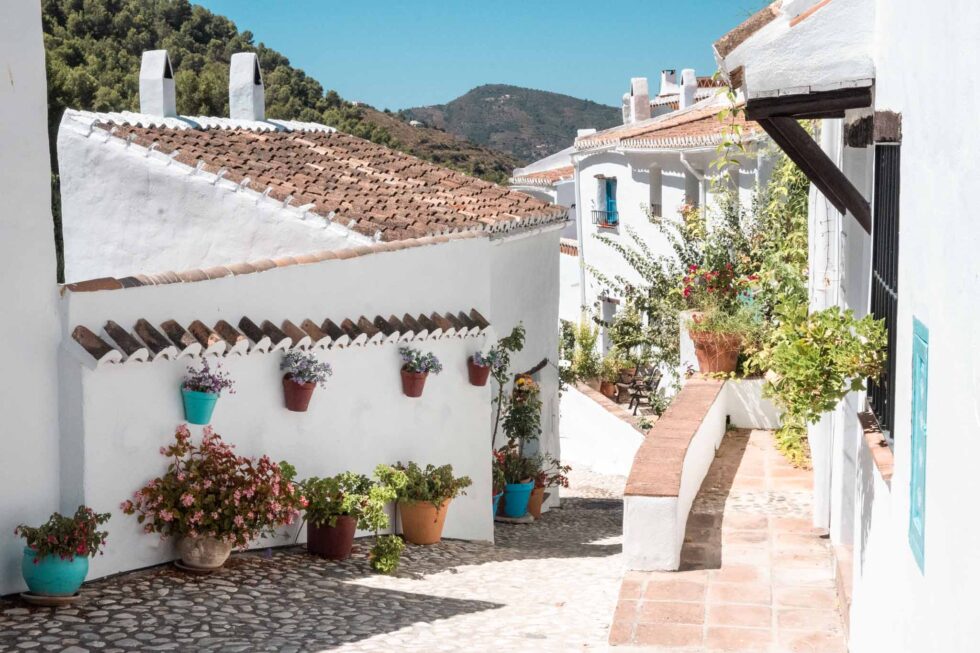 10. TAKE A TOURIST TRAIN THROUGH FRIGILIANA'S STREETS
If you want to learn more about life in Frigiliana and don't feel like walking around all day why not take the tourist train? It costs only 3€ and takes you to many of the important places around town. Plus you'll get an audio guide in either Spanish or English.
11. SANTA FIORA BOTANICAL GARDEN
The Botanical Garden in Frigiliana is not very large but still well worth a visit. All the plants in this garden have a special significance and represent how people used to live in Frigiliana and this part of Spain. It's the perfect spot for a picnic and to enjoy the views of the surrounding town.
12. TRY THE BEST TAPAS IN FRIGILIANA
There are plenty of little cafes and restaurants scattered around Frigiliana. You absolutely need to try traditional Spanish tapas while you are there. Head to Punto de Encuentro, Le Esquina Del Bandolero or the Restaurante 3 Culturas for a good selection of tapas.
13. CASTILLO DE LIZAR
The Castillo de Lizar is an ancient castle ruin located just a short hike from Frigiliana. It also used to be the location of a historic fort. Today, there is little left except for a ruin. The views are amazing though and still worth a visit.
14. FESTIVAL DE TRES CULTURAS
The Festival de Tres Culturas is an absolute must-see when you visit Frigiliana. It takes place on the last weekend of August every year and is one of the most popular tourist attractions around. You'll find the streets packed with people in the evenings enjoying the live music on the streets, the markets and light shows. Don't miss out on this spectacle! Read more about the festival here.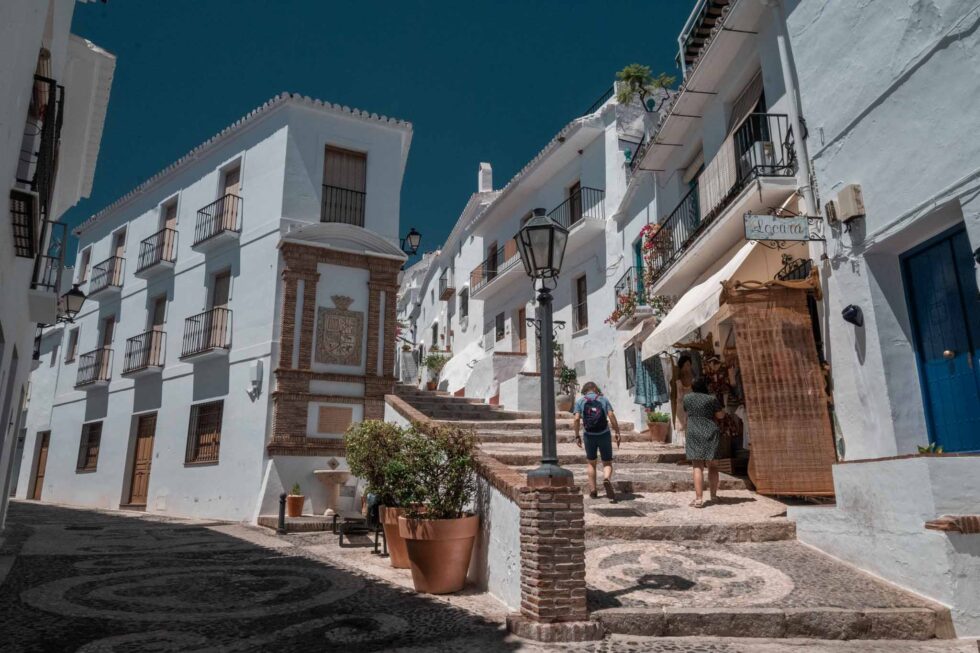 15. PLAZA DE TRES CULTURAS & LOOKOUT POINT
Named after the three "cultures" or religions that shaped Frigiliana, the Plaza de Tres Culturas is the heart of the town. This is the perfect place to come for lunch and enjoy the view in one of the many restaurants. This is also where the main events of the Festival de Tres Culturas take place during August.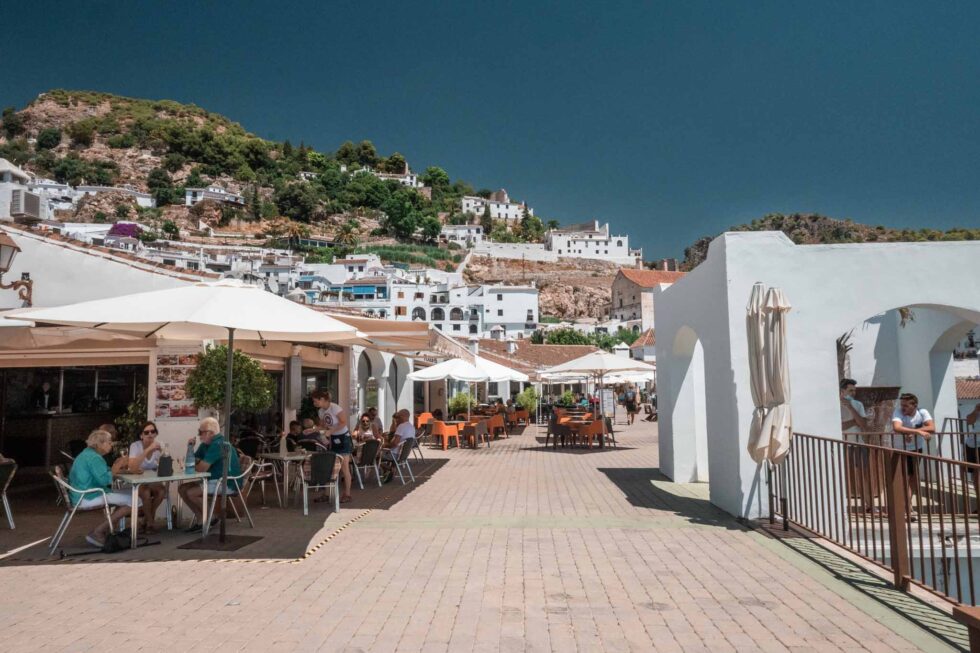 16. GO ON A WALK THROUGH THE BARRIBARTO
The Barribarto is the old town of Frigiliana. This is where you'll find the famous narrow streets with their white houses and eye-catching doors. You'll love the little souvenir shops and hole-in-the-wall restaurants with colourful flowers decorating the balconies. Some of the streets can be quite steep so expect to be sweating if it is hot.
17. SEE FRIGILIANA'S FAMOUS DOORS
Frigiliana's doors are a tourist favourite for taking photos. Many are painted in blues and yellows which makes them stand out against the white walls. You'll always find another pretty door hidden in a side street.
18. ENJOY LIVE MUSIC
There are many restaurants and bars that have live music in the evenings during summer which is the perfect time to explore Frigiliana. Try going to Splash, Bar Osemy or Hudson's Cocktail Bar for some drinks and music.
19. ARTESIAN SHOPPING
There are many little shops hidden away in Frigiliana's winding streets. You'll fall in love with the cramped stores and their unique products. Frigiliana is known for its Artesian products made in Spain and you'll find it hard to leave without buying something.