WHY SHOULD YOU APPLY FOR AN INDONESIAN VISA IN KUALA LUMPUR?
Applying for a visa whilst you are in a foreign country can involve lots of paperwork and time spent in waiting rooms. To make the process easier for you I've compiled this step-by-step guide on how to apply for an Indonesian visa in Kuala Lumpur.
Why Kuala Lumpur? It's quite easy to apply for an Indonesian visa here and it's a great city to visit before you actually go. You should plan to stay in the city for about a week. Why not visit the Batu Caves while you are there? They're easily accessible, cheap and the perfect place to go while you are waiting for your passport.
Planning your trip to KL? Here are 19 things you should definitely add to your itinerary.
Travelling on a budget? Check out these 12 beyond cheap places to eat in Kuala Lumpur.
This post may contain affiliate links, which means we'll receive a commission if you purchase through our links, at no extra cost to you. This helps us keep Guide your Travel free and provide high-quality content for you. Please read the full disclaimer for more information.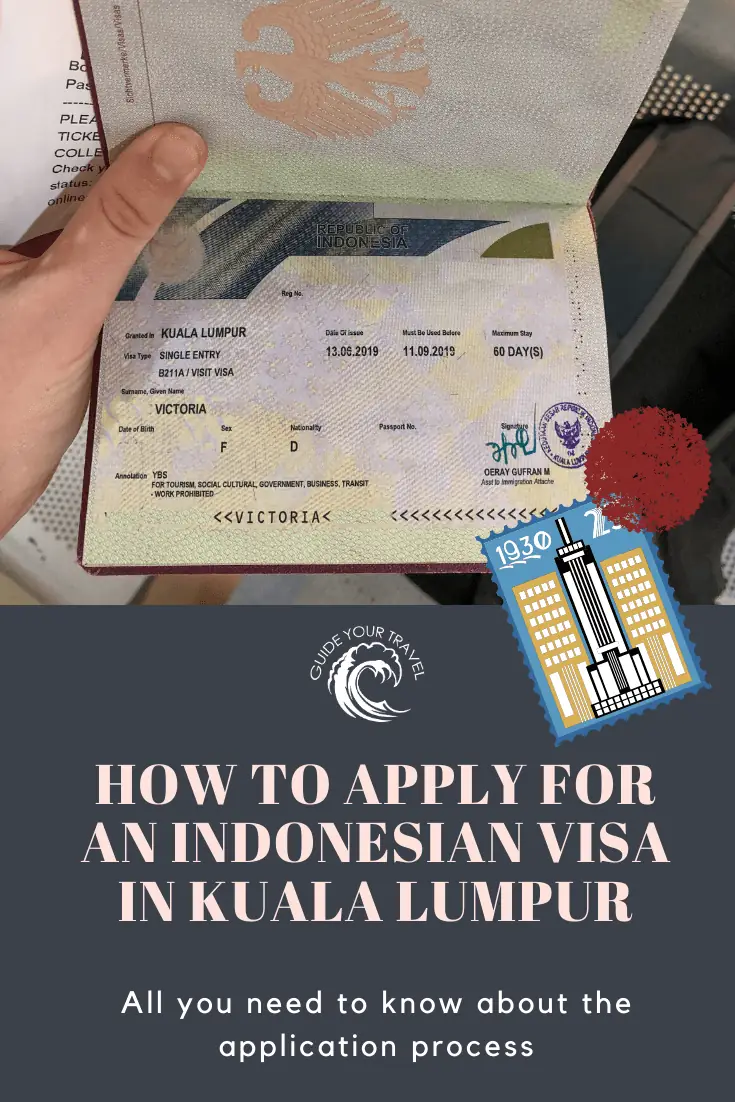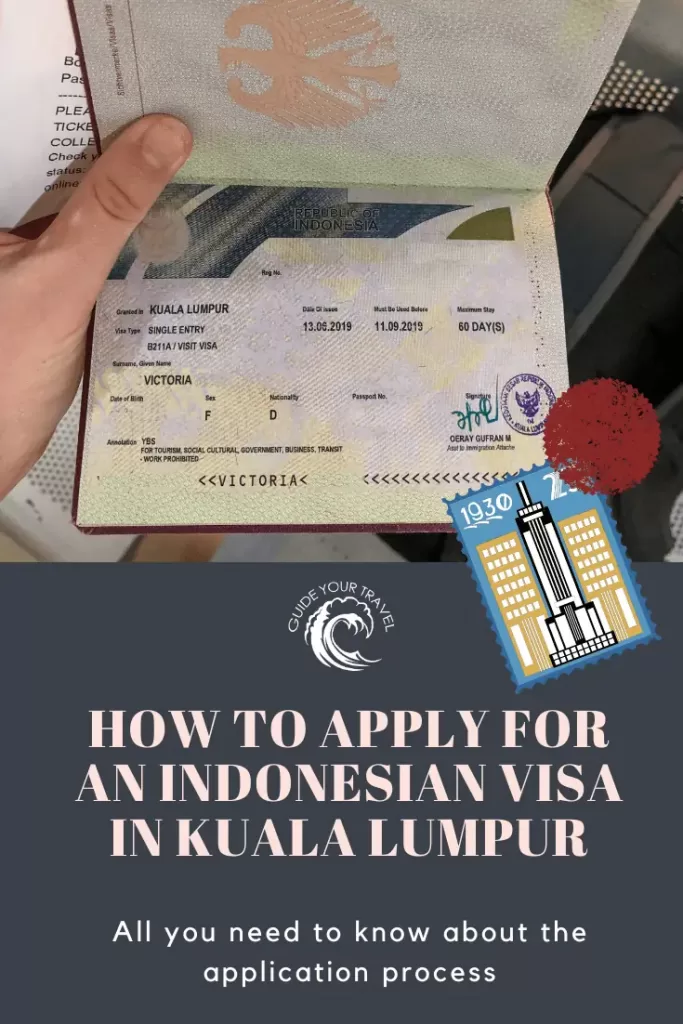 DO YOU EVEN NEED A VISA FOR INDONESIA?
Most countries do not need a visa to enter Indonesia. You are permitted to stay for 30 days visa-free after which you have to leave the country. If you're planning to stay longer however you can opt to get a visa on arrival at the airport. This costs 35 USD (≈ 30 €) and gives you the chance to extend your stay in Indonesia. A visa on arrival is only valid for 30 days after which you have to extend it.
Check out this article to see if your nationality is one of the 60 that qualify for a visa on arrival. It also provides some helpful information on other types of Indonesian visas and what happens if you overstay.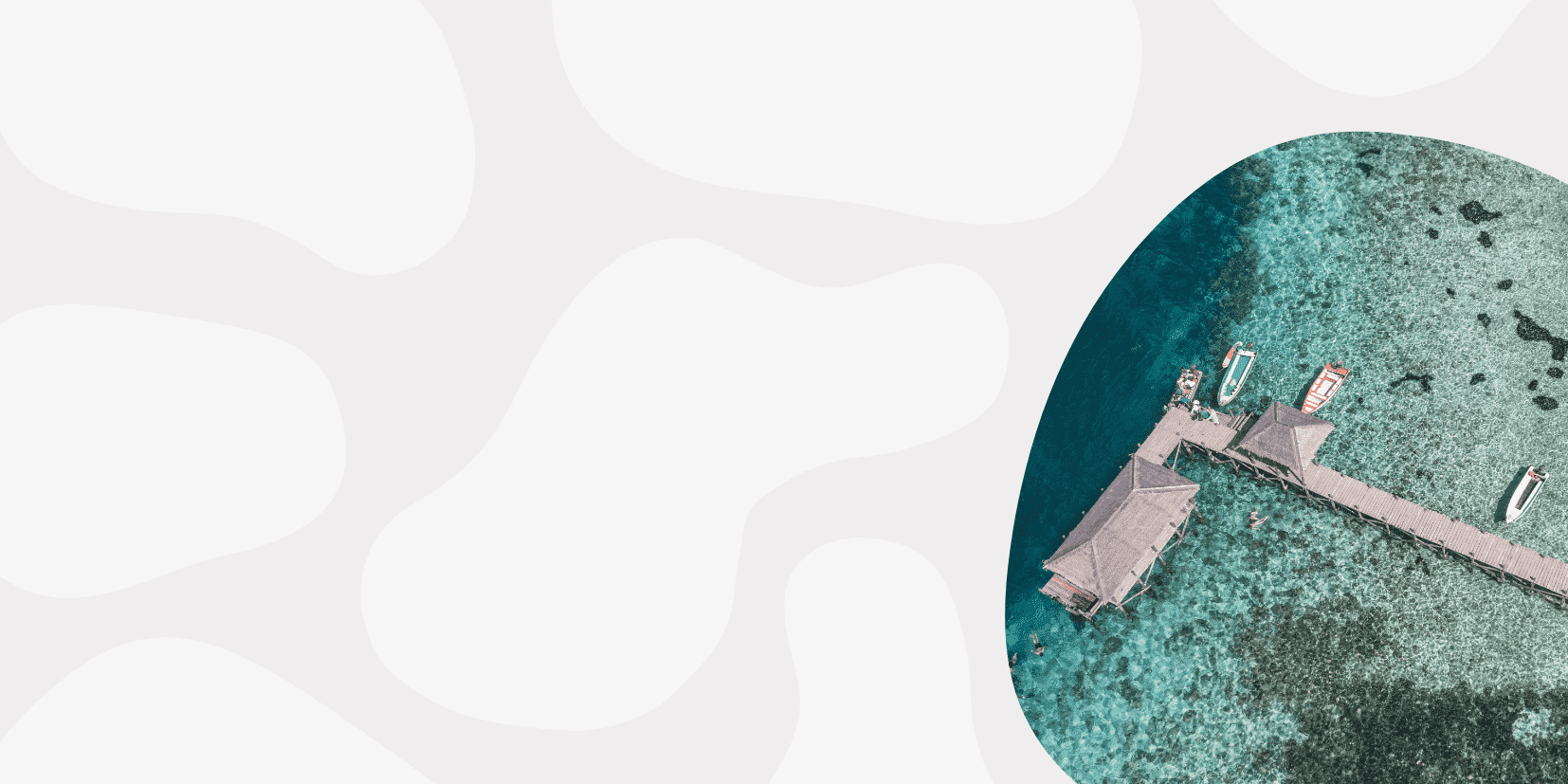 Let me save you time and effort when you're travel planning!

➼ Best travel insurance? SafetyWing
➼ Best place to find cheap flights? Skyscanner
➼ Best bank & credit card for travellers? Wise
➼ Best travel backpack? Osprey Farpoint 70
HOW CAN YOU STAY FOR LONGER THAN 30 DAYS?
If you already know that you're going to be staying in the country for more than 30 days I recommend getting a 60-day visa before you arrive. This will save you a lot of time and worry.
If you choose not to do this you will have to go to an immigration office in Indonesia to extend your 30-day visa. It takes three trips and you have to leave your passport there for around a week. This means you will be forced to stay in a larger city for a while, while you wait to get your passport back. There is no guarantee of how long they keep it and you will be unable to travel on.
There are many instructional posts online on how to apply for a visa extension if you're already in Indonesia. I have linked one here. It gives instructions specifically for Bali but the process is similar in other places.
THE VISA RUN
Alternatively, you can do the classic visa run. To do this you leave the country just to return a few days later to get a new visa. This may be a viable option if you've managed to find cheap flights or plan to visit another country such as Singapore or Malaysia anyway.
If this is not the case for you a visa run will just be a waste of your time and money and I would avoid it if you can.
GETTING A 60-DAY VISA IN ADVANCE (B221A)
I think it's much simpler to just get a 60-day visa before you go to Indonesia so you can enjoy your trip without wasting time in the immigration office. It's probably easiest to do this while you are still at home but that may not always be possible.
Once you obtain your visa you have to enter the country within 90 days or it will no longer be valid. That means if you are going to be travelling somewhere else before Indonesia you might not have time to apply for the visa in your home country.
Travelling can also be spontaneous and sometimes it's hard to predict where you are going to go next. It's easy to find yourself in the predicament of having to apply for a foreign visa while outside of your home country. If you are somewhere close to home it might be a possibility to send your application via mail but if you are further across the globe this may not be a realistic option.
In my case, I had to apply for an Indonesian visa in Kuala Lumpur which can seem like a daunting endeavour. Since the information online was not as helpful as I would have liked it to be I have decided to compile this quick guide on how to apply for a visa, specifically a tourist visa for Indonesia in Kuala Lumpur. Of course, you can apply most of this information to any of the other available visas as well.
So let's begin.
WHAT DO YOU NEED FOR THE VISA APPLICATION?
To get your visa in Kuala Lumpur you, of course, need to work with the Indonesian embassy. This is a link to their website which is available in English.
Clicking on the visa section presents you with a list of different options. If you are travelling for tourist purposes you will have to select Visit Visa / B211B & B211C (without telex). There is an option with telex which applies to applicants with an approval letter from the Directorate General of Immigration. But you do not need to worry about that. Clicking on the non-telex version will provide you with the information on the image below.
So let's go through what you will need for your application.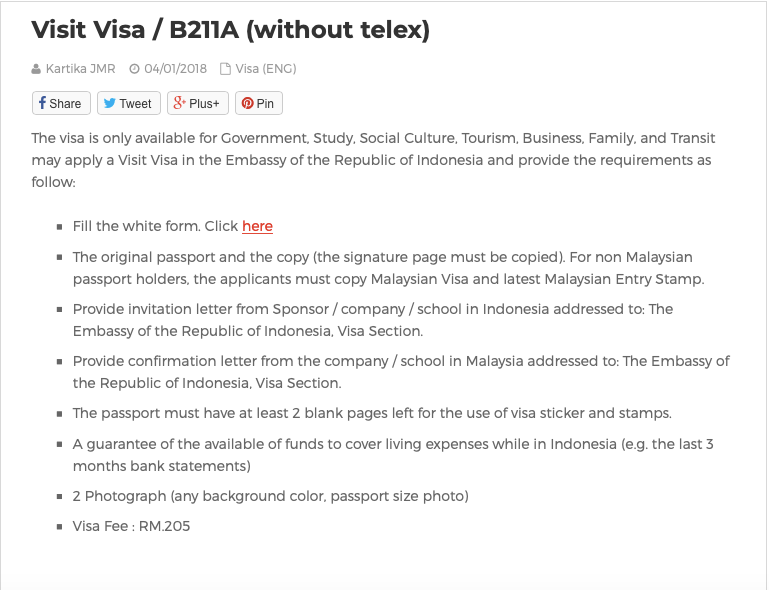 THE 'WHITE FORM'
Make sure to download this form from the embassy website and nowhere else in case they recently updated or changed it. Click the link below the picture to access it.
The form is also available when you go to the embassy but it will save you time if you fill it out in advance. It's quite straightforward but I was unsure of a few things when I filled it out so let me tell you what worked for me.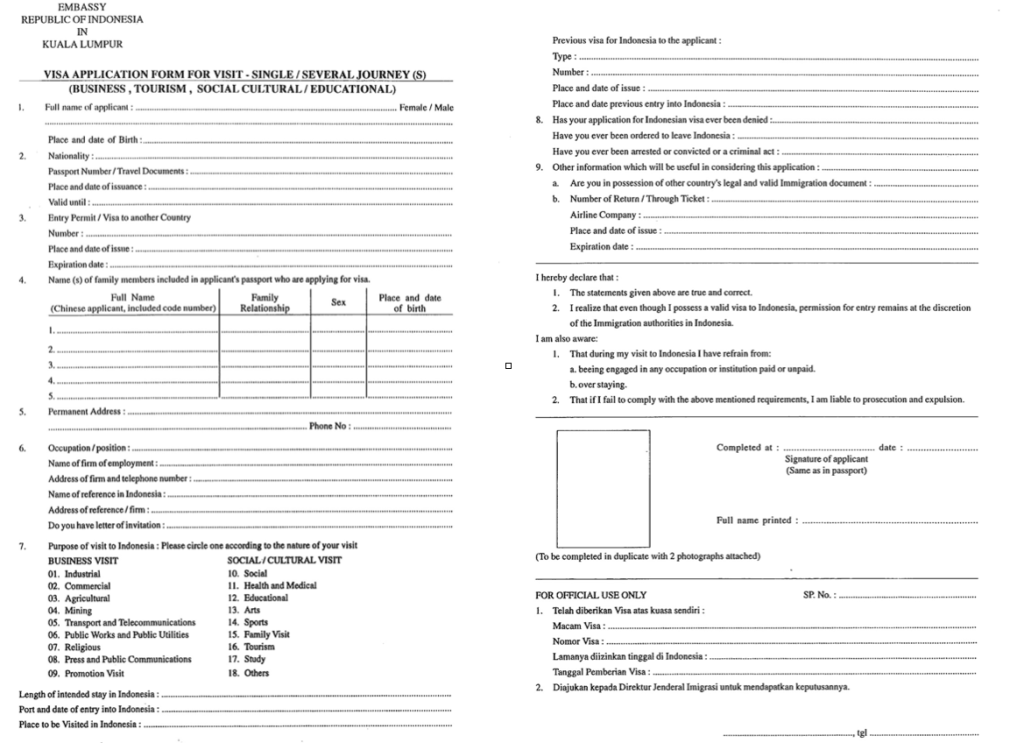 'Entry Permit / Visa to another country'
This applies to you if you are not a Malaysian national and therefore hold a 'visa to another country'. The wording is quite confusing. Since the Malay tourist visa does not give you an individual number just write "tourist visa" (or whatever visa you hold) here. That will be enough.
'Place and date of issue' will be the day and location where you entered Malaysia. You obtain the expiration date by simply adding 90 days to that date. Of course, this is only the case if you are in Malaysia on a 90-day tourist visa. If not then write down the number of days that your visa permits you to be in the country.
'Names of family members included in applicants passport who are applying for visa'
Leave this section blank if you are not travelling with a child included in your passport
'Name of reference in Indonesia, Address of reference, Do you have a letter of Invitation?'
Leave the first two questions blank and write 'no, tourist' in the letter of invitation section. If you do have an invitation from a school or a business fill it out of course.
'Length of stay in Indonesia'
I confidently wrote 52 days here (the length of my stay in Indonesia) which confused the officer who was handling my application. He told me to correct it to 60 days since that is the length of the visa.
'Places to be visited in Indonesia'
A brief summary of three or four larger locations is enough. No need for a detailed travel plan.
'Previous visa for Indonesia to the applicant'
Should you have visited Indonesia before check your passport for the stamp.
Type: Visa on arrival (assuming you visited for tourist purposes)
Number: B112 (will be different if you had a study, business or longterm visa)
You'll find the place and date of issue on the stamp in your passport. That will also most likely be your place and date of previous entry into Indonesia unless you have applied for a visa through an embassy before. If it was so long ago that you have a different passport now I would not worry about it and leave the section blank.
YOUR ORIGINAL PASSPORT AND A COPY OF IT
Very important! They also require a copy of the page of your passport where your Malaysian entry stamp is. Do not forget to copy this page. Most hotels offer copies and printing free of charge. There is also a good selection of copy shops in the KLCC area, which operate quickly and at a low price.
They ask you to make sure your passport has at least two empty pages (and of course is valid for 6 months after leaving the country which you should always make sure). If you do not have enough space left in your passport you need to apply for a new one with your embassy as soon as possible before you can proceed.
THE CONFIRMATION AND INVITATION LETTERS
Now they ask you to provide either a confirmation letter from a school or an invitation letter from a sponsor. If you are travelling as a tourist this DOES NOT apply to you and you do not need to submit anything.
THE GUARANTEE OF FUNDS
A guarantee of funds is something you need to have anyway most of the time when you enter a country. As you may know, immigration rarely checks this but they are entitled to deny you entrance if you cannot prove you have sufficient funds. This is an annoying side effect of having to apply for a visa since you rarely need to prove your funds when obtaining a visa on arrival.
The Indonesian government does not specify how much money they would like to see. What I have read online is to use 250$ (≈ 220€) per month as a rough guideline. Some people claim they did not have to provide a proof of funds but I would definitely come prepared just in case.
As proof, they suggest bank statements from the last three months. When I showed mine to the immigration officer at the embassy he did not spend much time looking at them. He just wanted to see a number. He also readily accepted that they were in German, so no need to provide a translation.
TWO PASSPORT PHOTOS
They do not have many requirements here, simply two passport-sized photos; One attached to the form and one loose, which the officer stapled to my application.
I have even in the past submitted two different passport photos because I didn't have two identical ones anymore. They didn't question this. It's useful to take passport photos with you from home if you know you are going to be applying for a visa. If you don't have any with you it is not difficult to have some made in Kuala Lumpur. Most shopping malls offer photo services and give you the prints instantly. Try Suria Shopping Mall, Low Yat Plaza or Berjaya Times Square.
THE FEE
The Indonesian embassy in Kuala Lumpur charges a fee of RM205 (≈ 43€) which is a standard price for a visa application.
I do have to mention that they charged me RM210, so RM5 (≈ 1 €) more than advertised on the website and in the embassy itself. Although this confused me I did not question it at the time and only realised the additional charge later on. Why this happened I cannot say.
GOING TO THE INDONESIAN EMBASSY IN KUALA LUMPUR
The Indonesian embassy in KL is located just east of Bukit Bintang and fairly close to the city centre. The nearest MRT stop is Tun Razak exchange which can be reached by the green line (Sungai Buloh – Kajang).
Another option would be to walk which is definitely a possibility although not the most pleasant experience. As of 2019, there were a multitude of different construction projects in the surrounding area which made it difficult to walk there from KLCC. Many of the roads were closed and there were no sidewalks in most places. It is, however, possible to walk and took me about 30 minutes from KLCC Park.
The area appeared fairly safe. Many embassies are located here. Taking a taxi or grab is also a good option. It costs about RM10 (≈ 2,10€) from KLCC depending on traffic.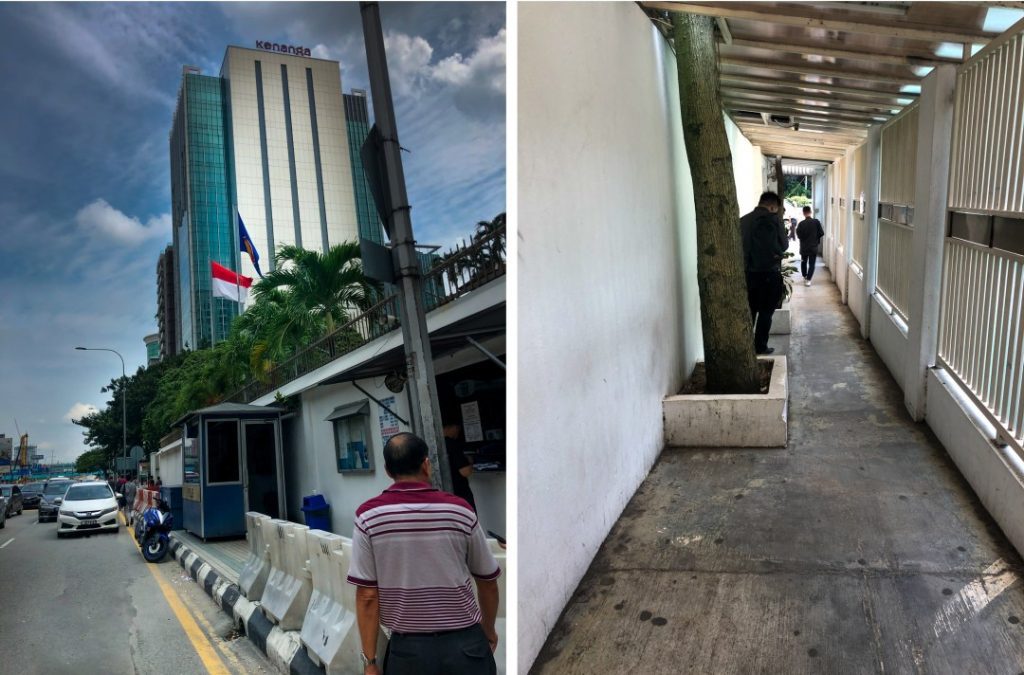 WHEN IS THE BEST TIME TO GO
The embassy is open from:
9:00 am – 13.00 pm and 14:00 – 17:00 pm from Monday to Thursday
and
9:00 am – 12:30 pm and 14:30 – 17.00 pm on Fridays.
I arrived at 9:05 and the place was already very crowded. I spent about 35 minutes waiting which was not too bad but I can only imagine how long the queues get later on during the day.
Note that picking up your visa is only possible from 14:00 to 16:00 pm. The embassy is closed on both Indonesian as well as Malaysian national holidays.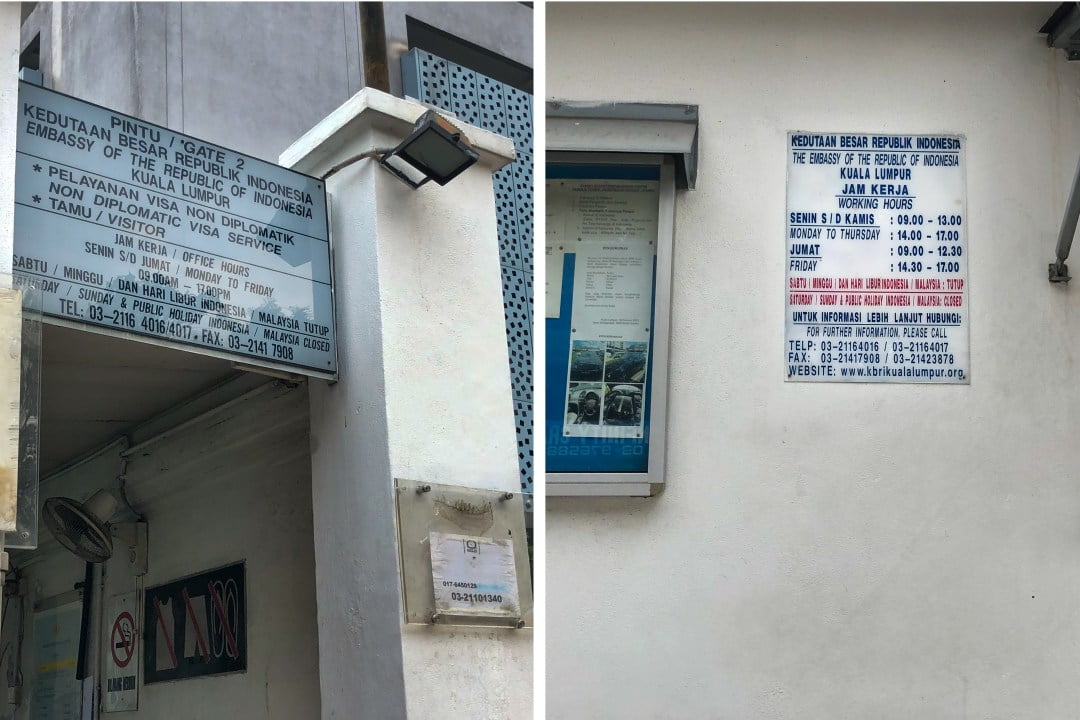 THE DRESS CODE
There is a dress code in the embassy. No short sleeves or pants are allowed.
I was wearing a just above knee-length skirt which the doorman accepted reluctantly because I did not have anything else to wear. But do not rely on this kindness as they might turn you away if you do not follow the dress code. Flip-Flops are also not allowed.
HOW TO GET YOUR INDONESIAN VISA IN KUALA LUMPUR
Before you enter the embassy you are greeted by a doorman. You have to explain to him what you are doing there and he then points you in the correct direction of where to go.
You walk down a hallway and then can either go upstairs or to the left into a waiting room. Many people were standing around everywhere, sitting on the floor or on the stairs.
For visa inquiries, you go left and walk through a waiting room into a second one behind glass doors. There is a small sign saying 'visa' on the doors.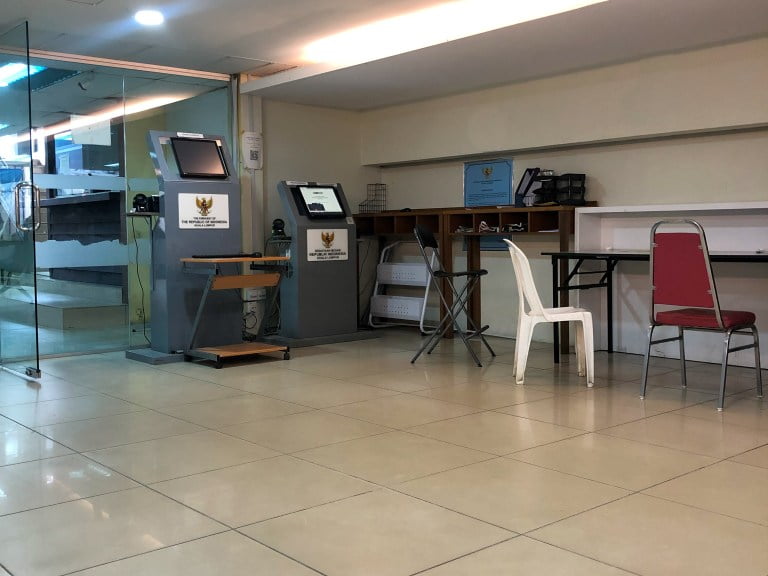 THE WAITING ROOM
In this waiting room, I was greeted by a lady, not in uniform and not identifiable as an employee. She asked me a few questions about my nationality and which visa I wanted and then gave me a number and told me to wait.
Other times there was no staff at all which means you have to go to the computers on the left and enter your information to get a number yourself. On the tables, there are copies of the application form which you can fill out if you haven't already done so.
There were about eight counters available although only three were operating. Above them, a large screen shows which numbers are called. After about half an hour waiting it was my turn to go up to the counter.
The man at the desk was very nice and helpful. He inspected my documents and asked me a few general questions about where I was planning on going. He recommended that I should do a visa run next time instead of going through this application process.
I was also told that there was no guarantee that I would be granted the 60-day visa and that they would issue a 30-day one instead in that case. In the end, I received a little piece of paper with my number stapled to it. I was told to come back within four working days at the designated time for the visa pickup. The whole process took about 10 minutes.
THE PICKUP TIME AND DATE
The website states that visa applications take four working days which was accurate in my case. This is surprisingly quick considering I have witnessed these sorts of things taking weeks and even months for other countries. However, I can imagine that applications for study visas or long-term stays might take longer.
When submitting your passport you receive a receipt stating the amount you paid and your waiting number. They stamp a date on this piece of paper with a designated pickup time. This date is the earliest you can pick up your passport and you have to stick to the two hours designated time slot (14:00 – 16:00 pm).
You can pick up your passport any working day after your pickup date. It does not have to be that specific day. When I asked, the officer told me that as long as it is after the stamped date the passport could be picked up at any time during the opening hours. I have not tried this out, however, although I cannot really imagine a reason why it wouldn't work.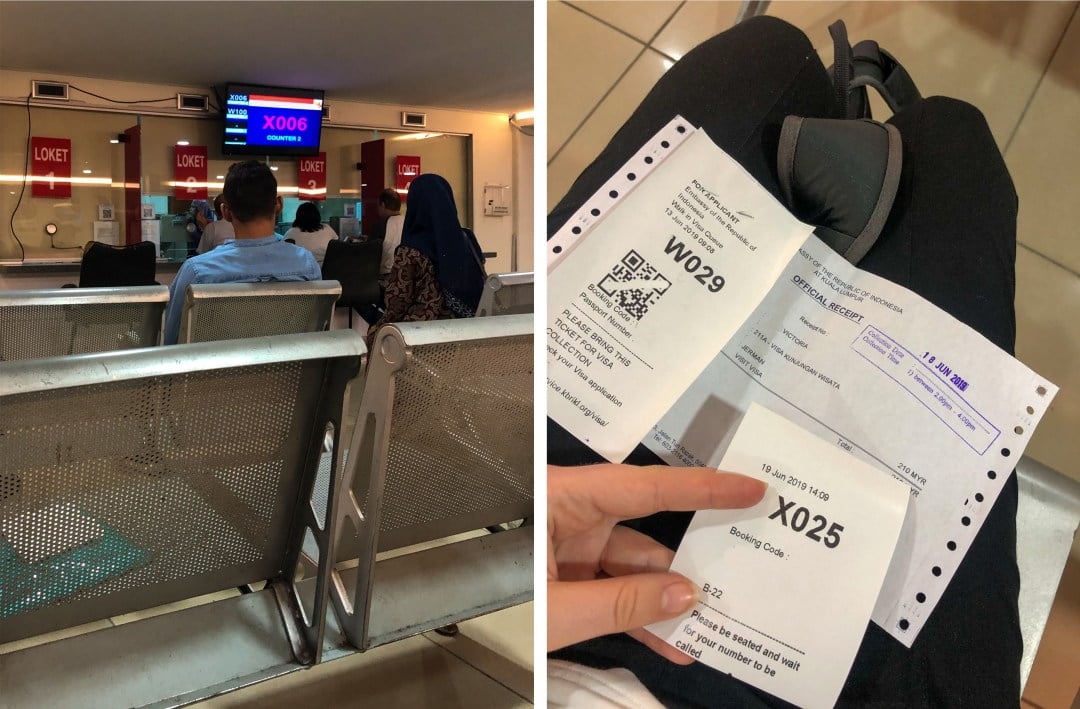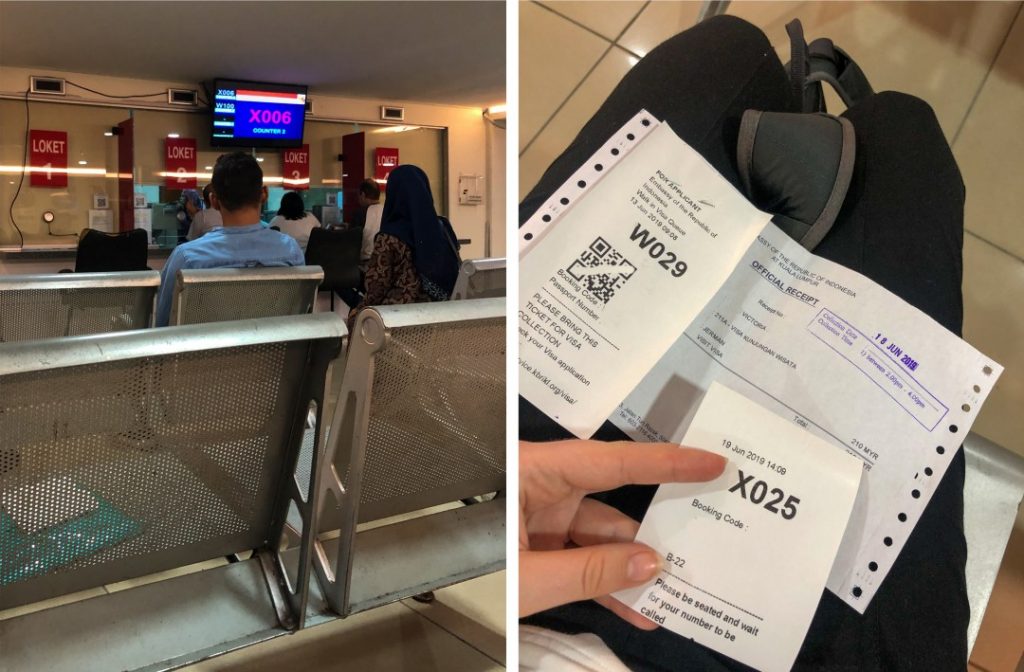 PICKING UP YOUR INDONESIAN VISA IN KUALA LUMPUR
To pick up your visa you return to the same waiting room where you submitted the application. Do not forget to bring your receipt with you.
Use the computer to the left of the waiting room to scan your QR code or type in your identification number. The computer prints a new number, which they will call when it is your turn. Make sure to look out for your new number and not the old one which is stapled to your receipt.
Since the pickup is in the afternoon, the waiting room was significantly more crowded when I went but the waiting time was similar. It's good to note that you should pay close attention to the screens and announcements since they move on to the next number in a matter of seconds if no one goes up to the counter. That can mean that 6-7 numbers pass within less than a minute and if you were distracted you can miss yours and have to start over by getting a new one.
The pickup itself is very quick. When you go up to the counter, they already have your file ready. You only need to sign a confirmation that the passport was picked up and that is it.
I have never been denied a visa or had any trouble with the process. Of course, I can only speak from personal experience but all employees have been nothing but helpful and polite to me.
LAST THOUGHTS
In conclusion, the visa application process for an Indonesian visa in Kuala Lumpur is fairly straightforward and fast. You can have your visa ready within four days and do not have to deal with a lot of paperwork if you're organised and smart about it.
Feel free to comment below with any questions you might have and I'll be happy to help!
Are you trying to save money? Here are 21 tips to see Indonesia on a budget.
My most important travel tips and resources
Book your flights
Skyscanner is the best website for finding cheap flights since it works like a search engine so you can find the best deals across all airlines.

Book hotels and hostels
• Booking.com: Best world-wide
• Agoda: Best in South East Asia
• Hostelworld: Best for hostels

Book tours, transport and rental cars
•Viator: The best place to book tours, day trips and excursions for al budgets
•12Go: Great for ferries, trains, transfers and buses in South East Asia
•Discover Cars: Best deals for rental cars around the word

Get travel insurance
Every traveller needs travel insurance and I mean every single one. SafetyWing covers you in case of injury, illness or worse and they've got your back if your bag is stolen, flights are cancelled or in case of a natural disaster.

Pay abroad
Ask any traveller, Wise is the best choice when it comes to sending money abroad. They've always got the best exchange rates, lowest fees and their visa card is great for getting cash out or paying abroad.

Things every traveller needs:
➼ Osprey Farpoint 70 Backpack
Detachable daypack, ultra-light, durable and free repairs for life. There's a reason why so many backpackers have this bag.
➼ Packing Cubes
Packing cubes are a gamer changer, keeping your luggage organised and providing tons of extra space.
➼ Power bank
There is nothing worse than running out of battery on an overnight bus journey or a long flight. With a powerbank you can charge your eletronics on the go and make sure you're always connected.
➼ Micro-fibre towel
These lightweight towels are foldable, fast-drying and so useful when you're travelling.

➼ You can find 15 more things every traveller needs here. Some might be a bit controversial but I warned you!
Did I miss anything?
If you have any questions or feel like something is missing from this post please leave a comment below or contact me.