Laem Thian Resort is an abandoned hotel located right on the beach in Koh Tao, one of the best islands in Thailand. It's unclear when exactly and why the hotel was abandoned but its beautiful location in the jungle has transformed it into a favourite among tourists. If you're looking for lost places in Koh Tao or urban exploring hotspots in Thailand, Laem Thian abandoned beach resort needs to be at the top of your to do list.
This post may contain affiliate links, which means we'll receive a commission if you purchase through our links, at no extra cost to you. This helps us keep Guide your Travel free and provide high-quality content for you. Please read the full disclaimer for more information.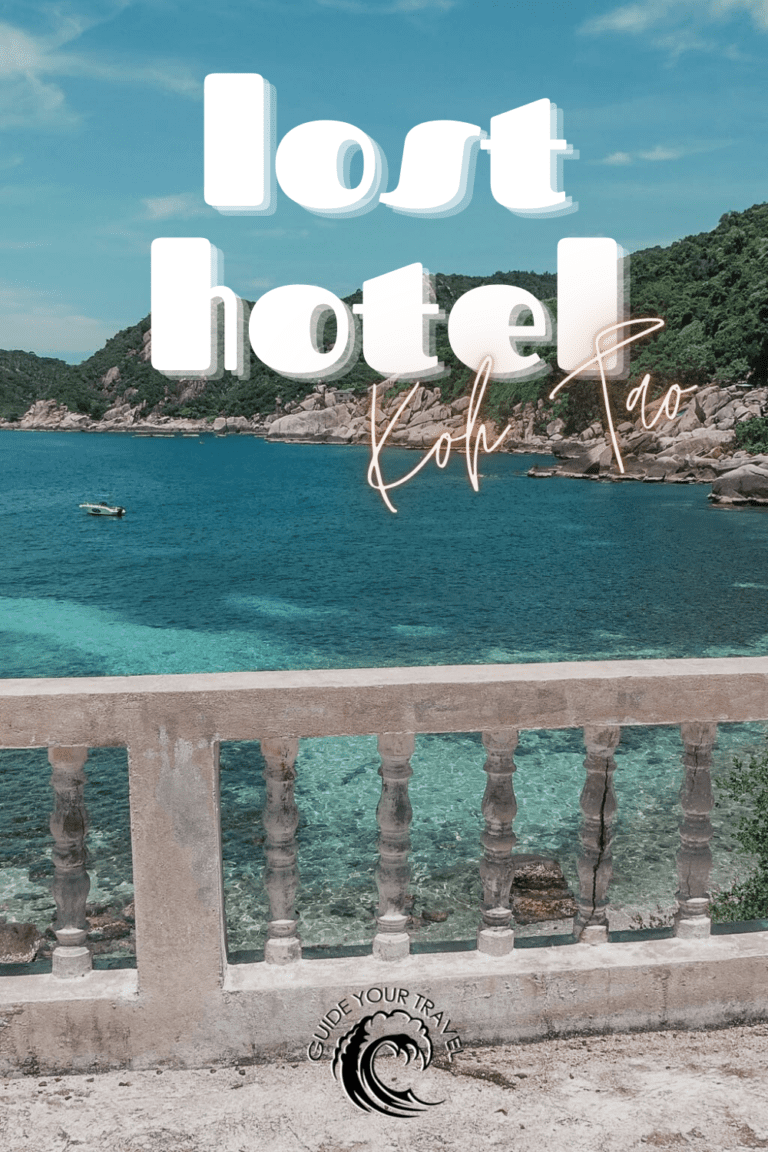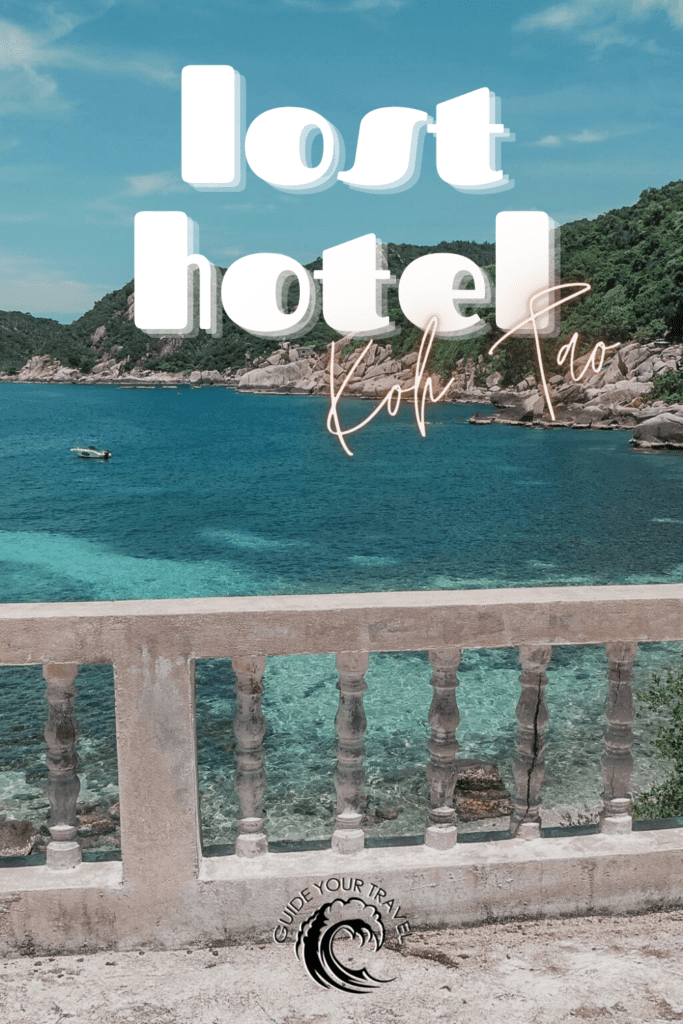 Why you need to try urban exploring in Thailand
If you're looking for things to add to your Koh Tao itinerary you might have activities like snorkelling, seeing Koh Nang Yuan Island or scuba diving on your list. The island is somewhat of a mystical place though and one of the best places in Thailand to go urban exploring in search of lost places.

If you're after more unconventional activities you need to see the abandoned Laem Thian hotel which is one of the best off the beaten track spots in Koh Tao.

Lost places in Thailand are usually very easy to get into and for the most part, no one really cares if you explore them as long as you don't damage anything. There is no entrance fee like at the abandoned theme park in Bali for example and no guards station at the abandoned hotel in Koh Tao. You don't even need to climb a fence. Urban exploring has never been so easy and you might just discover a newfound passion in Koh Tao, Thailand.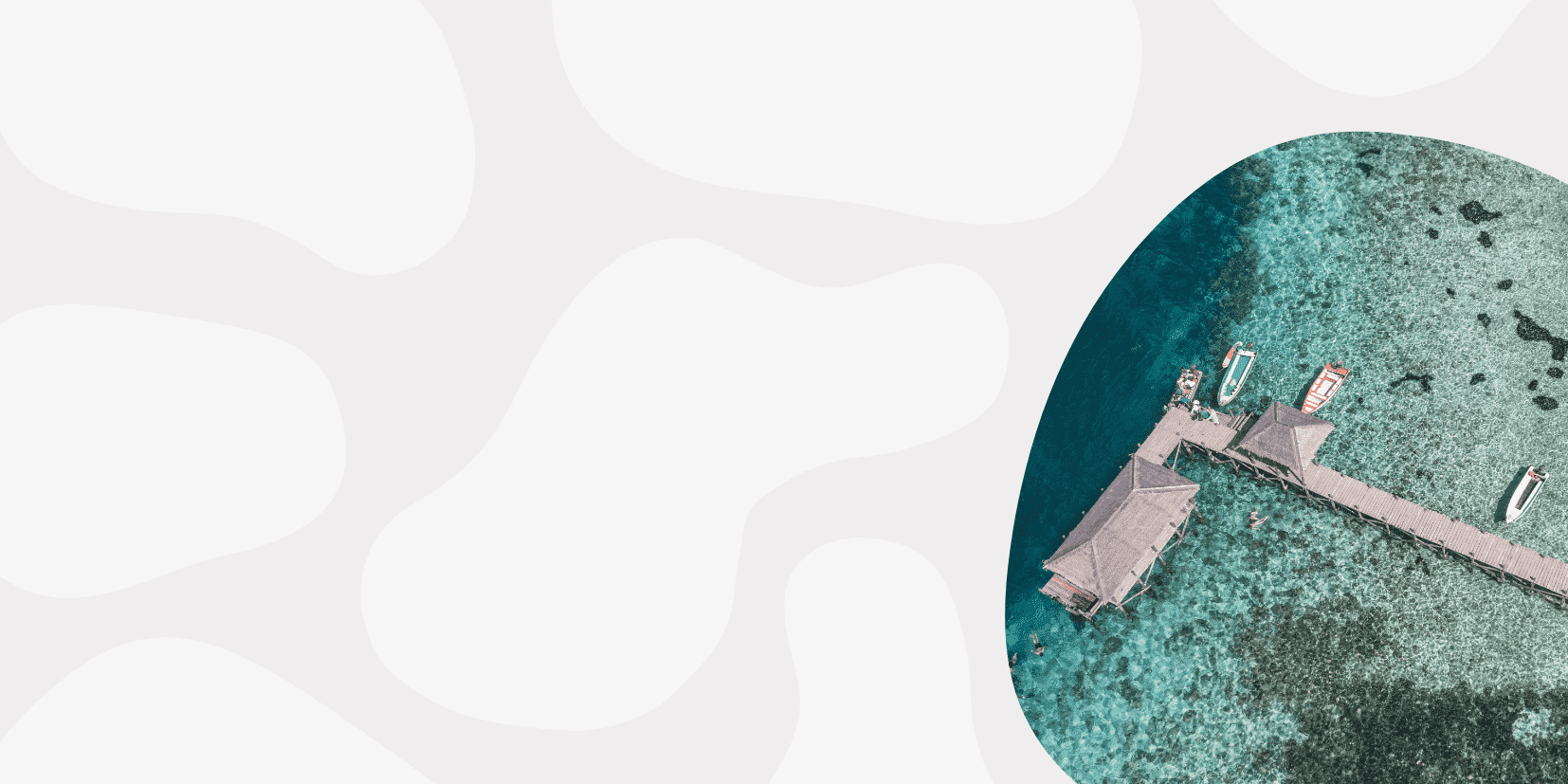 Let me save you time and effort when you're travel planning!

➼ Best travel insurance? SafetyWing
➼ Best place to find cheap flights? Skyscanner
➼ Best bank & credit card for travellers? Wise
➼ Best travel backpack? Osprey Farpoint 70
When and why was Laem Thian Beach Resort in Koh Tao abandoned?
There is no exact story as to when and why Laem Thian Beach Resort in Koh Tao was abandoned. Apparently, the hotel stopped welcoming guests sometime in 2014 but when I visited for the first time in 2016 it really looked like it might have been abandoned for longer.


According to rumours, the resort was never very successful mostly due to being very inaccessible. Even when Laem Thian Beach Resort was open there was only a narrow dirt road leading to the property which made it difficult for guests to reach it.

The hotel is also not incredibly large so their income most likely couldn't pay for their expenses.

In any case, the property is now completely abandoned and although there seem to be rumours every couple of years that someone is planning on reopening the Laem Thian Beach Resort it continues to be one of the most impressive lost places in Koh Tao and all of Thailand.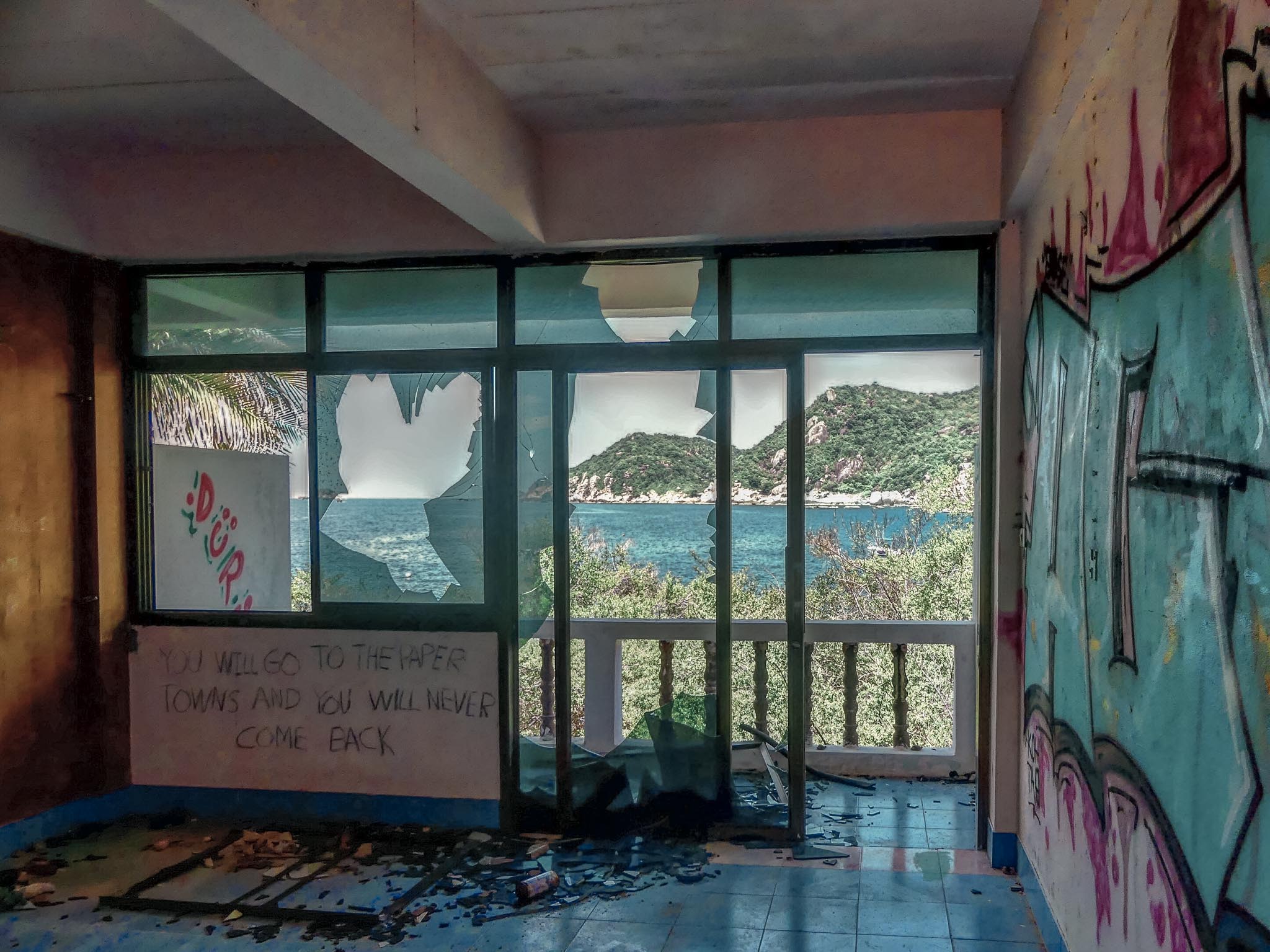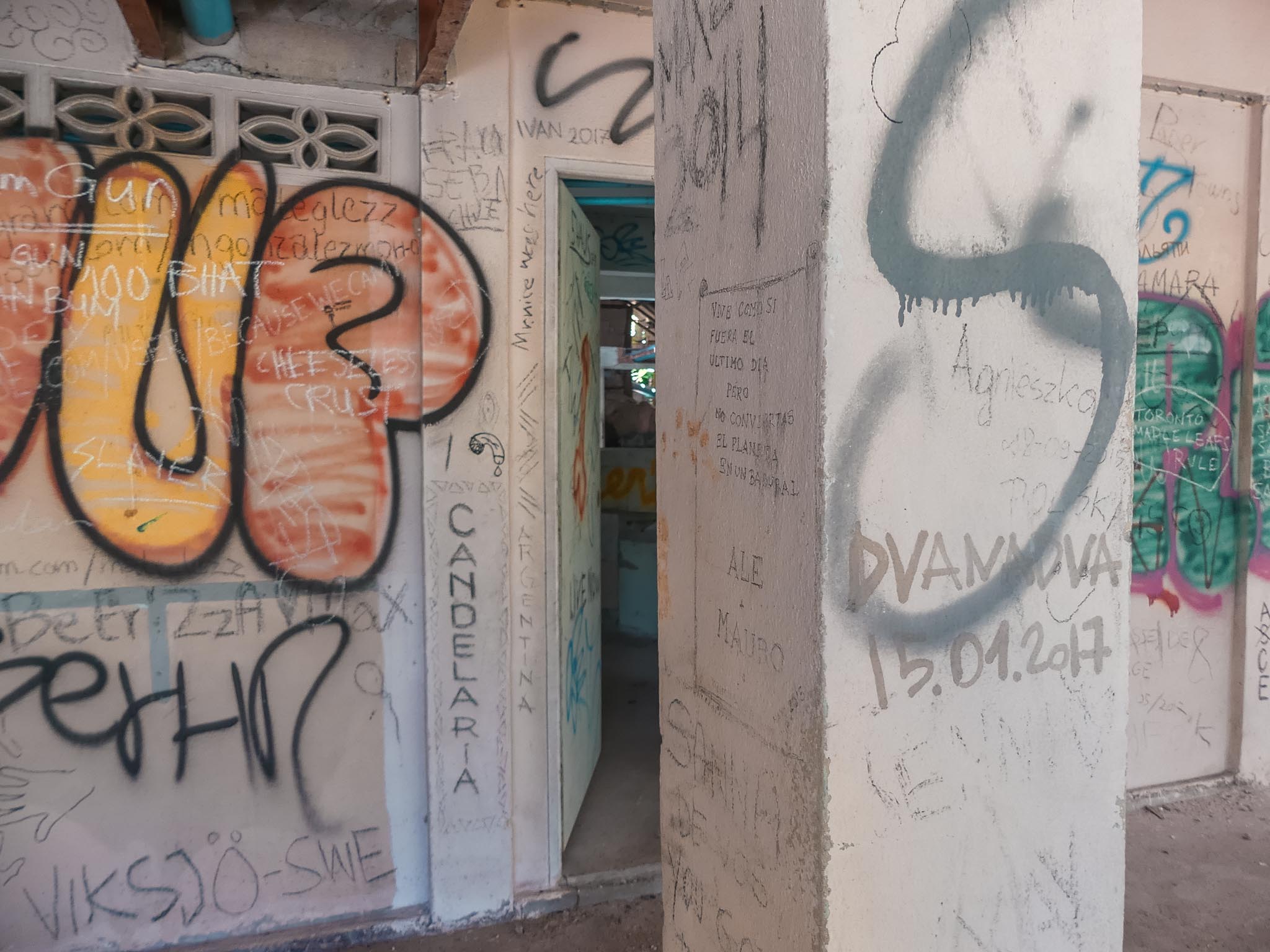 Where is the abandoned hotel in Koh Tao located?
The abandoned hotel is located on the east coast of Koh Tao close to Tanote Bay. While Laem Thian is a deserted little bay that is very difficult to access, Tanote Bay is far more popular with paved roads, a handful of luxury hotels and little beach bars. If it weren't for the dense jungle and rocky shore the linear distance between the two bays would only be around 500 metres.

Laem Thian Beach Resort is located on a narrow piece of headland with the ocean on either side. There is absolutely nothing around and this part of the island is known for its untouched forests and beautiful nature.
When is the best time to go to the abandoned hotel in Koh Tao?
Since Laem Thian beach resort is a bit tricky to reach you should definitely go there early in the day and not in the afternoon (unless you want to spend the night there of course). Don't try to make your way back when it's getting dark especially if you're hiking. People have gotten lost in the jungles of Koh Tao in the past and without cellphone reception, you can easily get confused in places like this.

Also, try to avoid hiking to the hotel when it's very rainy. The path can get extremely slippery and you could easily fall and hurt yourself. Instead, pick a sunny day and try to go to this before noon.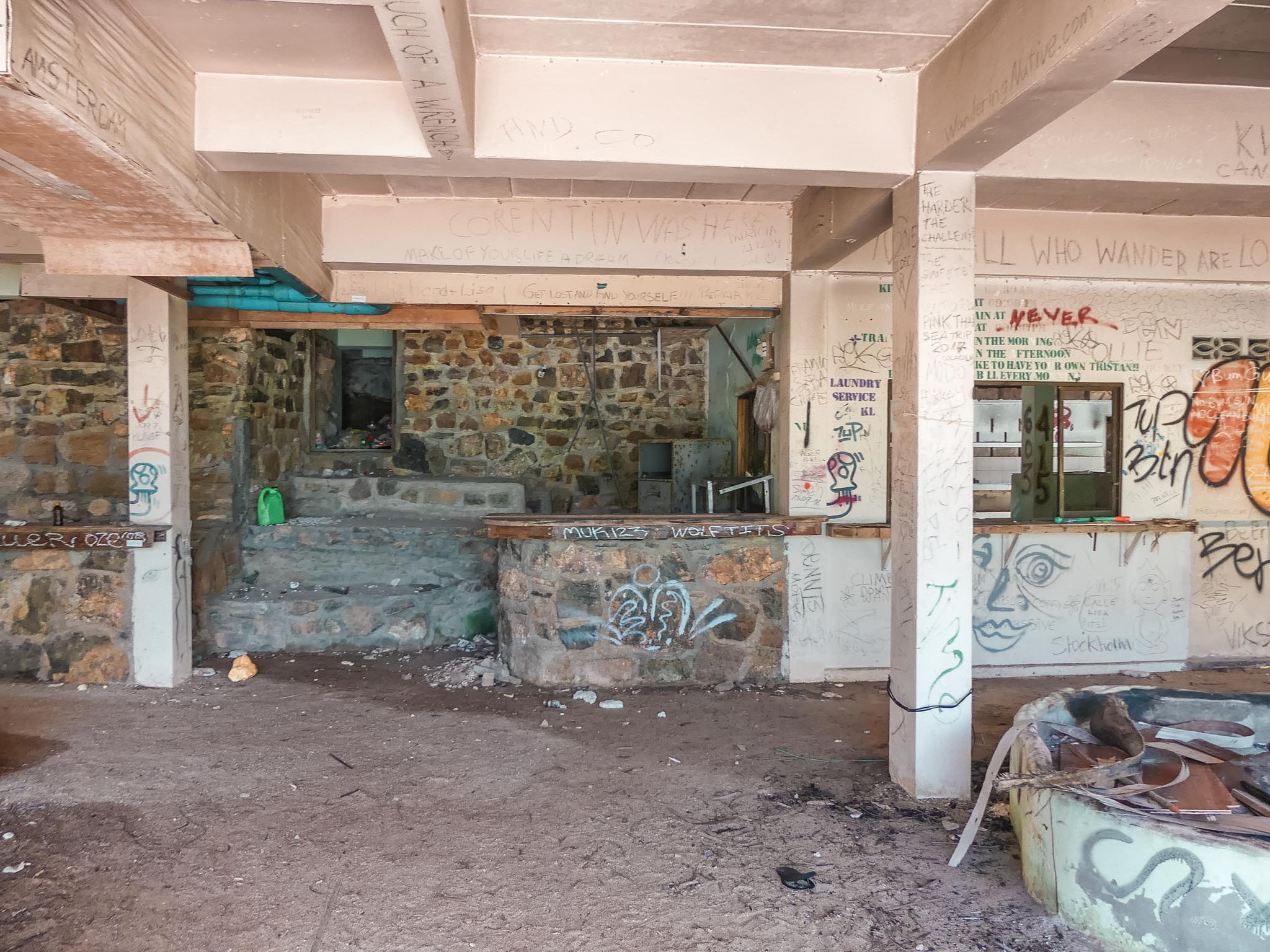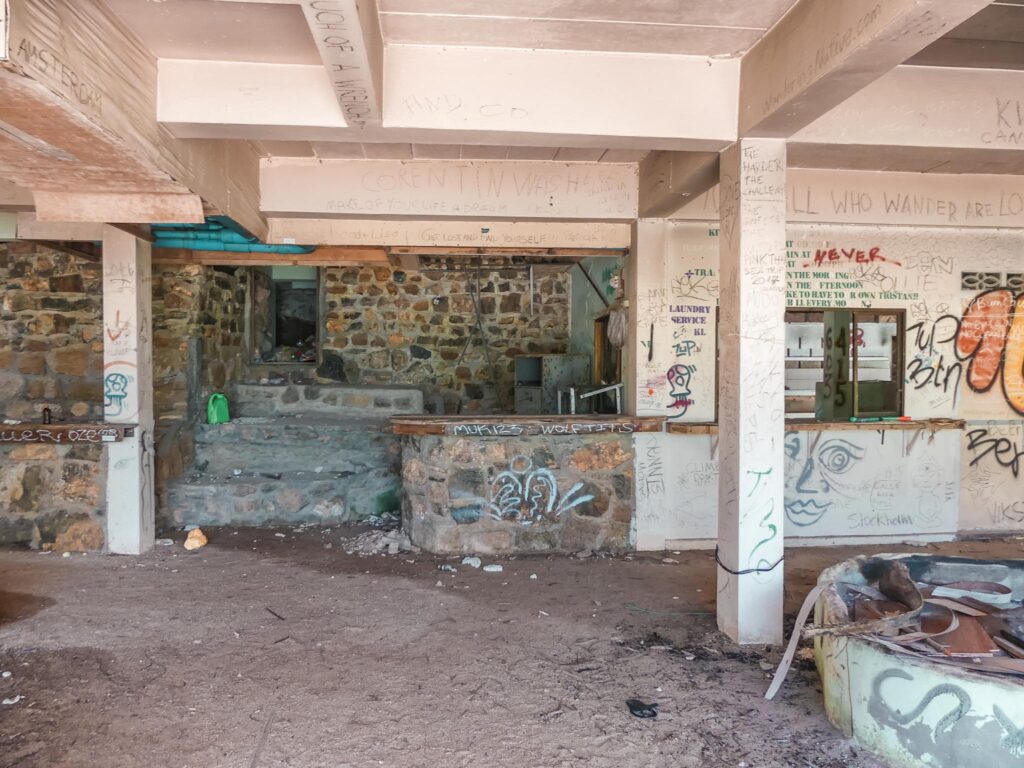 How to get to the abandoned Laem Thian Beach Resort?
There are two ways you can reach the abandoned hotel which is one of the best lost places in Koh Tao. Both are a bit adventurous but considered relatively safe so don't let yourself be discouraged by people telling you the resort is inaccessible.

If in doubt, check TripAdvisor to see if there are any recent reviews of people who have made it to the hotel.
On foot
The majority of people coming to the abandoned resort hotel in Koh Tao get there on foot. This involves around one hour of hiking through the jungle either way if you start from the popular Sairee Beach which is located around one kilometre north of the harbour.

You can reduce the distance a bit by taking a taxi or scooter up to the beginning of the dirt road. You can drive until the Tarna Align Resort (address) from where you'll have to walk.

Once you arrive at the Tarna Align keep walking straight to find the dirt road that goes off into the jungle. You could technically take your scooter with you for some time but the trail can be bumpy and narrow so it's not really recommended.

You'll be far safer on foot and won't risk damaging your scooter which could be expensive. The hike is fairly easy although you'll be sweating a lot and it can be exhausting in the heat.

Definitely wear sneakers and not flip-flops. If you're interested in how the trail looks and how difficult it is have a look at Google Streetview where someone recorded themselves doing the entire hike.

Check out the map below for details.
The trail to the abandoned hotel in Koh Tao will branch off several times, first to the popular West Coast Viewpoint and then again to Mao Bay Beach.

If you're only trying to get to the resort just keep walking straight. Ignore smaller paths that lead to nowhere and don't do too much exploring to avoid getting lost.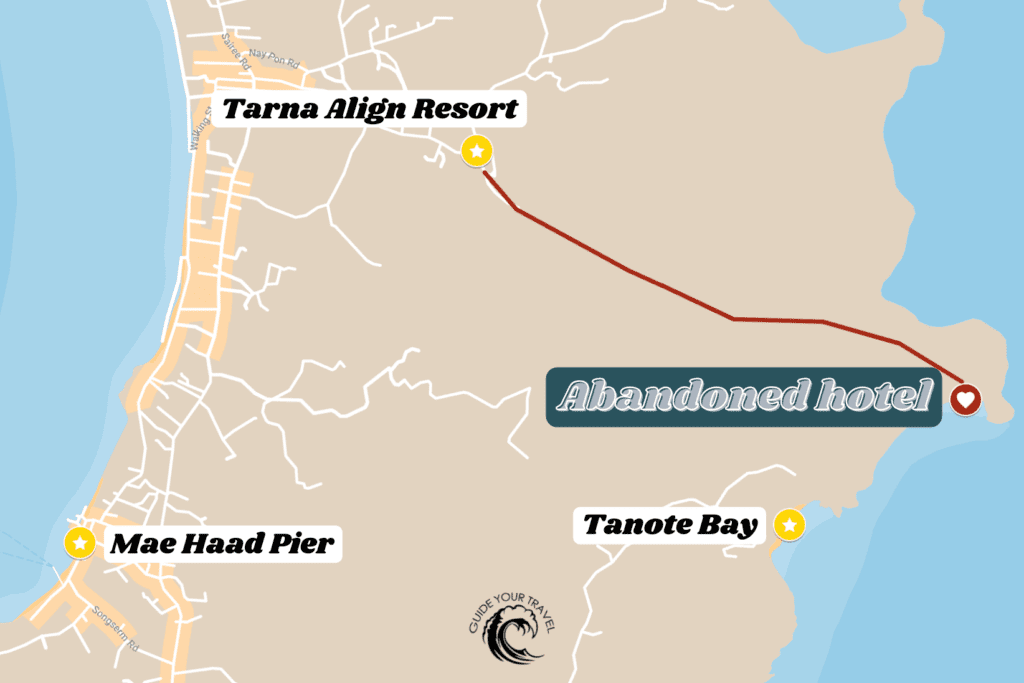 By kayak from Tanote Bay
If you're not too keen on hiking through the hot jungle for hours but still want to see the abandoned Laem Thian Beach Resort there is luckily a much easier option.

First, you need to go to Tanote Bay, either by taxi or by scooter if you're up for renting one.

Taxis in Koh Tao are expensive. There are no taximeters and prices are controlled by a sort of mafia so expect to pay at least 400 THB (~ €10) for a one-way ride.

Hiring a scooter is more affordable but requires some driving skills on the narrow roads. Park your scooter or ask to be dropped off on the main road and follow signs down to the beach which will take around five minutes.
Where to rent a kayak and what to know before you go
Tanote Bay is very beautiful and known for cliff jumping. There are usually a good amount of people on the beach and at least one or two vendors renting out kayaks or standup paddleboards.

Rent a kayak for somewhere between 300 THB (~€8) and 800 THB (~ €21) depending on how long you'll be gone. In most cases, you'll be asked to pay in advance and if you take longer you'll be charged extra by the end.

If you're just going to be exploring the resort and then heading back around two to three hours total should be enough.

I would recommend choosing a kayak instead of a standup paddleboard if you have equipment like a camera with you because you'll be able to stay completely dry. Taking a dry bag is a good decision nevertheless if you want to be safe.

A standup paddleboard will also be a little bit more effort to maneuver and will take longer.

Depending on how fast you go it'll take around fifteen to twenty-five minutes to get to the resort. The journey is fairly easy for the most part if the sea isn't too rough.
Top tip: Do not make the mistake of leaving your shoes behind when you rent your kayak. There is broken glass at the abandoned hotel and you'll be walking through the jungle in places so going barefoot is not a good idea.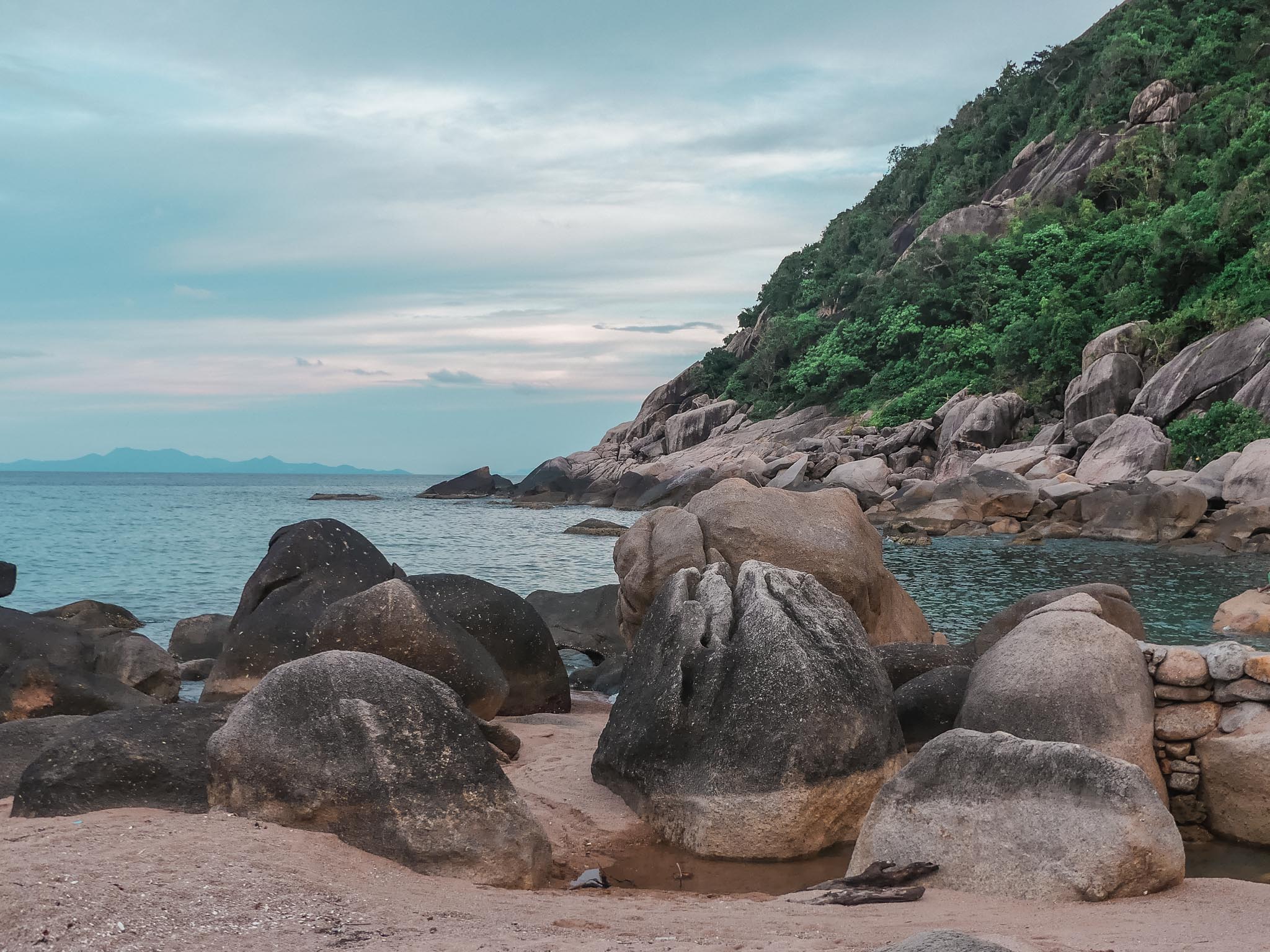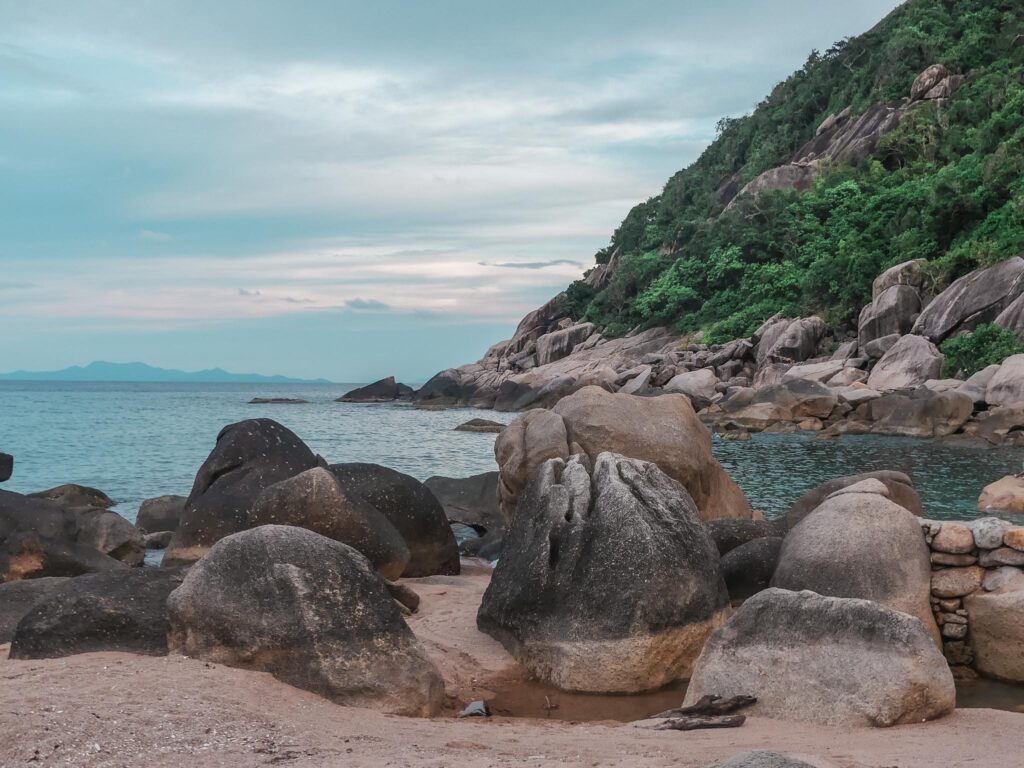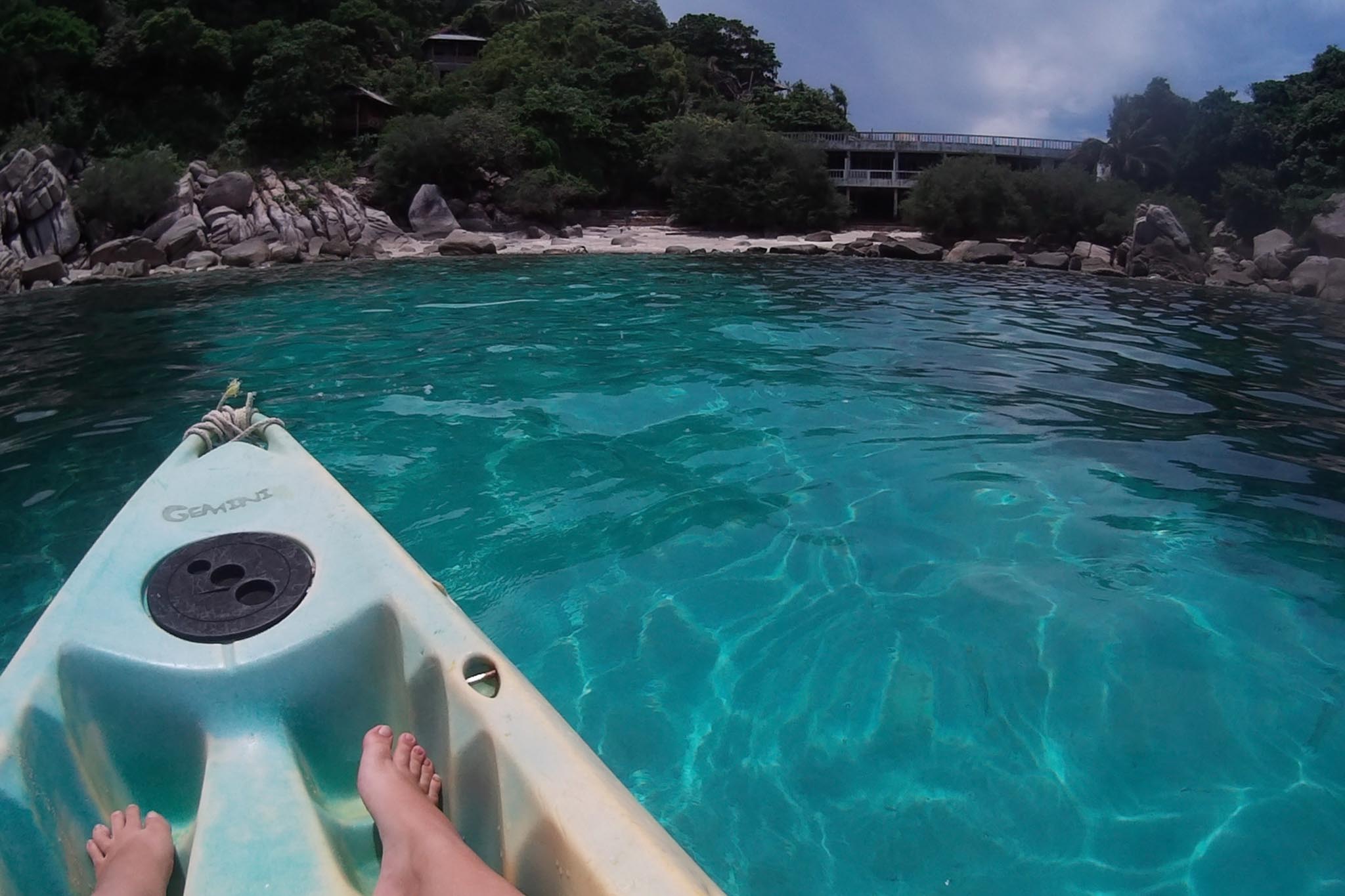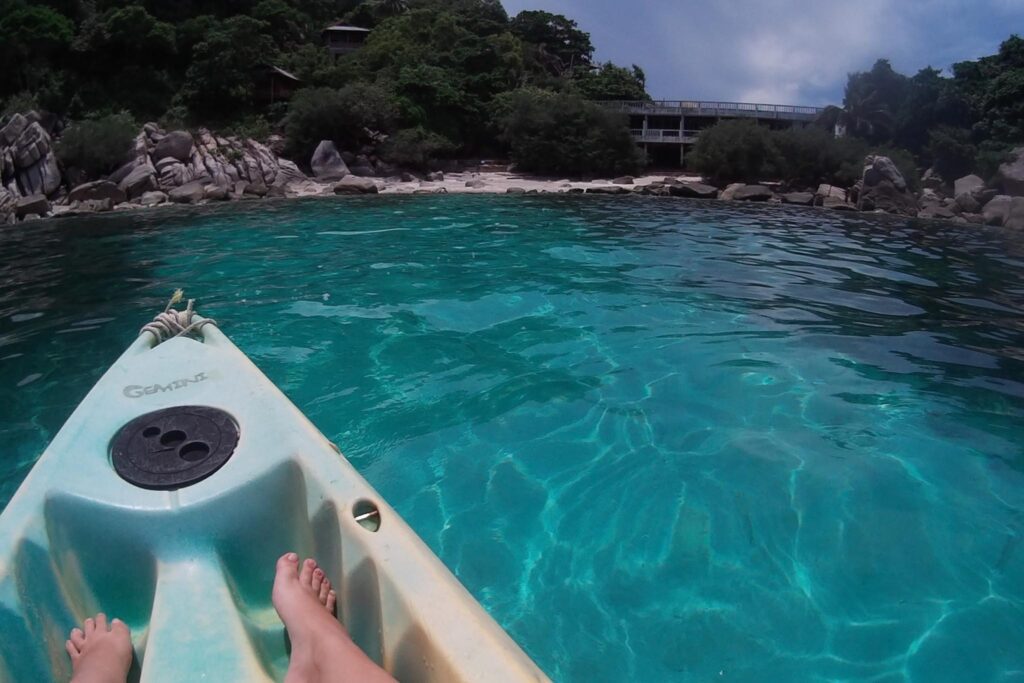 What is there to do at Laem Thian Beach Resort in Koh Tao?
The main reason why you should go to Laem Thian Beach Resort in Koh Tao is for urban exploring and discovering one of the best lost places in Thailand.

Over the years backpackers have left a lot of graffiti on the walls, some quite entertaining with lots of social commentary. Once you've had enough of the dusty hotel head to the beach and go for a swim.

Larm Thian Beach is very secluded and you'll rarely find other people here. The water is crystal clear and there are lots of fantastic snorkelling spots nearby.


Things to look out for
Laem Thian Beach Resort has a concrete main building with a large rooftop terrace. The views are absolutely stunning so don't skip it.

The upstairs guest rooms are also worth a visit and have some interesting graffiti. This is probably the best-kept part of the hotel although there is a lot of broken glass.

The downstairs and what I assume used to be the lobby opens right onto the beach. More graffiti left by backpackers and even an old bar. When I last visited there was even a sort of makeshift bed here for anyone brave enough to lie on the dodgy mattress.

The old kitchen which is located around the corner is also worth a visit.

Then there are the jungle bungalows of which there are apparently nine but I only managed to find five or six if I counted correctly. These are a bit more difficult to access and in far worse condition since they were mainly built from natural materials.

Most of them are falling apart and have lost their roofs. There is one right by the beach that has a beautiful little balcony and great views.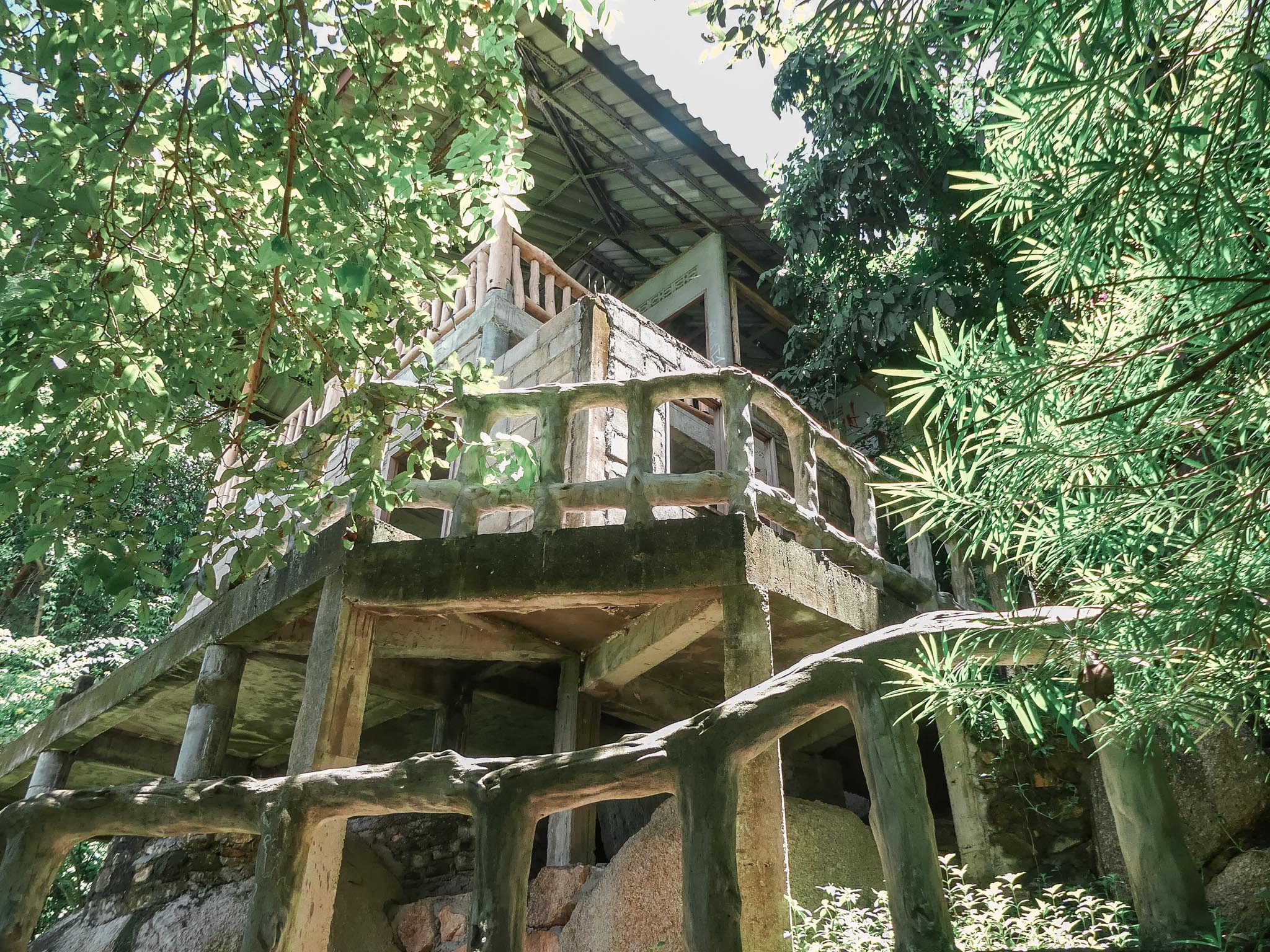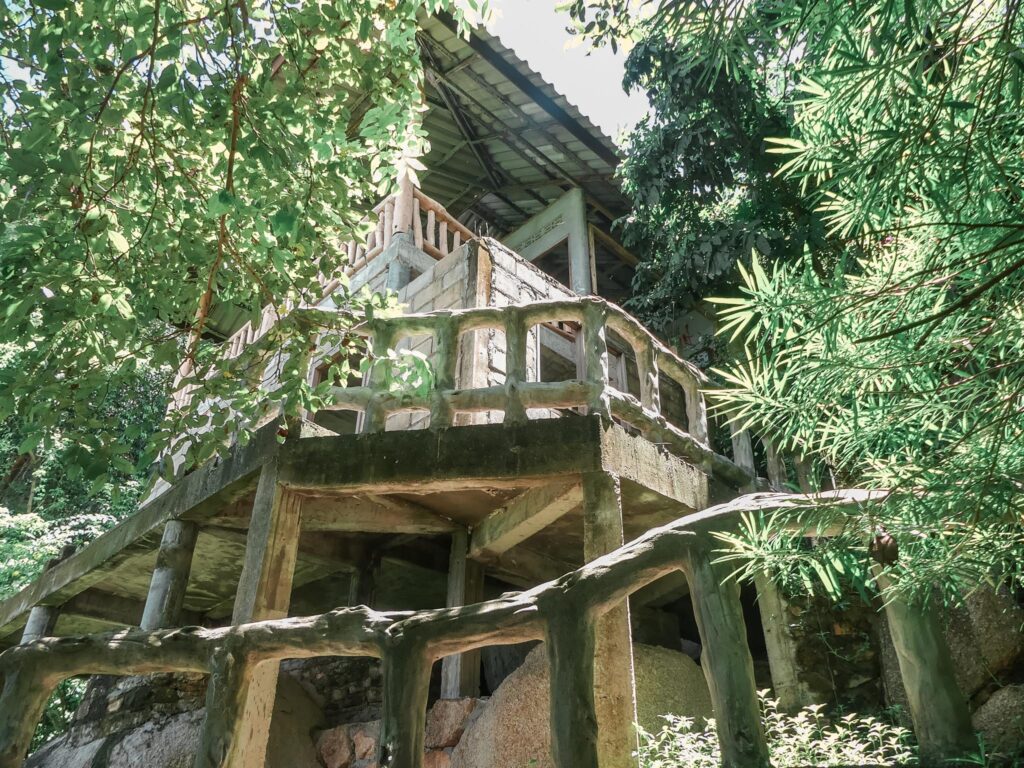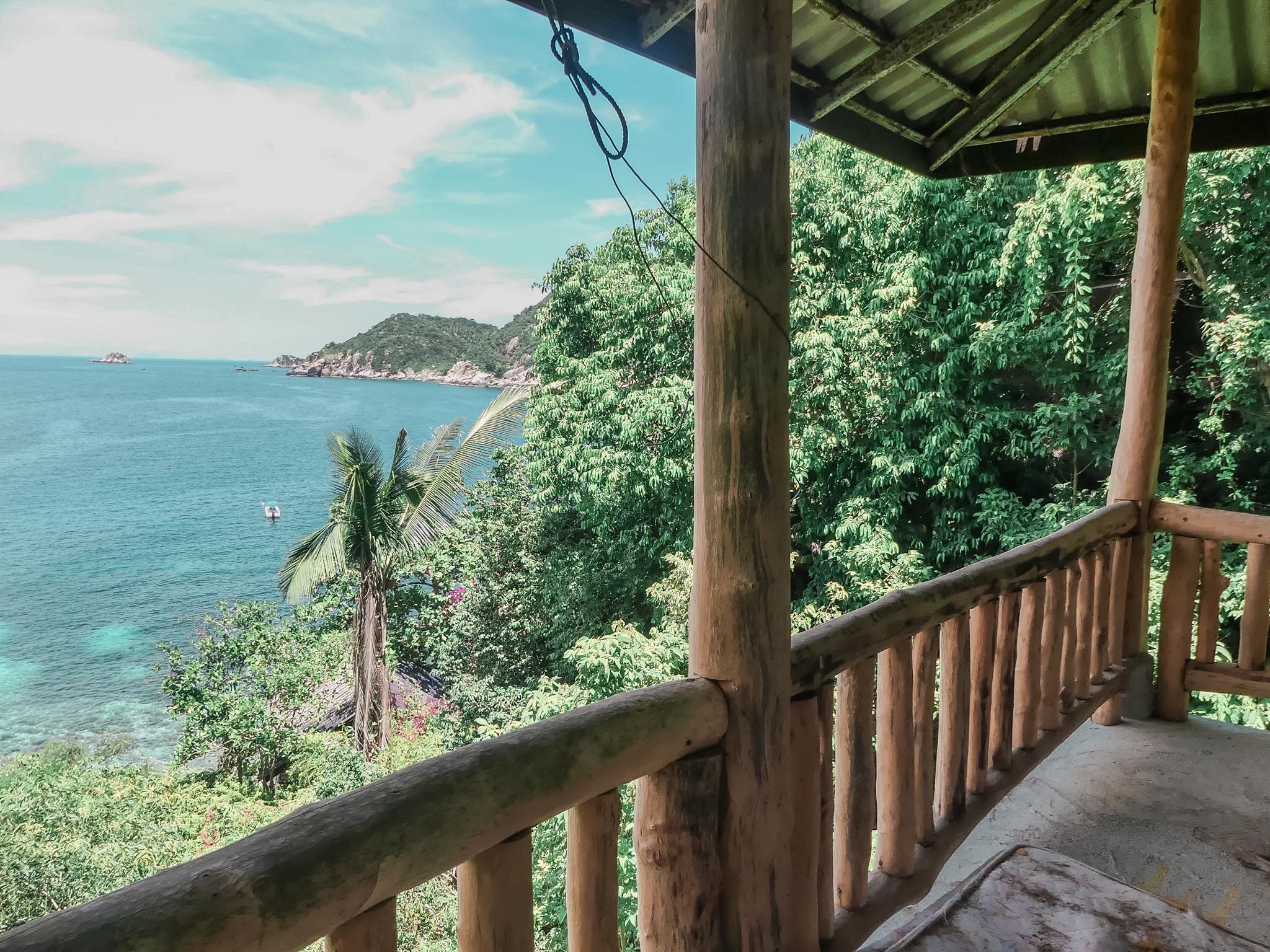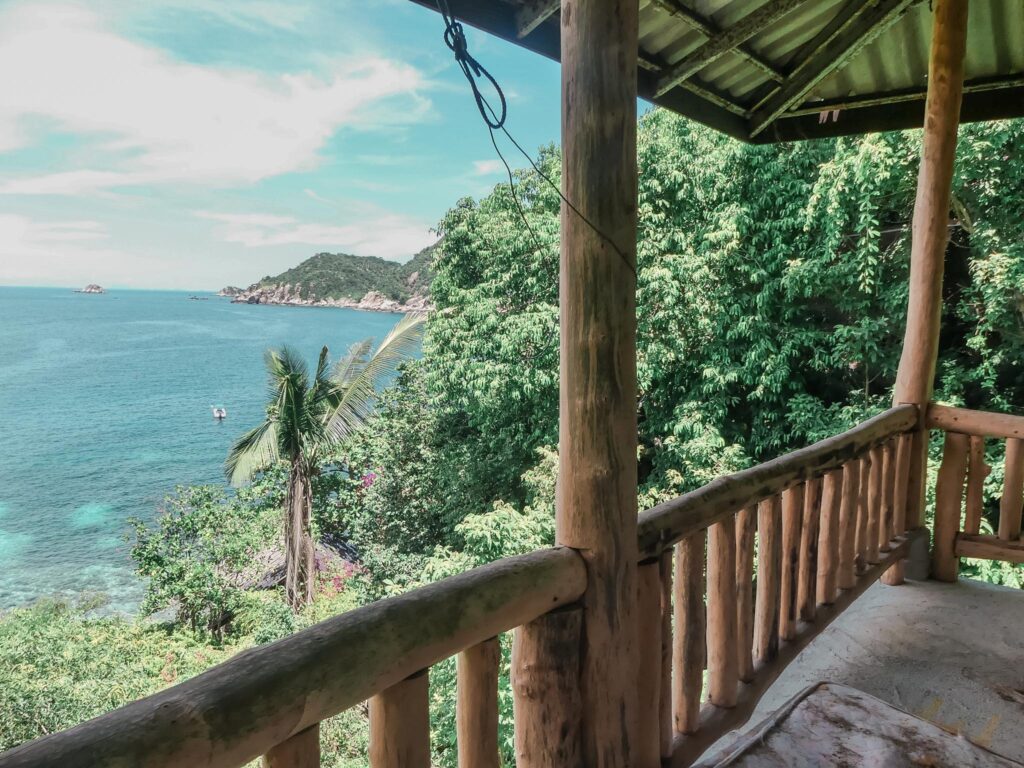 Is it safe to visit the abandoned hotel in Koh Tao?
Urban exploring and discovering lost places can have a bad reputation sometimes but this abandoned hotel in Koh Tao, Thailand is safe to visit if you use your common sense.
The hike
The hike to Laem Thian Beach Resort is not dangerous and anyone with a reasonable level of fitness can attempt it. The path is in decent condition and you won't encounter any extremely dodgy parts.

Keep in mind that the abandoned hotel has gained a certain level of fame in Koh Tao and a lot of backpackers visit it so it's not really considered a dangerous place to explore.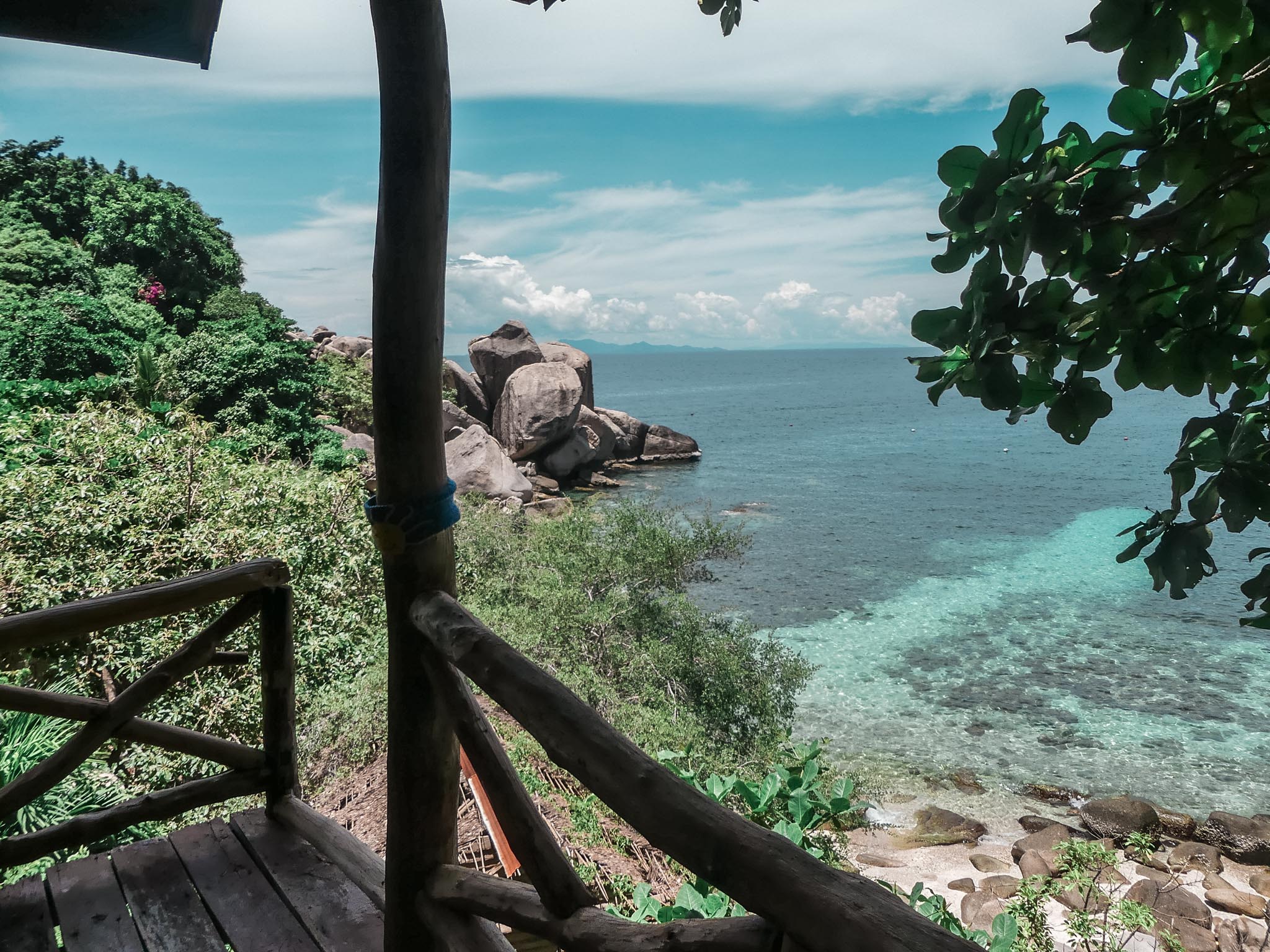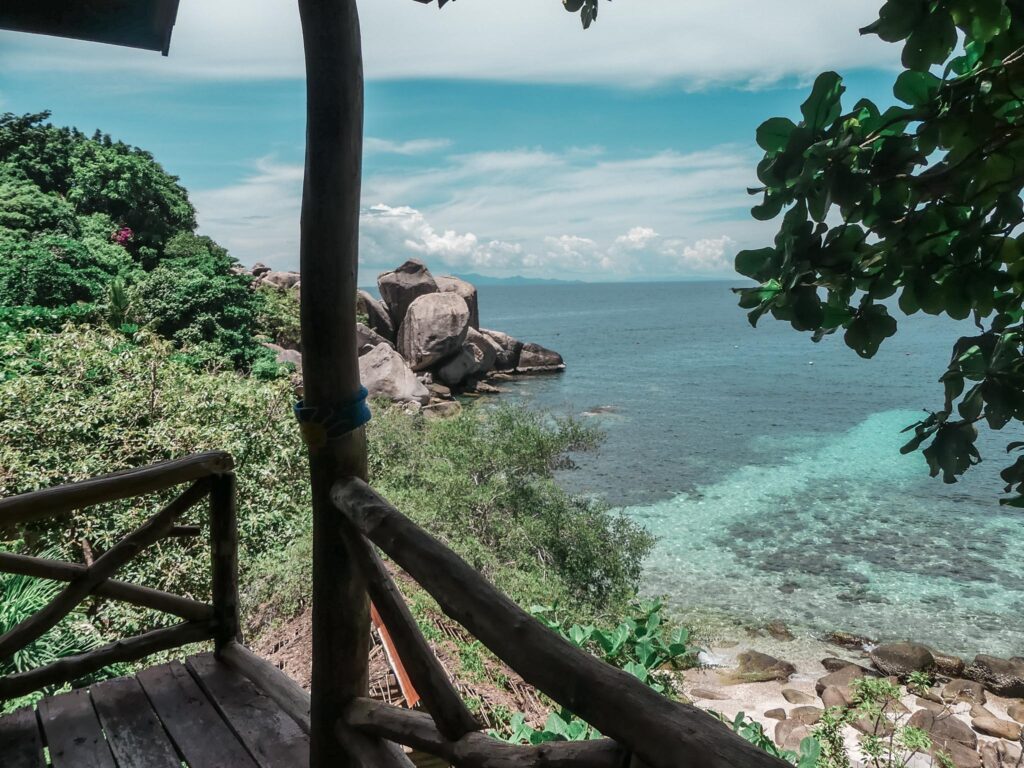 Snakes
Since the resort is located in the jungle there will be snakes and other wildlife living in the area. Luckily, these creatures tend to be very shy and most likely won't cross your path.

Make noise when you walk and if it makes you feel safer use a stick to make your way. Most likely you won't run into more than a squirrel or gecko.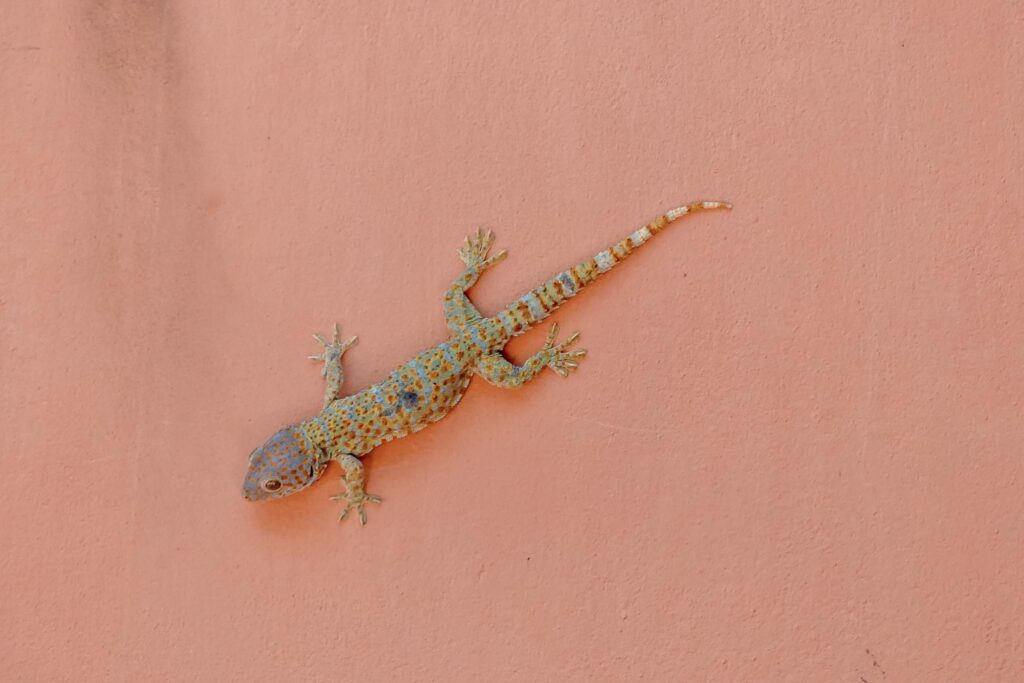 Broken glass and damaged buildings
The main structure of the abandoned hotel is very sturdy and made mostly from concrete. Despite no longer being in use it's in surprisingly decent condition and will definitely not collapse.

The jungle bungalows however are in a worse state and you should take care when exploring them. Avoid climbing on unstable structures and always check your footing. There is broken glass in many parts of the hotel so just make sure you're wearing shoes and you'll be absolutely fine.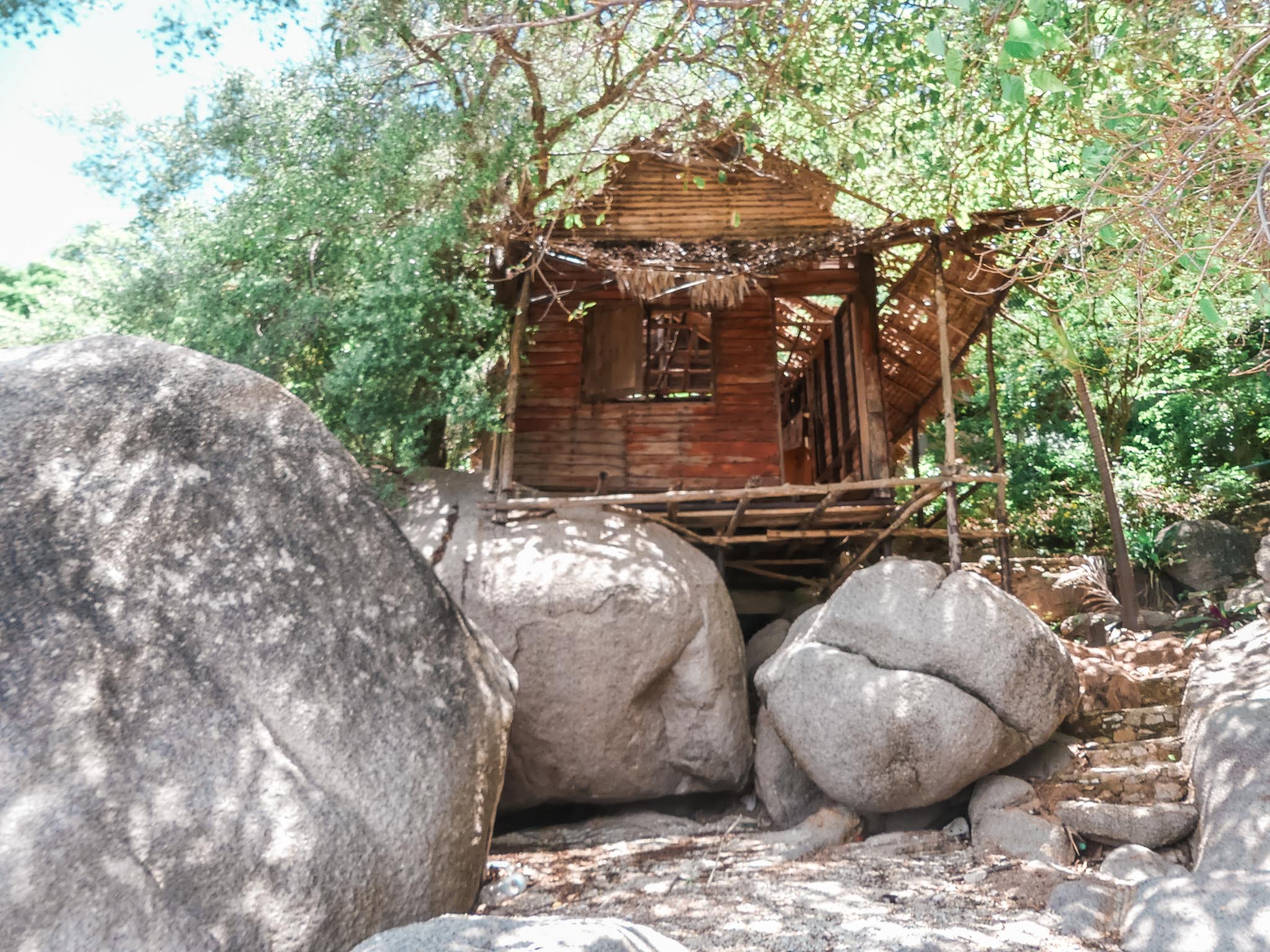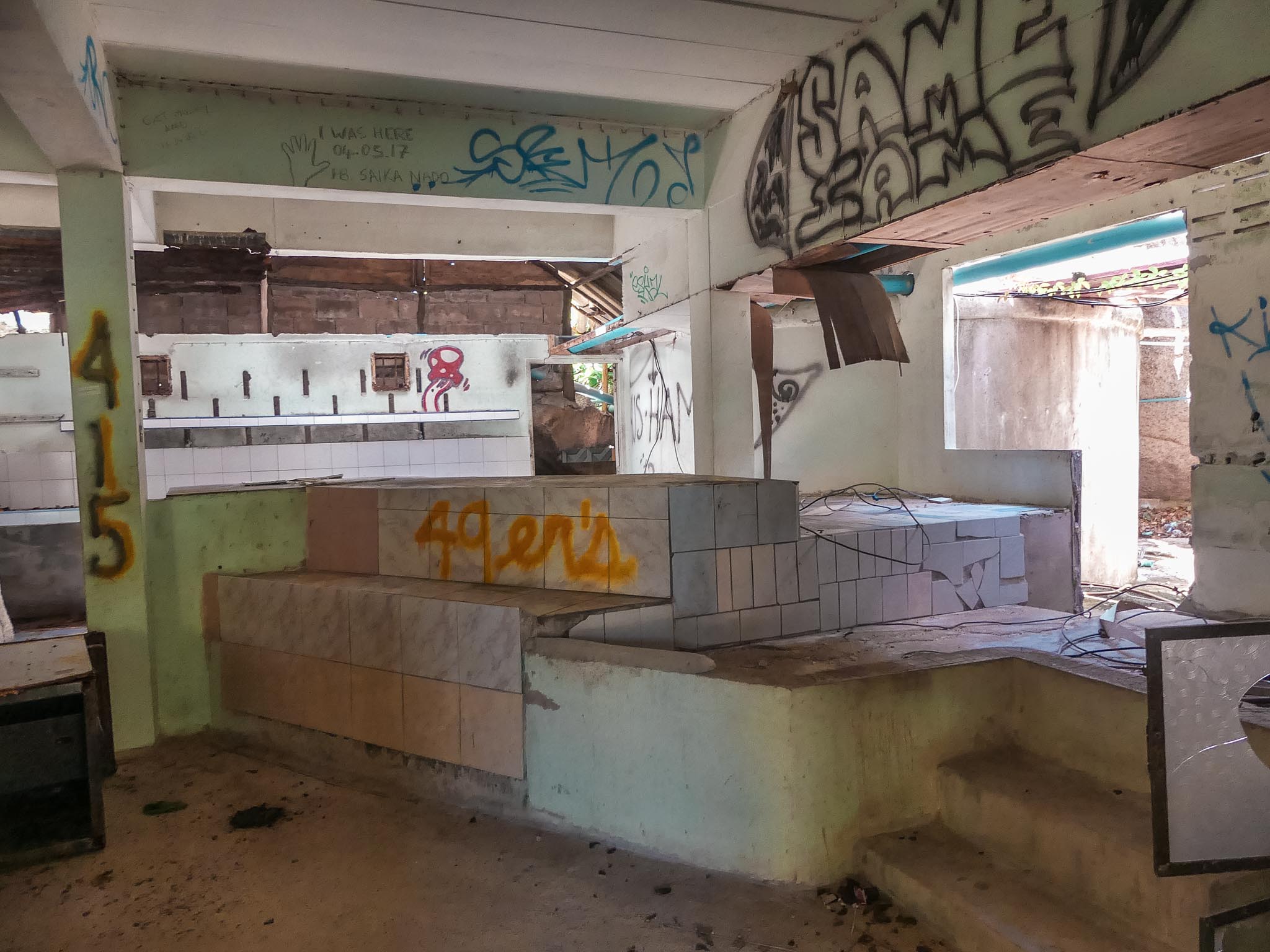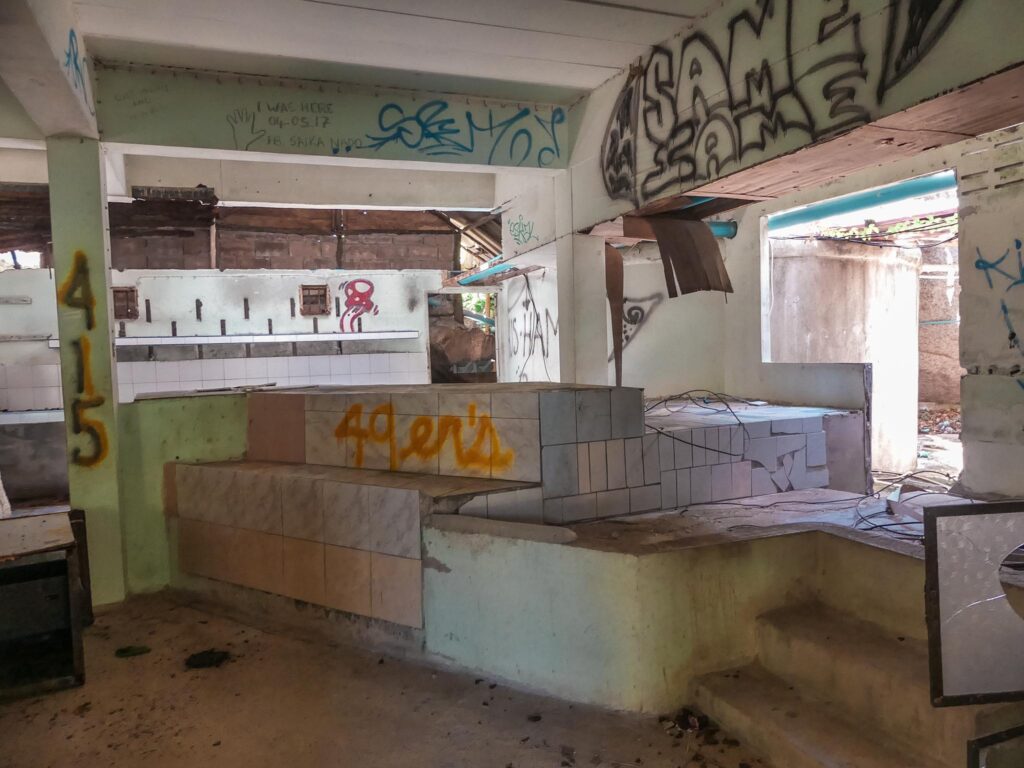 How long should you stay at the abandoned hotel in Koh Tao?
The abandoned hotel might be larger than you think with little bungalows hidden away in the jungle. You can easily spend an hour or two here, maybe more if you want to go for a swim or have a picnic.

If you're hiking, factor in at least four hours minimum for the entire trip, five just in case. Try not to go much later than noon as the sun always sets quite early in Thailand.
Visiting the abandoned resort in Koh Tao soon? Save this image to have all the important info!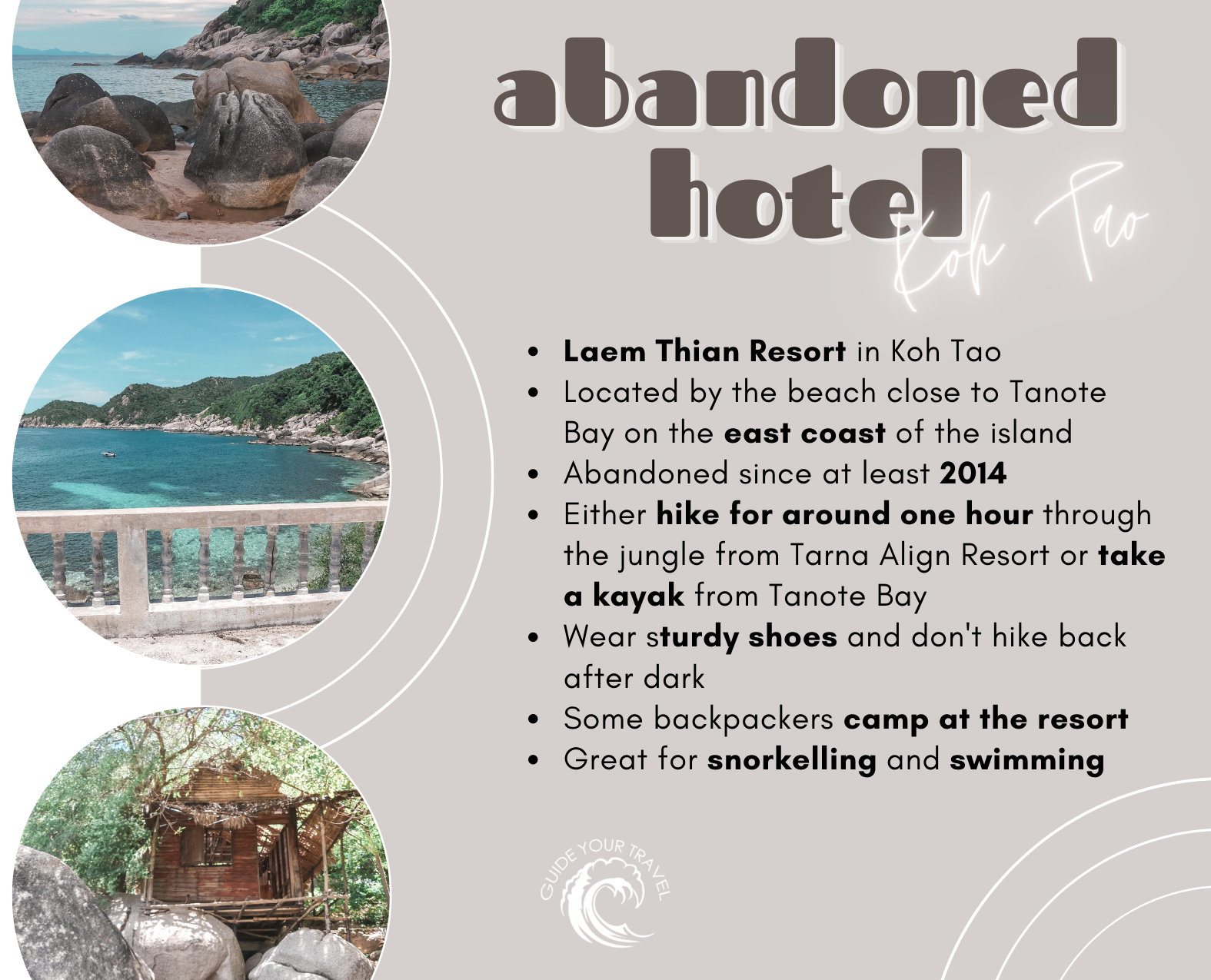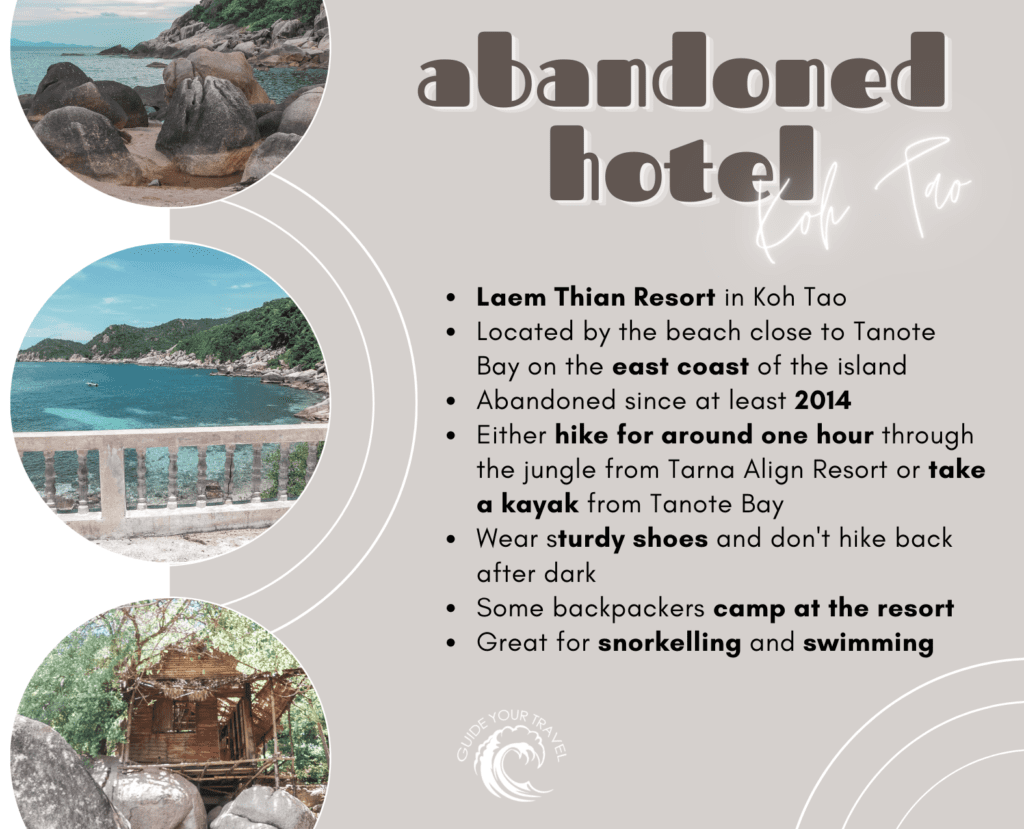 What to bring
Here are some things you should bring with you on your urban exploring journey in Koh Tao, one of the best islands in Thailand.
Water especially if you're hiking
Snack since you might be gone for several hours
Sturdy shoes (avoid flipflops)
A drybag (if you're going by kayak)
Phone or camera to snap photos
Swimsuit to cool off in the ocean
Snorkelling equipment if you feel like it
Can you sleep at Laem Thian Beach Resort in Koh Tao?
In the past, backpackers have stayed the night at the abandoned Laem Thian Beach Resort in Koh Tao. For the most part, the buildings are intact so you can either set up camp inside or sleep under the stars on the large rooftop terrace.

Having a tent is recommended to protect you from the mosquitos but not technically necessary.

Just keep in mind that there are no freshwater sources there so bring plenty with you.

This is by no means an official campsite so have common sense and avoid breaking local laws and regulations. Always respect lost places while you are urban exploring anywhere you go, including Koh Tao, Thailand.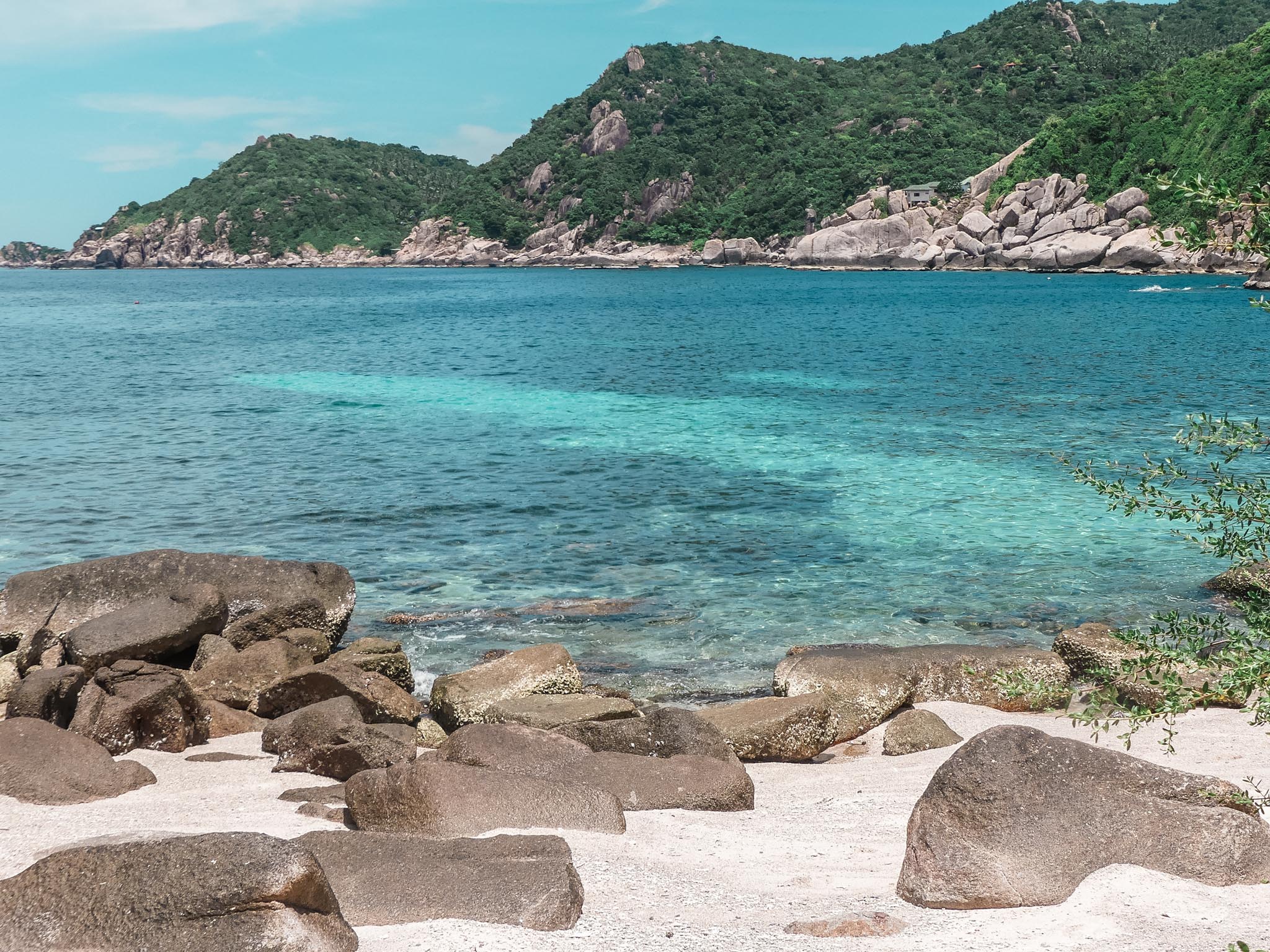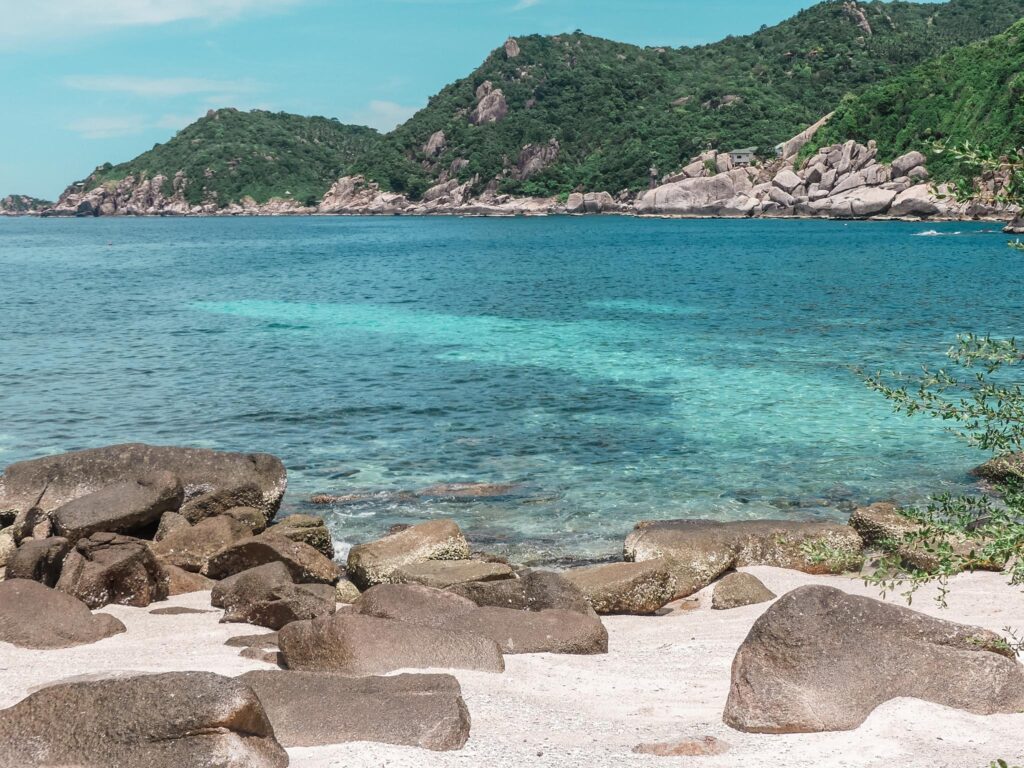 Click the images below to pin this post to Pinterest and save for later
My most important travel tips and resources
Book your flights
Skyscanner is the best website for finding cheap flights since it works like a search engine so you can find the best deals across all airlines.

Book hotels and hostels
• Booking.com: Best world-wide
• Agoda: Best in South East Asia
• Hostelworld: Best for hostels

Book tours, transport and rental cars
•Viator: The best place to book tours, day trips and excursions for al budgets
•12Go: Great for ferries, trains, transfers and buses in South East Asia
•Discover Cars: Best deals for rental cars around the word

Get travel insurance
Every traveller needs travel insurance and I mean every single one. SafetyWing covers you in case of injury, illness or worse and they've got your back if your bag is stolen, flights are cancelled or in case of a natural disaster.

Pay abroad
Ask any traveller, Wise is the best choice when it comes to sending money abroad. They've always got the best exchange rates, lowest fees and their visa card is great for getting cash out or paying abroad.

Things every traveller needs:
➼ Osprey Farpoint 70 Backpack
Detachable daypack, ultra-light, durable and free repairs for life. There's a reason why so many backpackers have this bag.
➼ Packing Cubes
Packing cubes are a gamer changer, keeping your luggage organised and providing tons of extra space.
➼ Power bank
There is nothing worse than running out of battery on an overnight bus journey or a long flight. With a powerbank you can charge your eletronics on the go and make sure you're always connected.
➼ Micro-fibre towel
These lightweight towels are foldable, fast-drying and so useful when you're travelling.

➼ You can find 15 more things every traveller needs here. Some might be a bit controversial but I warned you!
Did I miss anything?
If you have any questions or feel like something is missing from this post please leave a comment below or contact me.