Tentena is a small town located in Central Sulawesi, Indonesia. There are plenty of things to do in Tentena, including seeing ancient megaliths, visiting burial caves, seeing tarsiers and swimming in the crystal-clear waters of Lake Poso. Sulawesi is still an up and coming tourism destination with a lot of authentic experiences away from the crowds. If you're interested in adventure travel, culture and history, this is a fantastic destination that cannot be missed during your time in Indonesia.
This post may contain affiliate links, which means we'll receive a commission if you purchase through our links, at no extra cost to you. This helps us keep Guide your Travel free and provide high-quality content for you. Please read the full disclaimer for more information.
Where is Tentena?
Tentena is a small town located on the shore of Lake Poso (also Danau Poso) in Central Sulawesi. Most tourists who travel to Sulawesi explore Toraja which is located south west of Tentena, although not nearly as far south as Makassar. Towards the north east you'll find Togean Island which is home to white-sand beaches and world-class diving locations.

Tentena lies in a mountainous valley right on the lake at approximately 500 metres of altitude. This part of Indonesia has largely been untouched by international tourism and provides glimpses into small-town life with a breathtaking backdrop of vistas.
How to get to Tentena in Central Sulawesi
Due to its remote location, it can be a bit tricky to travel to Tentena from other parts of Central Sulawesi. Make sure to factor in plenty of time for the journey and consider making it a road trip since there are so many fun things to see along the way.
Map
How to get to Tentena by bus
Sulawesi has a decent long distance bus system which you can use to travel to Tentena. There are direct buses available from Poso and even Toraja. If you're coming from Palu you need to get a bus to Poso first where you can switch to one that will take you to Tentena. The total journey takes more than 10 hours so prepare for a long ride.

Booking tickets is best done directly at local bus offices, ideally a few days in advance. Be prepared that not everyone working there will speak English so make sure you've got Google Translate ready and learn a few important words in Bahasa before you go. Booking tickets online is currently not possible.
Can't make it to Tentena in one day? Here are some of our favourite hotels in Palu and Poso:
Top tip: Always compare prices for hotels. We at Guide your Travel prefer Booking.com, Agoda or Hostelworld for finding the best deals.
How to get to Tentena by car or scooter
The easiest and most popular way to reach Tentena as a tourist is by car or scooter. If you're looking for an adventure and are confident driving on winding mountain roads, you can rent a scooter and explore Central Sulawesi independently. This is only suitable for experienced drivers though as the road condition can be bad in places and accidents are common.

Alternatively, you can find a local driver who will be able to take you around this part of Sulawesi and also take on the role of a tour guide which is an added benefit. Look into the Tentena Tour Guide Association or ask around at the local tourism office who will be able to connect you to a driver. It's usually possible to organise this spontaneously and it may be difficult to find booking options online in advance.

In any case, it's important to have patience when travelling in areas like this where tourism is still up and coming. Factor in a few extra days in case of delays or unavailability.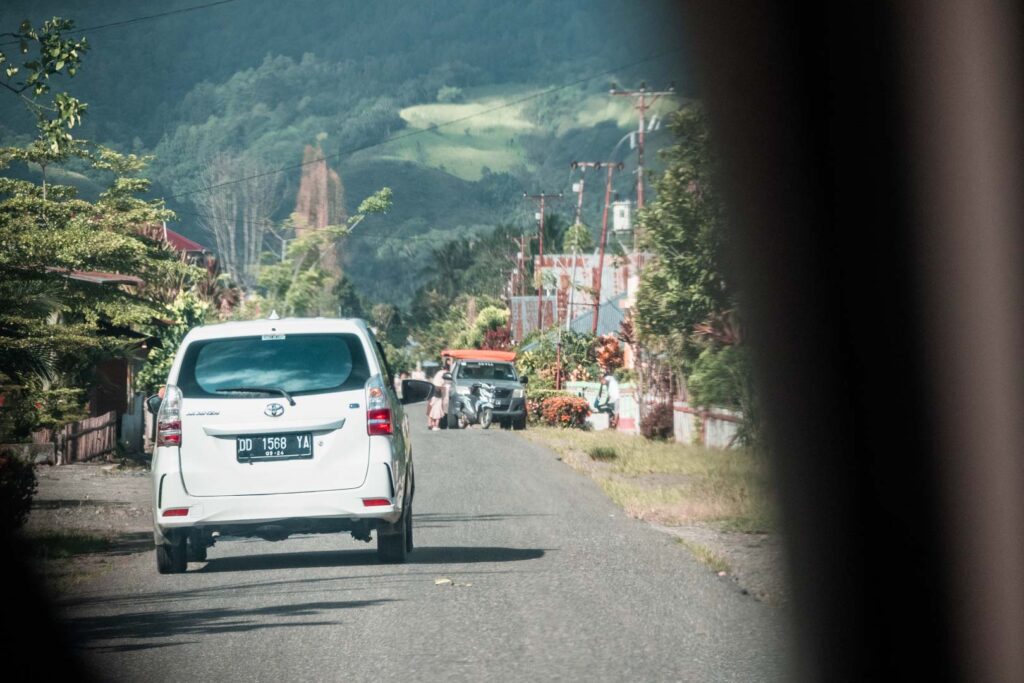 How to get to Tentena by plane
Tentena has a small, regional airport which allows visitors to skip the long drive through the mountains. However, during covid it had to cease operations and is yet to reopen. It is expected to begin welcoming visitors again as soon as 2023 which will make it a lot easier to access Tentena.

However, keep in mind that small flights like the ones that can land at Tentena airport are usually very pricey and may not be suitable for budget travellers. If saving time is your priority, definitely consider looking into flying directly to Tentena.
Where to find the best flights to Central Sulawesi
Whether you're booking flights spontaneously or planning ahead, Skyscanner is the best place for finding cheap deals and convenient connections. You'll love their user-friendly interface and reliable search function that's much easier to use than individually checking airline websites.

Not sure yet if Central Sulawesi or Tentena is where you want to travel? Skyscanner lets you choose the option "to everywhere" so you can find the cheapest flights to destinations around the world for your travel dates.

What are you waiting for? Book your fights to Central Sulawesi or other destinations here.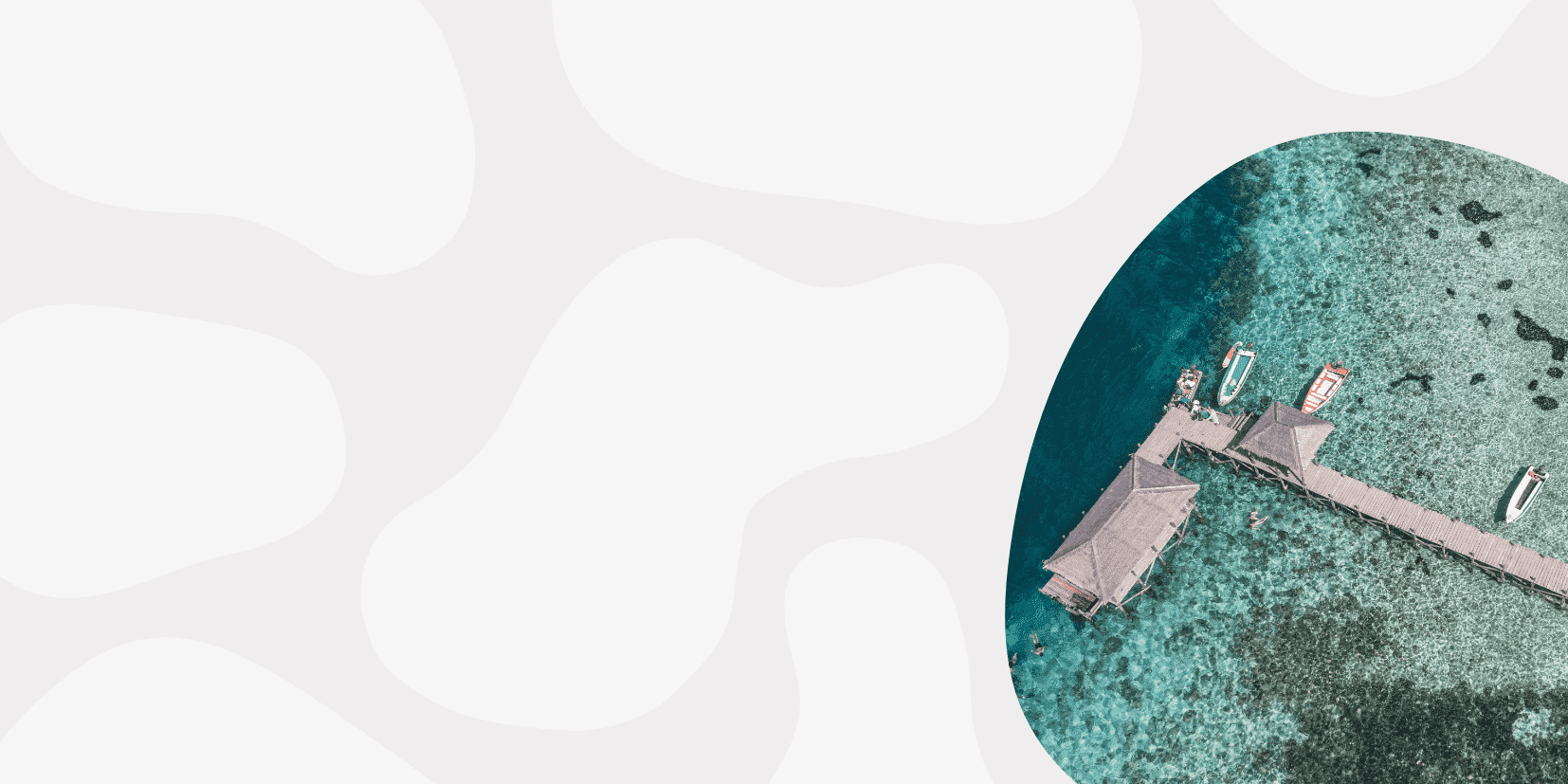 Let me save you time and effort when you're travel planning!

➼ Best travel insurance? SafetyWing
➼ Best place to find cheap flights? Skyscanner
➼ Best bank & credit card for travellers? Wise
➼ Best travel backpack? Osprey Farpoint 70
Guided tours to Tentena and Central Sulawesi
A great option for seeing Tentena and Central Sulawesi is to join a guided tour which will take care of all the travel planning for you. Choose between all-inclusive tour options which include everything from flights, private transfers, meals and experiences or more basic day-tours which focus on transport and a tour guide. Since this part of Indonesia is not on the radar of most international travellers yet, it can be challenging to plan your own trip. If you're unsure of where to start, a guided tour is recommended in Sulawesi.
Top tip: Trip Mandara is an experienced tour company offering excursions all over Indonesia. One of their specialities is Sulawesi and their tours are taylor-made and high-quality. Contact them for personalised tour options and recommendations.
Looking for tours in other parts of Sulawesi? Here are our favourite ones:
Is it safe to travel to Tentena and Central Sulawesi?
Sulawesi has a troubled history and was once considered to be unsafe for tourists. Religious violence was common in the early 2000s which lead to a large amount of negative press about the regions, scaring away whatever tourists were venturing onto the island. Luckily, since then a lot has changed and Sulawesi and especially Tentena is now considered to be perfectly safe for tourists. Incidents of violence are now practically non-existent and the local government is actively promoting international tourism, meaning they have considerable interest in showing that Sulawesi is a safe travel destination.

There is generally no need for safety concerns when visiting Central Sulawesi. Use common sense and keep your valuables close, just as you would when visiting any other destination around the world. Petty crime exists but is not common so there shouldn't be any need for extra precautions.

If you're out in the evening in larger cities like Palu it is recommended to take a taxi instead of walking. Tentena itself is generally safe (although you might still want to take a taxi just because of your own comfort) since it is such a small town.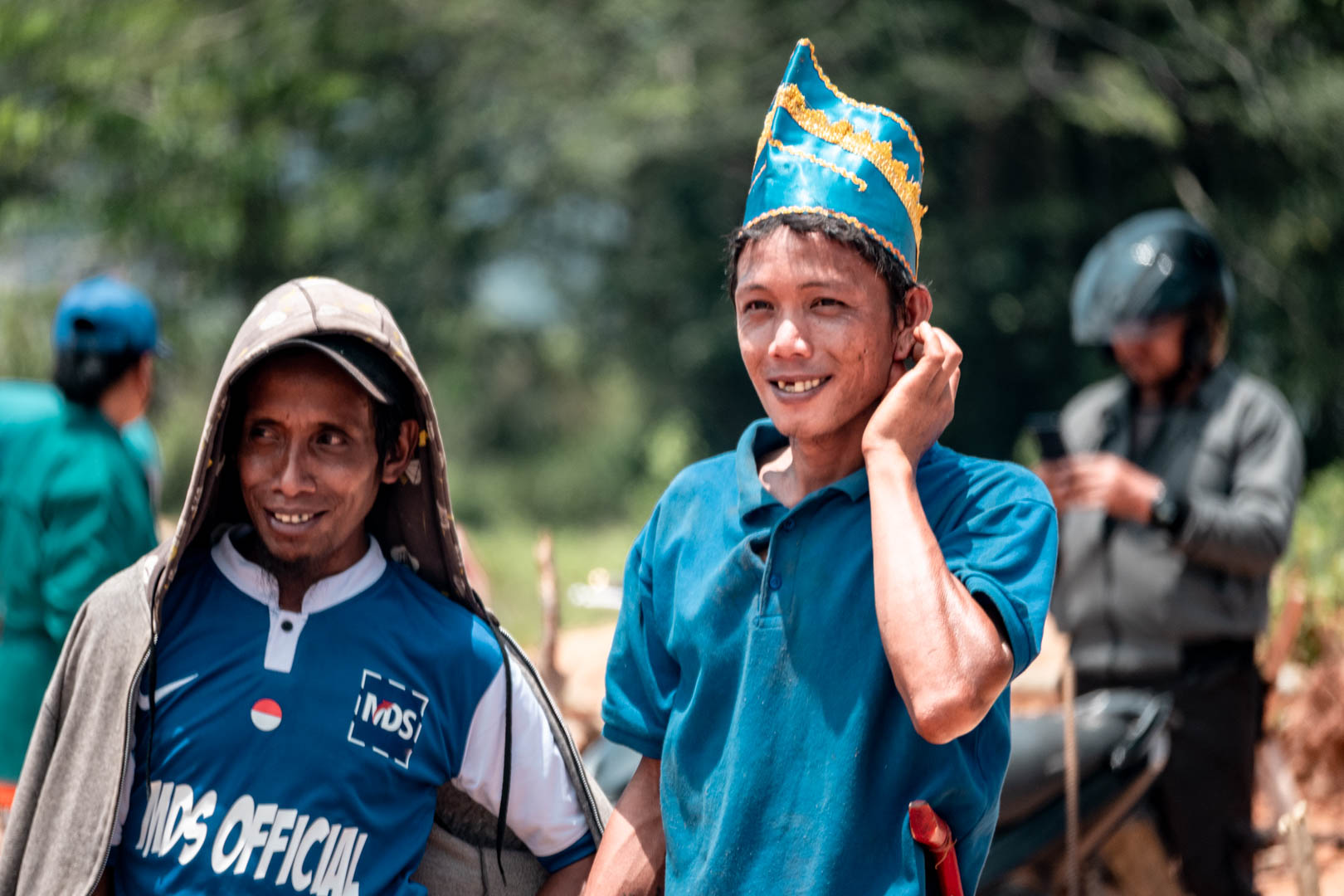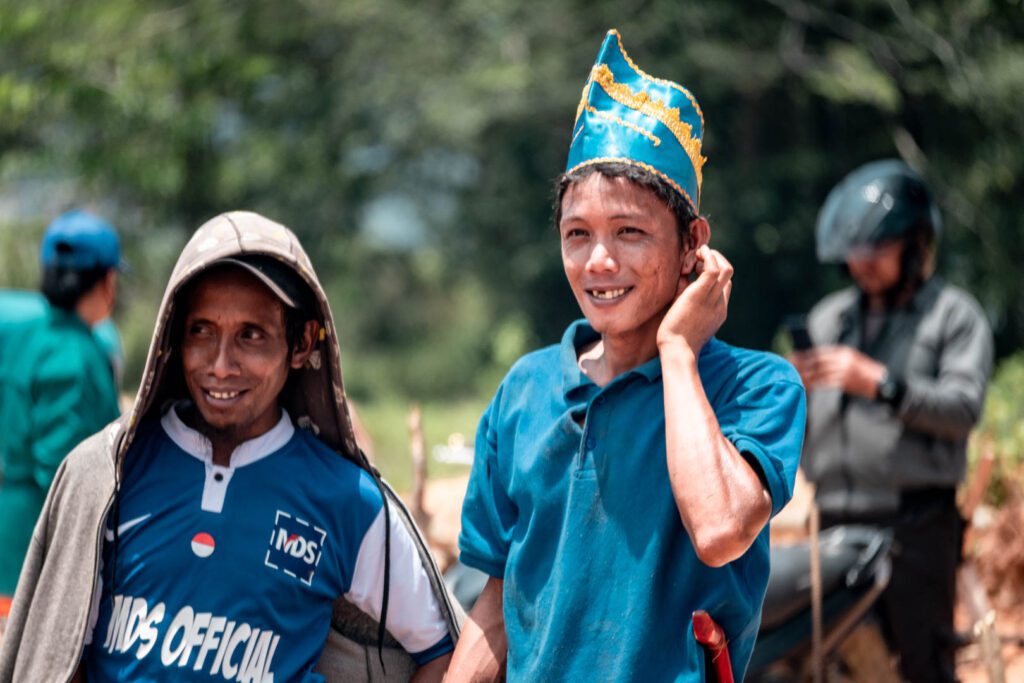 Road quality in Central Sulawesi
Generally, Central Sulawesi has a decent road quality and improvements are being made constantly. Still, in mountainous areas like the route from Poso to Palu, roads may lack in quality and can be dangerous for inexperienced drivers. Always go slow if you're riding a scooter and avoid driving for long distances without stopping to avoid fatigue.
Central Sulawesi is an adventure travel destination and you might be leaving some comfort behind when you visit the area around Tentena. Even if you're not planning on riding a scooter during your time in Indonesia, you will need high-quality travel insurance during your trip. SafetyWing is not only the best choice for digital nomads but also a reliable companion for an action-packed vacation. They have different options to choose from including accident insurance, medical coverage and even flight cancellations or lost baggage.

Whether you fall ill unexpectedly, have a motorbike accident or your bags get lost by the airline, SafetyWing has got you covered.
How to get around in Tentena
Tentena itself is small and you can walk around the centre of town, although there isn't too much to see as a tourist. Most attractions are located a short drive away which is best done by car with a tour guide or independently by scooter. There is no public transport available.

A good option for budget travellers is to get to Tentena by public bus and then rent a scooter locally the explore the area. This will save you from having to attempt the long drive by yourself but will still ensure you have plenty of freedom to discover Sulawesi at your own pace.

Not sure if you're ready to drive a scooter in Indonesia? Get in touch with the local tour guide association to get a driver who will show you around. This will add a lot of value to your trip and will be the more comfortable option.
Top tip: Save yourself the hassle of planning and book a complete guided tour to Tentena and Central Sulawesi with Trip Mandara who will take care of everything including flights, hotels, meals and anything you might need.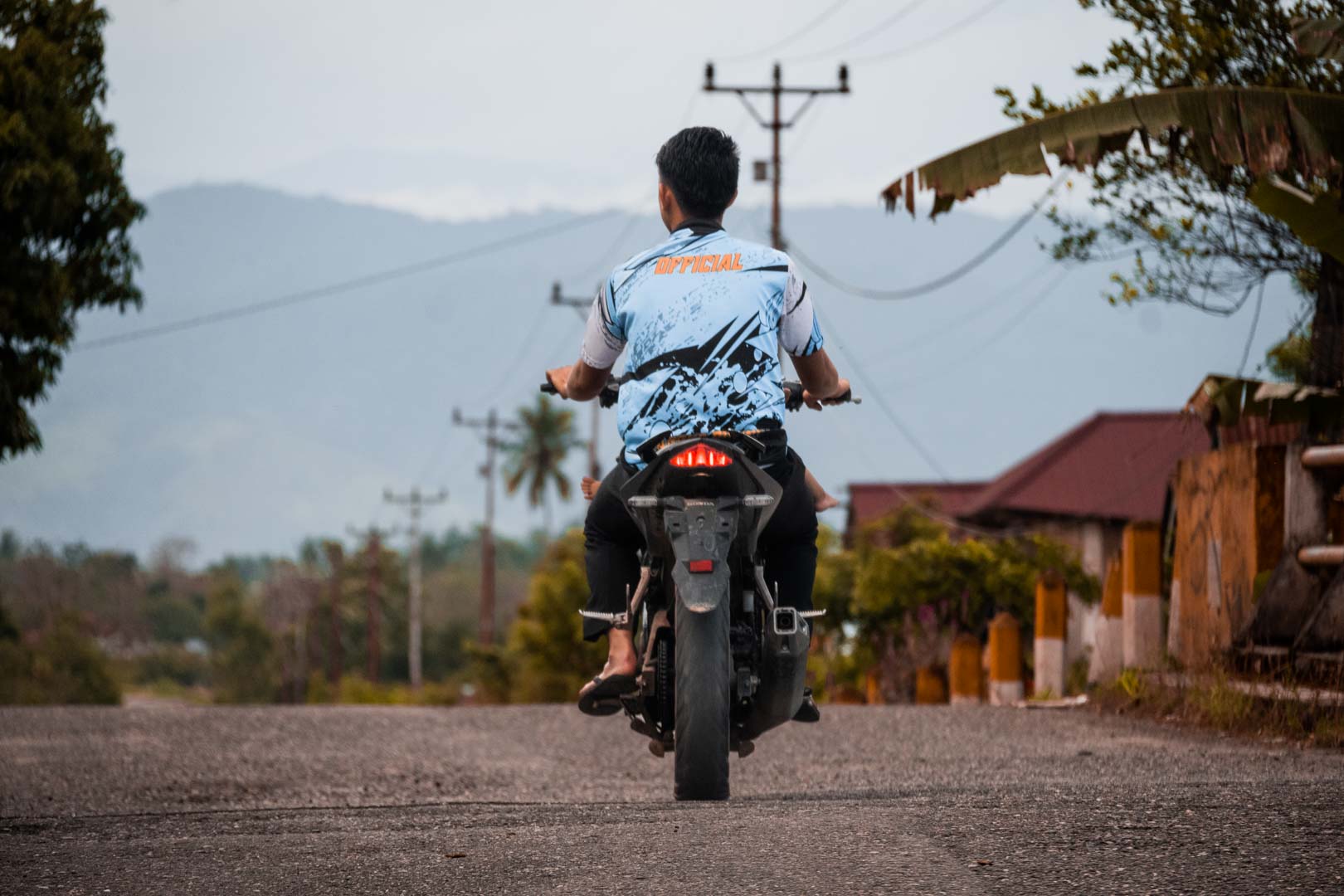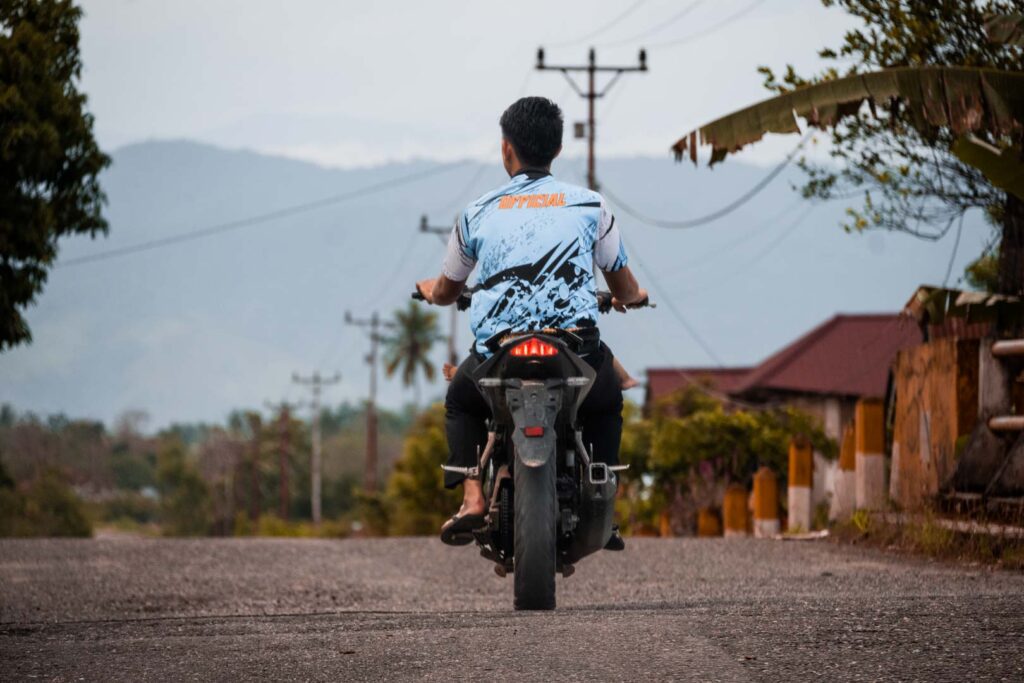 Where to stay in Tentena
There is a limited number of hotels available in Tentena and most are local homestays and guesthouses. You'll find a handful of waterfront resorts right at the lake which are more focused on international tourists. In most cases, booking is only possible through the hotels themselves and their websites or social media. Large booking platforms like Booking.com or Agoda only have a limited selection available.

Our favourite hotels in and around Tentena include: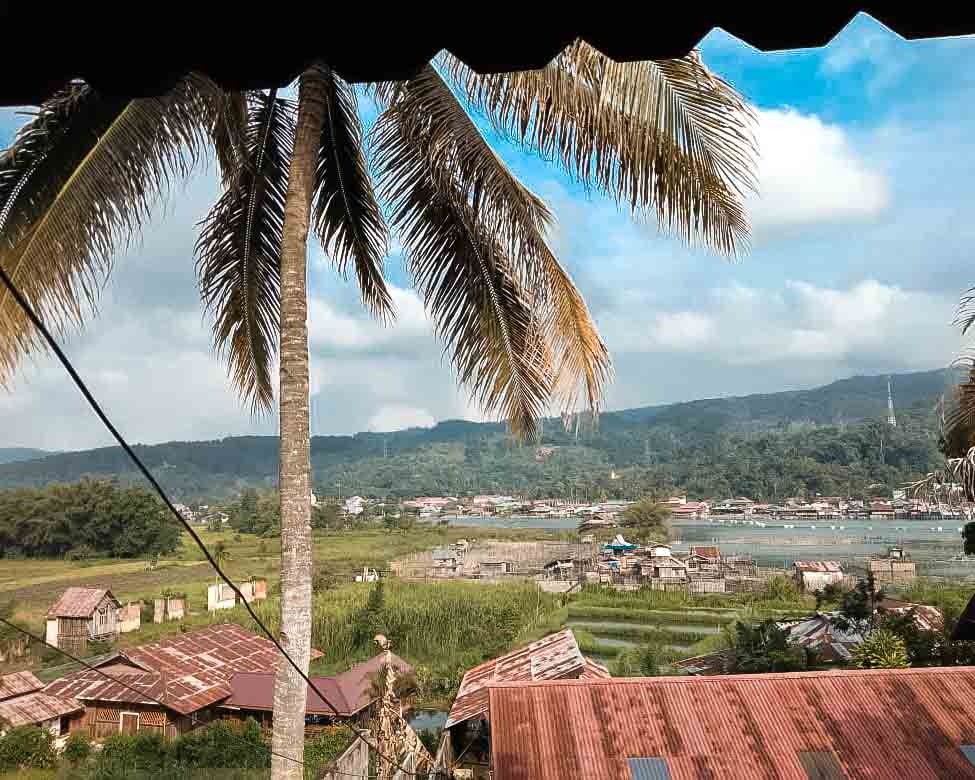 Budget – Ue Datu Cottages
Budget-friendly hotel located in the heart of Tentena, within walking distance of Lake Poso and a good selection of local restaurants. Rooms are basic but comfortable and ideal for those trying to save money.

Price range: 20€ – 30€ per night
➼ Agoda
➼ Hostelworld

Budget – Siuri Cottages
Beautiful lakefront hotel with great value for money. Enjoy a small beach and private bungalows with views of the water. This is the perfect spot for watching the sunset and trying watersports on Lake Poso.

Price range: 20€ – 40€ per night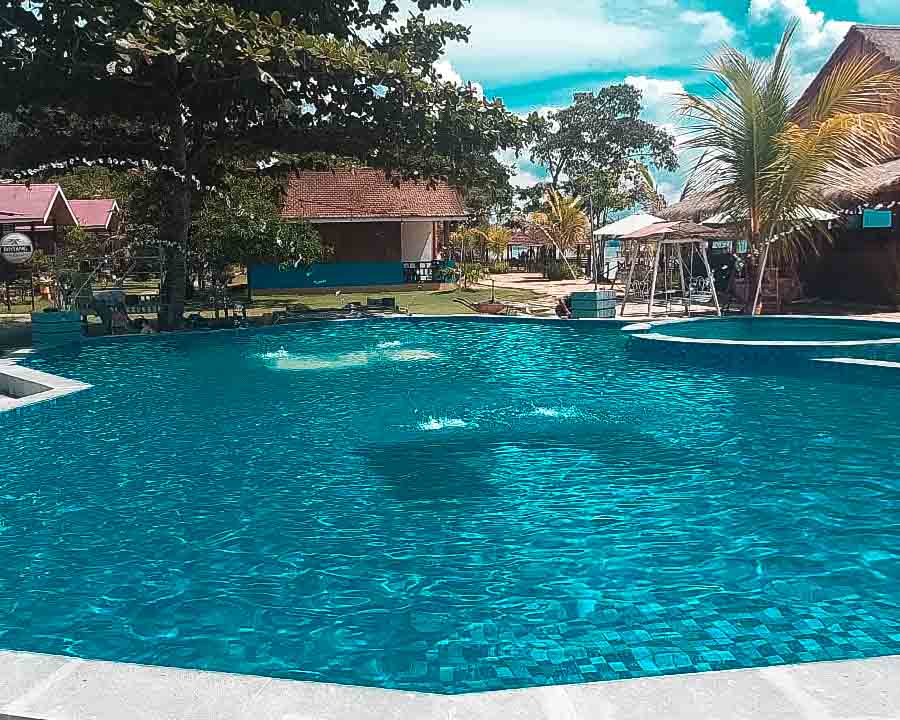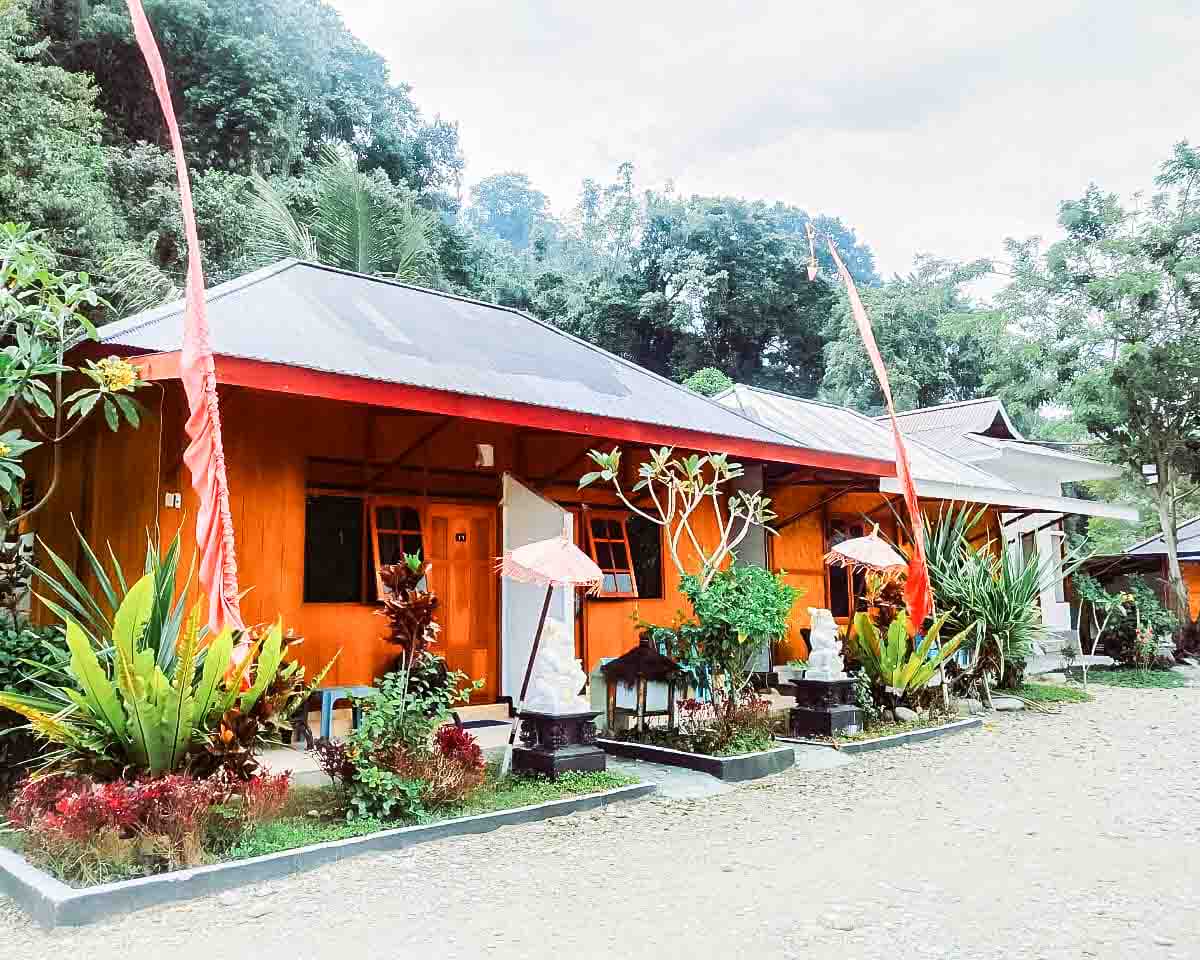 Mid-price – Torau Resort
Beautiful beach resort located outside of Tentena on the shore of Lake Poso. They have luxurious bungalows on the water and a huge pool located right by the lake.

Price range: 40€ – 80€ per night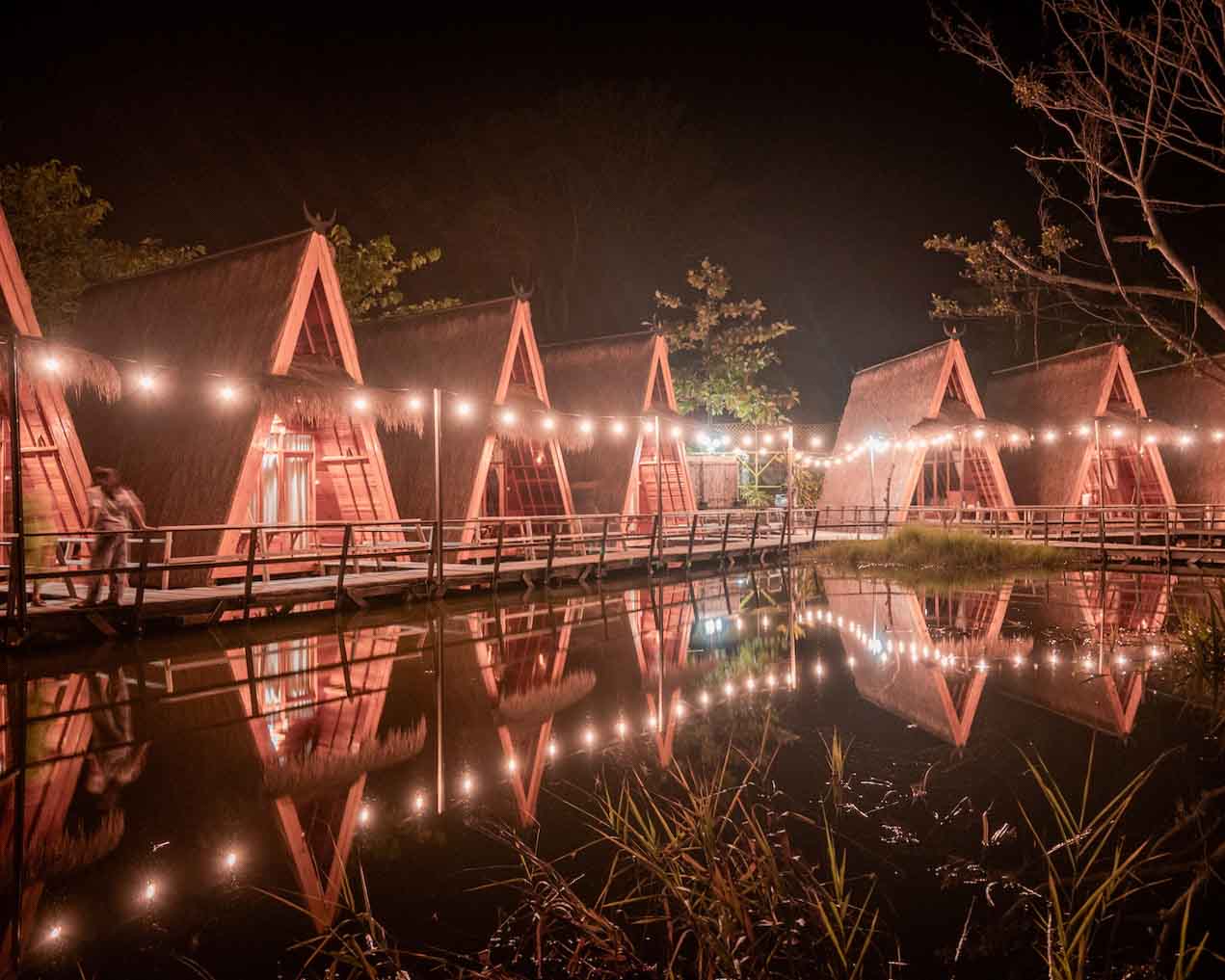 Must-try food in Central Sulawesi
Central Sulawesi and specifically the area around Tentena and Lake Poso (Danau Poso) is known for its unique cuisine and unusual flavours. You definitely need to try the traditional bamboo rice which is made by stuffing fragrant rice into bamboo stalks which are then cooked over an open fire.

There is also sugili, which is deep-fried giant eel which comes straight from Lake Poso. This is a local delicacy and can be expensive.

Then there are panadas, which are pastries with savoury filings like vegetables, noodles, fish or meat. They can be compared to a Central American empanada and are absolutely delicious.

Generally, you'll find a lot of seafood and fish here, some of which comes from the lake although a large part is brought over from the nearby Poso City which is located on the ocean.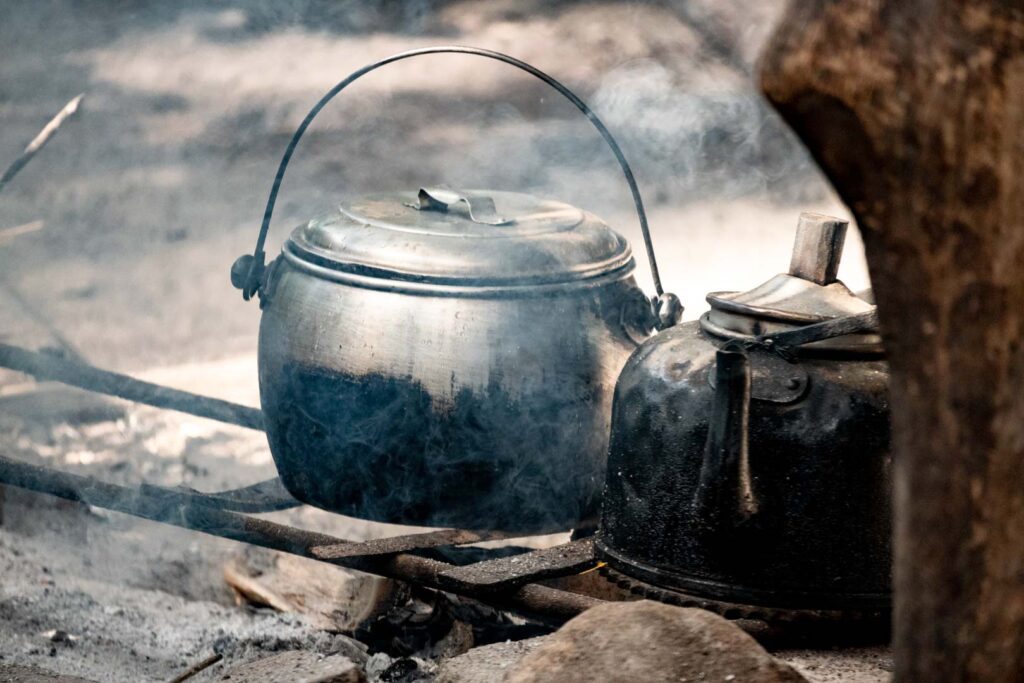 How long should you stay in Tentena?
If you're tight on time, three days in Tentena will be enough to see the main sights and include a day trip to Bada Valley as well. However, if you can manage to, it will be far more realistic to spend at least a week total in the area which will make the long drives involved worth it. You'll spend a considerable amount of time in the car getting from one place to another so it can be difficult to pack your days full of activities.
Top tip: There is a lot more to see in Sulawesi than just the area around Tentena and Lake Poso. Why not visit places like Toraja, Togean or Wakatobi Islands while you are there and make it one big road trip?
Why you should visit Tentena
Here are my top reasons why you should travel to Tentena and Central Sulawesi:
To see a glimpse of the real Indonesia and rural life. You'll find a wide variety of small towns in the surrounding area which will allow you to connect with locals and venture off the beaten track.
For the unique archeological finds such as historic burial caves and hundreds of megaliths that can be found here. The origins of most of them is still unknown and it's incredible to see these artifacts before tourism increases in the coming years.
To discover the natural beauty including the crystal-clear waters of Lake Poso, the dense surrounding jungle and many different landscapes that can be found here.
To learn about the unique local traditions and customs which cannot be found anywhere else in Indonesia.
To experience the vibrant Lake Poso Festival which showcases a wide variety of musical, cultural and dance performances.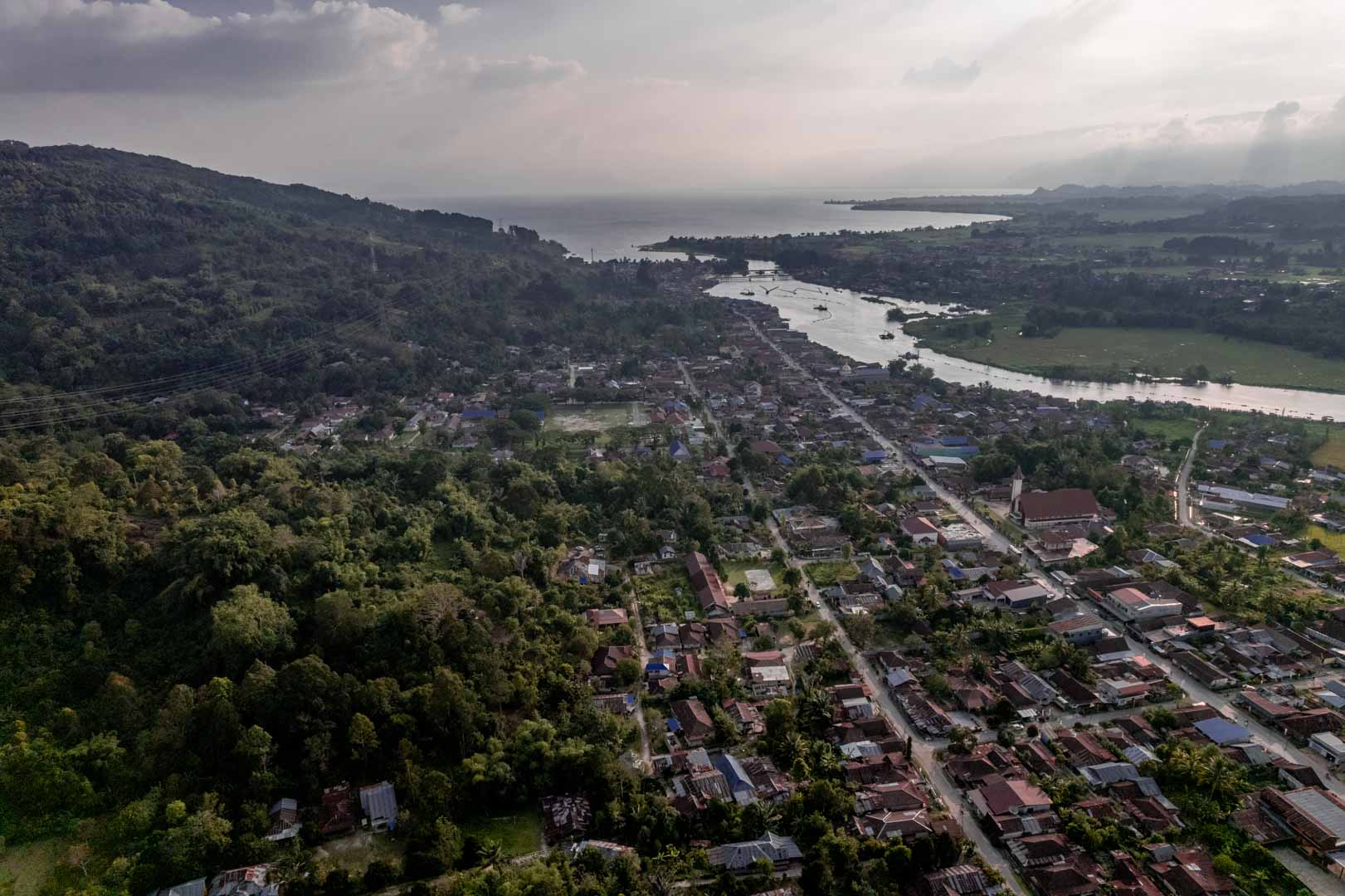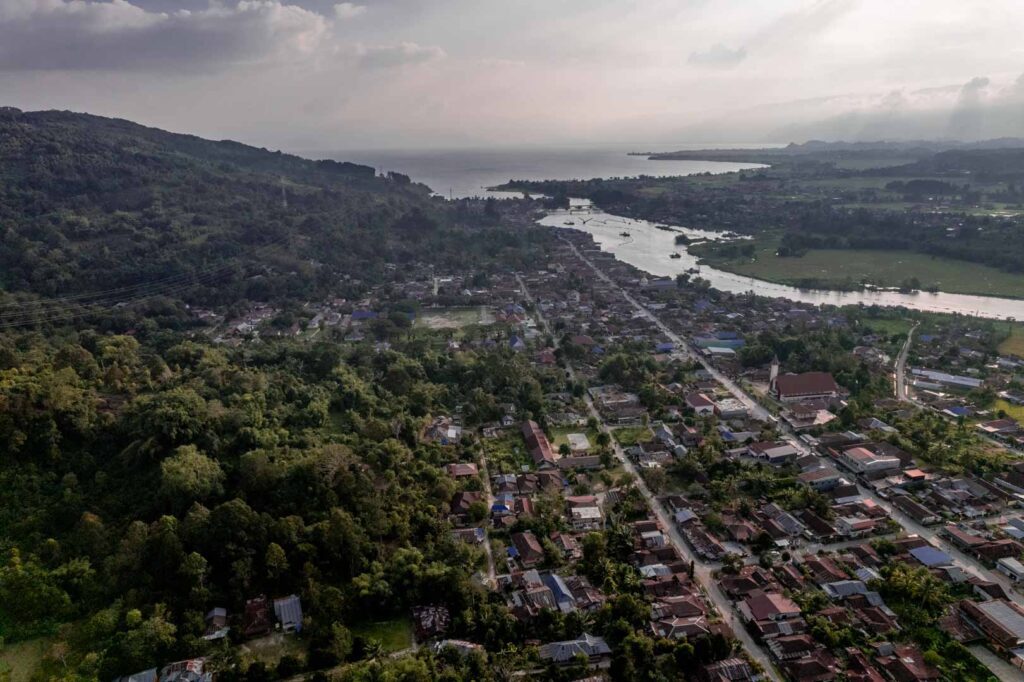 When is the best time to go to Tentena?
You can visit Tentena year-round since the seasons this close to the equator can be unpredictable. June to October are generally driest with a good chance of sunny weather. However, make sure to prepare for occasional rain and unexpected downpours. Some roads to more remote parts of Central Sulawesi may be impacted by heavy rain, leading to floods and land slides so take care when driving during or after storms.


What type of tourist will enjoy a trip to Central Sulawesi?
Sulawesi is still a largely untouched travel destination without the mass tourism you'll find in places like Bali, Nusa Penida or the Gili Islands. The majority of accommodation is relatively simple and western commodities like alcohol or international cuisine can be hard to come by. A trip to Tentena is definitely most suitable for adventure tourists or experienced backpackers looking to discover the real Indonesia.

Luxury tourism is definitely a posibility in the future with some upscale resorts appearing in the area, however, it may still be some time before Lake Poso becomes a true luxury destination. For now, this part of Indonesia is fantastic for those wanting to go on an extended motorcycle trip (especially motorcross or offroad), nature-lovers wanting to spot wildlife as they travel, camping enthusiasts and those who are excited by learning about the unique culture and history of Sulawesi.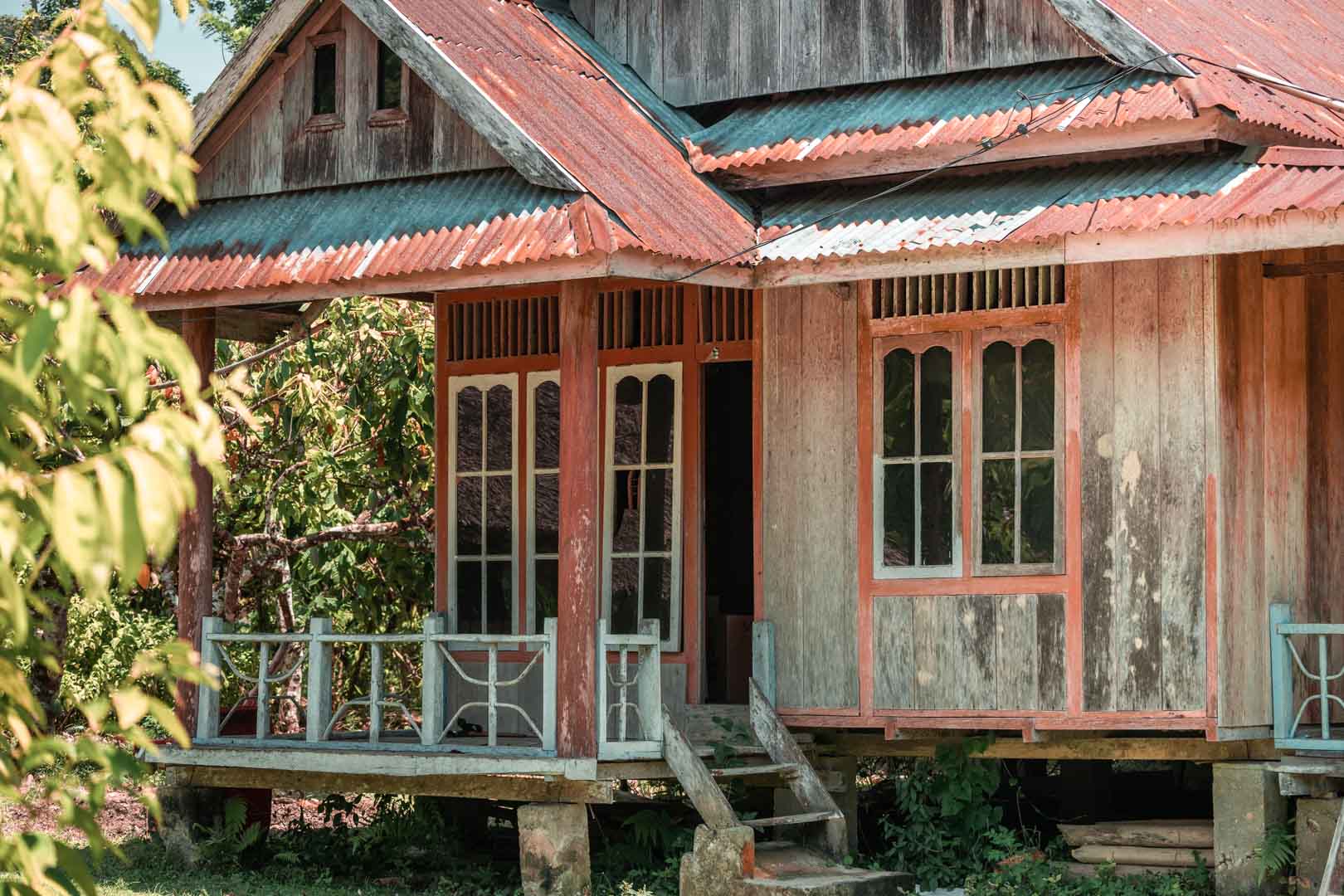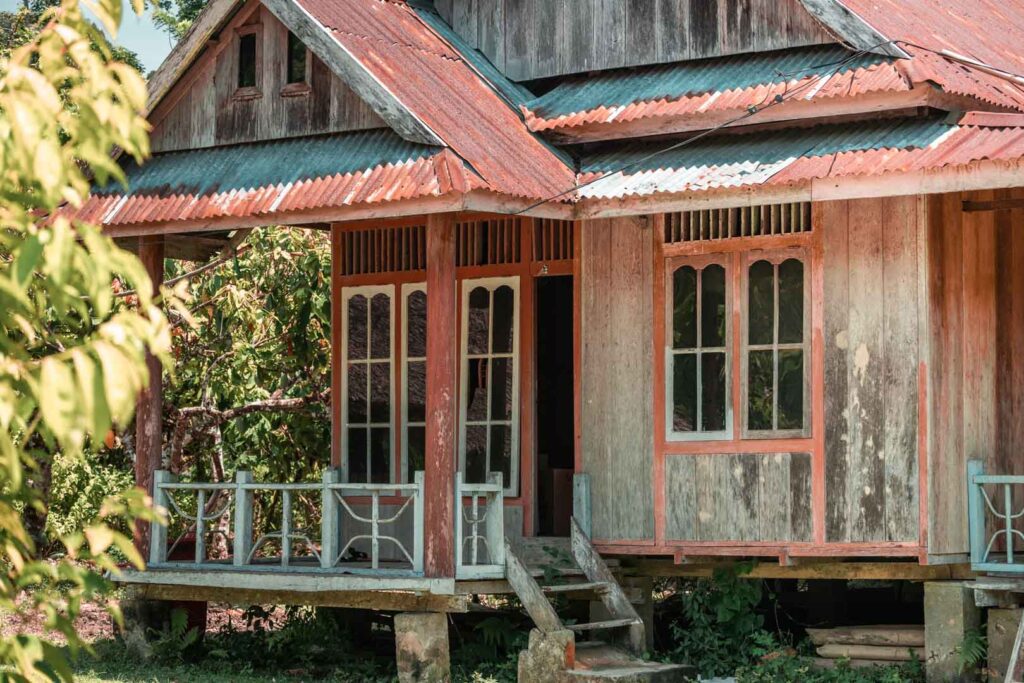 Is a trip to Central Sulawesi budget-friendly?
Travelling on a budget to Tentena is certainly possible and you'll find that local restaurants, transport and homestays are relatively affordable. However, since international tourists are still few and far between, prices for nicer accommodations or private tours are definitely elevated. Group tours can be pricey since they include a lot of activities, staff and pre-planning in a place that isn't used to large amounts of tourists.
Must-have things to pack for Central Sulawesi
A trip to Tentena will include lots of time spent outdoors and a variety of fun acitvities such as hiking, swimming and maybe even camping. Here are some things you absoutely need before you travel to Central Sulawesi. Shopping options are extremely limited here, especially in Tentena, so make sure you bring everything you might need with you.
Rain poncho: Make sure to pick a high-quality but packable option that you can easily throw on in case of bad weather.
Mosquito repellent: There will be a lot of mosquitos around, especially in the jungle or around the lake.
Micro-fibre towel: Some smaller homestays might not provide towels and you'll want to go for a swim in the waterfall or lake.
Powerbank: Not all accommodations in rural areas have electricity all the time and you'll want to come prepared.
Flashlight: You'll need a good flashlight when looking for tarsiers in the jungle at night.
Binoculars: Bird watching is very popular here so make sure you've got a decent pair of binoculars if you're interested.
Motion-sickness medication: You'll spend a lot of time on winding mountain roads so come prepared if you're prone to motion sickness.
Top tip: You can buy mosquito repellent and motion-sickness medication at local pharmacies in places like Bali, Jakarta or Makassar. Palu will also have some pharmacies selling these things but they might be more challenging to find. It's best to buy everything you need before you travel to Sulawesi.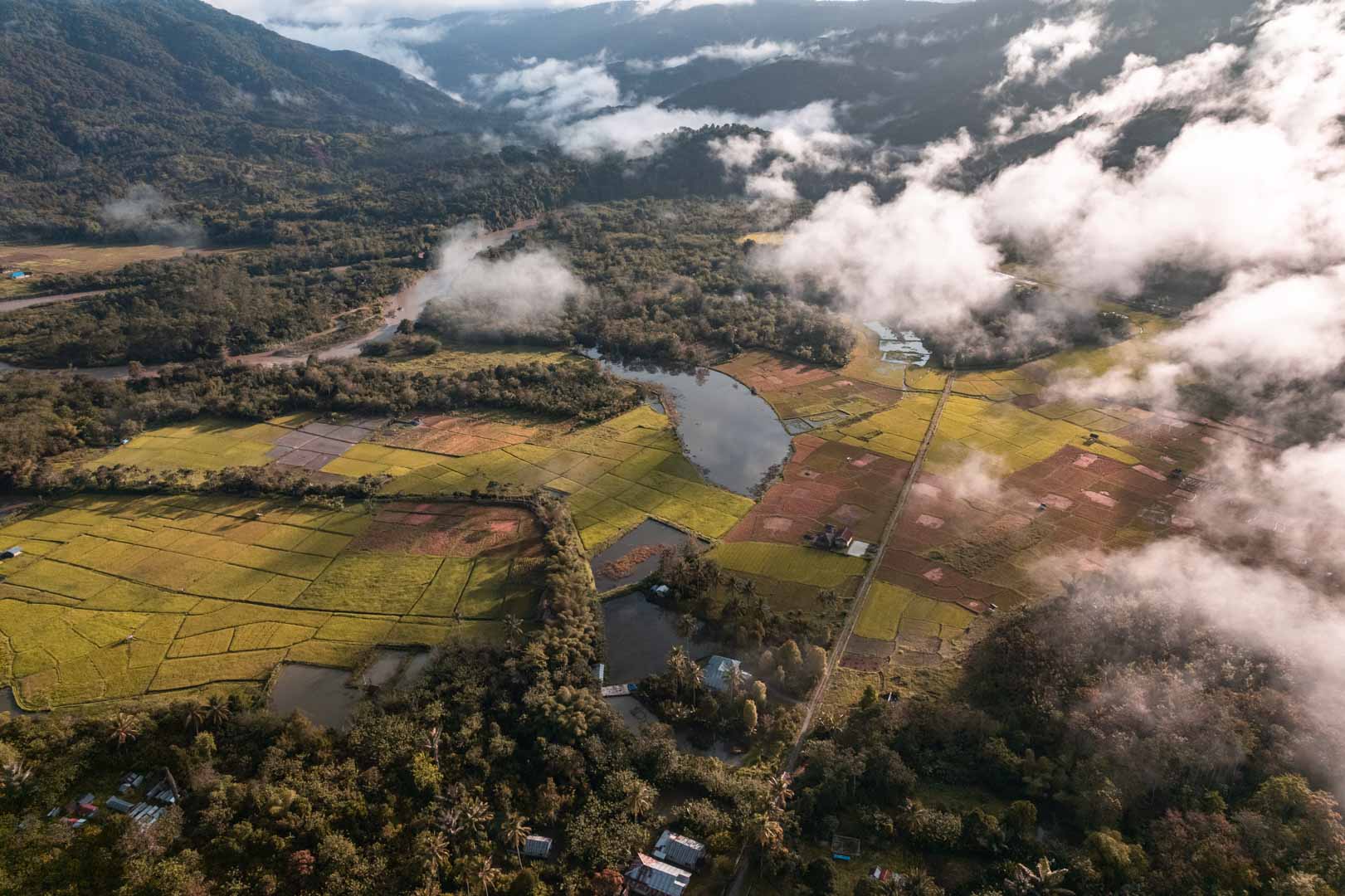 Things to do in Tentena, Central Sulawesi
There are plenty of things to do in Tentena and close to Lake Poso (Danau Poso) in Central Sulawesi. Here are some of our favourite ones.
1. Swim in Lake Poso
Lake Poso is known for its crystal-clear waters and for being the third-deepest lake in Indonesia at up to 450 metres. Luckily, you'll only be swimming close to the shore, where the water is shallow and the ground is soft and sandy. It's highly recommended to stay at a waterfront resort which will have water sports equipment and the best small beaches. The water temperature is usually comfortably warm so you can enjoy the lake year-round.
Location: Anywhere on Lake Poso close to Tentena. This small beach was our favourite.
Distance from Tentena: 5 kilometres
Best time to go: On a sunny day
How much time to spend here: 1 hour
Price: Free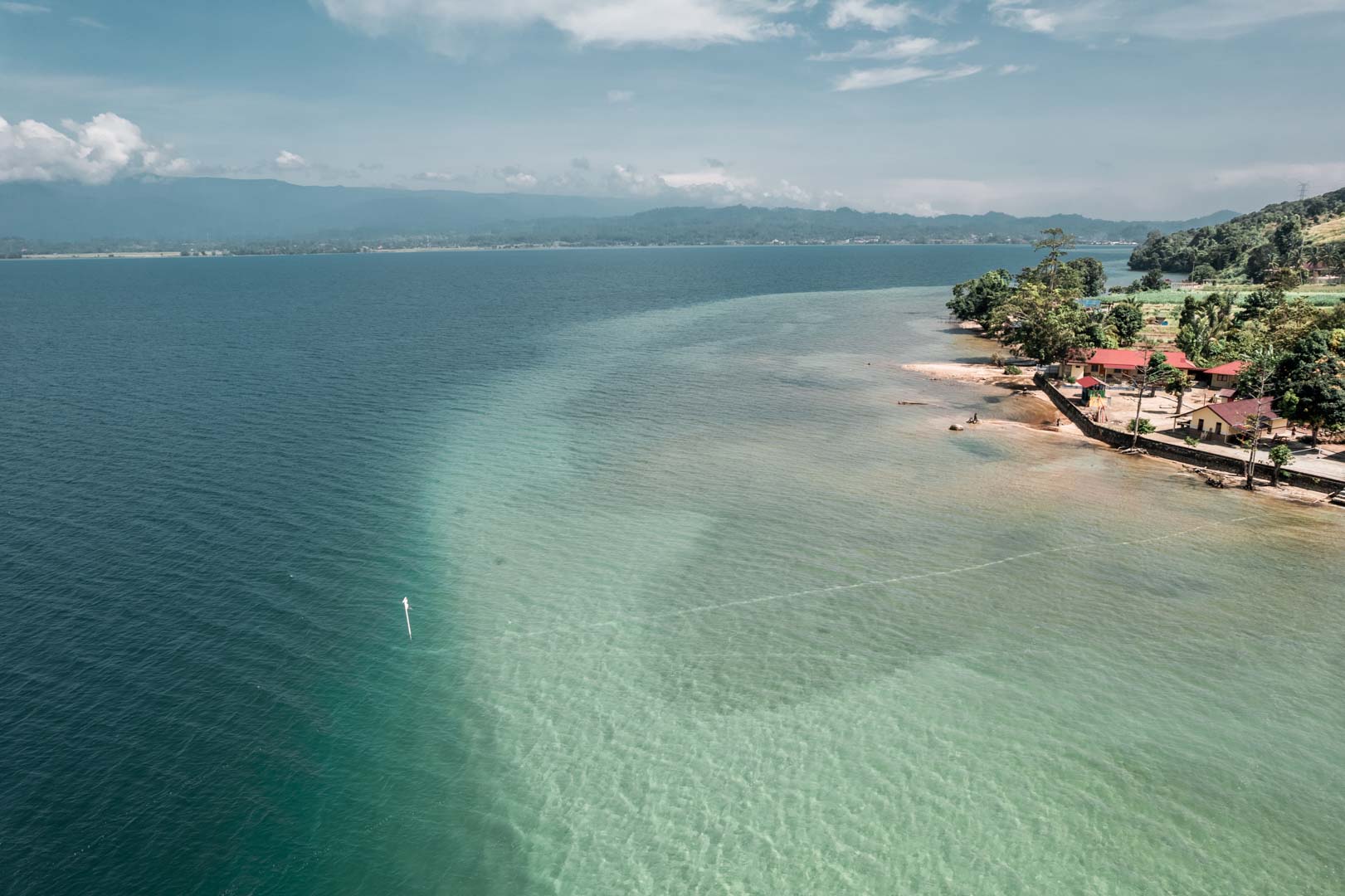 2. Visit Saluopa Waterfall
Saluopa Waterfall is a favourite among local tourists due to its unique, rounded shape and many swimming pools. The falls are easily accessible although you'll have to walk for around 10 minutes before reaching them. There are plenty of small warungs and shops around where you can change and use the bathrooms (squat toilets).

Spread over twelve levels, this is a very impressive waterfall and unlike any you might have seen in Indonesia in the past. Despite its size, it's actually relatively easily to climb Saluopa Waterfall because the rocks are sandstone, making it easy to grip and not slippery. Pack your swimsuit and enjoy cooling off after an exciting day in Tentena.
Distance from Tentena: 23 kilometres
Best time to go: In the mornings on a weekday to avoid crowds
How much time to spend here: 2 hours
Price: IDR 20,000 (~ €1.30)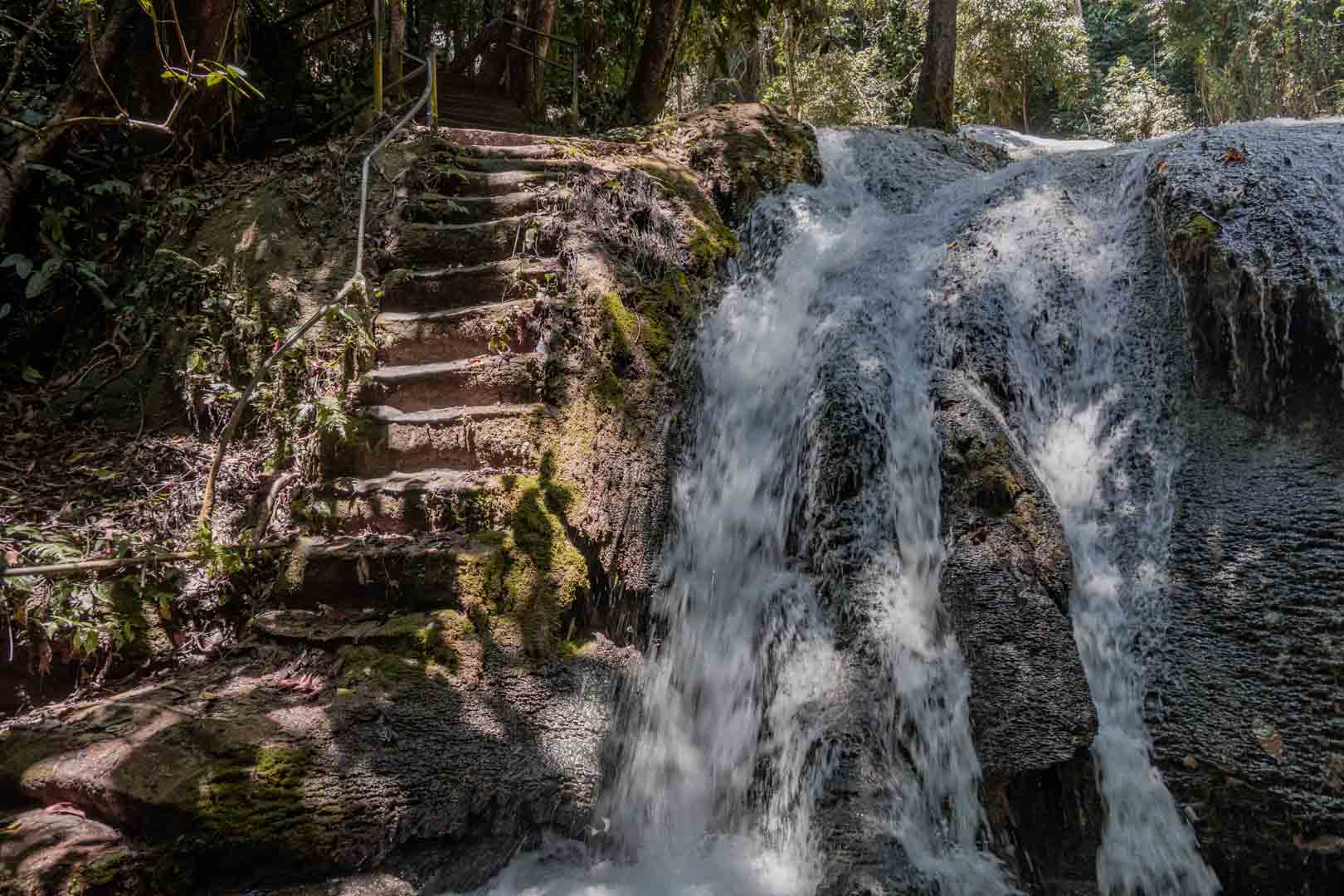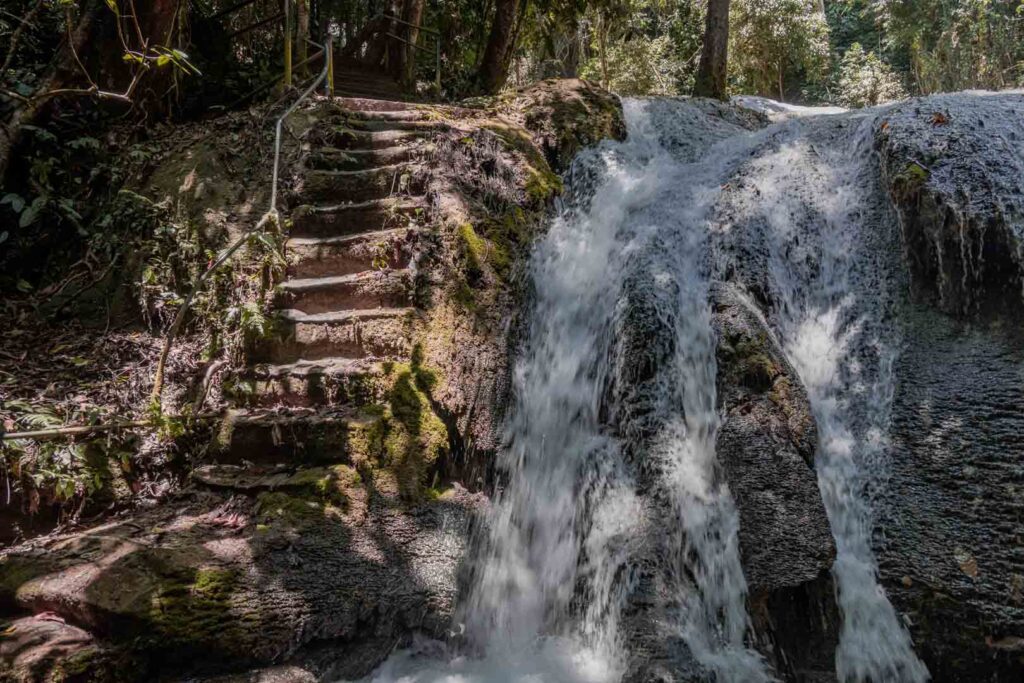 3. Take part in Lake Poso Festival
Lake Poso Festival (also Danau Poso Festival) takes place once a year, usually in October, drawing thousands of tourists to the small town of Tentena. This lakeside event is meant to showcase the culture and traditions of Sulawesi, combining contemporary artists with traditional performances. Expect music, dance and fashion events as well as beauty pageants, workshops and culinary experiences. Lake Poso Festival is completely free to visit and spans across three days with celebrations going on late into the night. Foreigners are always a welcome sight and you're sure to have a blast if you happen to be in Tentena during this time. Just make sure to book your accommodation in advance and allow for plenty of spare time to reach the festival grounds, since traffic can be an issue.

If you're unsure of when to visit Tentena, the time when Lake Poso Festival takes place is a great choice.
Distance from Tentena: 0 kilometres
Best time to go: October
How much time to spend here: three days (from lunch time to the early morning hours)
Price: Free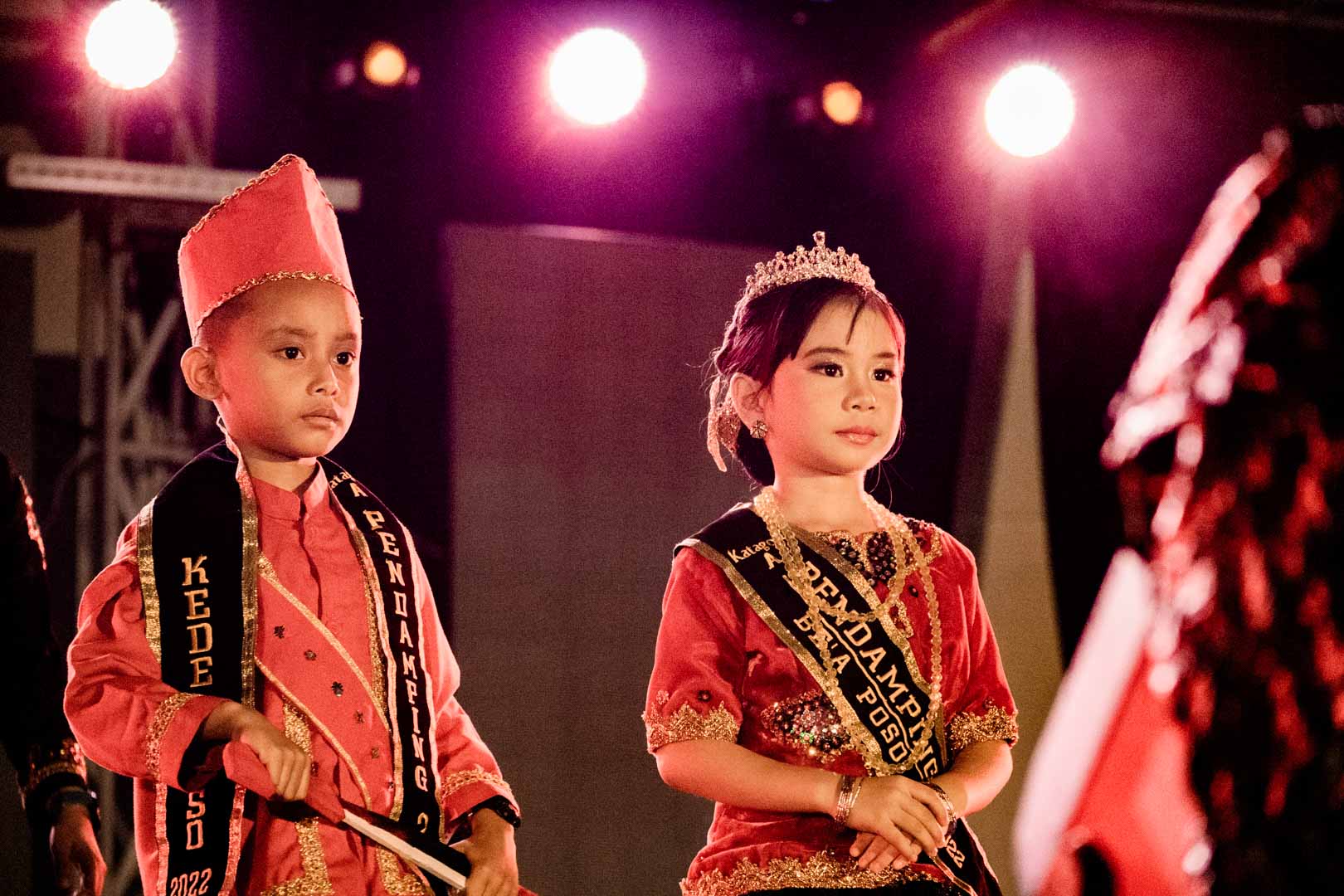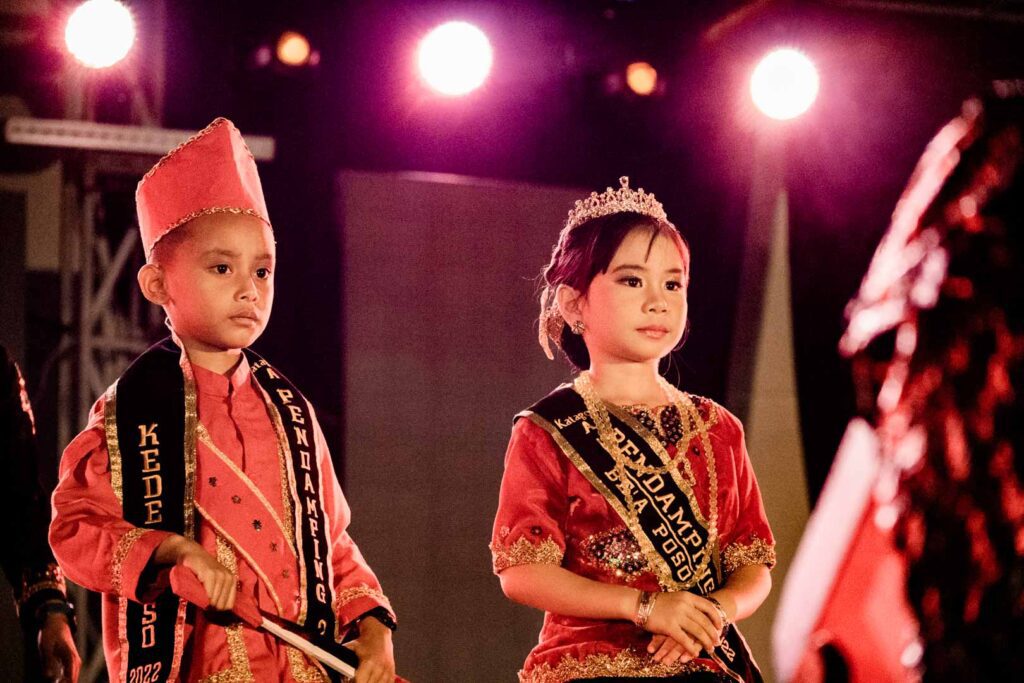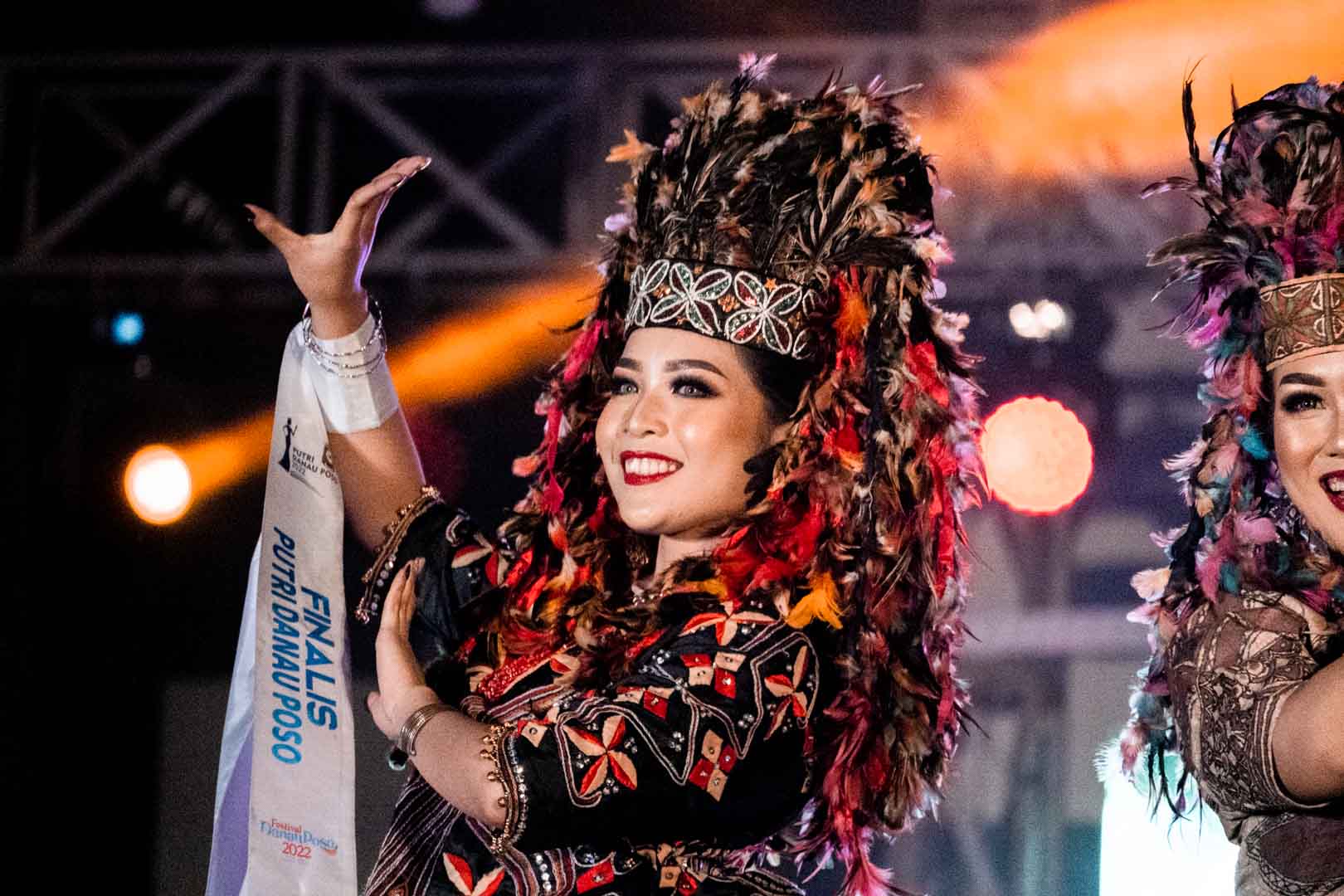 4. See Tarsiers
Tarsiers are tiny primates known for their large eyes, long fingers and cute apperance. Several types of tarsier are endemic species in Central Sulawesi, meaning they cannot be found anywhere else in the world. This includes the Pygmy Tarsier, Spectral Tarsier, Dian's Tarsier and many more. They're largely nocturnal and best seen in the early evening, right after sunset. You'll need a guide to take you into the jungle surrounding Tentena where tarsiers live. They're notoriously difficult to spot since they're so small and usually hide in between bamboo stalks or high up on trees so expect to spend a few hours hiking in the dark. Make sure to pack a powerful flashlight which will help you see them in the dark.
Location: Jungle surrounding Tentena (guides will know the best spots)
Distance from Tentena: 10 to 20 kilometres
Best time to go: Just after sunset, between 6:30 PM and 11 PM
How much time to spend here: 2 hours
Price: Usually part of a guided tour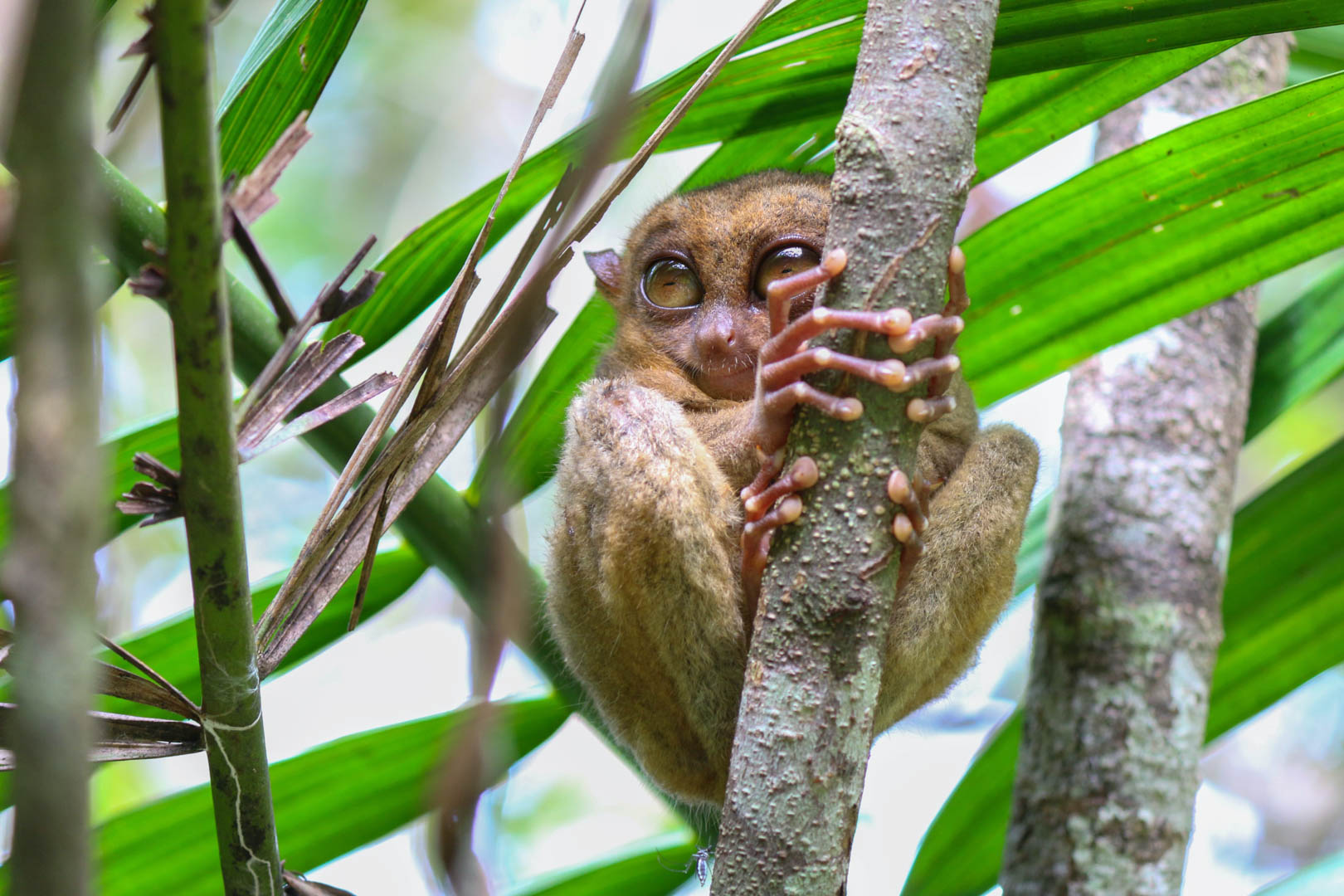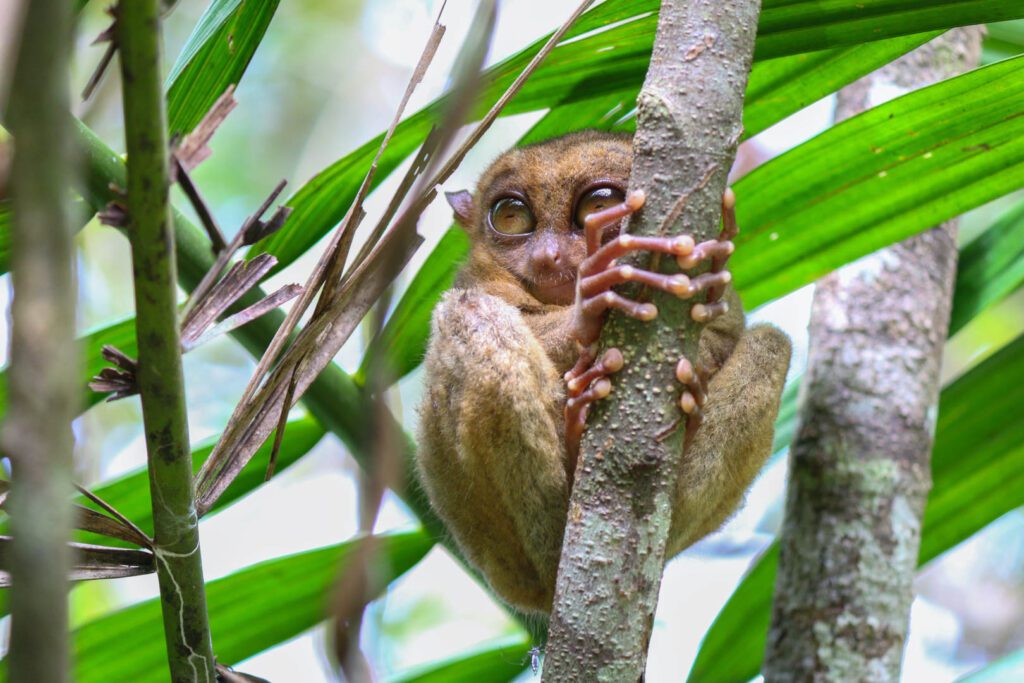 5. Go bird watching
There are 34 endemic bird species in Sulawesi, making it a prime travel destination for avian enthusiasts. Even if you've never been bird watching before, you're guaranteed to be fascinated by the wide selection of colourful birds that make Sulawesi their home. While they are sometimes provided, it can be useful to bring your own binoculars so make sure to invest in a good pair before you depart.
Location: Area surrounding Tentena (guides will know the best spots)
Distance from Tentena: 10 to 30 kilometres
Best time to go: Early mornings or close to sunset
How much time to spend here: 2 to 3 hours
Price: Usually part of a guided tour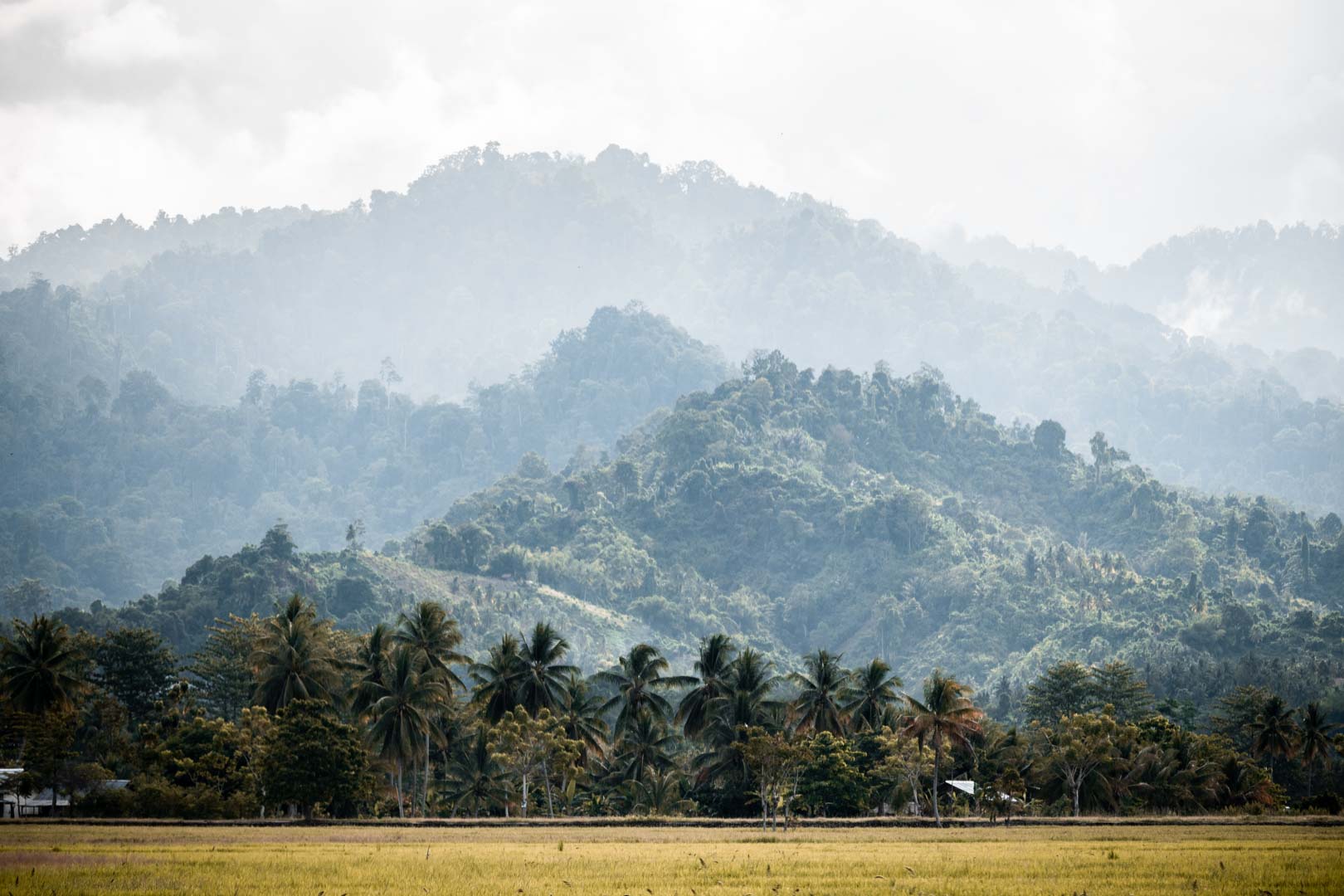 6. Camp in a pine forest (Panorama Tentena)
You might think that Central Sulawesi is covered by tropical jungle, being located so close to the equator. Just a few minutes drive from Tentena, the landscape changes completely and turns into a expansive pine forest with fantastic views over the town and the lake. Indonesian tourists and locals love to go camping here and if you have the time you absolutely need to give it a shot. Tents and equipment can be rented either in town or on site and you'll probably make a lot of new friends who will be interested to know what foreigners are doing in this peaceful area.

If you're not quite ready to commit to a camping trip you can also come here for sunset and enjoy a drink at the small onsite warung.
Distance from Tentena: 5 kilometres
Best time to go: All day, possibly for sunset
How much time to spend here: 45 minutes
Price: Free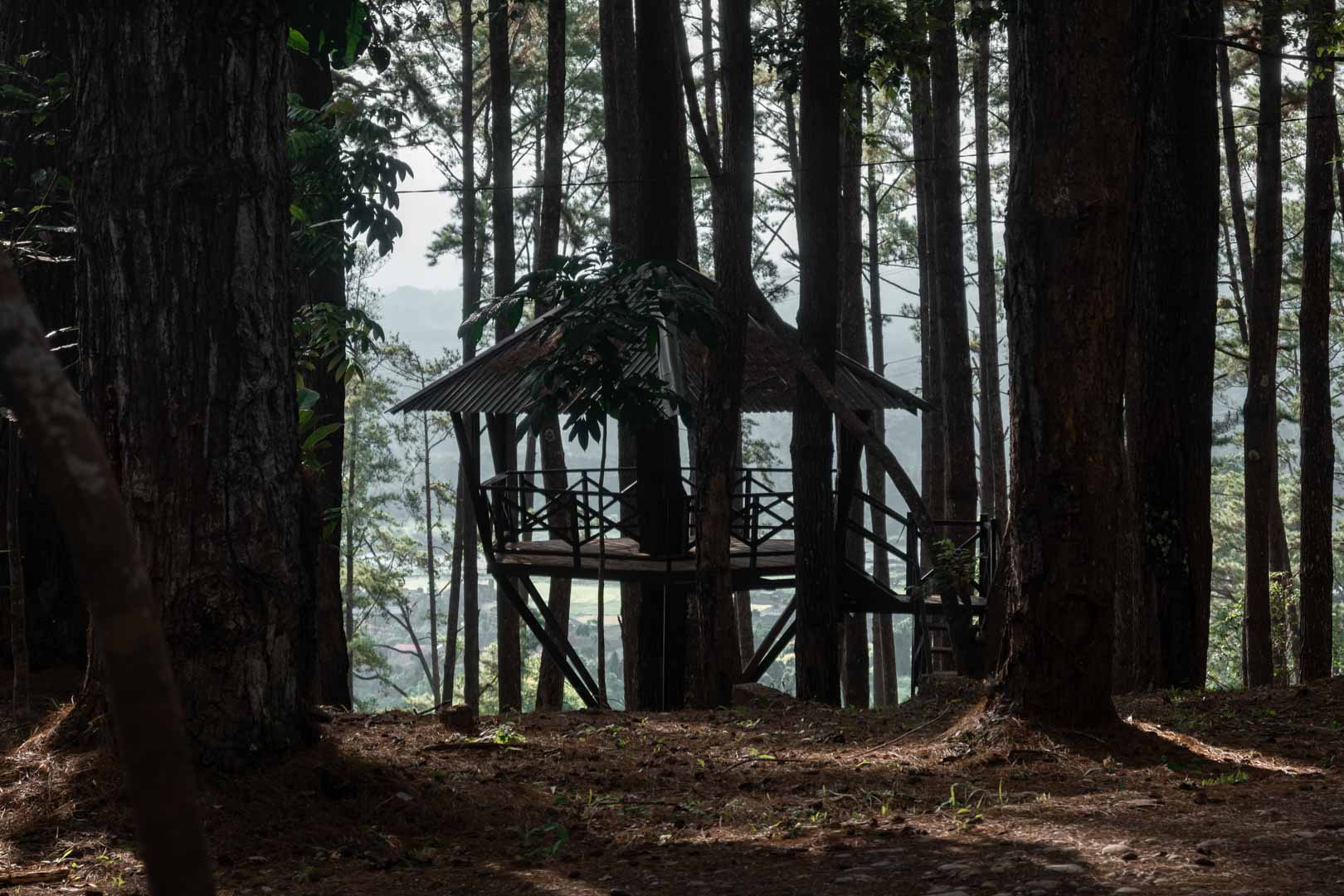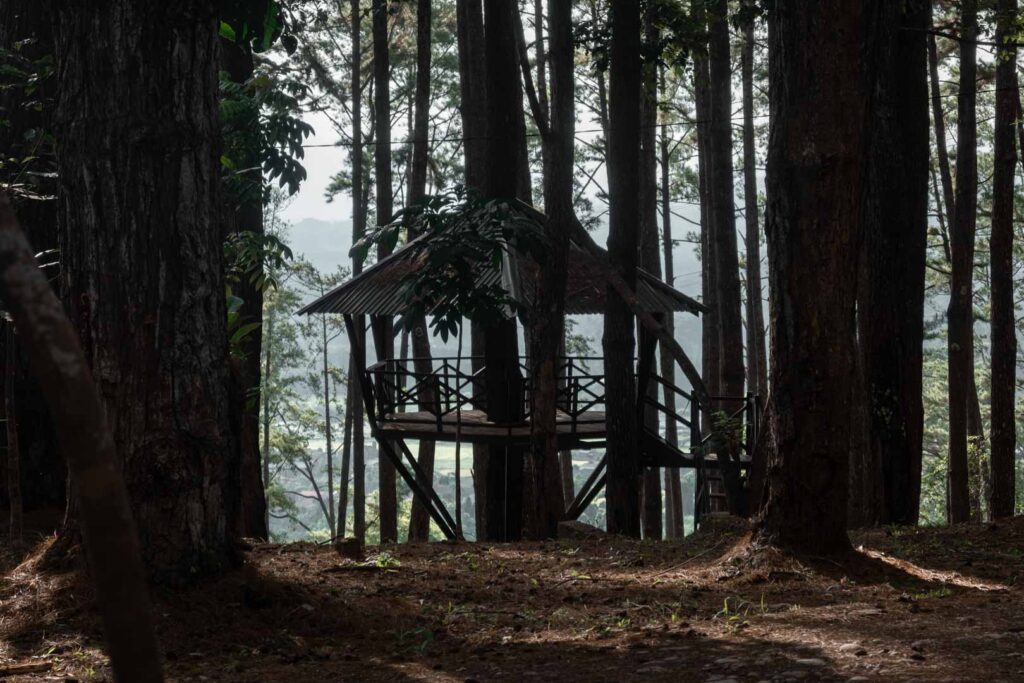 7. Visit Pamona Cave
Pamona Cave is one of the several ancient burial caves that can be found in Central Sulawesi. It's located right in town and therefore easiy accessible. Many locals believe the cave is haunted so it sees little tourism despite its central location. Pamona Cave has twelve chambers which get smaller and smaller the further you go. The first still has some sunlight although the subsequent caverns are almost completely dark. You'll be able to see a small selection of human bones which date back thousands of years when the cave was used as a burial site. Unfortunately, there are few things known about the tribes who buried their dead here and the exact details of their origins and traditions remain unknown.
Distance from Tentena: 0 kilometres
Best time to go: Any time during the day
How much time to spend here: 30 minutes
Price: Free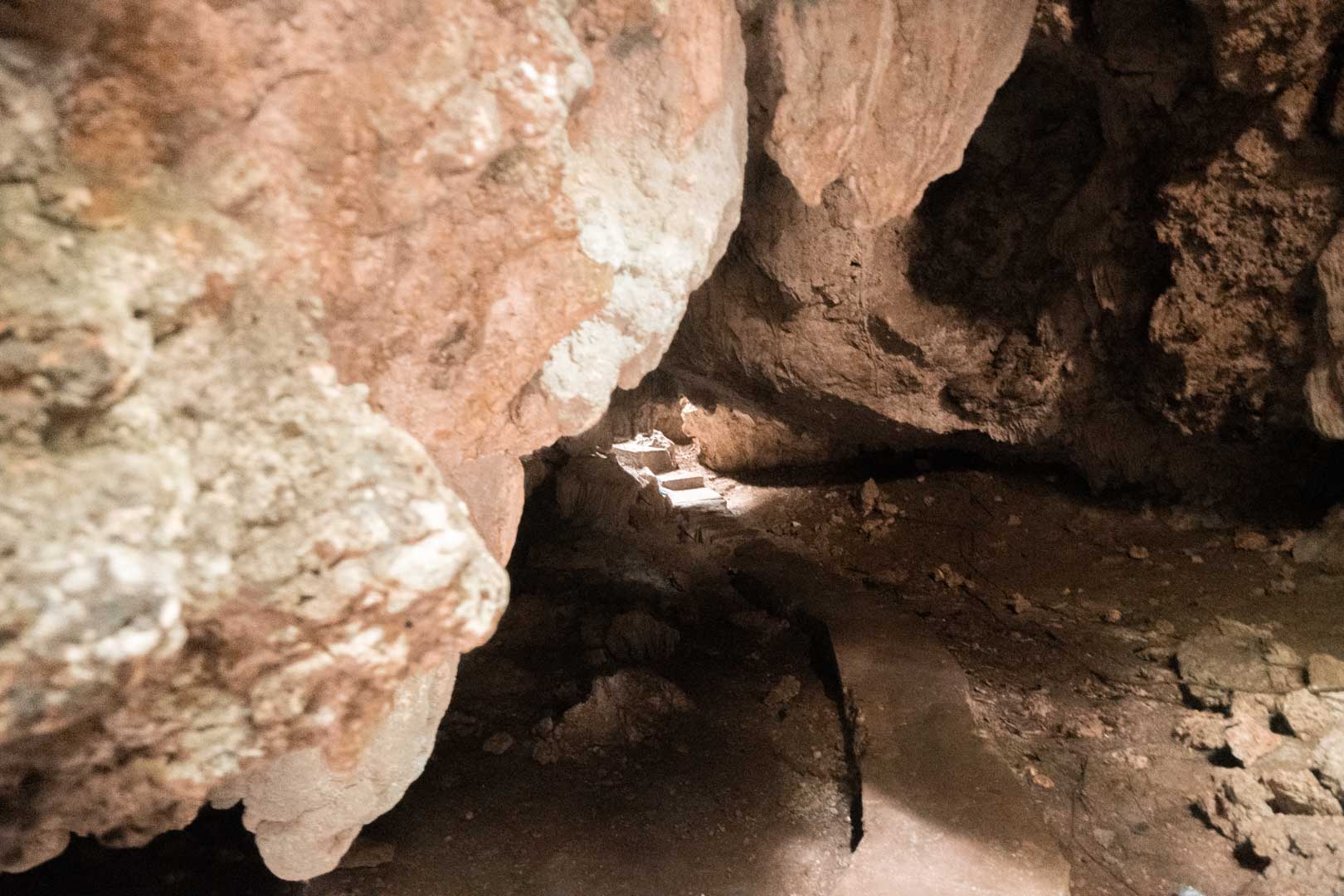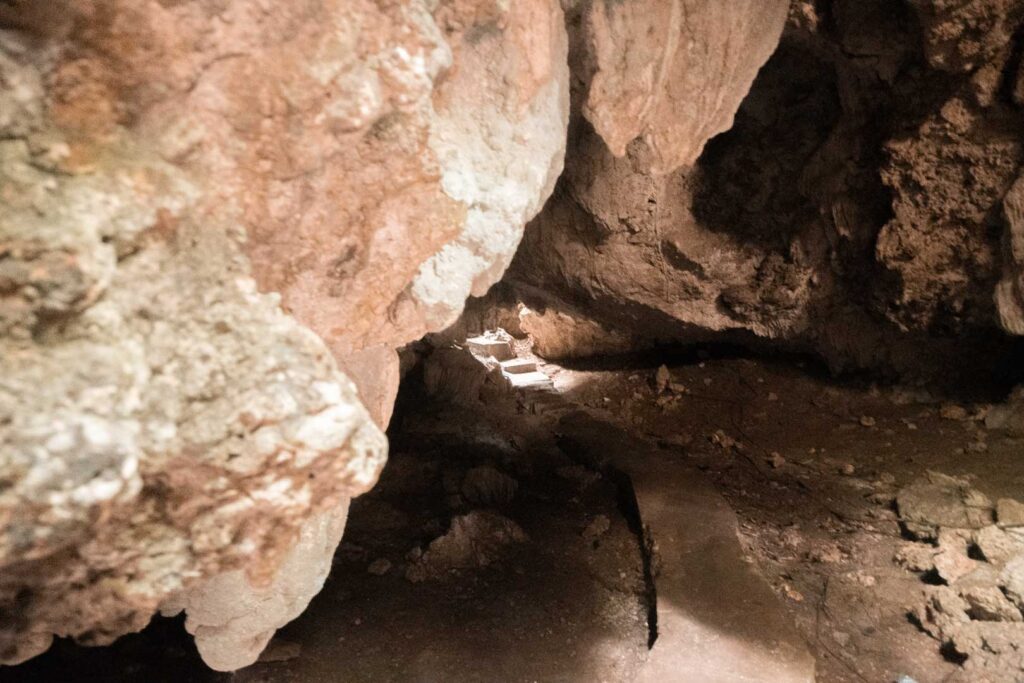 8. Try traditional bamboo rice
Bamboo rice or nasi bamboo is a delicacy in this part of Sulawesi. It's prepared by stuffing rice, spices and coconut mik or water into hollow bamboo stalks which are lined with leaves and placed over an open fire to cook. The resulting rice is fragrant and delicious, often served with fresh fish and homemade sambal. The best time to try bamboo rice is during the Lake Poso Festival in October when it is mass produced as part of a large event to showcase the unique process.
Location: In and around Tentena
Best time to go: October during Lake Poso Festival
How much time to spend here: 1 hour
Price: IDR 30,000 (~ €1.90) or free during Lake Poso Festival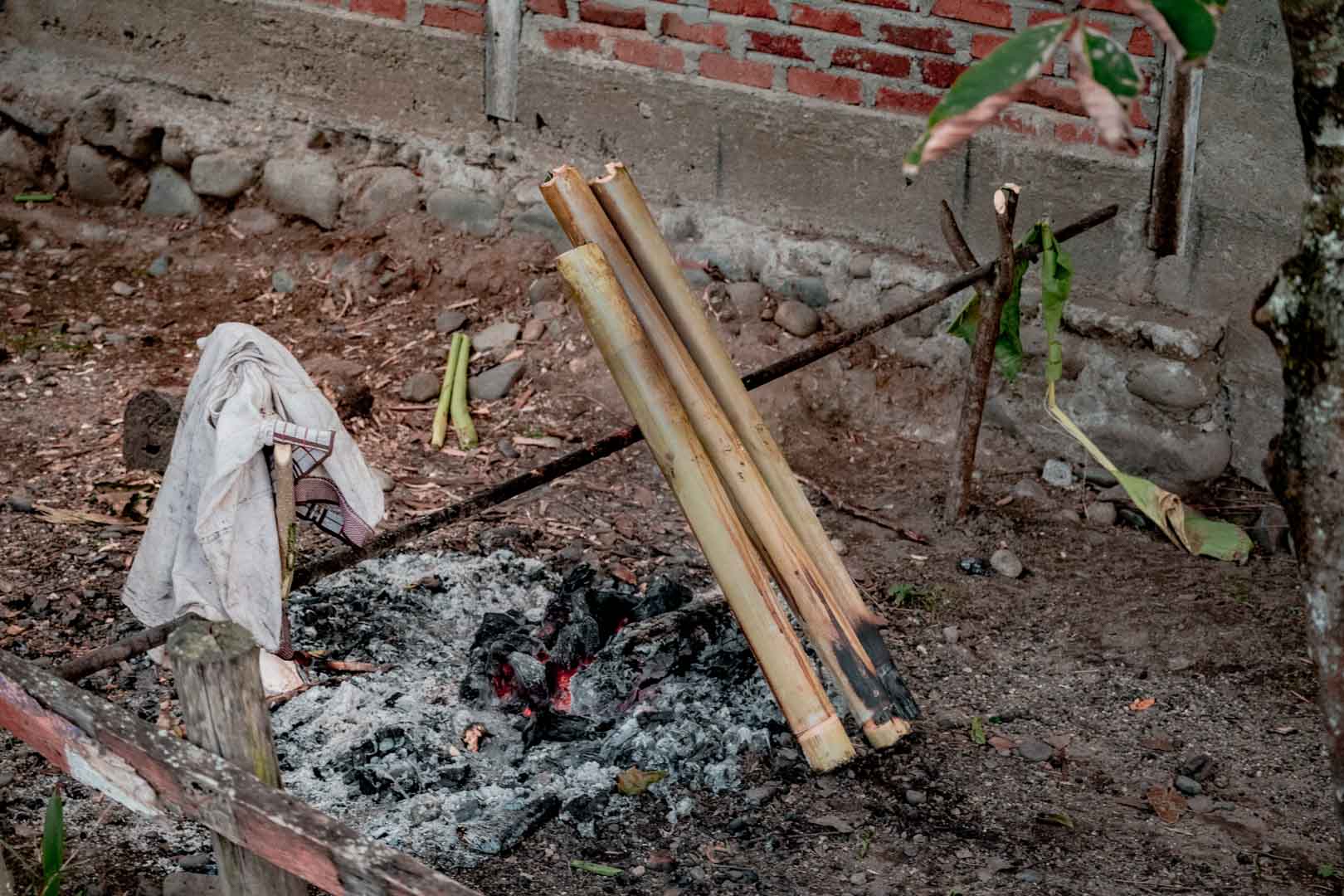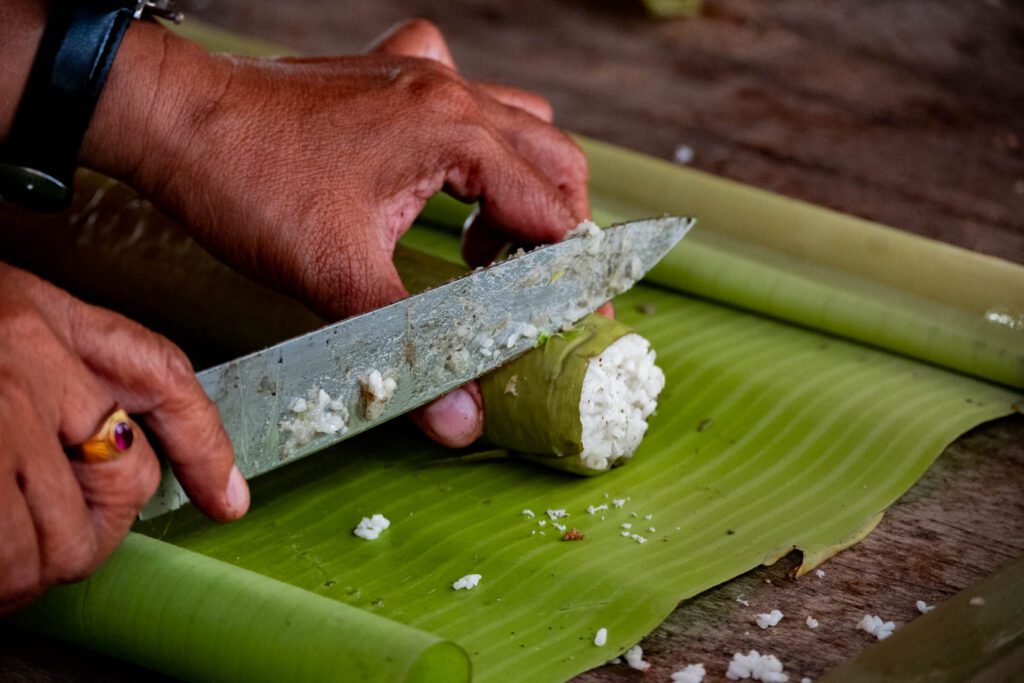 9. Meet the locals
International tourists are still a novelty in Tentena and you won't come across many foreigners here. For this reason, locals will most likely want to meet you and take pictures together during your visit. Use this chance to get to know life in Central Sulawesi and maybe even make some new friends along the way during your time in Tentena before you travel to your next destination.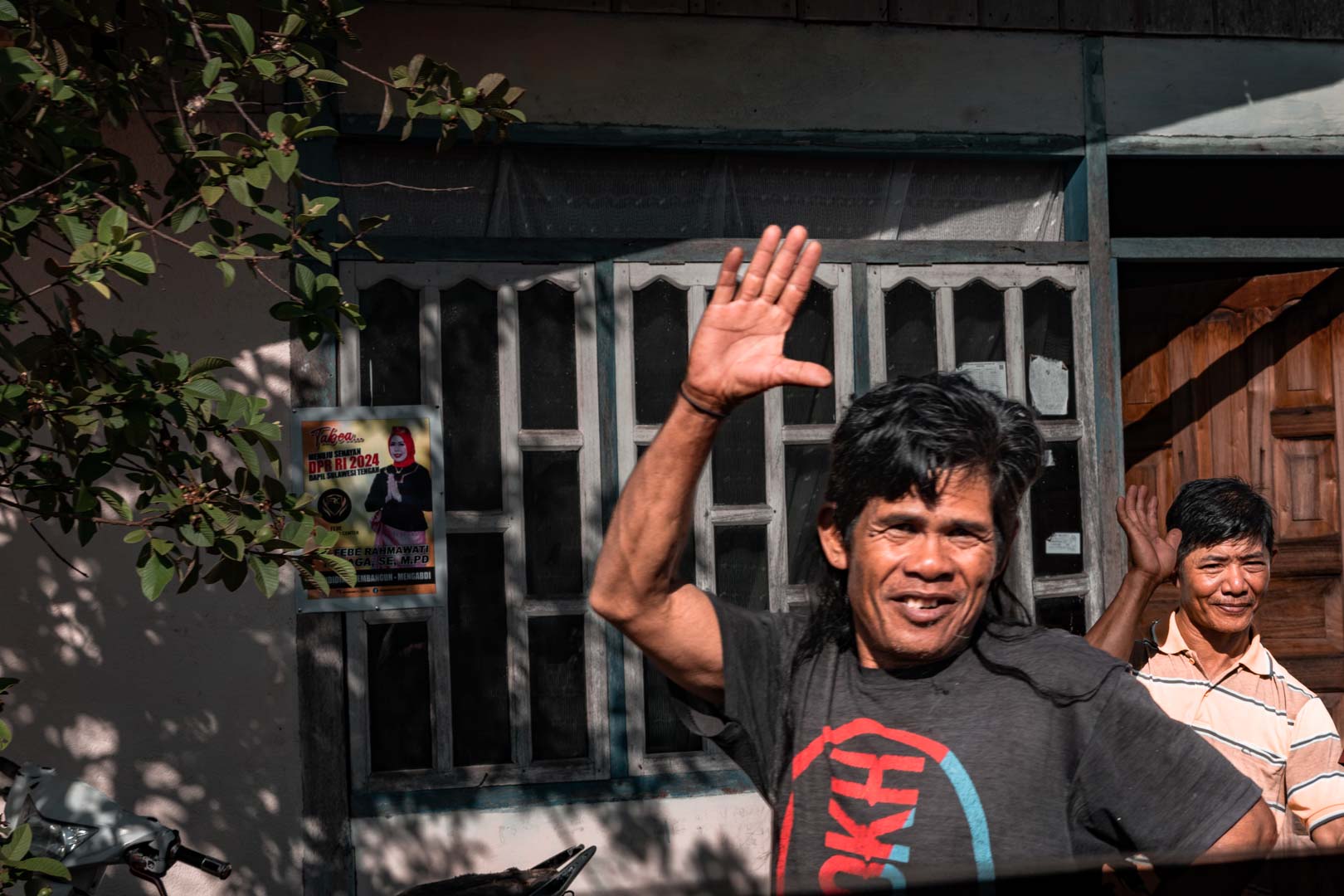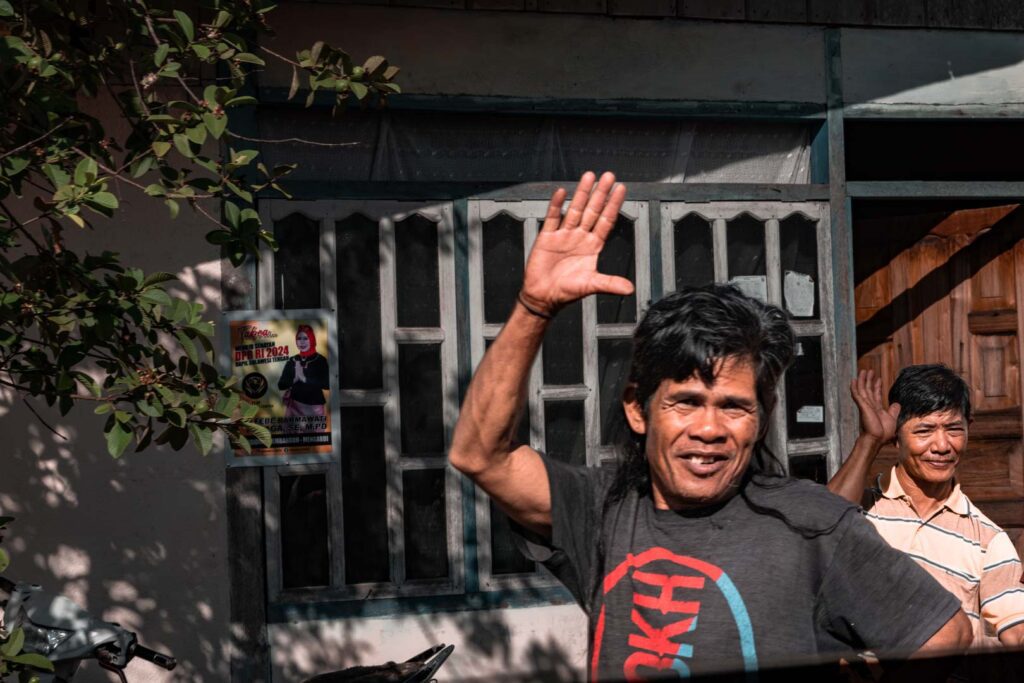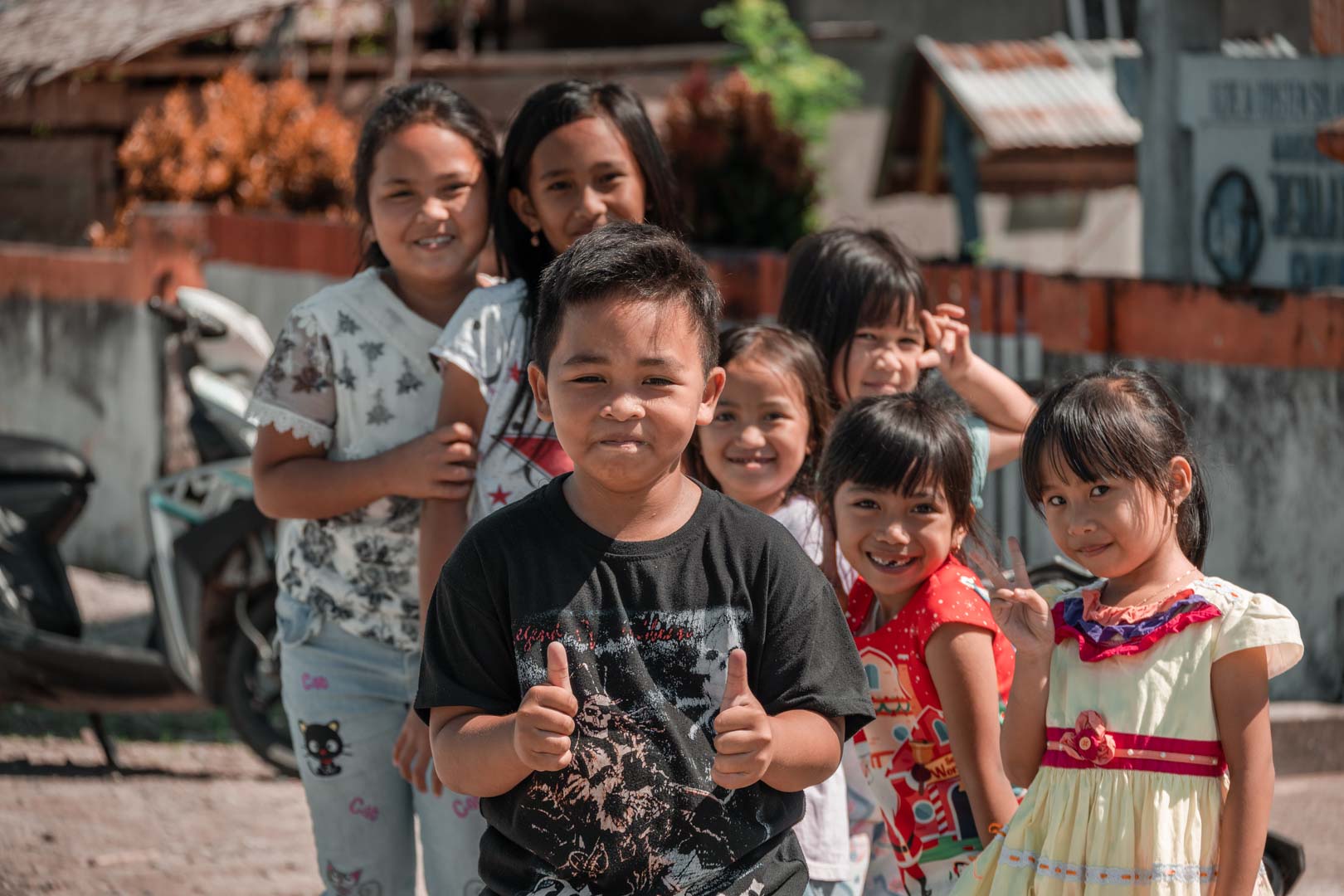 10. Do a day trip to Bada Valley to see mysterious megaliths
Bada Valley is a beautiful region located just a few hours drive from Tentena. If you can, spend at least one night here to make sure you have enough time to see everything. The main reason why people visit Bada Valley is because of the ancient megaliths that can be found here. They're somewhat similar to the ones found on the Easter Islands and consist of large stone statues carved to resemble human figures. The exact age of them and their origins remain unknown but they're estimated to be as old as 6,000 years. There are more than 180 megaliths scattered around the area but Patung Palindo and Patung Langke Bulawa are some of the most easily accessible ones.
Distance from Tentena: 82 kilometres
Best time to go: On a sunny day
How much time to spend here: One or two days
Price: Free (Just organise transport and possibly accommodation)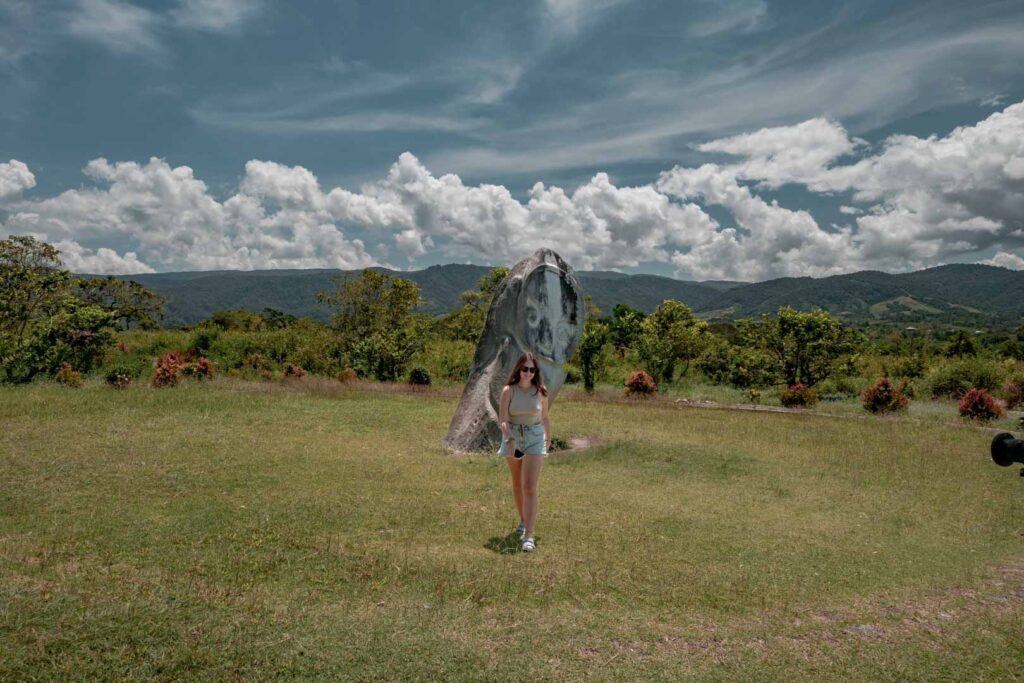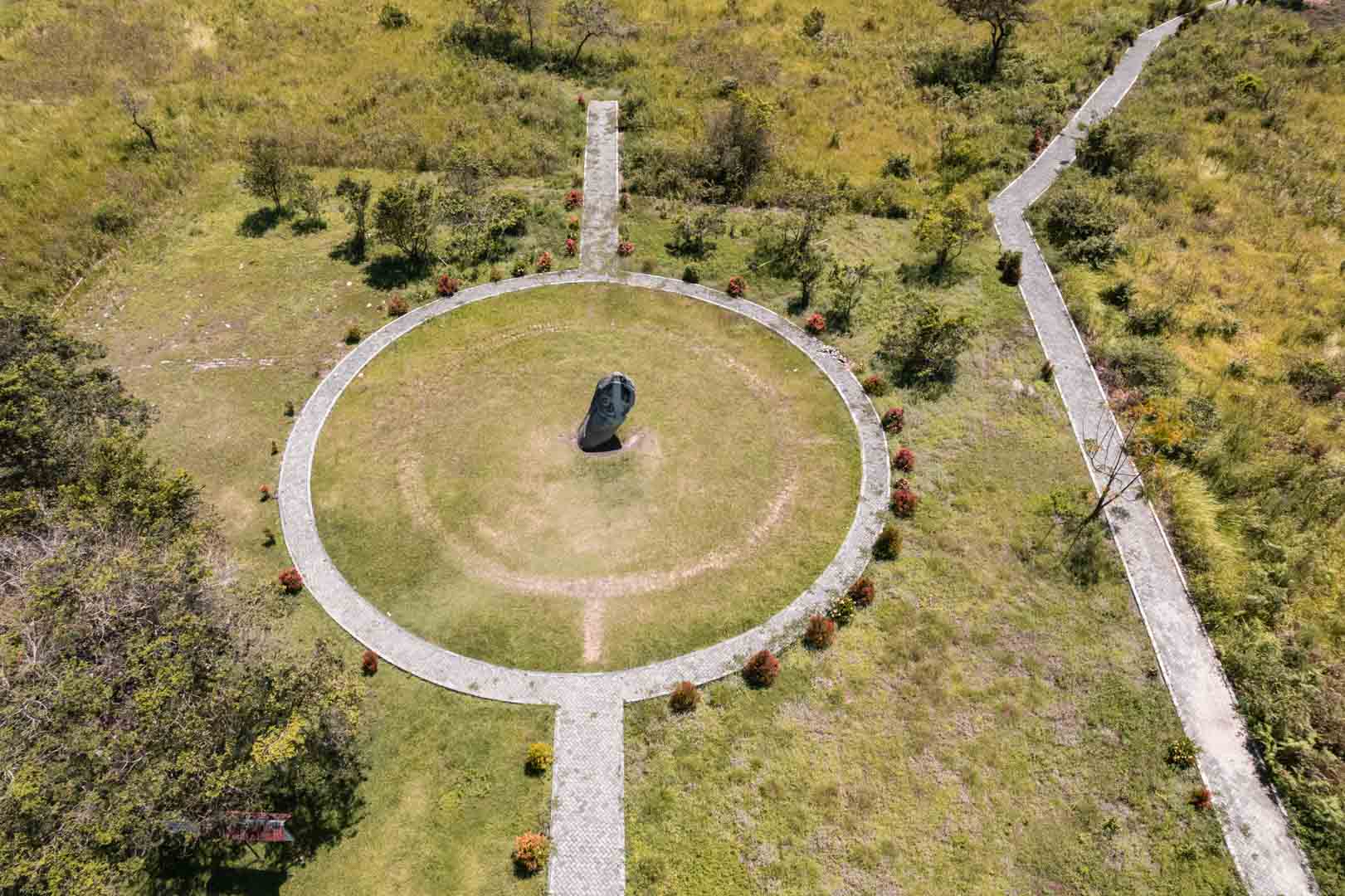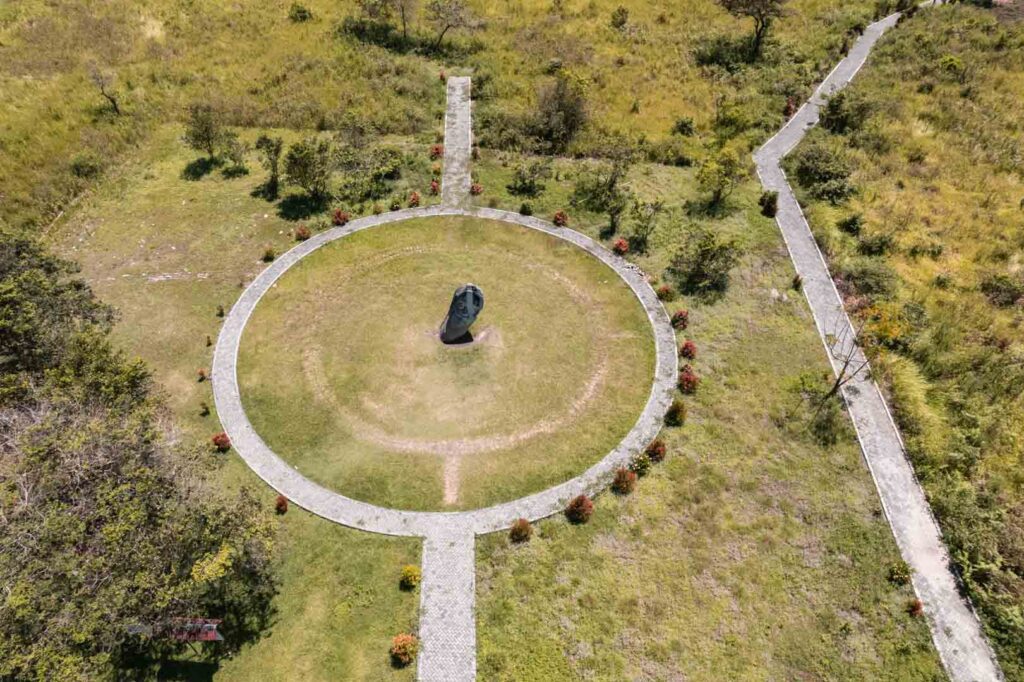 11. Stay at a luxury resort
Tentena has a handful of beautiful resorts and there are more appearing every year. If you're looking for a few days of rest by the beautiful Lake Poso you should stay at either Dolidi Resort or Torau Resort, both of which have a waterfront location and peaceful atmosphere. Torau Resort is probably the most luxurious accommodation in the area while Dolidi has the most secluded location and supports a neighbouring orphanage with its profits.
Location: Torau Resort and Dolidi Resort
Distance from Tentena: 20 kilometres and 7 kilometres
How much time to spend here: 2 to 3 days
Price: €40 to €80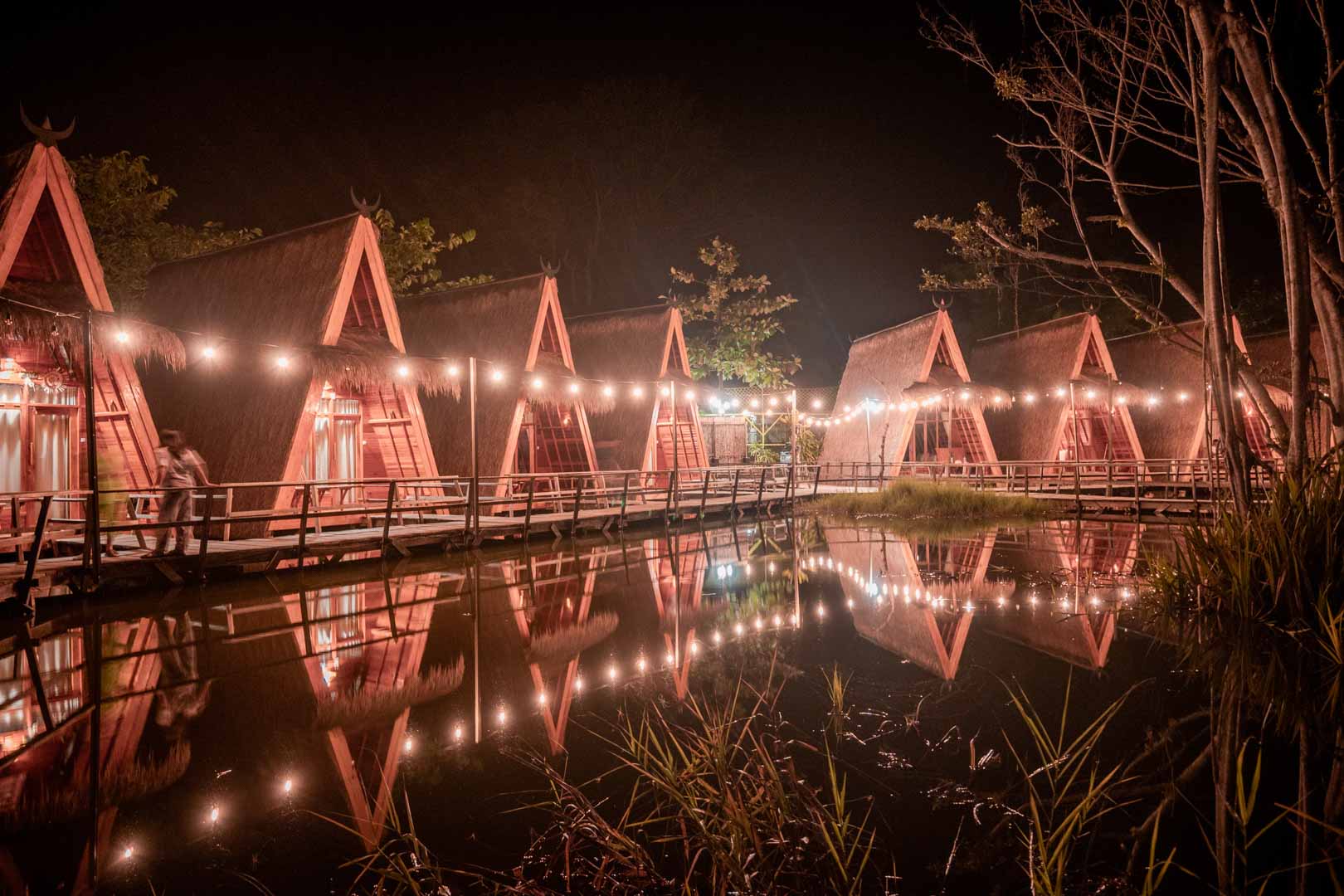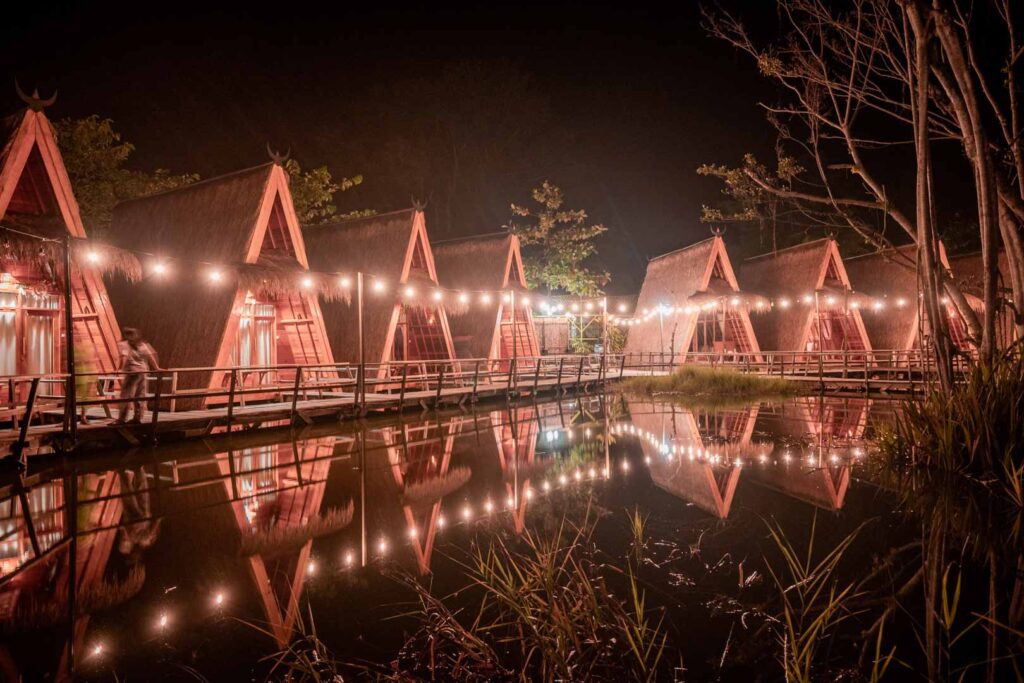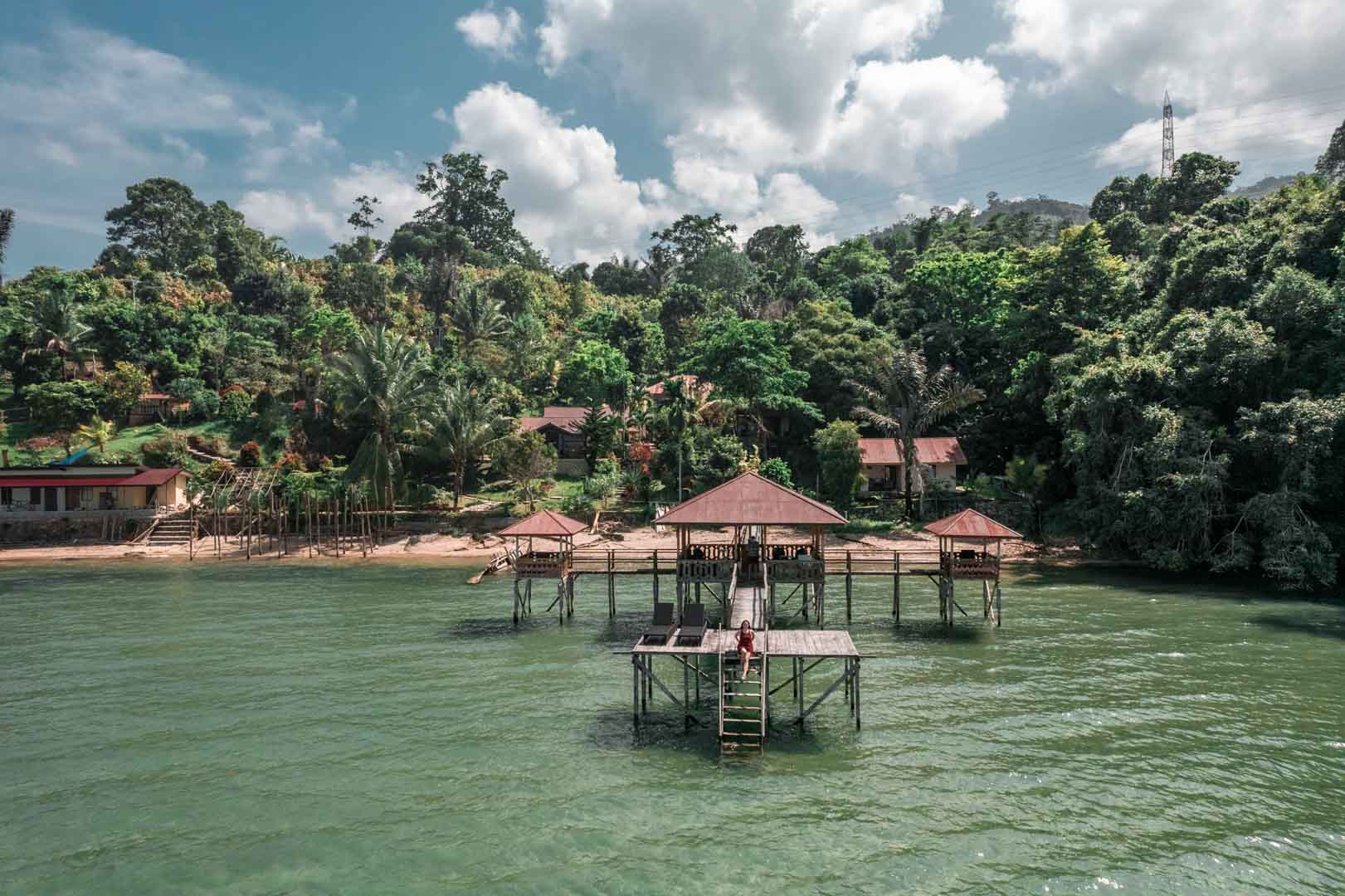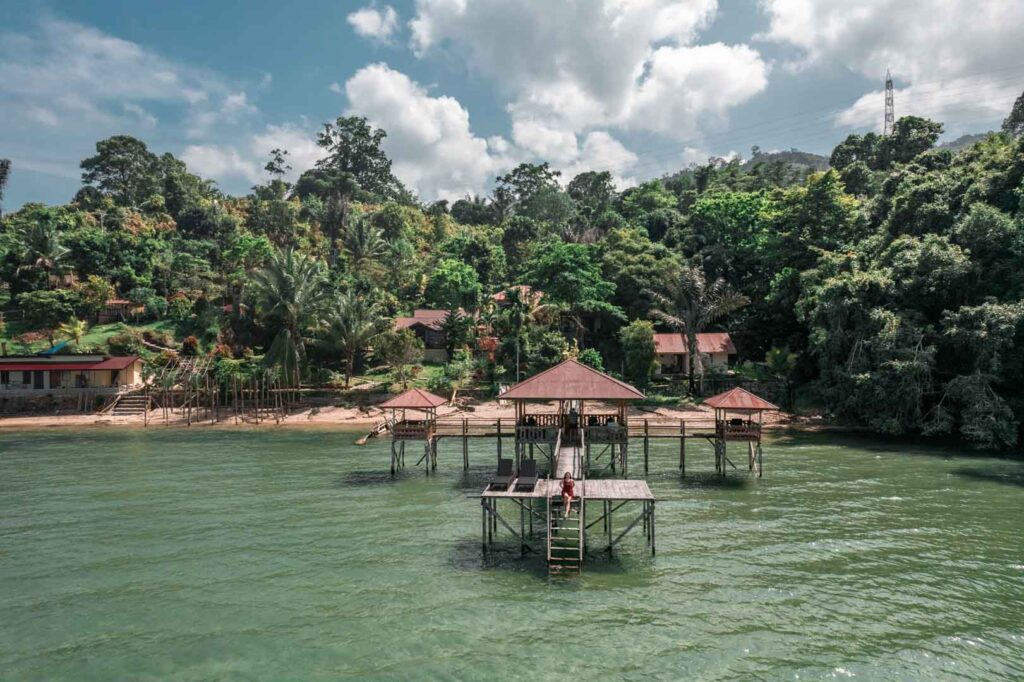 12. Go on a boat tour
Lake Poso is huge and a great way to explore it is via speedboat. There are some local tour companies available and lakefront hotels will usually have some sort of boat as well. Contact your accommodation or head to a tour office in town to book a half-day excursion on beautiful Lake Poso in Central Sulawesi.
Location: Tentena
Best time to go: On a sunny day
How much time to spend here: 2 to 4 hours
Price: IDR 150,000 to IDR 500,000 (~ €9.40 to €31.20) depending on the boat and duration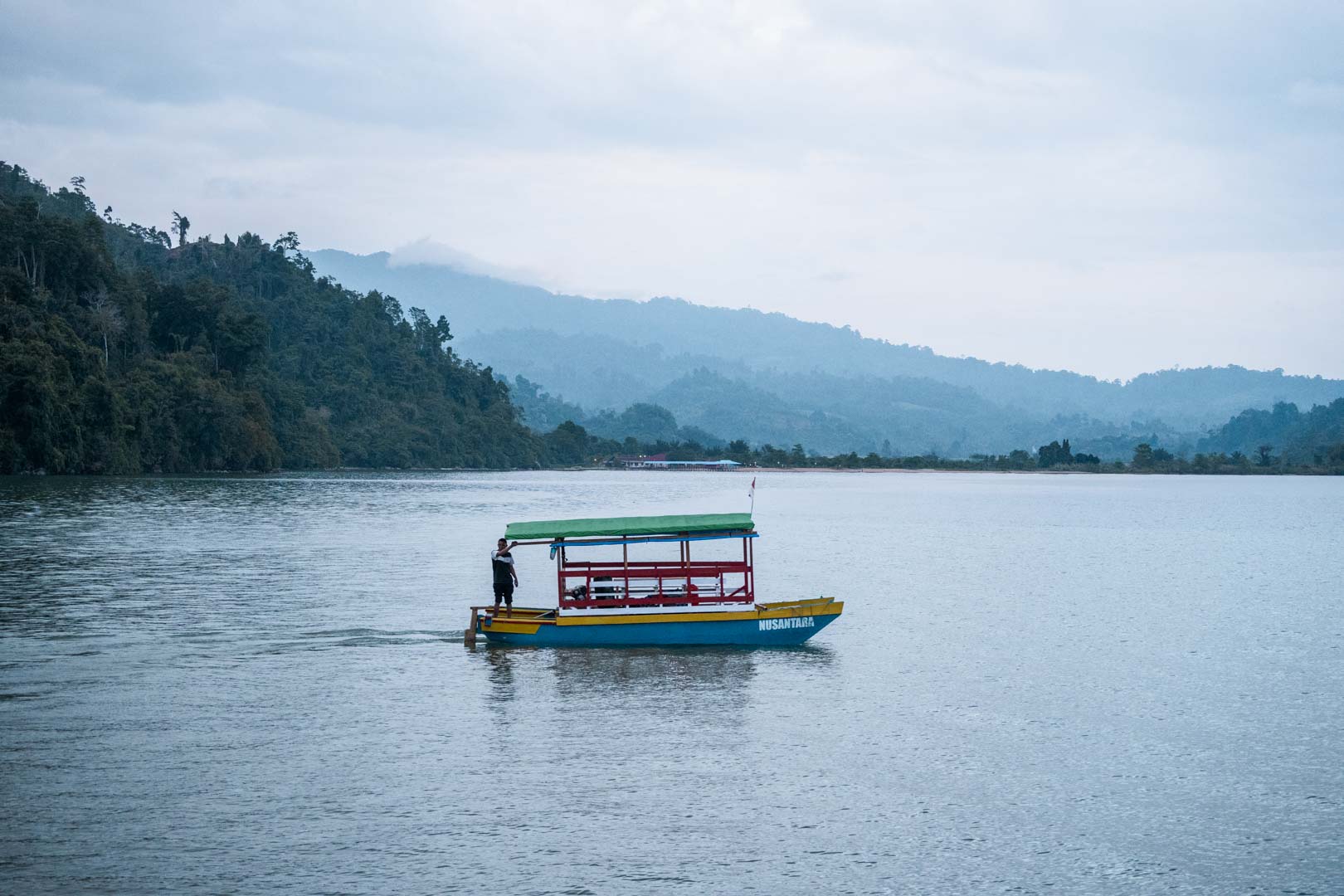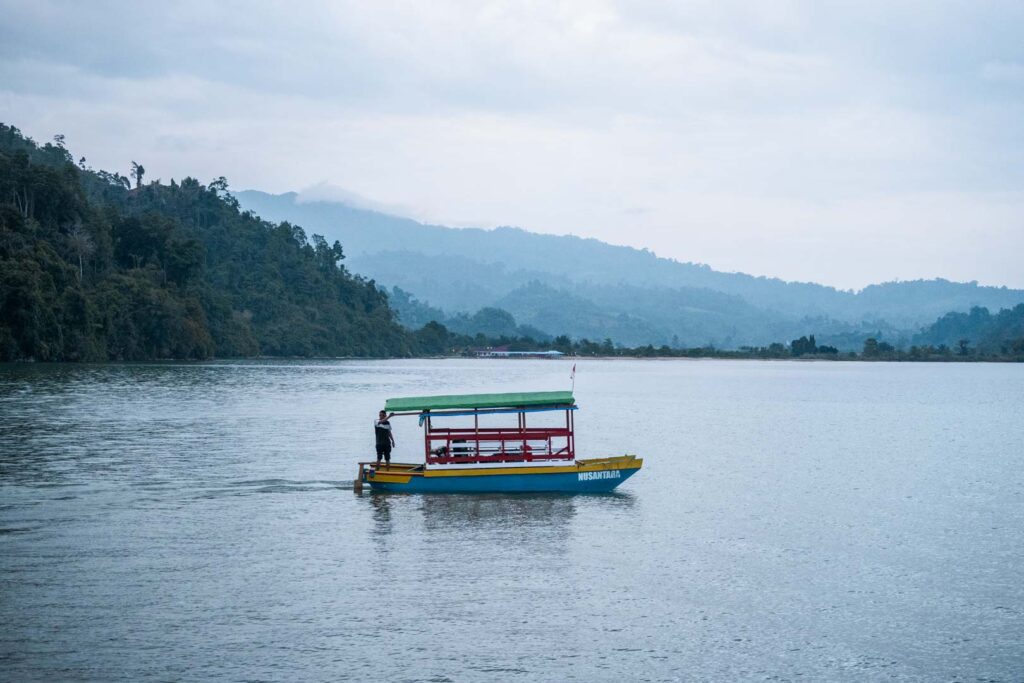 13. Try the best local food
Tentena has many culinary highlights to choose from and you'll encounter plenty of dishes that cannot be found anywhere else in Indonesia. Make sure to try sugili, which is a deep-fried giant eel that resides in the depths of Lake Poso. It's a local speciality and considered a delicacy in Tentena. In general, you'll get to eat lots of fish while you travel through Central Sulawesi as well as bamboo rice and local vegetable dishes. A must-try are panadas, which are pastries filled with vegetables, fish, meat or even noodles. They're somewhat similar to Central American empanadas and the perfect snack for on the go.
Location: In and around Tentena
Best time to go: Lunch or dinner
Price: IDR 40,000 (~ €2.50)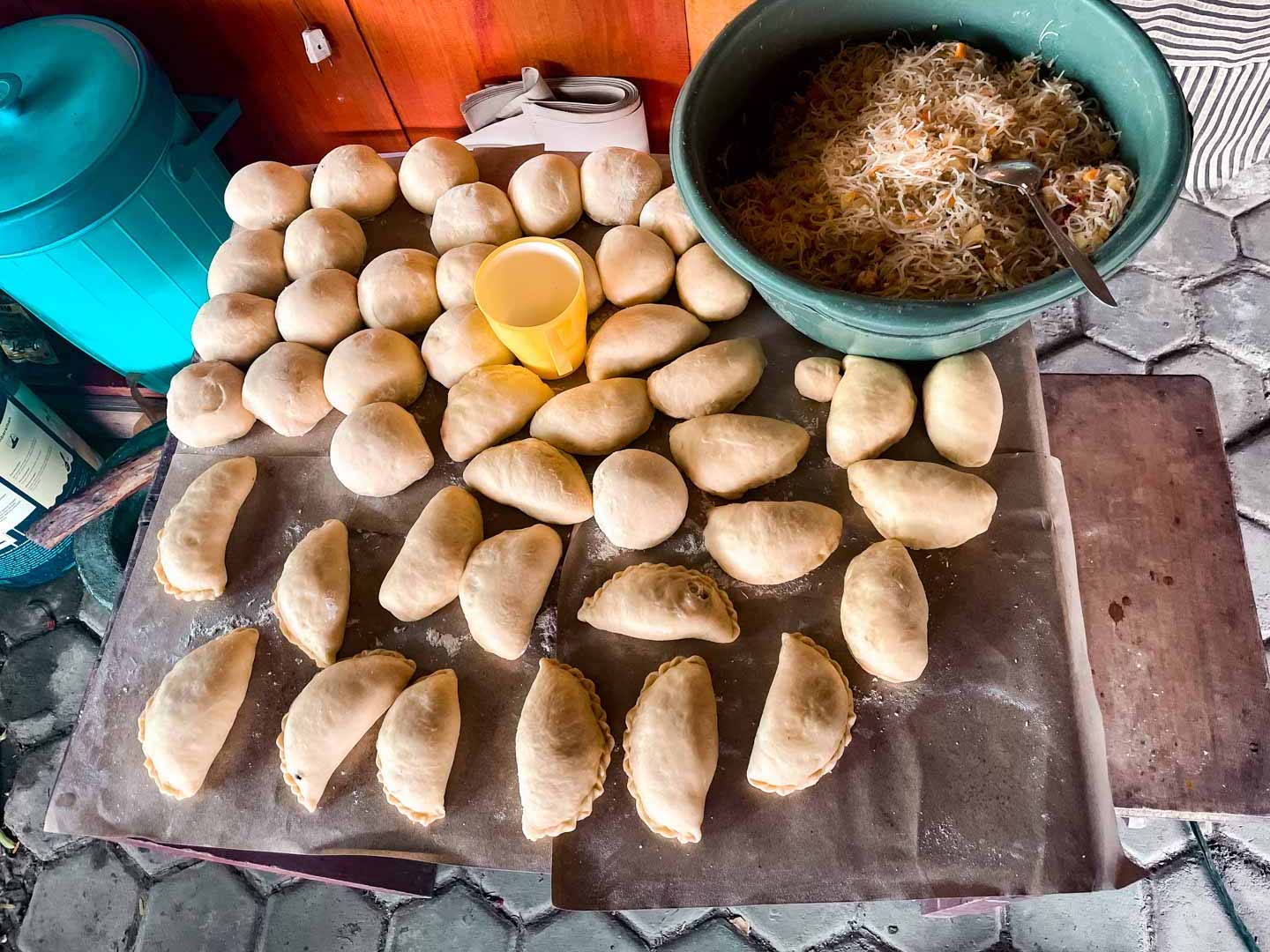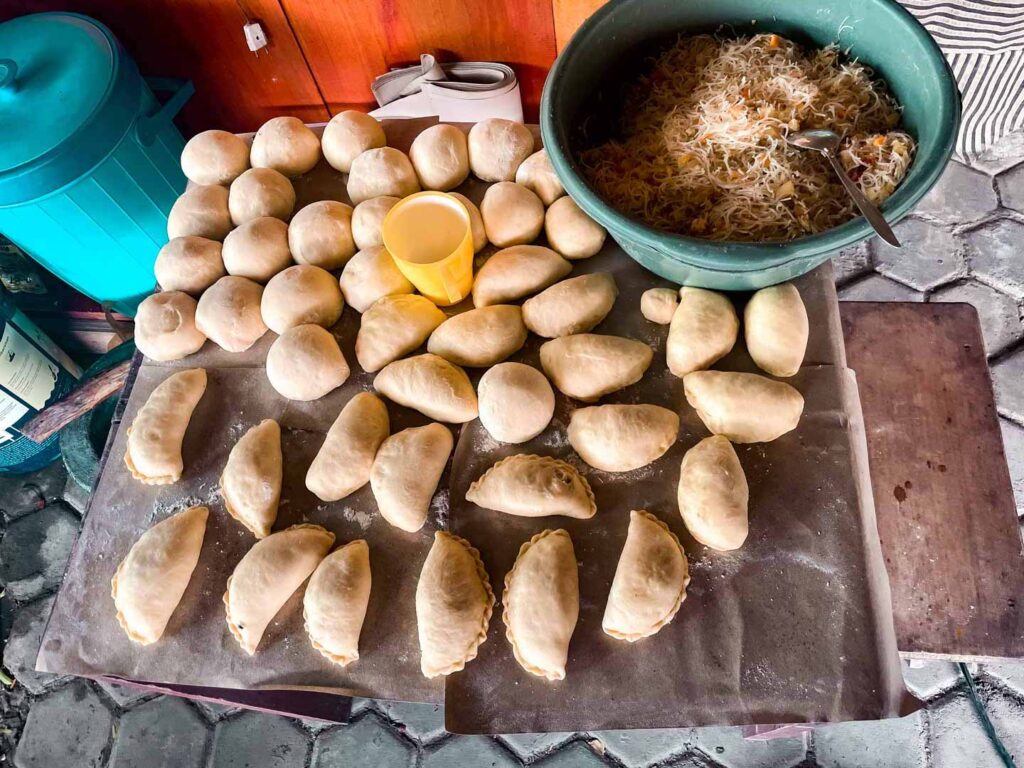 14. Discover ancient graves
There are several burial caves located close to Tentena. The graves are estimated to be thousands of years old although their exact origins and age are unknown. Visitors can see human bones and intricate wooden carvings or explore the caves and the surrounding grounds. Although the practise of burying the dead in caves is no longer practised in this part of Sulawesi, it's important to be respectful and avoid touching any bones or coffins to ensure they're preserved.
Location: Goa Latea or Goa Tangkaboba
Distance from Tentena: 5 kilometres and 6 kilometres
Best time to go: Any time of day
How much time to spend here: 30 minutes
Price: Free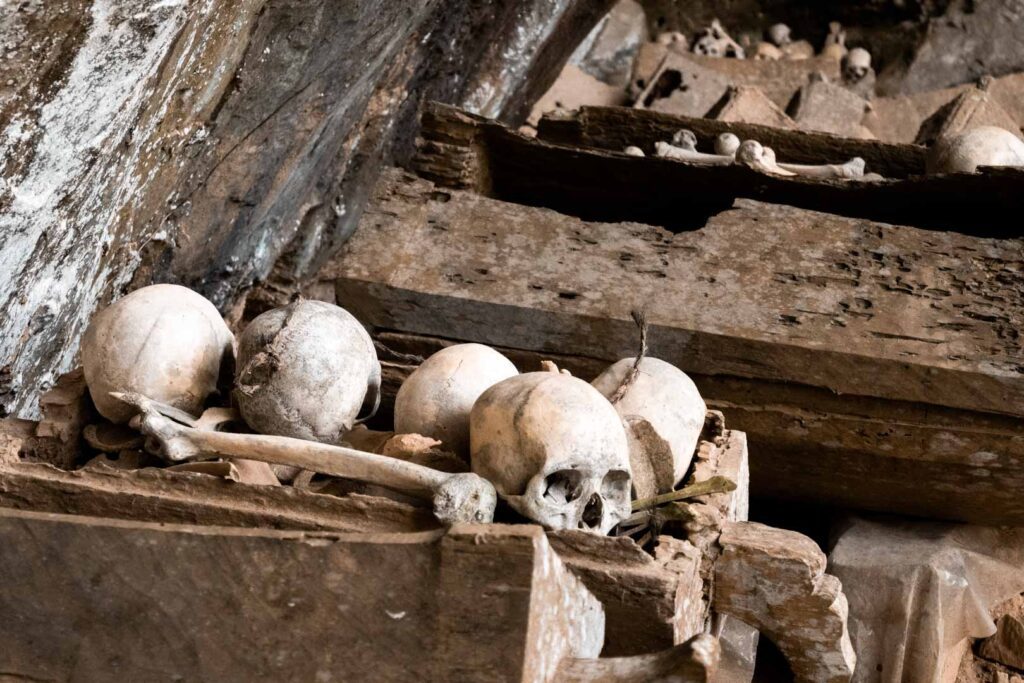 15. See endemic carnivorous plants
Different types of carnivorous plants including pitcher plants are native to Central Sulawesi. Most of them trap insects in their long cup-shaped traps and then use them as a source of energy. You can see the plants as part of a tour or keep an eye out for them while you explore the area. They often grow in mossy areas or even on the sides of hills.
Location: In and around Tentena
Best time to go: All day
How much time to spend here: 3 minutes
Price: Free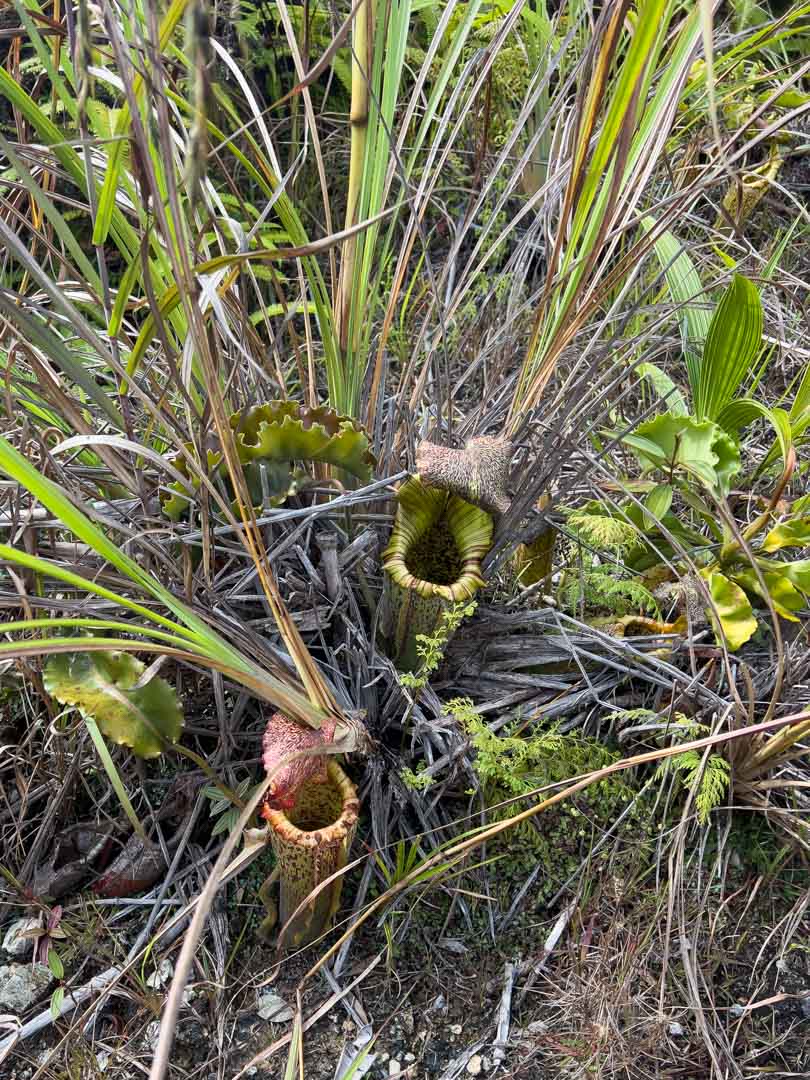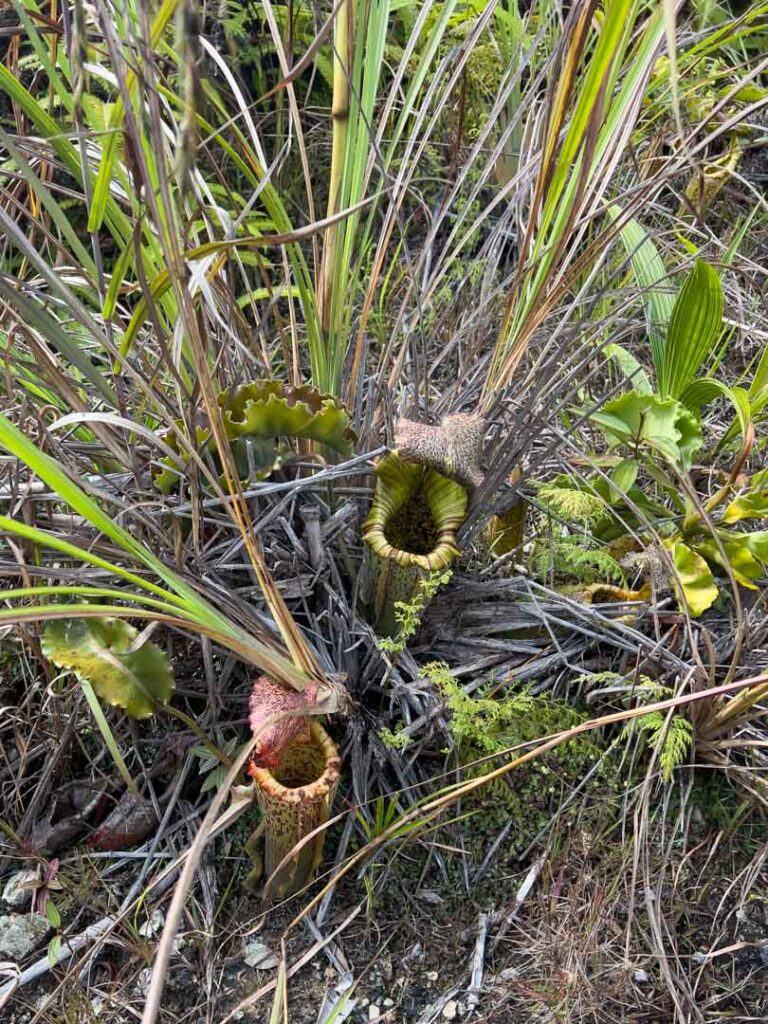 16. See the Coca Cola River
The so-called Coca Cola River gets its name from its dark brown colour which originates from minerals trapped in trees and the earth. While the water in Lake Poso and nearby rivers is blue, the Coca Cola is almost reddish, although its water is still clear. You can see it on the drive from Tentena towards Bada Valley and it makes for a great stopover on the way.
Location: -1.827361, 120.357224
Distance from Tentena: 50 kilometres
Best time to go: All day
How much time to spend here: 15 minutes
Price: Free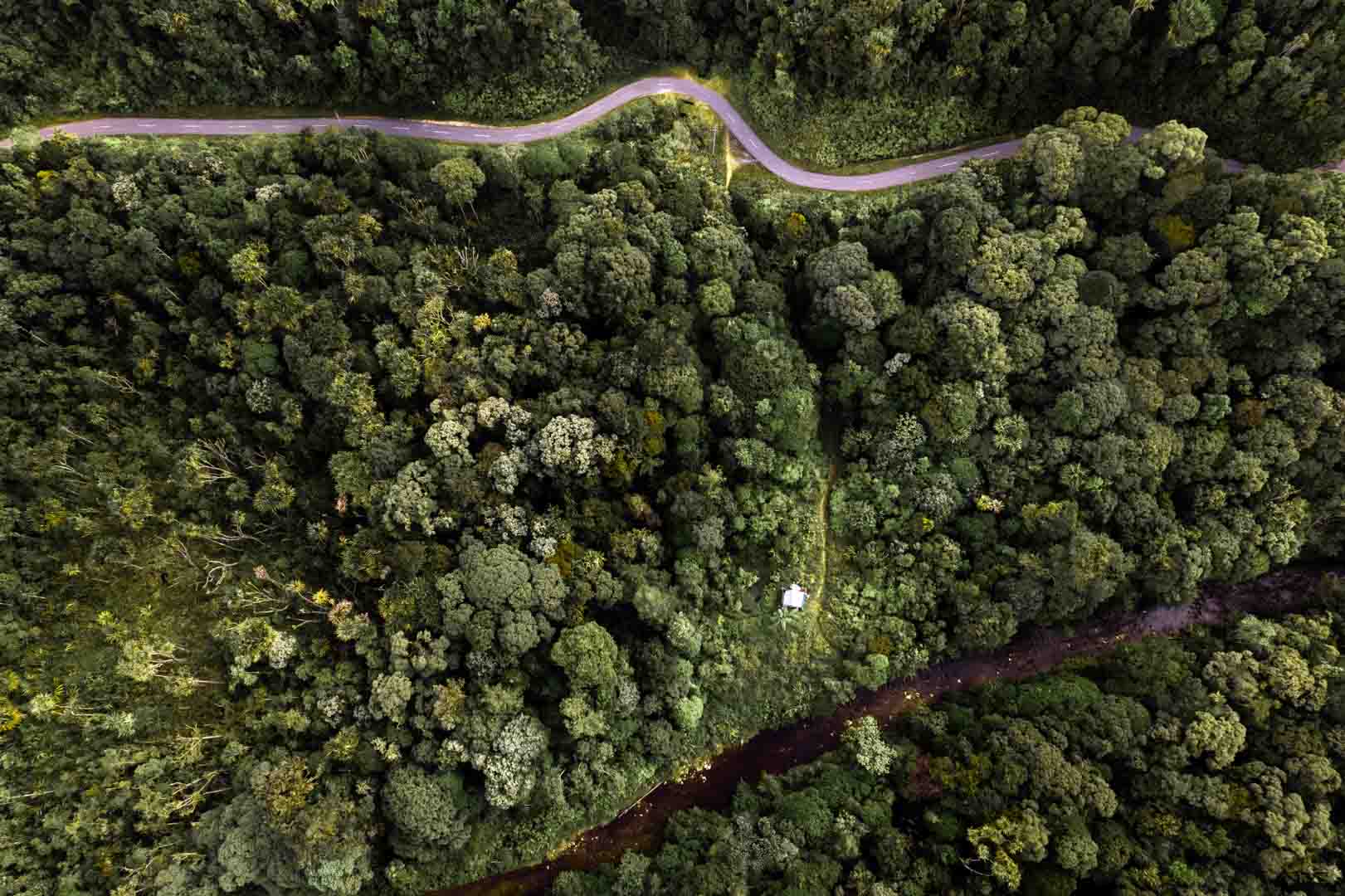 17. Learn about traditional bark cloth making
This part of Central Sulawesi is home to a unique form of fabric production which uses the bark of specific trees as the main material. The bark is softened using different metal tools, dried and submerged in water again and again until it becomes maleable and almost like fabric. It's used to make traditional clothing for special occasions since the production process is tedious. This unique tradition is slowly disappearing so make the most of your trip to Central Sulawesi and visit a local work shop which are run by older ladies living in the mountains of Bada.
Location: Most commonly around Bada Valley
Distance from Tentena: 73 kilometres
Best time to go: All day (make sure to consult a guide or join a tour)
How much time to spend here: 30 minutes
Price: Usually part of a guided tour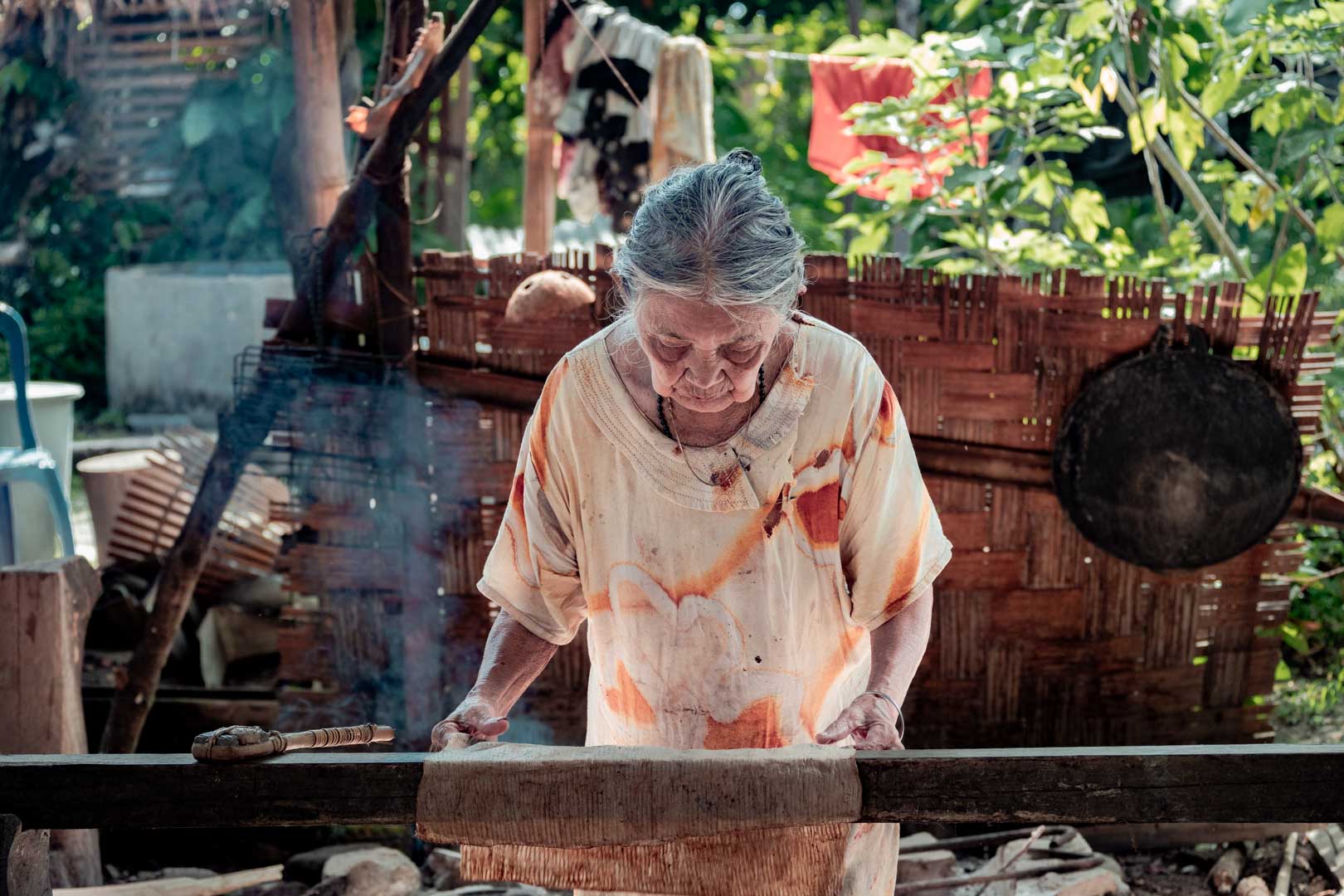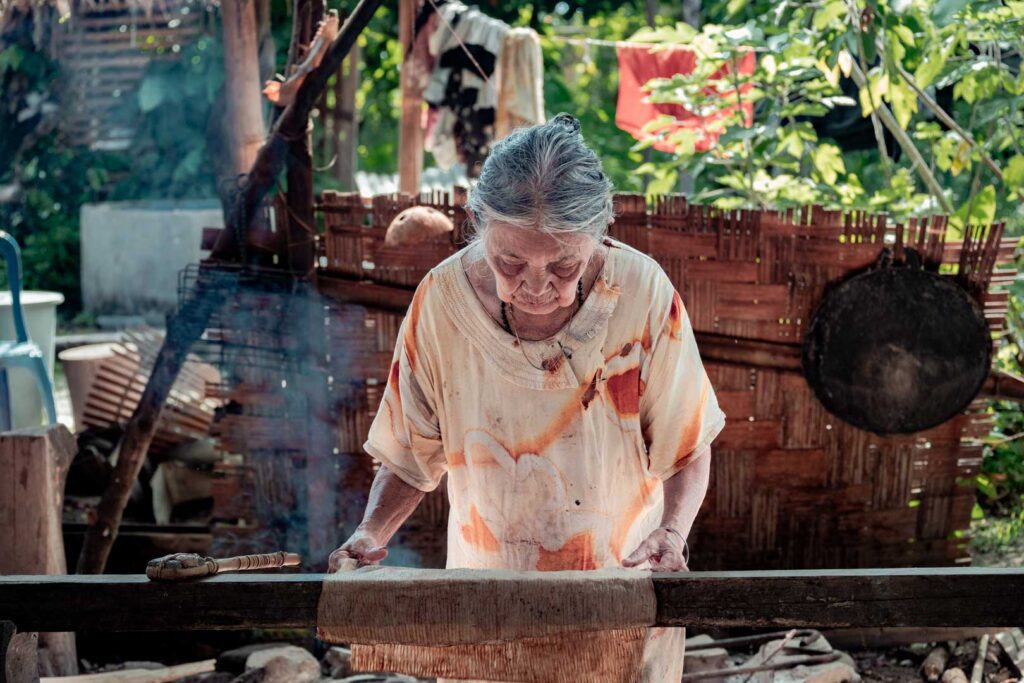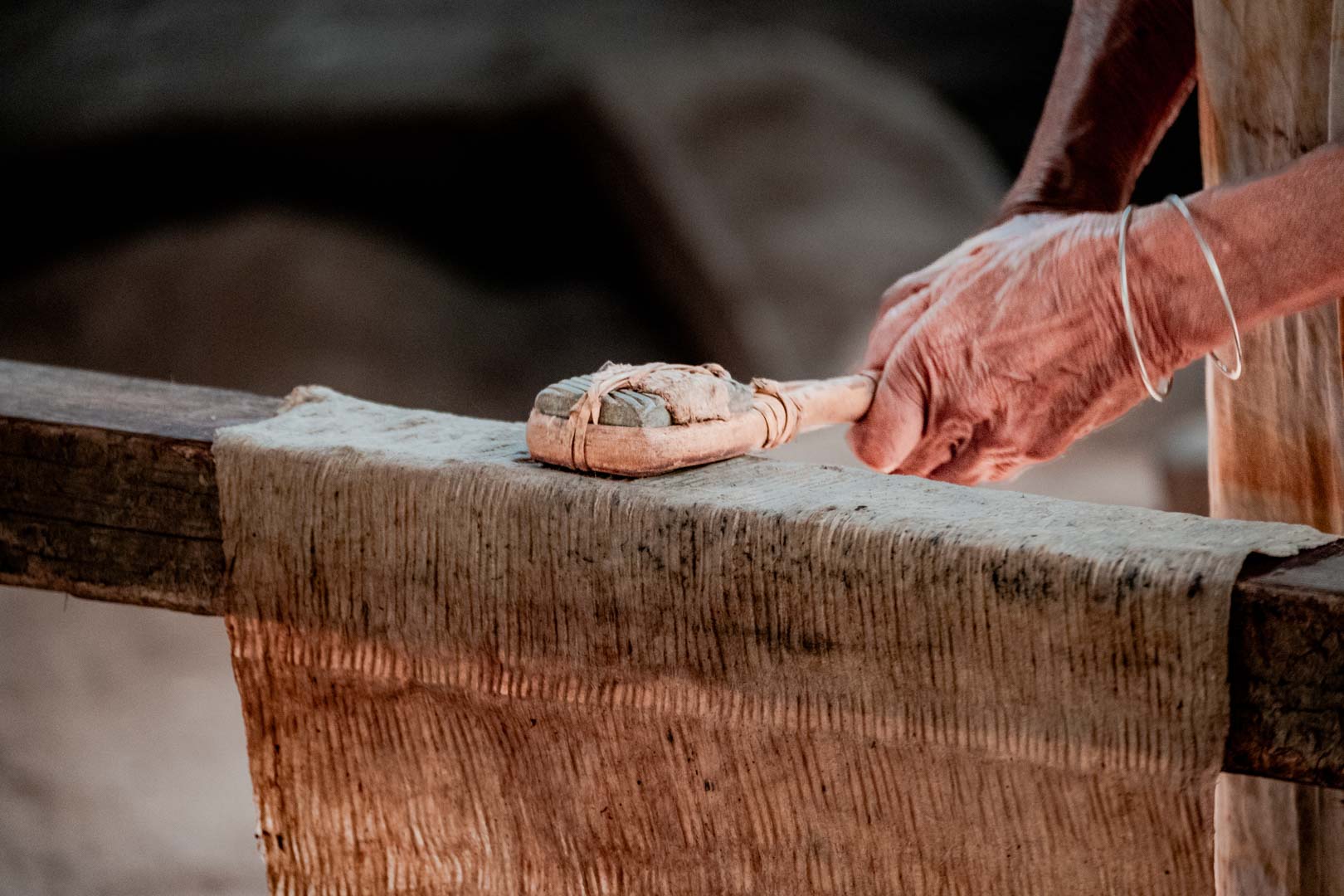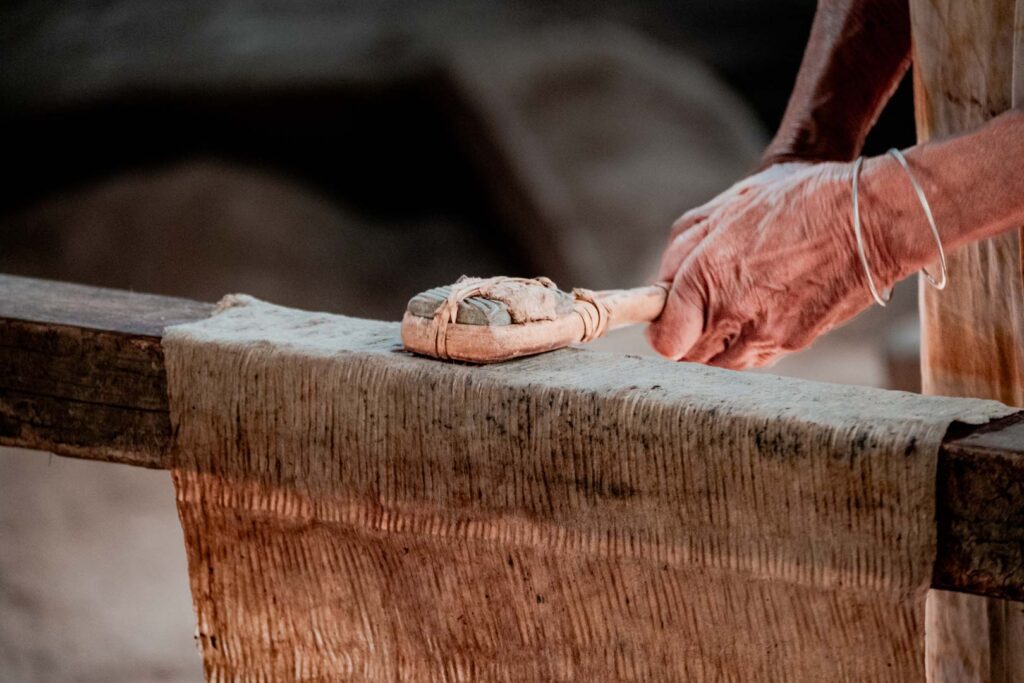 Central Sulawesi & Tentena Travel FAQ
Is Central Sulawesi safe for tourists?
Central Sulawesi is a safe travel destination despite its somewhat troubled past. The area is an up and coming travel hotspot and not dangerous to visit.
Is Sulawesi a budget-friendly travel destination?
Local guesthouses and meals in Sulawesi are very affordable although tourist tours and nicer hotels can be pricey. Generally, it's possible to travel to Sulawesi on a budget.
Is there alcohol in Tentena?
Indonesia is a predominately Muslim country and even in Christian regions like parts of Central Sulawesi alcohol is not widely available. You'll be able to purchase beer occasionally in restaurants or nicer hotels.
Is there a public bus to Tentena?
There are public buses to Tentena departing from Toraja and Poso. You can also take a bus from Palu to Poso and then switch to another oen to take you to Tentena.
What can you do in Central Sulawesi?
Things to do in Central Sulawesi include seeing megaliths, camping in Tentena, watersports on Lake Poso, seeing tarsiers and learning about traditional bark cloth making.
Does Tentena have an airport?
Tentena has a small airport which welcomes regional flights.
Is there a bus from Toraja to Tentena?
Yes, you can take a bus from Toraja to Tentena. The drive takes around 12 hours and is very scenic.
Is there a bus from Tentena to Togean Island?
There is currently no public bus from Tentena to Wakai where boats to Togean depart. Visitors have to get a private transfer.
What is Central Sulawesi known for?
Central Sulawesi is known for megaliths, traditional dresses and dances, seafood dishes and unique wild life.
Are there earthquakes or tsunamis in Central Sulawesi?
Central Sulawesi occasionally experiences earthquakes which can lead to tsunamis. This is the case for many parts of Indonesia and natural disasters are few and far between so there is no need for concern for tourists. Coastal areas tend to be more frequently affected while inland towns like Tentena in Central Sulawesi aren't.
When is the best time to travel to Central Sulawesi?
You can visit Central Sulawesi year-round but the best time is around June to October.
Where is Sulawesi?
Sulawesi is located in Indonesia, east of Borneo and west of Papua. The island is shaped like the letter K and usually divided into North, Central, South Sulawesi and South East Sulawesi.
Where are the best places to go in Sulawesi?
Some of the most popular tourist attractions in Sulawesi include Makassar, Togean, Toraja, Tentena and Manado.
Is Sulawesi worth visiting?
Sulawesi is a very underrated tourist destination and well worth a visit for anyone interested in Indonesian culture and adventure travel.
What was Sulawesi previously called?
Sulawesi was previously called Celebes during colonial times before being renamed to Sulawesi.
What is Bada Valley known for?
Bada Valey is known for megaliths, traditional bark cloth making and small Protestant villages.
Is Bada Valley safe to visit?
Yes, Bada Valley is a safe destination for tourists, however, take care when driving there as the roads can be damaged by landsides.
How old are the magaliths in Bada Valley?
The exact age of the megaliths in Bada Valley is unknown but they're estimated to be as old as 6,000 years.
Who built the megaliths in Bada Valley?
It's not known who built the megaliths in Bada Valley and why, their origins remain a mystery.
Impressions
Click the images below to pin this post to Pinterest and save for later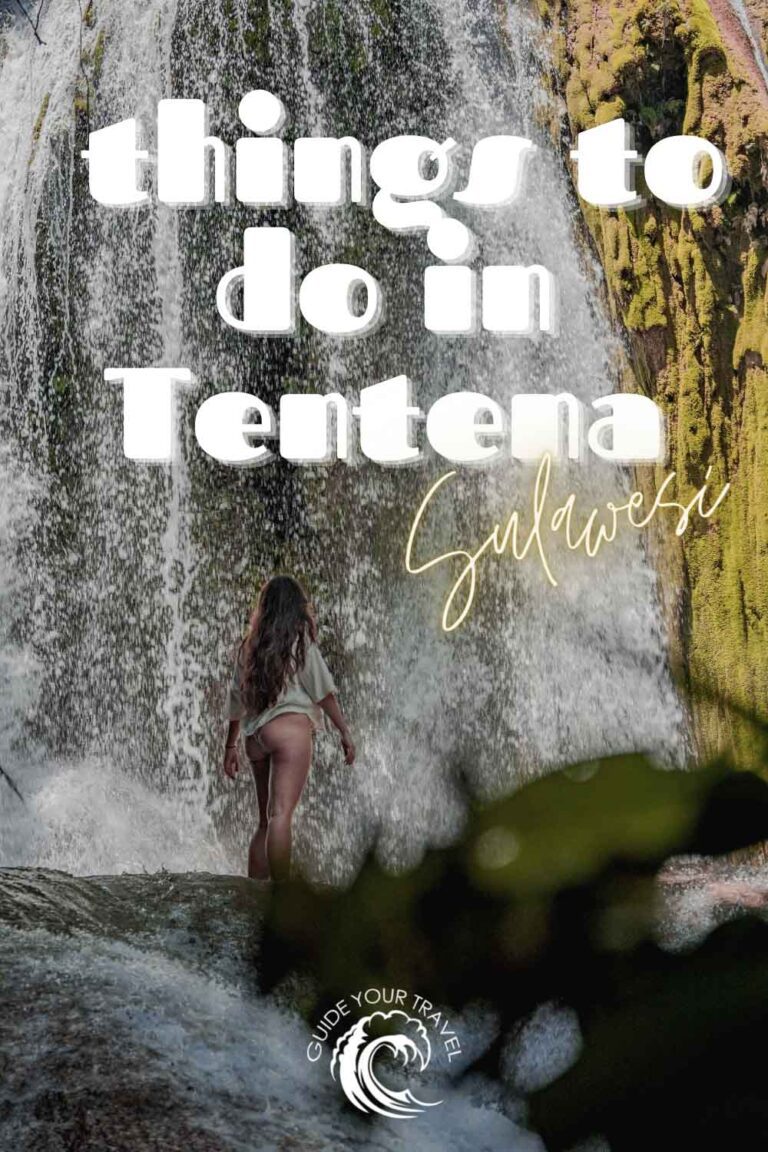 My most important travel tips and resources
Book your flights
Skyscanner is the best website for finding cheap flights since it works like a search engine so you can find the best deals across all airlines.

Book hotels and hostels
• Booking.com: Best world-wide
• Agoda: Best in South East Asia
• Hostelworld: Best for hostels

Book tours, transport and rental cars
•Viator: The best place to book tours, day trips and excursions for al budgets
•12Go: Great for ferries, trains, transfers and buses in South East Asia
•Discover Cars: Best deals for rental cars around the word

Get travel insurance
Every traveller needs travel insurance and I mean every single one. SafetyWing covers you in case of injury, illness or worse and they've got your back if your bag is stolen, flights are cancelled or in case of a natural disaster.

Pay abroad
Ask any traveller, Wise is the best choice when it comes to sending money abroad. They've always got the best exchange rates, lowest fees and their visa card is great for getting cash out or paying abroad.

Things every traveller needs:
➼ Osprey Farpoint 70 Backpack
Detachable daypack, ultra-light, durable and free repairs for life. There's a reason why so many backpackers have this bag.
➼ Packing Cubes
Packing cubes are a gamer changer, keeping your luggage organised and providing tons of extra space.
➼ Power bank
There is nothing worse than running out of battery on an overnight bus journey or a long flight. With a powerbank you can charge your eletronics on the go and make sure you're always connected.
➼ Micro-fibre towel
These lightweight towels are foldable, fast-drying and so useful when you're travelling.

➼ You can find 15 more things every traveller needs here. Some might be a bit controversial but I warned you!
Did I miss anything?
If you have any questions or feel like something is missing from this post please leave a comment below or contact me.