HOW TO GET FROM YOGYAKARTA AIRPORT INTO THE CITY
When visiting Yogyakarta, tourists tend to stay close to the popular Malioboro Street, which is located in the city center and west of the city's airport.
Adisucipto International Airport is Yogyakarta's main transport hub and will most likely be where you first arrive if you are planning to visit sights such as the Borobudur temple.
If your hotel does not offer a free airport transfer I would recommend making your own way into the city and to Malioboro Street. It will only cost you 0,20€ ( ≈ IDR 3,500).
Are you spending some time in Yogyakarta? Check out our 3-day itinerary and our complete what must-see list to help plan your trip.
Travelling on a budget? This is the ultimate money-saving guide for Indonesia.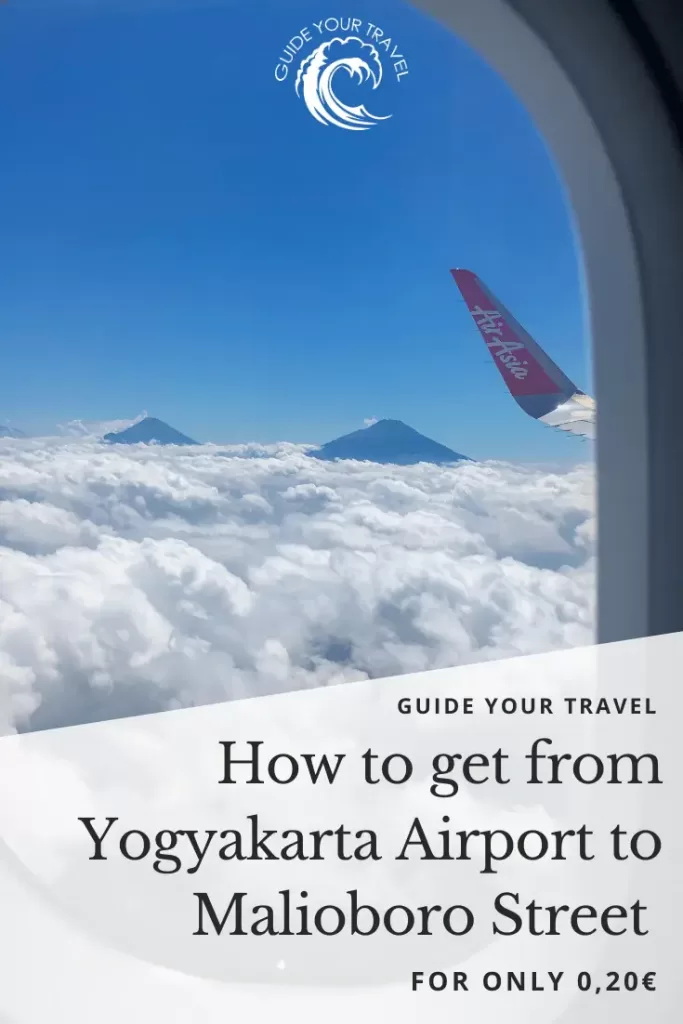 HOW TO GET FROM YOGYAKARTA AIRPORT TO MALIOBORO STREET
TAXI
When you exit Adisucipto Airport you will be swarmed by eager taxi drivers, offering you rides at highly inflated prices.
If you are trying to get from Yogyakarta Airport to Malioboro Street by taxi you should buy a voucher at one of the many taxi stalls available at Arrivals. Do not agree to a flat rate price offered by a driver as these will be far more than what you should be paying.
Buying a voucher at a stall will still mean a price that is about 25% higher than a regular taxi ride but at least it will not be completely unreasonable.
In general, it is advisable to rely on metered taxis and not agree on a fixed price in advance.
While a taxi is a decent option to get to the city it would not be my first choice in Yogyakarta. Only take one if you have a lot of luggage and pay attention to how much you are paying.
The price to get from the airport to Malioboro Street should be around IDR 80,000 (≈ 5,00€) at the most.
GRAB
While taking a Grab is usually my first choice in Indonesia, I do have to admit that it's not ideal at Yogyakarta Airport.
It is becoming more and more common for Grab cars to be unable to enter airport premises in large South-East Asian cities, which makes pick-up and drop-off difficult.
While the Grab pick-up point at Adisucipto International Airport is not very far (a 3-5 minute walk depending on at which terminal you arrive), there is no real benefit as the prices can be very similar to those of the taxis.
Usually, Grab cars are around 20% cheaper than normal taxis but because of airport fees, this is not the case at Adisucipto.
If you have an Indonesian SIM card and are familiar with the Grab App, it is worth checking the prices when you arrive (they change according to demand and traffic).
If you find a price below IDR 80,000 I would choose Grab as their service gives you more security and there is no danger of overpaying.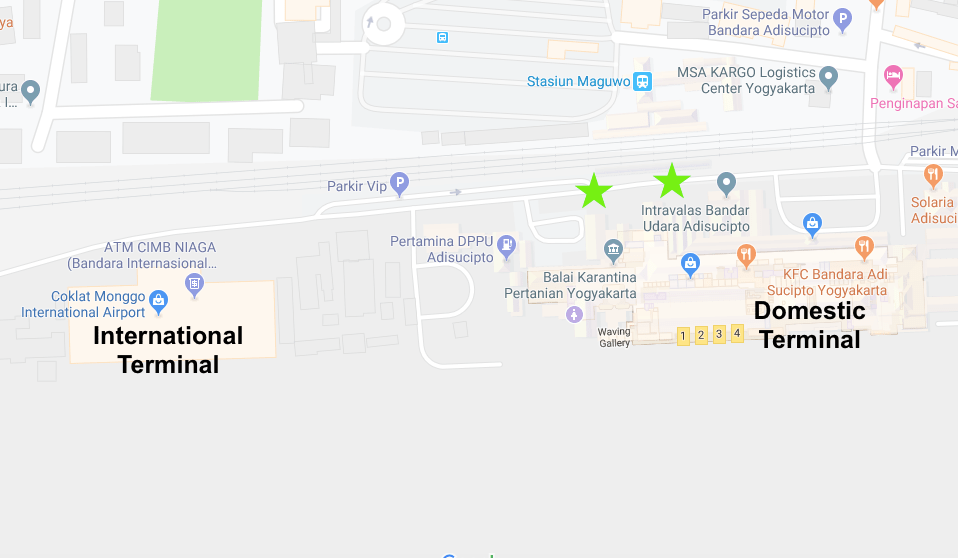 THE TRANS JOGJA BUS (THE CHEAPEST WAY TO GET FROM YOGYAKARTA AIRPORT TO MALIOBORO STREET)
In my opinion, the best (and certainly the cheapest) way to get from Yogyakarta Airport to Malioboro Street is the Trans Jogja Bus.
A ticket to the city will only cost you IDR 3,500 (≈ 0,20€) and it is an easy and convenient service to use.
Unfortunately, the Trans Jogja Bus stop at Adisucipto Airport is located outside of the airport complex but the walk is not very long. There is clear signage pointing you to the bus stop, which is an 8-minute walk away from the international terminal and only around 5-minutes from the domestic one.
Much of the walk is underground or under covered walkways so you will be sheltered should it be raining. The 1A bus route goes directly to Malioboro Street and only takes around 30-minutes, which is similar to a taxi.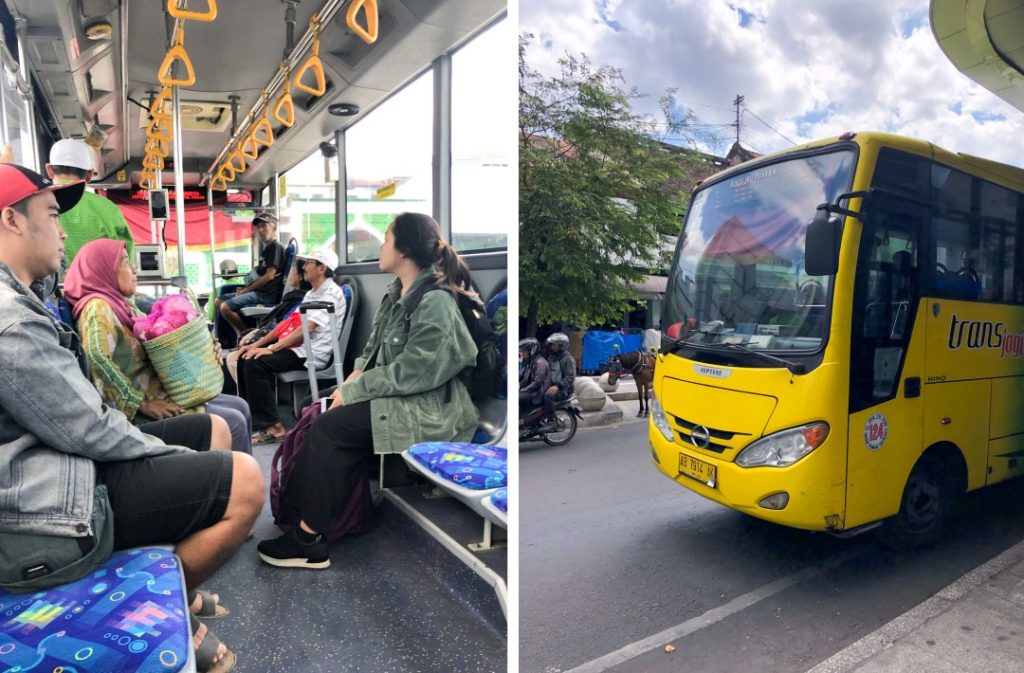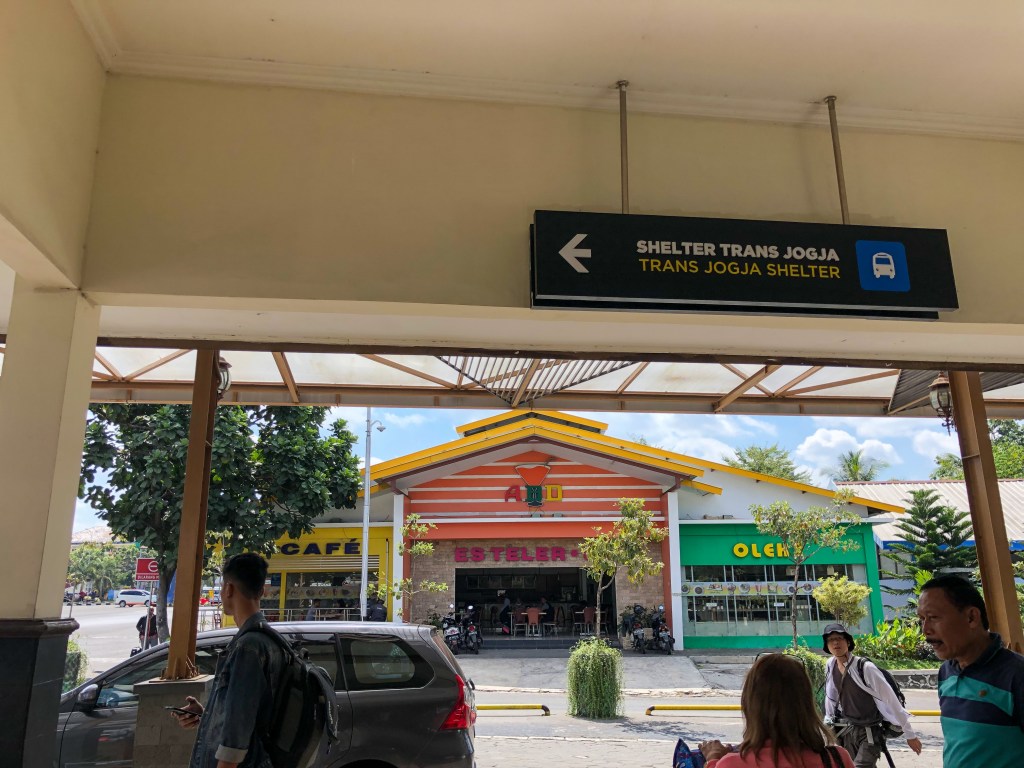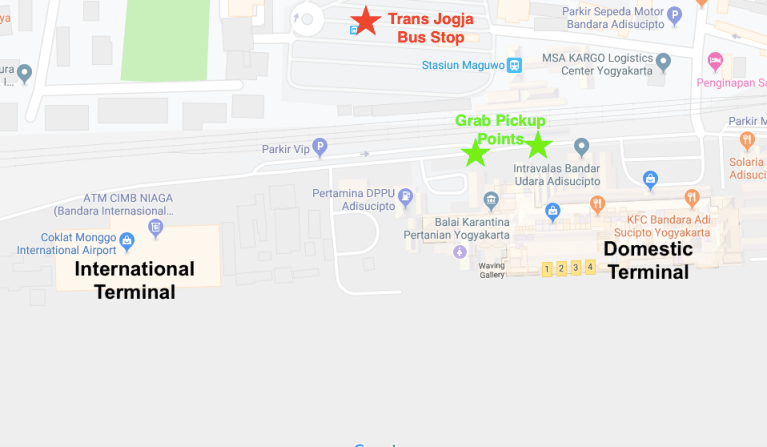 HOW TO GET TO THE TRANS JOGJA BUS STOP
IF YOU ARE ARRIVING AT TERMINAL B (INTERNATIONAL FLIGHTS)
The Trans Jogja bus stop is slightly closer to the domestic terminal at Yogyakarta Airport, which means you will have to do less walking if you arrive there.
If you are coming in on an international flight (Terminal B) your first task will be to go to the domestic terminal (Terminal A). You will have to turn to the right once you exit Terminal B. Just follow the signs pointing to Terminal A.
The walk between the two terminals is only 250m under a covered walkway.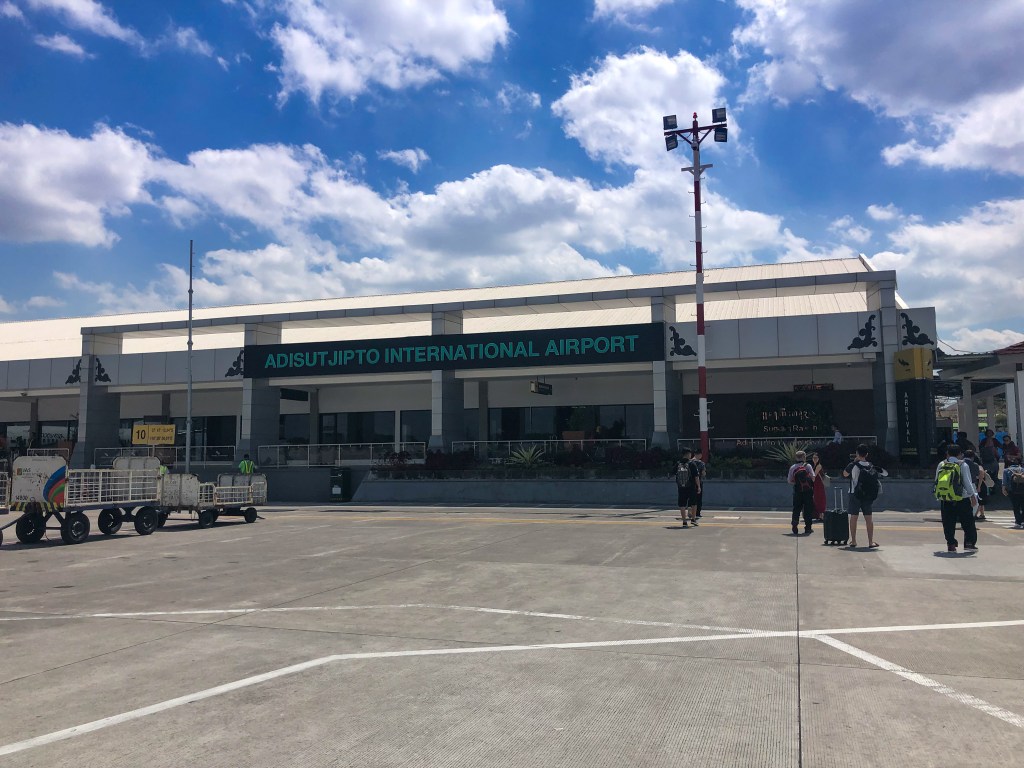 IF YOU ARE ARRIVING AT TERMINAL A (DOMESTIC FLIGHTS)
At Terminal A you will find signs pointing you towards buses and taxis. Follow them down a set of escalators, which will lead you to an underpass.
If you are unsure of where to go ask some of the staff at the booths and shops.
Go upstairs again and continue to follow the signs pointing you towards buses. At this point, you will see signs for the "Trans Jogja" Bus specifically.
It is hard to go wrong here as the airport is not very big. If you are following signs that say "bus" you're most likely on the right track. You will now arrive at the bus terminal. Walk to the very end of it where you'll be able to see the distinctive "Trans Jogja Shelter".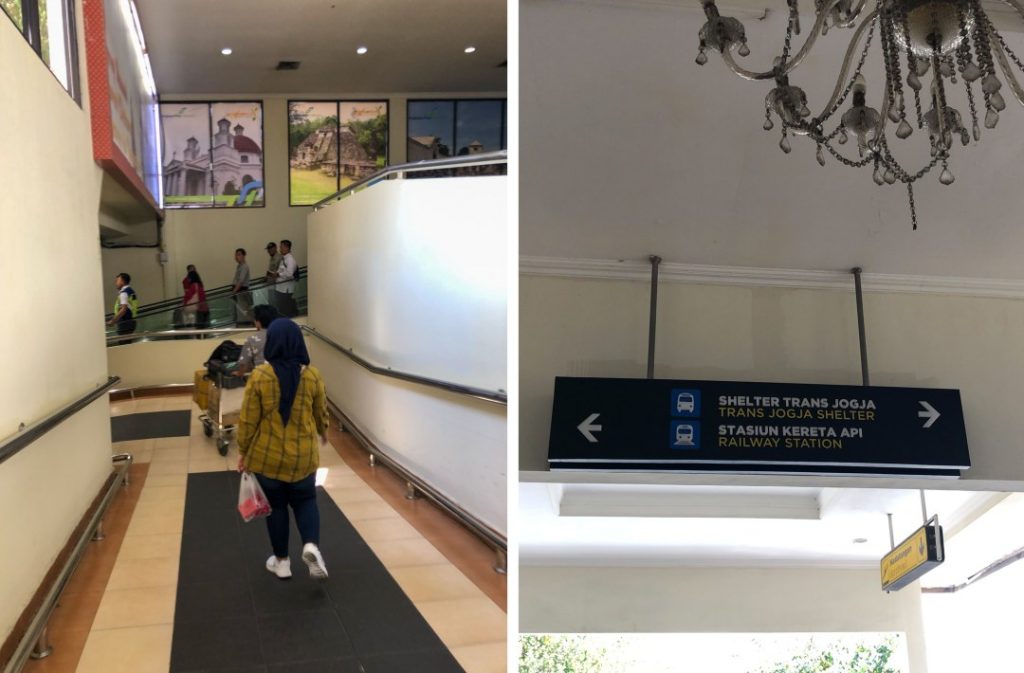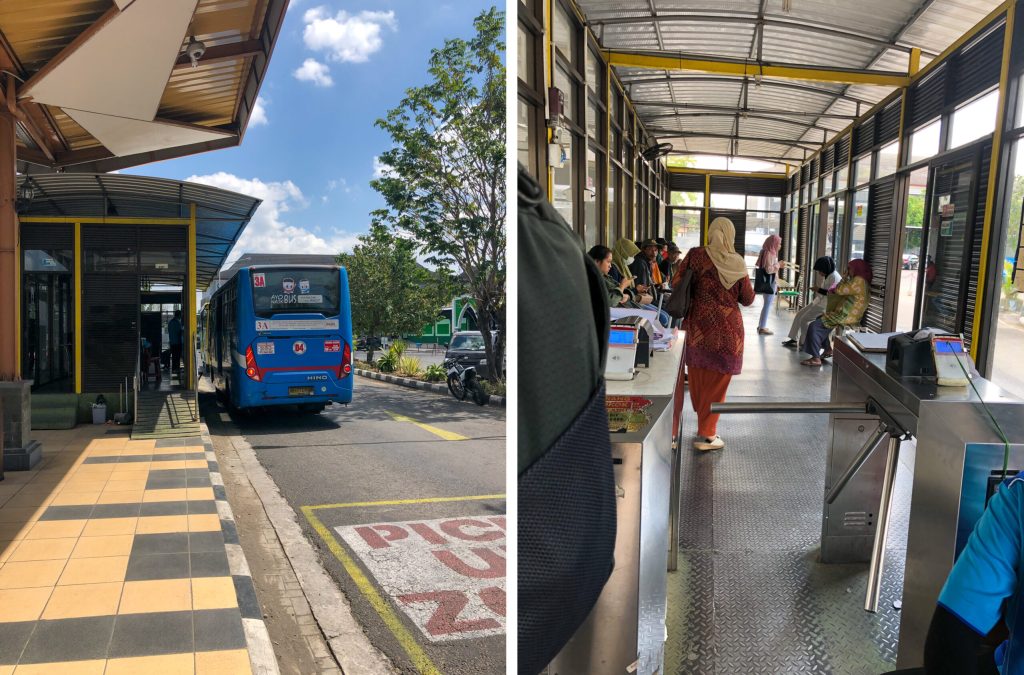 TRANS JOGJA BUS SHELTERS AND HOW THEY WORK
Bus stops in Yogyakarta (and other Indonesian cities) tend to look a little different to those in Europe, the US and the rest of the world.
They consist of an elevated platform that is completely enclosed, like a little house. In order to get on the bus, passengers have to first enter the bus stop through a gate and pay for their ticket.
This is very convenient as they are easy to spot and there is no need to panic when the bus arrives because you're still looking for change. Let the person selling the tickets know where you are going (Malioboro Street) and you will receive your ticket.
If you do not leave the bus stop house you can change buses as many times as you like, the ticket will still be valid.
WHICH BUS SHOULD YOU TAKE TO GET FROM YOGYAKARTA AIRPORT TO MALIOBORO STREET?
A ticket for the Trans Jogja Bus costs IDR 3,500 per person (≈ 0,20€) which is by far the cheapest way to get from Yogyakarta Airport to Malioboro Street.
Once you have purchased your ticket you should wait for your bus in the shelter. You cannot leave or your ticket will no longer be valid. You need to take the 1A bus to get to Malioboro Street. The buses are clearly marked and the number will be announced on arrival.
Ask the staff at the shelter if you are unsure which is the correct bus.
Buses run every 15-30 minutes depending on which time of the day you are travelling. I have found Google Maps to be a reliable source of scheduling information for the Trans Jogja Bus. Simply enter your journey and check the schedule explorer for exact departure times.
Trans Jogja Buses tend to be on time.
THE BUS JOURNEY
When the bus arrives you need to show your ticket to the member of staff that accompanies each bus. The driver does not interact with the passengers usually.
The person checking the tickets will also announce each bus stop and ask passengers where they are getting off. Another employee in each passing bus stop will wave to the driver and let them know whether the bus needs to stop, which means that you need to be quick if you want to get off.
If you're not paying attention it can be easy to miss your stop. Make sure to tell the attendant where you want to get off and they will be happy to help you.
The buses are comparable to large minibuses with seats for around 20 people and lots of standing space. They are usually not very full.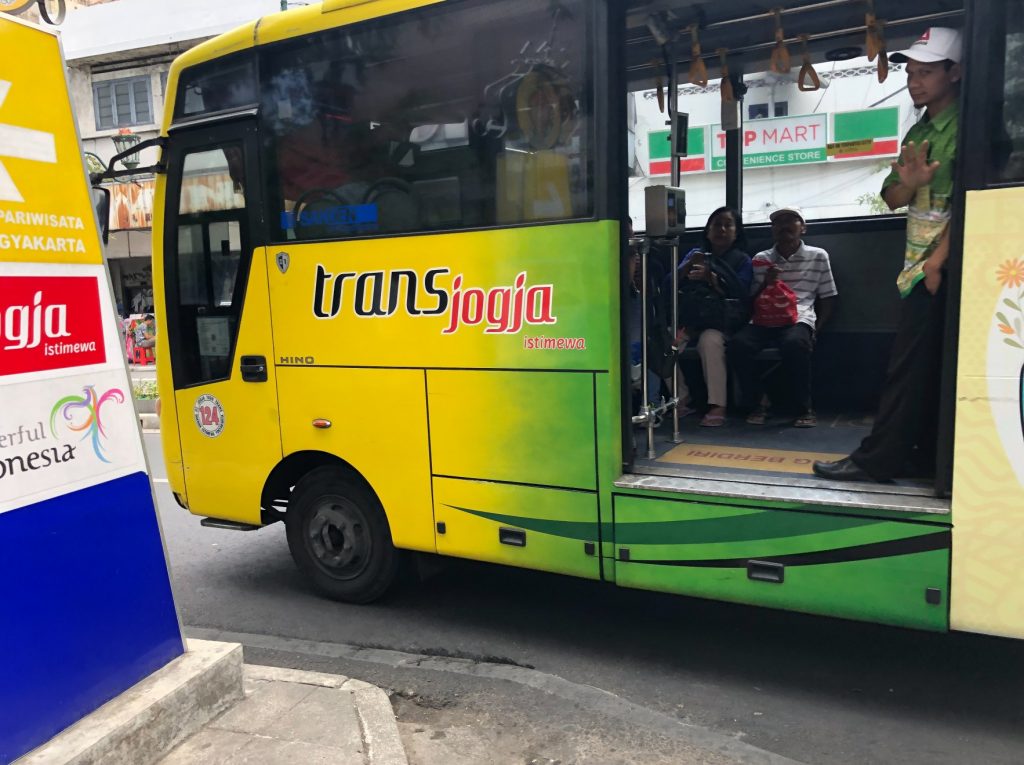 WHERE DO YOU HAVE TO GET OFF THE BUS TO GET FROM THE AIRPORT TO MALIOBORO STREET?
Malioboro Street has two bus stops for the 1A Trans Jogja Bus. They are called Malioboro 1 and 2. The map below shows their exact locations.
They can be easily found using Google Maps so just have a look which one is closer to your hotel.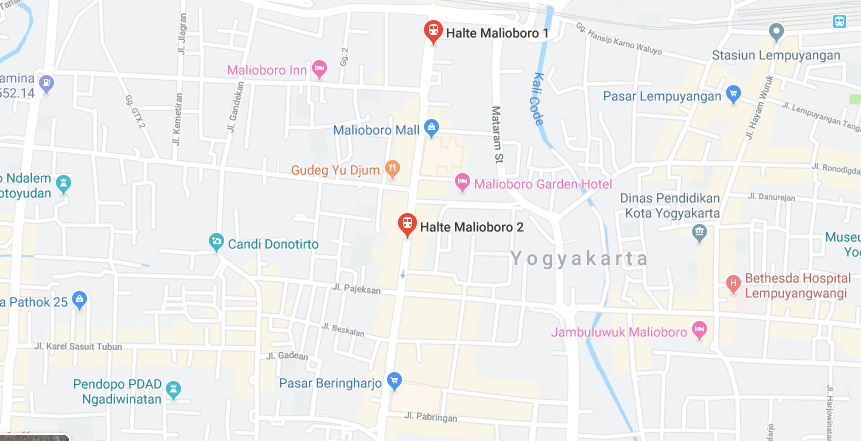 WHAT IF YOU MISS YOUR STOP?
If you miss your stop you should get off as soon as possible. Let the bus staff know and they might even stop the bus specifically for you.
Trans Jogja Busses only run in one direction so you cannot get off and go back with another bus.
Pay attention to where you are and check your location on Google Maps if you have an Indonesian SIM Card.
WHY YOU SHOULD USE THE TRANS JOGJA BUS MORE OFTEN
Hopefully, you made it to your hotel using these instructions. The Trans Jogja Bus has many different bus lines and tickets always cost IDR 3,500 (≈ 0,20€).
If you are trying to get around Yogyakarta on a budget why not have a look at this website to find out where else this convenient bus service runs.
Are you spending more than 30 days in Indonesia? Learn how to apply for an extended visa here.
If you're planning to visit Borobudur while you're in Yogyakarta you need to check out our sunrise guide here.