VISITING BOROBUDUR
The Borobudur temple in central Java is Indonesia's most visited tourist attraction and the largest Buddhist temple in the world. Seeing the sunrise at Borobudur has become a popular activity for many tourists.
But is it worth it?
And how should you organise your trip?
It's going to be an unforgettable experience but you need to know how to do it right.
No idea how to plan your trip to Yogyakarta? This 3-day itinerary will help.
Not sure if Yogyakarta is worth visiting? Check out these 17 things you can do here that aren't Borobudur.
This post may contain affiliate links, which means we'll receive a commission if you purchase through our links, at no extra cost to you. This helps us keep Guide your Travel free and provide high-quality content for you. Please read the full disclaimer for more information.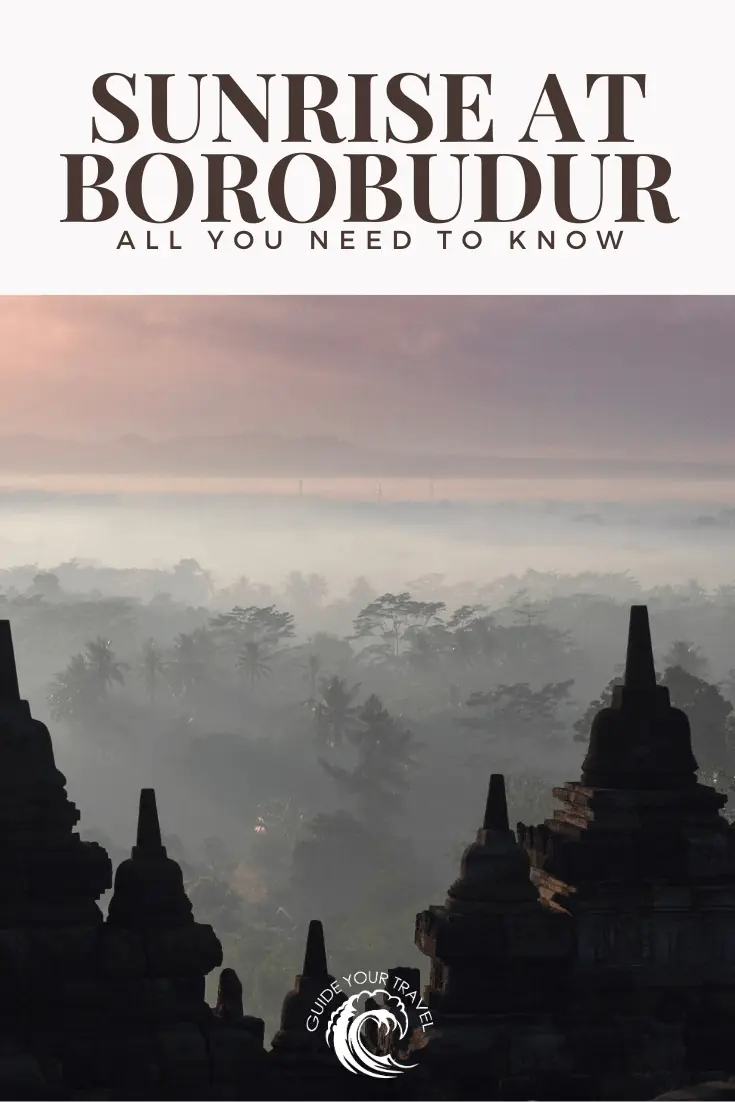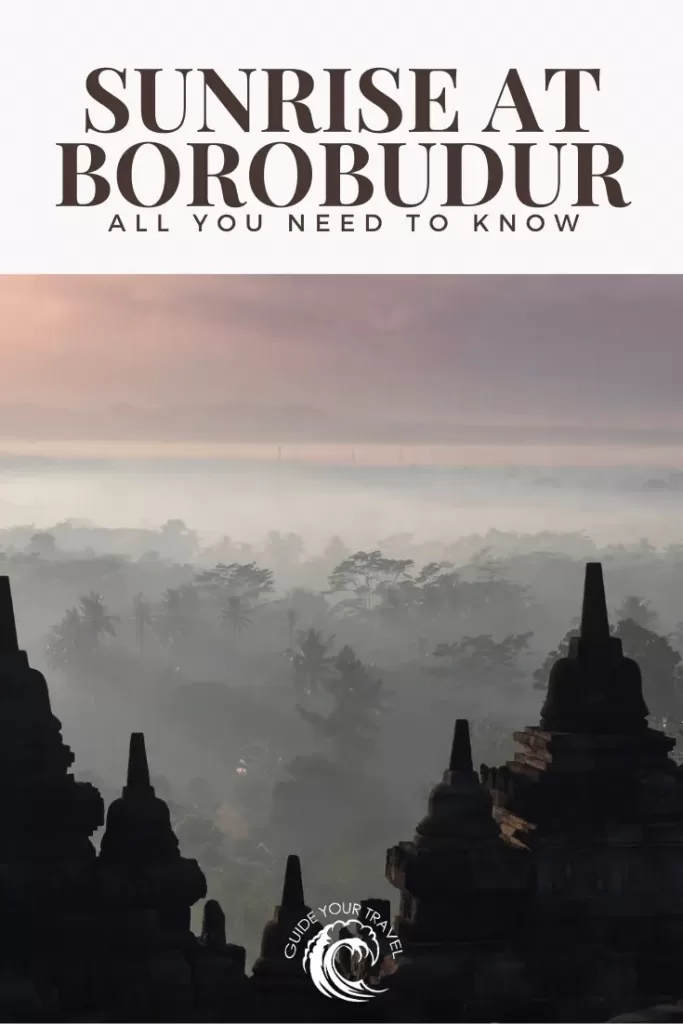 HOW DO YOU GET TO BOROBUDUR?
Borobudur is located around 40km northwest of Yogyakarta in central Java. The drive from the city centre to the temple takes around 1 hour.
Although it can theoretically be reached from Semarang it is advisable to fly to Yogyakarta and stay there for a couple of days, especially if you are interested in seeing the sunrise at the temple.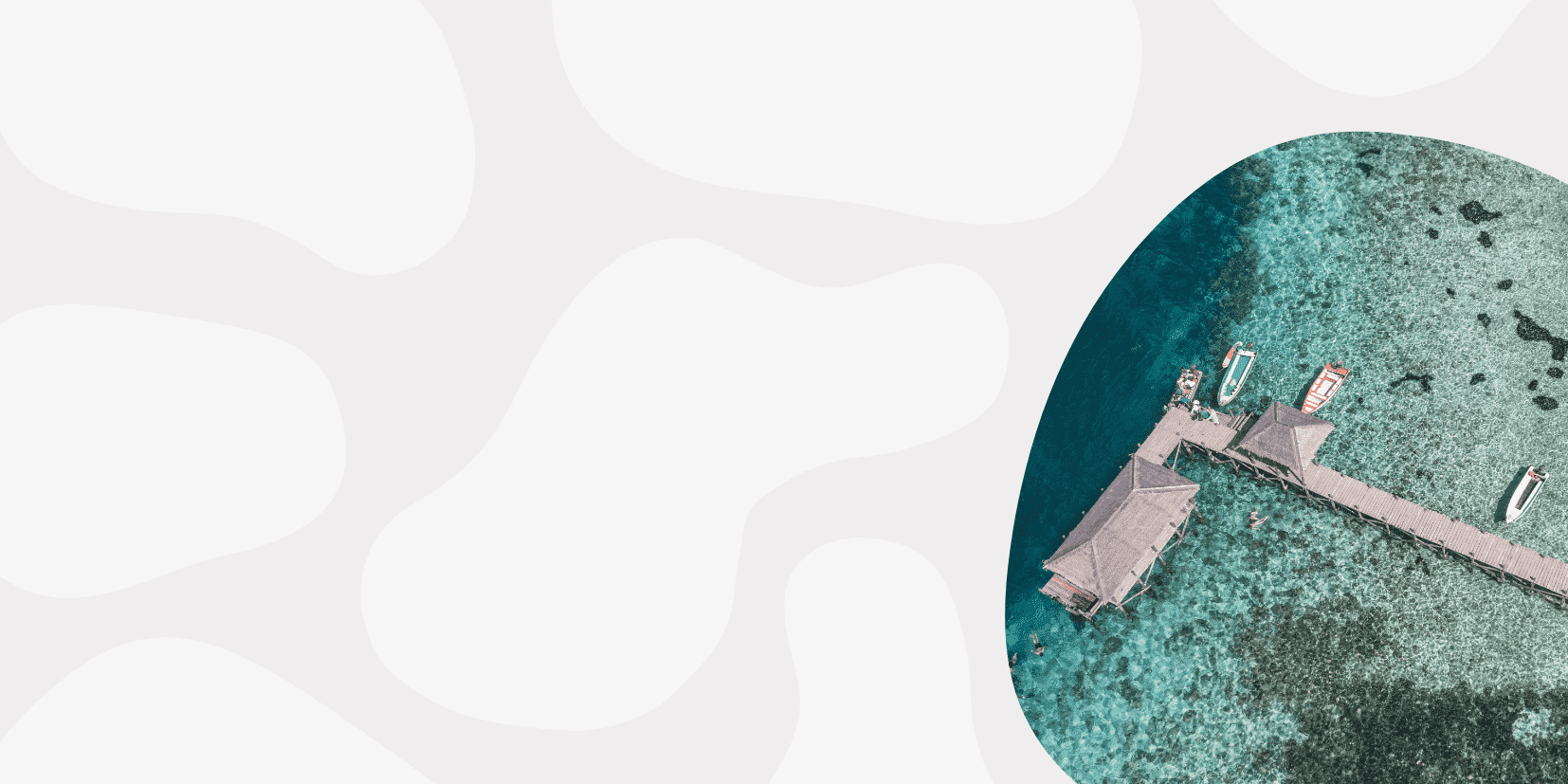 Let me save you time and effort when you're travel planning!

➼ Best travel insurance? SafetyWing
➼ Best place to find cheap flights? Skyscanner
➼ Best bank & credit card for travellers? Wise
➼ Best travel backpack? Osprey Farpoint 70
WHERE SHOULD YOU STAY TO SEE THE SUNRISE AT BOROBUDUR?
If you want to see the sunrise at Borobudur temple you can either stay in Yogyakarta or directly at the temple.
This is entirely up to you and both options have their benefits.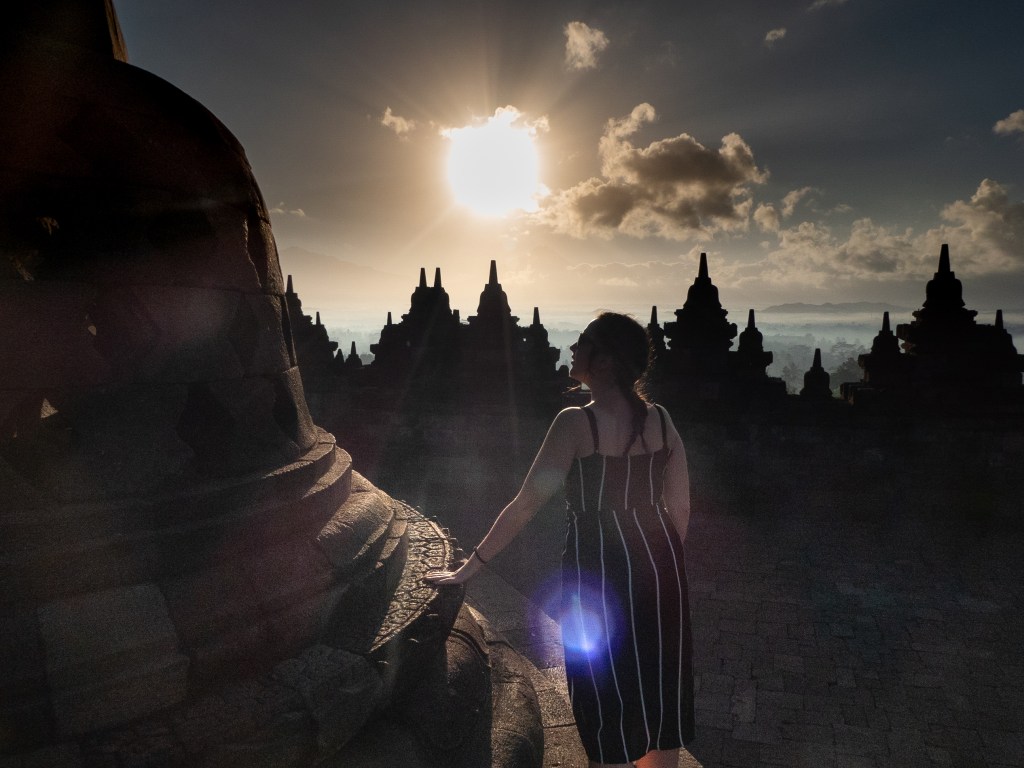 STAYING AT BOROBUDUR
There is a good selection of hotels and homestays close to the temple. Most people who stay here only visit Yogyakarta because of Borobudur and usually leave after one or two nights.
The main benefit of staying close to Borobudur will be that you can have one more hour of sleep and do not need to hire a driver to take you to the temple for sunrise.
Although this is definitely convenient you might miss out on the other attractions Yogyakarta has to offer. There is far more to see in and around the city than just Borobudur.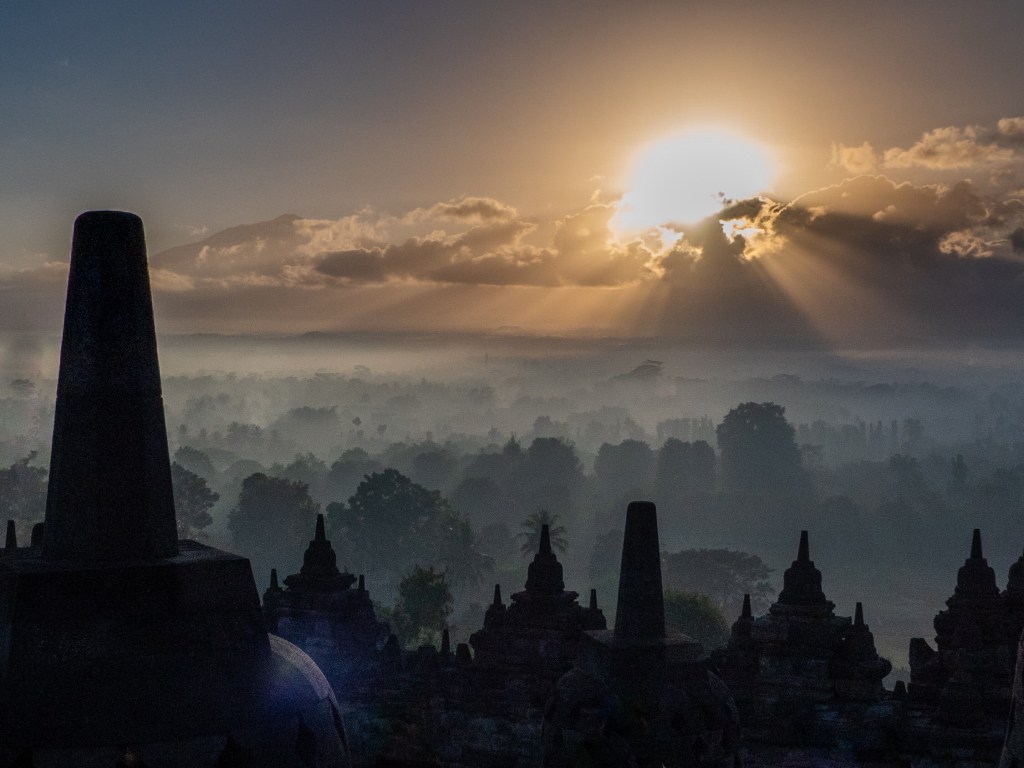 STAYING IN YOGYAKARTA (MALIOBORO STREET)
In my experience, it is the better choice to stay in Yogyakarta if you want to visit Borobudur. The city has a lot to offer and is not as saturated with tourists as other parts of Indonesia.
It is definitely worth spending 3-4 days here if you really want to see Yogyakarta and its surrounding area. To find a complete list of things to do in Yogyakarta click here. Borobudur is only one of many things to see when you're in Yogyakarta so why not make it a day trip?
Arriving at Yogyakarta Airport? Find out how to get to Malioboro Street for only 0,20€.
Top tip: Always compare prices for hotels. We at Guide your Travel prefer Booking.com, Agoda or Hostelworld for finding the best deals.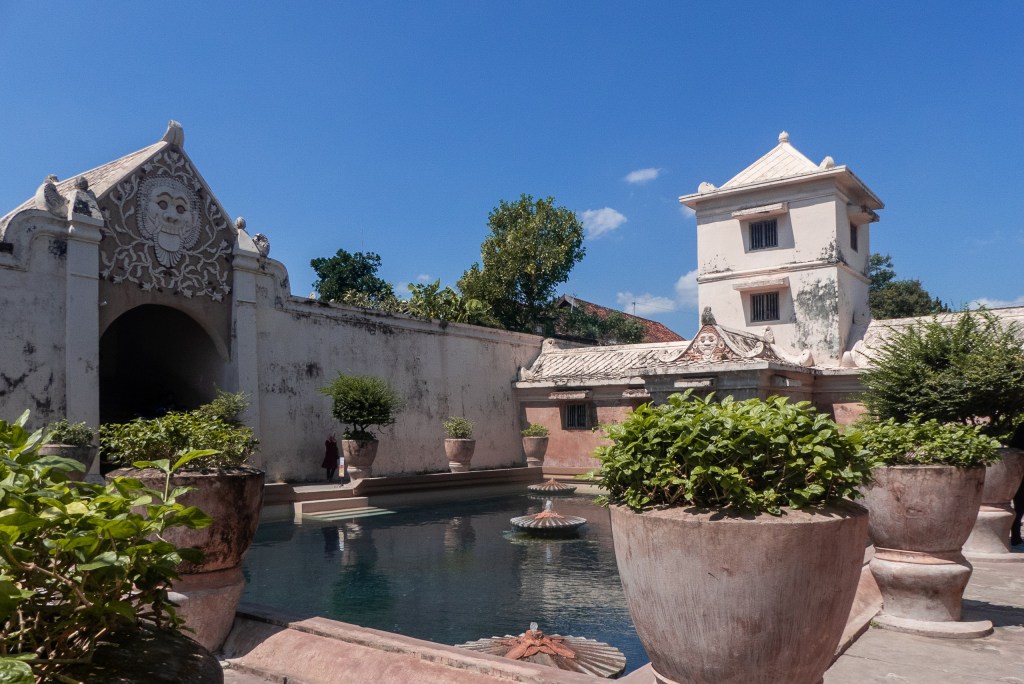 SUNRISE AT BOROBUDUR: IS IT WORTH IT?
Seeing the sunrise at Borobudur is extremely popular. However, it's also more expensive than a regular ticket and requires you to get up very early and make your way to the temple.
Is it worth paying the additional fee on top of what is already a high price?
From my experience, I would definitely recommend sunrise and yes it is worth it. The whole experience is quite magical and a once-in-a-life-time moment you will not forget.
In the end, you will not remember how tired you were nor will the extra money you spent matter. The memory will stay with you forever though.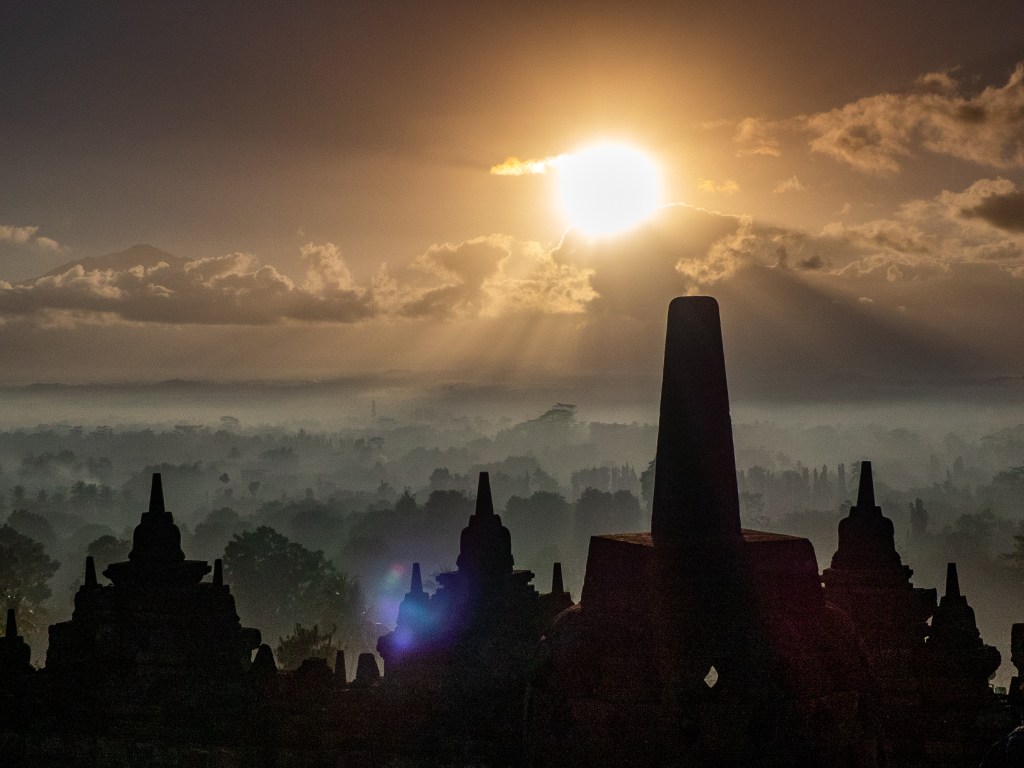 WHY YOU SHOULD VISIT BOROBUDUR AT SUNRISE
Although the sunrise is, of course, beautiful, there are other reasons why I think you should make the extra effort to see Borobudur in the early morning.
The two main reasons being the heat and the crowds (or lack thereof).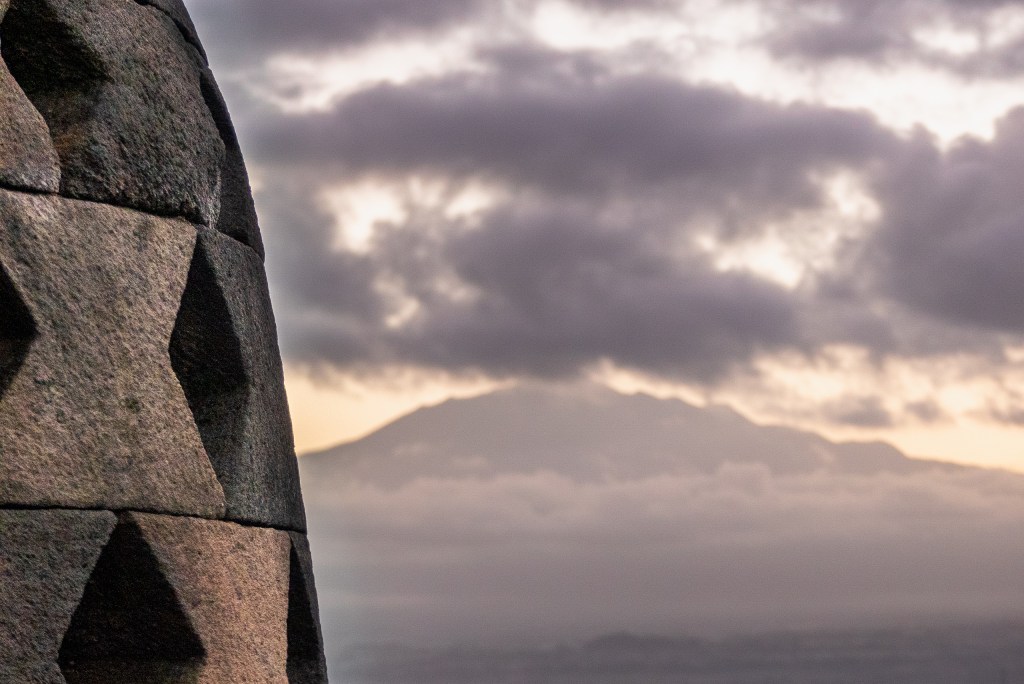 THE CROWDS
As Indonesia's most popular tourist destination, Borobudur will always be packed with visitors.
Even during sunrise the amount of tourists is crazy, especially because the upper balconies that face east are not very spacious. But seeing the sunrise along with a few hundred people will still be far better than the thousands that will have arrived by around 10:00 AM.
During the off-season, you might be lucky to enjoy even smaller crowds.
Once the sunrise is over people will start to dissipate and explore the temple complex. Going to Borobudur for sunrise is definitely your best chance for taking pictures of this magical place without any other people in the way.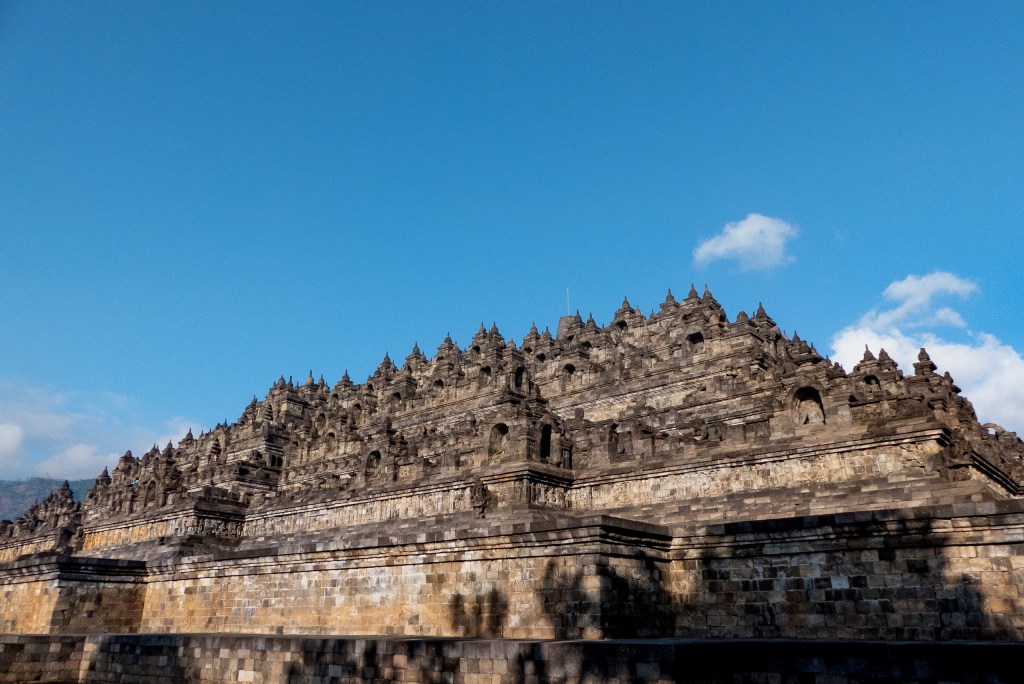 THE HEAT
Borobudur temple is completely exposed to the sun and during mid-day, you will not be able to escape the heat. Since you have to climb steep stairs to reach the top this can be treacherous.
The early mornings, however, are cool even during the dry season. Temperatures drop as far as 16 degrees Celsius at night so be prepared to bring a light jacket.
THE SUNRISE
The best spot to see the sunrise at Borobudur is from the top or second tier of the temple. From here the sun will rise behind a large volcano making the view even more spectacular.
The early morning light gives the stupas of the temple a unique glow that makes all the pictures you take just so much better. Do not miss out on getting to see Borobudur in the first light of the early morning.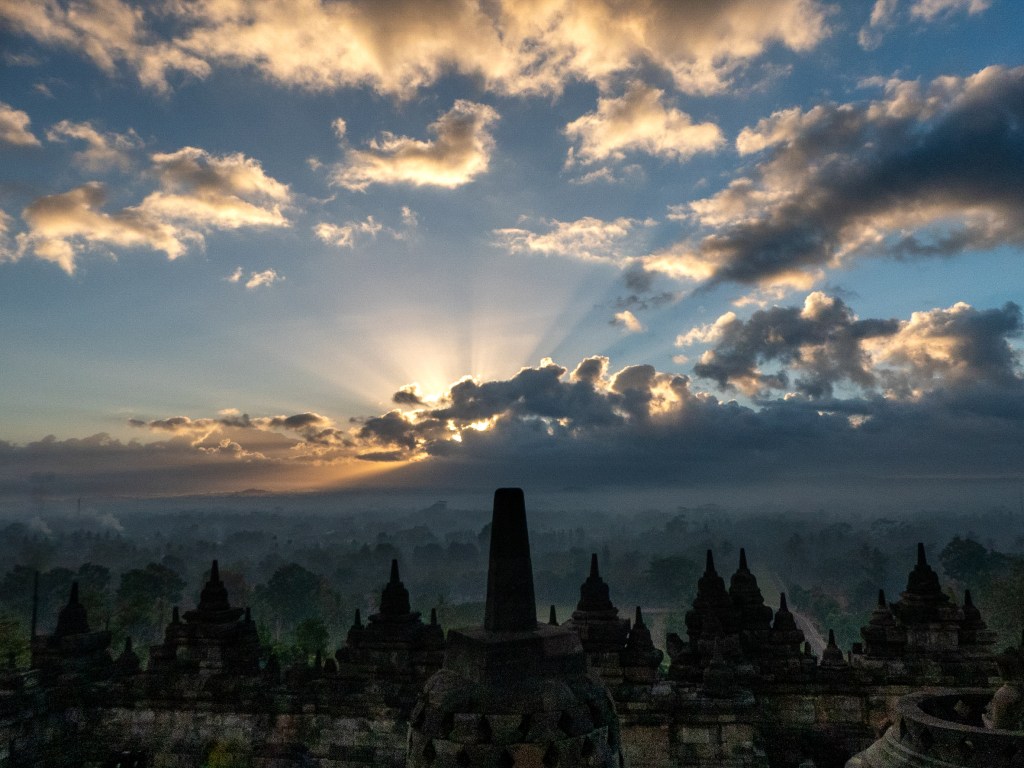 HOW TO VISIT BOROBUDUR AT SUNRISE
Buying sunrise tickets for Borobudur is not difficult but you need to know where to go and what to expect.
The temple itself only opens to the public at 6:00 AM, which is too late if you want to experience the full sunrise.
However, there is the Manohara Resort, a hotel located within the temple complex which lets you gain access at 4:30 AM. This is the only official way to see the sunrise at Borobudur.
The sunrise ticket will let you stay at Borobudur from 4:30 AM until 5:00 PM when the temple closes.
There is no need to pre-book tickets or take a tour to Borobudur. It will be a far better experience if you go there by yourself.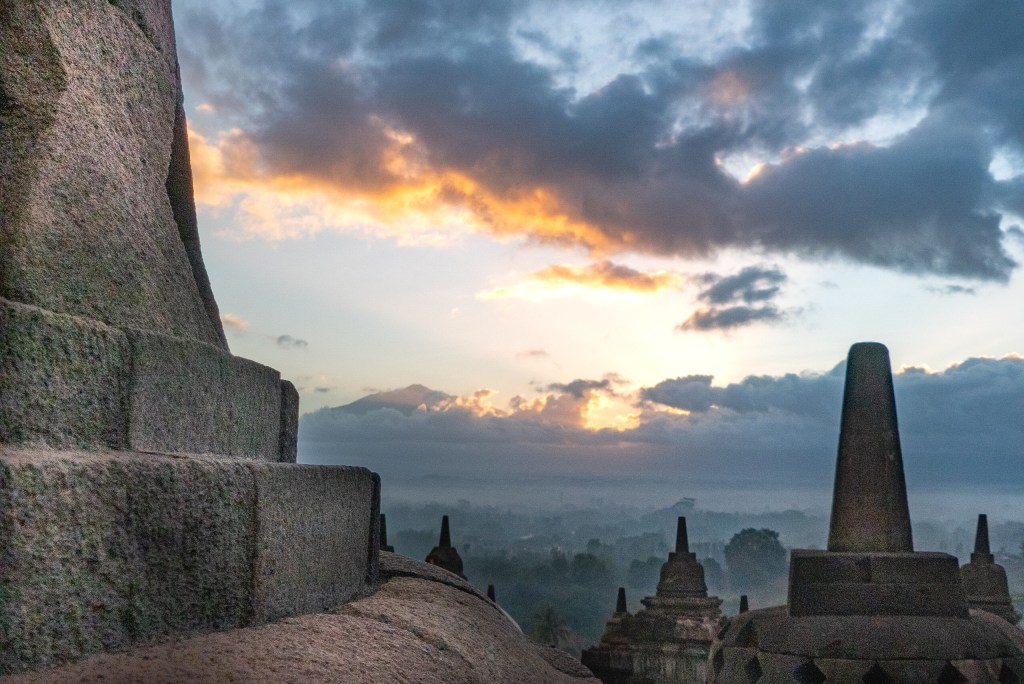 The Manohara Resort is an upscale hotel that has somehow gained the monopoly on selling sunrise tickets for Borobudur.
It is easy to find using Google Maps and your driver will know where to go when they take you to Borobudur.
The hotel offers a sunrise package that starts selling at 4:00 AM on the same day. You cannot buy tickets in advance, but since there is no limit on how many tickets they sell per day they will not sell out. Do not buy your tickets form a third-party vendor to avoid scams. Only buy tickets directly from the resort on the morning of your visit.
The sunrise package is available to outside guests. You do not need to stay at the hotel to buy a ticket, although hotel guests receive a discount on the sunrise package.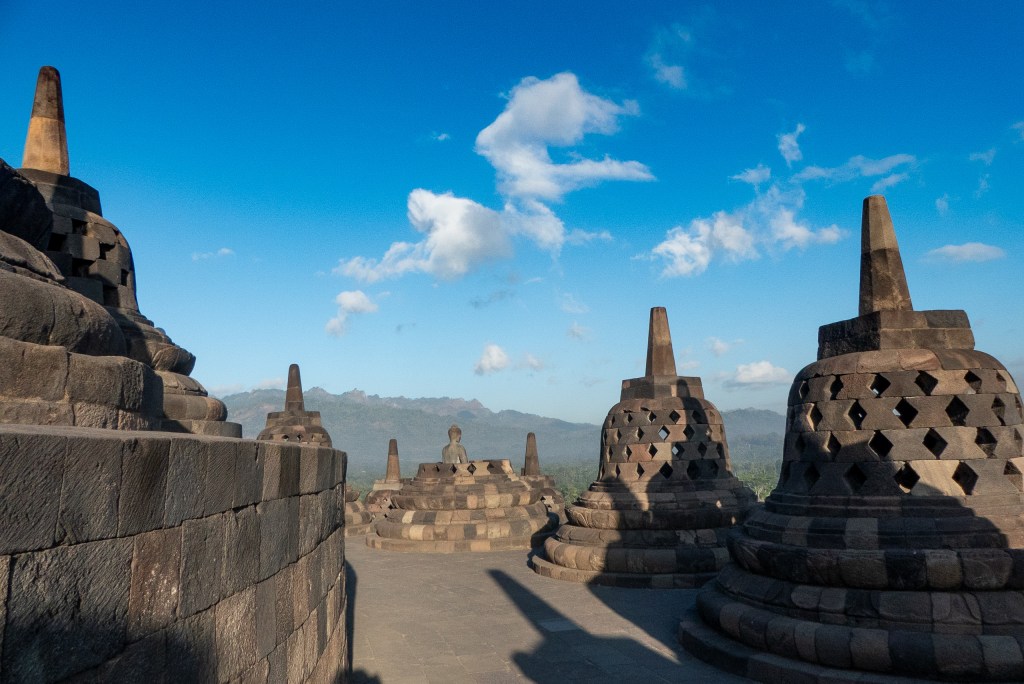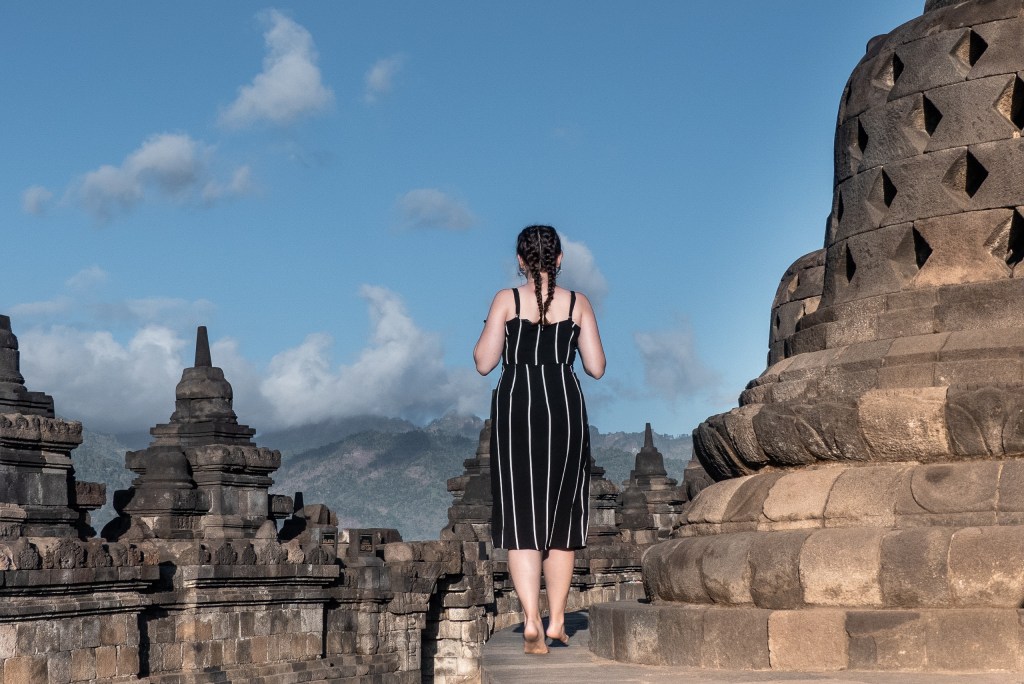 IS THERE AN ALTERNATIVE TO THE MANOHARA RESORT?
Officially, the Manohara Resort is the only way to get into Borobudur before 6:00 AM.
There are multiple people online claiming they got into the temple with regular tickets before sunrise by bribing guards. I do not see any real reason to try this, however.
Manohara might be expensive but it's reliable and convenient. Since you are visiting a religious site, try to be respectful and stick to the rules.
THE PRICE FOR SUNRISE TICKETS TO BOROBUDUR
Borobudur is a UNESCO World Heritage Site, which unfortunately means it is significantly more expensive than most other tourist attractions in the area.
However, if you consider European standards the prices are pretty reasonable. As of September 2019, Borobudur entrance prices for international visitors are:
IDR 325,000 (~ €20.80) regular entrance ticket
IDR 225,000 (~ €14.00) regular entrance ticket for students
IDR 450,000 (~ €28.90) sunrise ticket via Manohara Resort
IDR 400,000 (~ €25.70) sunrise ticket via Manohara Resort for students
IDR 250,000 (~ €16.00) sunrise ticket via Manohara Resort for children (aged 6 to 10)
IDR 250,000 (~ €16.00) sunrise ticket for Manohara Resort guest
Note: You need to show a copy of your passport to buy sunrise tickets from Manohara Resort. They will not keep the copy.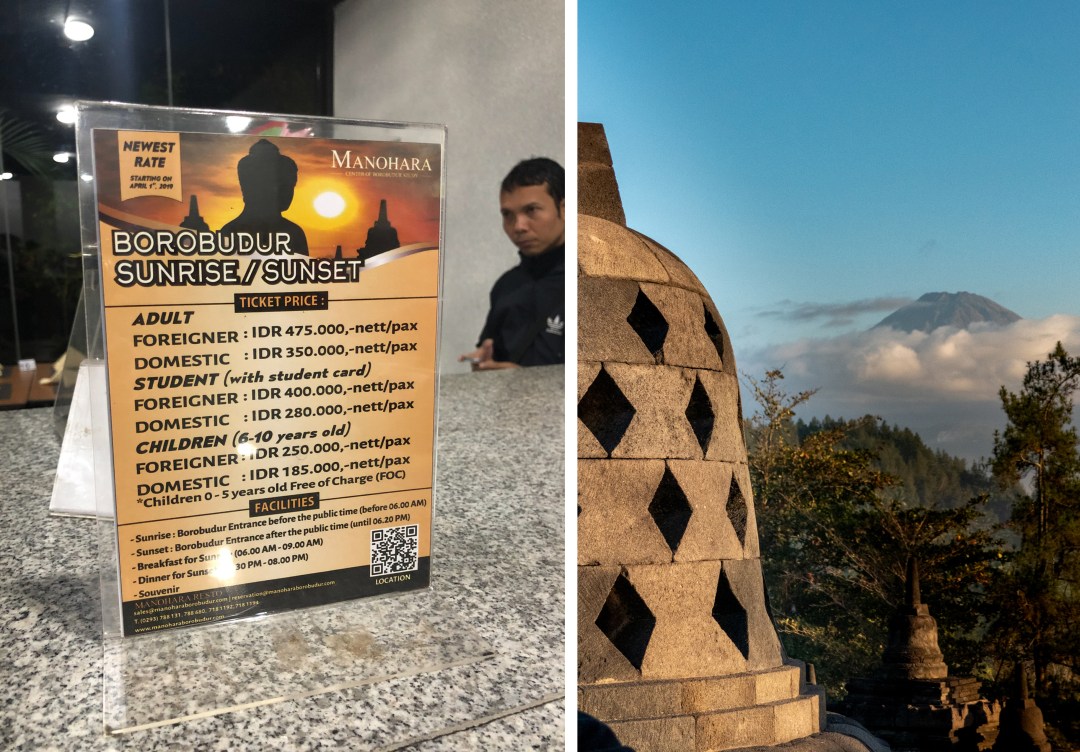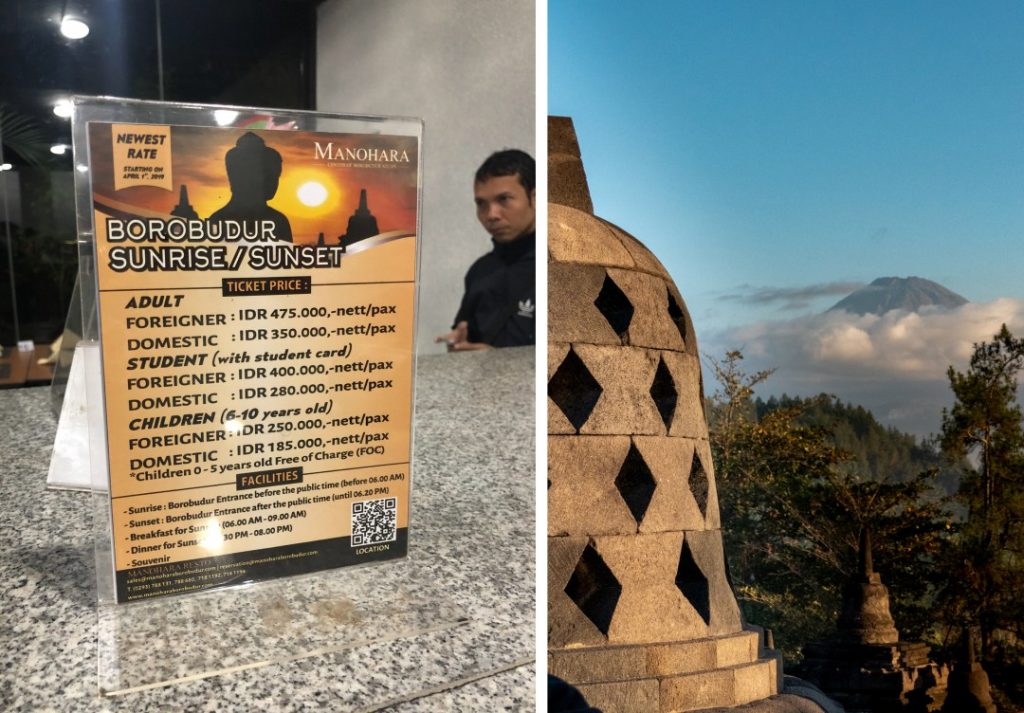 STUDENT DISCOUNT
Although information online varies widely I can confirm that there is a IDR 75,000 (~ €5.00) discount on Borobudur sunrise tickets for students. You need to present a valid student card to receive the discount.
Student ID cards of all nationalities and languages are accepted. The card only needs to have an expiry date and a name that matches your passport on it.
If your ID card is not in English it will be pretty much impossible for the staff to determine what type of card you are showing them. I'm not advising you to falsely identify yourself as a student if you are not. I'm just saying it's possible if you forgot your student ID.
They will photocopy the student ID you provide.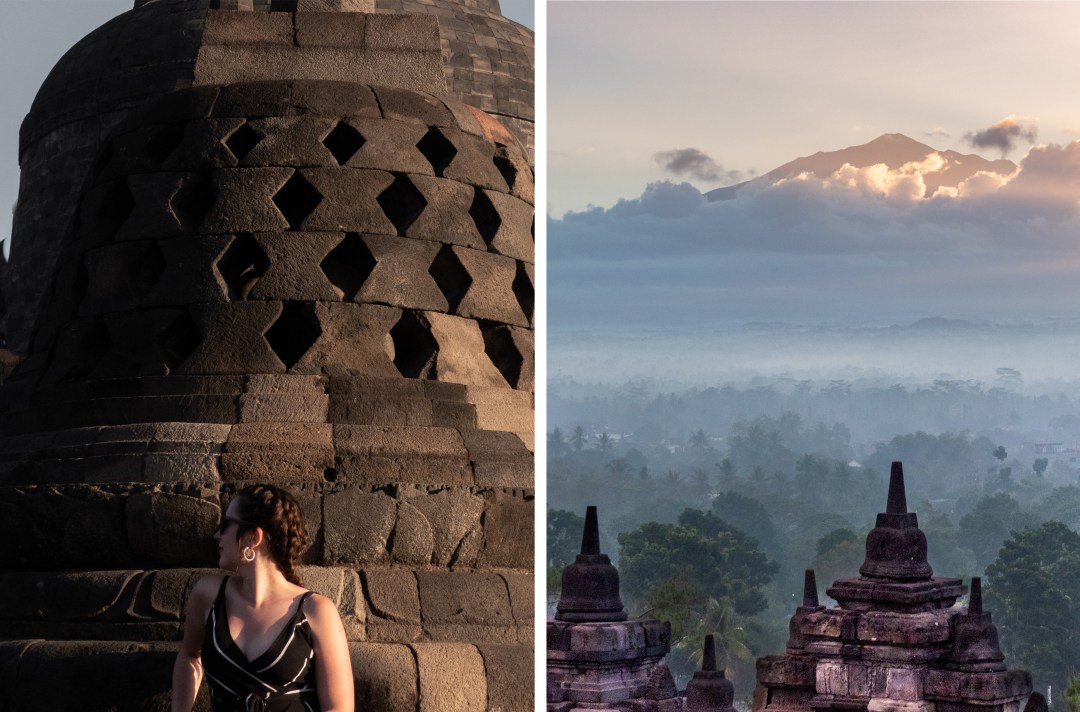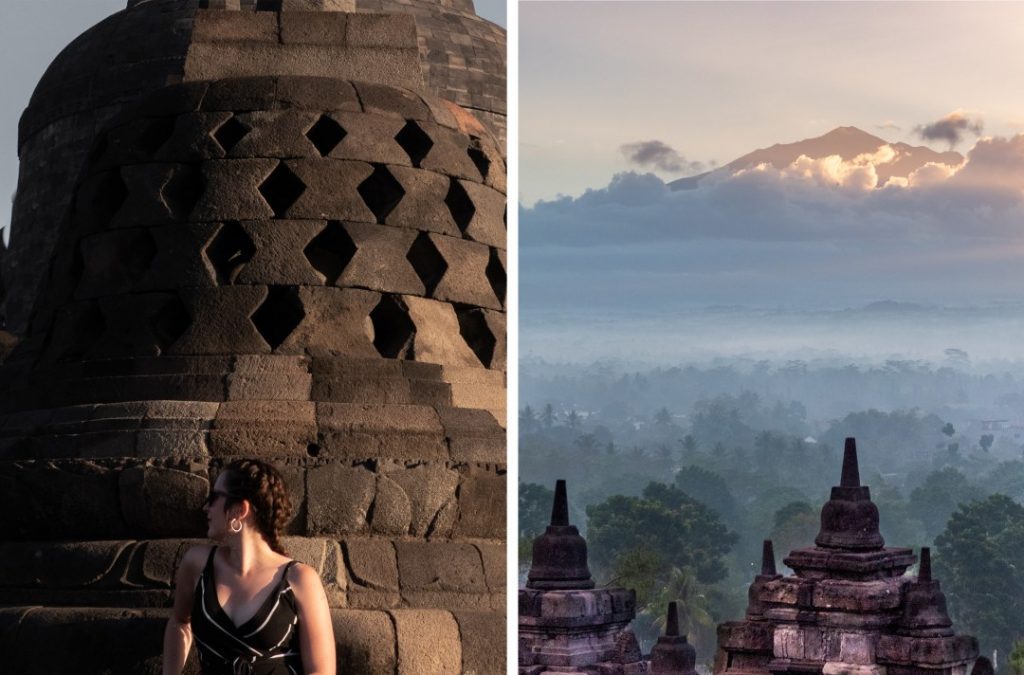 THE MANOHARA BOROBUDUR SUNRISE PACKAGE: WHAT'S INCLUDED
Manohara Resort charges IDR 125,000 (~ €8.00) more than the regular entrance ticket for sunrise. For that additional charge, they do, however, provide visitors with some special benefits in addition to being able to access the temple early.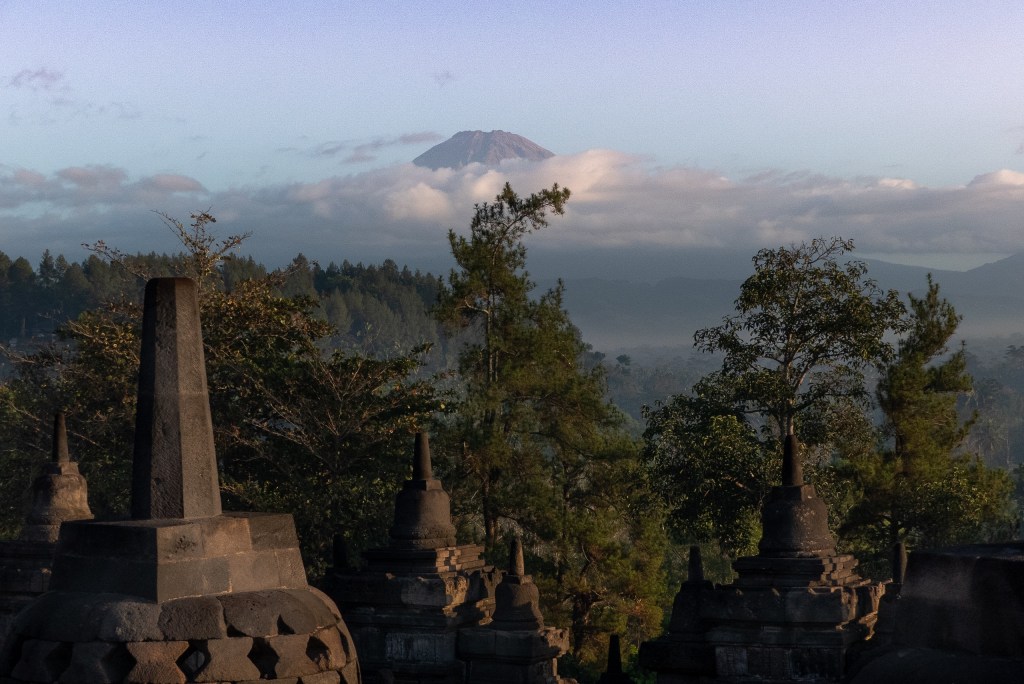 THE SOUVENIR
Every visitor gets a little "Souvenir" which consists of a gift bag containing a Borobudur Sunrise scarf. It's not the most useful thing to carry across Indonesia with you but it is a nice gesture and some people might appreciate having a keepsake.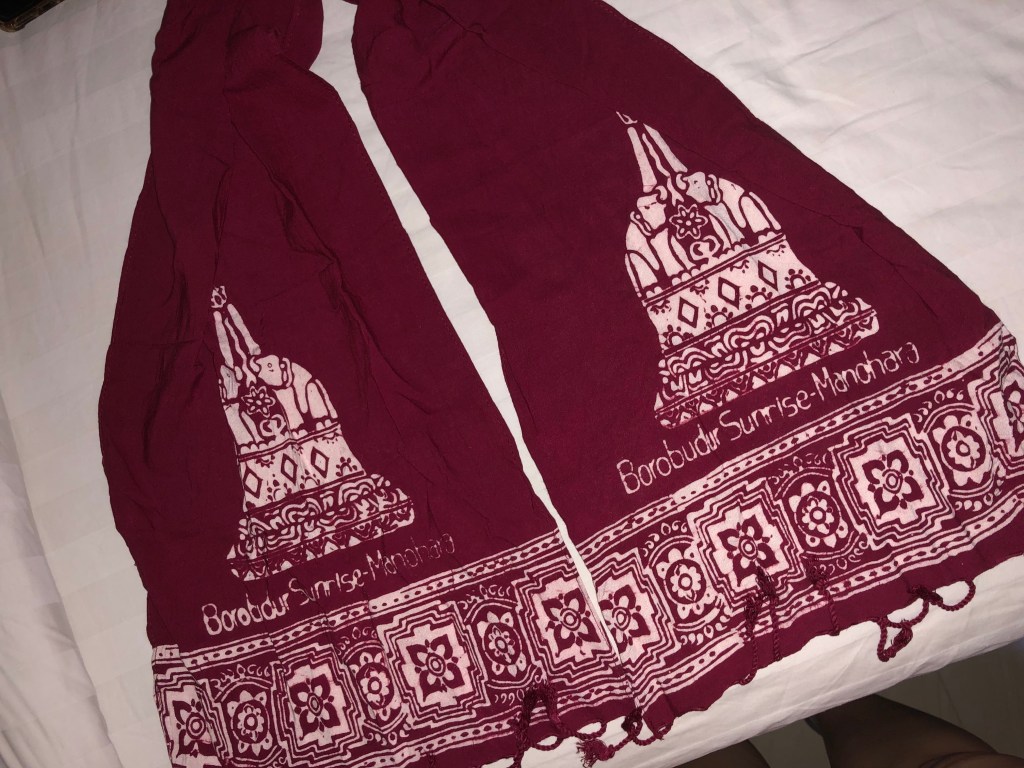 BREAKFAST
The Manohara Resort provides a free breakfast buffet as part of their sunrise package. Again you do not need to be a hotel guest to get access.
The buffet opens at 6:00 AM and I can only recommend it. They offer both a continental as well as Indonesian breakfast, fresh fruits, pastries, pancakes and anything else you can imagine.
Despite the large number of people that were at the buffet by 7:00 AM, everything was always stocked and the staff were friendly and helpful.
The resort has very nice seating both inside and outside. The breakfast was definitely a huge plus and a nice way to relax after getting up at 3:30 AM and exploring Borobudur all morning.
They also offer a very similar Sunset package that gives you access to the temple past official hours.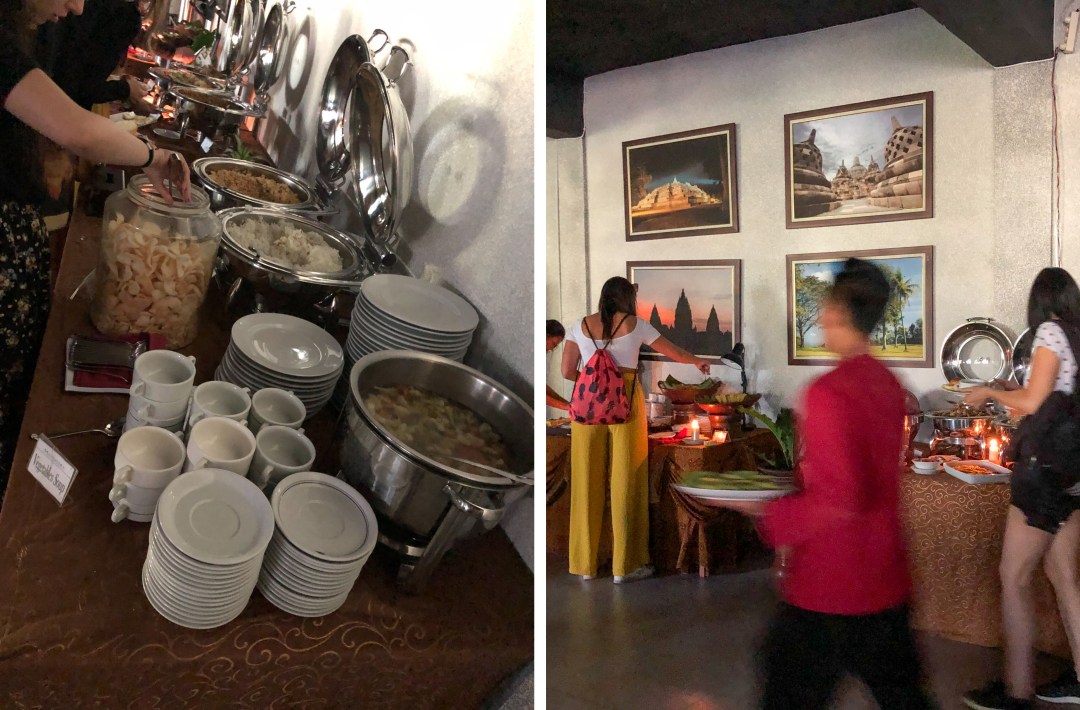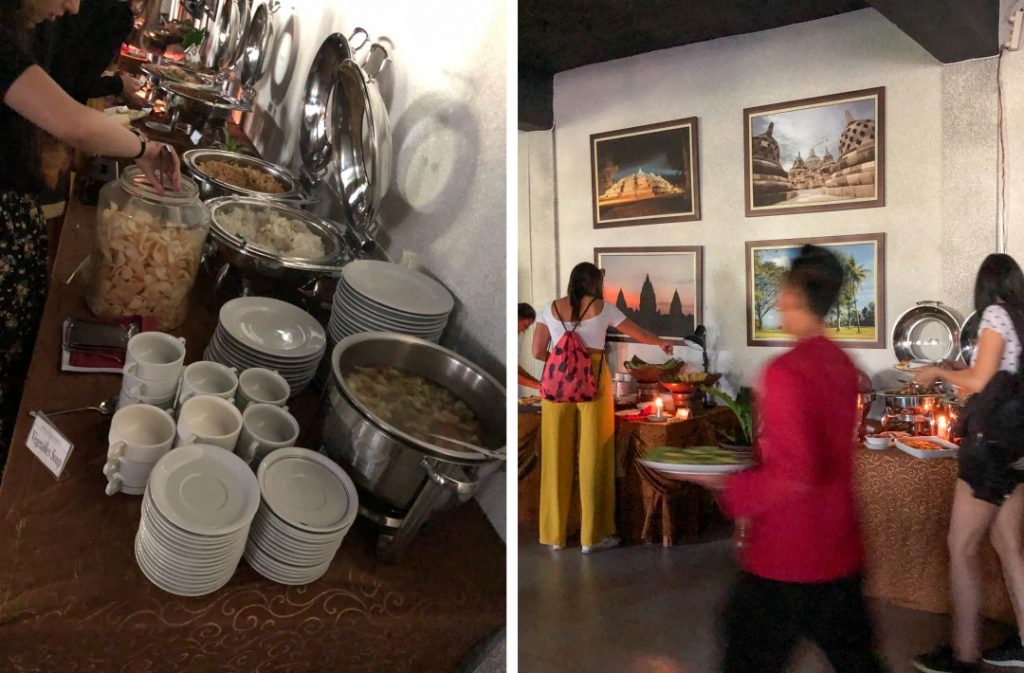 WHAT TO BRING TO SEE THE SUNRISE AT BOROBUDUR
You do not need to bring anything special on your trip to Borobudur, just the usual essentials like water, a camera and maybe some sunscreen if you plan to stay a bit longer.
You will arrive at the temple in complete darkness but the Manohara Resort provides you with free flashlights to guide your way.
If you arrive at the temple at 4:30 AM you will spend some time waiting for sunrise. Bringing something to sit on can make your experience more comfortable.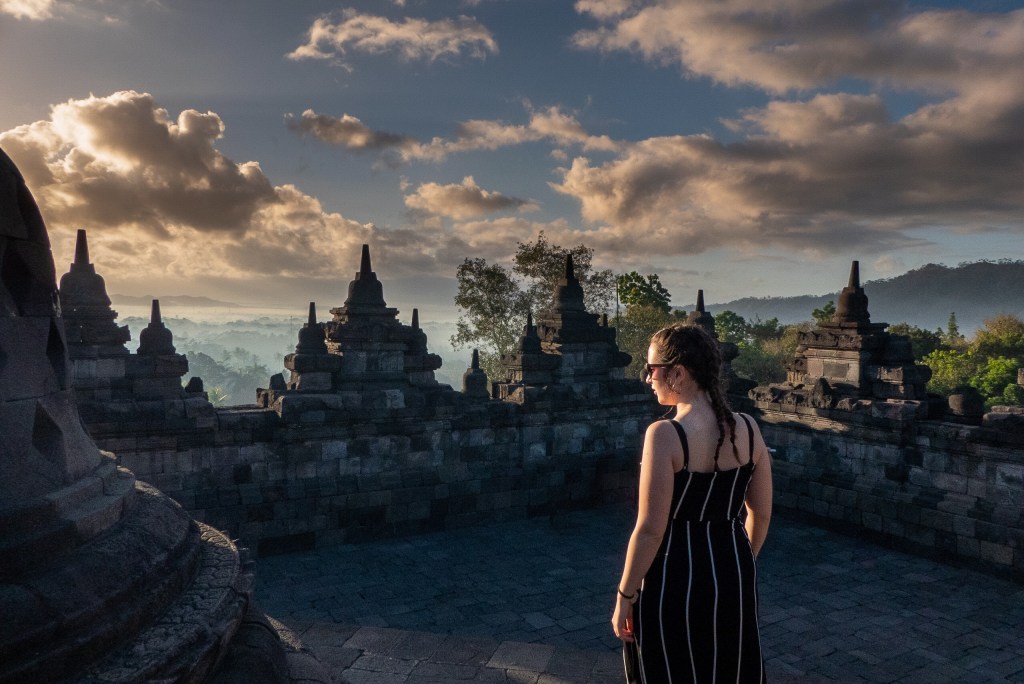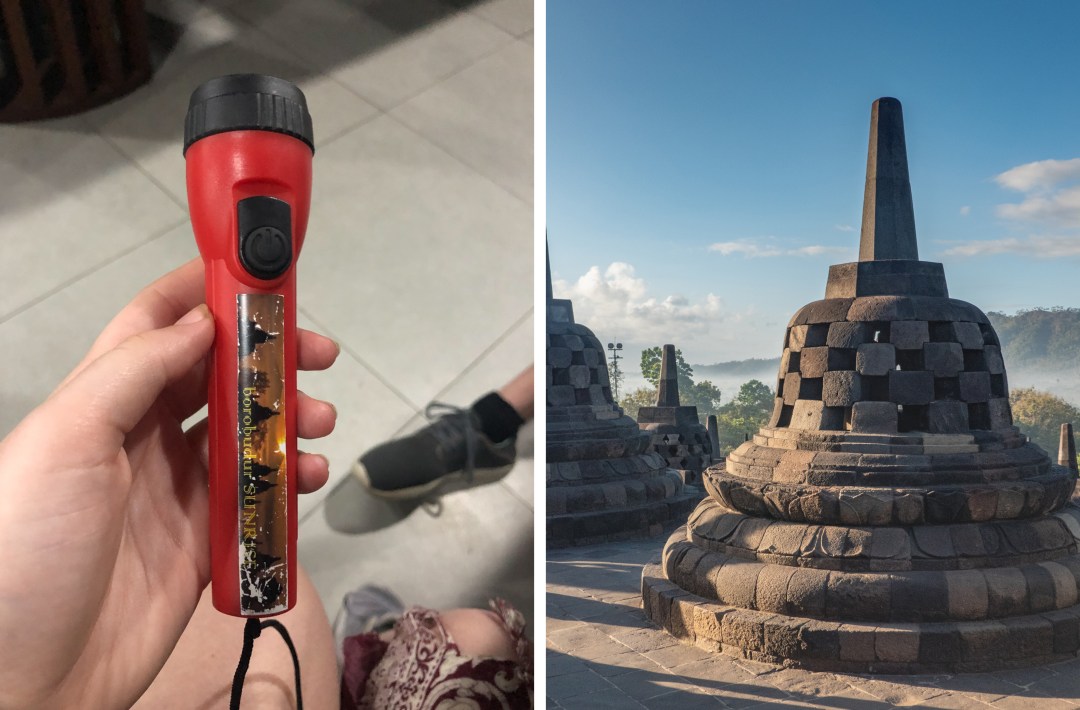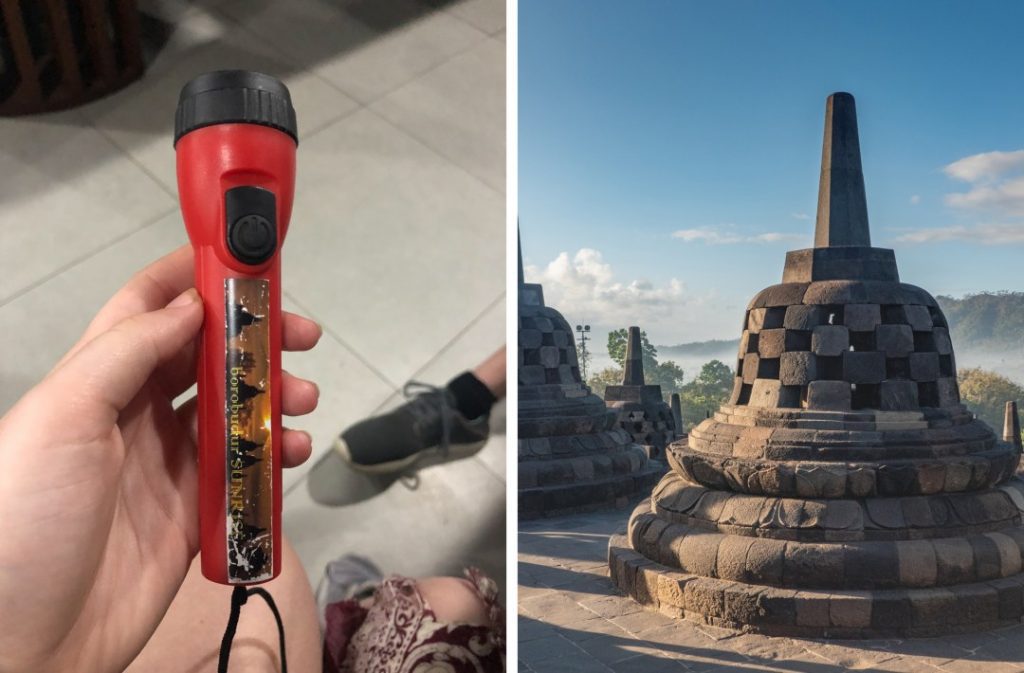 WHAT TO WEAR
As I mentioned before, temperatures can drop significantly during the night in the Yogyakarta area, especially during high season.
You will be cold if you arrive at Borobudur for sunrise. Bring something light to keep you warm as you wait for the sun to rise.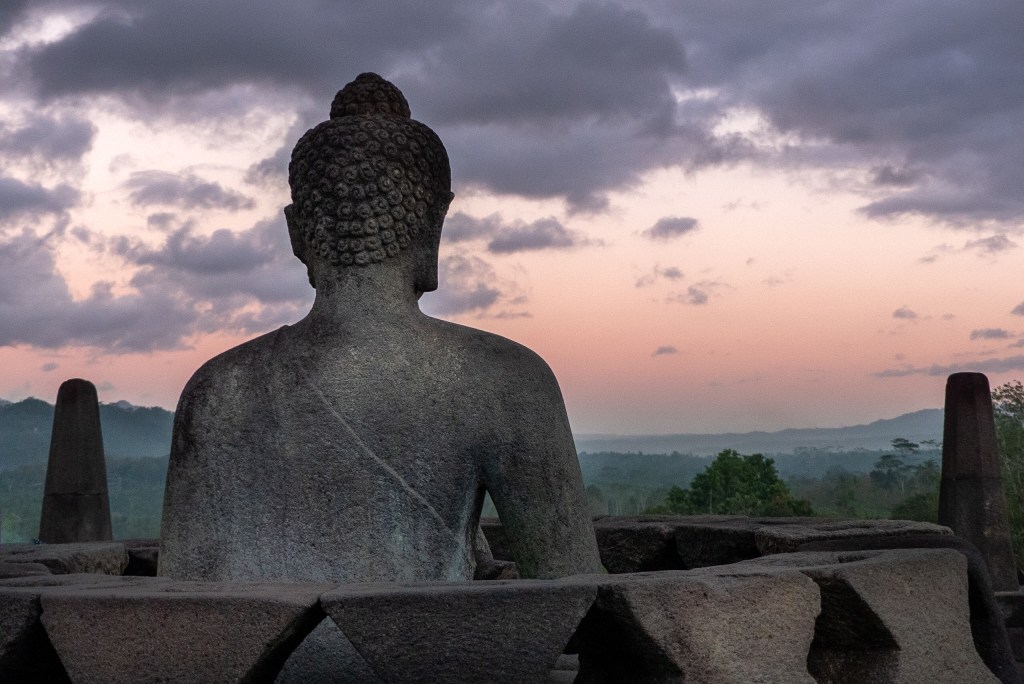 DRESSCODE
Borobudur is a religious monument and you should dress respectfully when you visit.
That being said there is no official dress code when you visit Borobudur for sunrise and we did not see one being enforced. There were definitely visitors in shorts and short dresses although the majority was dressed more modestly.
Most people dressed in clothing that covered their shoulders and knees, which should be your guideline when picking out what to wear. A sarong can be a good option as it will keep you warm and cover you at the same time.
WHAT NOT TO BRING TO SEE THE SUNRISE AT BOROBUDUR
There is a mandatory bag search at the Manohara Resort before you buy your ticket and then again when you enter the temple complex.
You are not allowed to take food with you, although water is, of course, allowed. There are not many opportunities to buy drinks when you are at the temple so make sure you bring plenty.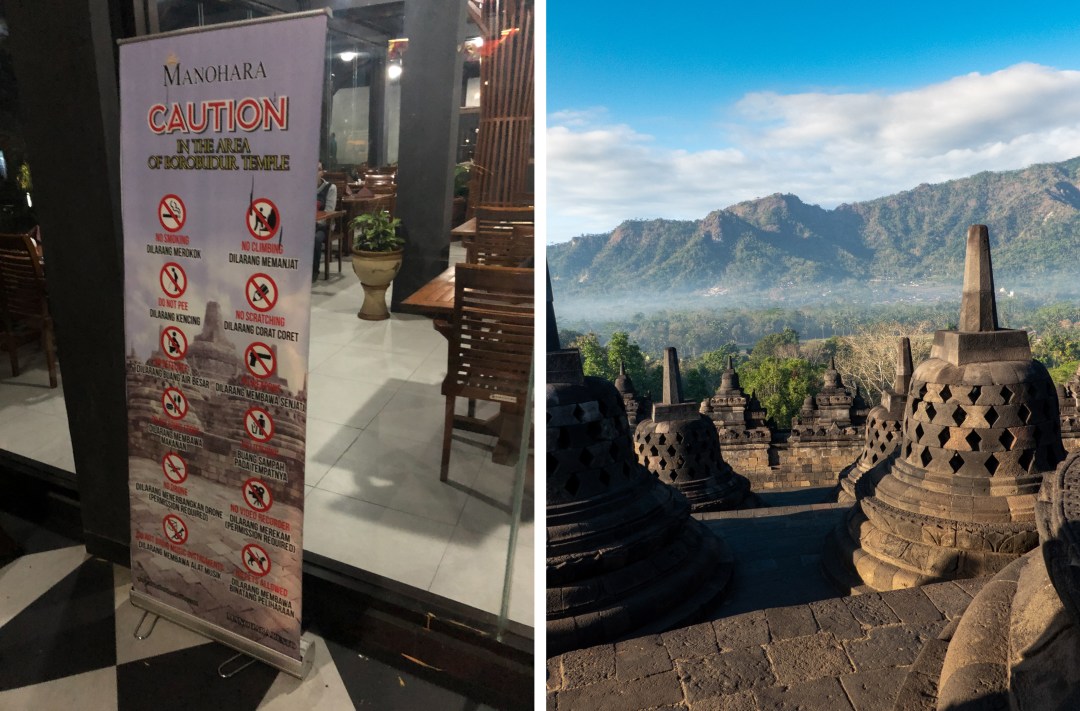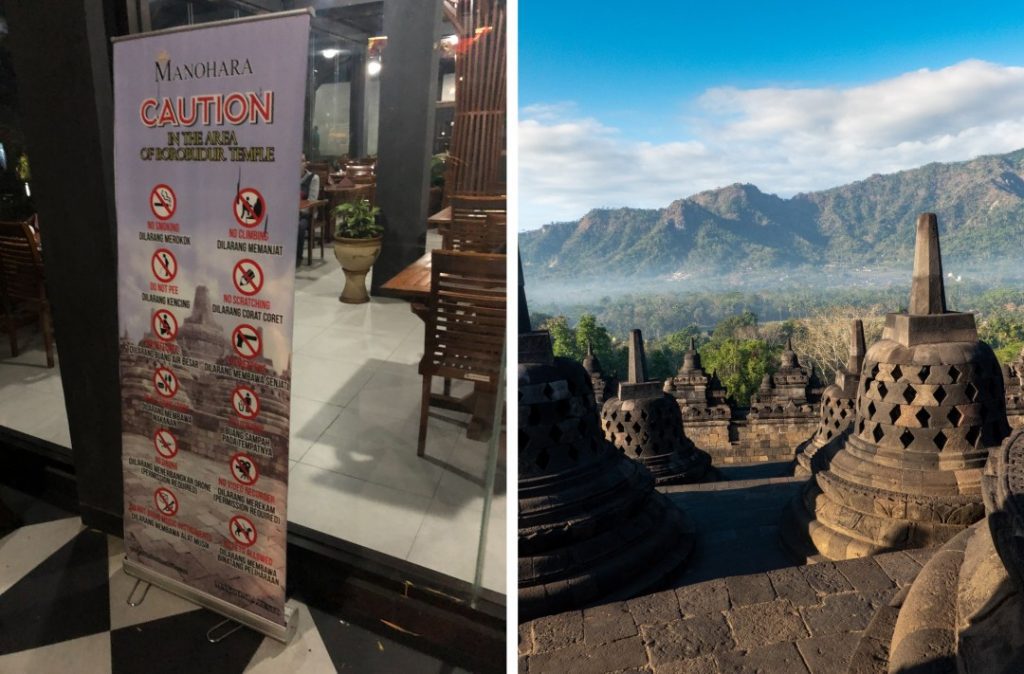 DRONES AT BOROBUDUR
Borobudur and its vicinity is a strict no-drone zone. The Indonesian government has even published statements threatening to shoot down any drones spotted in the area.
You are not allowed to bring drones into the temple complex. They will be confiscated and returned to you upon exiting (if you're willing to take that chance).
If you are looking to capture professional aerial footage of the temple you can purchase a drone license for Borobudur. Information online varies but the most accurate price I could find was IDR 2,5 million (~ €160.00).
An alternative would be to fly a drone from outside of the temple and take some footage from further away. You have to be careful though not to come too close.
There is an empty soccer field close to Borobudur that is suitable for this purpose (see map below).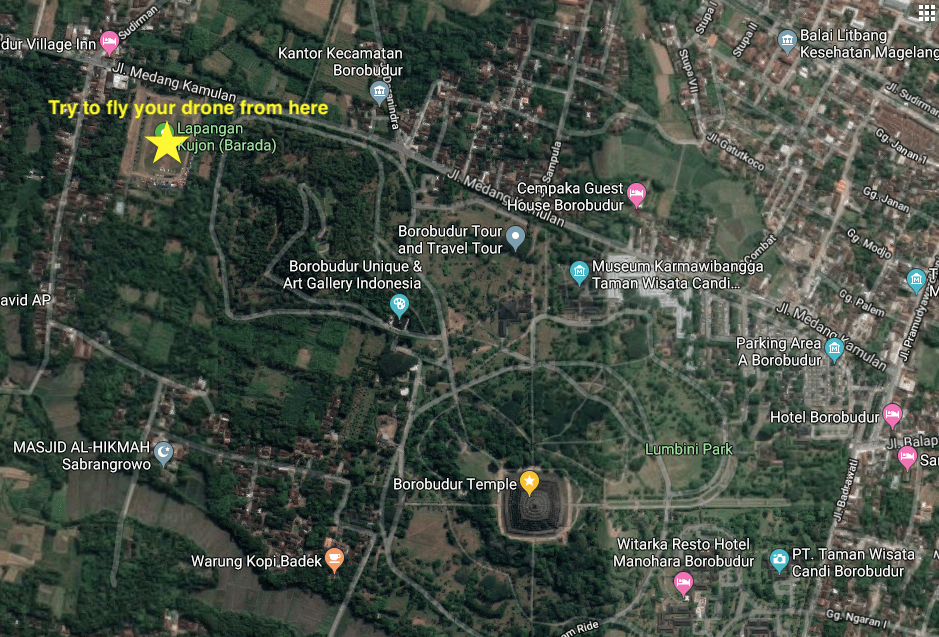 SUNRISE AT BOROBUDUR: FAQ
WHEN SHOULD YOU LEAVE TO SEE THE SUNRISE?
We left Yogyakarta at 3:15 AM to drive to Borobudur. At this time of the morning, the drive takes around 45 minutes, an hour at the most.
Ticket sales at the Manohara Resort start at 4:00 AM. You can enter the temple at 4:30 AM.
Since the number of tickets is not capped, you will definitely get one no matter when you arrive. However, if you do not enter the temple complex at 4:30 AM when the gates open you will most likely not get a good spot to see the sunrise or be able to sit at all.
Since it is still completely dark at 4:30 AM there will be quite some time until the sun begins to rise. Having a good spot to sit while you wait will make your experience a lot better.
It's best to arrive at theManohara Resort at 4:15 AM at the latest to avoid having to wait in line to buy your ticket. Especially during high season, there will be hundreds of tourists wanting to watch the sunrise so it's good to be a bit early.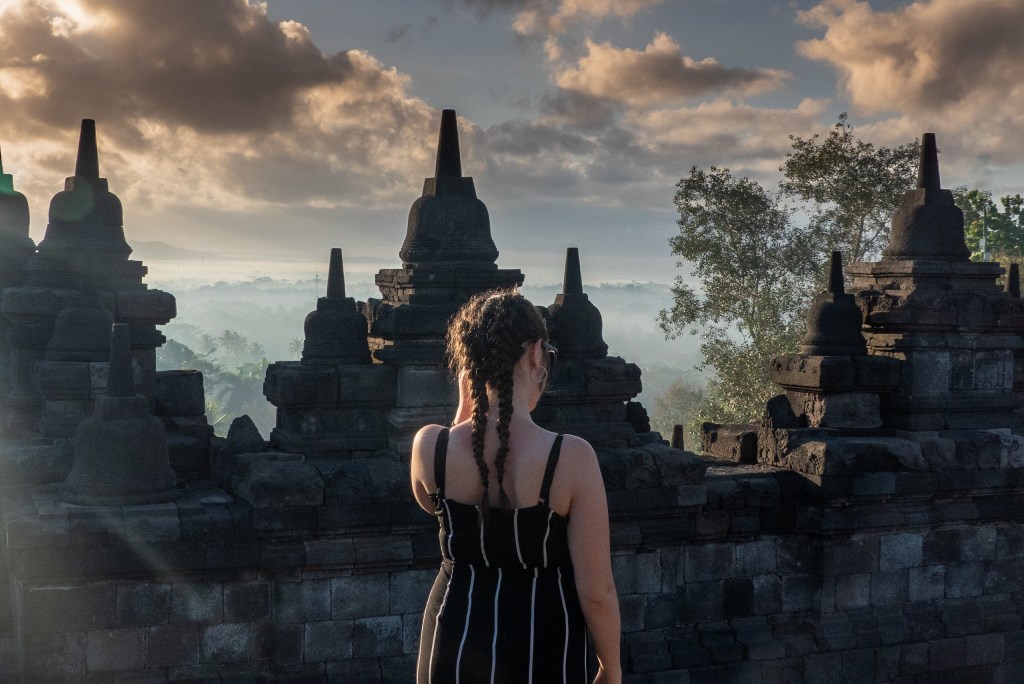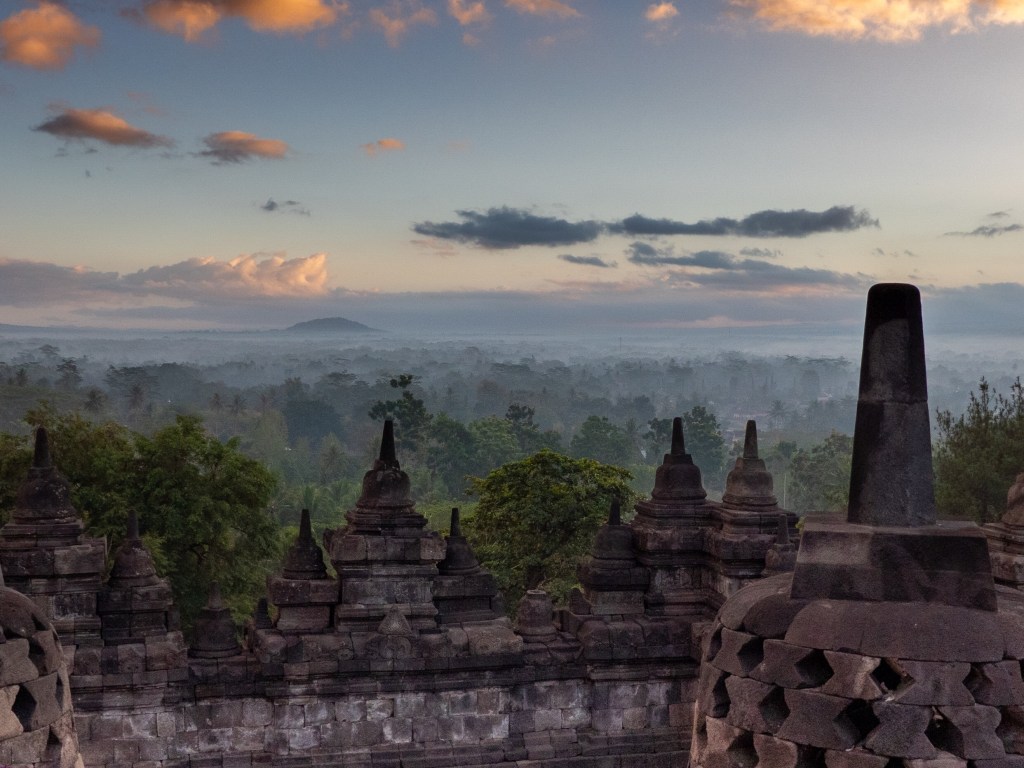 HOW DO YOU GET TO BOROBUDUR?
At 4:00 AM in the morning there is no public transport going to Borobudur which means you will either have to attempt the drive yourself on a scooter or hire a driver.
Since driving at night can be especially dangerous, I would not advise you to go by scooter unless you are very experienced.
Drivers are usually hired for a whole day (12 hours), although some do half-day deals. In those 12 hours, you can decide your own route and itinerary, which gives you a lot of freedom and makes it a great way to get around.
You can find contact numbers for drivers online on websites such as TripAdvisor or by simply Google. Another great option is to ask at your hotel or hostel and they will help get you in touch with a driver.
Sometimes you can also spot handwritten signs around Yogyakarta with numbers for local drivers. Just be cautious and request references such as a website or ID if you aren't booking through a travel agency.
HOW MUCH DOES A DRIVER TO BOROBUDUR COST?
We paid IDR 375,000 (~ €24.00) for 12 hours for a driver including petrol. This is a fair price although you can probably bargain more. Do not pay more than IDR 400,000 (~ €26.80).
Make sure to insist on having petrol included in the price. This will help you avoid misunderstandings and scams.
Some drivers also include parking in the price, although ours did not. Parking in Indonesia is almost always a single payment of roughly IDR 5,000 to IDR 20,000 (~ €0.30 to €1.30). It is not charged by the hour and we have never paid more than that. Borobudur charged IDR 10,000 (~ €0.70).
Alternatively, you can take a Grab to Borobudur and back if you want to go straight back to your hotel after visiting the temple. This will cost around IDR 150,000 to IDR 200,000 (~ €9.00 to €13.00) one way.
I don't recommend this for sunrise though. It can be difficult to find a Grab at this time of the night and it will end up costing you more than a driver for an entire day.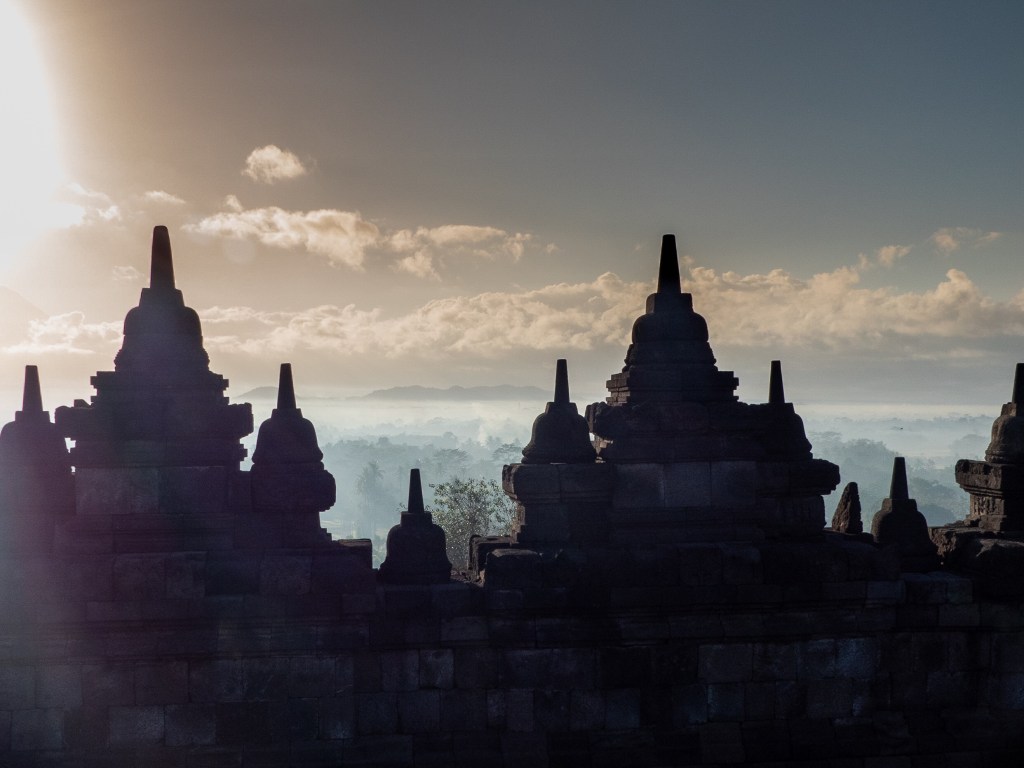 HOW LONG IS THE WALK FROM THE MANOHARA RESORT TO BOROBUDUR?
The walk is very short. It took us about 5-10 minutes.
ARE THE STEPS EASY TO CLIMB?
The staircase leading up to the top of the temple is quite steep but nothing compared to those of Angkor Wat or Teotihuacan.
Since Borobudur is not very high the climb takes just under 10 minutes and is fairly easy to manage.
In the midday sun, it can get more challenging but in the early hours of the morning, it's not a problem. The climb can easily be done in sandals or flip-flops.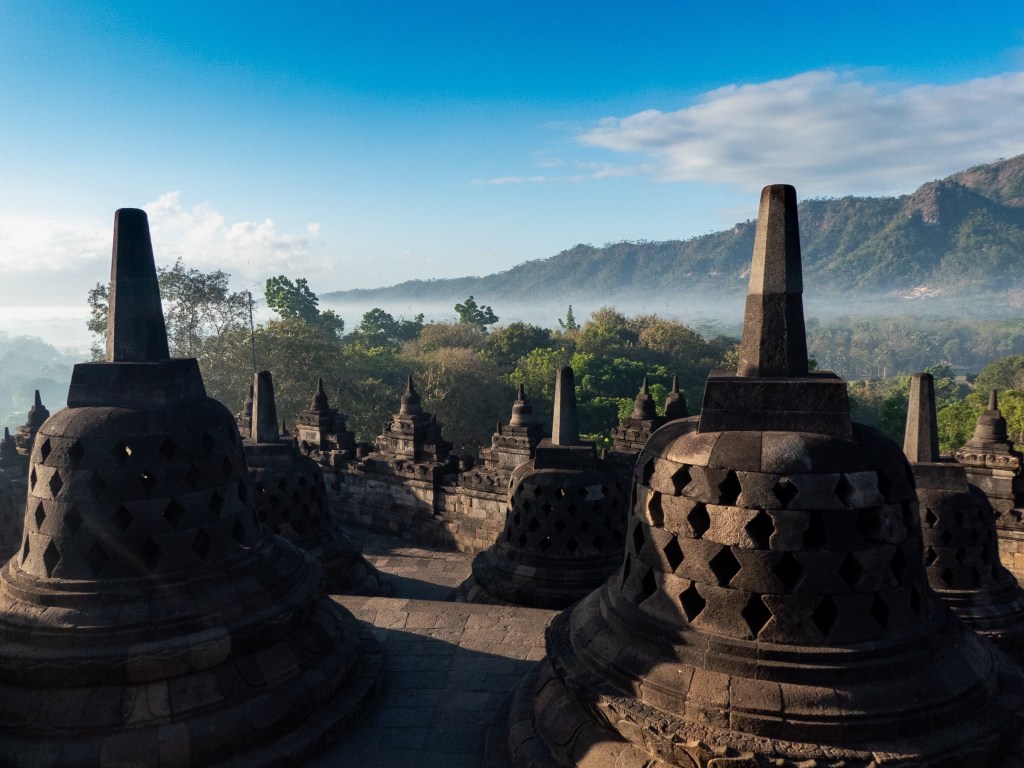 HOW LONG DOES IT TAKE TO WATCH THE SUNRISE AT BOROBUDUR?
During high season the sun doesn't rise until just after 5:30 AM in the morning. If you arrive at the temple at 4:30 AM you will be waiting for quite a while.
We actually enjoyed the wait, it was almost more interesting than seeing the temple in daylight. During this time of the morning, mosques will broadcast their morning prayers which gives it an eerie and mystical atmosphere.
We stayed at the temple for around one hour after sunrise and left Borobudur at just after 8:00 AM. This included breakfast at Manohara Resort and exploring the area around the temple.
Definitely plan 3 – 4 hours for the whole experience especially if you're taking pictures.
WHAT ELSE SHOULD YOU DO AFTER VISITING BOROBUDUR?
If you're coming to Borobudur early for the sunrise you will still have the entire day ahead of you. Make use of your time by visiting some other spots nearby especially if you have a driver booked for the day.
This church shaped like a chicken is located very close to Borobudur. The drive is just over 10 minutes. Bukit Rhema is a cool spot to take photos and enjoy the amazing view. You can even see Borobudur from the top. It's also a prayer house for all religions which promotes inclusivity and world peace.
Find our complete guide to Bukit Rhema here.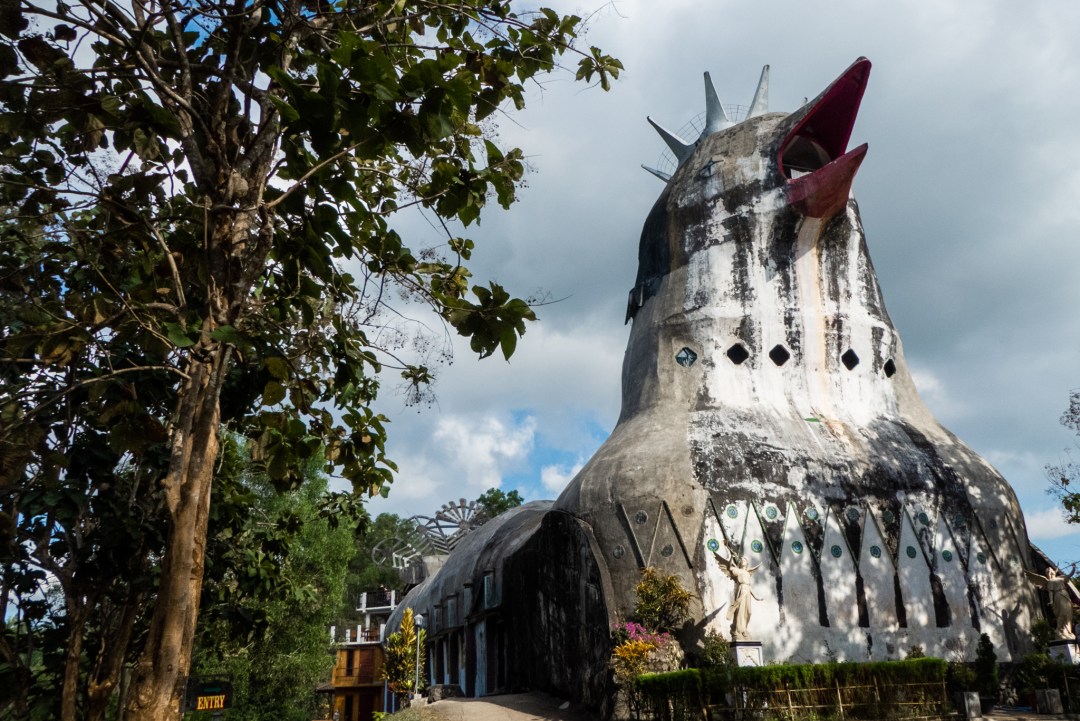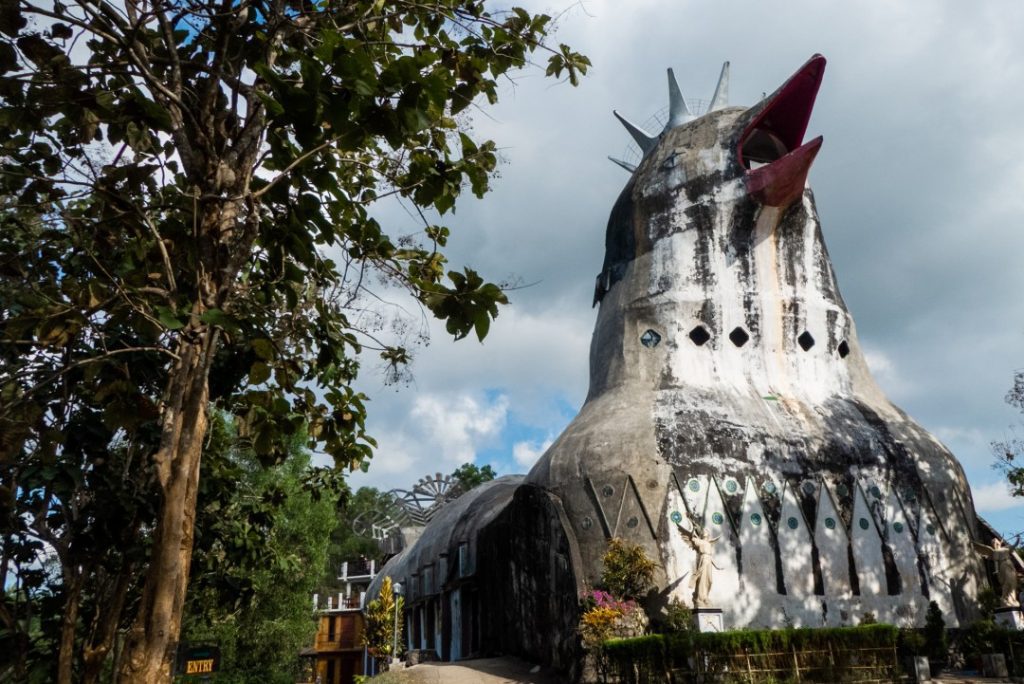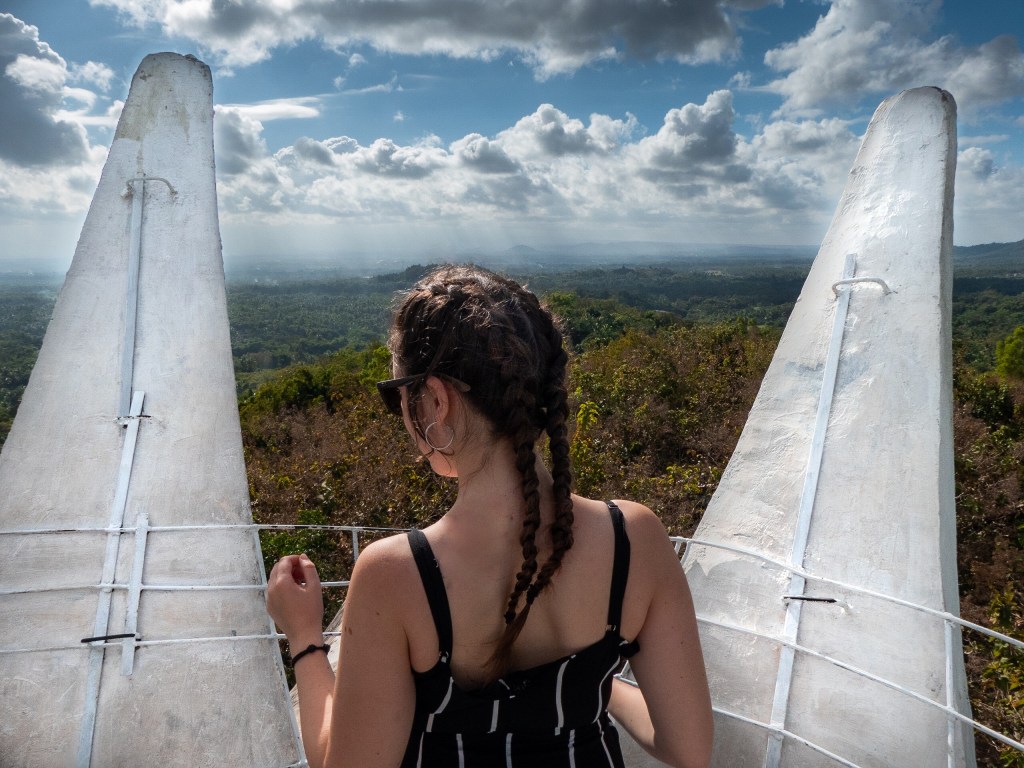 This still-active volcano is the backdrop of the sunrise at Borobudur.
It takes around 45 minutes to drive to its base from where you can explore it via off-road jeep. These so-called "lava-tours" take 1 to 3 hours and cost IDR 300,000 to IDR 500,000 (~ €19.00 to €32.00). They let you explore the area surrounding the volcano and see the damage done by the devastating 2010 eruption.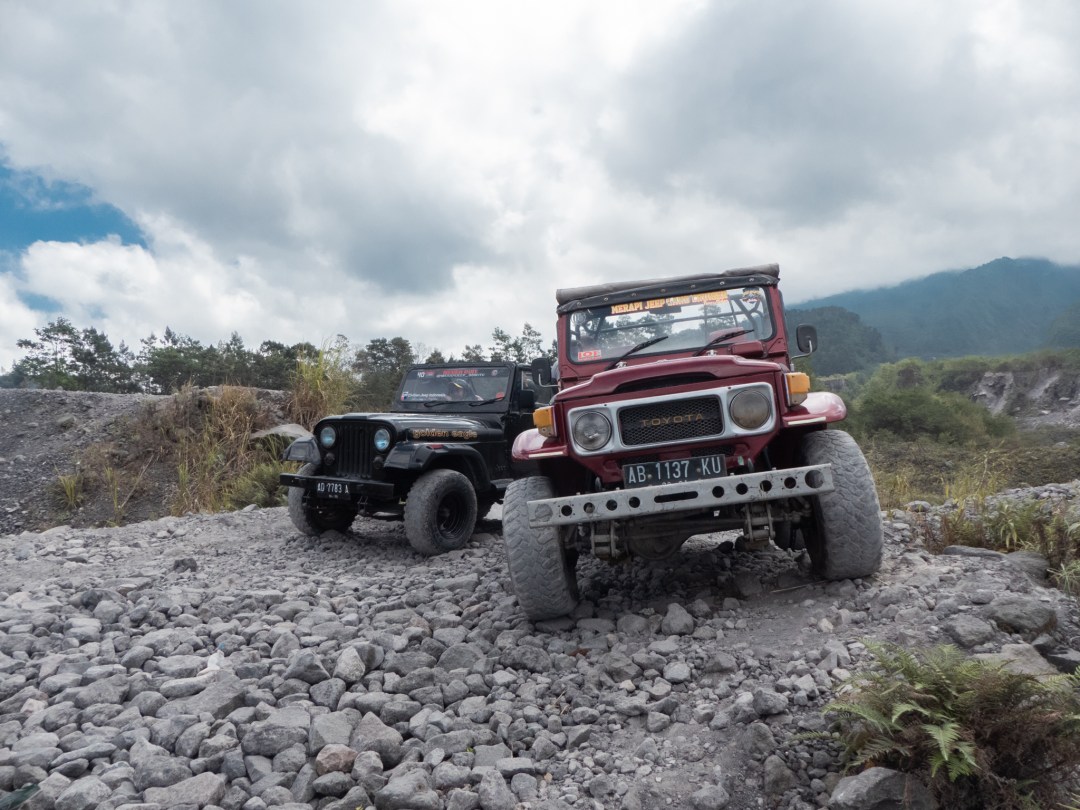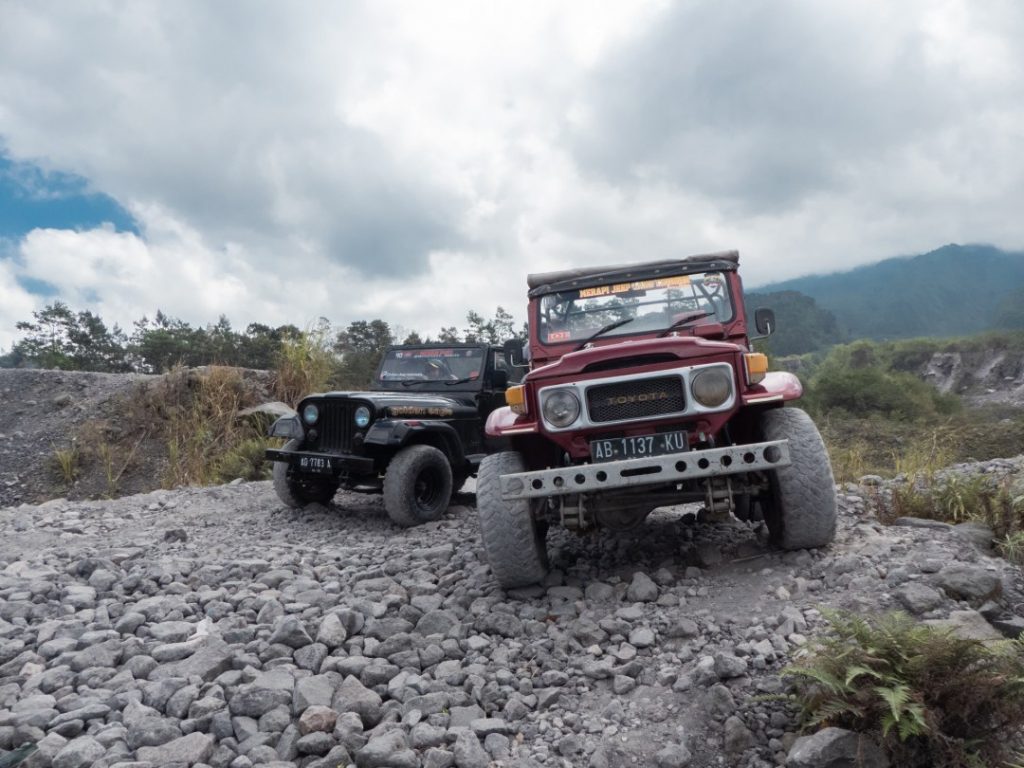 Just a 10-minute drive from the Mt Merapi Jeep Tour companies you will find Ullen Sentalu Museum. This museum portraits the art and culture of Java and is very popular amongst visitors.
It can only be explored via guided tour which runs every hour. Find out details here.
This 9th century Hindu temple is almost as famous as Borobudur. It is quite far away, although many tourists like to combine the two in one day.
The drive between the two temples takes just over 1,5 hours and although it's definitely possible to see both in one day it will be exhausting.
If you have the time maybe do Prambanan on a separate day.
BOROBUDUR SUNRISE: MOST IMPORTANT THINGS TO KNOW
Leave Yogyakarta between 3:00 and 3:30 AM to get to Borobudur in time.
Buy your sunrise tickets from the Manohara Resort when you arrive. There is no need to pre-book a tour, these tend to be more expensive. Tickets will not sell out.
Ticket sales start at 4:00 AM and you can enter the temple at 4:30 AM. Do not be late or you will not get a good spot.
Do not try to take your drone into the temple or it will be confiscated. Borobudur is a strict no-drone zone.
There are multiple mandatory bag searches and metal detectors. Check out the picture earlier in this article for details on what you can and cannot bring into Borobudur.
Try to be amongst the first people to enter the temple area. Once you climb the steps immediately head to your left to find a spot facing east.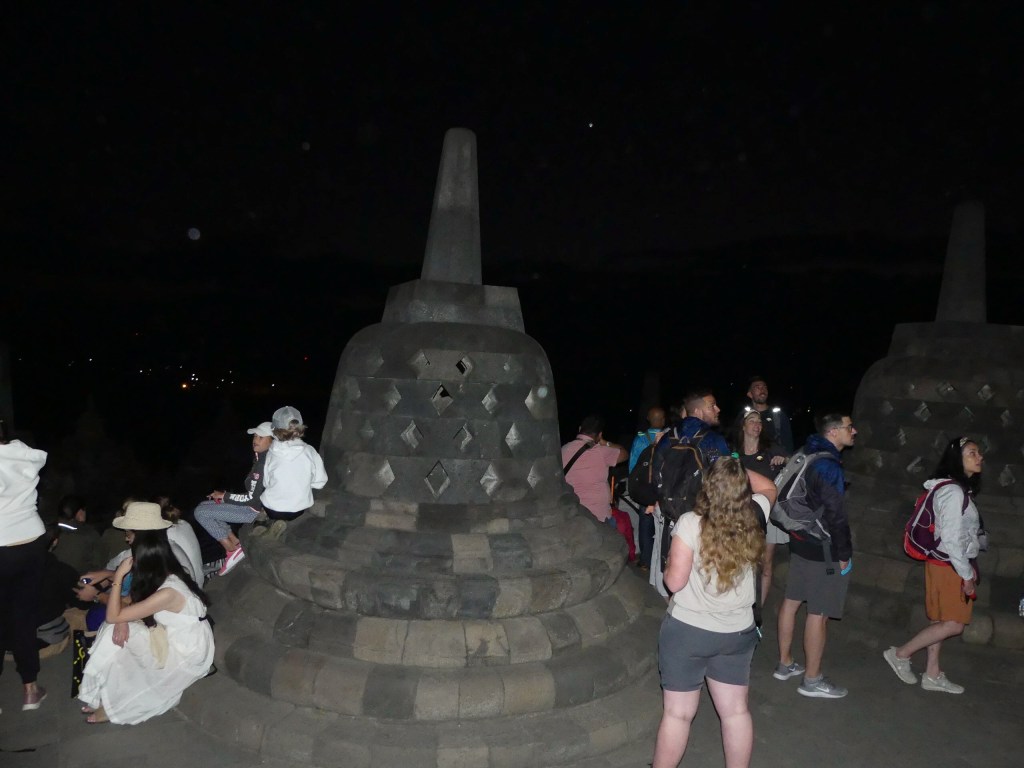 Sit on either the top or second tier of the temple to get the best view.
Try to get a spot where you can sit down comfortably. The wait for sunrise can be a while.
Bring a light jacket, sarong and something to sit on as the mornings can be cold.
Do not climb the stupas or sit on them.
Show respect by dressing modestly.
Make use of the free breakfast provided by Manohara Resort and pick up your souvenir there. Don't forget to return your flashlight!
After visiting Borobudur add Mt Merapi, Bukit Rhema, Ullen Sentalu Museum or Prambanan to your itinerary for the day to complete your trip.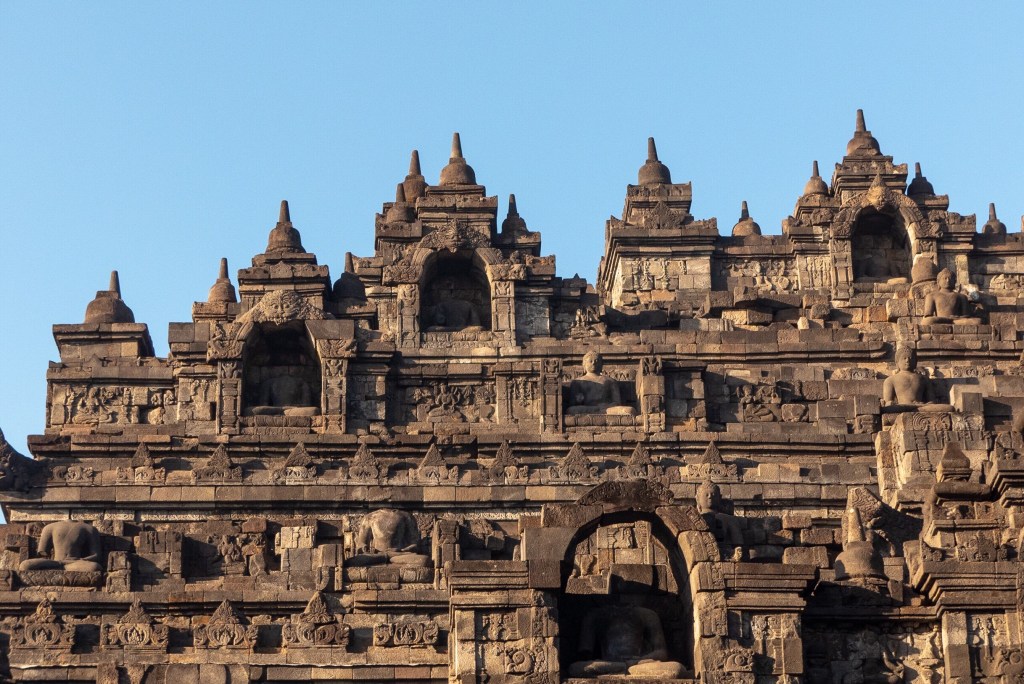 My most important travel tips and resources
Book your flights
Skyscanner is the best website for finding cheap flights since it works like a search engine so you can find the best deals across all airlines.

Book hotels and hostels
• Booking.com: Best world-wide
• Agoda: Best in South East Asia
• Hostelworld: Best for hostels

Book tours, transport and rental cars
•Viator: The best place to book tours, day trips and excursions for al budgets
•12Go: Great for ferries, trains, transfers and buses in South East Asia
•Discover Cars: Best deals for rental cars around the word

Get travel insurance
Every traveller needs travel insurance and I mean every single one. SafetyWing covers you in case of injury, illness or worse and they've got your back if your bag is stolen, flights are cancelled or in case of a natural disaster.

Pay abroad
Ask any traveller, Wise is the best choice when it comes to sending money abroad. They've always got the best exchange rates, lowest fees and their visa card is great for getting cash out or paying abroad.

Things every traveller needs:
➼ Osprey Farpoint 70 Backpack
Detachable daypack, ultra-light, durable and free repairs for life. There's a reason why so many backpackers have this bag.
➼ Packing Cubes
Packing cubes are a gamer changer, keeping your luggage organised and providing tons of extra space.
➼ Power bank
There is nothing worse than running out of battery on an overnight bus journey or a long flight. With a powerbank you can charge your eletronics on the go and make sure you're always connected.
➼ Micro-fibre towel
These lightweight towels are foldable, fast-drying and so useful when you're travelling.

➼ You can find 15 more things every traveller needs here. Some might be a bit controversial but I warned you!
Did I miss anything?
If you have any questions or feel like something is missing from this post please leave a comment below or contact me.