A GIANT CHICKEN IN THE MIDDLE OF THE JUNGLE
36 kilometres outside of Yogyakarta and less than 4 kilometres from the famous Borobudur Temple sits Bukit Rhema, a church shaped like a giant chicken.
Ever since it was built in the 90s this unusual structure has attracted thousands of tourists. Bukit Rhema is so strange and mysterious that you shouldn't miss it on your next trip to Yogyakarta.
If you're planning to visit Borobudur anyway then why not make a quick stop at the Chicken Church. It's definitely one of the world's most bizarre religious places.
Are you planning a trip to Yogyakarta? Check out our complete 3-day itinerary here.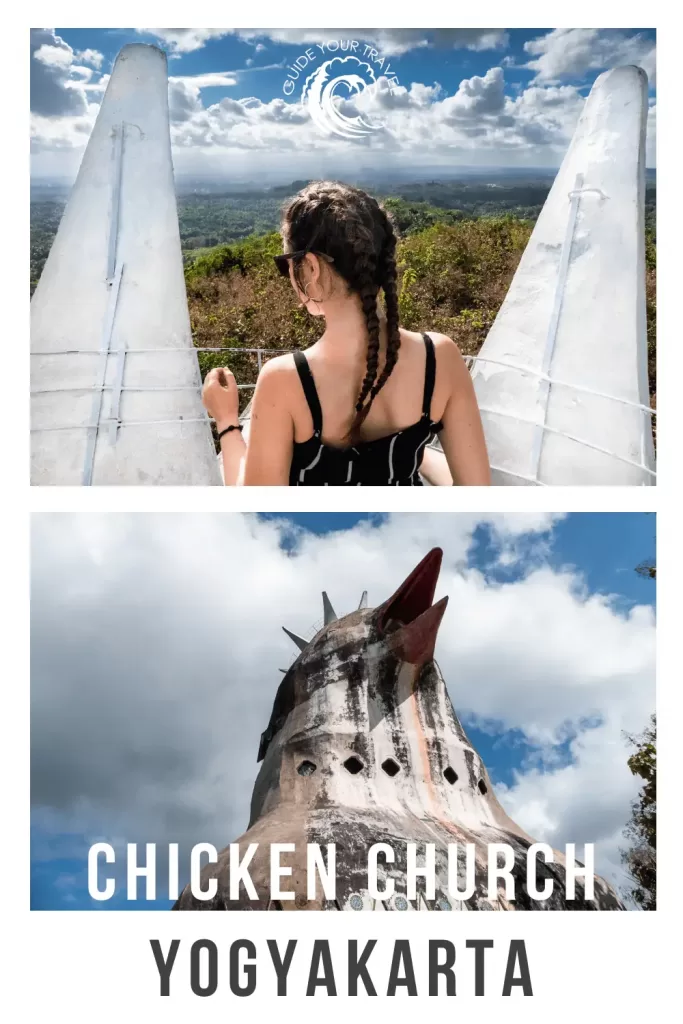 NOT A CHURCH AND NOT A CHICKEN
Many of the staff at Bukit Rhema aren't very fond of the term "chicken church". In fact, you'll find the building is supposed to be neither a church nor a chicken. It's meant to be shaped like a dove to represent peace between all faiths and religions.
Originally it apparently looked more like a dove until the "crown" was added to the head of the bird which made it appear more rooster-like. The crown is actually meant to represent holiness.
It is also not technically a church. The building is a "House of Prayer" for all religions, not just Christianity. Inside there are prayer rooms and religious imagery of many faiths. They do seem to focus mostly on Islam and Christianity in my opinion though.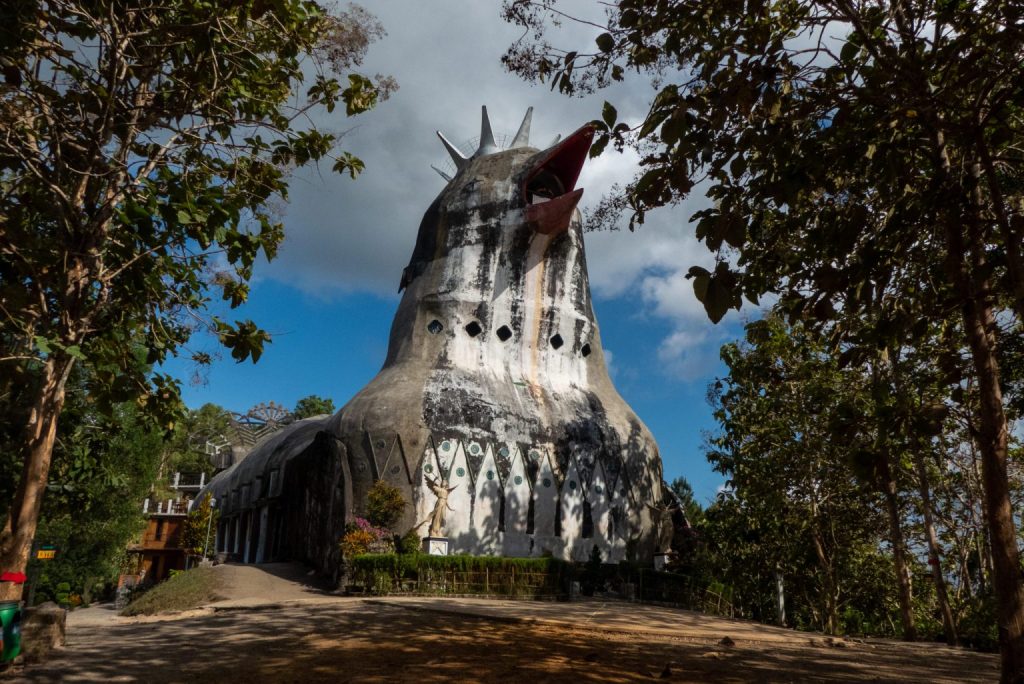 WHO BUILT THE CHICKEN CHURCH IN YOGYAKARTA AND WHY?
An interfaith religious site shaped like a bird is a strange thing to find in the middle of the Indonesian jungle. As you might expect the building actually has a very interesting story behind it.
Bukit Rhema was constructed in the early 90s (sometime around 1990 and 1992) by a man named Daniel Alamsjah. At the time he worked in Jakarta as a manager at a German chemical company. One night he had a vision of a white dove sitting on top of a mountain overlooking a jungle.
A voice started telling him to construct a church shaped like a dove in this exact spot. But it wasn't supposed to be a church just for his own Christian faith. This church should unify all religions.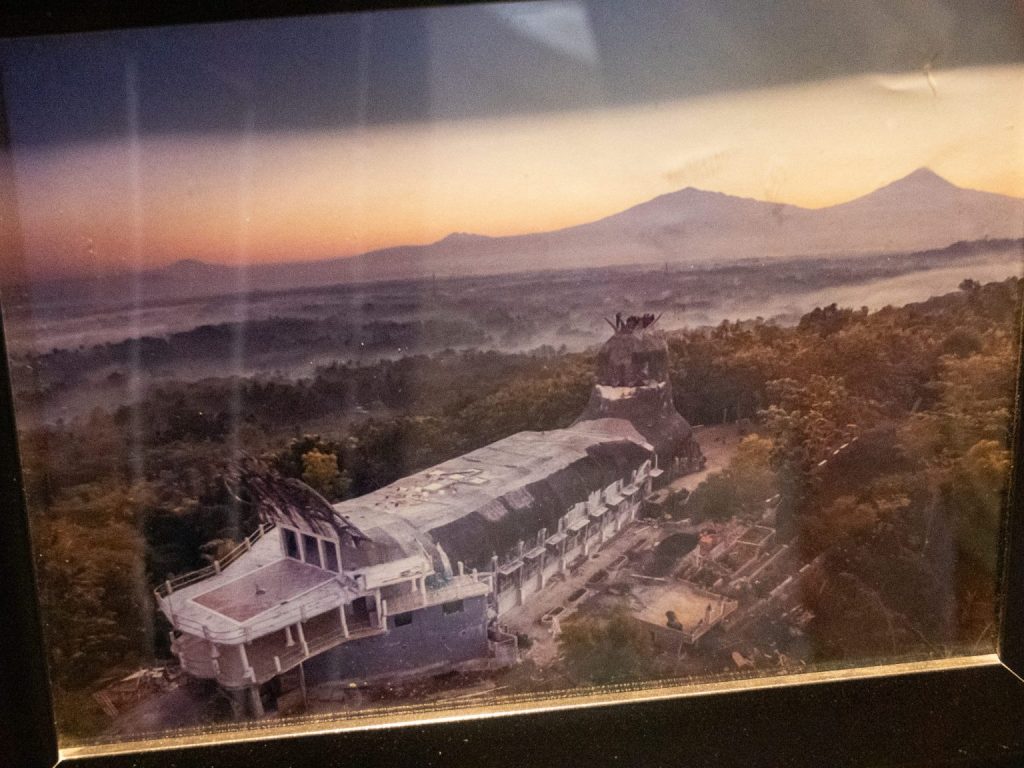 At the time he did not think too much of this vision until one day one of his employees did not show up to work. He decided to check on him and travelled to his home town Magelang which is not far from Borobudur.
After his employee promised to return to work soon he invited Daniel to watch the sunrise on Bukit Rhema, the hill where the church sits today. He immediately recognised the landscape from his vision and knew that this was where he needed to build his house of prayer.
He bought the land (1 acre) from the local owners for what would be around 2000 USD today. This was a large amount of money at the time and it took him five years just to pay it off.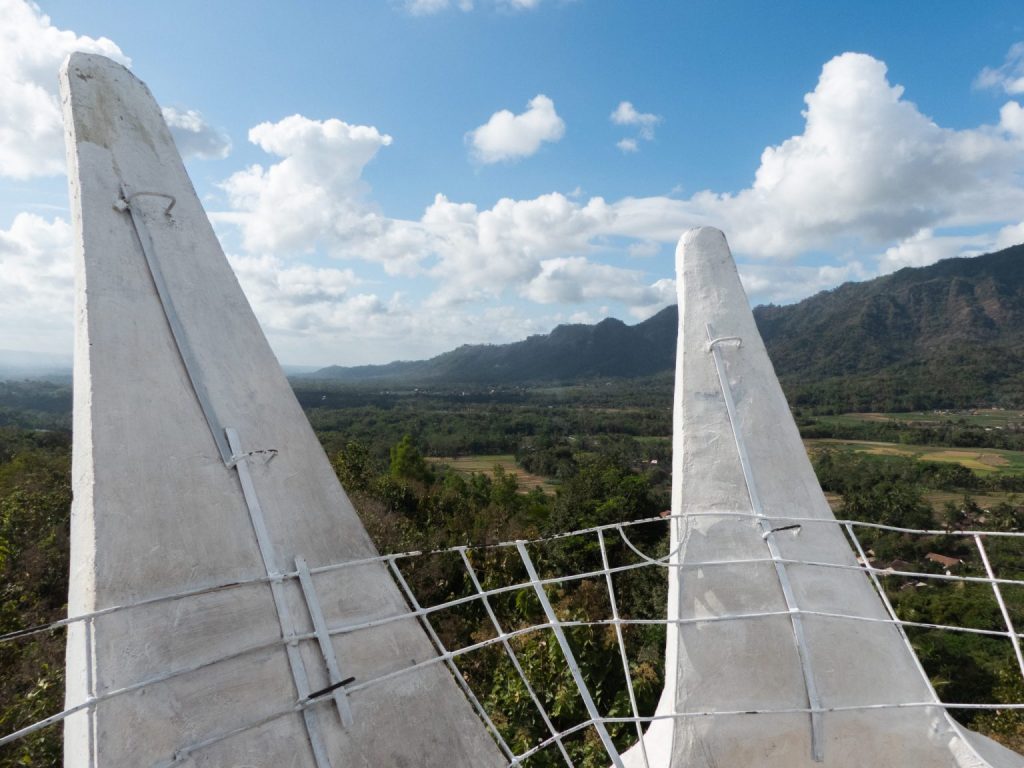 THE CONSTRUCTION
It took almost four years to just obtain the legal documents to start construction. Daniel had no experience in construction but still designed the entire church himself in order to stay true to his vision.
But Daniel still had his job in Jakarta which he depended on financially. He took the train to Yogyakarta to work on his church every weekend for more than five years to oversee the construction. Money was tight so most of the structure was built by either him or locals who he became close with.
The project had to face many problems including disapproval from local communities which are predominantly Muslim. No one really liked the idea of an interfaith institution.
ABANDONING BUKIT RHEMA
In the year 2000, there was simply no money left and the project had to be abandoned. At this point, not all floors were completed and the basement consisted mainly of dirt with no floor or real walls. The church was mostly an empty shell.
Despite the steady number of tourists who visited Bukit Rhema every year the structure was abandoned for almost fifteen years and was close to collapsing. Many parts of the structure were vandalised and nature started to take back the concrete walls.
By this time Daniel had moved to the area and was managing a local rehab centre (Panti Rehabilitasi Mental). He tried to keep the church alive by collecting entrance fees from any visitors who found the remote chicken. But with only around 100 visitors per month, there was no way to continue the construction.
RESTARTING CONSTRUCTION OF THE CHICKEN CHURCH IN YOGYAKARTA
However, mainstream media attention and the internet managed to resuscitate global interest in the project and construction was resumed in 2015. The church was even mentioned in the popular documentary "Into the Inferno" which increased its fame significantly. It suddenly became a popular wedding location and even Indonesian movies used it as filming sets.
Atlas Obscura has done excessive research on the project which is where most of the information for this post has originated.
Now there were more than 2,000 visitors per week and Daniel was still charging his entrance fee (1 USD at the time). As the local communities started to benefit from the increased tourism streams they began to view the project more favourably.
With the funds that Daniel collected, he was finally able to restart the construction at Bukit Rhema.
In 2019 the chicken church is now almost finished and has become a popular tourist hotspot. Daniel is 75 and has dedicated his life to his rehabilitation centre.
Today Daniel says: "You know, everyone said I was crazy. In the 90s, I kept rereading the Bible, trying to find the courage to continue. My children were very angry with me. I had to keep telling them, this isn't my plan. This is God's plan. It's been 30 years, and I'm glad I continued—thousands of visitors come each year to pray or to reflect on their lives, and my children finally respect what I've accomplished." (Source)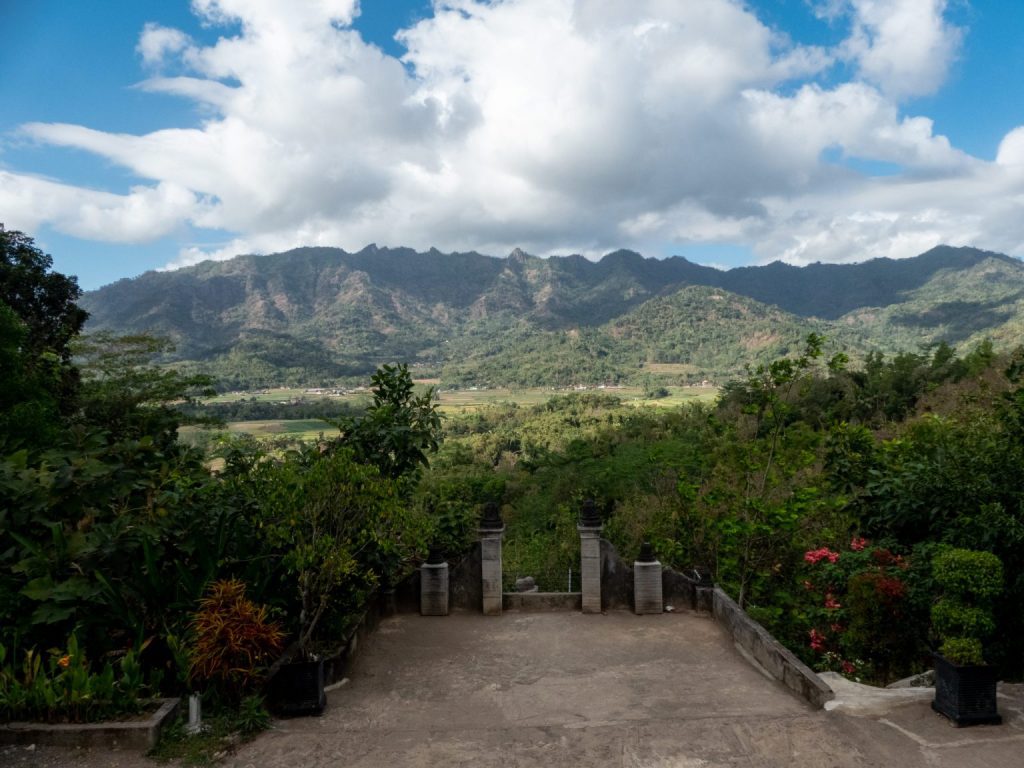 WHEN TO GO TO THE CHICKEN CHURCH IN YOGYAKARTA
The church's opening hours vary but are generally from around 4:00 am to 18:00 pm or roughly sunrise to sunset. You can see the sunrise from the top of the church but you'll have to arrive early. They limit the number of people that can go to the top to around 15. It could be advisable to book a tour to make sure you get a space.
Check out their website for more details.
The church is rarely very crowded, at least not in my experience. As you might expect the busiest times are around noon and the early afternoon.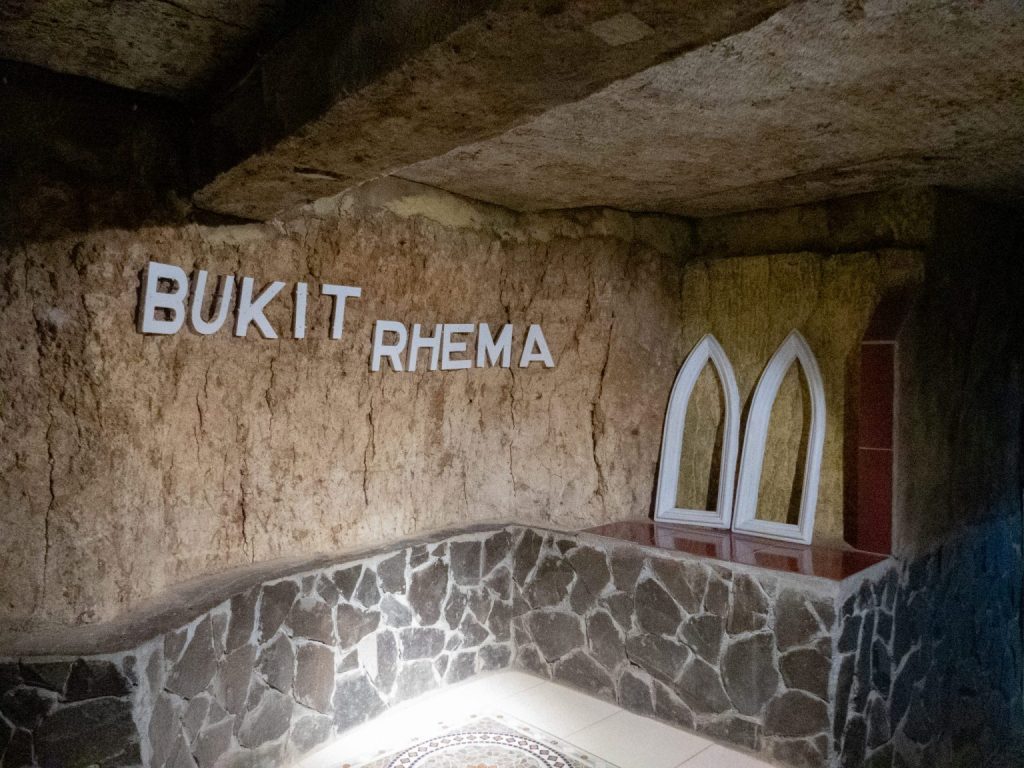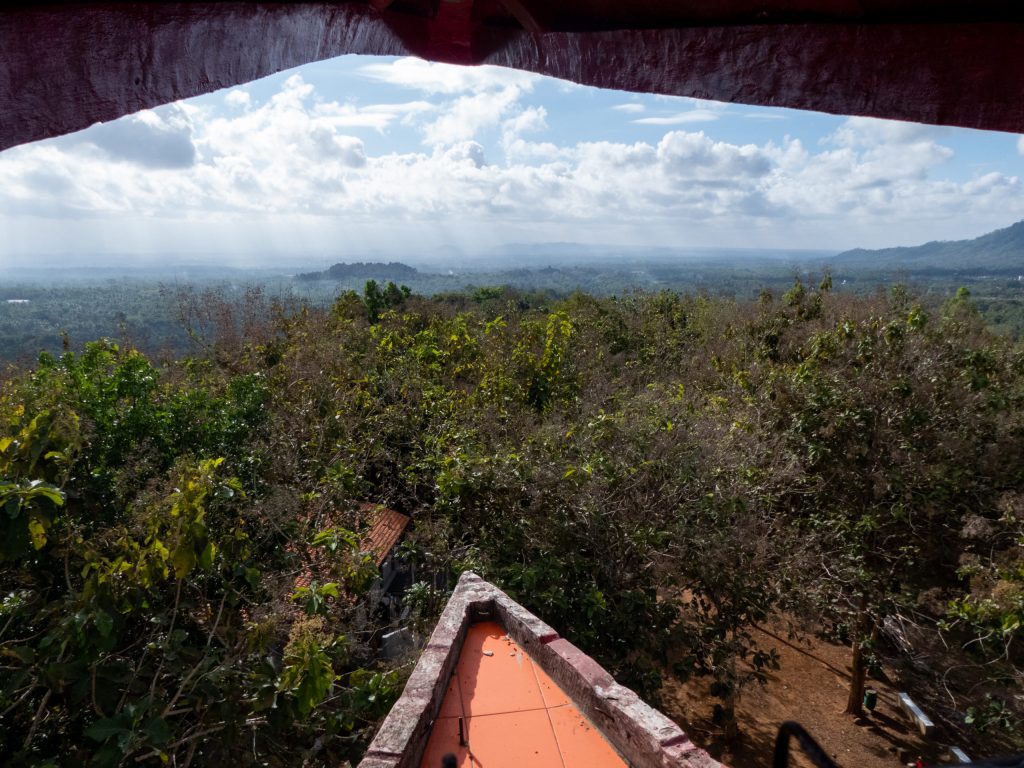 DRESSCODE AND ENTRANCE FEE
Since this is a religious place you will be asked to cover your shoulders and knees.
Entrance tickets cost IDR30,000 (≈ 1,80€) for foreigners. You can purchase them on arrival. This includes a small snack (cassava). Parking costs around IDR3,000 (≈ 0,18€) per vehicle.
FOOD
The church has a small cafe which sells food and drinks. This is where you can redeem your snack voucher. The cafe has an outdoor terrace with a great view. This is the perfect place for a rest after a long day of exploring Yogyakarta.
There are also some small warungs next to the church and down the road which might have slightly cheaper prices.
Trying to save money on your travels? Check out our 21 Tips on how to save Money on your Trip to Indonesia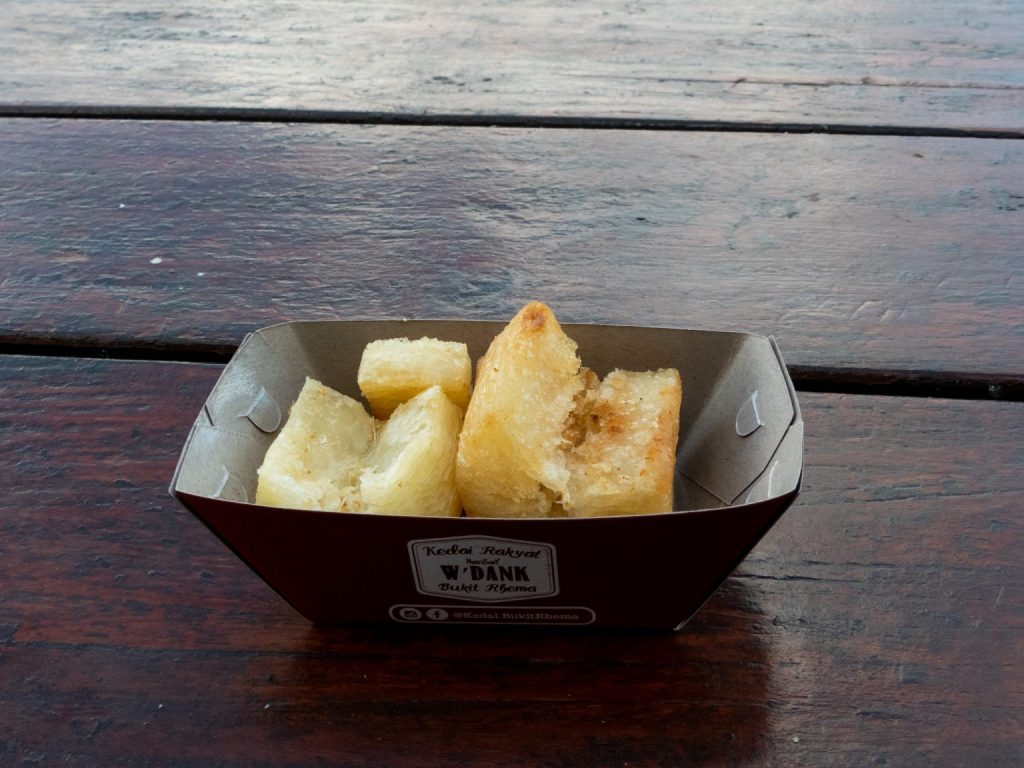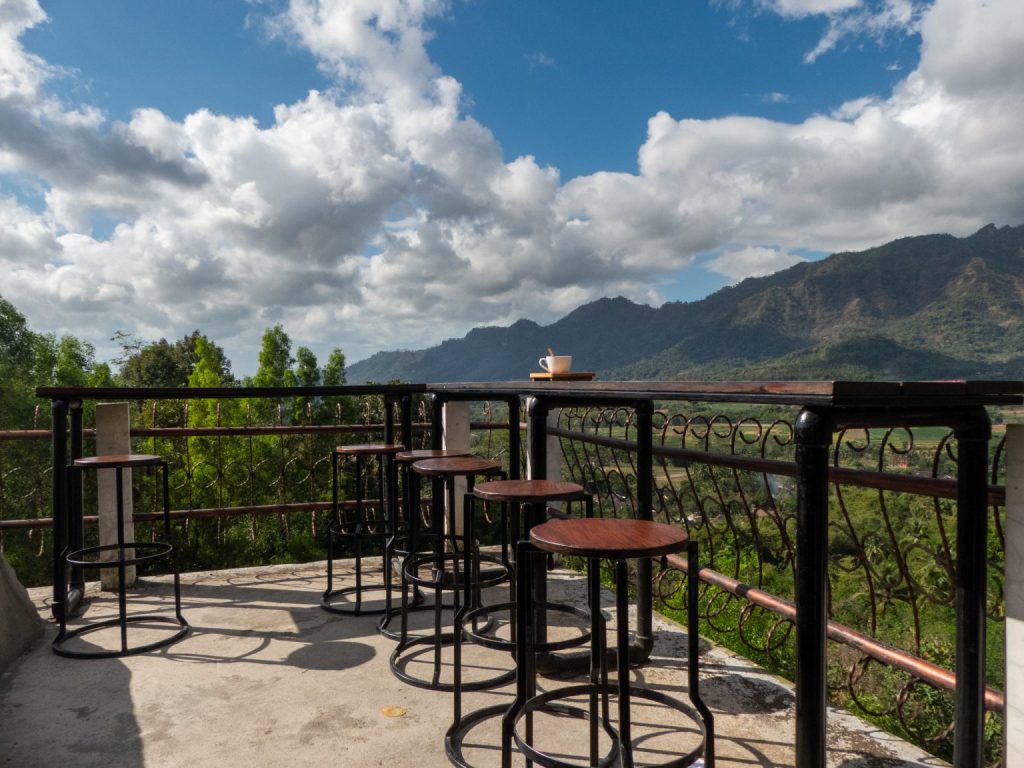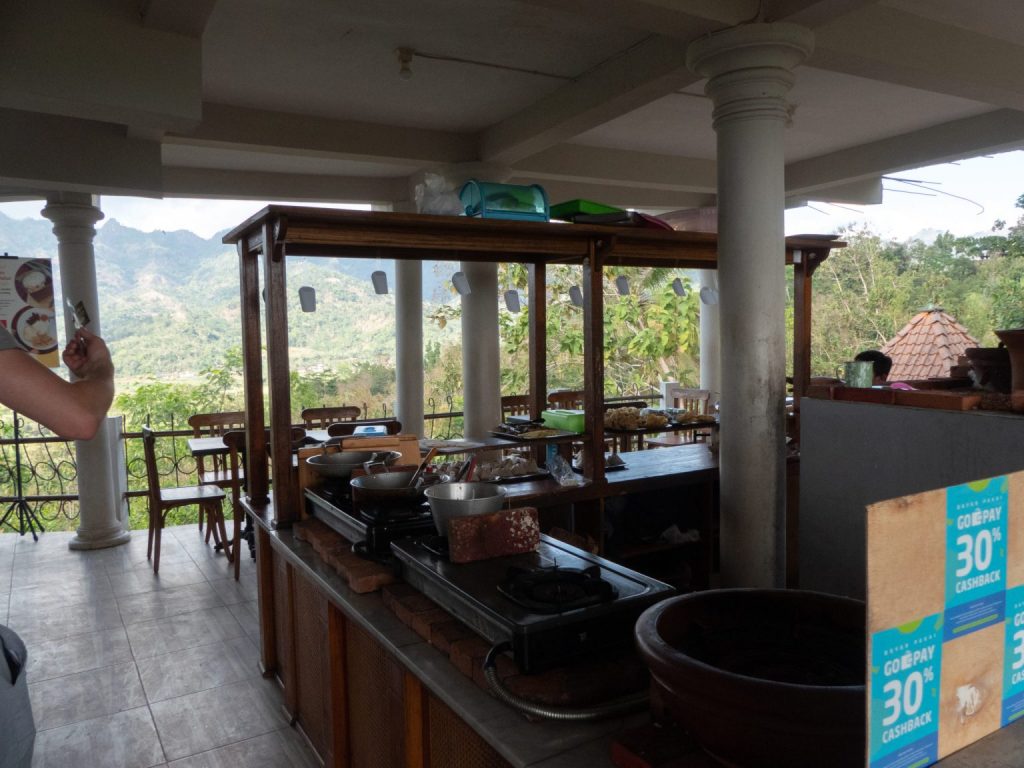 BATHROOMS
There are bathrooms available at the church.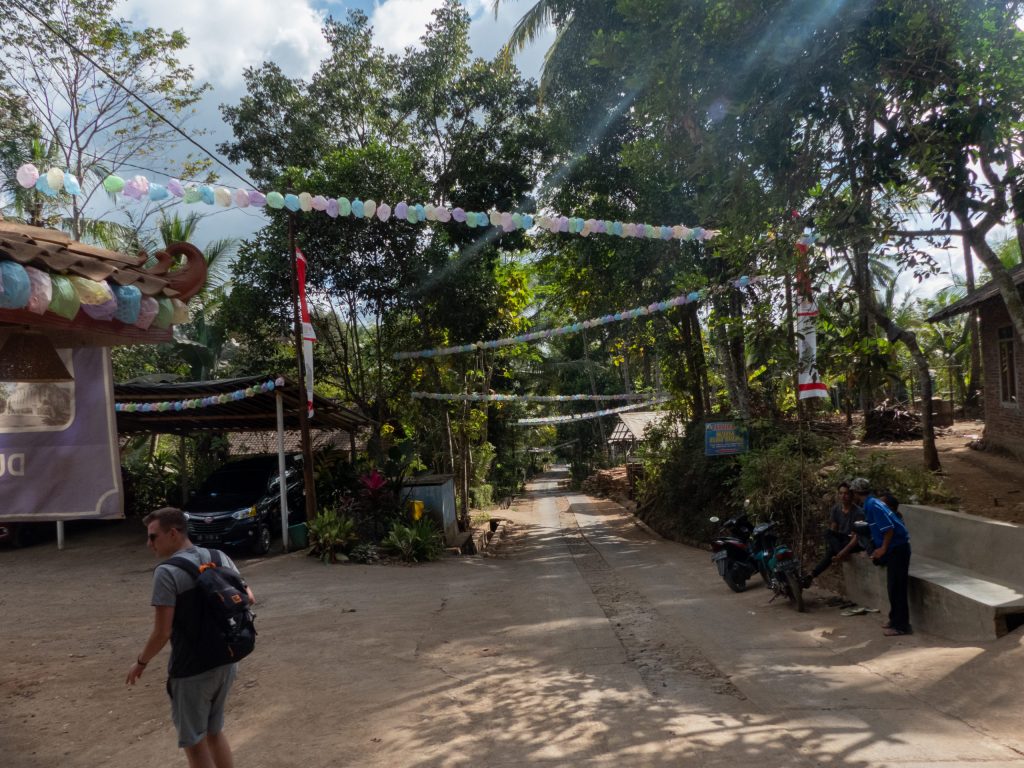 DRONES AND PHOTOGRAPHY
It is permitted to fly a drone at the church, however, it can be tricky due to the surrounding jungle. Make sure to only fly your drone if you're experienced in manoeuvering through dense foliage.
You can take photos throughout the church but you should not forget that you are visiting a religious site. Be respectful of any other visitors.
HOW TO GET TO THE CHICKEN CHURCH IN YOGYAKARTA
The church is easily accessible by main roads. You can drive there by yourself if you have a scooter. You can also hire a driver to take you there.
Many locals know Bukit Rhema as "Gereja Ayam" which translates to chicken church.
Address: Karangrejo Gombong, Kurahan, Kembanglimus, Kec. Borobudur, Magelang, Jawa Tengah 56553, Indonesia
THE WALK FROM THE PARKING LOT
The parking lot is not directly at the church and you'll have to walk for around 10 minutes to reach it. The walk is very steep but short. If you don't feel like sweating on your way up you can pay some of the locals around IDR15,000 (≈ 0,90€) to drive you on a bike or jeep.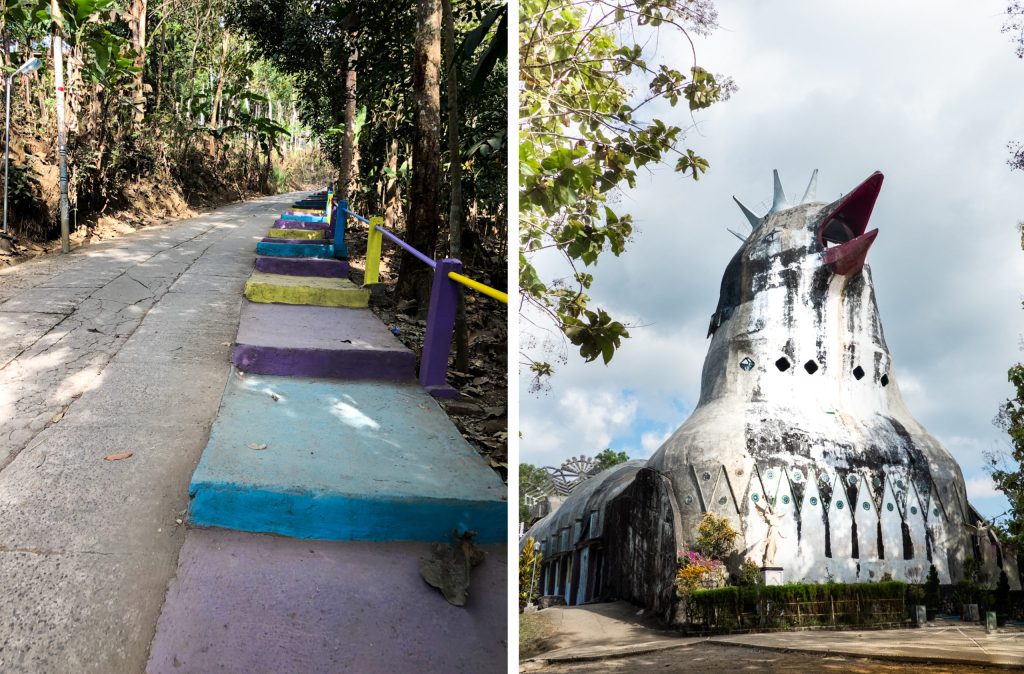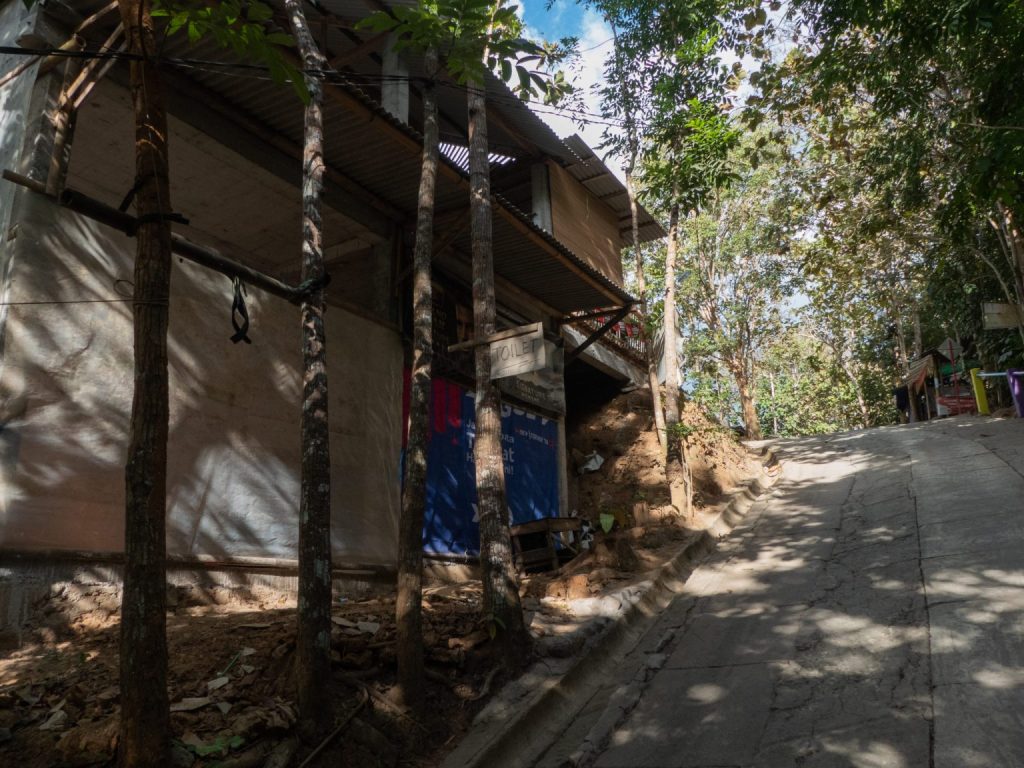 HOW LONG SHOULD YOU SPEND AT THE CHICKEN CHURCH?
You can spend anywhere from 30 minutes to 1 hour at the church depending on how many other people are visiting and if you make a stop at the cafe.
THE LAYOUT OF THE CHURCH
The dove-shaped building has seven stories in total. The bottom one is mostly designated to prayer rooms and different shrines. There is also a "wall of hope" where visitors can leave their prayers and wishes.
Then there is the large hall that roughly resembles an actual church. During our last visit (September 2019) this was still partly under construction or in the process of being restructured.
They have some display boards with pictures of the construction and remodelling of the building.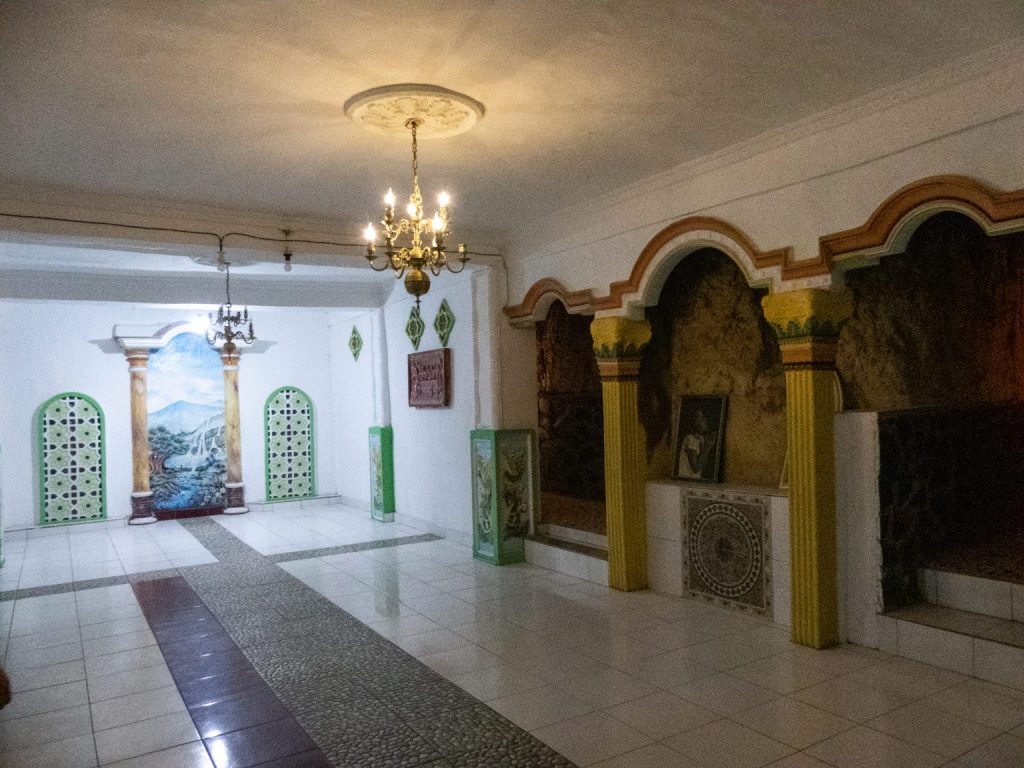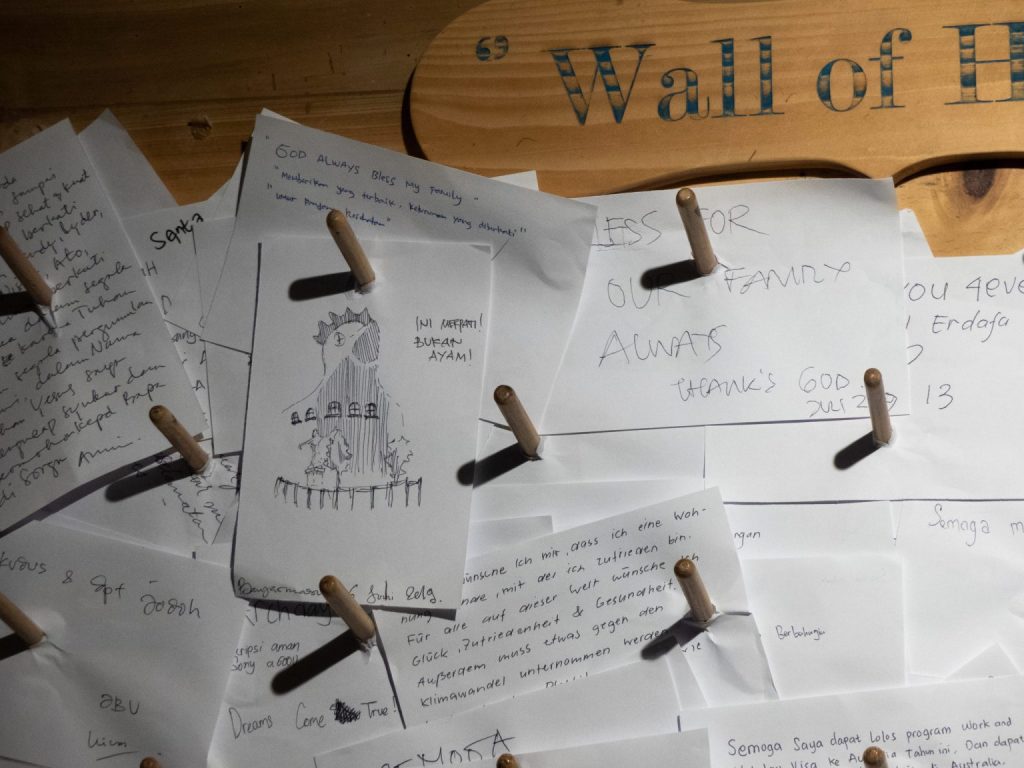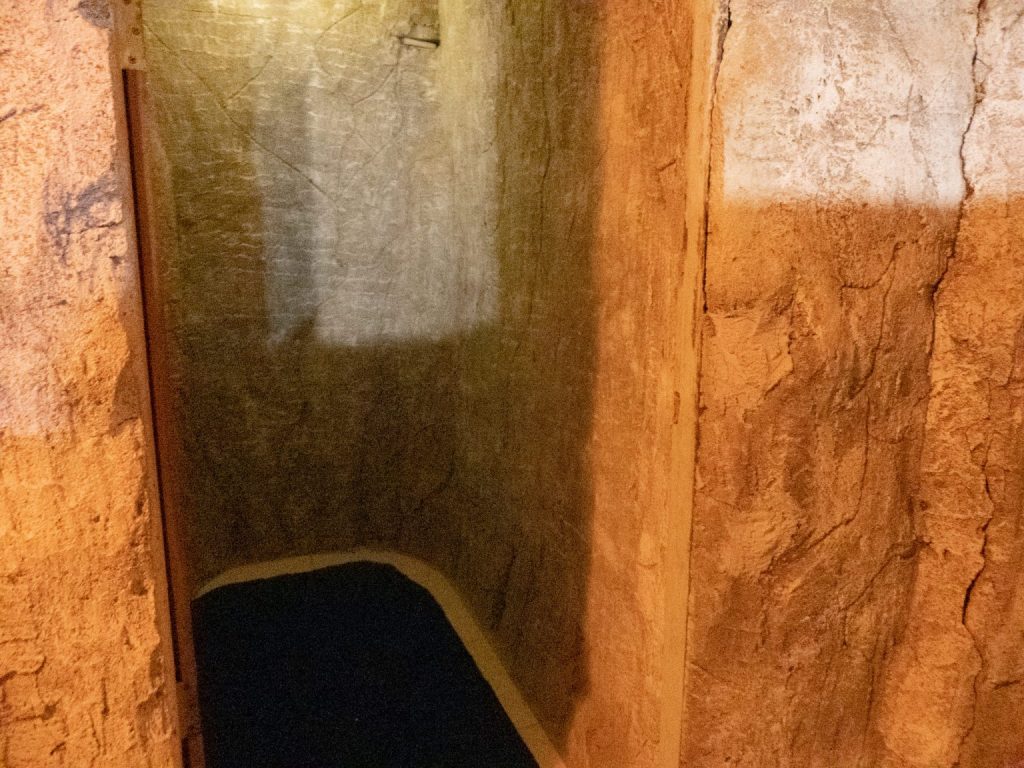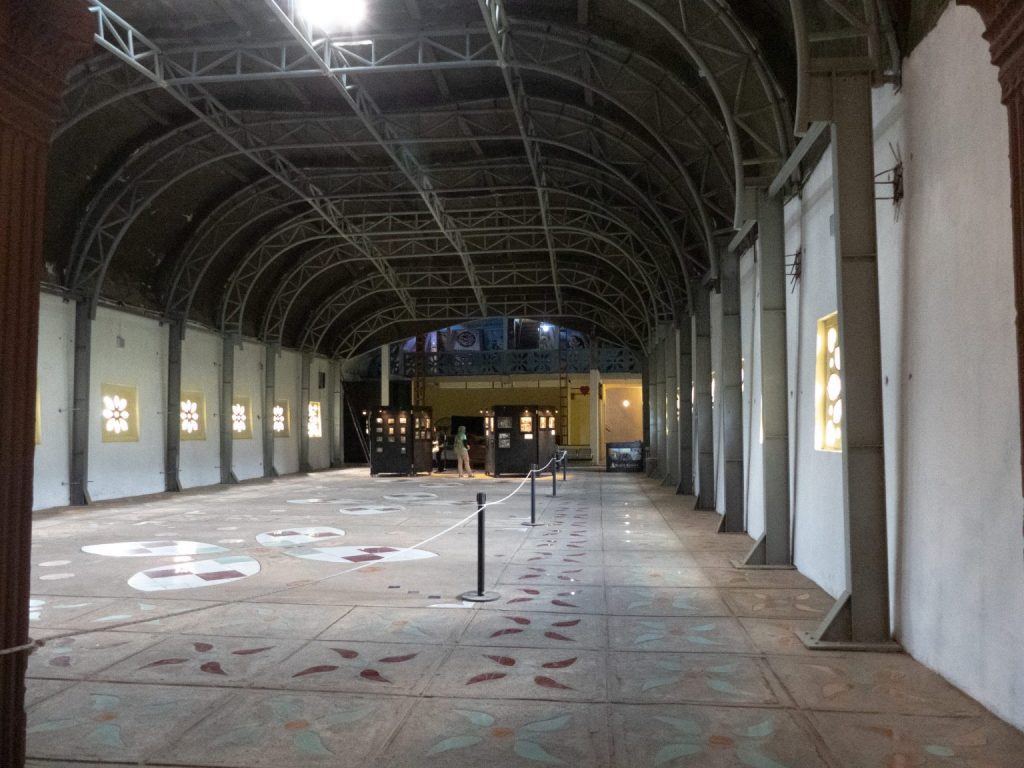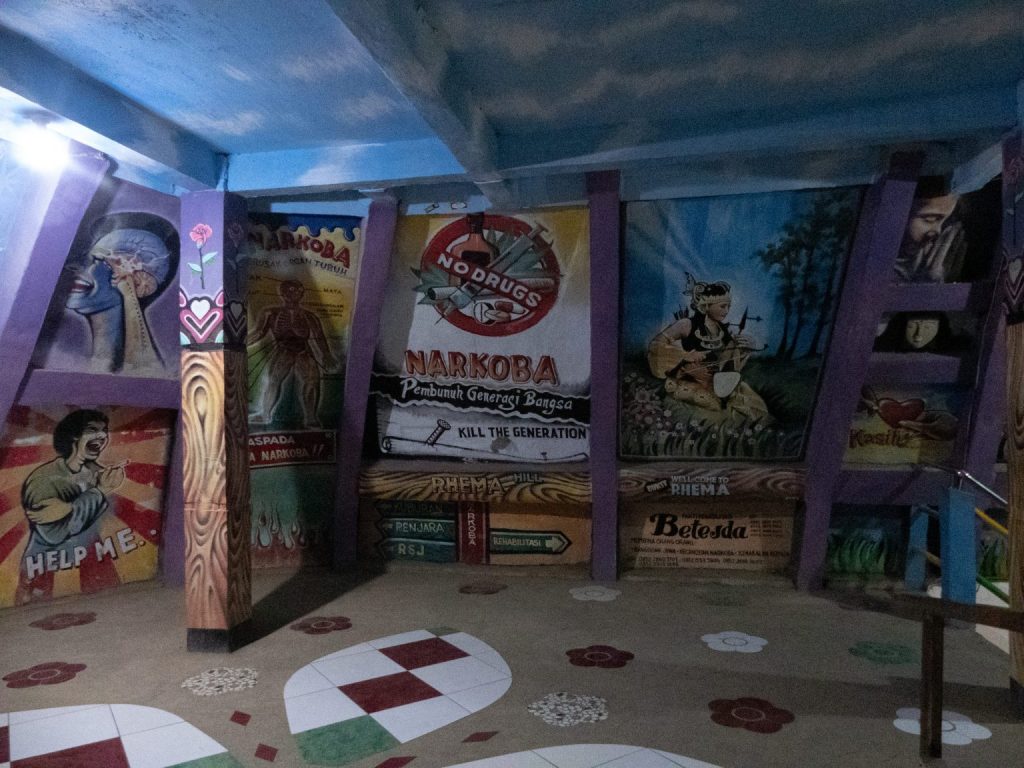 The upper stories are all located in the neck and head of the dove. These are very small and all beautifully decorated with various murals painted by local artists. You might notice the underlying themes of saying no to drugs and promoting peace which are of great importance to the architect Daniel Alamsjah and his rehabilitation centre.
At one of the floors, you can access the small balcony that sits in the beak of the chicken.
The top floor and crown of the chicken are only accessible by a narrow ladder. It is not recommended to go up if you have a fear of heights. The space upstairs is very small but the view is worth the climb.
You can see Borobudur in the distance and it must be breathtaking during sunrise.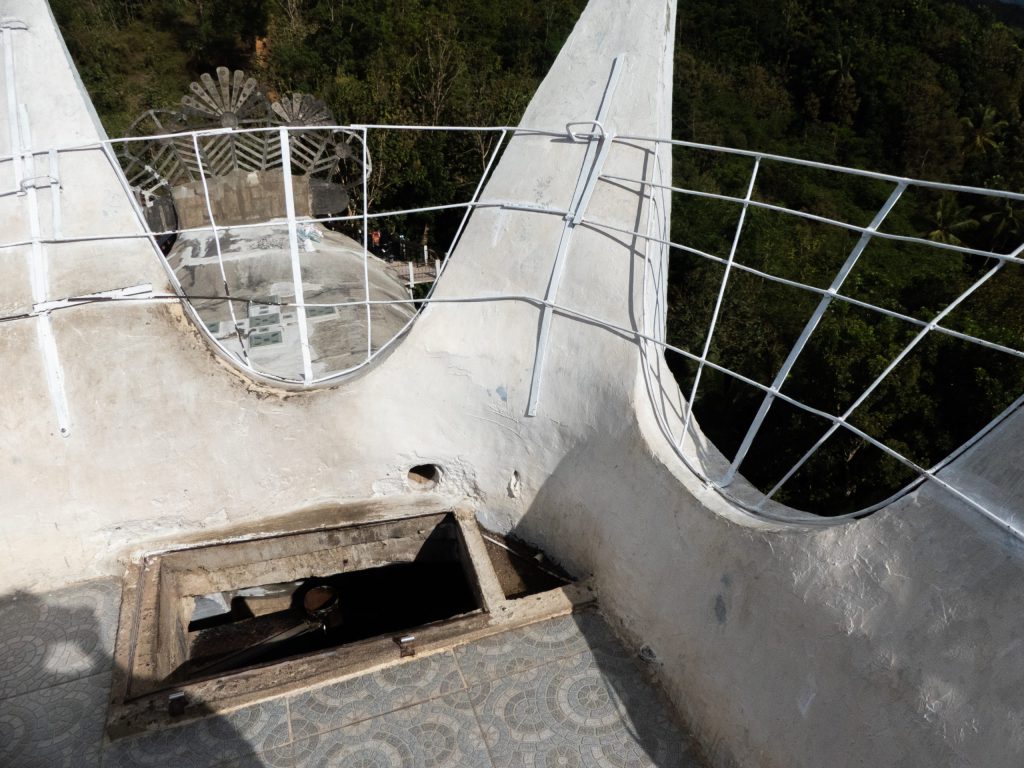 IS THE CHICKEN CHURCH IN YOGYAKARTA WORTH VISITING?
Yes, in my opinion, it is. It's not the largest attraction which means it won't take much of your time. If you're visiting Borobudur Temple anyway then why not make a quick stop here?
The church is such a weird place that I personally just wanted to see it with my own eyes. If you know the story behind this obscure building it's even more interesting I think.
As I mentioned there was still some construction during my last visit. I can imagine there will be more renovations in the coming years which will make Bukit Rhema even more of a tourist favourite.
WHAT TO DO AFTER YOU'VE VISITED BUKIT RHEMA?
As I mentioned Borobudur Temple is very close to Bukit Rhema. It's amazing during sunrise. Check out our Complete Borobudur at Sunrise Guide here.
Mount Merapi is also decently close and is great if you want to take a jeep tour. Read our 17 Things to do in Yogyakarta that aren't Borobudur list to find out more.