BATIK SCAMS IN YOGYAKARTA
You'll come across a unique phenomenon in Yogyakarta that I haven't encountered in any other tourist hotspot in Java: the batik scams. If you're spending a few days in the city I can almost guarantee you'll be approached in a specific way, which might not initially feel like a scam.
While you won't be able to avoid these situations entirely, you can be prepared and know what you're dealing with when you do encounter Yogyakarta's notorious batik scams.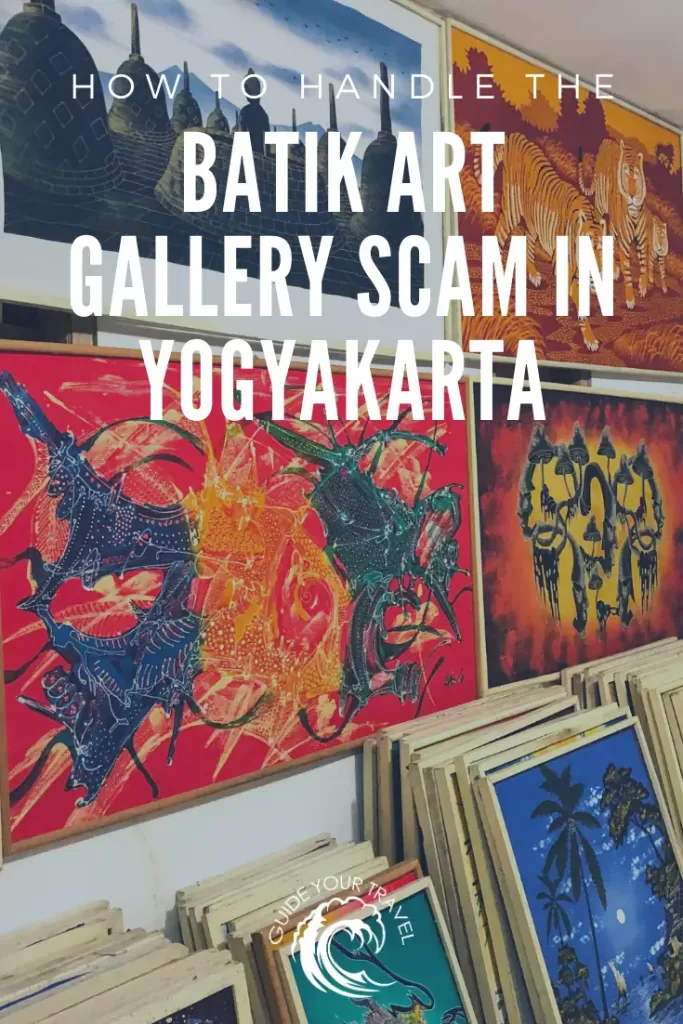 WHY EVERYONE FALLS FOR SCAMS
Scams of all shapes and sizes exist across South East Asia. Whether you're a first-time traveller or an experienced backpacker, chances are you'll fall for one at least once.
Sometimes scams are not as obvious as you might expect them to be. While it's easy to avoid taking an unmetered taxi or buying a sim card at the airport, other times you might only realise in hindsight that someone tricked you into overpaying. And that is the goal of most of these cons; to get you to pay more than you should and in the worst-case scenario to outright steal.
Fortunately, this is not the case for the batik scams in Yogyakarta. Worst comes to worst you'll end up vastly overpaying for batik that is almost certainly not legit. Will that completely ruin your life? Probably not. But can you avoid it by using some common sense? Definitely and it's not very hard.
WHERE DO THE BATIK SCAMS IN YOGYAKARTA TAKE PLACE
You'll encounter batik scams in Yogyakarta mostly on and around Malioboro Street, the most popular tourist area. This is not only the best place to stay as a traveller if you're exploring the city, but it is also a hotspot for street food and more importantly batik shopping.
BATIK AND WHY IT'S SO POPULAR
Batik is an ancient technique of dyeing fabric using wax and specific paints to create unique patterns. Java is famous for its batik and many tourists purchase batik items to take home as presents or souvenirs.
Since 2009 batik has been part of the UNESCO's Intangible Cultural Heritage of Humanity list.
Batik comes in many forms including clothing items but also framed artwork. This is the type of batik that is subject of the scams in Yogyakarta.
HOW TO TELL IF BATIK IS AUTHENTIC
Real, genuine batik is always handmade and is very time-consuming to make. Unfortunately, it is very difficult for the average person to determine the difference between handmade or tulis batik and printed (plangkan batik) or stamped batik (cap batik). This batik is far easier and cheaper to make and technology has advanced so far that it can be near to impossible to distinguish the two.
It is up to you to decide whether you really need authentic handmade batik or if you're simply looking for a pretty souvenir. Keep in mind that, tulis batik can be very expensive and rightfully so. However, if you're spending upwards of 100€ on a small canvas you'll probably be pissed if you find out that what you just bought was a rip-off.
While it is very difficult to be 100% sure you're buying tulis batik you can look out for a few hints to try and see if the batik is stamped or printed.
First off, handmade batik is reversible, meaning it looks the same from both the back and the front since the ink bleeds through. However, some stamped or printed batik is painted from both sides which gives a similar effect.
Imperfections in the painting also point towards handmade art.
Check out the Jakarta Post's Three Ways to identify Quality Batik.
HOW TO BUY BATIK IF YOU DON'T KNOW WHAT YOU'RE DOING
In general, just because batik is printed or stamped does not necessarily mean it is low quality. If you are not a batik expert, chances are you will not be able to tell much of a difference.
Just make sure you only pay as much money as you'd be comfortable paying for a non-authentic batik. That way if you do discover that what you bought was not tulis (and it probably won't be), you avoid being disappointed.
Don't buy batik at the little art galleries where the scammers lead you. You will not be able to negotiate for a good price here since there are plenty of tourists who are willing to pay the inflated prices.
Instead, try to look around and compare the prices of different more official-looking shop. Try Pasar Beringharjo on Malioboro Street or shops in the area around Taman Sari, especially Pasar Ngasem.
HOW THE BATIK SCAMS IN YOGYAKARTA WORK
So finally, let's get to the batik scams you'll encounter in Yogyakarta. Usually, it will go a little something like this:
The scammers target people that are obviously tourists, preferably couples. They stand out in Yogyakarta, since the number of foreign visitors is still quite low compared to other hotspots in Indonesia.
The person approaching you will almost always be a middle-aged man who will strike up a conversation that seems friendly and helpful. It often begins with a topic completely unrelated to batik until you've found things in common with each other and gained some sort of feeling that you owe this person since they're being so nice to you.
"Oh, you're from Germany, no way my son studies there. I visited him last year and your country is so beautiful. I would love to go back there. Munich was my favourite, your food is so delicious."
"I own a hotel and German travellers are always the friendliest, I can tell you are good people."
Sometimes the person will even warn you about other scams such as not buying Borobudur sunrise tickets in advance or being careful with taxis. At this point, you'll start to feel comfortable. This scam is so effective because it seems to go nowhere. It can be difficult to tell that you're not just having a friendly conversation.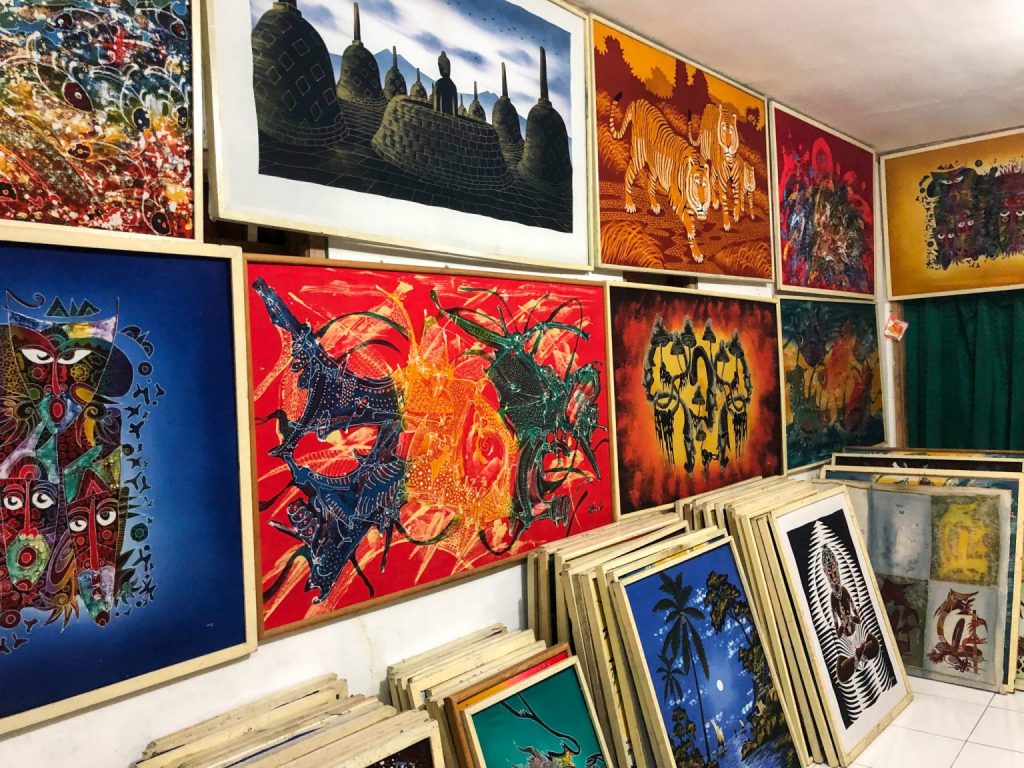 CASUALLY MENTIONING THE BATIK ART SHOW
After a while, they'll start recommending places for you to see in Yogyakarta, mostly common tourist attractions such as Taman Sari, Borobudur or Prambanan.
Then the batik show is mentioned for the first time.
"You've probably already been to the famous art show that is in Yogyakarta this week"
"You haven't? You are so lucky, today is the last day they are in town. Do you know where it is?"
From your conversation before the scammer has probably found out how long you are staying in Yogyakarta. They will always say that the art show is only open on this day or moving to another city tomorrow. This way they'll ensure you'll come with them right now in order not to miss it.
While you're speaking the scammer will text their partner that you're coming so they can prepare. At this point, it's very difficult to get out of the situation. You've just had a lovely conversation with a friendly local who gave you tips and who has coincidentally some connection to your home country. They'll tell you that the art gallery is just around the corner and closing very soon so you have to go see it now.
On the way, they will tell you that the batik in the exhibition is made by students (or disabled people or elderly people or someone else in need that you want to support). That way you'll feel like you're buying special batik and supporting a good cause at the same time.
THE ART GALLERY
To clarify: this is not just a single scamming business that leads tourists to a specific art gallery. There must be dozens of these galleries around Malioboro Street.
They are all unmarked, usually, only a single room stuffed full of paintings.
Another middle-aged man will greet you and take over from here. Your first friend will probably disappear never to be seen again on his way to find more tourists.
You'll be shown a brief introduction into how batik is made. They'll serve you tea which is the final step in making you feel as though you owe them something.
Usually, now is the time for over-exaggerated compliments.
"You are such a beautiful couple, you should get married soon"
"So tall, so handsome, a strong man I can tell"
This is also the time for addressing spirituality, guessing star signs and more anecdotes about your home country.
"I can see you are a Leo, you are a protector and perfect couple together with a Virgo."
Now that everyone has been so nice to you and so excited that you are here in their gallery, you'll probably be feeling a mixture of sympathy and guilt. At this point, it feels extremely rude not to buy anything.
DO YOU REALLY WANT TO BUY A BATIK?
Now they let you look around at the paintings and admire them. Almost as an afterthought, the scammer will mention that, of course, they are for sale and that the money will really help the students.
As soon as you spend more time looking at one painting or ask a question they'll encourage you to buy this artwork.
Good luck coming up with an excuse now. The paintings are detachable from their frames so they'll easily fit into your luggage. So the "we don't have space" explanation will not work. You've already said a million times how beautiful they are plus the proceeds will support poor students/the disabled/the elderly. So why not buy one?
It's very easy to cave in and just buy one to get out of this awkward situation. But soon enough you'll realise that any painting you pick out is, of course, not done by a student/disabled person/elderly person but a batik master or famous artist. Of course, these are far more expensive.
They'll show you cheaper options but those will be small and ugly.
It'll be suggested that you should buy a second or third one for a friend to get a better price. Just like that you've suddenly agreed to take five batiks that you never even wanted.
This is one of the phenomenons of tourists; they'll lose touch with reality when on vacation and suddenly buy things they would never buy or need at home.
THE SCAM
After what was probably almost an hour-long ordeal the scam finally takes place. You'll be able to negotiate the price of the batiks slightly. That way the victim of the scam feels as if they got a good deal. In other cases, they tell you the prices are fixed by the government so they cannot give you a discount.
I personally, have not bought a batik from these "art gallery scams" so I cannot say the exact price. From what I have read online and heard from other tourists who were a victim of this you can end up paying between 50€ and 100€ per batik, depending on the size.
If you do not have enough cash on you the scammers will escort you to an ATM machine (which you should never do).
In the end, you will sign an agreement stating that no one forced you to buy anything and that there are no returns.
Even if you want to come back to the shop, they will tell you that the gallery was only open on the day you happen to visit or more commonly that the exhibition will be moving on to another city tomorrow.
In any case, you'll have a really hard time getting your money back.
CONCLUSION: WHY THE BATIK SCAMS IN YOGYAKARTA ARE SO EFFECTIVE
Scams related to low-quality products for ridiculously high prices are not a new phenomenon. However, the batik scams in Yogyakarta are so effective that it's hard to see where they are going when you first start talking to a scammer.
You are not openly pressured to buy anything, however, by using sympathy and a sense of guilt they are very difficult to get out of.
In addition to that, the scammers are not always the people who openly approach you on the street. One time, we struck up a conversation with our next-door neighbour in Yogyakarta. We walked by his little guesthouse in a tiny alley every day so it seemed natural and friendly when he asked us where we were from.
It feels sad and disappointing when after a 15-minute conversation he suddenly mentions a batik show around the corner.
This is a reminder that as a tourist it's always advisable to be wary of anyone that is too friendly or approaches you for no reason. You do not have to be rude but you also don't have to waste your time (and money) on something you don't want to do.
It's usually enough to say that you have already seen a batik show and you are not interested. Be in control of the situation and do not tell anyone too much of your personal information.
If you really want to buy batik, you'll have to go to an official store to avoid scams.
Arriving at Yogyakarta International Airport? Here is how you can get to Malioboro Street for only 0,20€
Struggling to build an Itinerary? Click here to read about 17 Things to do in Yogyakarta or check out our ultimate 3-day itinerary here.
Find out how to do sunrise at Borobudur the cheap and easy way here.