Many people stay in Yogyakarta to visit the famous Borobudur temple. However, Yogyakarta has so much more to offer than just Borobudur. It is a city famous for its unique culture, fascinating nature and delicious street food. In addition to that, it is still mostly untouched by the tourist crowds. While you will without a doubt be surrounded by hoards of tourists when you visit Borobudur, they rarely venture much further. Even in the heart of Yogyakarta, you'll meet only a hand full of other travellers every day.
While Yogyakarta continuously attracts Indonesian or Malaysian families on vacation there is a distinct lack of the backpacker overflow that has occurred in the popular South East Asian sightseeing hotspots.
Considering all Yogyakarta has to offer it is safe to say it will not stay like this for long. Make visiting Yogyakarta a priority before mainstream tourism discovers it.
Are you planning a trip to Yogyakarta? Check out our 3-day itinerary for the city here.
This post may contain affiliate links, which means we'll receive a commission if you purchase through our links, at no extra cost to you. This helps us keep Guide your Travel free and provide high-quality content for you. Please read the full disclaimer for more information.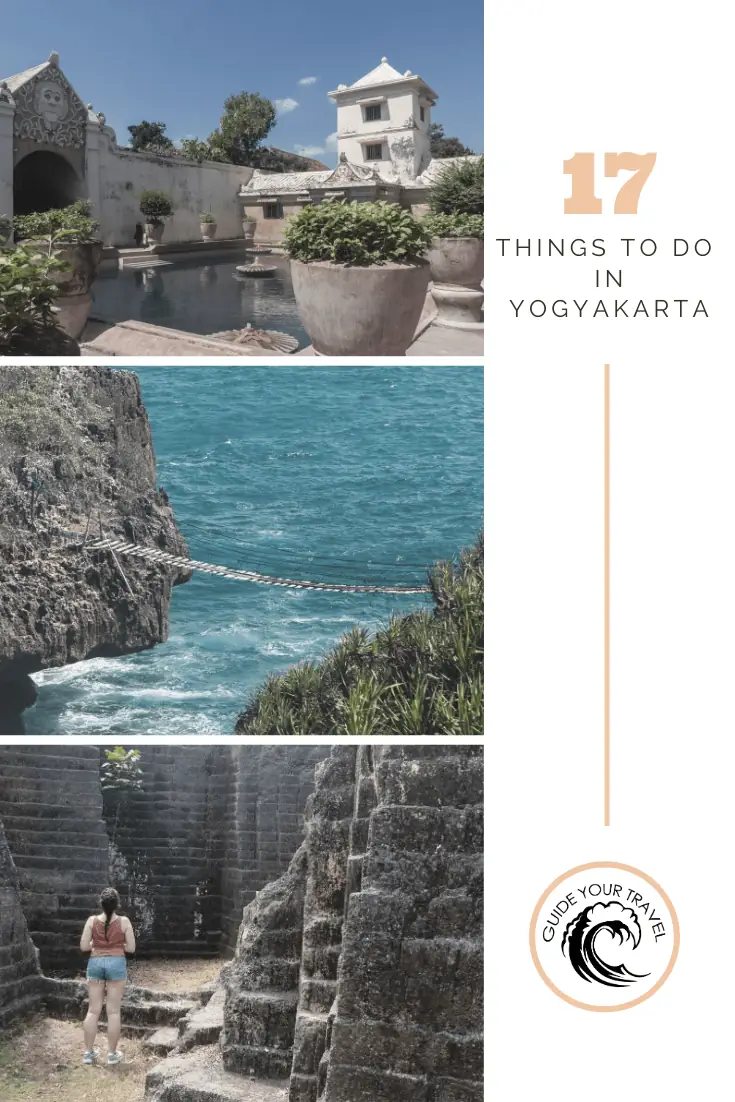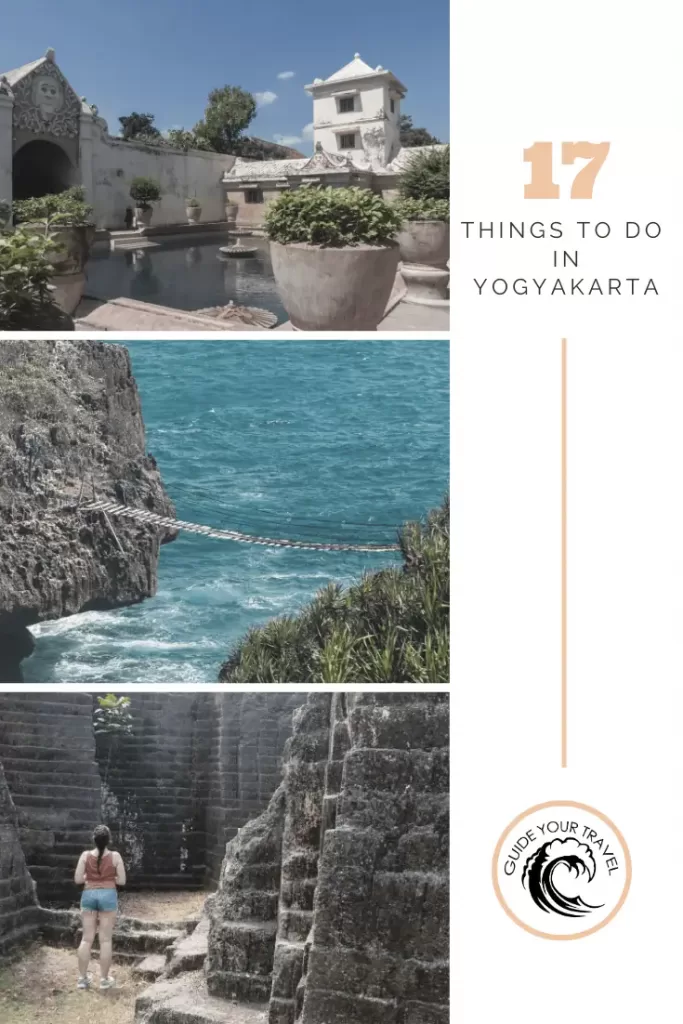 HOW LONG SHOULD YOU STAY IN YOGYAKARTA?
To see all the sights in Yogyakarta you should plan to stay at least 4 days. If you're not a fan of tightly packed itineraries then go for 5. Sightseeing is exhausting and it's nice to have some down-time in between activities.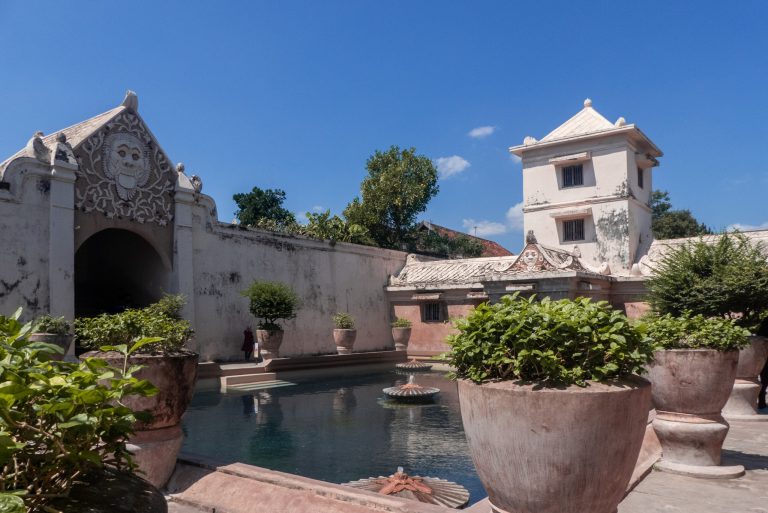 WHERE TO STAY IN YOGYAKARTA
You should stay on or close to Malioboro Street in Yogyakarta. This is where most of the street food is available as well as a good amount of activities in walking distance. In the evenings Malioboro Street gets busy with people eating in little restaurants and listening to street performers.
There is a great selection of low-cost hotels and hostels in this area. You'll enjoy your time in Yogyakarta a lot more if you're staying within walking distance of Malioboro Street.
If you're staying close to Malioboro Street you're bound to come across the batik scam. Find out how to avoid it here.
Top tip: Always compare prices for hotels. We at Guide your Travel prefer Booking.com, Agoda or Hostelworld for finding the best deals.
HOW TO GET AROUND YOGYAKARTA
Most of the attractions in Yogyakarta are located within walking distance of Malioboro Street. If you don't feel like walking in the heat then you can take a Grab. They're reasonably priced and reliable.
You can also go for a bicycle rickshaw or tuk-tuk. Their prices tend to be slightly higher than a Grab but it can be a fun experience.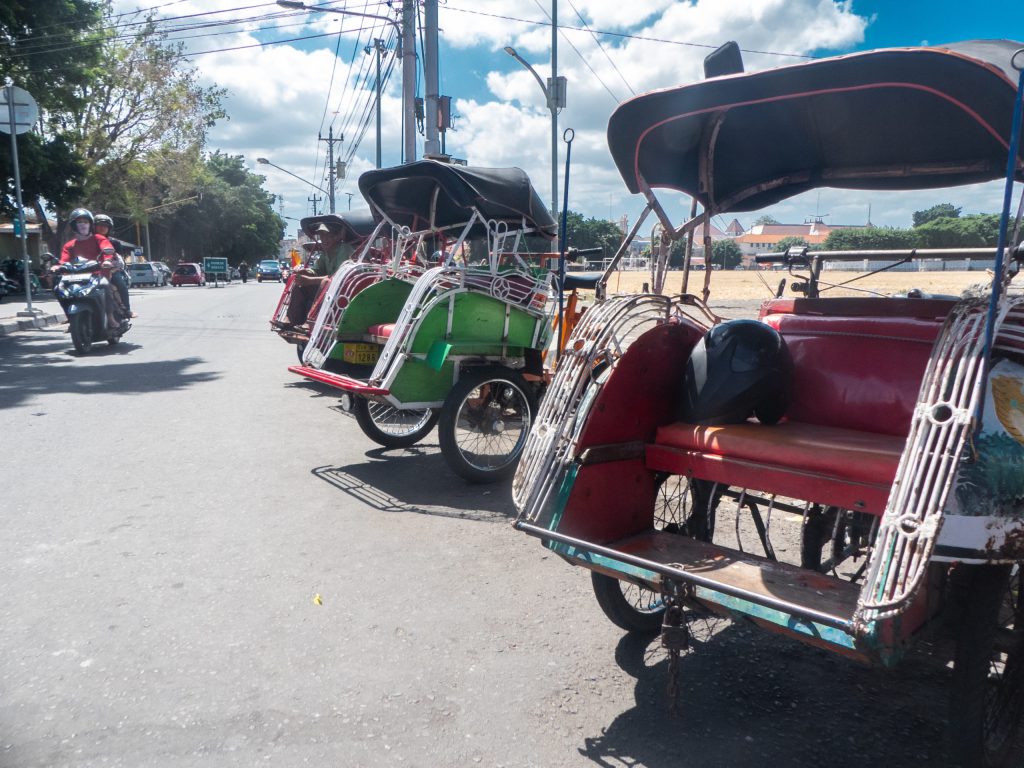 HORSE CARTS
Do not take the horse carts that are available in and around Malioboro Street. Animal welfare is a difficult subject in South East Asia and Yogyakarta is no exception. The horses are not treated well and tourist attractions like this should not be supported.
In addition to that, they are highly overpriced and scams are frequent.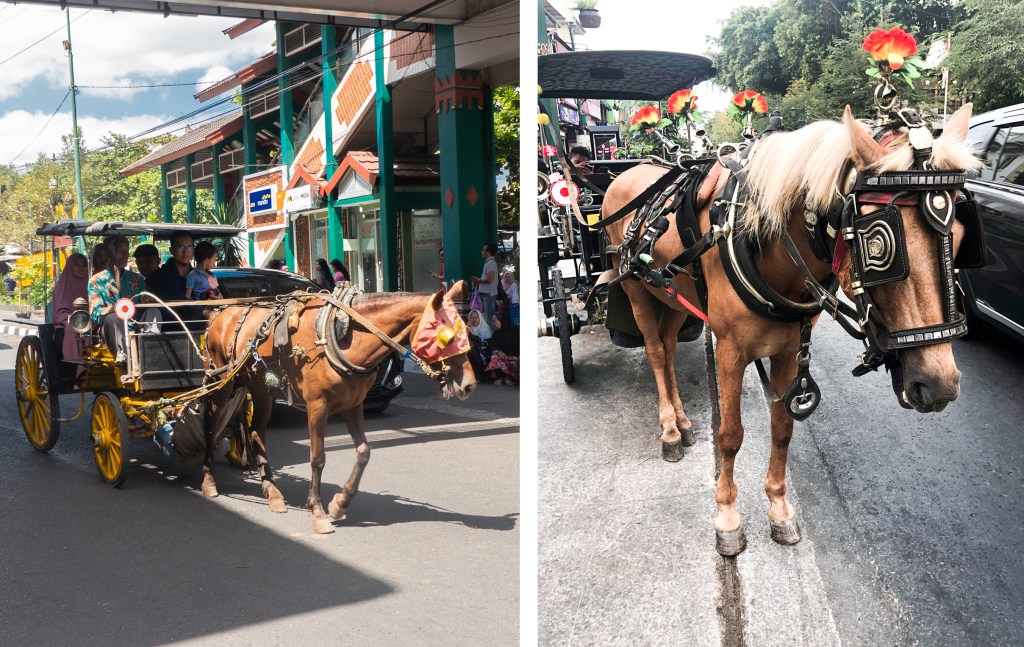 BUS
Yogyakarta has a decent bus system. The Trans Jogja bus is very affordable (IDR 3,500 (~ €0.20) and is especially helpful when trying to go to and from the airport. Read more about it here.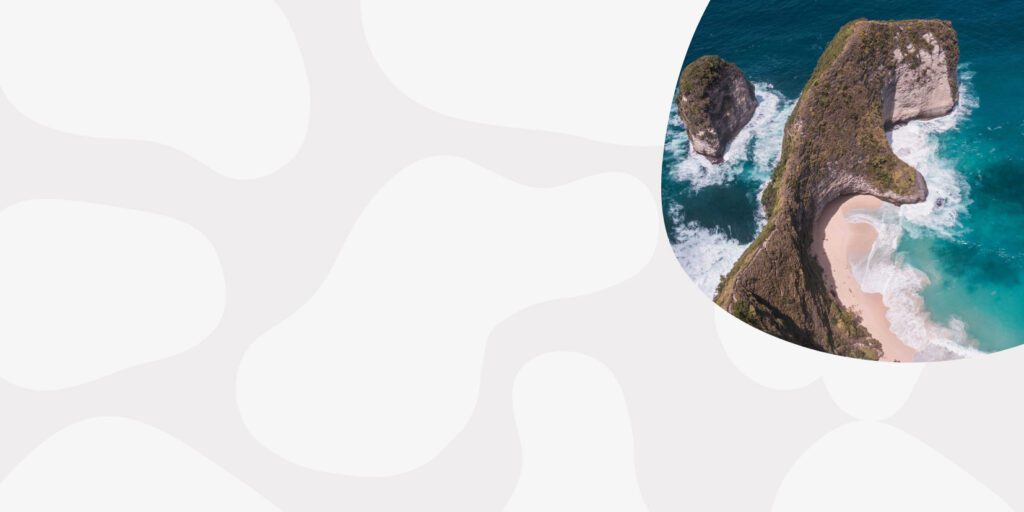 Save time when planning a trip to Bali

➼ 8€ airport pickup? Klook
➼ Best travel insurance? SafetyWing
➼ Accommodation? Agoda or Hostelworld
➼ Where to get cash out for free? Maybank ATM
➼ Best SIM card? Telkomsel
➼ Best place to book flights? Skyscanner
HOW TO GET AROUND OUTSIDE OF YOGYAKARTA
If you're really trying to get to know Yogyakarta and its surroundings you'll have to venture outside the city limits. You should take at least two separate day-trips to really see all the hotspots.
The cheapest way to do this is to rent a scooter and drive yourself. The majority of the roads are very good although you should not try this if you're not confident about driving in Indonesian traffic. Distances between attractions can be large and you should expect to spend up to two hours on the scooter depending on where you're going.
The most comfortable and safest option is to hire a driver for the day to take you around. You can ask in your hotel or hostel to find a driver or do some research online in Facebook groups or forums. Tripadvisor also has a good amount of contact numbers and sometimes there are little adverts posted around Malioboro Street.
Text different drivers and negotiate to find the best price. You should not be paying more than IDR 375,000 (~ €24) for an entire day (12 hours) including petrol and parking. It is customary to buy your driver lunch while you are out.
You can design your own itinerary or ask the driver for advice on where to go. You'll be able to enjoy your trip a lot more from the comfort of an air-conditioned van. It's definitely the best way to see Yogyakarta and can be very cheap if you're travelling in a larger group.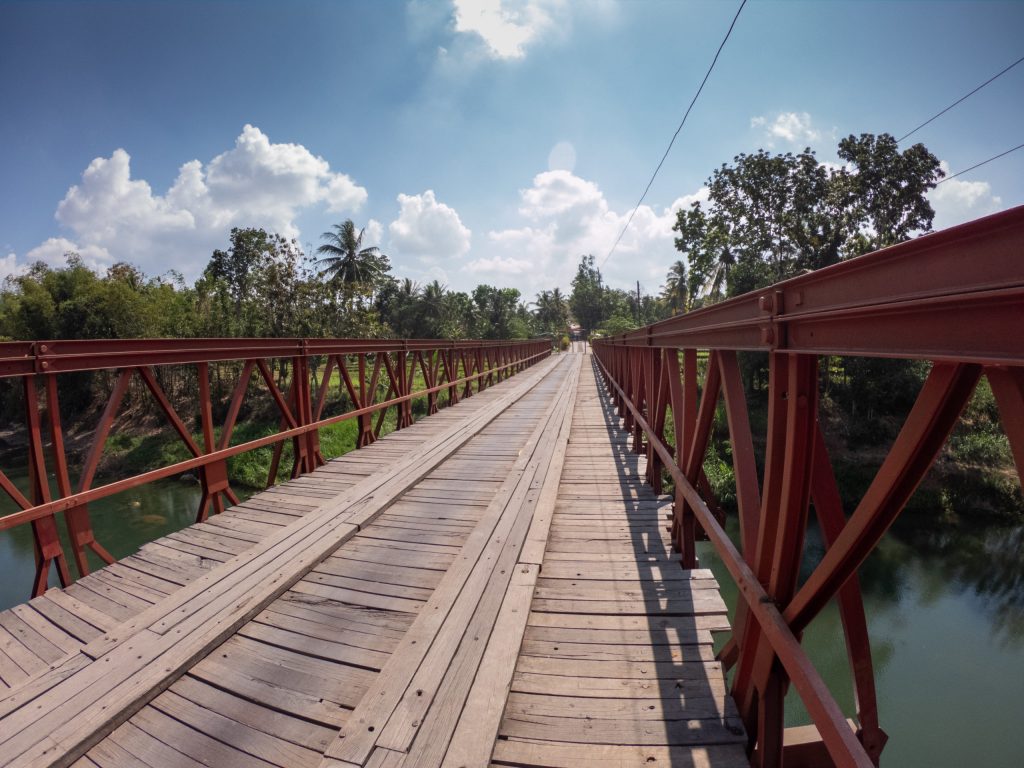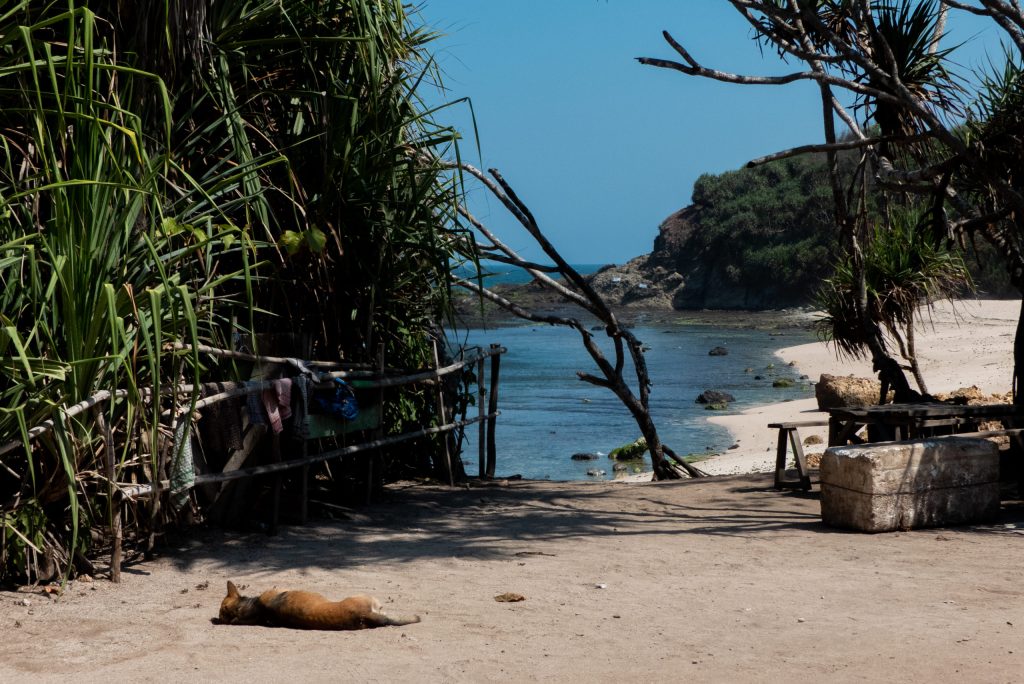 BOROBUDUR AND WHY IT'S NOT ON THIS LIST
Borobudur Temple is, without a doubt, Yogyakarta's most famous attraction. If you're looking into visiting Yoyagakarta then chances are you're already planning to go or have been there already. If you're looking for more information click here to read or separate Borobudur post.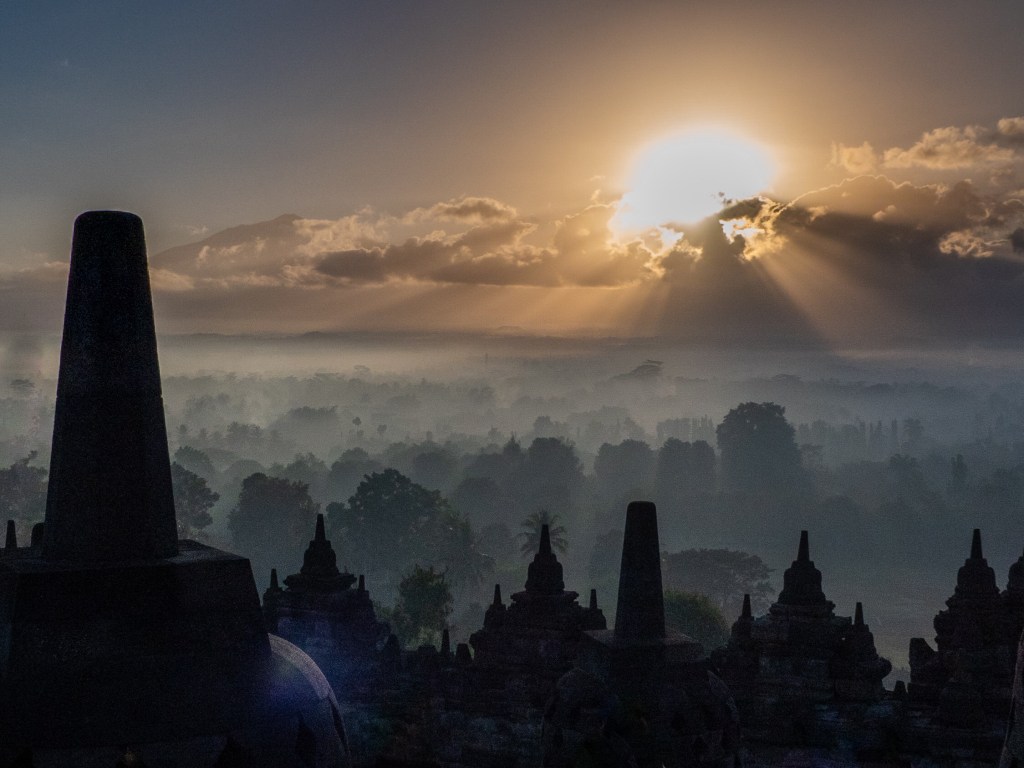 10 THINGS TO DO IN YOGYAKARTA
The attractions on this part of the list are all either within walking distance of Malioboro Street or a short taxi ride away if you're not up for walking. The area that is of interest for tourists in Yogyakarta is relatively small which makes sightseeing convenient and easy.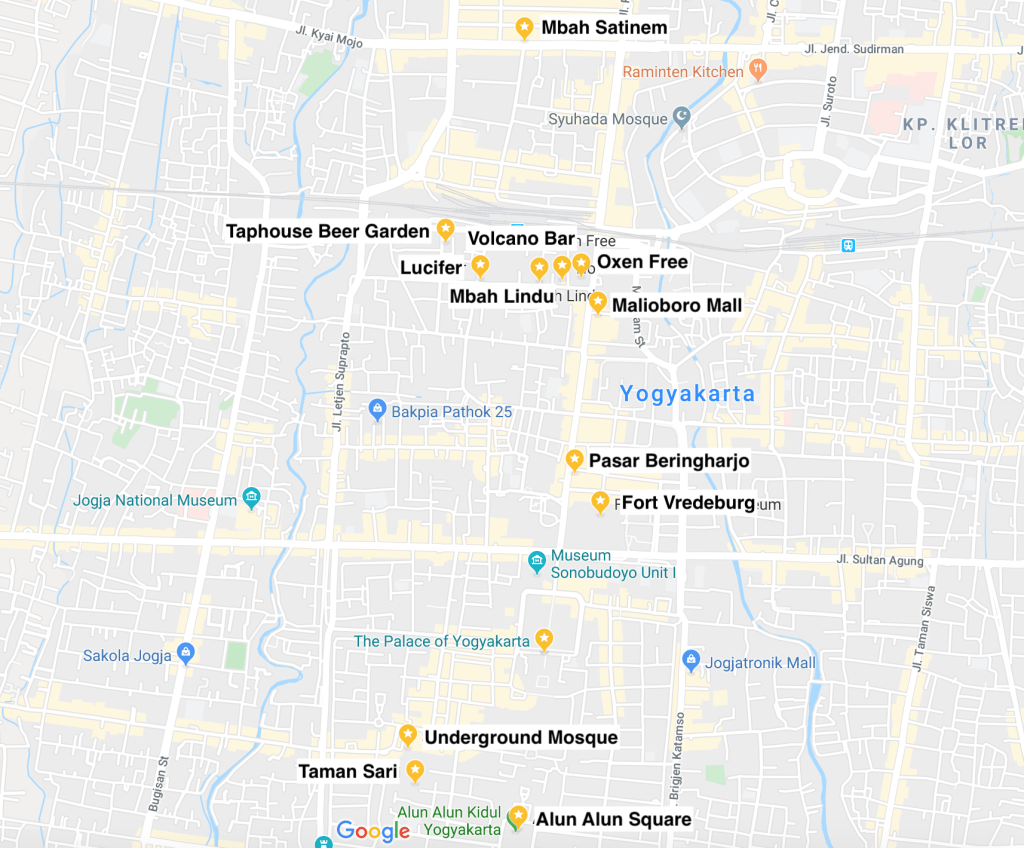 1. FORT VREDEBURG – A DUTCH COLONIAL FORT IN THE HEART OF YOGYAKARTA
Indonesia has a complicated colonial history in which Yogyakarta has played a unique role. In 1760 the Dutch governor of North Java ordered the construction of a fort opposite the Sultan's palace.
Since then Fort Vredeburg was destroyed by earthquakes, rebuilt, expanded and served as the army headquarters for the Japanese during their occupation of Indonesia. It was also a war prison for suspected members of the communist party.
Since 1992 it has acted as a museum focusing on the Indonesian struggle for independence. It is a great attraction to visit on your trip to Yogyakarta. The entrance fee is only IDR 10,000 (~ €0.65) and the museum is empty on most days. You can access the rooftop of the Fort which is a perfect spot for a little picnic or a photoshoot.
The museum consists of elaborate dioramas explaining Indonesia's (and more specifically Yogyakarta's) history. You can also see memorabilia, old war uniforms and a small walk-through exhibit with life-size soldiers in a replica war scene. Most (although not all) exhibition labels are available in English and the museum is nicely airconditioned.
The museum staff are very friendly and eager to hear foreigner's opinions on the museum. Fort Vredeburg seems to be overlooked by many tourists but it really is a hidden gem. Don't skip this one! You'll look at Yogyakarta in a completely different light afterwards.
Address: Jl. Margo Mulyo No.6, Ngupasan, Kec. Gondomanan, Kota Yogyakarta, Daerah Istimewa Yogyakarta 55122, Indonesia
Price: IDR 10,000 (~ €0.65) per person
Duration: around 1 hour
When to go: The museum rarely gets crowded, most people go in the afternoon
Opening Hours: 7:30 AM to 4:00 PM every day, closed on Mondays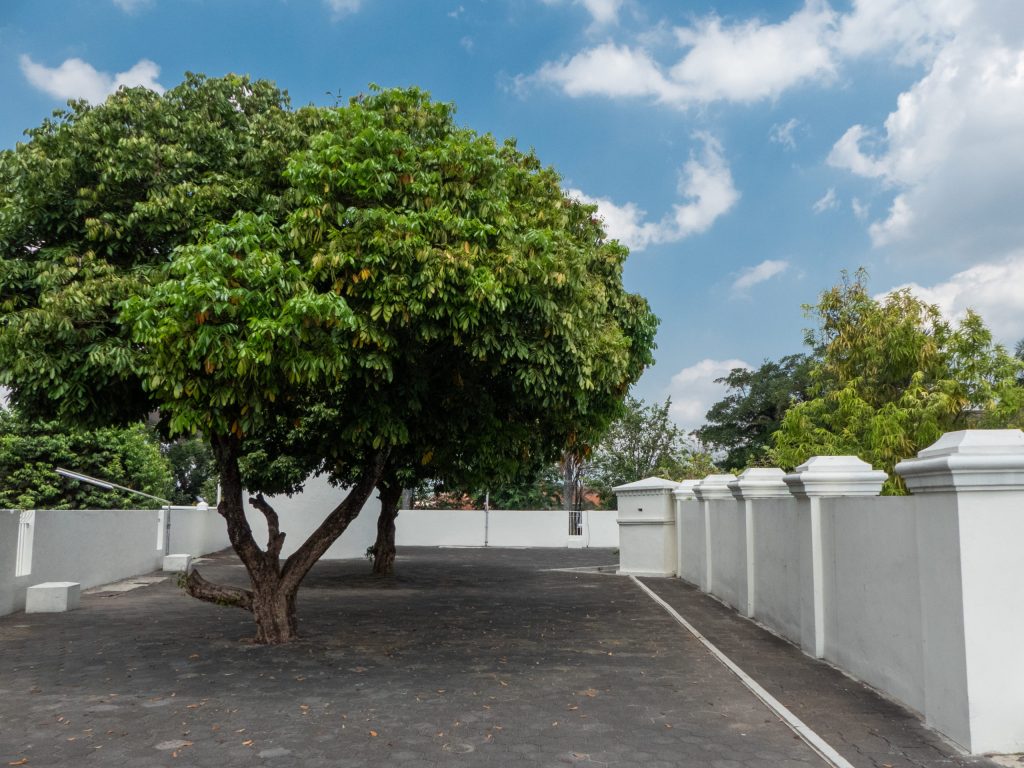 2. PASAR BERINGHARJO – A BUSY MARKET ON MALIOBORO STREET
Pasar Beringharjo is a must-visit when you go to Yogyakarta. It's hard to miss if you're walking around Malioboro Street. The market is quite large and both indoor and outdoor. Inside you'll find mostly clothing items and batik spread over 2 floors. Many locals come here to shop.
The outside parts of the market are especially interesting in my opinion. Vendors sell little trinkets, scrap metal and used items. There's also an influx of gold merchants with little scales who will buy most precious metals. Beringharjo Market is a great spot for street food snacks and fresh fruit.
Address: Jl. Margo Mulyo No.16, Ngupasan, Kec. Gondomanan, Kota Yogyakarta, Daerah Istimewa Yogyakarta 55122, Indonesia
Price: free (depending on what you buy)
Duration: around 45 minutes
When to go: Any time during the day
Opening Hours: The market opens at around 9:00 AM and closes at around 8:00 PM. There are no official opening times so vendors may come later or leave earlier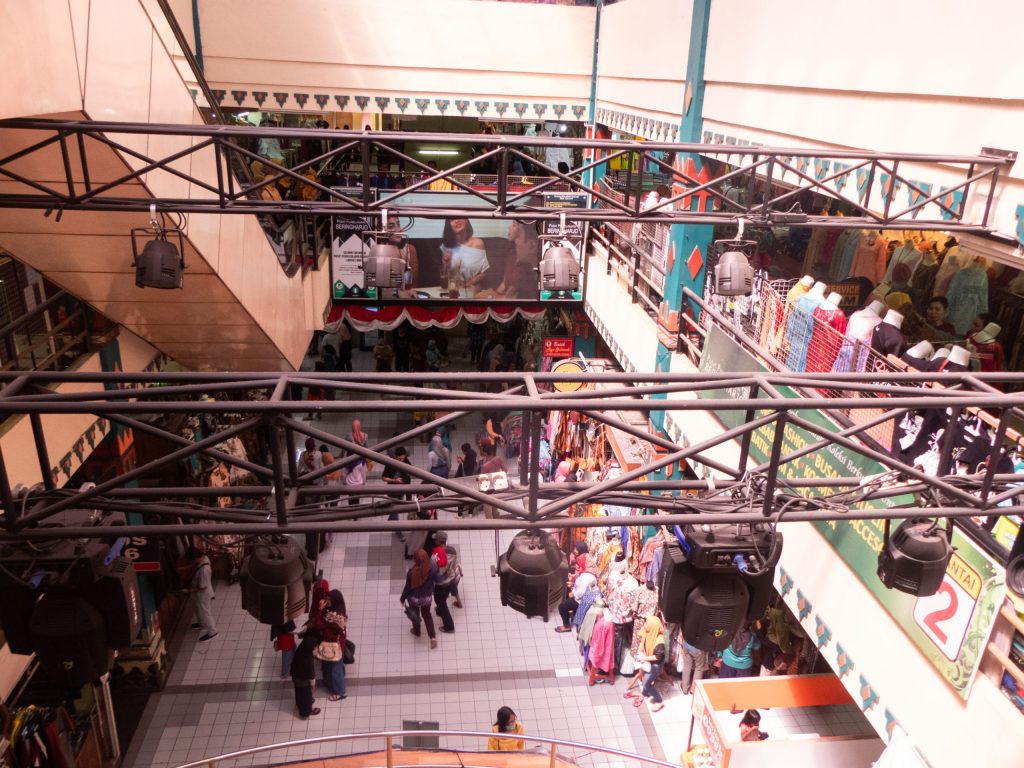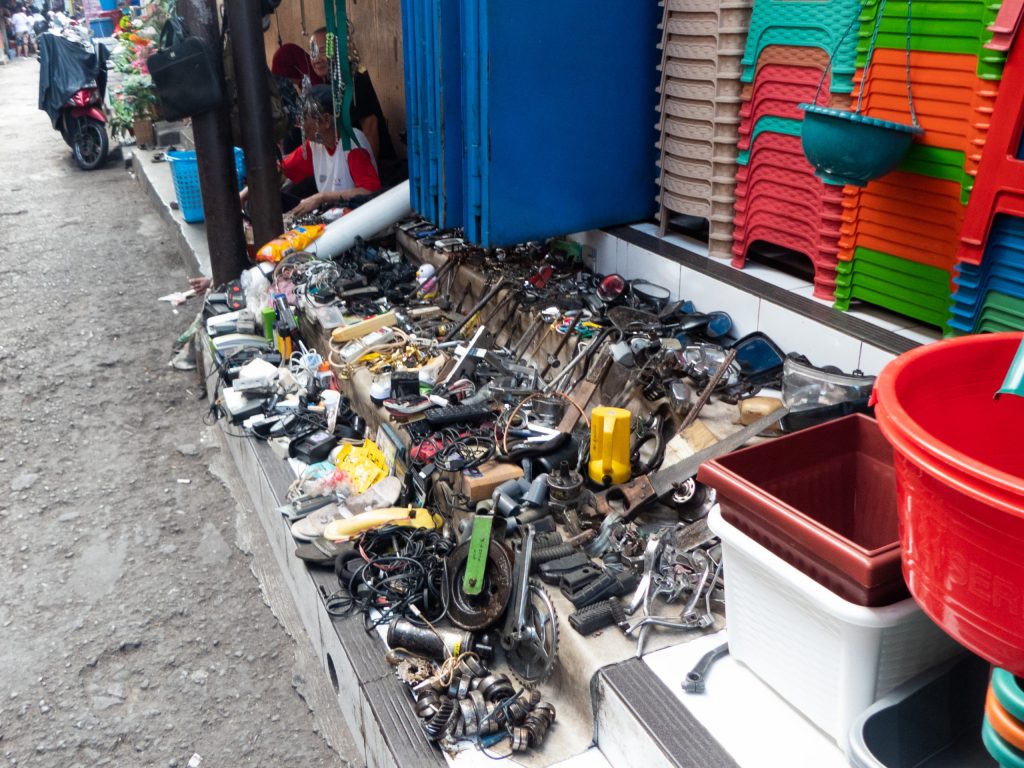 3. TAMAN SARI – YOGYAKARTA'S STUNNING WATER PALACE
Taman Sari is an 18th-century bathing complex in the centre of Yogyakarta and there is far more to it than meets the eye. There are four parts of Taman Sari from which only one (the bathing complex) has been conserved. The Underground Mosque, which is point number four on this list is also a part of Taman Sari although it is not part of the bathing complex.
Taman Sari was a set of gardens, artificial lakes, bathing houses and meditation areas all connected by an underground river and even underwater tunnels. It was built for the royal family in the mid-1700s. The architecture is somehow puzzling as there appear to be European (specifically Dutch) influences. Some say the architect was a Portuguese castaway who was discovered by villagers and made a servant to the king. However, some recent research shows that this might be an urban legend.
Today, unfortunately, much of Taman Sari has been lost to modern construction, earthquakes and simply a lack of upkeep. The artificial lakes no longer exist, although you can still see remains of some bridges and canals in places around Yogyakarta. You can visit the bathing complex which is stunningly beautiful. It sits very close to Pasar Ngasem, a traditional bird market. Although this market is mentioned on many what-to-do-in-Yogyakarta lists I have purposely not included it. Animal treatment at this market is disastrous and I would not recommend visiting.
Drones are not allowed here.
Address: Wisata Taman Sari Jalan Tamanan, Patehan, Kecamatan Kraton, Kota Yogyakarta, Daerah Istimewa Yogyakarta 55133, Indonesia
Price: IDR 15,000 (~ €1) for foreigners
Duration: around 30 minutes
When to go: Early morning to avoid the heat and crowds
Opening Hours: 9:00 AM to 3:00 PM officially although it usually seems to close later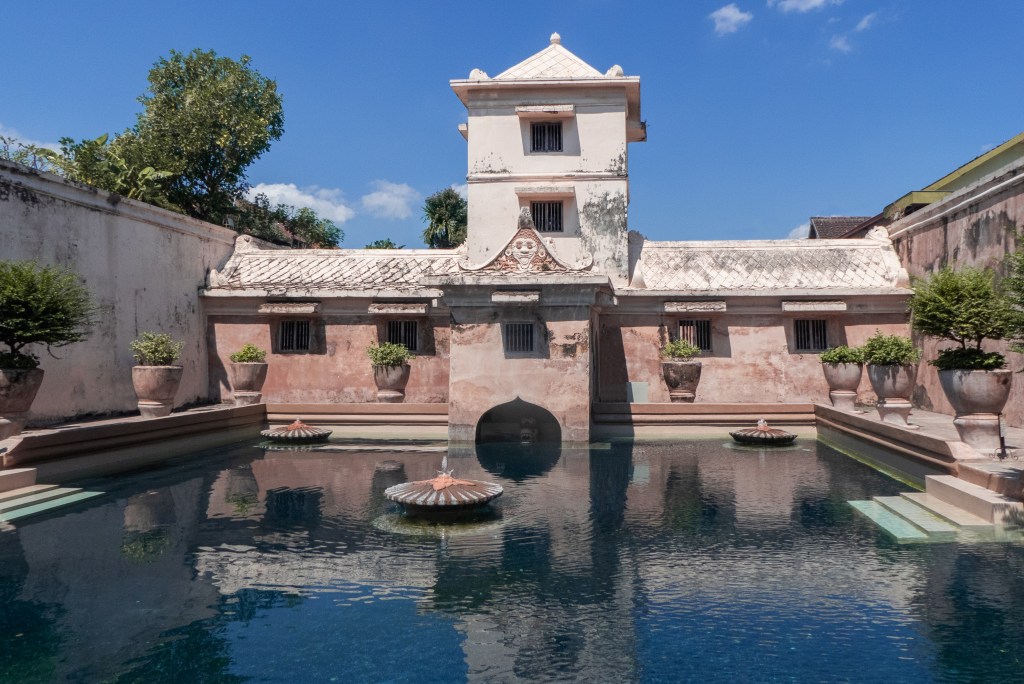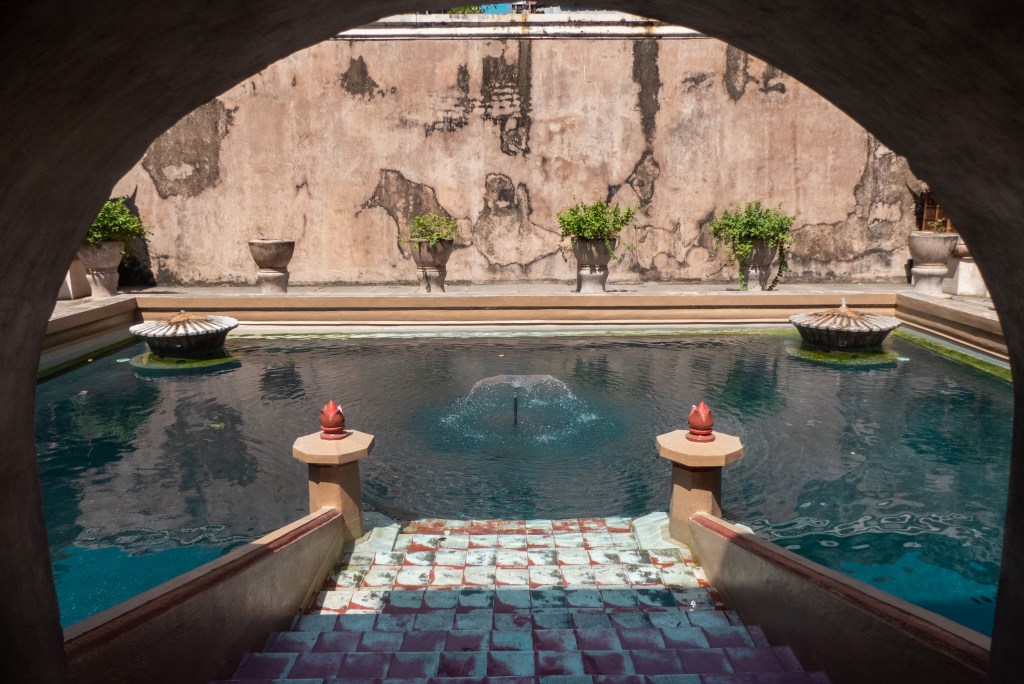 4. THE UNDERGROUND MOSQUE – A UNIQUE PLACE OF WORSHIP
Technically, the Underground Mosque or Sumur Gumuling is a part of Taman Sari. However, it is separate from the bathing complex and you need to walk for around 10 minutes to reach it. A ticket to Taman Sari also gives you access to the mosque.
The area around the mosque and the bathing house is very interesting and it's worth to walk around here for a bit. Parts of the ancient buildings are still visible in between the densely populated area. The alleyways are narrow and there is (almost) no motorised traffic. This neighbourhood is known for its artwork, especially batik. Combined with the ancient remnants of historic architecture this is a unique place to visit.
Some of the underground tunnels that used to connect all of Taman Sari's parts as well as the Underground Mosque apparently still exist, although they are difficult to find.
The mosque itself is very small but impressive. It is a masterpiece of construction and eerily peaceful. Make sure to dress appropriately when you visit as this is a place of worship.
The mosque may be slightly tricky to find as Google Maps is unreliable in this area. Many of the small passages and alleys are dead ends or loop around making it hard to navigate. Be patient and ask for directions if you get lost.
Address: Patehan, Kraton, Yogyakarta City, Special Region of Yogyakarta 55133, Indonesia
Price: IDR 15,000 (~ €1) (included in Taman Sari ticket)
Duration: 20 minutes (more if you explore the surrounding area)
When to go: Early morning to avoid the heat and crowds
Opening Hours: 9:00 AM to 3:30 PM officially although these times are very unreliable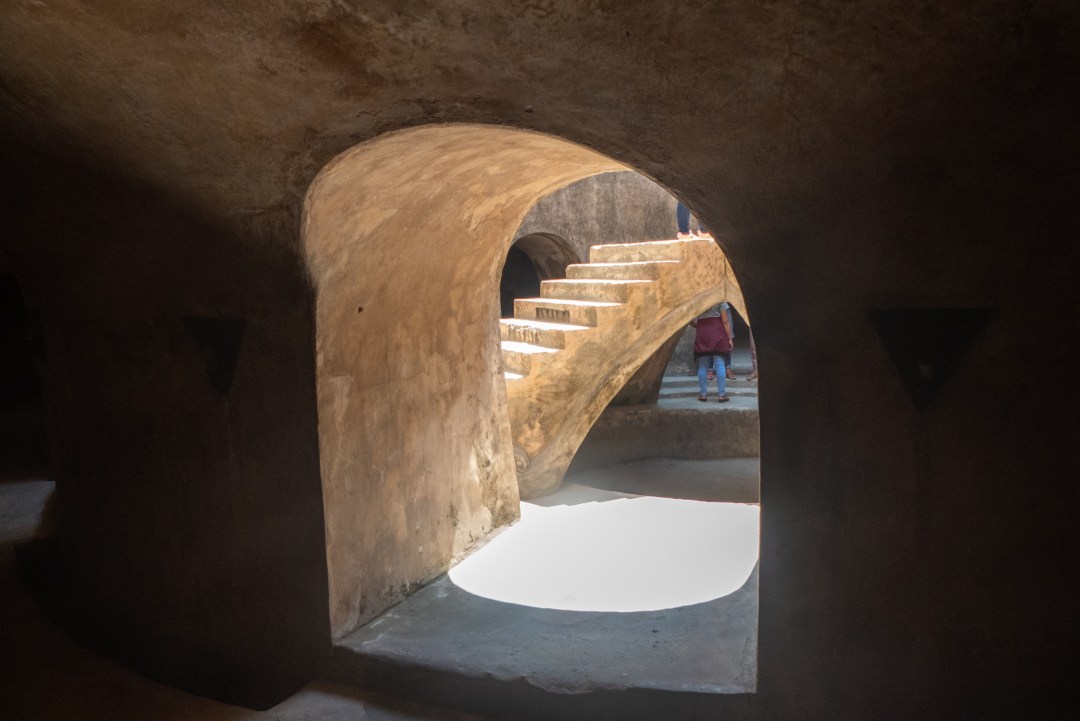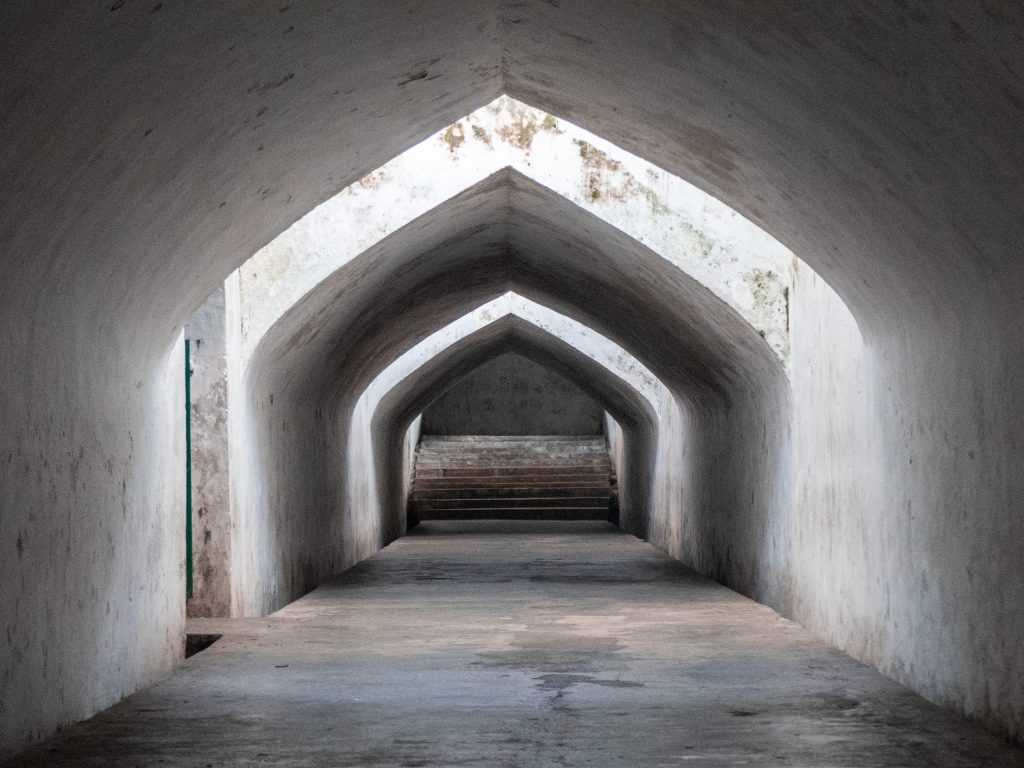 5. MBAH SATINEM AND MBAH LINDU – TRADITIONAL DISHES MADE BY WORLD-FAMOUS WOMEN
If you haven't watched the Yogyakarta episode of Netflix's "Streetfood" then now is the time to do so. You'll suddenly be craving dishes you'd never heard of before. The show specifically mentions two elderly street food cooks called Mbah Satinem and Mbah Lindu. Mbah is a polite word for addressing a grandmother or grandfather figure.
Mbah Satinem and Mbah Lindu both have very specific spots in the heart of Yogyakarta where they sell their traditional dishes. Both have acquired a substantial amount of fame amongst both locals and tourists. They only sell in the early mornings and will sell out by as early as 9:00 am. The earlier you go the better.
Mbah Satinem specialises in Jajan Pasar, a sweet snack that originates from the 8th century. Mbah Lindu sells Gudeg, a dish made of braised jackfruit and served with rice. This is a speciality that you can find all over Yogyakarta, however, Mbah Lindu makes the most famous Gudeg in town. Gudeg is vegetarian (although side-dishes may contain meat).


WHY THESE WOMEN ARE SPECIAL
Both women are operating a business that has been in the family for generations. Mbah Satinem gets up every night at midnight to start preparing her Jajan Pasar which she starts selling at 5:30 AM. Mbah Lindu claims to be over 100 years old. Both their stories are heartwarming and I can only recommend watching the documentary on Netflix.
Address Mbah Satinem: Jl. Bumijo No.52-40, Bumijo, Kec. Jetis, Kota Yogyakarta, Daerah Istimewa Yogyakarta 55231, Indonesia
Address Mbah Lindu: Sosrowijayan St No.30, Sosromenduran, Gedong Tengen, Yogyakarta City, Special Region of Yogyakarta 55271, Indonesia
Price: IDR 30,000 (~ €2) for a plate of Gudeg, sides, rice and a drink, IDR 15,000 (~ €1) for traditional Jajan Pasar sweets
Duration: Calculate around 15 minutes to stand in line during busy times
When to go: Before 9:00 AM (8:00 AM to be safe). The specialities sell out fast
Opening Hours: 5:30 AM until they sell out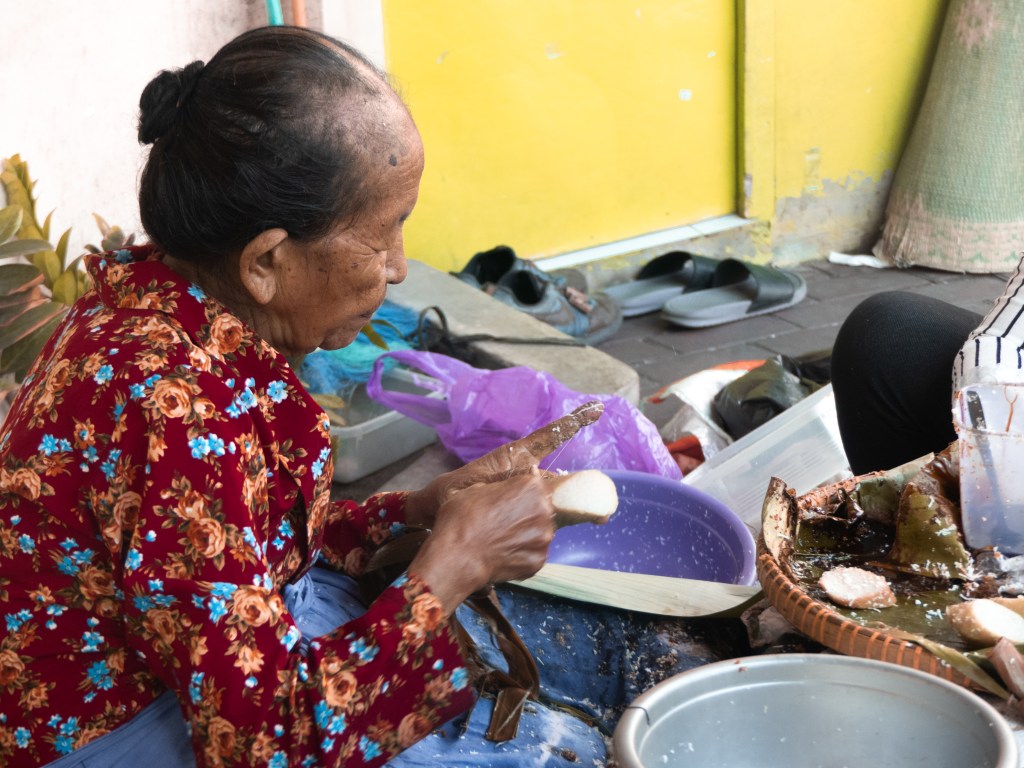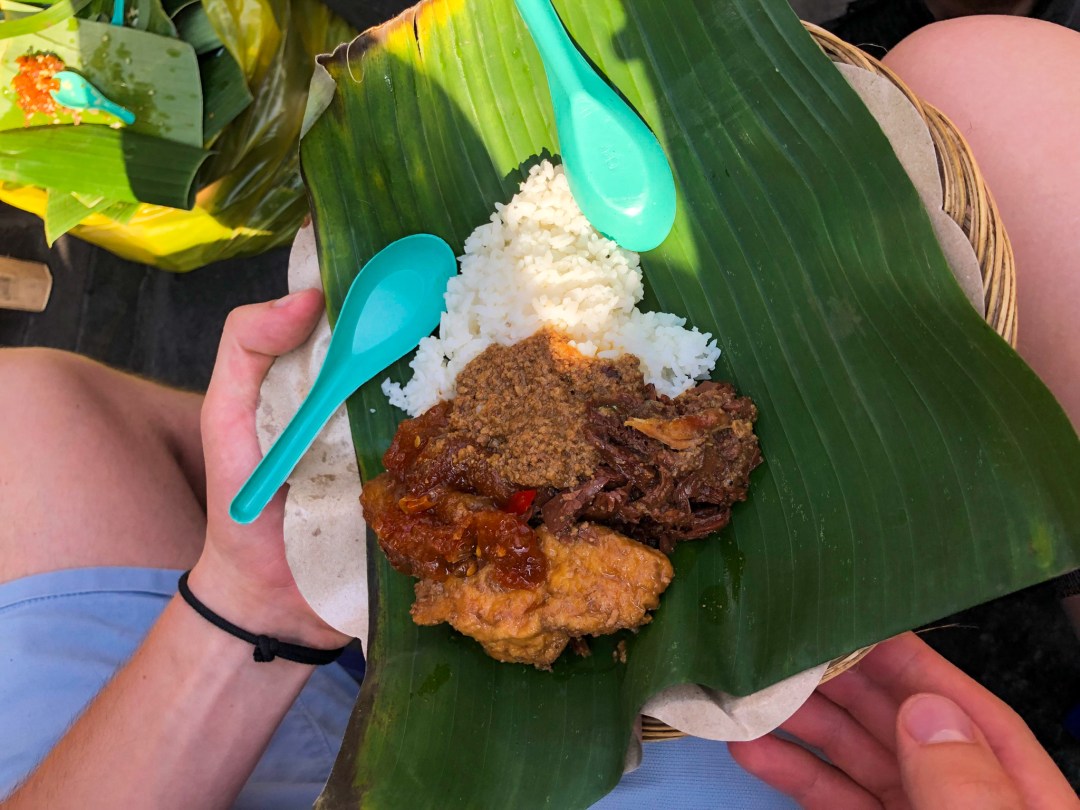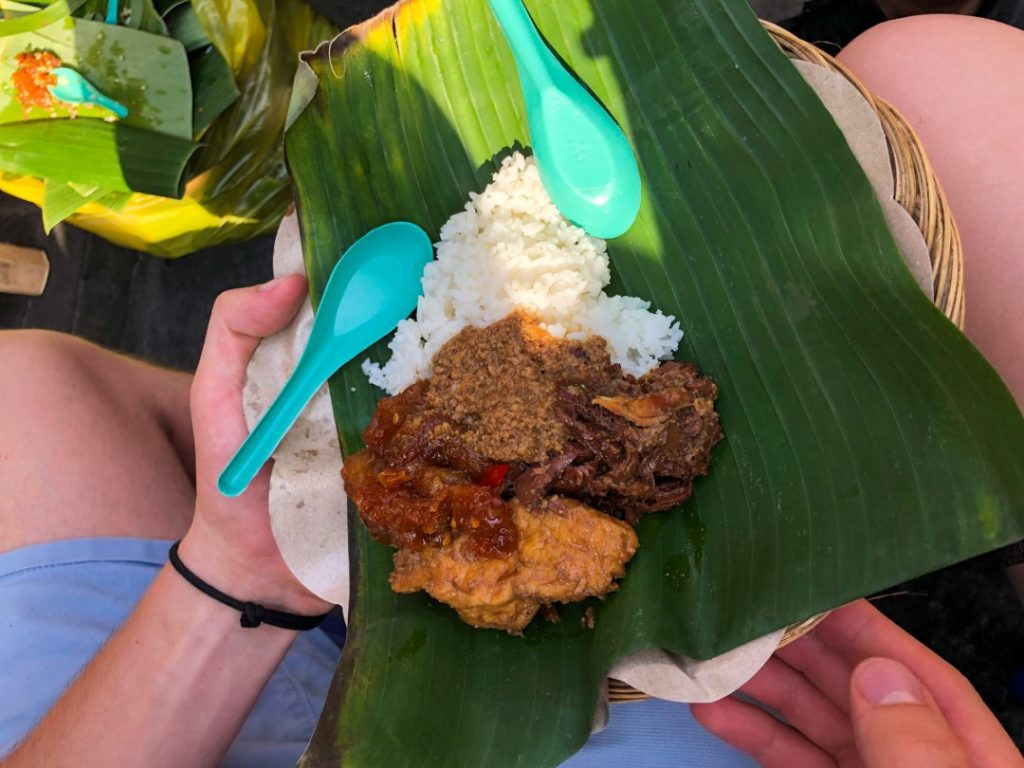 6. EXPLORE YOGYAKARTA'S BARS – FIND THE HIDDEN NIGHTLIFE
Yogyakarta is predominantly Muslim, which means alcohol is hard to come by. You'll struggle to find anything but beer and even that is served only in a handful of places across the city. Usually, you will have to go to an actual bar to find alcohol as most restaurants don't serve any.
Since a recent increase in taxes and restrictions on the sale of alcohol, the prices have risen considerably. Because of this, most supermarkets have stopped selling alcohol entirely. Currently, the last one that remains close to Malioboro Street is the Hero Supermarket in the basement of Malioboro Mall.
Since the alcohol prices in the supermarket and a bar are not drastically different there is no real point in buying alcohol here unless you want something other than beer (they do have some spirits).
THE BEST BARS IN YOGYAKARTA
If you venture towards the top of Malioboro Street and towards Sosrowijayan Street you will find a good collection of little bars as well as amazing street food. Some of our favourites are Oxen Free (expensive but with live music), Lucifer (your best chance at some nightlife) and Taphouse Beer Garden (amazing beer selection, incredible venue). The cheapest by far (IDR 40,000 ~€2.60 for a large Ankor) is the Volcano Bar and Restaurant (not on Google Maps, address below).
Unfortunately, bars in Yogyakarta seem to have a lack of customers. Since the number of backpackers staying here for an extended time is so small you won't find the incredible nightlife you might know from the Indonesian islands or other South East Asian hotspots. The locals here don't drink which is why the bars have a high turnover rate. There are many recommendations online about cheap drinks in Yogyakarta but most of the bars simply don't exist anymore. Still, the ones that do are worth visiting even if you won't be dancing on the tables by the end of the night.
Address Oxen Free: Sosrowijayan St No.2, Sosromenduran, Gedong Tengen, Yogyakarta City, Special Region of Yogyakarta 55271, Indonesia
Lucifer: Sosrowijayan St No.71, Sosromenduran, Gedong Tengen, Yogyakarta City, Special Region of Yogyakarta 55272, Indonesia
Taphouse Beer Garden: Jl. Jlagran No.18, Pringgokusuman, Gedong Tengen, Kota Yogyakarta, Daerah Istimewa Yogyakarta 55272, Indonesia
Volcano Bar: GT 1/59, Jl. Sosrowijayan, Sosromenduran, Gedong Tengen, Kota Yogyakarta, Daerah Istimewa Yogyakarta 55271, Indonesia
Price: IDR 40,000 to IDR 60,000 (~ €2.60 to €3.90) for a large beer (Ankor, Bintang, Kuda Putih, Bali Hai etc)
Duration: Most bars will close at 1:00 AM at the latest
When to go: In the evening sometime after 7:00 PM
Opening Hours: No official opening hours usually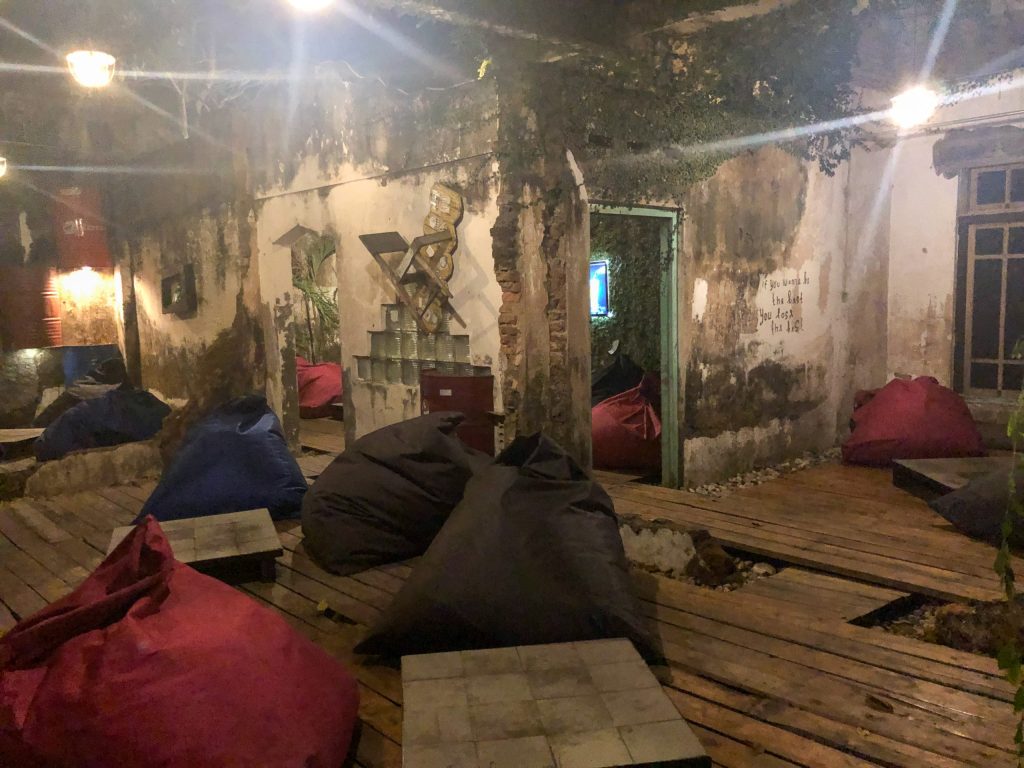 7. THE ROYAL PALACE – EXPERIENCE THE CULTURE
Yogyakarta's Royal Palace was constructed in the mid-eighteenth century almost simultaneously with Taman Sari. Another name for the palace is Kraton while the word Keraton refers to the living quarters of the royal family. The Keraton is located within the palace and the Sultan, as well as his extended relatives still live here today.
This is one reason why the palace is only open to visitors until the early afternoon. Important political functions and ceremonies are also held here.
The palace is not very large. It consists of large halls, open courtyards and small exhibitions. Unfortunately, most of the exhibition labels are not translated into English. You can hire a guide at the entrance to explain the history of the palace.
The palace does not only have a historical and political significance. Its meaning is also deeply religious and every element has a symbolic meaning. The buildings are even placed in a way that they perfectly face the Ocean and Mount Merapi. It sits on a perfect line with both Alun Alun Kidul and Alun Alun Utara Square and the Tugu Monument.
There is no dress code enforced.
Address: Jl. Rotowijayan Blok No. 1, Panembahan, Kecamatan Kraton, Kota Yogyakarta, Daerah Istimewa Yogyakarta, Indonesia
Price: IDR 7,000 (~ €0.45) for foreigners
Duration: 45 minutes
When to go: Early in the morning to avoid the crowds
Opening Hours: 9:00 AM to 2:00 PM every day except Fridays where the palace closes at 11:00 AM.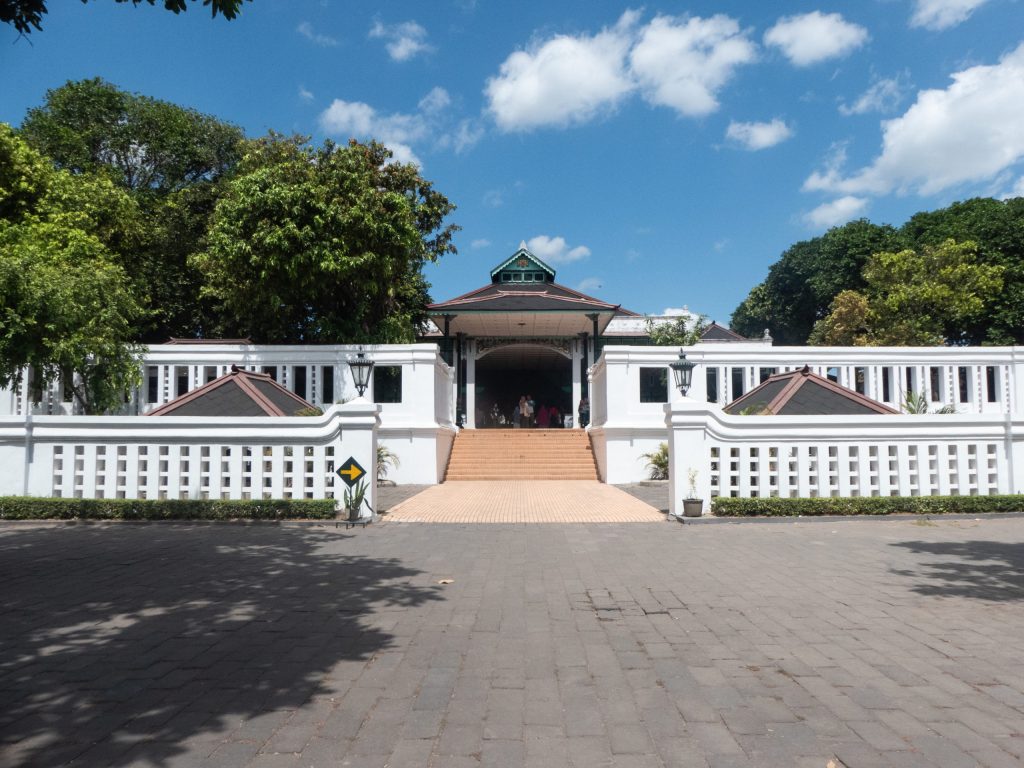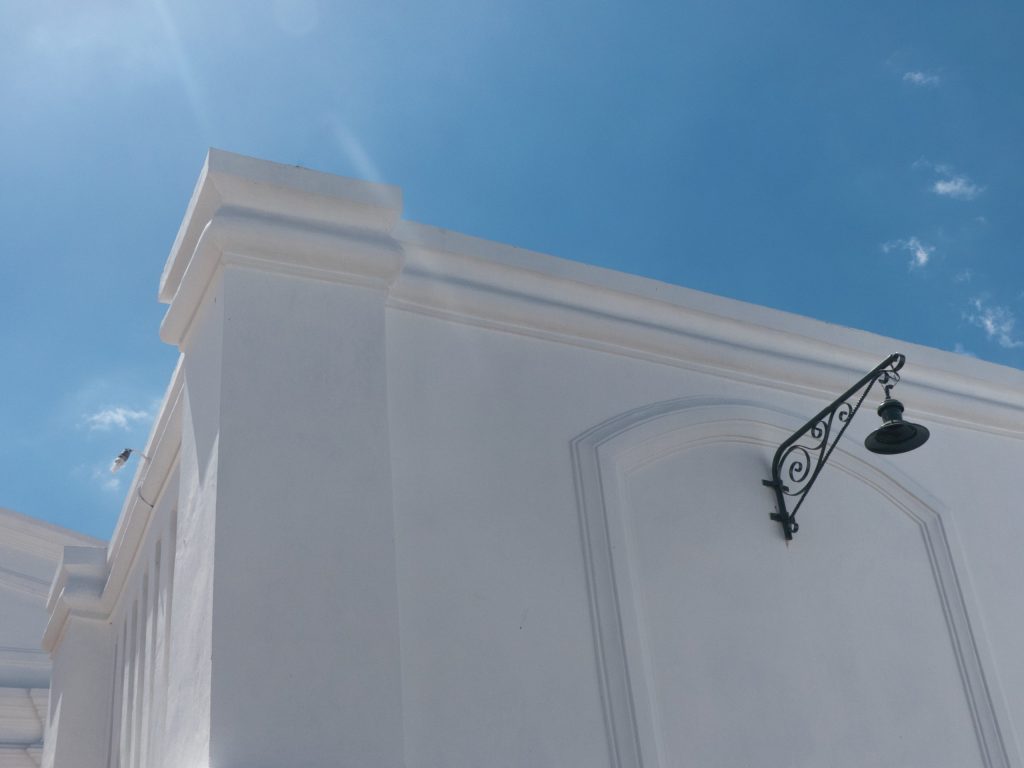 8. MALIOBORO STREET – YOGYAKARTA'S HEART
Malioboro Street will be where you spend most of your time in Yogyakarta. This is street connects most of the attractions in the heart of the city and is the best place to get street food and go shopping.
If you're looking for a place to stay in the city you should stick close to Malioboro Street. Although nightlife is not prevalent in Yogyakarta, Malioboro Street never sleeps. Many street vendors stay open way past 2:00 AM, especially on the weekends. You will find the best food here and plenty of things to do.
It is more than 1.5 kilometres long and a great place to explore both during the day and in the evening.
Address: Jl. Malioboro No.52-58, Suryatmajan, Kec. Danurejan, Kota Yogyakarta, Daerah Istimewa Yogyakarta 55213, Indonesia (Address for Malioboro Shopping Mall on Malioboro Street)
Price: free
Duration: at least 1.5 hours
When to go: Any time of the day although many restaurants and street food vendors only appear in the evening
Opening Hours: As late as 3:00 AM sometimes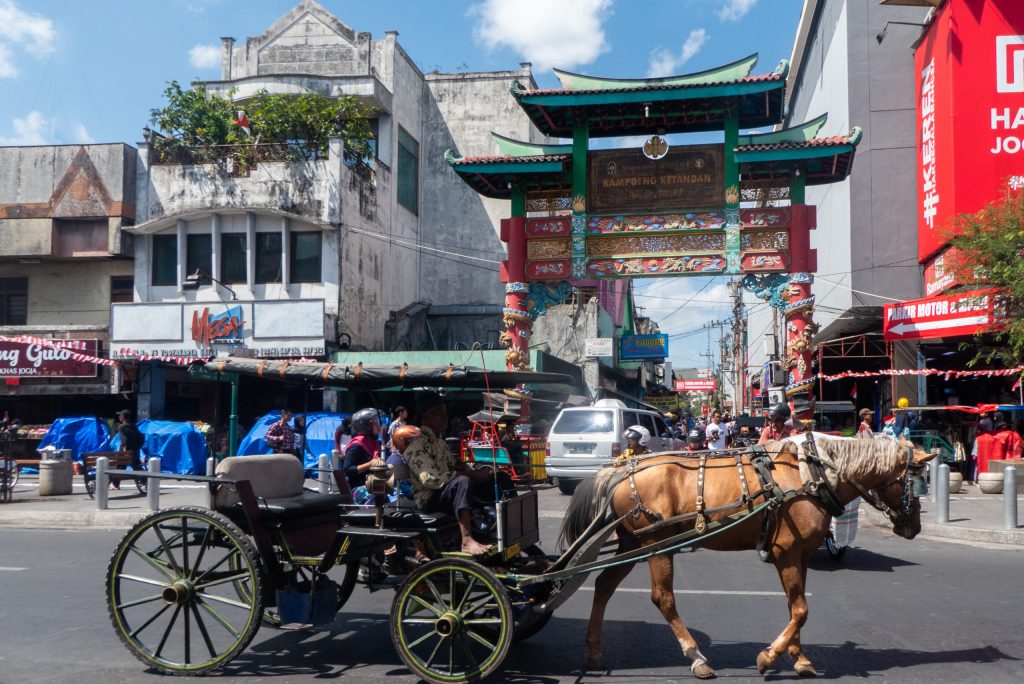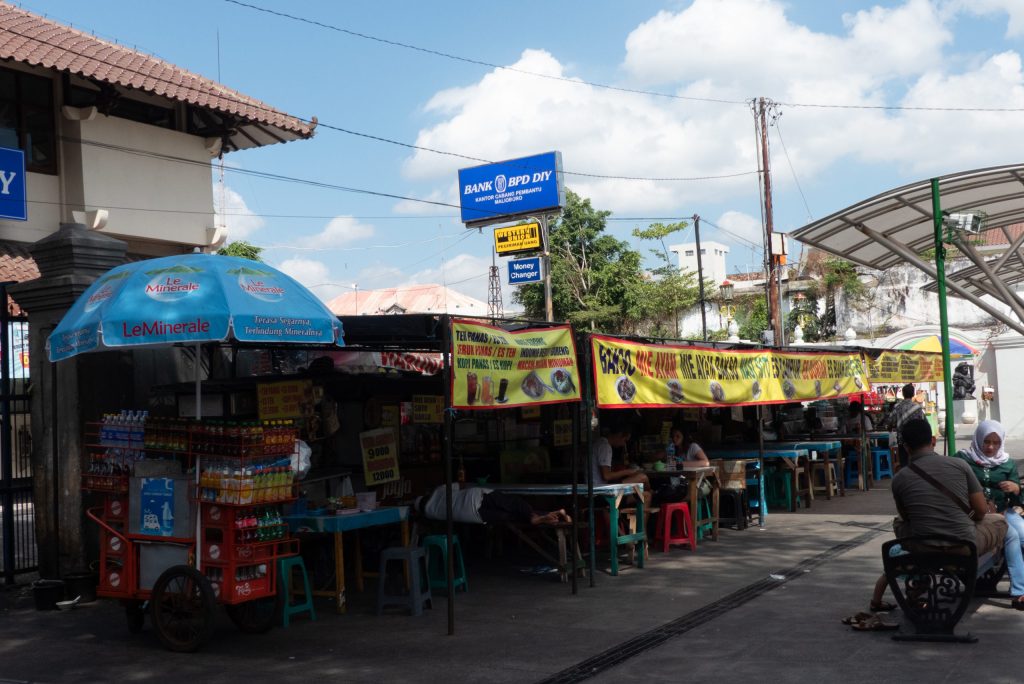 9. ALUN ALUN KIDUL SQUARE (SELATAN) – NIGHT MARKET AND NEON CARS
Confusingly, Yogyakarta has two Alun Alun Squares. You'll find one (Alun Alun Utara) right in front of the main entrance to the royal palace, while the other is further south (around 15 minutes by foot). The squares look very similar with large banyan trees in the centre. During the day Alun Alun Kidul Square transforms into a bustling night market with all sorts of food items.
The square is famous for its neon pedal cars which you can rent for IDR 40,000 (~ €2.60). Each car is individually decorated with popular cartoon characters or crazy light-up gimmicks. They each have their own music sounds system usually controlled by an old portable DVD player which lets you choose from popular songs.
For IDR 40,000 (~ €2.60) you can go around the square once and try not to crash into the many other cars doing the same. It's very difficult to bargain here. This attraction is very popular amongst locals and Indonesian tourists. You'll most likely only see a handful of other backpackers if even.
Address: Alun-Alun Kidul St, Patehan, Kraton, Yogyakarta City, Special Region of Yogyakarta 55133, Indonesia
Price: IDR 40,000 (~ €2.60) to go around the square in a neon car
Duration: at least 1 hour depending on whether you sit down and eat
When to go: Go in the late evening to get the best experience with the neon cars
Opening Hours: The night market opens at around 6:00 PM and stays open late. There are no official opening hours but I would recommend going between 8:00 PM and 10:00 pm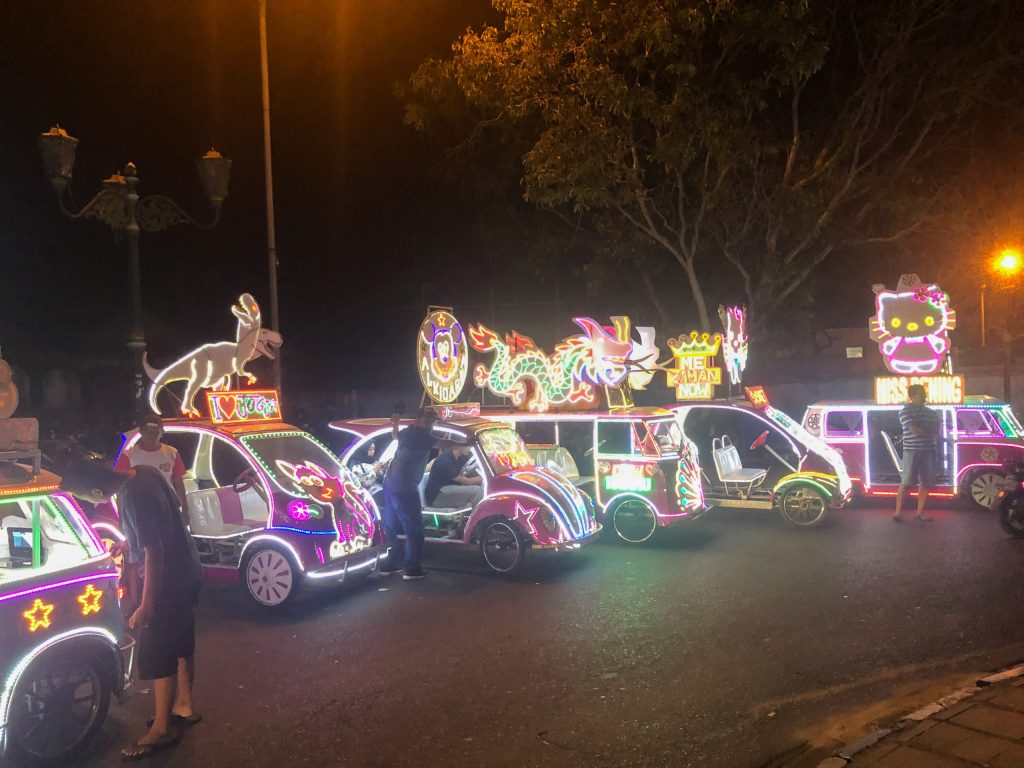 10. TRY ALL THE SNACKS – HIGH-QUALITY STREET FOOD AT LOW PRICES
Yogyakarta's street food is one of a kind. Prices are extremely low especially if you compare them to the likes of Bali and other tourist hotspots. Most of the common street food items are smaller snacks such as fried tofu, egg skewers, satay or spring rolls. You cannot leave Yogyakarta without having tried the spring rolls. Most street food is available for around IDR 3,000 to 10,000 (~ €0.20 to €0.60) for snacks or IDR 15,000 to IDR 25,000 (~ €1 to €1.60) for a meal.
Your best chance of finding street food is close to Malioboro Street and Sosrowijayan Street. Especially around Pasar Beringharjo you'll find many vendors during the day. The best selection is, however, in the evening. At around 7:00 PM more hawker stalls start to pop up on Malioboro Street. Venturing into the side streets is a must to find hidden kitchens and local restaurants.
Address: You cannot give street food an address, you'll have to find it
Price: IDR 3,000 to 25,000 (~ €0.20 to €1.60) depending on what you order
When to go: You can find street food during most times of the day even past midnight
Opening Hours: No official opening hours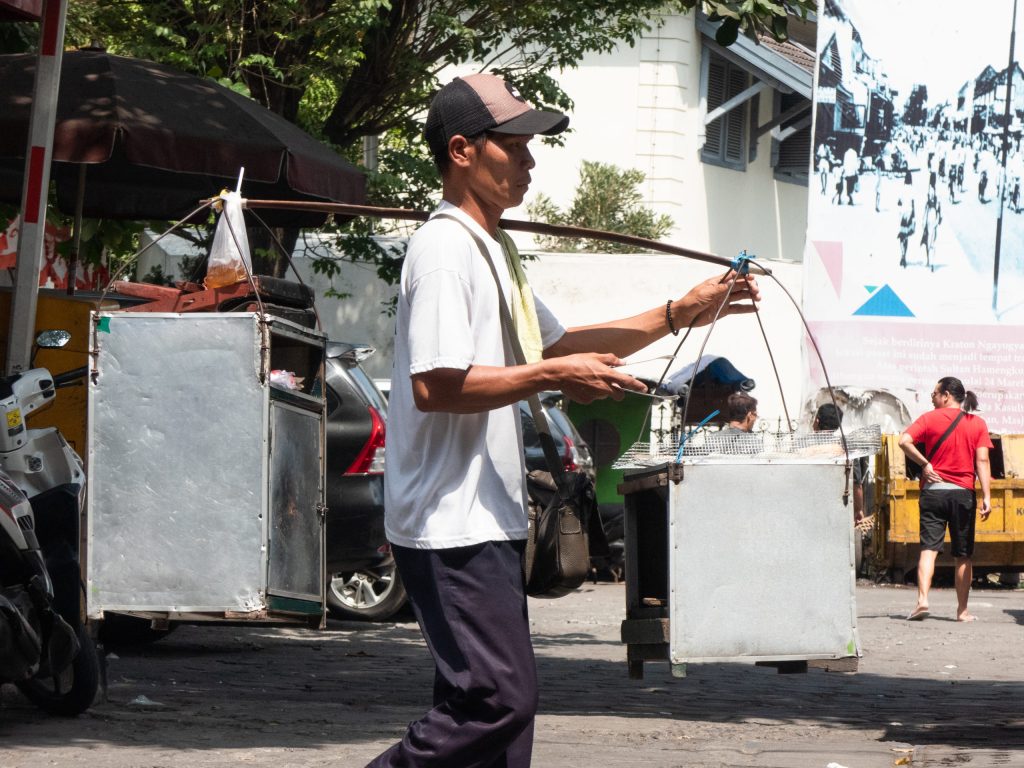 7 THINGS TO DO AROUND YOGYAKARTA
Tourists often visit Yogyakarta because of its strategic location in Java. It's a perfect access point for both the southern beaches as well as the surrounding volcanos.
When you visit Yogyakarta you should definitely take at least two day trips to explore the surrounding attractions. It's a nice change to get out of the city and see what else rural Indonesia has to offer.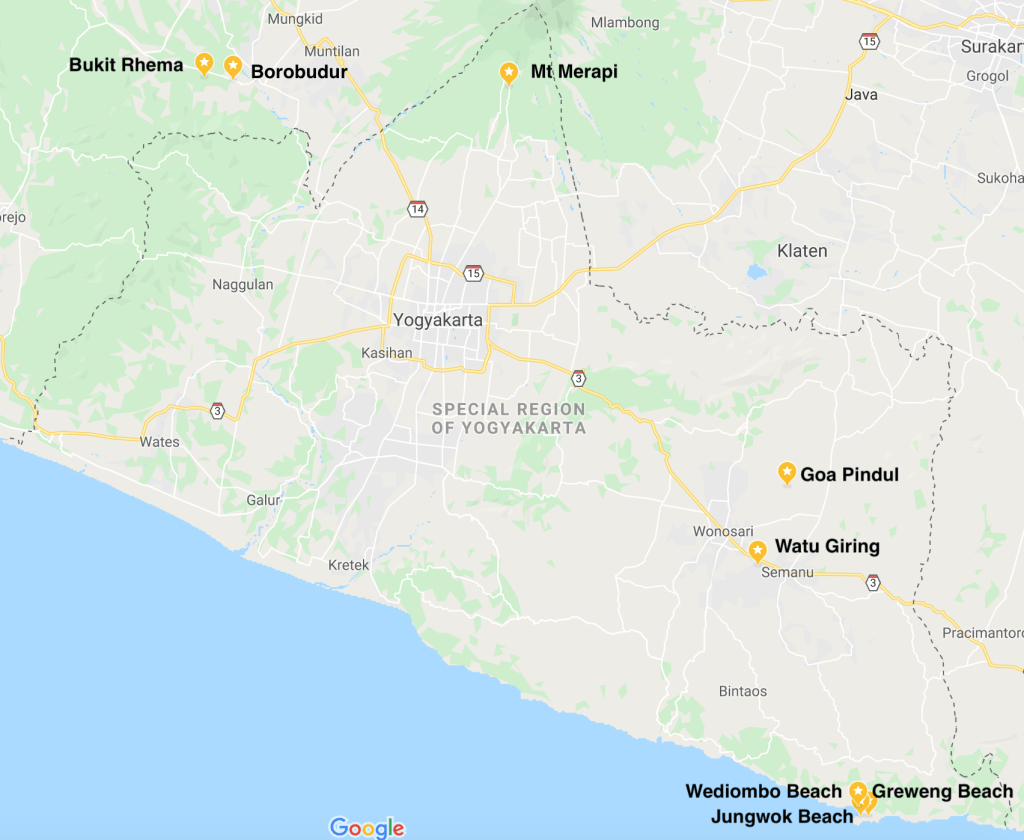 11. MOUNT MERAPI – JEEP TOURS ON AN ACTIVE VOLCANO
Mount Merapi sits 25 kilometres north of Yogyakarta's city centre. It takes just under an hour to drive there.
The volcano has been erupting regularly for the last 250 years and is still active today. More than 350 people died in a severe eruption in 2010. The museum that sits at the foot of the volcano aims to educate visitors on this disaster and exhibits many relics from the eruption.
The best way to see Mount Merapi is by taking a jeep tour around the mountain. These so-called Lava Tours will take you to see various spots of interest including an abandoned bunker, the museum and abandoned villages. The jeeps are open and the ride is quite bumpy and dusty. However, this is the perfect way to get close to an active volcano and see the aftermath of its eruptions.
There are plenty of tour companies available at the foot of the mountain. Their prices do not differ drastically and there is no need to pre-book a tour. You can choose from different routes starting at IDR 350,000 (~ €22.60) for 90 minutes up to IDR 600,000 (~ €38.75) for 180 minutes. These prices are per jeep (including the driver) which can seat up to four people. There are also sunrise tours available.
Address: Ngrangkah, Pangukrejo, Umbulharjo, Palemsari, Umbulharjo, Sleman, Kabupaten Sleman, Daerah Istimewa Yogyakarta 55583, Indonesia (You do not have to choose this particular company, they are all good)
Price: starting at IDR 350,000 (~ €22.60) per jeep
Duration: 1.5 to 3 hours
When to go: Any time of the day, although the view is usually better in the morning
Opening Hours: It's difficult to specify opening hours (roughly 6:00 AM to 6:00 PM)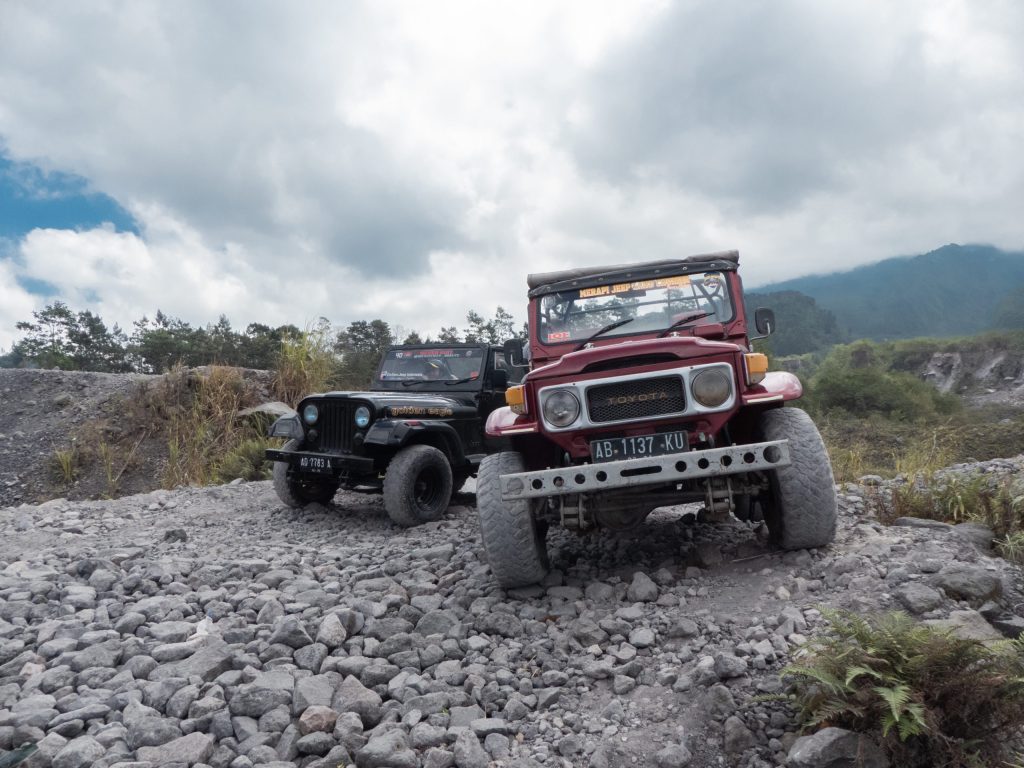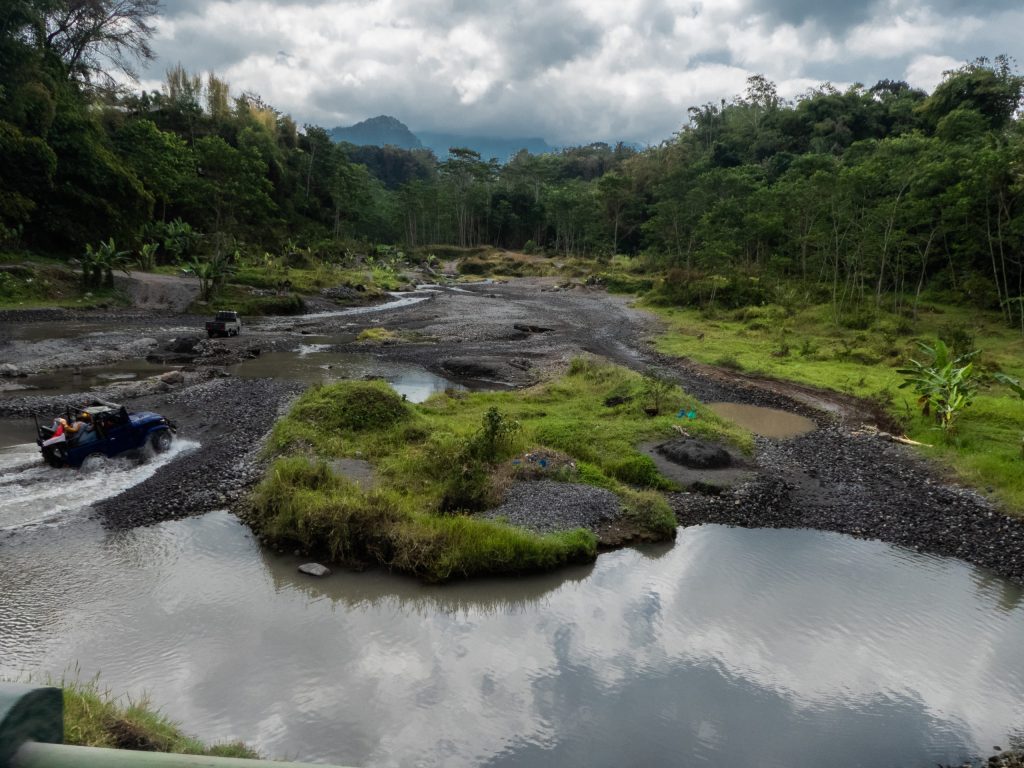 12. WEDIOMBO BEACH – RELAX AND TAKE A BREAK
You can find Wediombo Beach about 75 kilometres (2.5 hours driving) south-east of Yogyakarta. It's best to visit this beach in combination with other attractions close by such as Jungwok Beach, Greweng Beach and Kalong Island.
Beaches in Yogyakarta are still relatively undiscovered by tourists. Many don't want to drive so far out of the city or don't even know how beautiful Yogyakarta's coast is.
For this reason, you will have the beach largely to yourself especially if you go on a weekday. Tourism is only just reaching these areas, who knows how they will look in five years' time.
Wediombo Beach is easy to reach and only a 5-minute walk from the upper carpark. There are some small warungs but not much else. During high-tide, you can swim in the shallow water although having water shoes would be necessary. During low-tide, the seabed is exposed and little pools form. This beach is great for relaxing, exploring and taking pictures. The water is clean and clear.
Address: Pendowo, Jepitu, Girisubo, Gunung Kidul Regency, Special Region of Yogyakarta, Indonesia
Price: free, IDR 5,000 (~ €0.30) for parking
Duration: 1 hour or more
When to go: Any time of day, weekdays are quieter. The beach is great for sunset
Opening Hours: No official opening times
Bukit Rhema or Gereja Ayam (Chicken Church) as many call it, is an all-faith prayer house located close to Borobudur Temple. For IDR 30,000 (~ €2) you can visit this impressive construction. The ticket includes a voucher for the church's cafe where you can get a small snack.
The architect, Daniel Alamsjah, had the vision for this extraordinary building in a dream. He started construction in the 1990s and although he is of the Christian faith he wanted the church to include all religions. Despite the common misconception the building is meant to represent a dove, not the chicken it is often mistaken for.
The inside of the church is large and divided into multiple prayer rooms and different halls. You can go to the very top of the "crown", although the steps are far from sturdy. On clear days you can even see Borobudur from here or you can come early and see the sunrise.
Bukit Rhema is a fascinating attraction and slightly off-the-beaten-path. Don't miss out on it if you're visiting Borobudur anyway, it is the perfect combination of weird and wonderful.
Are you curious about Bukit Rhema's story? Click here to read our post about it.
Address: Karangrejo Gombong, Kurahan, Kembanglimus, Kec. Borobudur, Magelang, Jawa Tengah 56553, Indonesia
Price: IDR 30,000 per person (~ €2) (including free snack)
Duration: 1 hour
When to go: The mornings are quieter but you will not have to deal with large crowds here
Opening Hours: 5:30 AM to 5:00 PM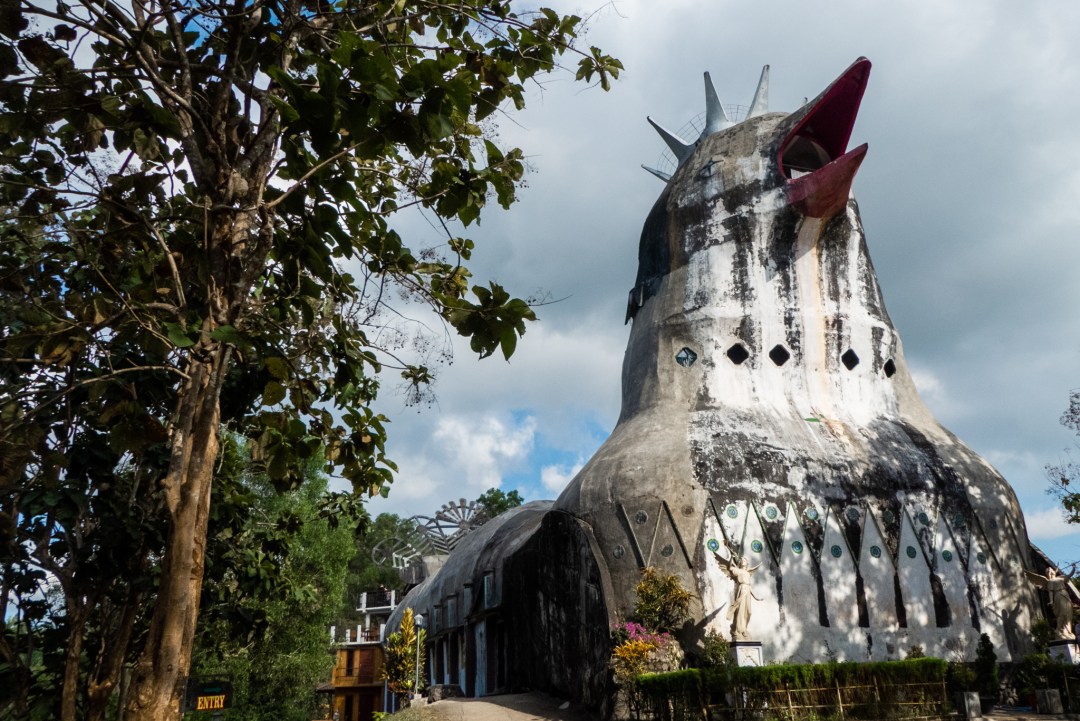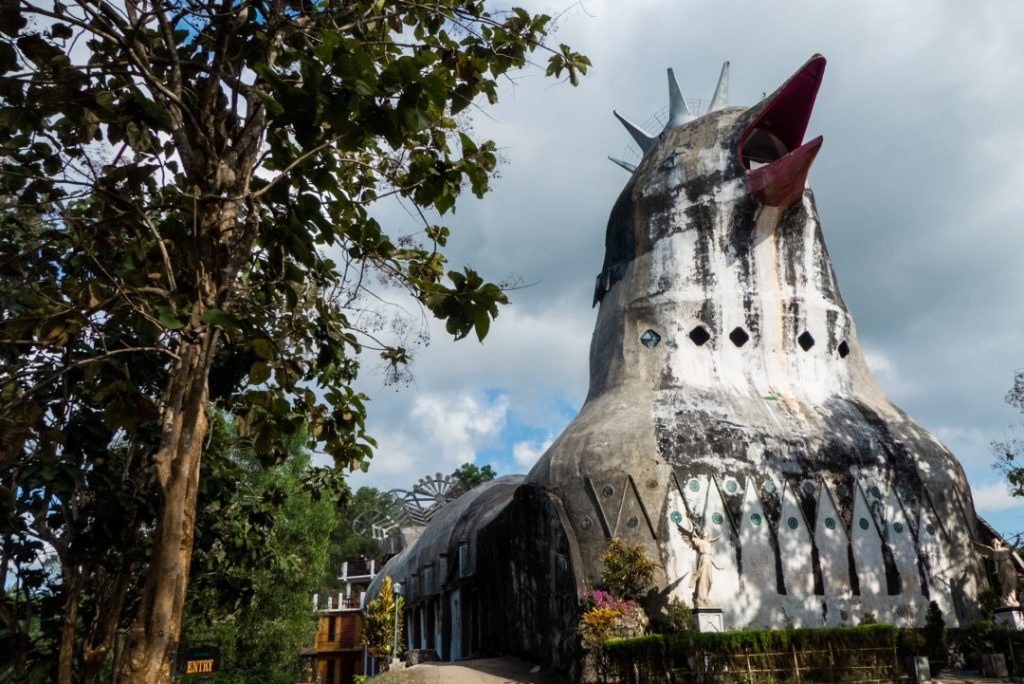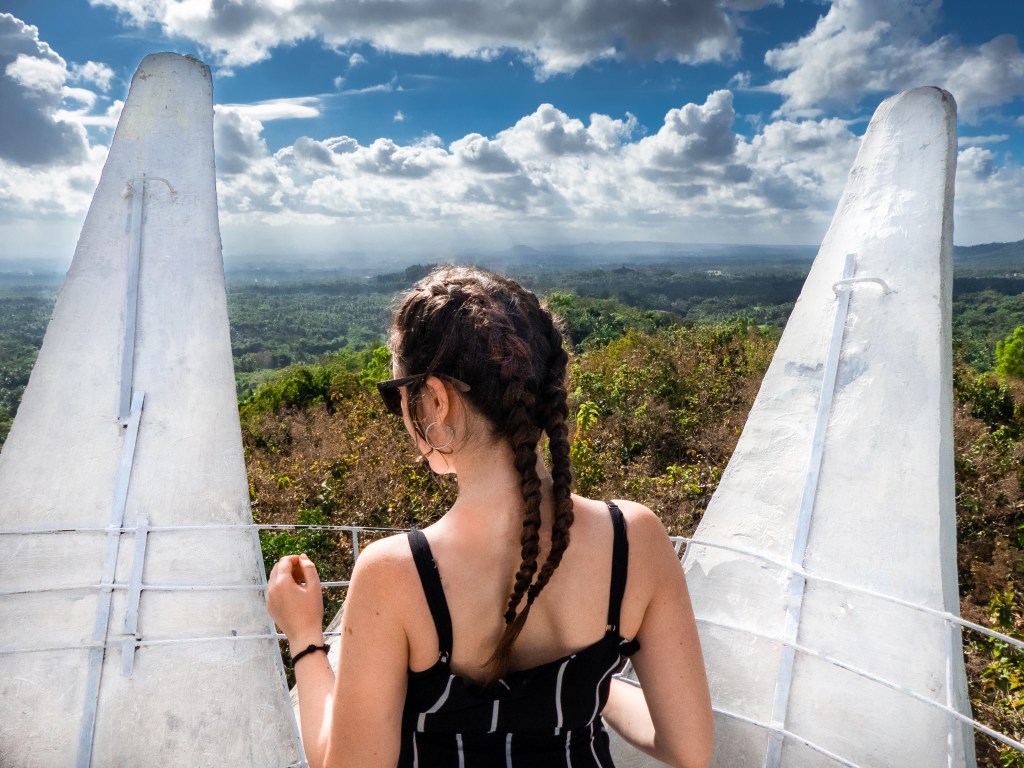 14. GOA PINDUL – CAVE AND RIVER TUBING
Goa Pindul is a cave located about on hour east outside of Yogyakarta. This cave is unique because an underwater river flows through it. Visitors can book a "cave tubing" tour where they float through the cave on large inflatable rings. After the cave tour, you can choose to visit a nearby river for an open-air tubing experience.
I highly recommend both, however, as reviews online attest, it is important to go early in the morning on a weekday to make sure you can enjoy the cave and river in peace. Goa Pindul is a popular weekend activity for many local families and tourists which can make the cave very crowded. Try to arrive before 10:00 AM and you'll be on the safe side.
The cave is not very large and pitch-black in most places. A local guide will be with you during the whole journey which takes about 30 minutes. The river tubing takes slightly longer.
Getting to experience a cave while floating on an underground river is unique and eerily peaceful. Goa Pindul is unusual and a great way to start a day-trip outside of Yogyakarta
Address: Dusun Gelaran II, RT.3/16, Gunungbang, Bejiharjo, Kec. Karangmojo, Kabupaten Gunung Kidul, Daerah Istimewa Yogyakarta 55891, Indonesia
Price: IDR 160,000 (~ €10.30) per person for both cave and river tubing (can be done separately)
Duration: Allow 1,5 hours for both activities combined
When to go: Go on a weekday before 10:00 AM
Opening Hours: 8:00 AM to 5:00 PM (approximately)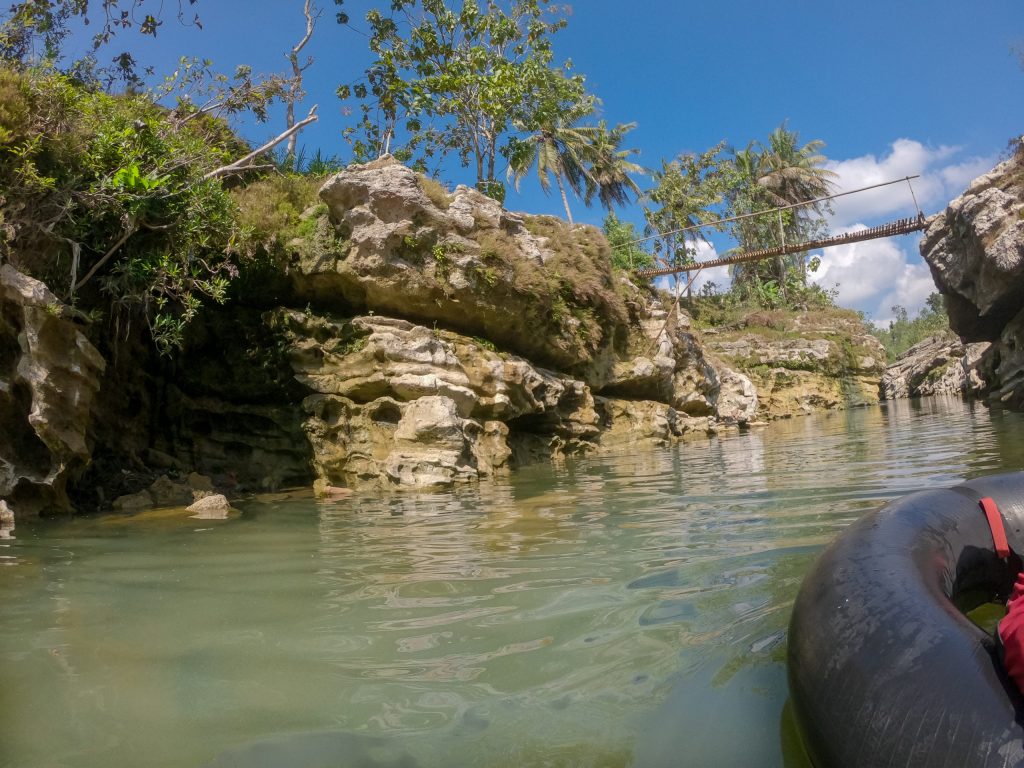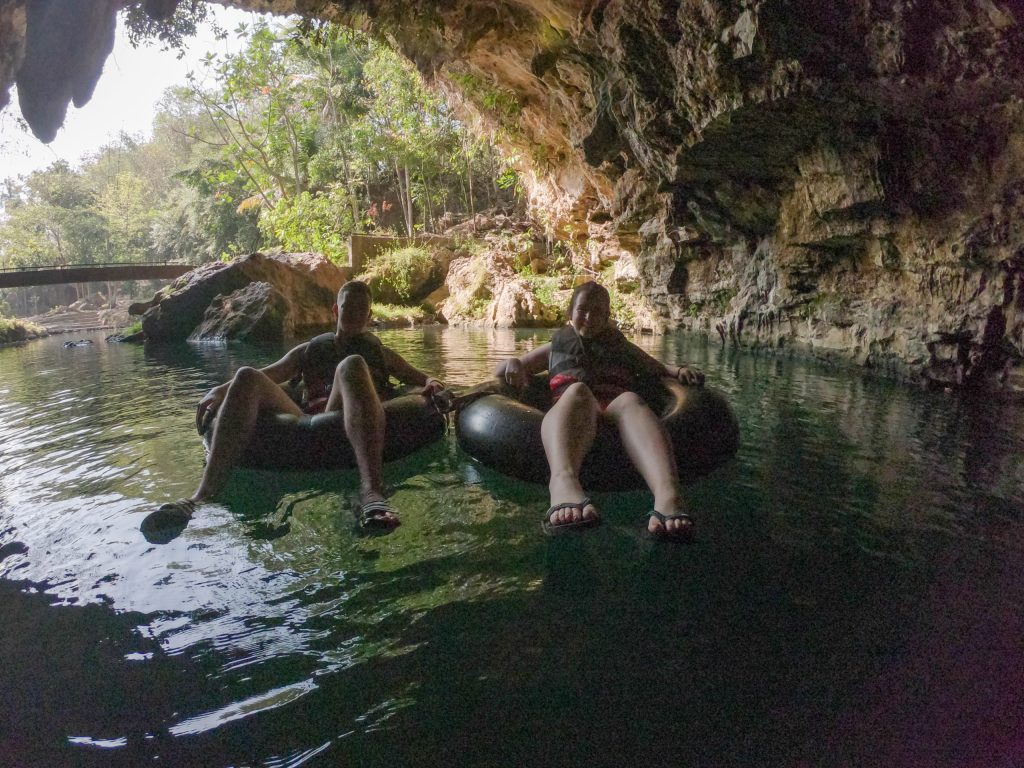 15. JUNGWOK BEACH – INCREDIBLE SCENERY
To get to Jungwok Beach you need to drive 75 kilometres outside of Yogyakarta. It sounds far, but it's easy to combine visiting this beach with Greweng Beach and Kalong Island, which are accessible from the same parking lot.
Jungwok Beach is very similar to Wediombo Beach in that it is very quiet with only a few small warungs. Jungwok has a more impressive landscape with a large rock right in front of its sandy shore.
The beach is perfect for relaxing and exploring the seabed. The waves break on a coral reef further out at sea so the water at the beach is shallow and calm.
Address: Pendowo, Jepitu, Girisubo, Gunung Kidul Regency, Special Region of Yogyakarta, Indonesia
Price: IDR 5,000 per person (~ €0.30) (excluding the driver) to enter (also applies for nearby Greweng Beach and general surrounding area)
Duration: 1 hour
When to go: Any time of the day, the beach looks more appealing during high-tide when the sea bed isn't exposed
Opening Hours: no official opening times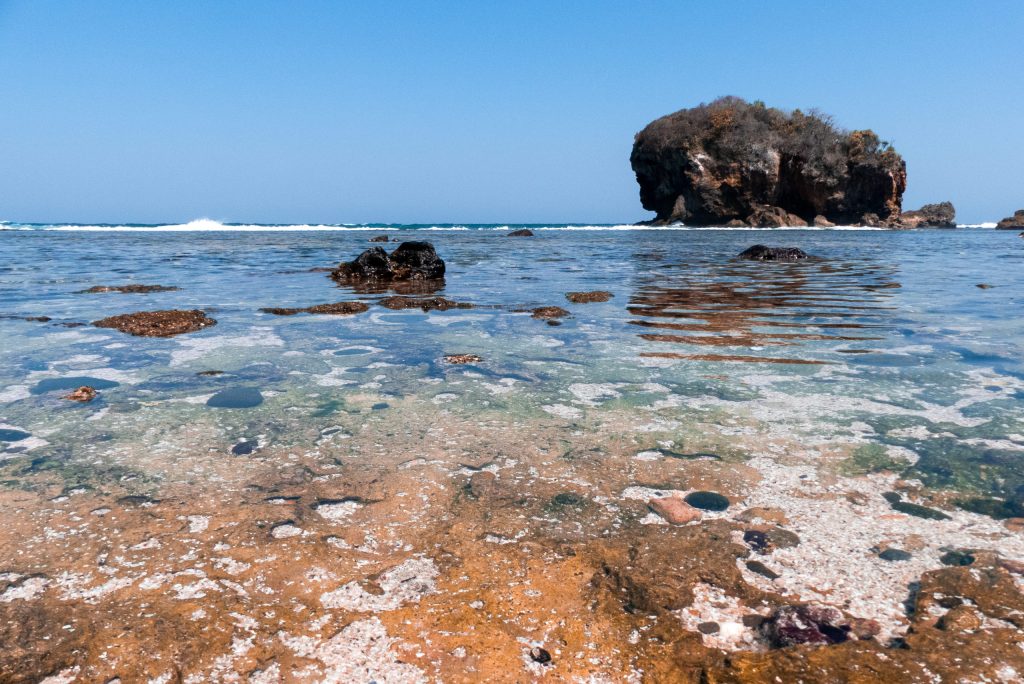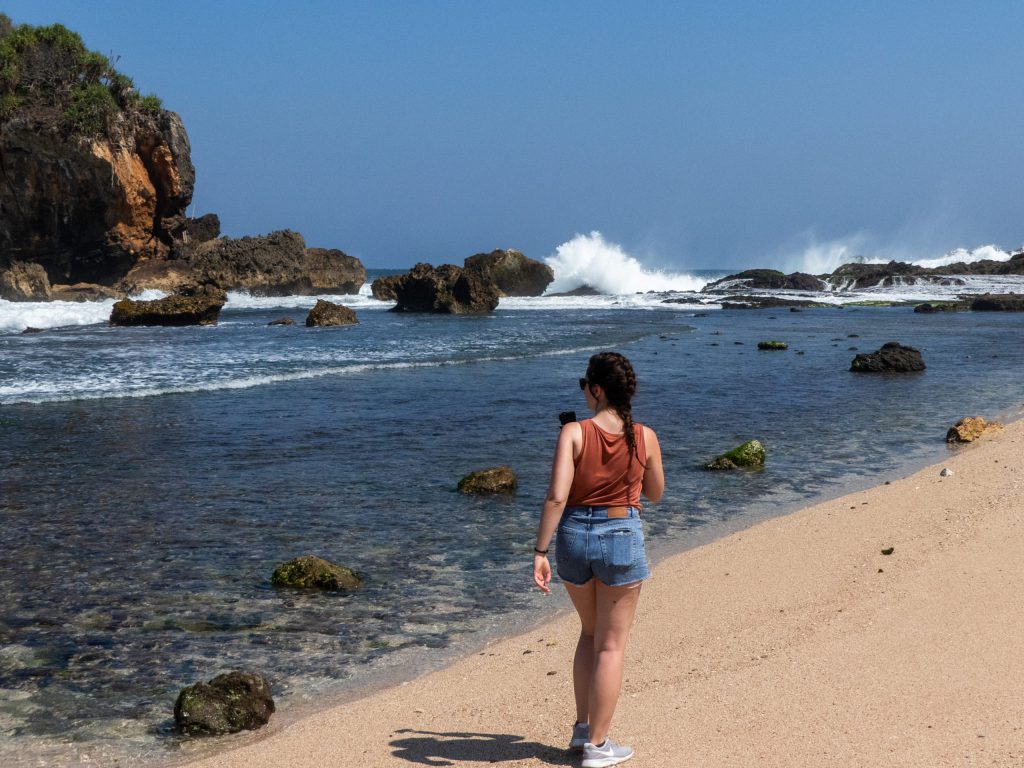 16. GREWENG BEACH AND KALONG ISLAND – A HIDDEN BEACH AND ROPE BRIDGE
Greweng Beach is right next to Jungwok Beach but is slightly more tricky to reach. Follow the signs from the large parking lot which will lead you on a 20-minute hike through farming lands and beautiful scenery. The walk is manageable but can be exhausting in the heat.
Greweng Beach is very narrow with a shallow seabed at the shore and crashing waves further out. Be careful of the tides and use your common sense when exploring. The current is very strong.
The beach is usually deserted. You'll only run into a few locals who live here. You'll find plenty of spots in the shade to relax. You can also explore the cliffs and surrounding area.
If you're visiting Greweng Beach you have to make sure to climb up to Kalong Island. Go behind the small houses at the beach and you'll find a makeshift path leading up the hill. From here you'll be able to see Kalong Island and its spectacular suspension bridge.
It's possible to cross the bridge onto the island, although this is not for the faint of heart. Unfortunately, the bridge was closed for safety reasons during our visit but it is usually open for visitors.
Definitely don't miss out on these fantastic views though even if you're not brave enough to cross the bridge.
Address: Jl. Pendowo, Pendowo, Jepitu, Girisubo, Kabupaten Gunung Kidul, Daerah Istimewa Yogyakarta 55883, Indonesia
Price: IDR 5,000 per person (~ €0.30) (excluding the driver) to enter (also applies for nearby Jungwok Beach and general surrounding area), IDR 25,000 (~ €1.60) to cross the bridge
Duration: 1,5 hours maybe more
When to go: Any time of the day, ideally when the sun is not too hot
Opening Hours: no official opening times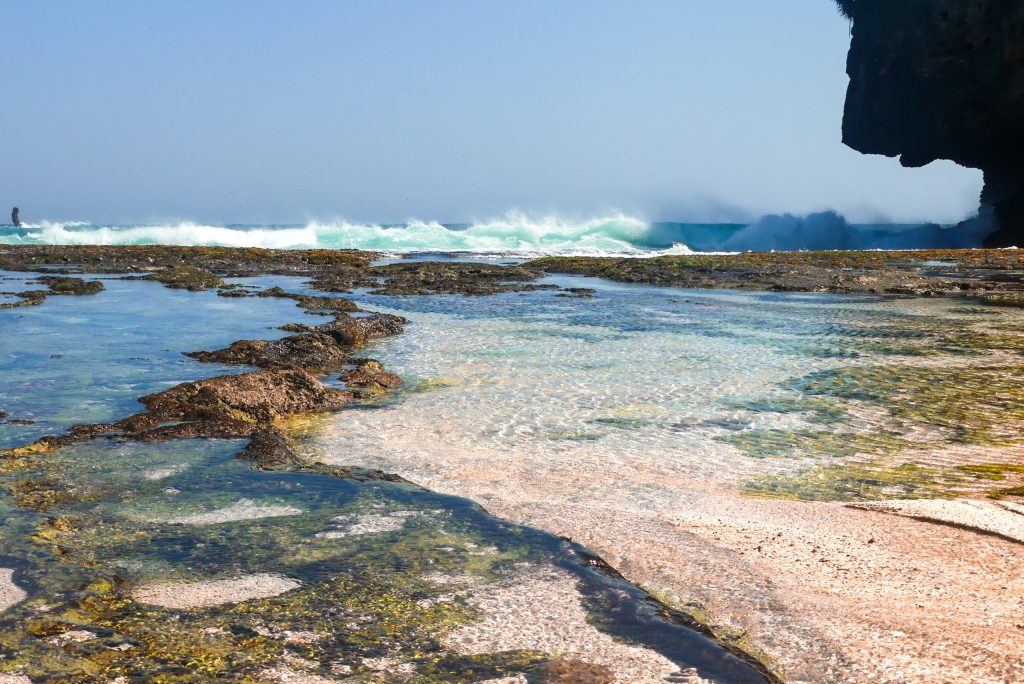 17. WATU GIRING – AN OLD MINING SITE WITH CRAZY STONE FORMATIONS
An hour outside of Yogyakarta you'll find one of the strangest attractions in this area. Watu Giring looks like it was built by the Mayan civilisation thousands of years ago. In fact, the story of its geometric design lies with local miners who extracted limestone here until the site was abandoned for unknown reasons.
Rather than simply mining the stone in a traditional way they chose to form patterns and create a mystical and fascinating tourist attraction. However, few people know about Watu Giring, which is why visitor numbers are low.
This is a great spot to take photos. If you're not interested in that then you won't spend a lot of time here since Watu Giring is not very large.
Address: Jelok Pacarejo, Sambirejo, Kec. Semanu, Kabupaten Gunung Kidul, Daerah Istimewa Yogyakarta 55893, Indonesia
Price: free
Duration: 30 minutes
When to go: Any time of the day, ideally when the sun is not too hot
Opening Hours: no official opening times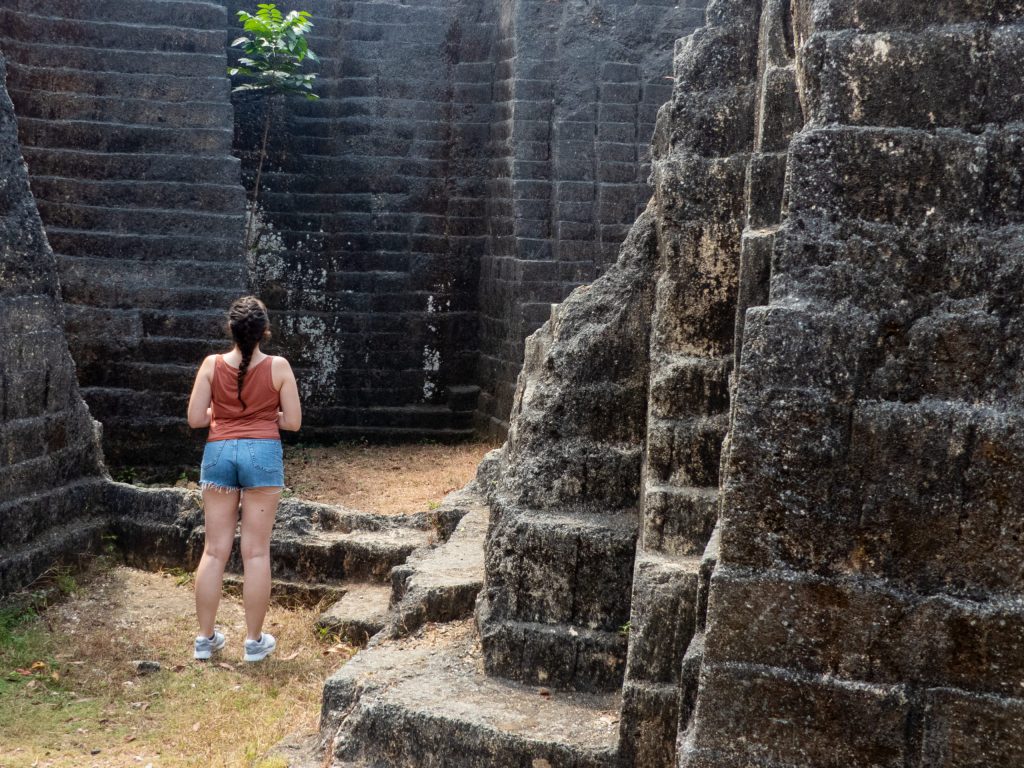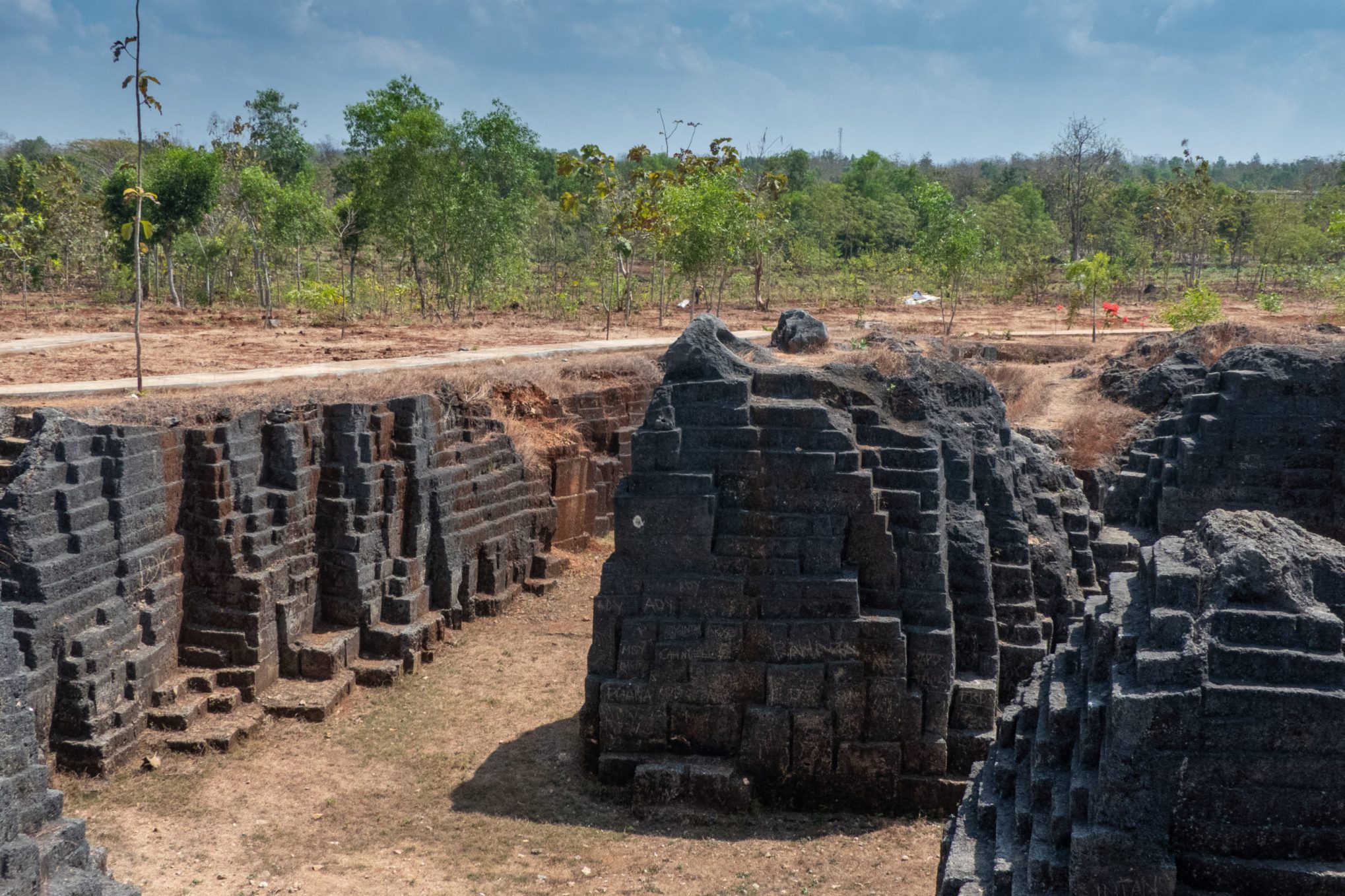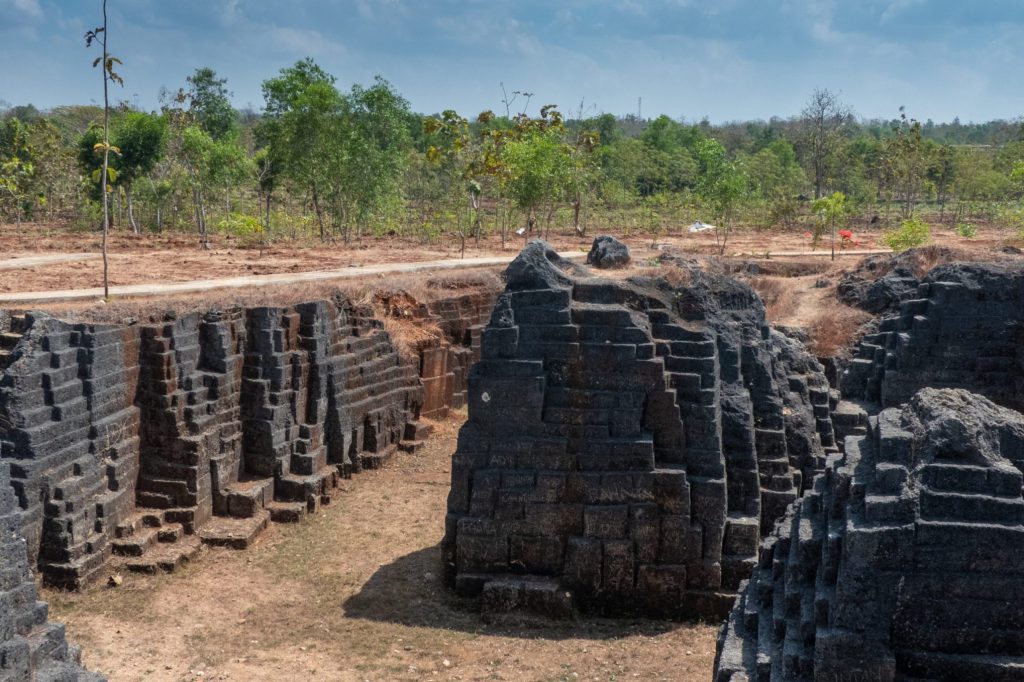 MORE THINGS TO SEE IN YOGYAKARTA
I never write about locations I have not visited personally since I cannot 100% recommend them. However, Yogyakarta has even more amazing things to do than just the 17 on this list. Definitely take some time to research the following spots and incorporate them into your itinerary.
Prambanan Temple – Almost as famous as Borobudur, this temple is not to be missed
Jomblang Cave – A spectacular cave you can only enter by abseiling
Timang Beach – similar to Kalong island with a cable car leading over the crashing waves to a small island
Kalibiru National Park – amazing views of lakes and mountains
Watu Lumbung Beach – a secret beach with amazing scenery
Jogan Beach – a waterfall at the ocean
Dinner at Bukit Bintang – a beautiful lookout spot with many restaurants, perfect for dinner
Trying to travel on a budget? Here are 21 tips on how to save money in Indonesia.
Next stop Jakarta? Click here to find out how to take the train from Yogyakarta to the capital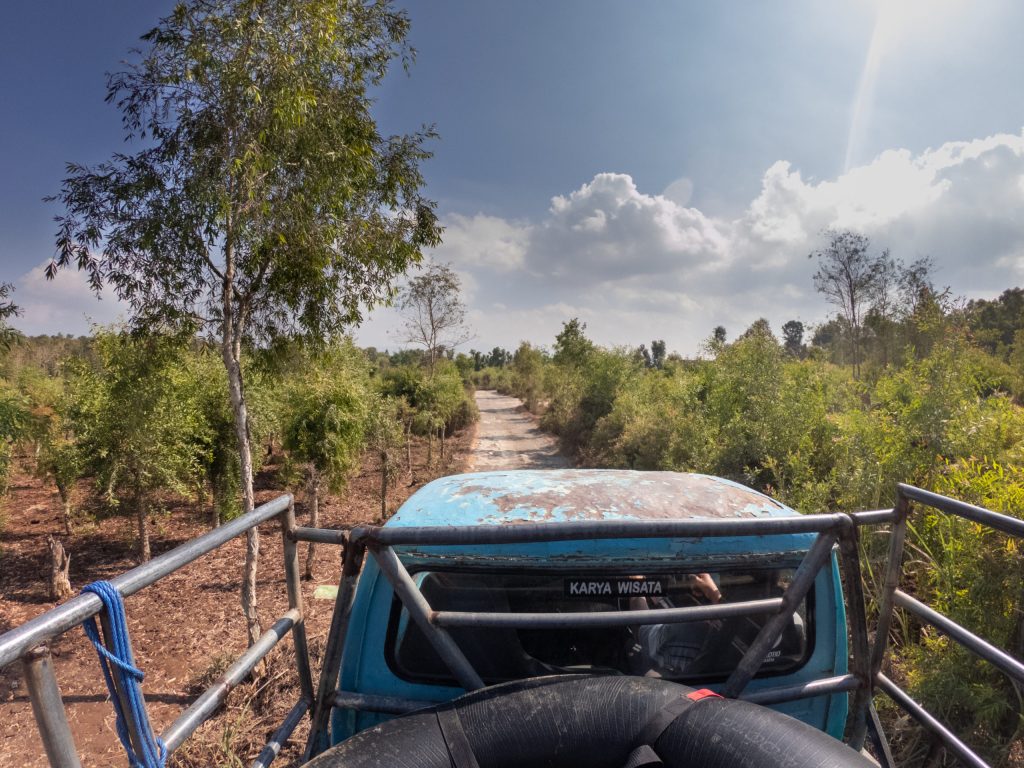 My most important travel tips and resources
Book your flights
Skyscanner is the best website for finding cheap flights since it works like a search engine so you can find the best deals across all airlines.

Book hotels and hostels
• Booking.com: Best world-wide
• Agoda: Best in South East Asia
• Hostelworld: Best for hostels

Book tours, transport and rental cars
•Viator: The best place to book tours, day trips and excursions for al budgets
•12Go: Great for ferries, trains, transfers and buses in South East Asia
•Discover Cars: Best deals for rental cars around the word

Get travel insurance
Every traveller needs travel insurance and I mean every single one. SafetyWing covers you in case of injury, illness or worse and they've got your back if your bag is stolen, flights are cancelled or in case of a natural disaster.

Pay abroad
Ask any traveller, Wise is the best choice when it comes to sending money abroad. They've always got the best exchange rates, lowest fees and their visa card is great for getting cash out or paying abroad.

Things every traveller needs:
➼ Osprey Farpoint 70 Backpack
Detachable daypack, ultra-light, durable and free repairs for life. There's a reason why so many backpackers have this bag.
➼ Packing Cubes
Packing cubes are a gamer changer, keeping your luggage organised and providing tons of extra space.
➼ Power bank
There is nothing worse than running out of battery on an overnight bus journey or a long flight. With a powerbank you can charge your eletronics on the go and make sure you're always connected.
➼ Micro-fibre towel
These lightweight towels are foldable, fast-drying and so useful when you're travelling.

➼ You can find 15 more things every traveller needs here. Some might be a bit controversial but I warned you!
Did I miss anything?
If you have any questions or feel like something is missing from this post please leave a comment below or contact me.