Finding the perfect hotel for your stay in Kuala Lumpur can be tricky. In such a big city the choices are vast and it can feel overwhelming to choose the perfect one. Is the Somerset Hotel Ampang Kuala Lumpur the answer to all your needs?
During my time in Kuala Lumpur, I booked this hotel for an extended stay and was overall very happy. However, there were some smaller issues that I think could be improved in the future.
If you are considering staying at this hotel then keep reading to find out if Somerset Hotel Ampang Kuala Lumpur is right for you.
Planning your itinerary for KL? Check out these 19 must-do activities in the city.
Have you heard of Kuala Lumpur's secret bars? Find out more here.
This post may contain affiliate links, which means we'll receive a commission if you purchase through our links, at no extra cost to you. This helps us keep Guide your Travel free and provide high-quality content for you. Please read the full disclaimer for more information.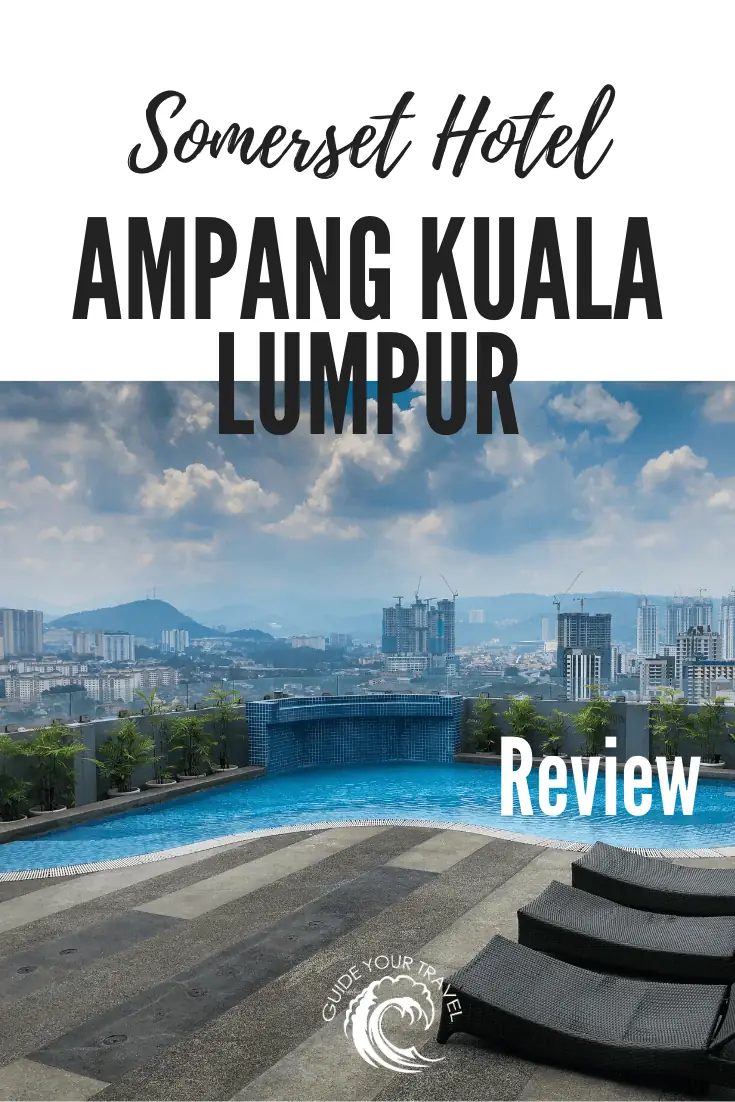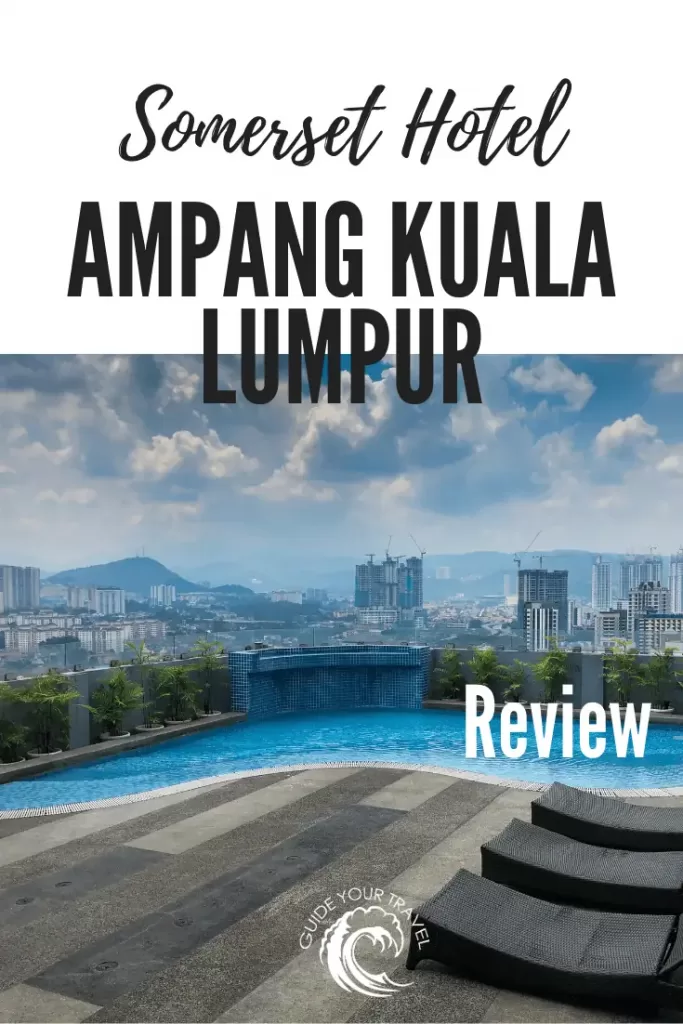 THE HOTEL
The Somerset Hotel Ampang Kuala Lumpur is part of the Ascott range of hotels and is marketed as serviced apartments. It has around 200 rooms ranging from studios to three-bedroom suites. There are 22 floors in the building with the top floor housing an infinity pool, lounge and gym.
The first, second and third floors are dedicated to resident parking and the guest rooms are located on the 9th to 21st floors.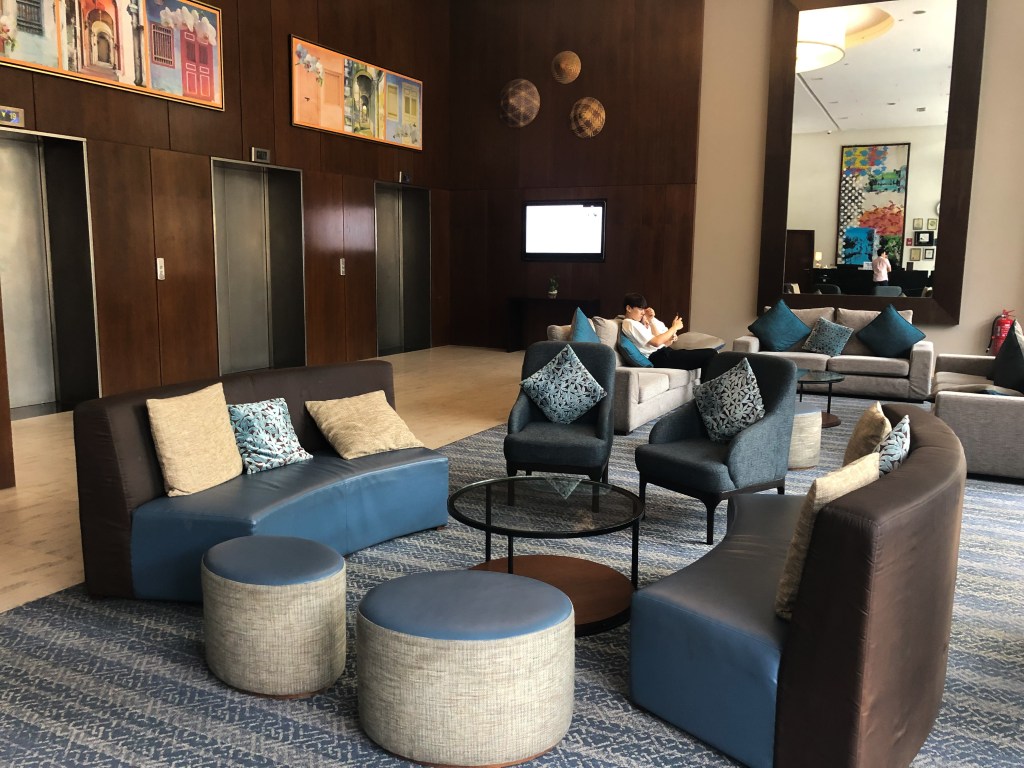 THE LOCATION
The Somerset Hotel Ampang Kuala Lumpur is not to be confused with other hotels with similar names in the area. Special care needs to be taken when entering the hotel name into apps like Grab or Google Maps as there are others with the name Somerset.
Although the name might suggest otherwise, the hotel is not actually located in Ampang but rather close to the Ampang Park LRT station. The location of the hotel was actually one of my favourite things. I think this area slightly north-east of KLCC near Embassy Row is actually quite convenient for tourists and travellers. It is very safe, as it is an area with many office buildings and banks but also borders a residential space.
The LRT station is only a 6-minute walk away while KLCC Park and the Petronas Towers can be reached within 18 minutes on foot.
In addition to that, there are two GoKL Bus stops easily reachable in under ten minutes.
Due to the large number of office buildings the surrounding area has a great selection of food courts, restaurants and cafes available. In the mornings there are street vendors selling various Malaysian breakfast dishes near the LRT station.
The Intermark Shopping Centre can be reached in under 5 minutes on foot. It offers convenience stores, bakeries, a copy shop, a dry cleaner, a medical centre, restaurants, a food court and a large supermarket.
Really a one-stop-shop for everyday needs.
To me, this hotel has a great location. However, the only downside is that you are not very close to Bukit Bintang. Via car, this can be reached within around 15 minutes or you can utilise the free GoKL bus or the hotel shuttle.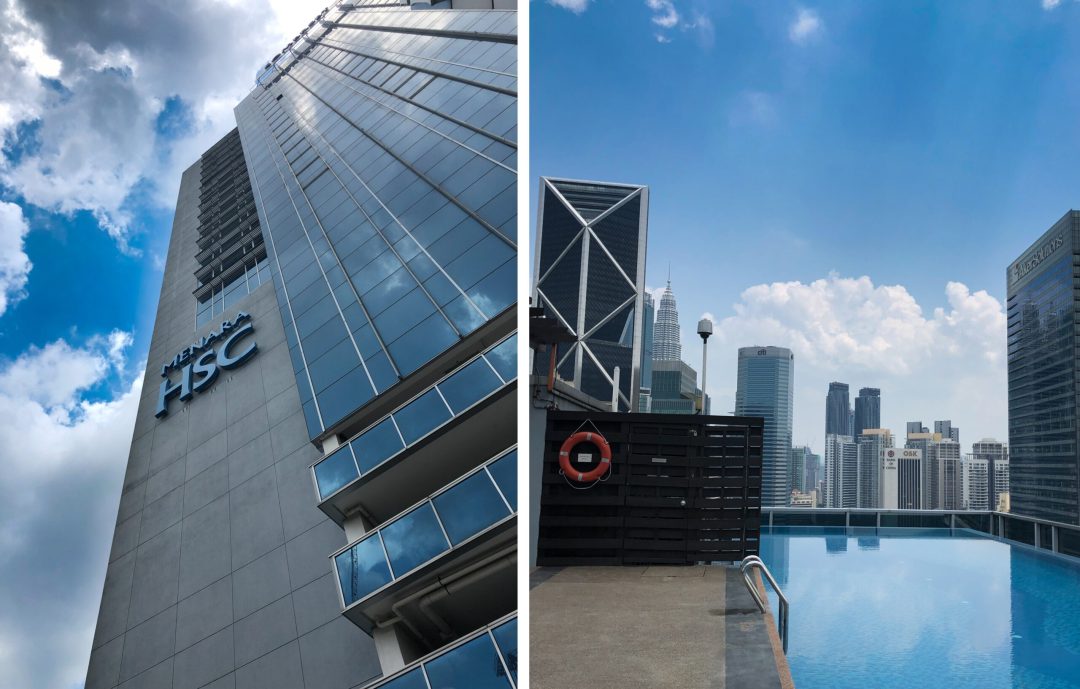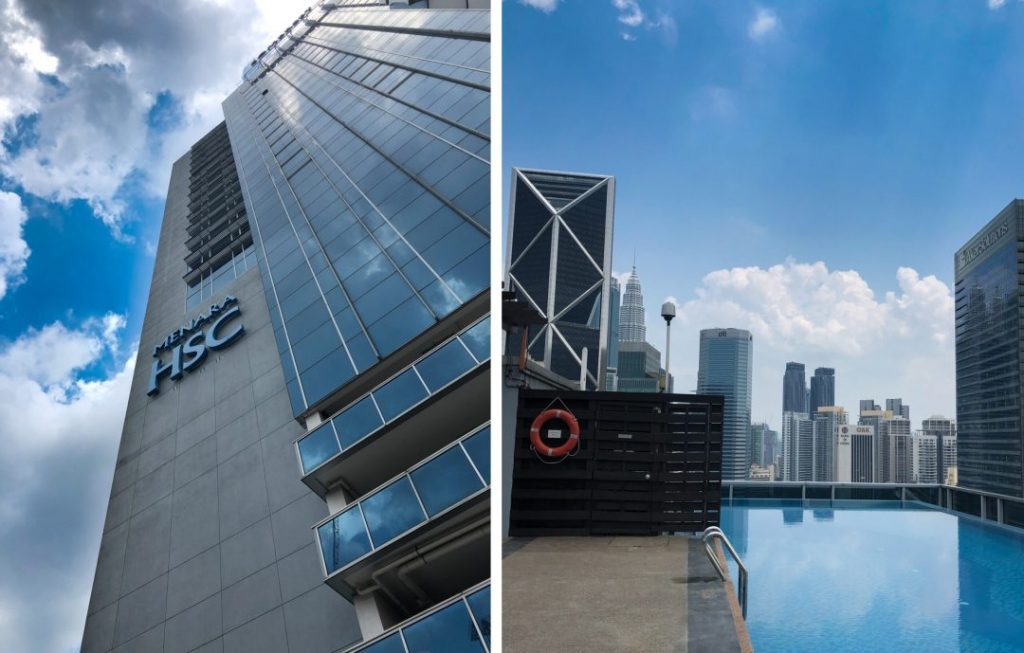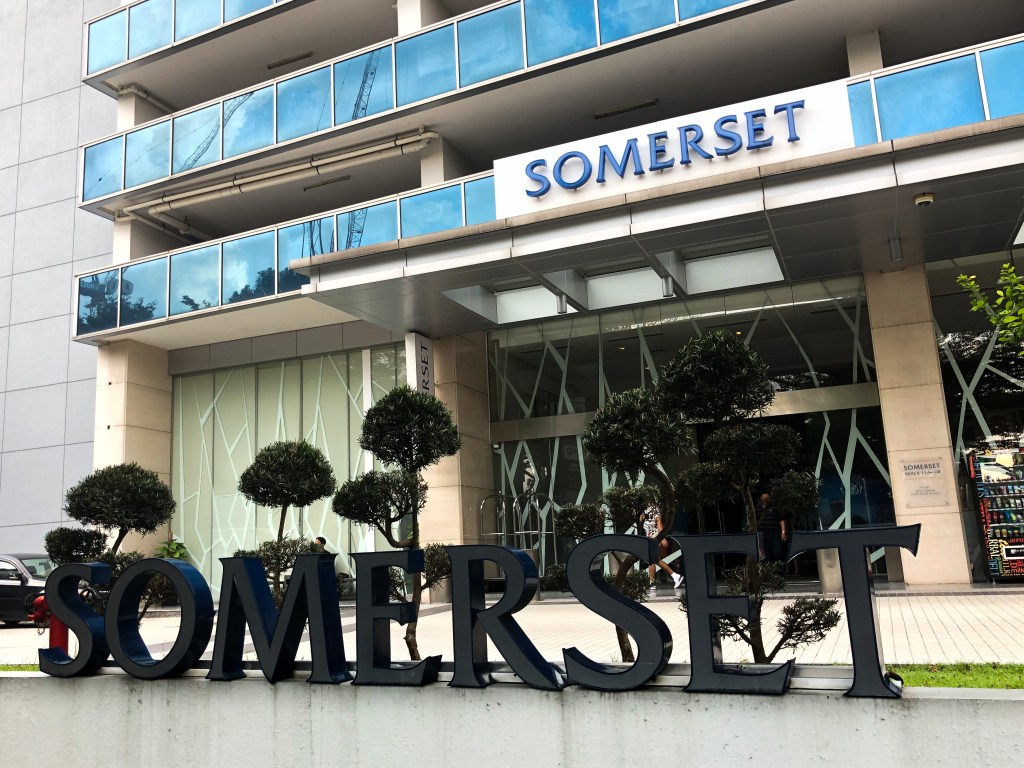 THE PRICES
Prices for the studio rooms in the Somerset Hotel start at around 65€ per night while the 3-bedroom apartments go as high up as 200€.
This is quite pricey in my opinion and although I was very happy during my stay I think the hotel needs to update the rooms in the near future in order to justify their prices.
Of course, one has to consider that the rooms include a full kitchen as well as a washing machine, which raises the prices.
Top tip: Always compare prices for hotels. We at Guide your Travel prefer Booking.com, Agoda or Hostelworld for finding the best deals.
THE ROOMS AT THE SOMERSET HOTEL AMPANG KUALA LUMPUR
During my stay, I stayed in the one-bedroom deluxe apartment. It was located on the twelfth floor and had a southern-facing view of other buildings and a green area.
The apartment consisted of a living/dining room with a connected kitchen, a separate bathroom and a bedroom with a walk-in closet.
The following amenities were available in each section.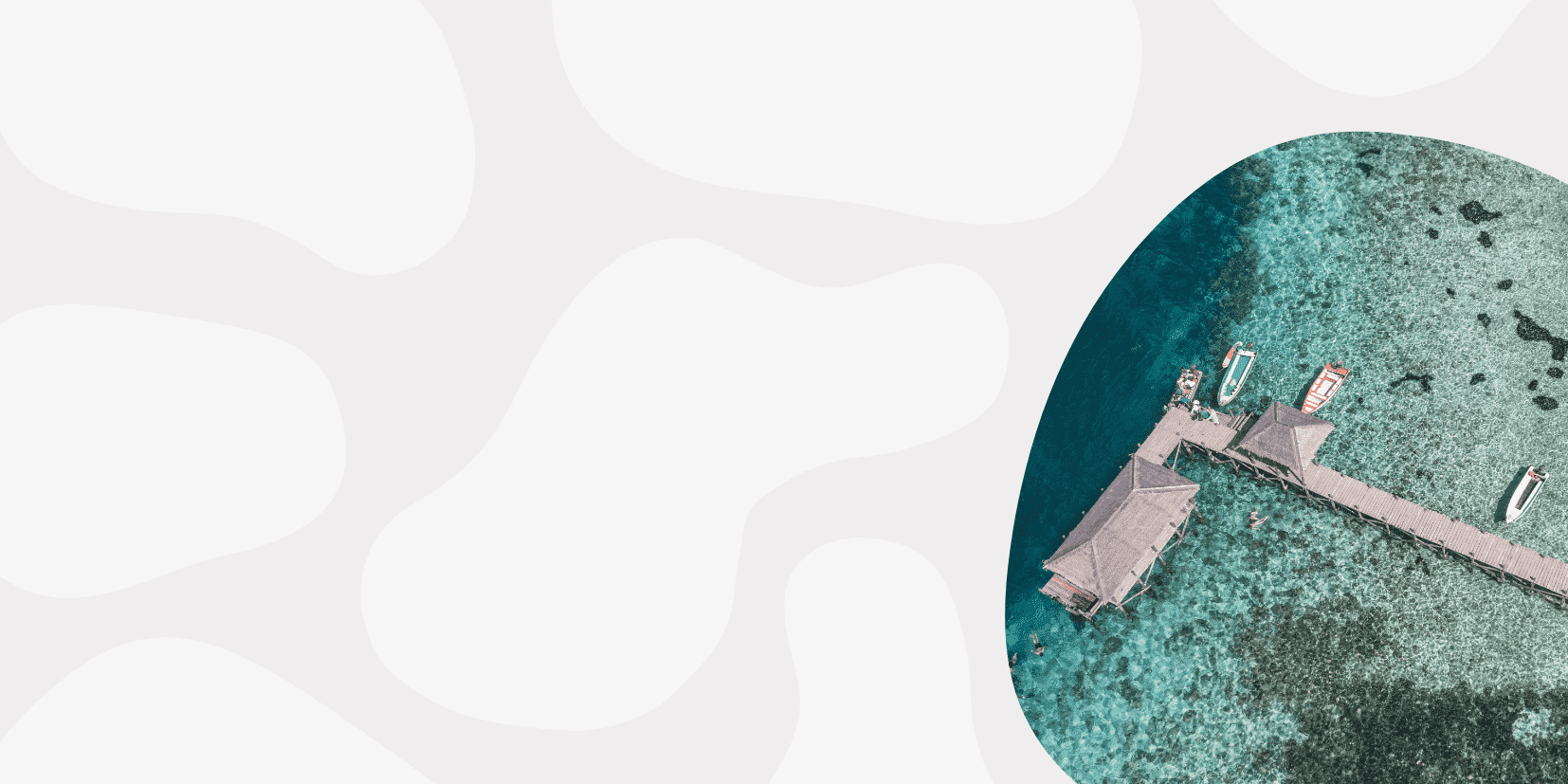 Let me save you time and effort when you're travel planning!

➼ Best travel insurance? SafetyWing
➼ Best place to find cheap flights? Skyscanner
➼ Best bank & credit card for travellers? Wise
➼ Best travel backpack? Osprey Farpoint 70
LIVING/DINING ROOM
dining room table with four chairs
flatscreen TV
hi–fi system with USB, AUX and iPod ports
two-seater sofa with matching armchair
coffee table and a side table
a large integrated wall cupboard and a smaller sideboard with a lot of space
large mirror
telephone
air-conditioning system and fan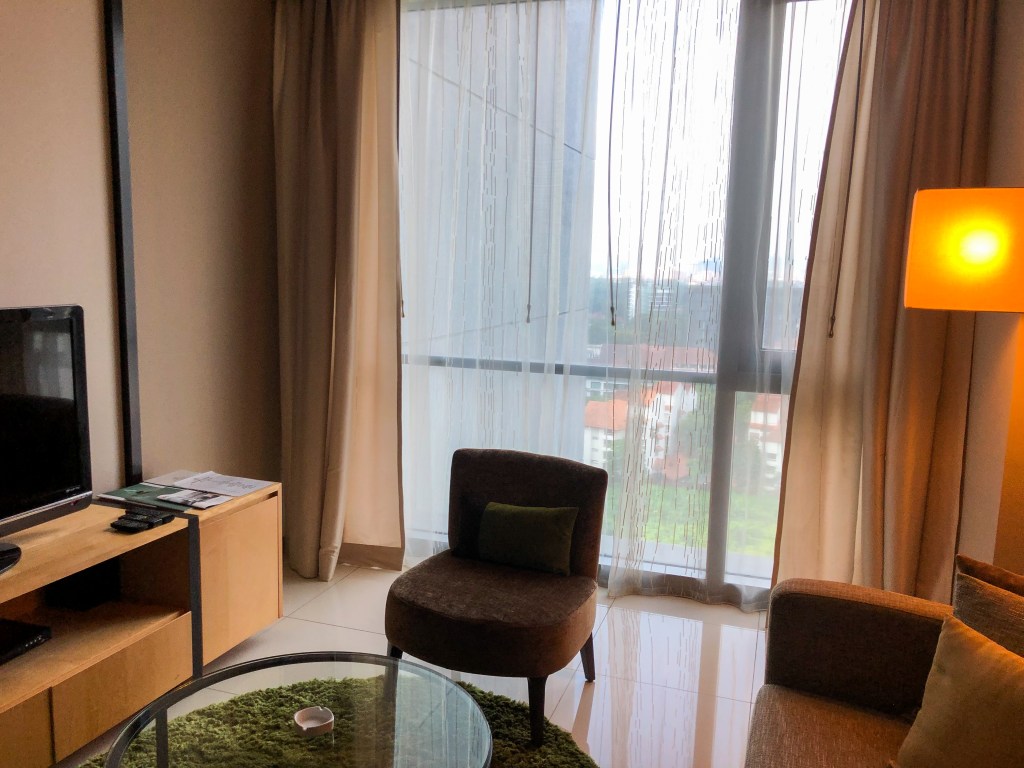 KITCHEN
fridge
cooktop
washer/dryer
laundry detergent
microwave
kettle
sink
kitchen utensils (pots, pans, cutlery, dishes, colander, cutting board etc)
bottled water
tea and coffee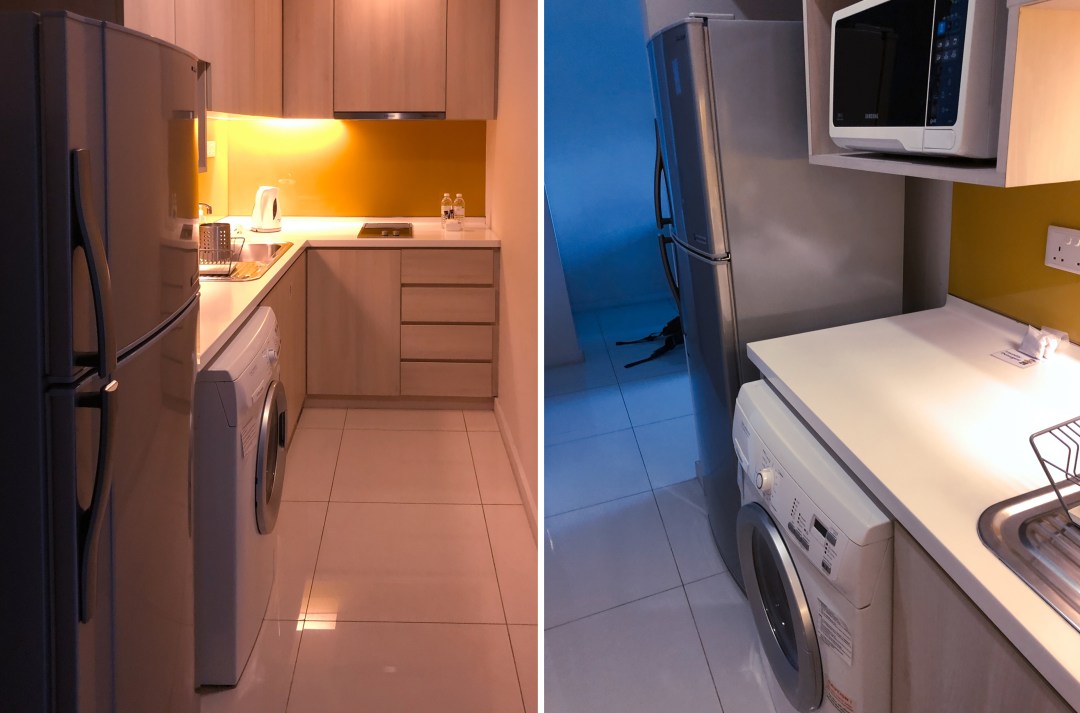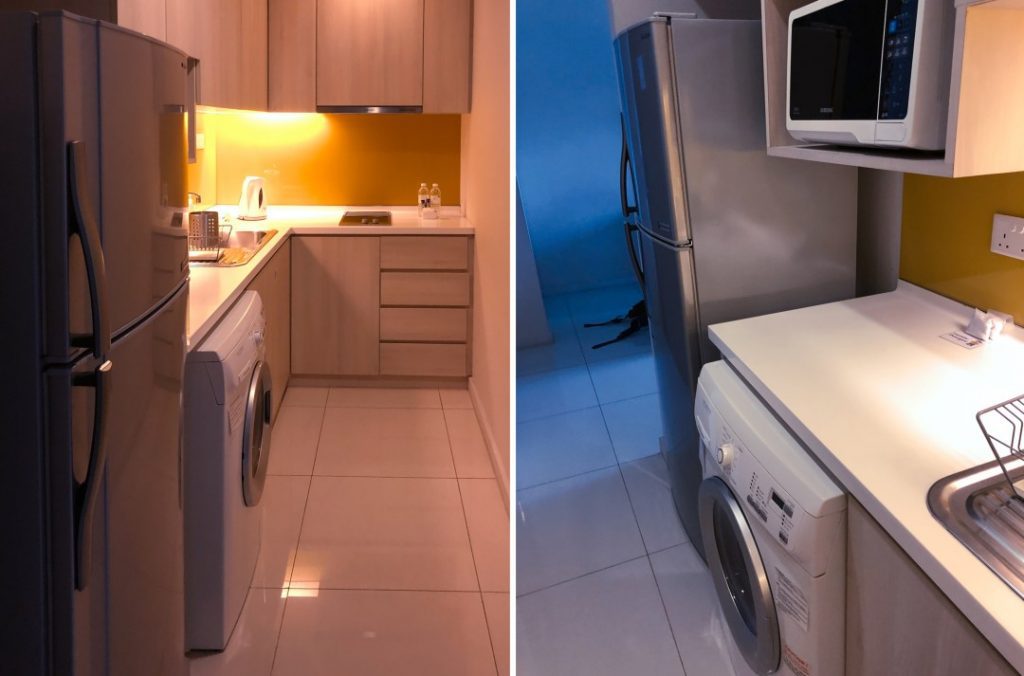 BATHROOM
walk-in rainforest shower and adjacent bathtub with a large window
towels of various sizes
large mirrored bathroom cupboard
beauty mirror
shampoo, conditioner, body wash, soap and lotion
razor and shaving cream
q-tips
shower cap
toothpaste and toothbrush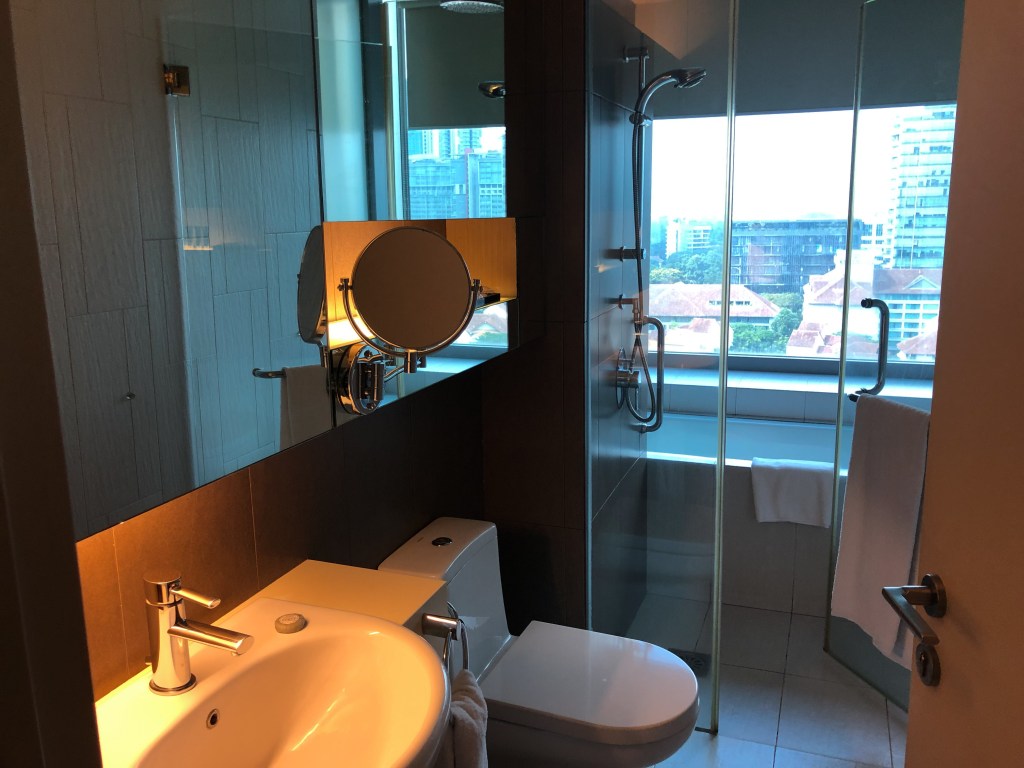 BEDROOM
king-sized bed
down pillows and blanket
flatscreen TV
desk and chair
telephone
sideboard with a lot of cupboard space
bedside tables
air-conditioning system
mirror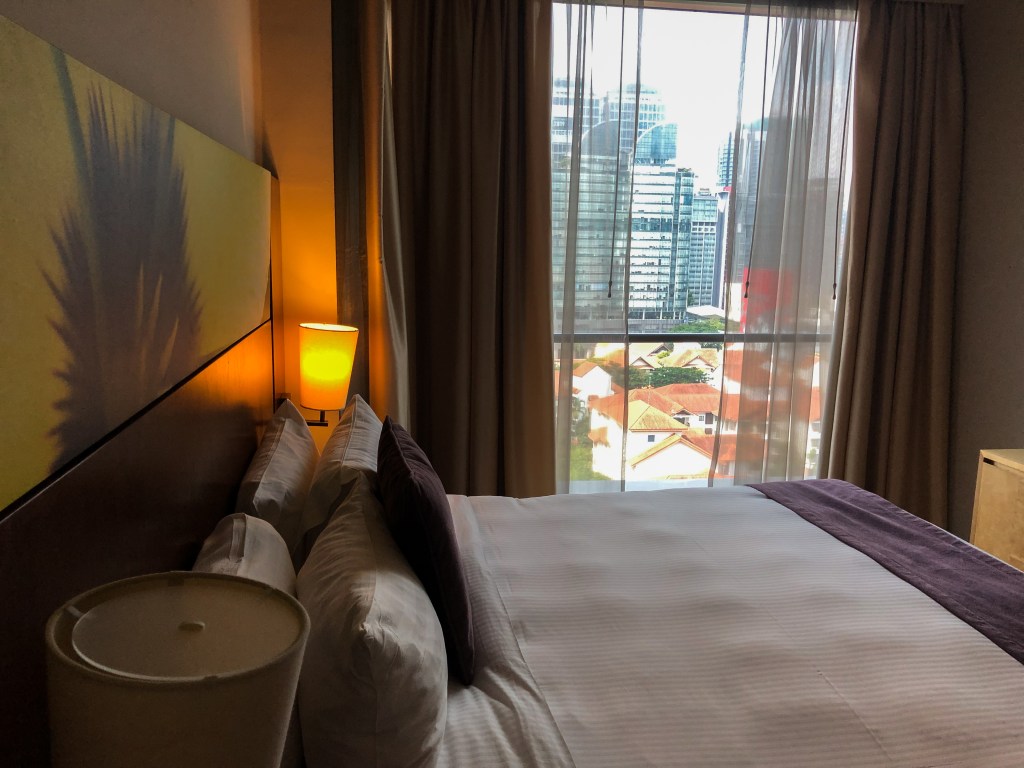 WALK-IN CLOSET
electronic safe
iron and ironing board
robes
slippers
hangers
drawers
laundry basket
umbrella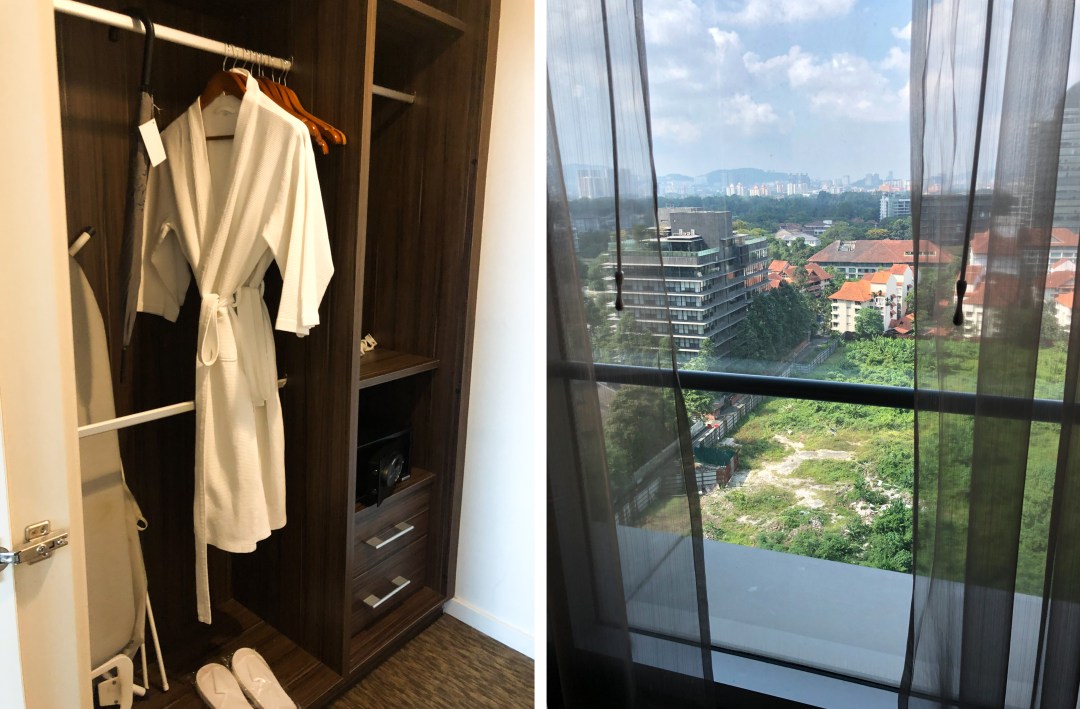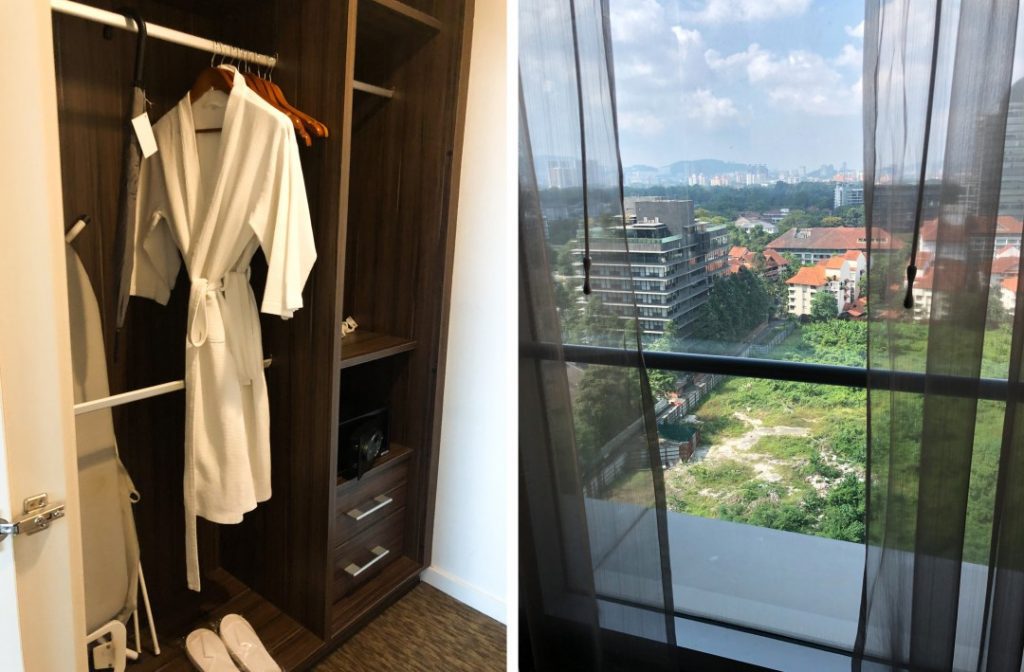 MY THOUGHTS ON THE ROOM
The whole apartment was very clean, however, I have to note that the furniture appeared to be a bit old and should be replaced soon. As the rest of the hotel, it seemed slightly outdated and had some traces of wear here and there.
This was not an issue but the hotel should be renovated within the next few years to ensure guests will continue to receive a modern and up-to-date apartment.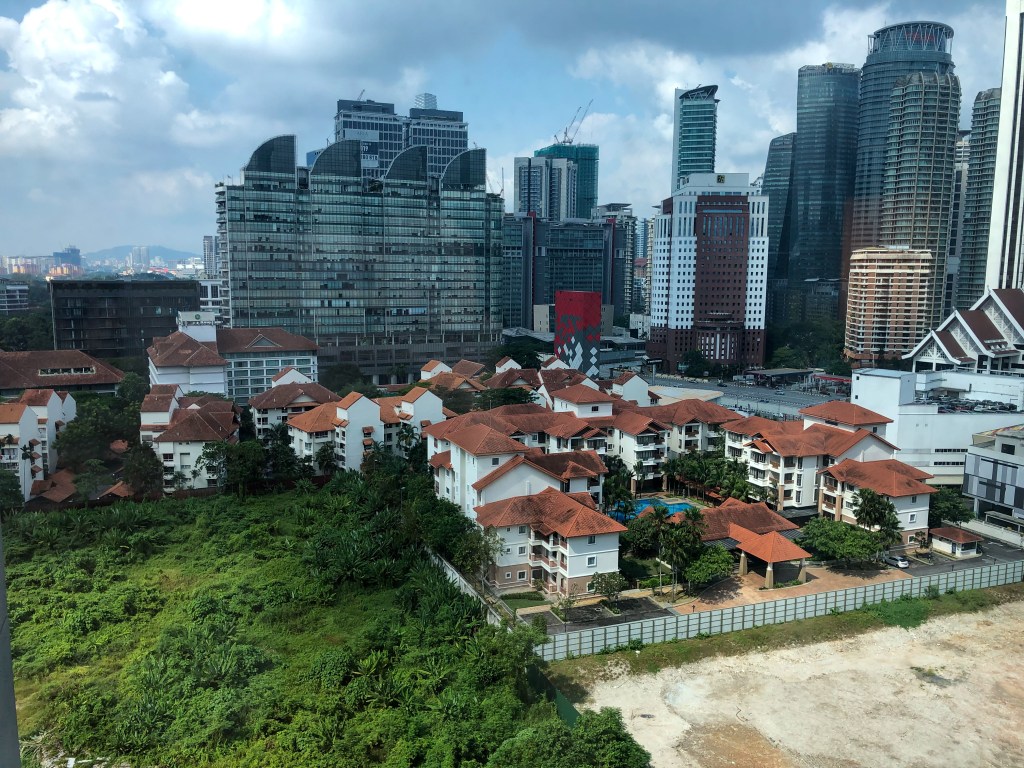 THE NOISE LEVEL IN THE ROOM
The room was very quiet in my experience. I could not hear the upstairs or next-door neighbours at all, however, I have read reviews of other guests that have complained about the noise levels in this hotel.
I did not experience this problem.


THE ISSUES I HAD WITH THE ROOM
THE DRYER
The drying function of the washing machine did not work at all. Even after hours it merely warmed the clothes slightly. I reported this to the hotel staff who said they would look into it, however, nothing happened during my stay.
I did not follow up on the request since the clothes dried so quickly when I hung them up in the room due to the air-conditioning system so I did not need the drying function.
THE SMELL
The only real issue I had with this hotel was the smell. At check-in, I was asked whether I preferred a smoking or a non-smoking room. I requested non-smoking. When I reached the floor I was staying on I immediately noticed the hallway smelled musky and of old smoke. The room had a similar smell although not as strong.
It is the sort of smell that you stop noticing after a few minutes in the room but it hits you strongly when you enter.
The room had no-smoking signs everywhere but there was an ashtray on the coffee table. When I asked the hotel staff whether this was really a non-smoking room I was assured it was.
Here's what I think is the case. Either the room was once a smoking room and they simply converted it as the demand for smoking rooms is declining. Or the smell is seeping in from the hallway as other rooms on this floor might be smoking rooms.
The most plausible explanation to me is simply the air-conditioning system. If they do have smoking rooms in this hotel the smell is most probably spreading through the ventilation.
HOW THE HOTEL COULD SOLVE THIS ISSUE
Unfortunately, there is nothing that can really be done about this problem. The hotel staff offered to move me to another room but I declined as I did not want to move all my things again. The smell is really not bad and I did not notice it if I did not exit and re-enter the room.
I think this hotel needs to be renovated from the ground up to get rid of any lingering smells and they should stop offering smoking rooms altogether. I cannot imagine that the demand for them is very high.
So if you are sensitive to the smell of smoke then maybe consider staying elsewhere.
THE SERVICE
Most of the negative Trip Advisor reviews complained that the level of service was not great at the Somerset Hotel Ampang Kuala Lumpur. Most mention rude staff and long waiting times when requests were made.
This has not been my experience at all. All staff have been nothing but friendly and helpful and I was very happy with the level of service.
The only thing I noticed was that the housekeeping service usually came in the late afternoon, not the morning. Often times I returned to the hotel from a day of sightseeing and they still had not made up the room at around 5 pm. I found this to be slightly inconvenient and maybe the hotel can improve this in the future.
THE AMENITIES
THE ROOFTOP
The hotel has a beautiful rooftop infinity pool on the 22nd floor with a hot tub. There is also a separate shallow kids pool.
In addition to that, there is a gym facility with a great view of the city on the same floor. The gym has a good selection of basic workout equipment including treadmills, stationary bikes, a leg machine, a bench press and free weights. Next to the gym is the lounge where you can get free tea and coffee 24/7 and enjoy the comfortable sofas. There are books and children's toys available.
The 22nd floor also has bathrooms, changing rooms and a vending machine. Beach towels are available for guests to use.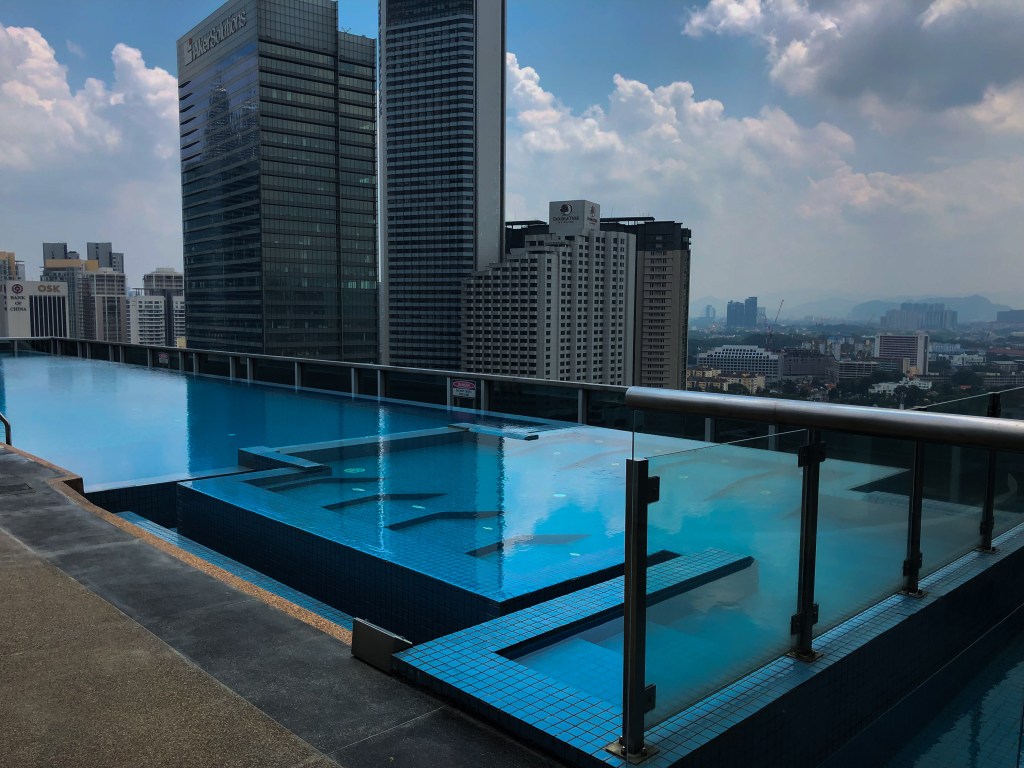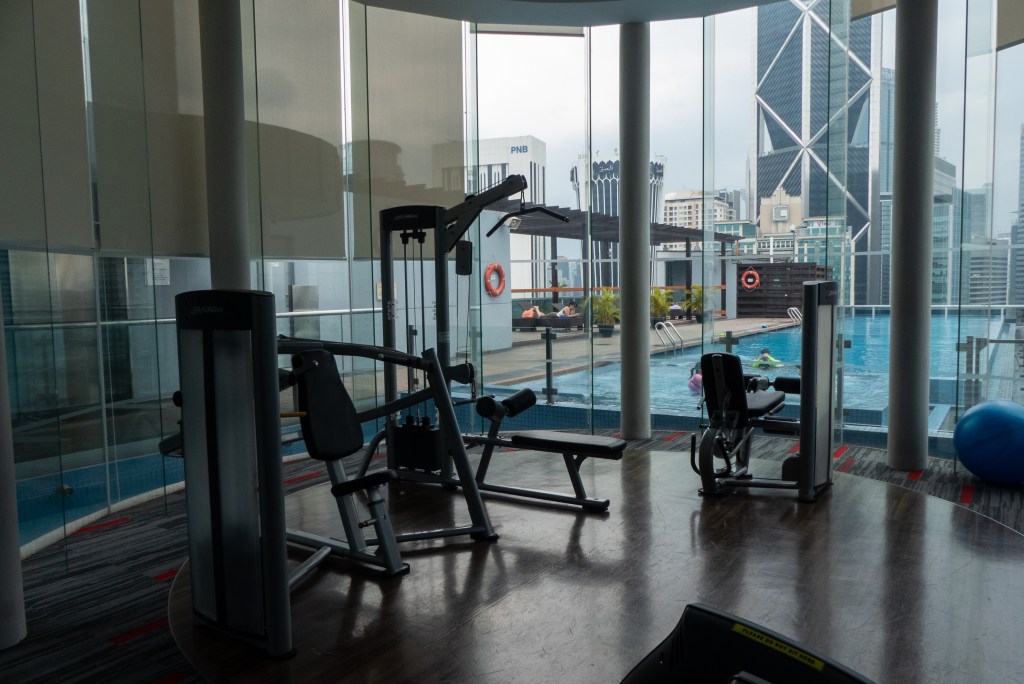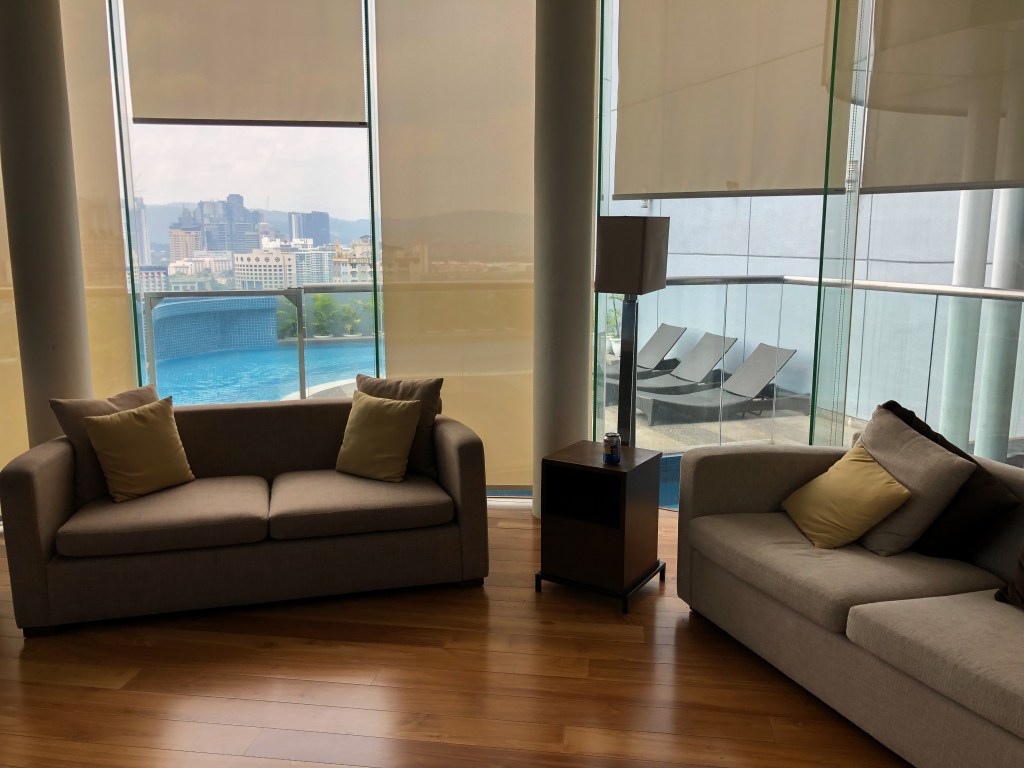 The hotel offers a free shuttle service multiple times per day. It takes you to various hotspots around Kuala Lumpur including KLCC, Bukit Bintang and many more.
Unfortunately, a pickup service is not offered.
An airport shuttle can be requested for a fee of RM 160 (~ €33.70). I thought this was quite pricey since a Grab usually only costs around RM 70 (~ €14.75) and a taxi RM 85 (~ €17.90).
They also advertise other events such as social outings and a running club at the hotel, although I cannot confirm how frequently those are held.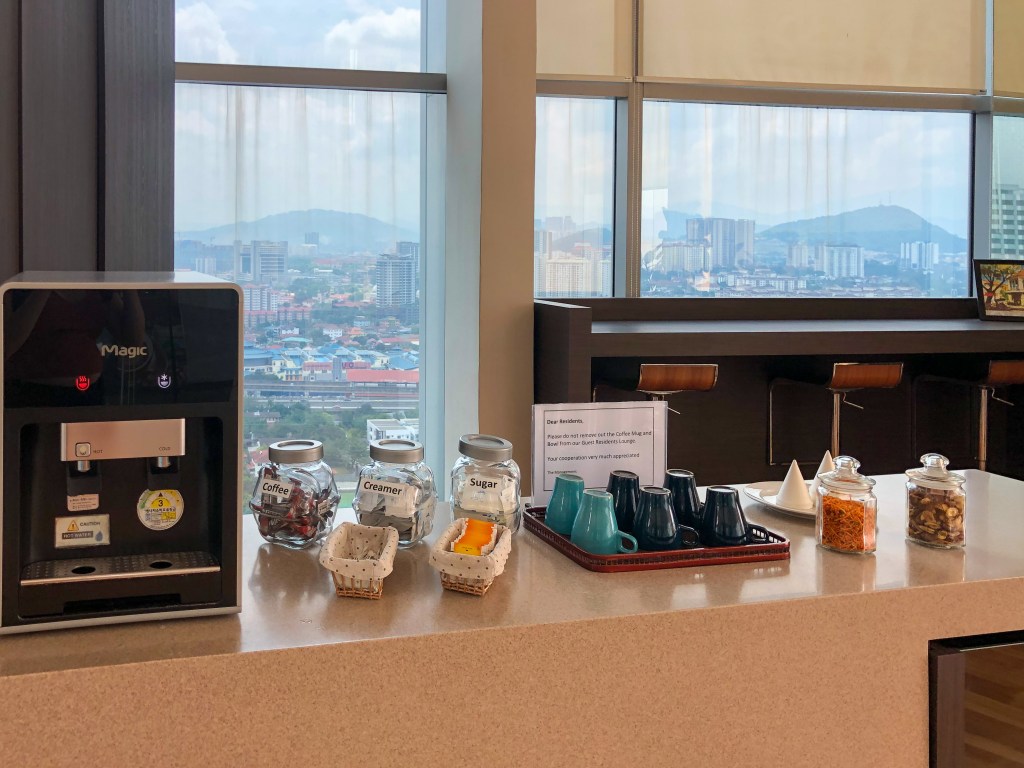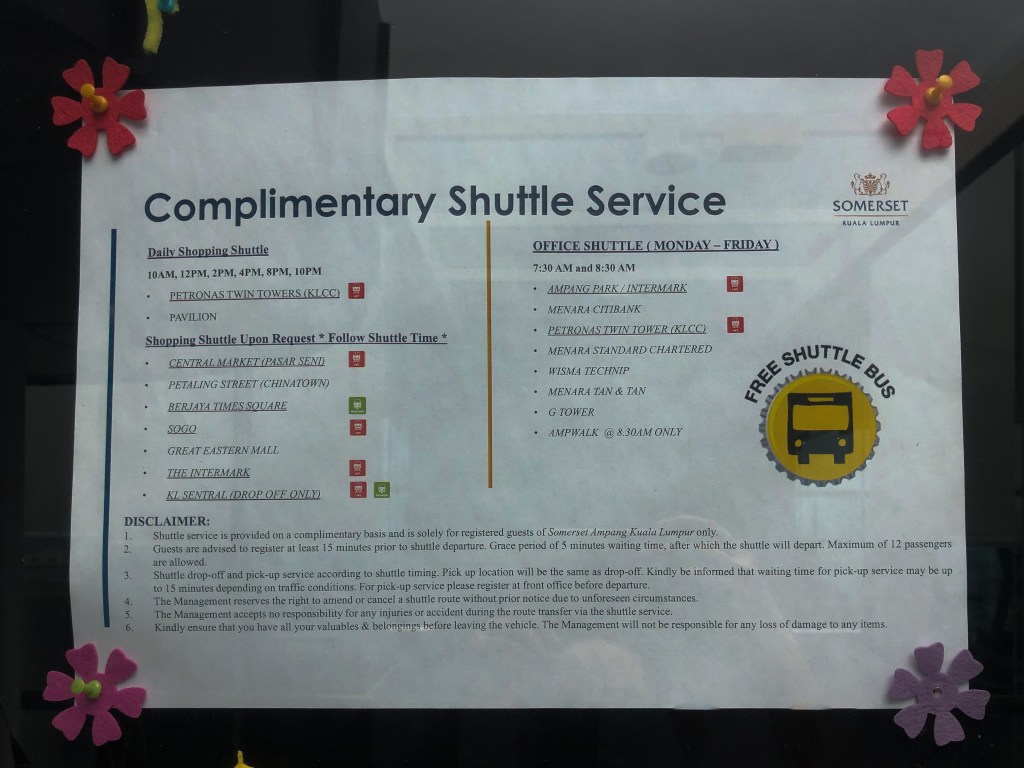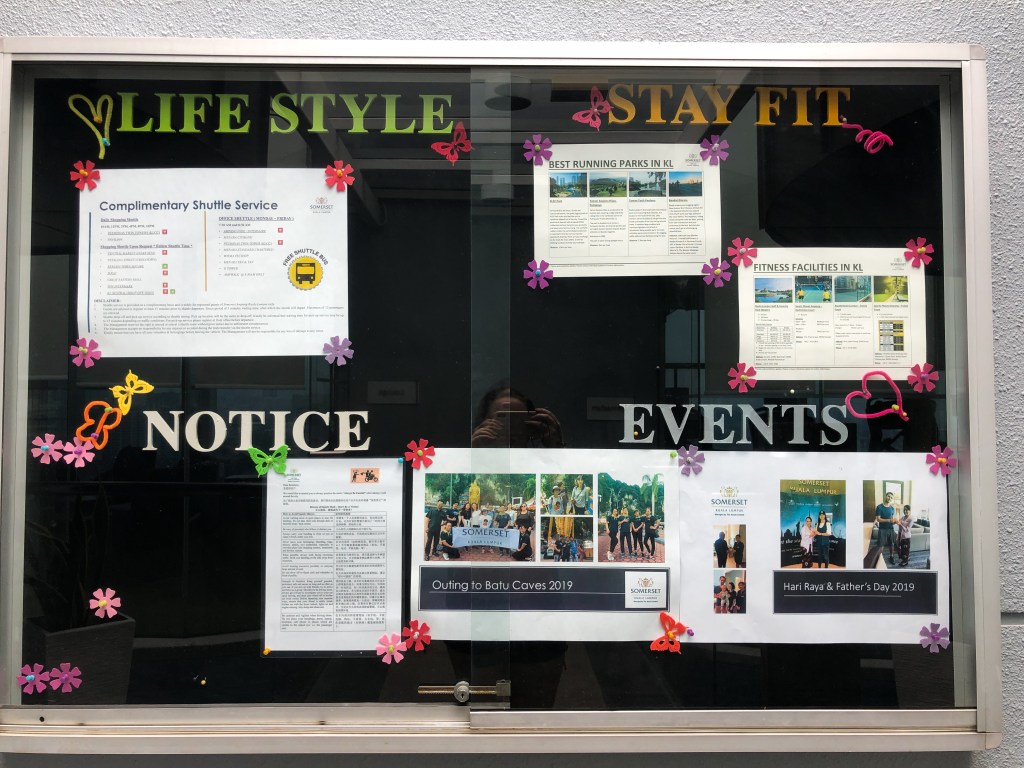 THE RESTAURANT
The hotel does not have in-house dining, although guests can order room service from the adjacent Souled Out Restaurant. This is also where the breakfast buffet is served.
Souled Out serves a mixture of western and Asian cuisine. Their prices range from around RM 20 to RM 45 (~ €4.20 to €9.50) for a main dish and they claim to make Kuala Lumpur's best mojito.
A mojito costs RM 28 (~ €5.90) and RM 20 (~ €4.20) during happy hour, which is from noon to 9:00 PM daily.
The best thing about this restaurant is its "BMW-Hour" (Beer, Mojito, Wine). Before 7 PM you can get a mojito, a mug of Tiger beer or a 110ml glass of wine for only RM 11 (~ €2.30). These are some of the best drink deals in the area.
Everything I ordered in the restaurant was always very tasty. The portions were big and the dishes were high quality. Do, however, note that the restaurant charges an additional 16% for tax and service on top of the marked prices.
Souled Out holds various events throughout the month ranging from painting to dance classes and beer yoga. The restaurant was one of the highlights of my stay at the hotel. I liked its laid back atmosphere and reasonable prices and RM 11 (~ €2.30) beers and mojitos are hard to come by in KL.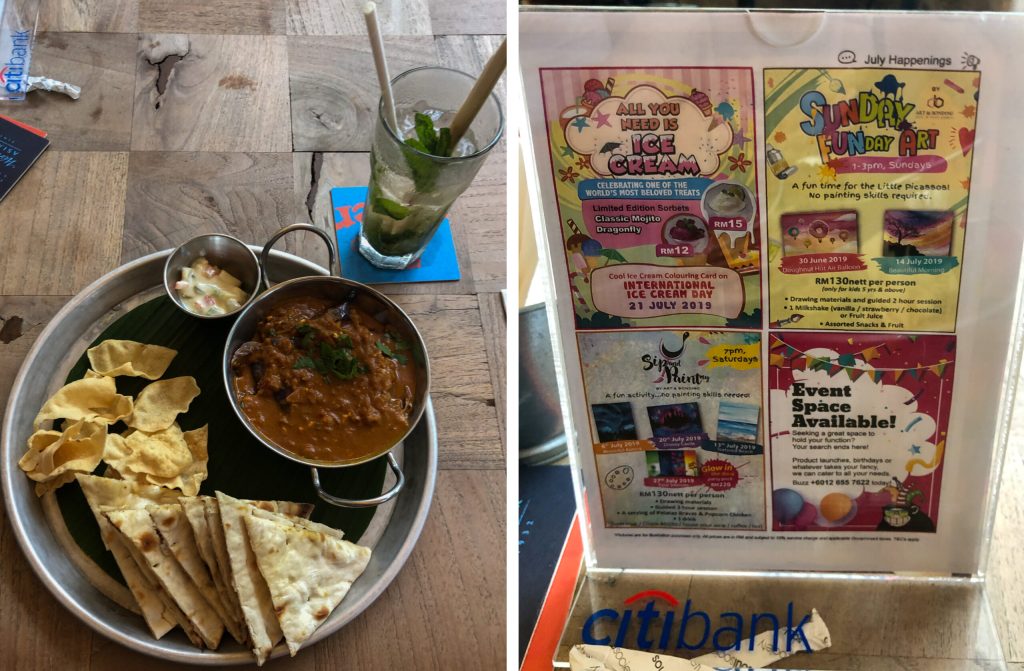 I really enjoyed staying at this hotel. Their approach of catering to longterm guests who require a kitchen and washing machine really benefitted me, as did the convenient location.
The rooftop was beautiful, especially the pool. Many hotels in Kuala Lumpur have indoor or lower–level pools so I was happy to find one with such a great view. The shuttle service was also a great benefit and helped me be more independent during my stay.
I would definitely stay here again on my next visit to Kuala Lumpur.
However, I would not recommend staying at this hotel if you are very sensitive to the smell of smoke. The hotel is definitely a little outdated and should be renovated within the next years.
All in all, a great hotel experience I can only recommend.
Still unsure whether this is the right choice for you? Why not read our review of the nearby Element Hotel, which is only a 6-minute walk from Somerset Hotel Ampang Kuala Lumpur. Maybe this eco-friendly hotel is a better option for you so you can make your trip to Kuala Lumpur perfect.
Looking for lunch on a budget? Check out our post about 12 beyond cheap places to eat in KLCC.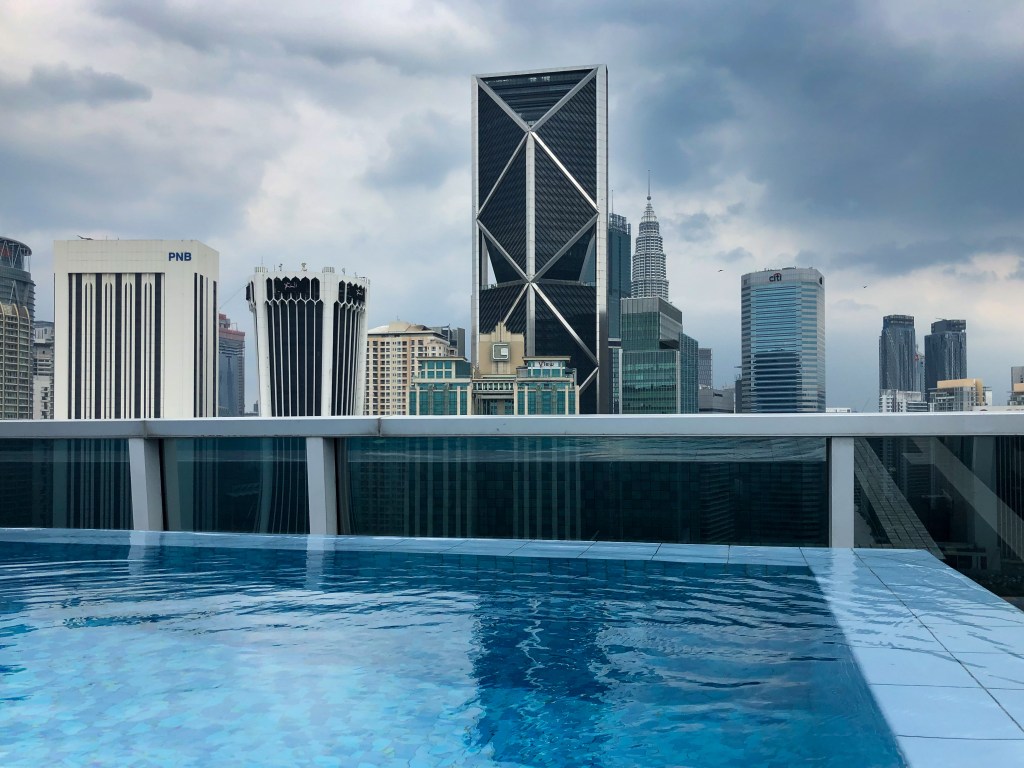 My most important travel tips and resources
Book your flights
Skyscanner is the best website for finding cheap flights since it works like a search engine so you can find the best deals across all airlines.

Book hotels and hostels
• Booking.com: Best world-wide
• Agoda: Best in South East Asia
• Hostelworld: Best for hostels

Book tours, transport and rental cars
•Viator: The best place to book tours, day trips and excursions for al budgets
•12Go: Great for ferries, trains, transfers and buses in South East Asia
•Discover Cars: Best deals for rental cars around the word

Get travel insurance
Every traveller needs travel insurance and I mean every single one. SafetyWing covers you in case of injury, illness or worse and they've got your back if your bag is stolen, flights are cancelled or in case of a natural disaster.

Pay abroad
Ask any traveller, Wise is the best choice when it comes to sending money abroad. They've always got the best exchange rates, lowest fees and their visa card is great for getting cash out or paying abroad.

Things every traveller needs:
➼ Osprey Farpoint 70 Backpack
Detachable daypack, ultra-light, durable and free repairs for life. There's a reason why so many backpackers have this bag.
➼ Packing Cubes
Packing cubes are a gamer changer, keeping your luggage organised and providing tons of extra space.
➼ Power bank
There is nothing worse than running out of battery on an overnight bus journey or a long flight. With a powerbank you can charge your eletronics on the go and make sure you're always connected.
➼ Micro-fibre towel
These lightweight towels are foldable, fast-drying and so useful when you're travelling.

➼ You can find 15 more things every traveller needs here. Some might be a bit controversial but I warned you!
Did I miss anything?
If you have any questions or feel like something is missing from this post please leave a comment below or contact me.